Snack mix is such a fun way to celebrate a holiday, which is why I love this delicious Valentine's Day snack mix so much! It's filled with pretty Valentine's day colors and a sweet and salty mix of yummy snacks.
Click to PIN Valentine's Day Snack Mix!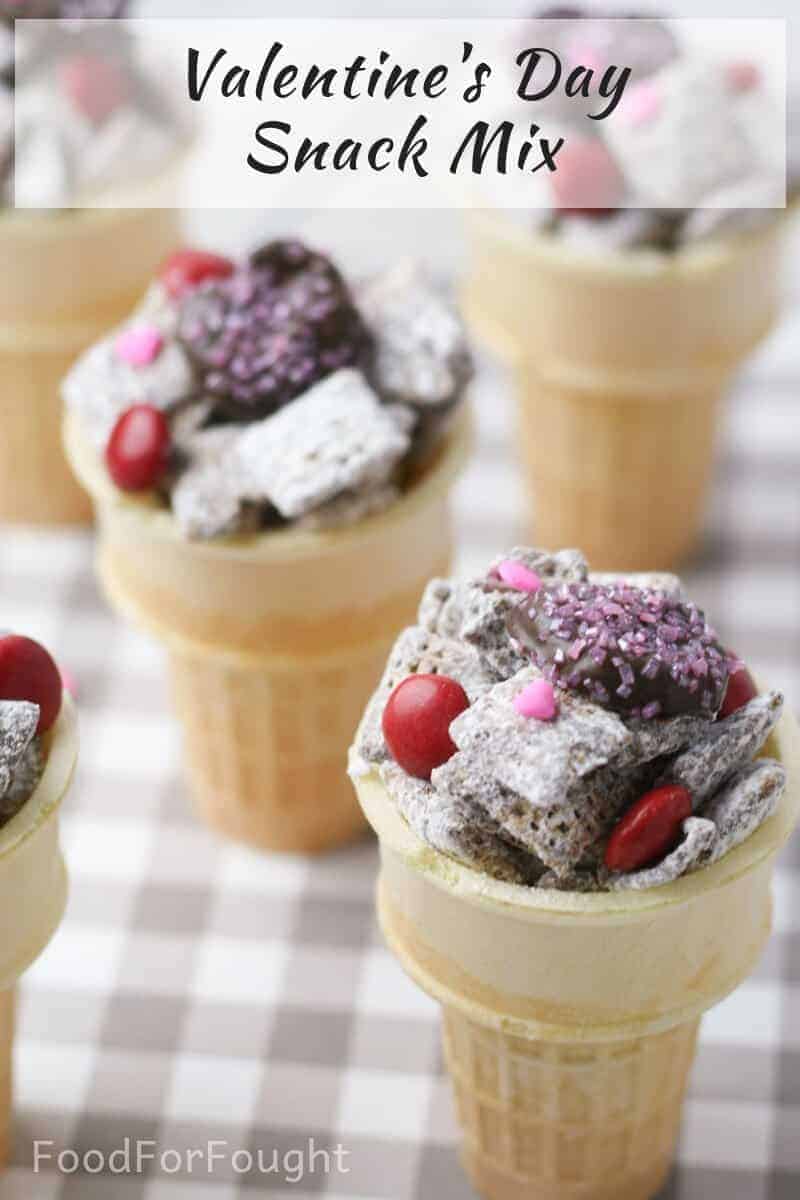 …And to top it off, it's presented in an ice cream cone. What could be more fun than that?
MAKE THIS EASY SNACK MIX FOR YOUR VALENTINE!
Not only is this Valentine's Day snack mix delicious to eat, but it's also very simple to make. The basis of this snack mix is Chex muddy buddies.
To start making this element of the mix, combine chocolate chips, butter, and peanut butter in a microwave-safe bowl. Microwave the chocolate and peanut butter mixture in 30-second intervals, stirring between each interval until the chocolate is melted.
While the chocolate is melting, combine your corn and rice Chex in a very large bowl (or two medium-sized bowls). Stir to make sure the chocolate and peanut butter are well combined, then pour the mixture all over the Chex. Using a large spoon, gently stir the Chex and chocolate until all the cereal is completely coated.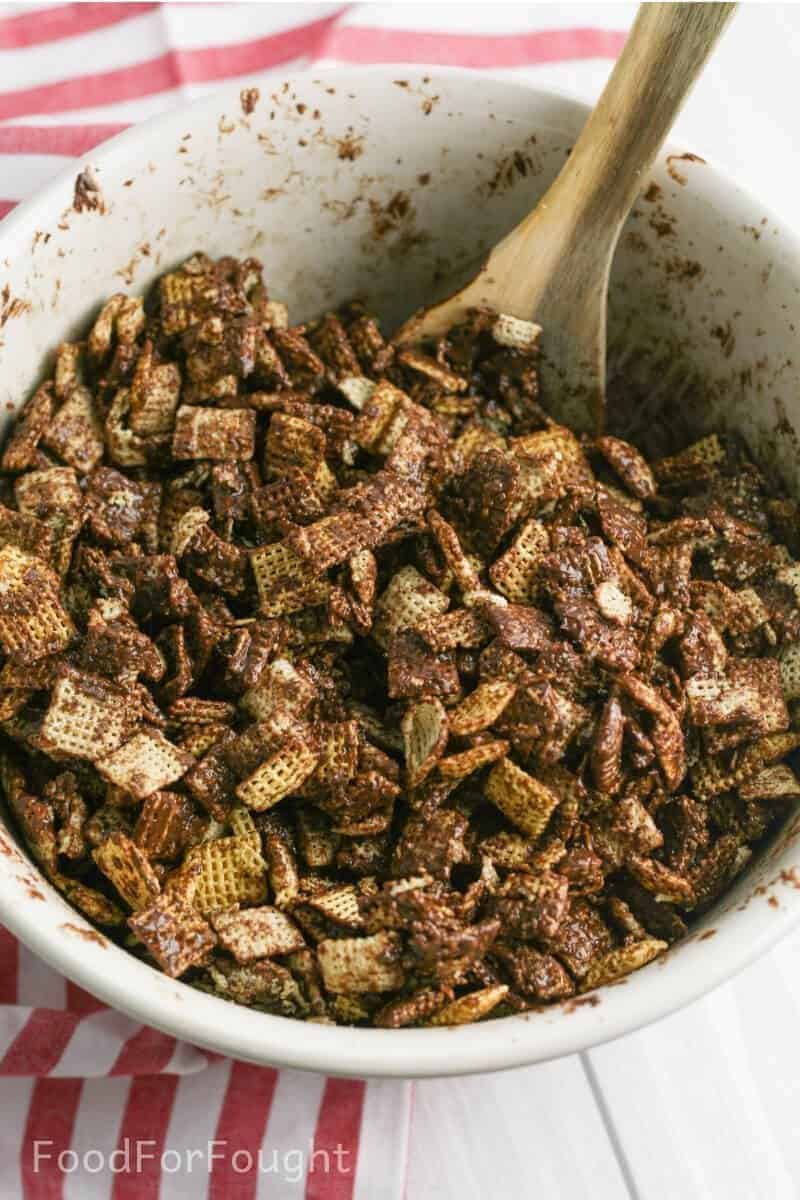 Allow the Chex mixture to cool slightly. As you're waiting for it to cool, separate the powdered sugar in half and pour each half into a gallon-sized zip-top bag. Then, divide the chocolate Chex mixture between the two bags. Seal each bag and shake it until all the cereal is completely coated with powdered sugar. Spread on a lined baking sheet to cool completely.
The next step in creating this cute Valentine's Day snack mix is to make some chocolate covered pretzel hearts. Start by melting the chocolate according to the instructions on the package. Then, dip each pretzel in the melted chocolate and place it on a piece of waxed paper to cool. Before the chocolate sets completely, sprinkle on some pink or red decorating sugar for some added Valentine's Day flair.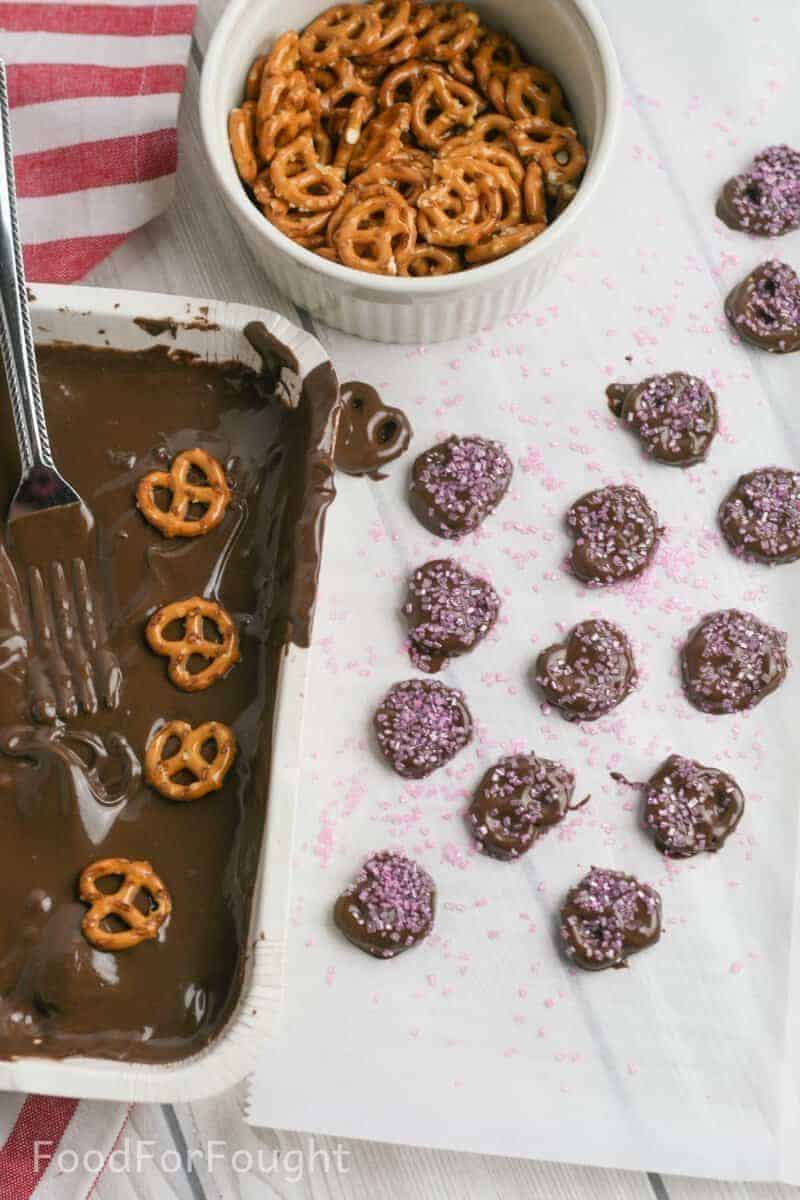 When the muddy buddy mix and chocolate covered pretzel hearts are both completely cool, it's time to start assembling the Valentine's Day snack mix.
Set your ice cream cones out along your countertop and fill each cone with around one-third of a cup of muddy buddy mix. Add some red chocolate-covered candies and a few heart-shaped sprinkles on top. Then, top the snack mix off with a chocolate covered pretzel heart.
See how simple that was? And while this snack mix is easy to put together, it really makes an impact!
Everyone will love the cute presentation and the yummy mix of salty pretzels, sweet chocolate, and creamy peanut butter inside this delicious Valentine's Day snack mix.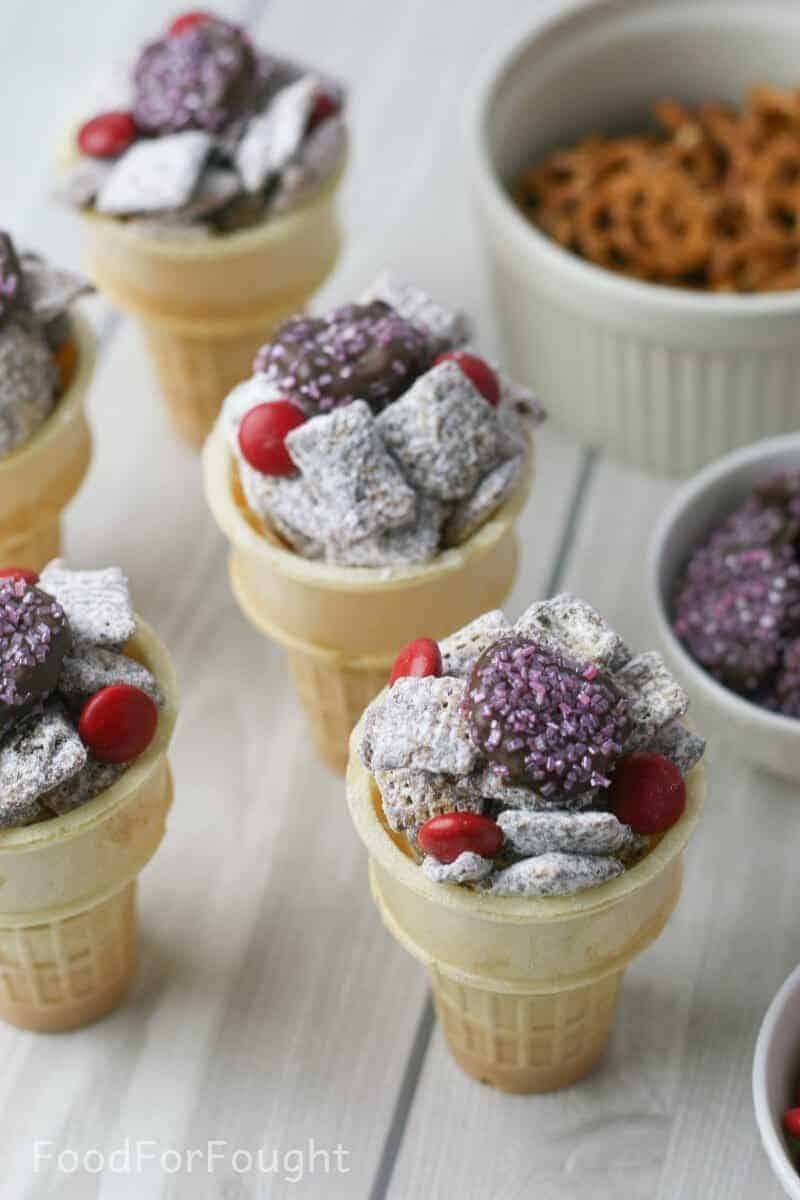 LOOKING FOR MORE DELICIOUS IDEAS FOR VALENTINE'S DAY?
Hello! All photos and content are copyright protected. Please do not use our photos without prior written permission. Thank you!
Nutritional Information?
If you want the nutritional information for a recipe, I recommend entering the recipe into this nutrition analyzer, which will calculate it for you.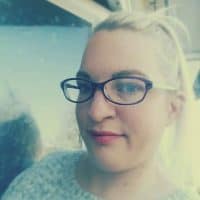 Vickie Louise is the Founder and Editor-in-Chief of A Crazy Family. She is a stay at home mom of a little boy with a big personality. After having her son, she realized how important it is for moms to take care of themselves, physically and mentally. Vickie believes in the power of using social media and her online presence for good and is thrilled to provide you with a space to celebrate all that is awesome (and a little crazy) in the world.