30+ Mind-Blowing DIY Kitchen Organization Hacks
By: Vickie | Updated: 15th July 2022
30+ genius kitchen organization DIY hacks that are so clever you'll wish you found them sooner! These kitchen organization ideas will inspire you to get organized and restore order in your own home!
Looking for more organization hacks? Check out these: DIY Craft Room Organization Ideas and Bathroom Organization Hacks You Need To Know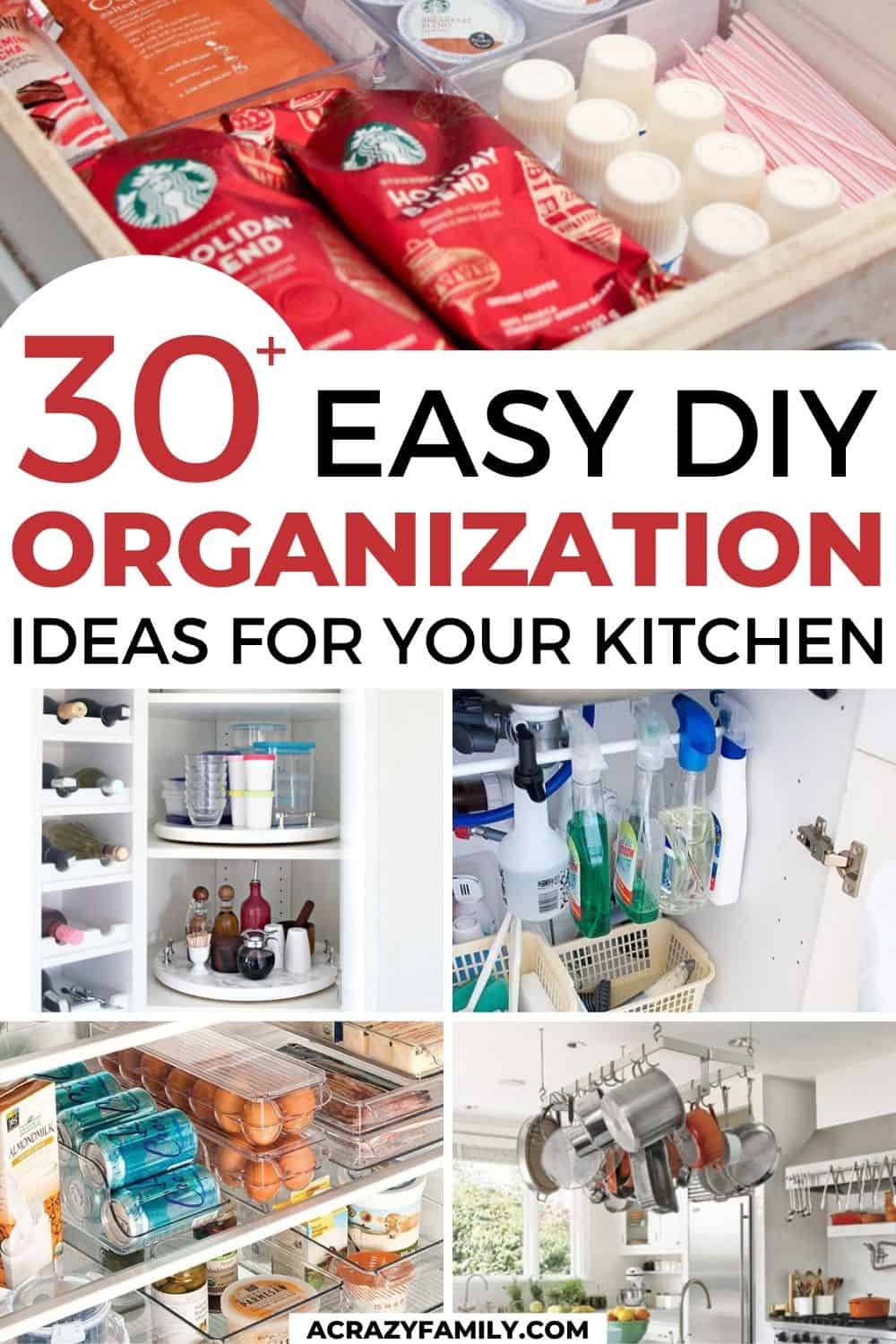 Are you struggling to keep your kitchen organized? One of our biggest areas of disorganization was our kitchen. Since we're limited on space our kitchen can get disorganized and out of control real quick.
So, finding creative DIY storage solutions has been a must in this house. To help keep our pantry clutter-free and our cupboards organized, we've found some pretty awesome pantry and kitchen organization hacks that have seriously changed our life.
Here are 30+ clever DIY kitchen organization hacks that you'll wish you'd found sooner!
30+ Mind-Blowing DIY Kitchen Organization Hacks
Please click the link below each image to be taken to the tutorial for each kitchen organization idea.
Custom Drawer Organization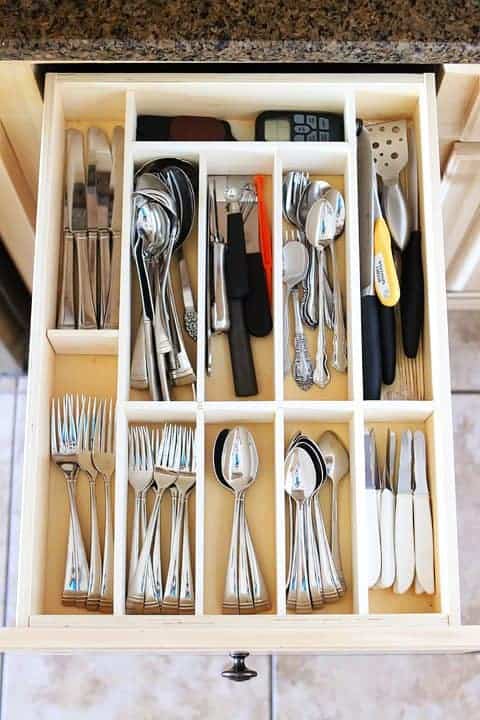 For less than $10 you can custom build a drawer divider, and keep everything in its rightful space. Check out this idea at Kevin & Amanda
Coffee Station DIY Drawer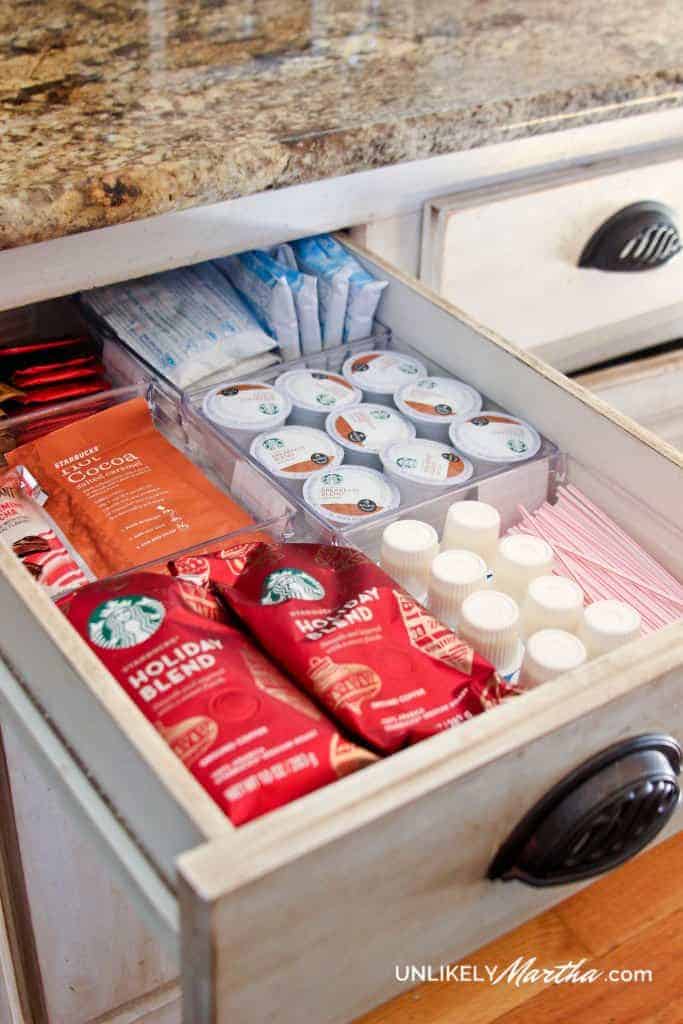 Here's an easy do-it-yourself way to organize your coffee supplies with clear bins from the dollar store! Check out this idea at Unlikely Martha
Brilliant Under the Sink Organization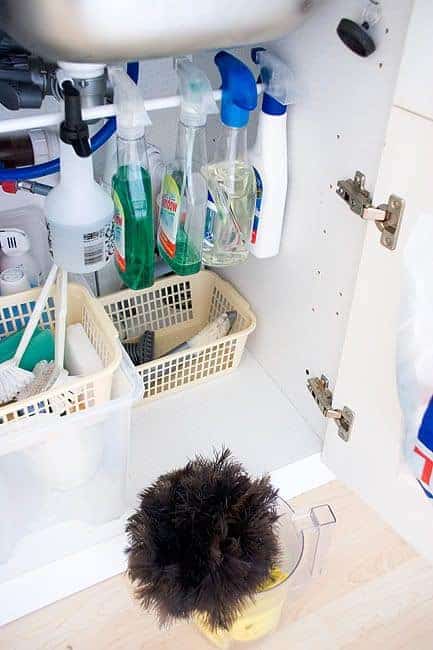 Put unused space to work by using a tension rod to hang spray bottles! While you're at it, hang a few hooks on the cabinet door to gold trash bags or small baskets for scrub brushes! Check out this idea at A Thousand Words
Baking Zone Drawers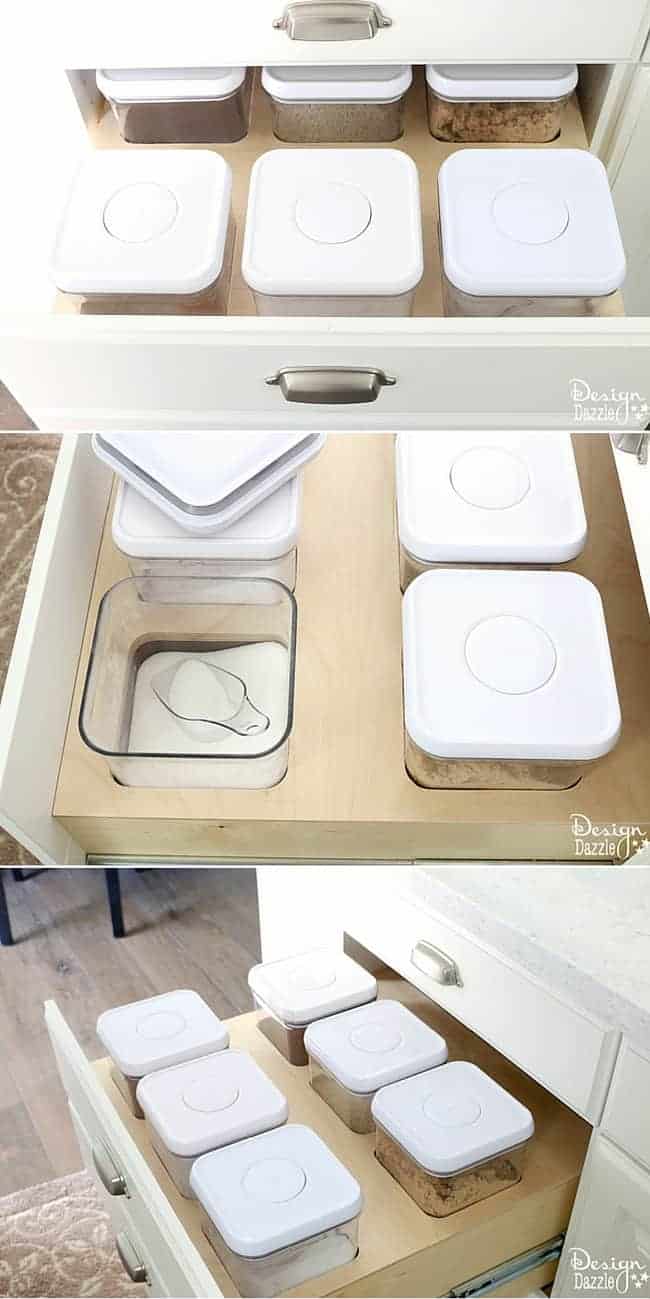 Keep the most used "baking" ingredients close-by, easy to access everything but still hidden away. Check out this idea at Design Dazzle
Baskets On Walls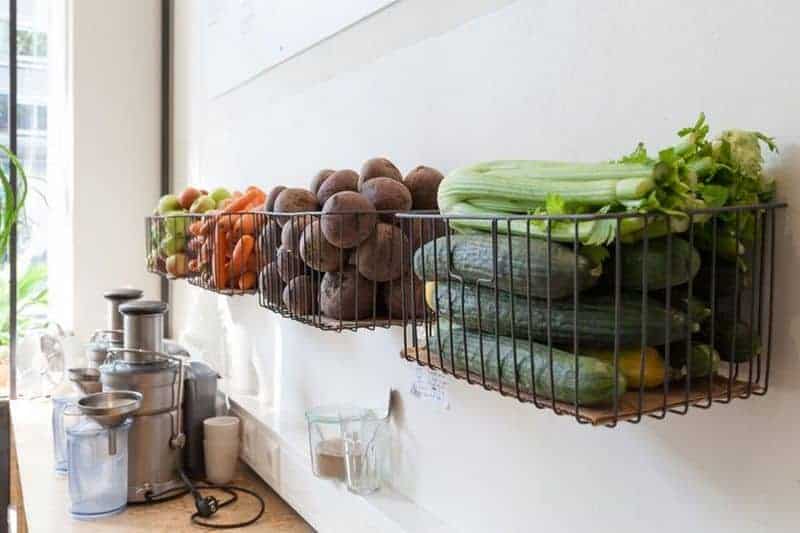 This is a fantastic way to know exactly what you have got. I'm guilty of hiding veg away and not using it up before it goes mushy. I think we've all heard the saying "out of sight, out of mind" and I know this to be true. Check out this idea at The Owner Builder Network
Hanging Kitchen Organization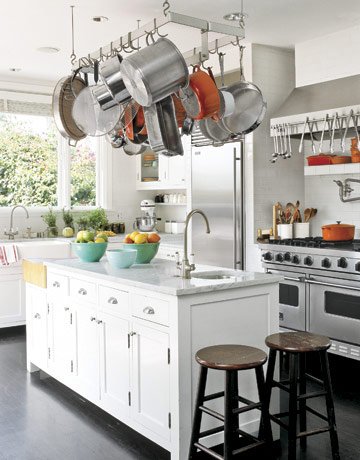 Use every bit of space you have by hanging pots & pans You can get a ceiling rack like this one similar to the one pictured via Shelterness
DIY Pantry Spice Rack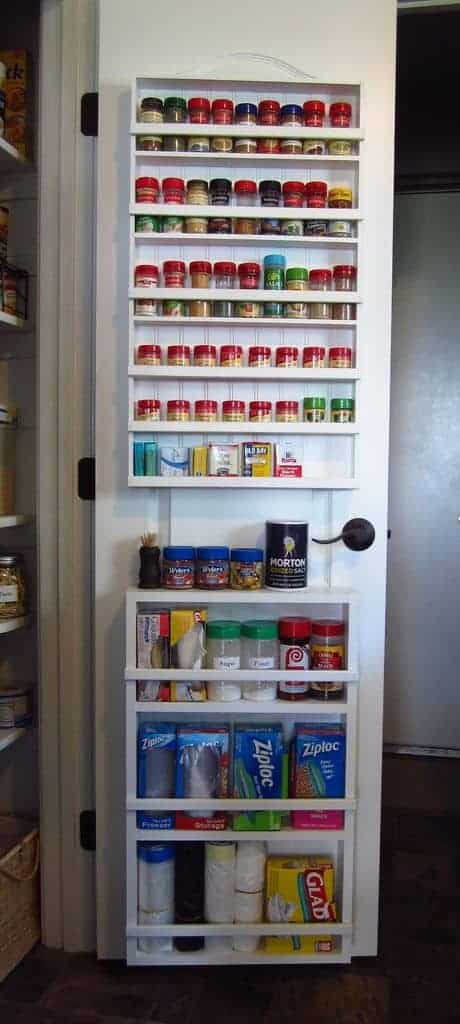 I have always wanted to get a bunch of spices for cooking but didn't want to make the kitchen look too cluttered. I love this look! Plus it even fits some other large items! Check out this idea at Home Staging
DIY Hanging Chips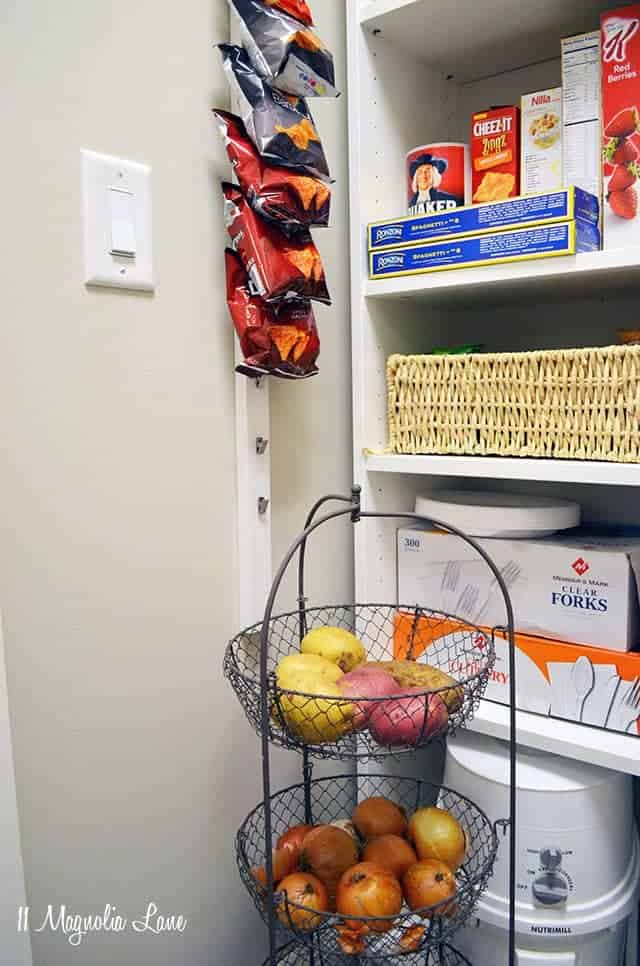 Both I and my son love chips so I am going to be using this as a way of storing our bags of goodies. Check out this idea at Eleven Magnolia Lane
Pull-out Can Storage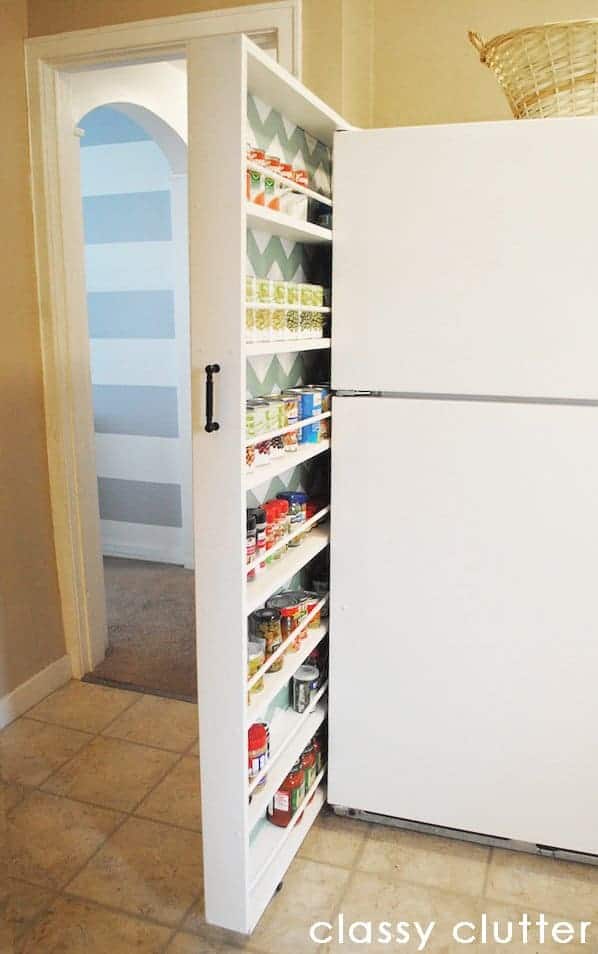 If you have that gap between your fridge and wall, then this DIY is the solution you need. Check out this idea at Classy Clutter
Cabinet Door Conversion Chart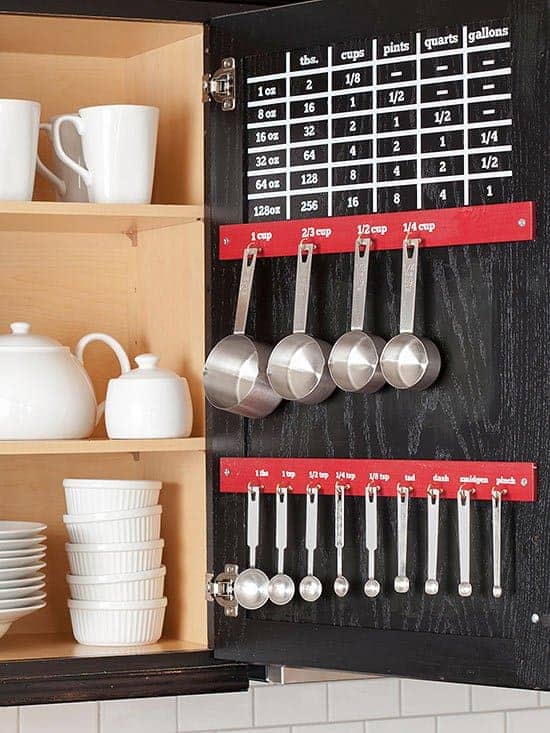 This is a brilliant way to add a conversion chart to your cabinet door using vinyl & a Silhouette. Check out this idea at Infarrantly Creative
Space Saving Cake Stand Idea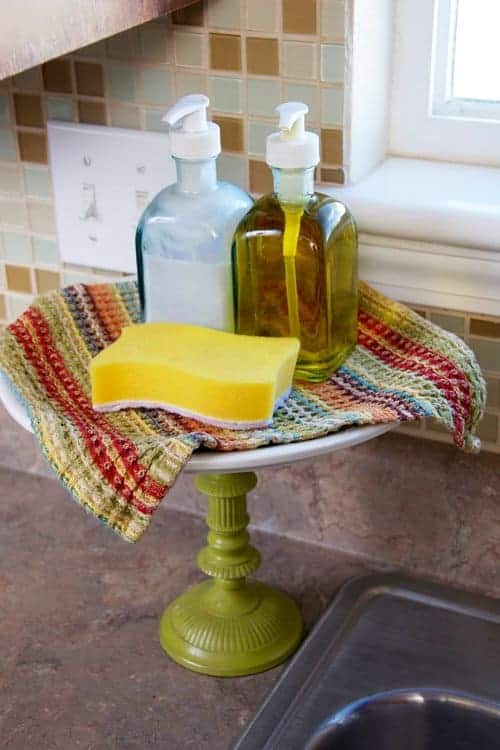 A cute & clever idea for repurposing a dollar store cake stand to save counter space. Check out this idea at Natalie Wright
Organize a Drawer Freezer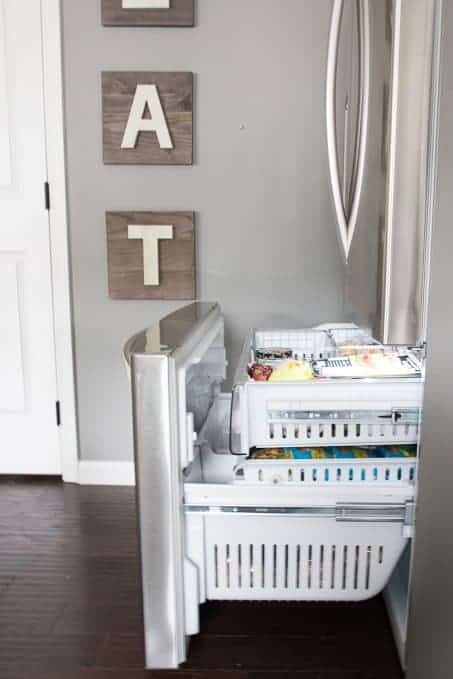 Freezer drawers offer a ton of opportunities for storage. The key is maximizing the space! Check out this idea at Keys to Inspiration
Ikea Organizing Hack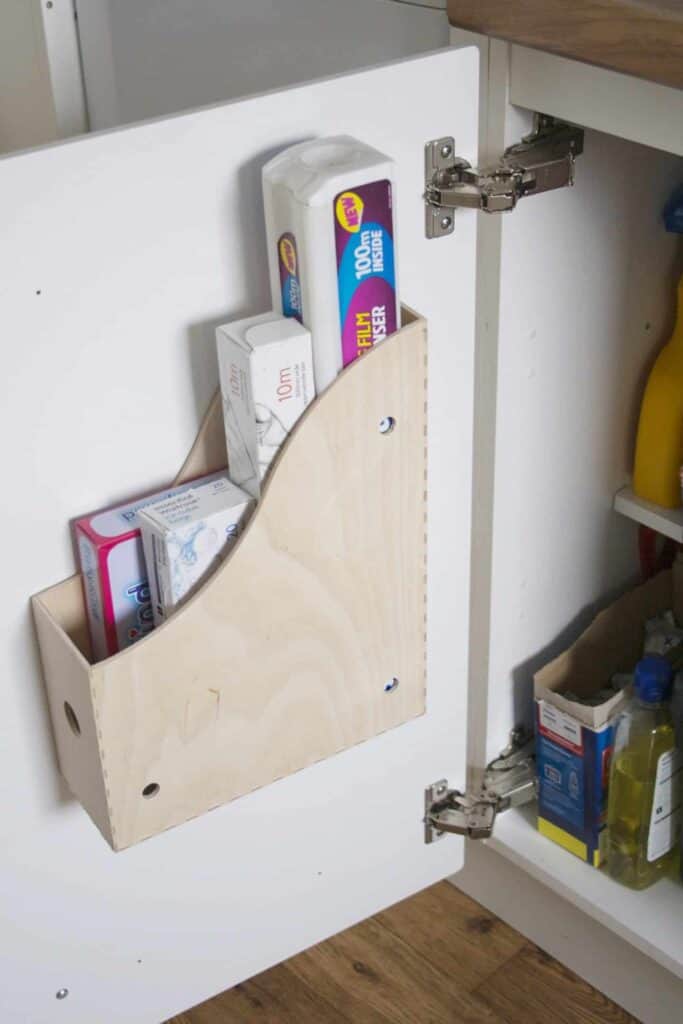 Use Ikea KNUFF magazine file on the sides of cabinet doors to hold aluminum foil, plastic wrap, and other boxes that otherwise take up space in the cabinet! Check out this idea at Apartment Apothecary
Organized Corner Cabinet with a DIY Lazy Susan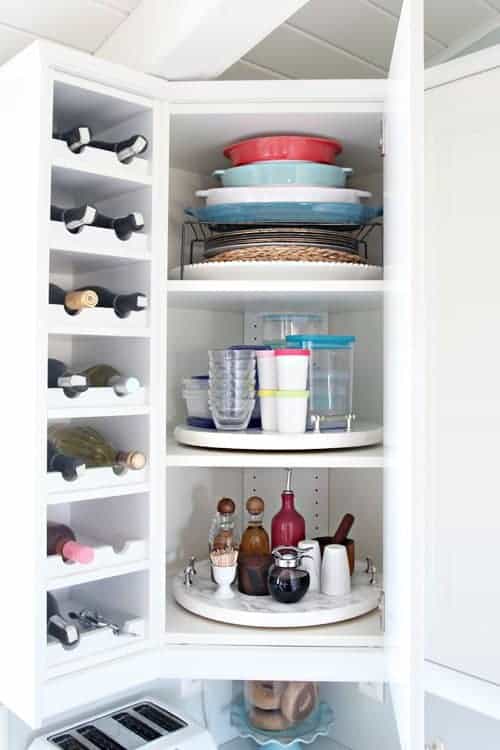 When I saw this idea for a glammed-up DIY Corner Cabinet Lazy Susan I may have gotten a little too excited. Corner cabinets are the place where we lose everything.. well, not anymore! Check out this idea at IHeart Organizing
Clear Up In The Fridge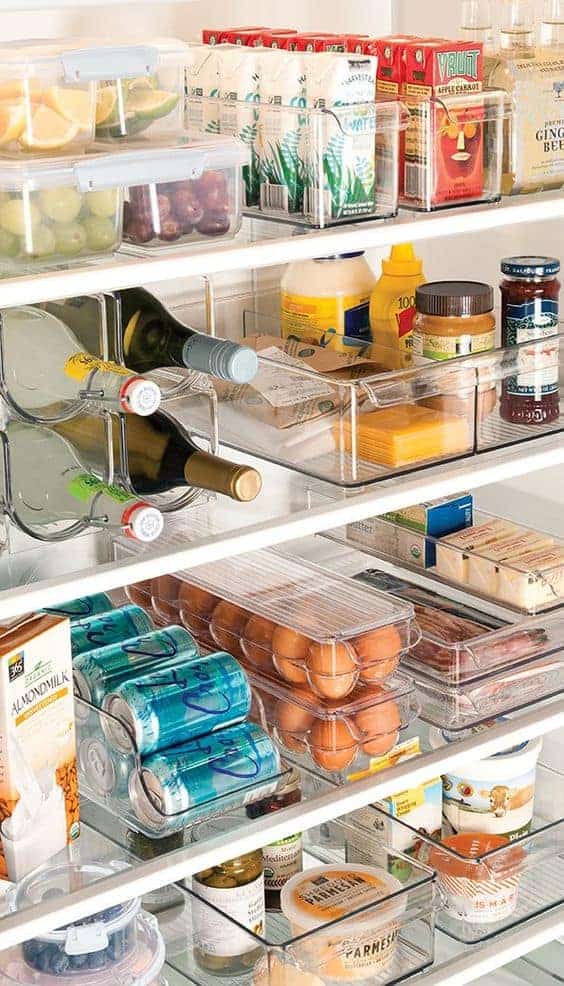 Store everything in clear bins – I love that they make it easy to spot what you're looking for, and if there's a spill you can wash them in the dishwasher! Check out this idea at Shelterness
DIY Chalk Board Knife Block
Check out this idea at Dans Le Lakehouse
DIY Custom Kitchen Utensil Holder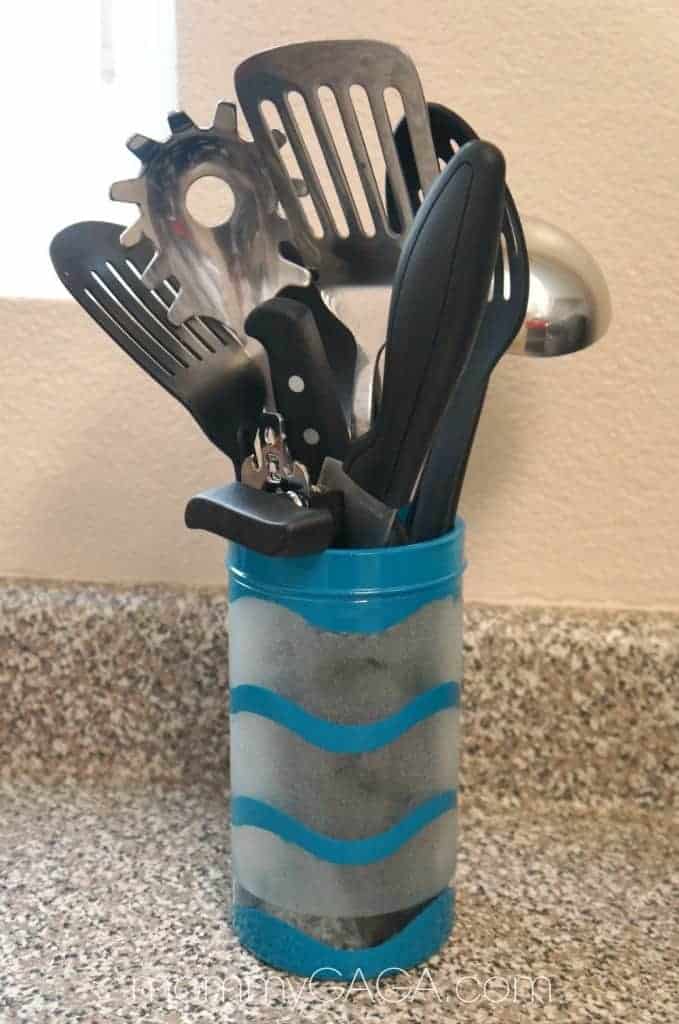 Check out this idea at Honey & Lime
DIY Magnetic Dollar Store Spice Rack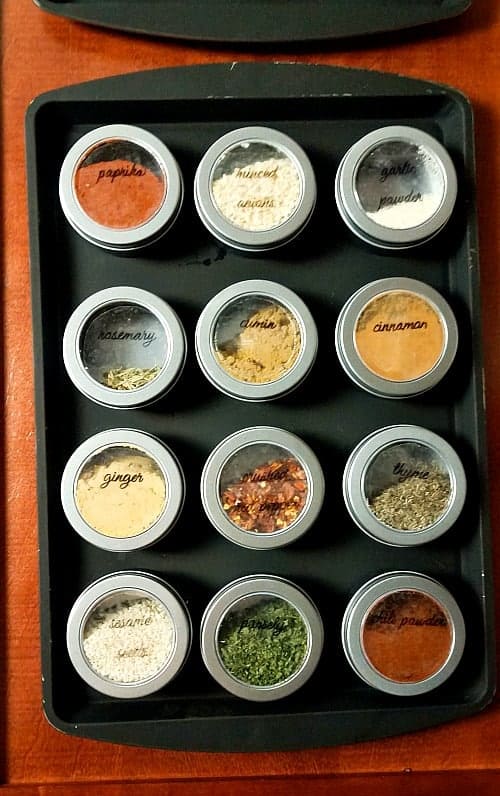 Check out this idea at A Cultivated Nest
DIY Pull Out Slotted Storage Drawer
Check out this idea at Addicted 2 Decorating
DIY Rolling Jar Storage
Check out this idea at The Navage Patch
DIY Tiered Spice Jar Drawer
Check out this idea at Addicted 2 Decorating
Dollar Store Measuring Spoon Organization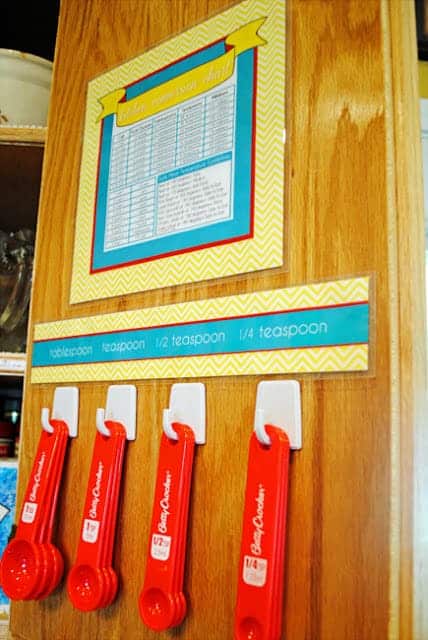 Check out this idea at I Should be Mopping the Floor
Easy DIY Open Shelving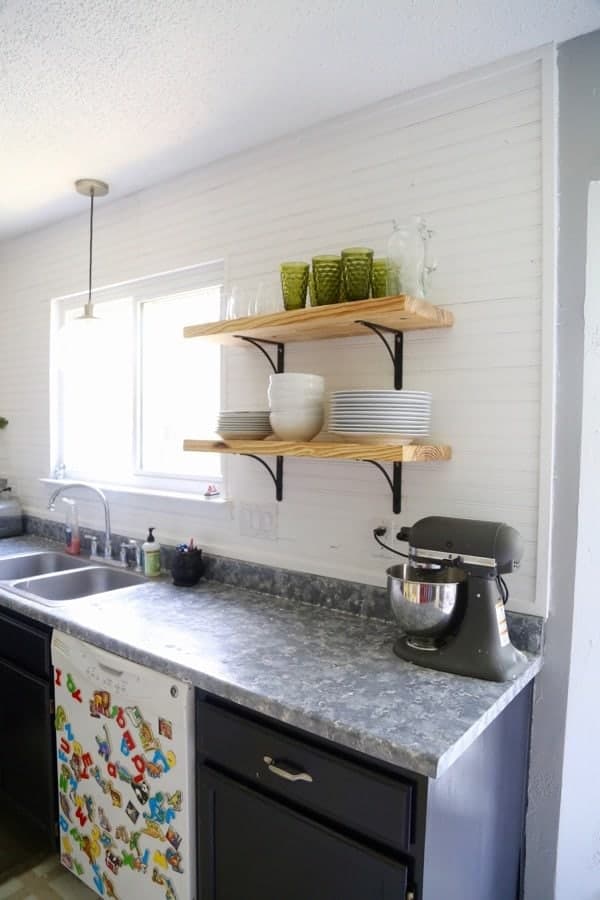 Check out this idea at Love & Renovations
Labeled Pantry Baskets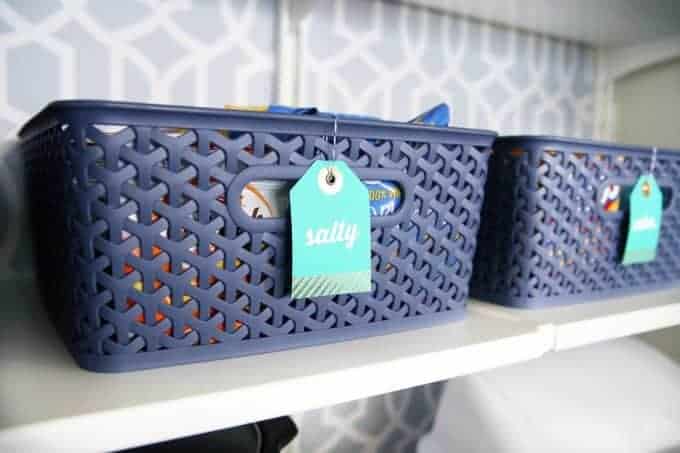 Check out this idea at Just a Girl and Her Blog
Lazy Susan Under Kitchen Sink Organizer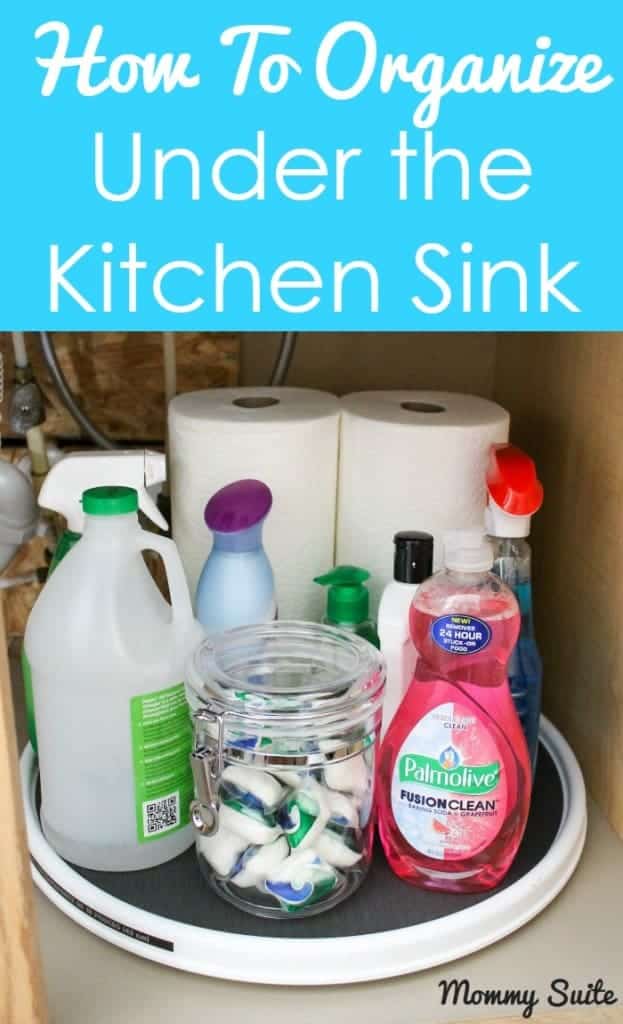 Check out this idea at Mommy Suite
DIY Farmhouse Produce Rack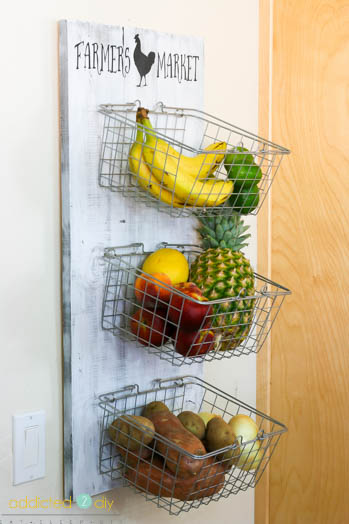 Check out this idea at Addicted 2 DIY
Magic Canister Decals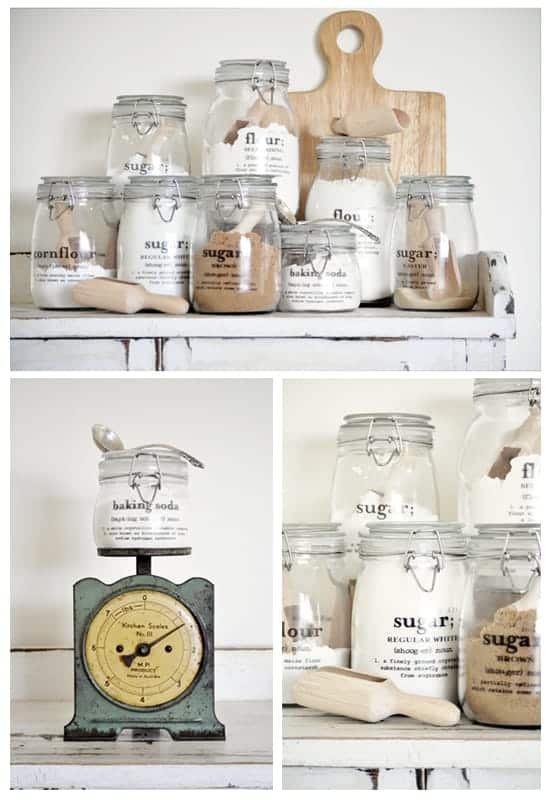 Check out this idea at The Painted Hive
Organizing Spices in Mason Jars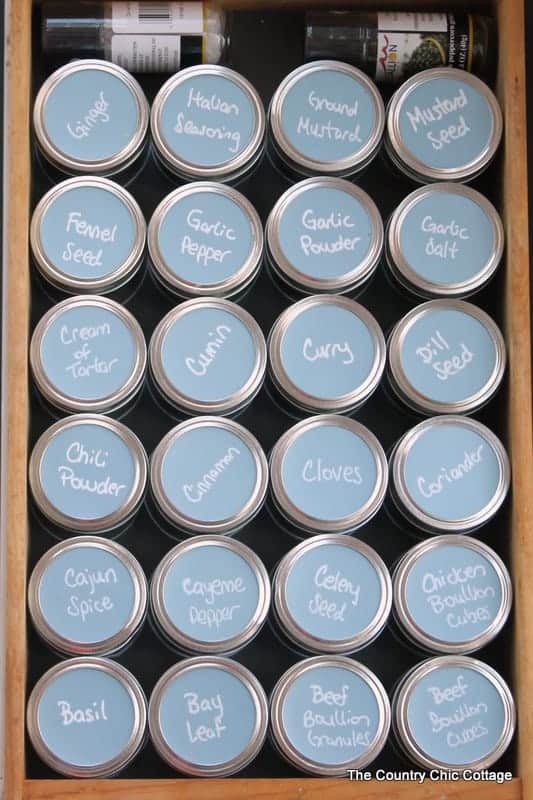 Check out this idea at The Country Chic Cottage
Packing Tape Labels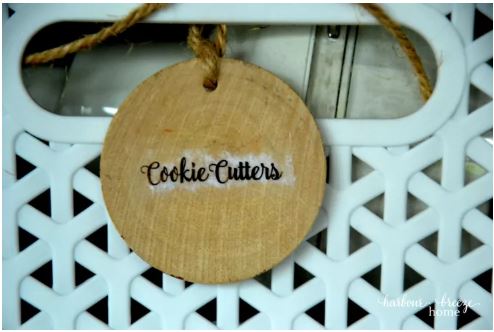 Check out this idea at Kenarry
Plastic Bag Lysol Container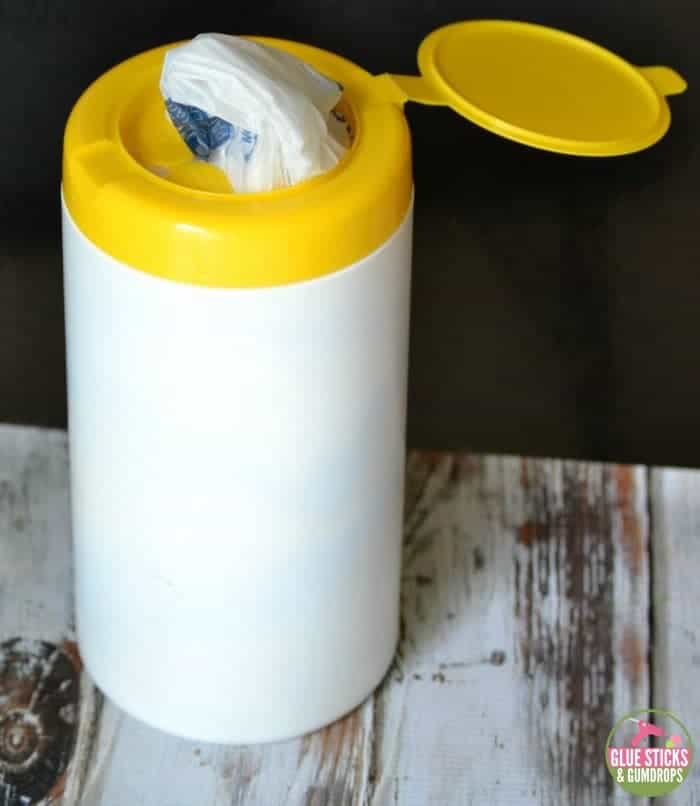 Check out this idea at Glue Sticks & Gumdrops
Cutting Board Organizer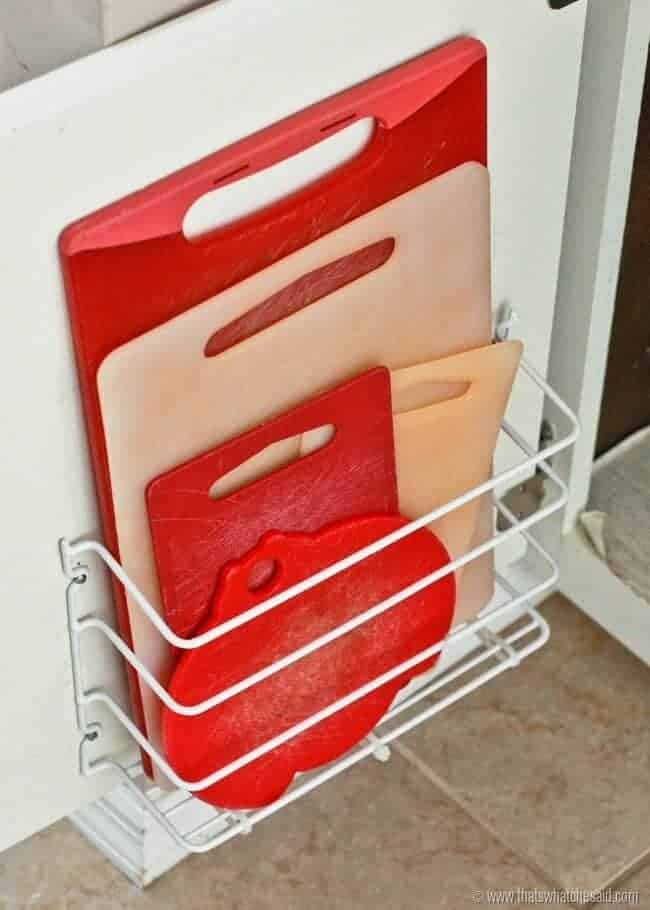 Check out this idea at That's What Che Said
Looking for more home cleaning and organization hacks? Check out these posts: