40+ Best Nutella Recipes Guaranteed To Satisfy Your Sweet Tooth
This post and its photos may contain affiliate links. As an Amazon associate, I earn from qualifying purchases.
From breakfast to dessert, these 40+ recipes will show you how versatile Nutella can be. Whether you're looking for a new way to enjoy your morning toast or an impressive finale to your next dinner party, these delicious Nutella recipes have got you covered.
Simple Nutella Recipes
There's no denying it – Nutella is absolutely delicious. In fact, it's so good that it can be used in a variety of recipes, from appetizers to desserts. If you're looking for some Nutella inspiration, then look no further than this roundup of the best Nutella recipes.

Easy Nutella recipes that come together very quickly, easily feed a crowd and are so delicious that you'll be making these simple Nutella treats every chance you get.
With drinks made with Nutella to cakes, cookies and brownies we've curated more than 40 of the best recipes made with your favorite chocolate-hazelnut spread – Nutella!
From sweet and simple to decadent and complex, these recipes are a great choice for BBQs, potlucks, family gatherings, kids birthday parties, block parties and much more. So get ready to indulge your sweet tooth with some of the best Nutella recipes around!
Drinks Made With Nutella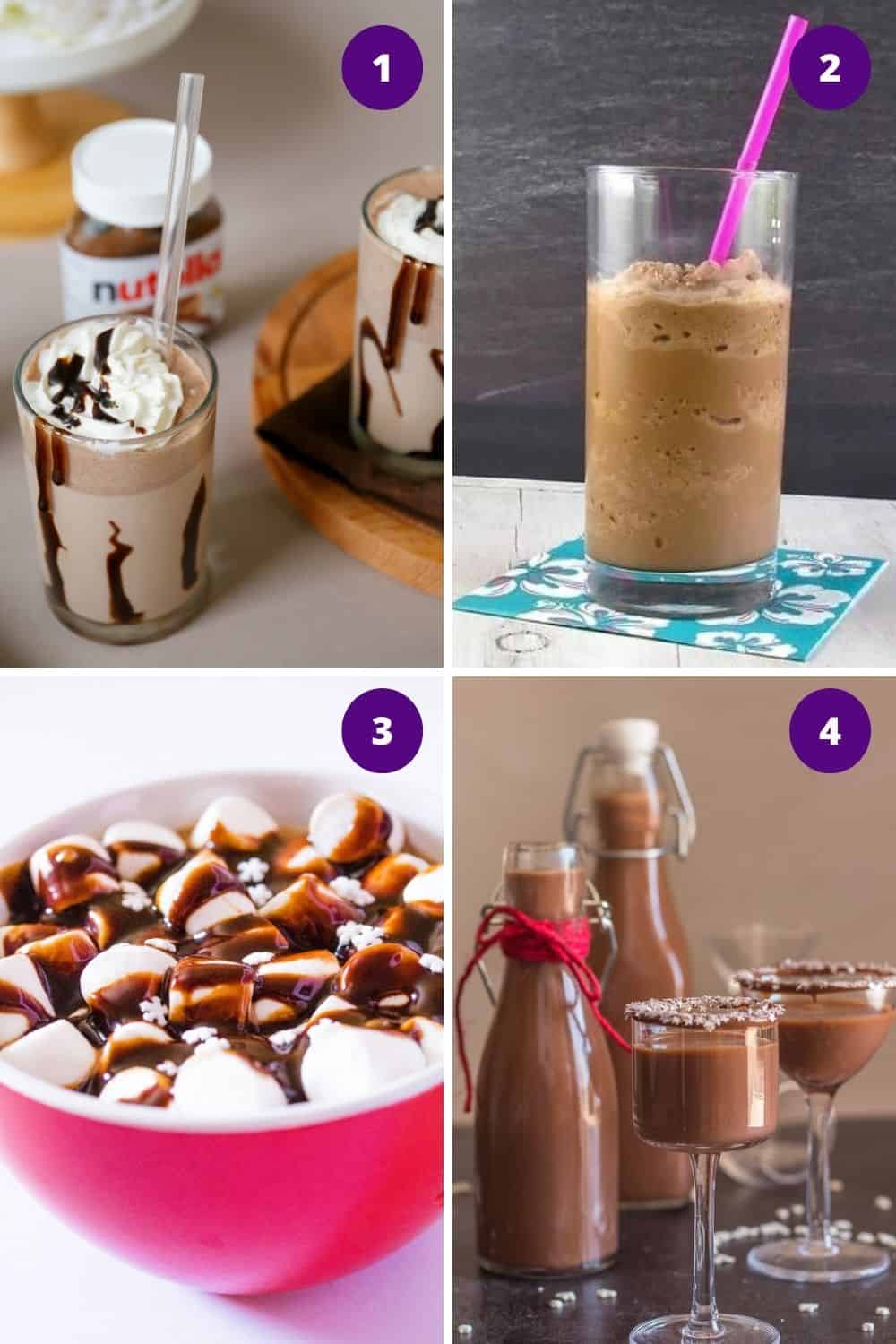 1. Just wait until you taste the chocolate hazelnut goodness mixed with cold and creamy vanilla ice cream in this super easy Nutella Milkshake. Trust us, you'll be hooked! This creamy milkshake is super easy and perfect for a summer afternoon.
2. Nutella Iced Coffee is a tasty treat to enjoy any time of day. It contains two of my favorite things ever – Nutella and Iced Coffee and the combination is magic!
3. An easy and creamy Nutella Hot Chocolate that is sure to please and is heaven in a cup on a cold day!
4. A fast and easy Homemade Creamy Nutella Liqueur is so creamy and chocolatey and makes the perfect holiday drink.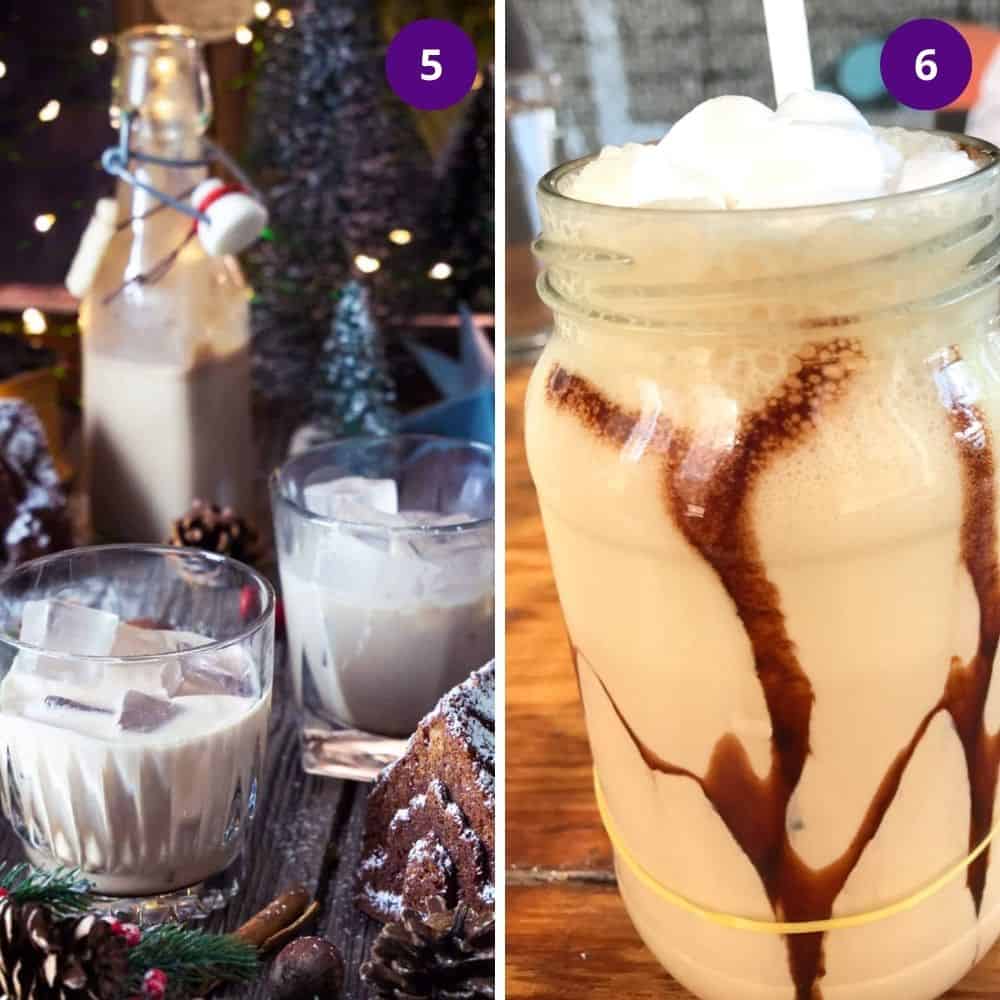 5. This Easy Homemade Christmas Baileys is perfect for a last-minute gift, quick to make but not quick to forget.
6. This quick and easy Nutella Ferrero Rocher Milkshake is sure to help you refresh after a hot and tiring day. Prepared with all-time kids' favorite Nutella and Ferrero Rocher chocolates, this milkshake is just perfect for everyone.
Amazing Nutella Treats (Perfect for Breakfast or Dessert)
I was going to split these up, but most of these you definitely could eat at any time of the day. Have Cookies for Breakfast or Pancakes for dessert… I won't tell!
1. Stuffed with Nutella, this Nutella Stuffed Chocolate Chip Cookie recipe is sure going to be a firm favorite.
2. Nutella Stuffed Crescent Rolls are so simple to make and you only need two ingredients but you could add sliced bananas, strawberries, different flavors of jam, peanut butter, or even marshmallows to the croissants for an even more indulgent breakfast or dessert.
3. If you've never had a waffle filled with a delicious hazelnut chocolate spread and topped with fruit, you have no idea what you're missing – so I'm telling you… these Nutella Fruit Waffles are not to be missed!
4. Pizza crust seasoned with cinnamon and sugar, baked and then topped with Nutella and banana slices…..and, wait, there's more…. then drizzled with caramel sauce….holy moly, this Caramel Banana Nutella Pizza is out. of. this. world!
5. These Nutella Stuffed Red Velvet Cookies are the ultimate decadent Valentine's Day (or anytime) dessert! One bite reveals the sweet secret inside. These chewy red velvet cookies are stuffed with decadent Nutella!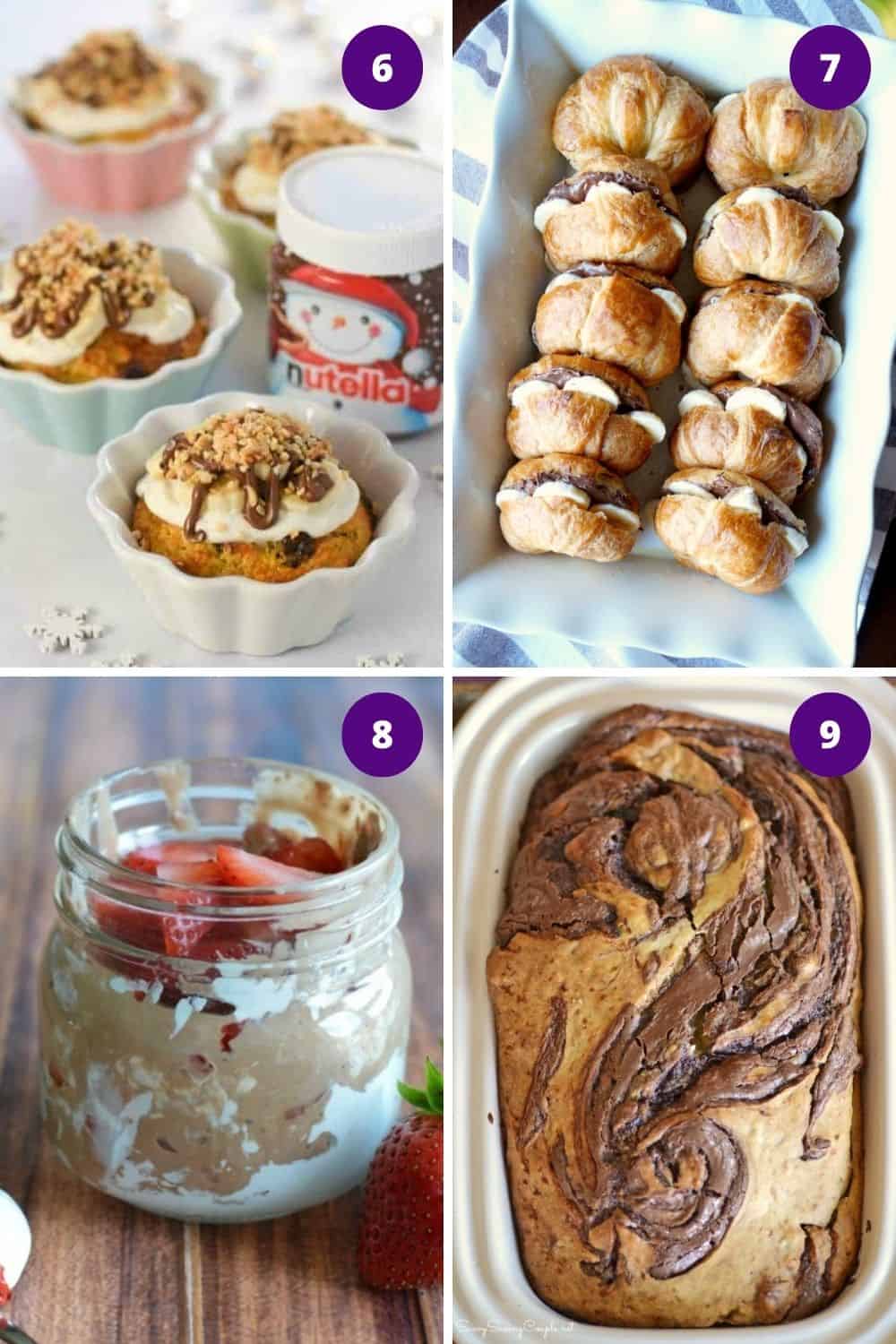 6. This Banana & Cranberry Baked Oats with Nutella Drizzle is most likely the healthiest option in our mega list BUT it's no less tasty, in fact, it's a decadent tasting but balanced breakfast the whole family will love.
7. If you're wanting to make something special this weekend, definitely make it this Banana Nutella Croissant French Toast Casserole!
8. Strawberries and Nutella always go well together and are truly yummy! Here's a really easy recipe for a Fluffy Strawberry Nutella Dessert In A Jar.
9. Turn overripe bananas into sweet treats like this delicious Nutella and Banana Swirl Bread. This bread is not only easy to make but it's also So. Darn. Good.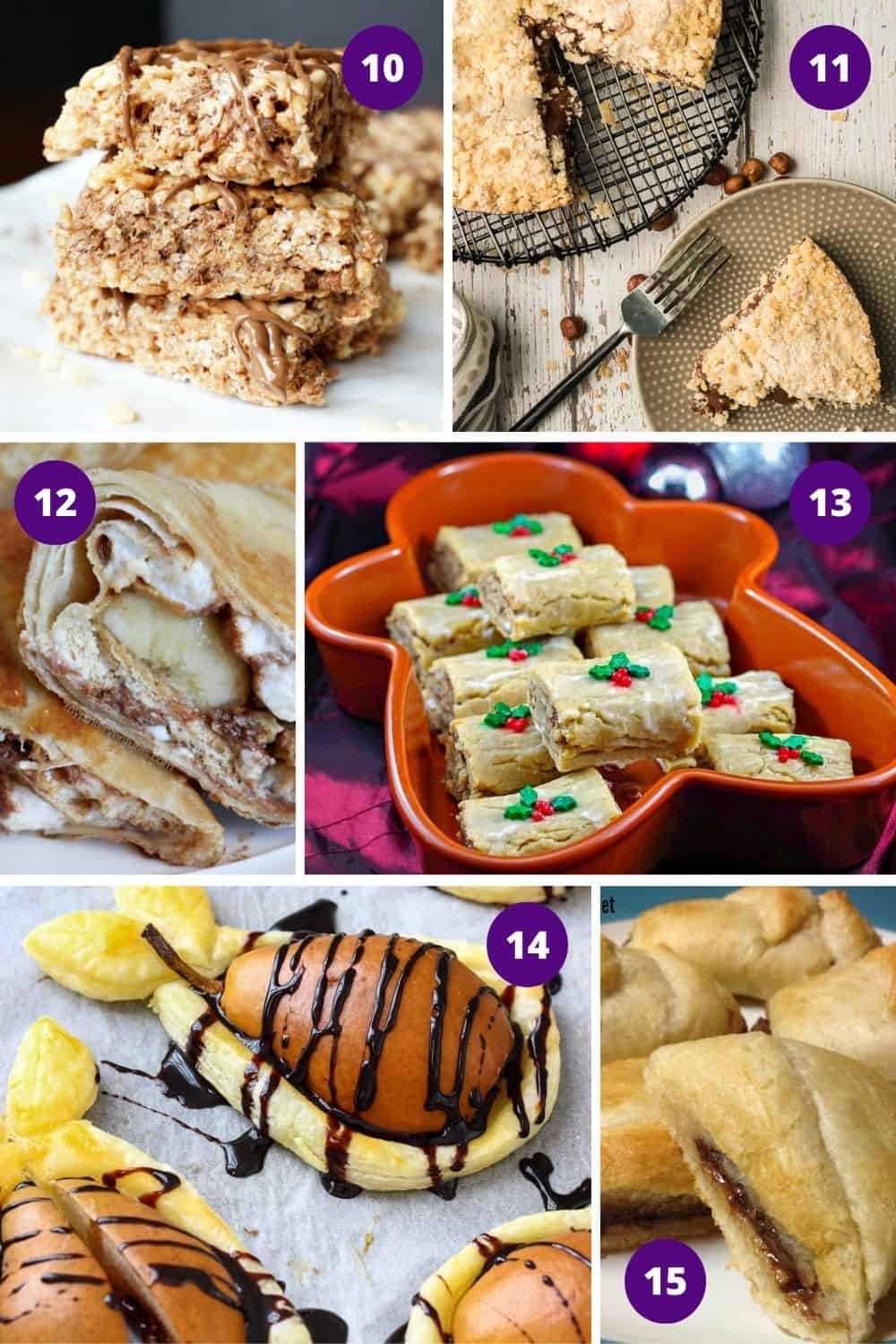 10. These scrumptious Nutella Rice Krispie Treats combine a favorite lunchbox treat with a creamy, decadent chocolate spread for a fun twist on the classic!
11. Italian Nutella Crumb Cake makes for a decadent fast and easy dessert or treat.
12. I love these Nutella Peanut Butter Banana S'more Burritos and I really like that items can be substituted or omitted to fit what you have on hand.
13. Who knew that gingerbread, Nutella, and lime make such a great trio? These flavors really do perfectly balance each other in these delicious Gingerbread Yule Log Cookies.
14. These Nutella Stuffed Baked Pears in Puff Pastry are an easy fall dessert that can be ready in less than 30 minutes and requires only 5 ingredients.
15. These Two Ingredient Nutella Crescents are incredibly simple BUT also simply amazing.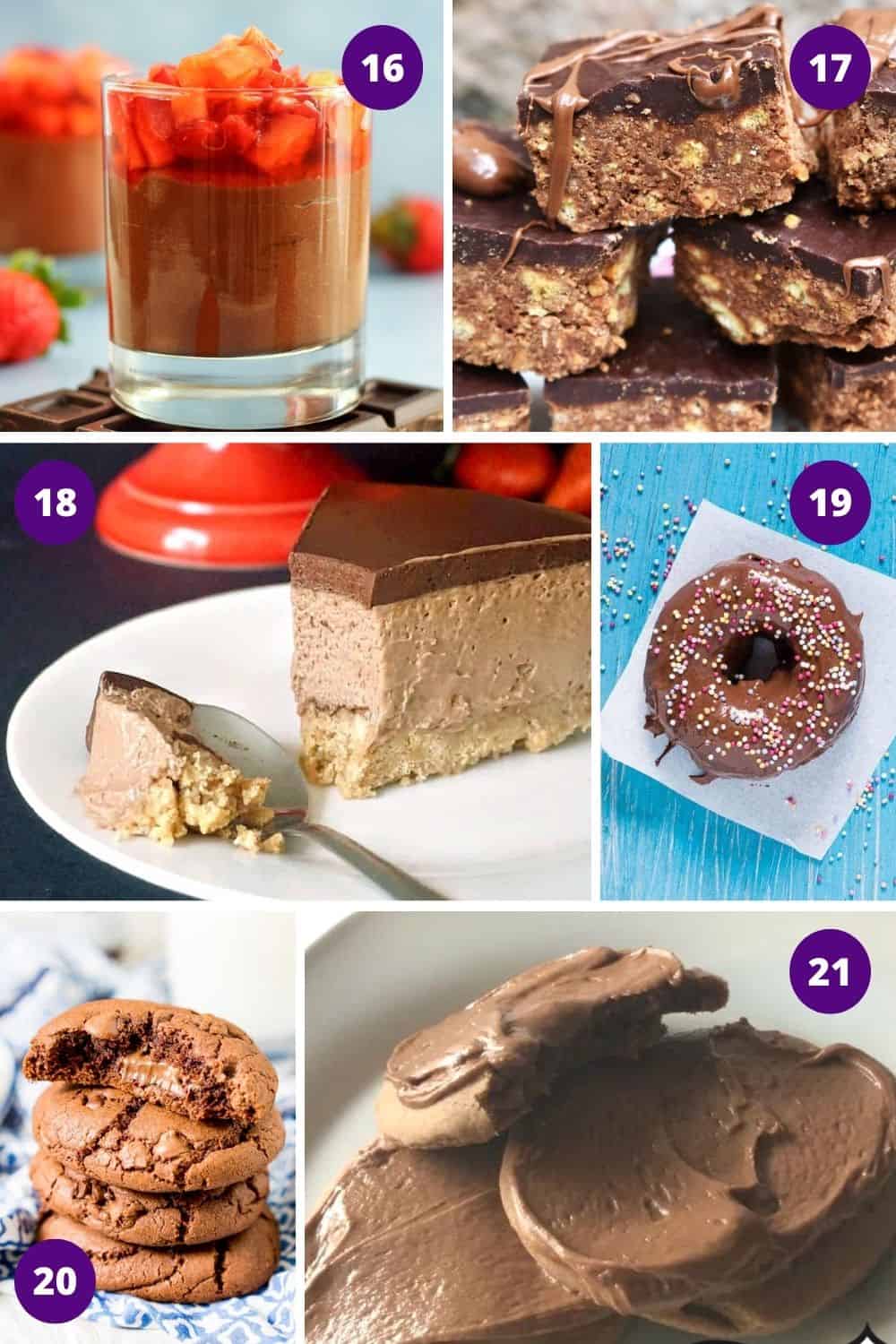 16. Chocolate Nutella Mousse with Strawberries is a simple dessert that is rich in flavor, quick to make, and tastes delicious.
17. These No Bake Nutella Fudge Bars are going to be your new favorite thing. They are super simple, super sweet, and super indulgent.
18. The Ultimate Nutella Cheesecake is an indulgent no-bake cake that's rich, yet light at the same time, and its wonderful orange aroma gives it a nice zesty touch.
19. These Baked Peanut Butter Nutella Donuts are perfect for satisfying even the biggest of donut cravings and the best part… they are ready in about 30 mins.
20. These indulgent Nutella Stuffed Cookies will become your new favorite treat! In this recipe, chewy chocolate cookies filled with chocolate chips surround a rich Nutella center… Yummy!
21. This Nutella Frosting works great on cookies and also works well on a cake. Also, there are only 3 ingredients.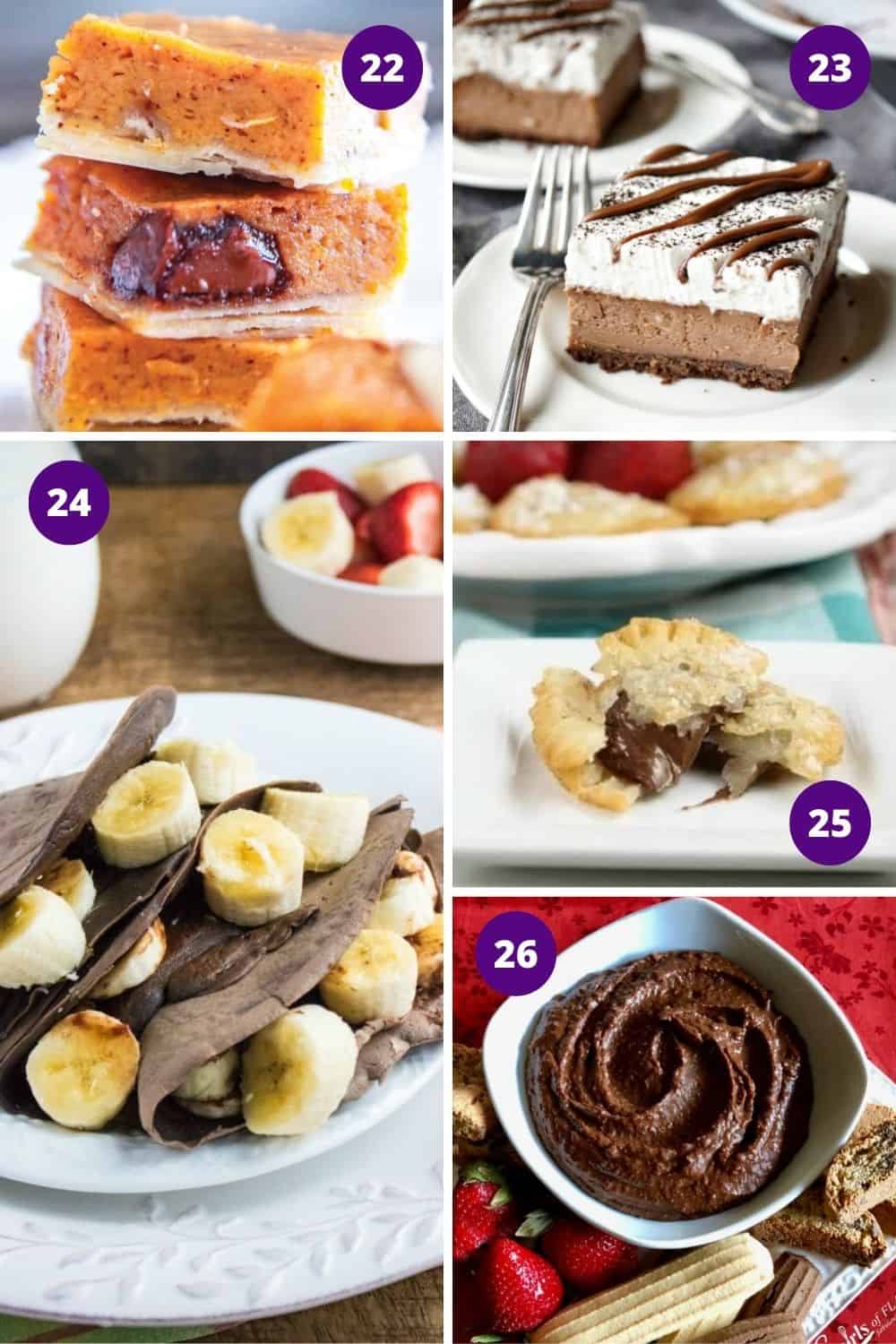 22. Pumpkin pie bars with Nutella create a terrifically tasty twist on the classic pumpkin pie.
23. These gorgeous Layered Nutella Cheesecake Bars have a crisp chocolate graham cracker base, a rich Nutella cheesecake center, and a light and fluffy whipped cream topping.
24. These Banana and Nutella Chocolate Crepes are perfect for those days when you're craving dessert first thing in the morning.
25. Fried Nutella Hand Pies are super simple to put together and the ultimate treat for Nutella lovers!
26. Nutella Hummus is a delicious protein-packed sweet dessert dip that's easy to make and a perfectly healthy sweet treat!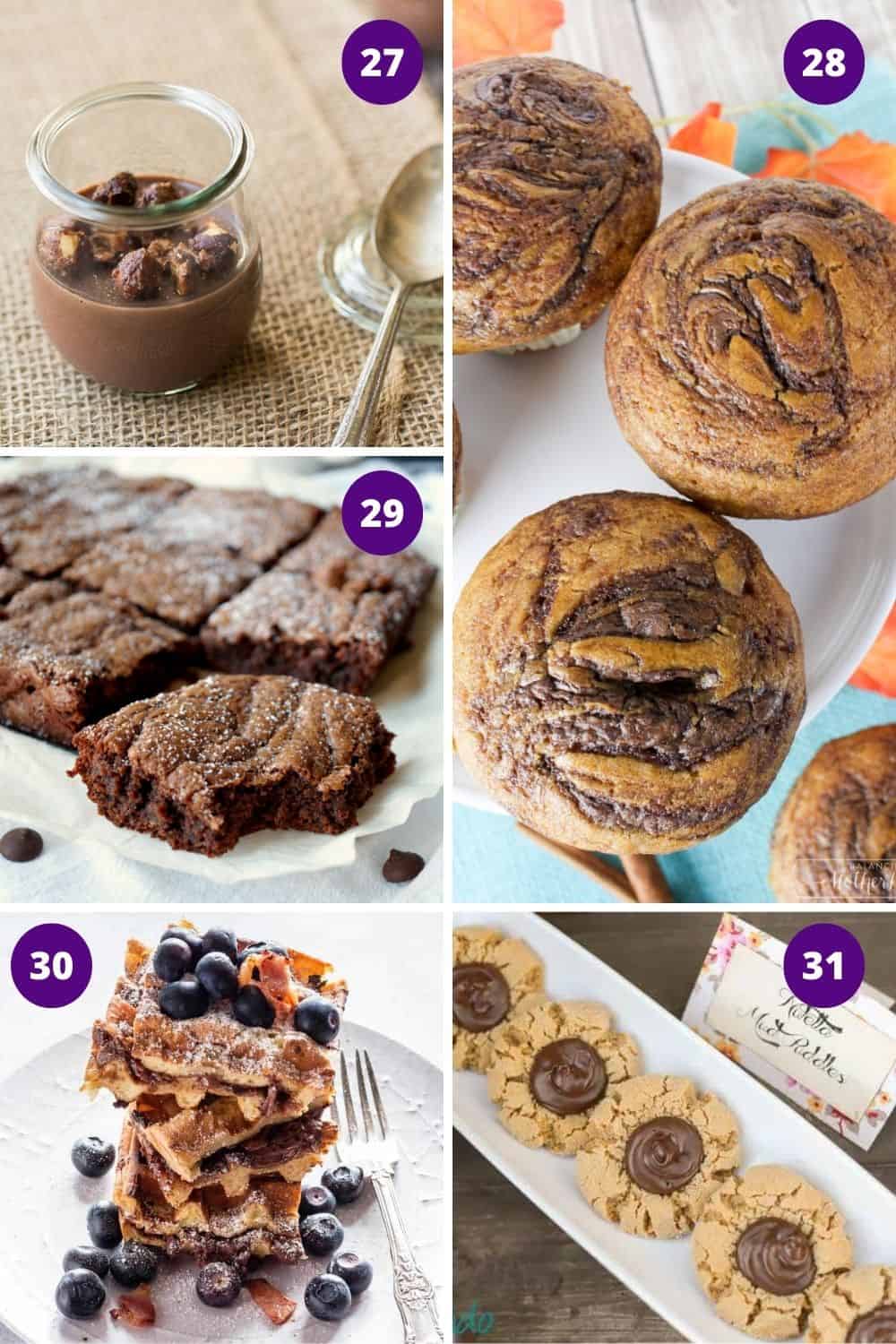 27. Why settle for a regular Chocolate Panna Cotta when you can easily make this Nutella Panna Cotta with Candied Hazelnuts?
28. These Pumpkin Nutella Muffins are a delicious treat for breakfast or an afternoon treat.
29. Three. Ingredient. Nutella. Brownies. One bowl and 5-minutes-of-prep equal totally perfect Nutella brownies.
30. These Bacon And Nutella Stuffed Waffles are all the great things about breakfast combined in one.
31. Just like the classic jam thumbprint cookies, these Peanut Butter Nutella Thumbprint Cookies are better!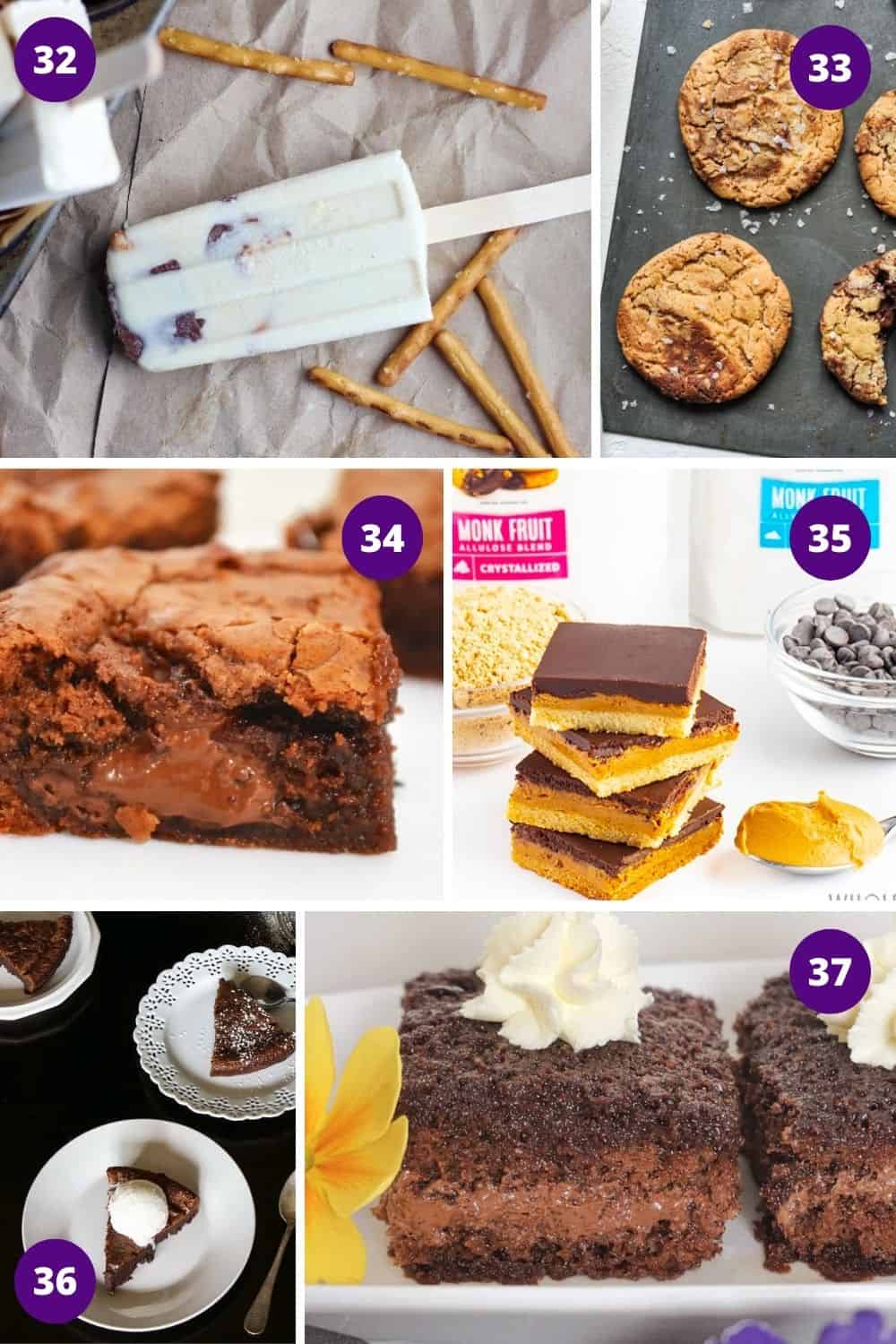 32. Pretzel Popsicles with Nutella Fudge Chunks are delicious – creamy, salty, crunchy, fudgy. Basically everything you could want in a pop.
33. Enjoy these Nutella Oatmeal Cookies with a cold glass of milk for the kiddies or a strong espresso for the adults.
34. These Nutella Brownies have it all. The crackly top, the ultra fudgy, melt-in-the-mouth brownie, and the ooey-gooey pockets of Nutella throughout.
35. These rich, buttery 5 Ingredient Sugar-Free Nutella Bars are paleo, low carb, and made with only five ingredients. But you'll never believe it when you taste them!
36. This one is for the Grown-ups – Try this delicious Nutella Baileys Brownie Cake for a scrumptious dessert.
37. Sheet Chocolate Cake with Nutella Filling, chocolate ganache glaze, and whipped cream, the ultimate dessert. Rich, chocolaty, heaven.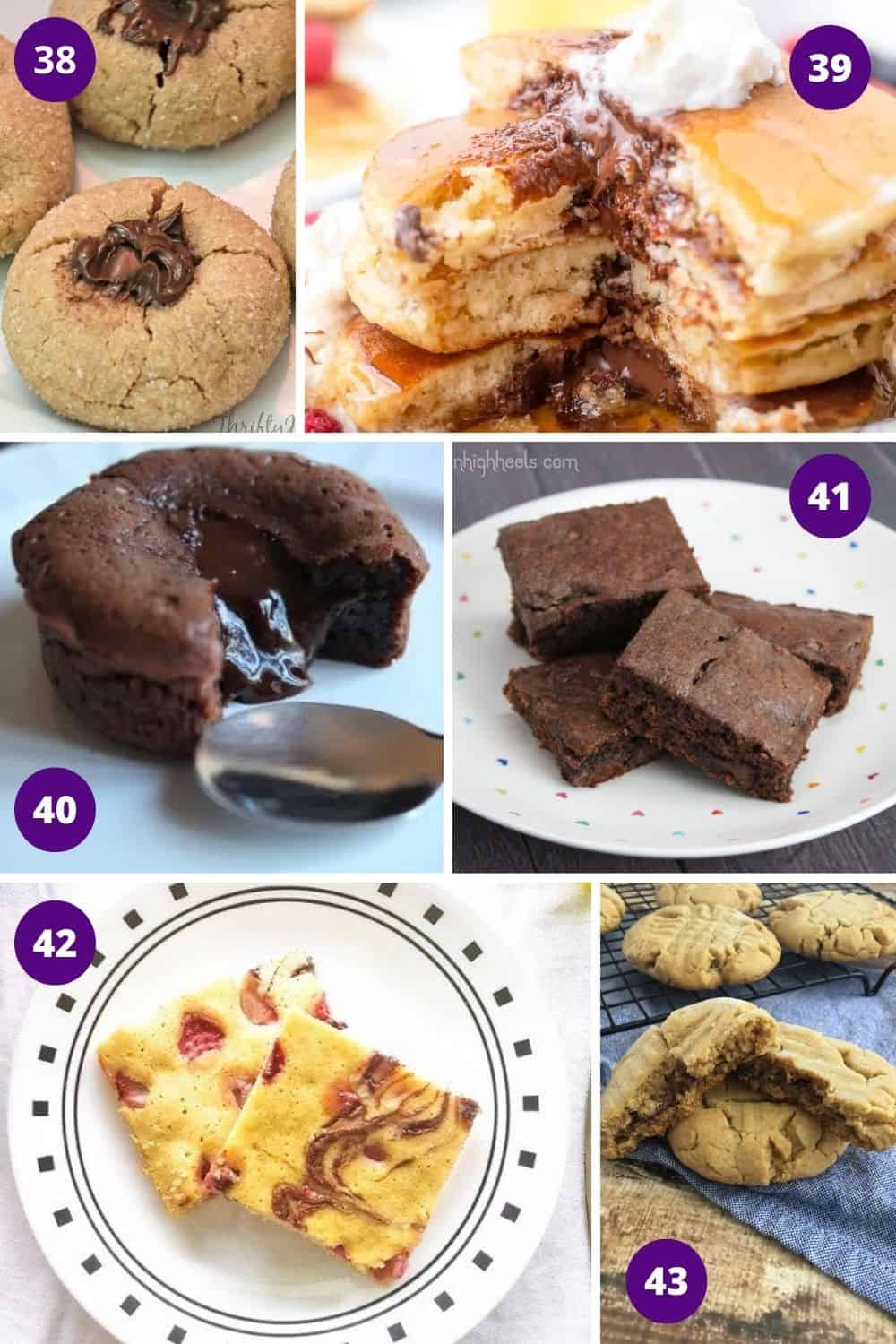 38. Are there any two things that work together better than peanut butter and chocolate? And that is why these Peanut Butter Nutella Cookies are heaven in every mouthful.
39. Get breakfast, lunch, or dinner on the table FAST and serve up the delicious Chocolate & Hazelnut Stuffed Pancakes!
40. Love Chocolate? Great, Then you'll absolutely love this French Chocolate Fondant Lava Cake!
41. Nutella or cookie butter? You can adapt these Super Easy Nutella & Cookie Butter Cake Bars to either or why not use them both!
42. Whole Wheat Almond Nutella Sheet Pancake is an easy make-ahead breakfast you need on lazy days.
43. What can be better than Nutella and peanut butter?! That is why you need these Nutella Stuffed Peanut Butter Cookies in your life.
And Finally: Make Your Own Nutella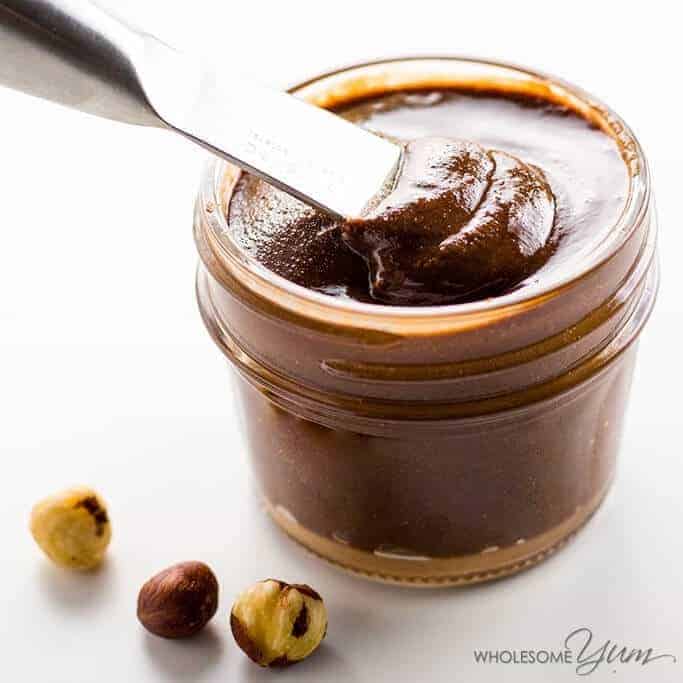 Ok, I guess it wouldn't actually be "Nutella", but this Sugar-Free Nutella Recipe is extremely good, and perfect if you like to make your own and know exactly what's going into it!
The Very Best Nutella Recipes
With so many wonderful ideas, you will never get bored of these delicious and easy recipes with Nutella. From drinks to treats you can enjoy for breakfast, brunch, dessert, or even a snack anytime of the day.
Which of these recipes are you most excited to try?
Check out more treat recipes: