Strawberry Spring Rolls are a crunchy and fruit-filled spring roll that is the perfect dessert to serve up. Fresh strawberries wrapped in spring roll wrappers and fried to a crispy texture. Pair with a chocolate dipping sauce for a chocolate strawberry dessert.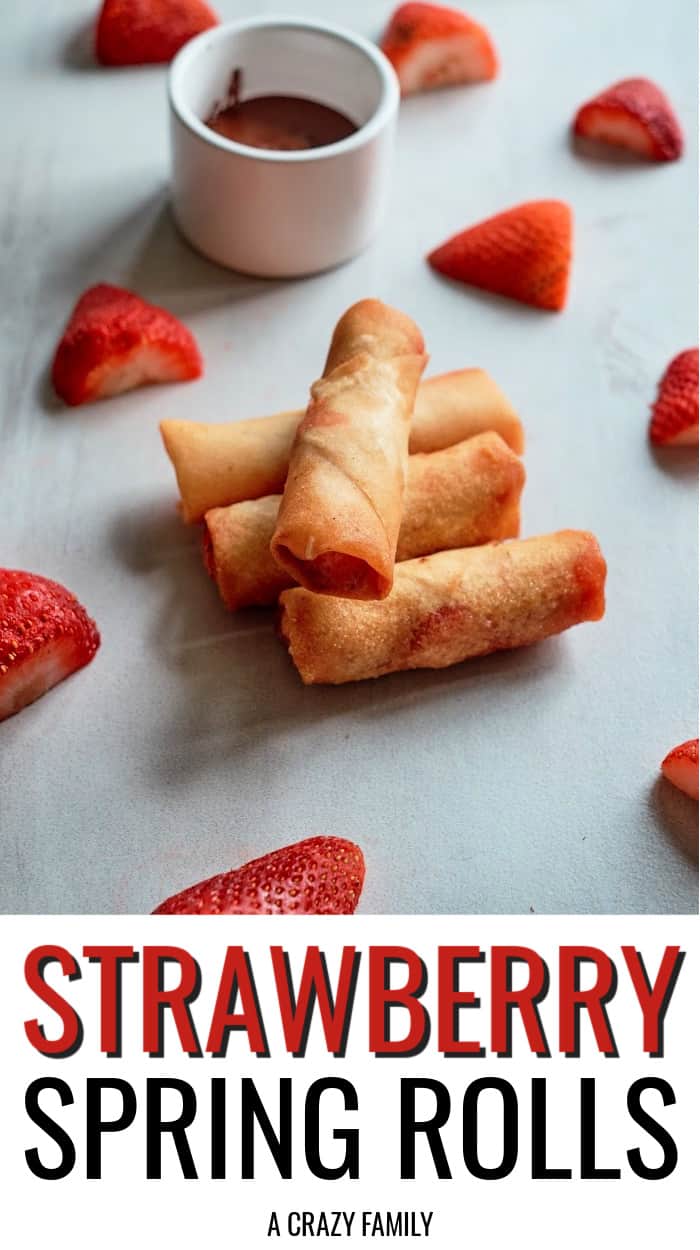 If you enjoy strawberry, you will have to try this recipe. You can use fresh strawberries or reach for frozen berries from your freezer. Kids and adults will enjoy this simple recipe.
Chocolate cherry muffins are another tasty fruit recipe I recommend trying out. For a savory option try these spicy portobello sausage muffins or these sweet or savory crepes.
Can I Use Other Fruit In This Recipe
You are more than welcome to use any fruit you want in this recipe. Any type of berries, kiwi, bananas, etc. Get creative and add a mix of fruit or swap with just one type of fruit.
Just remember if you use something like bananas or even apples they will brown up a bit, since they are exposed to air and get cooked.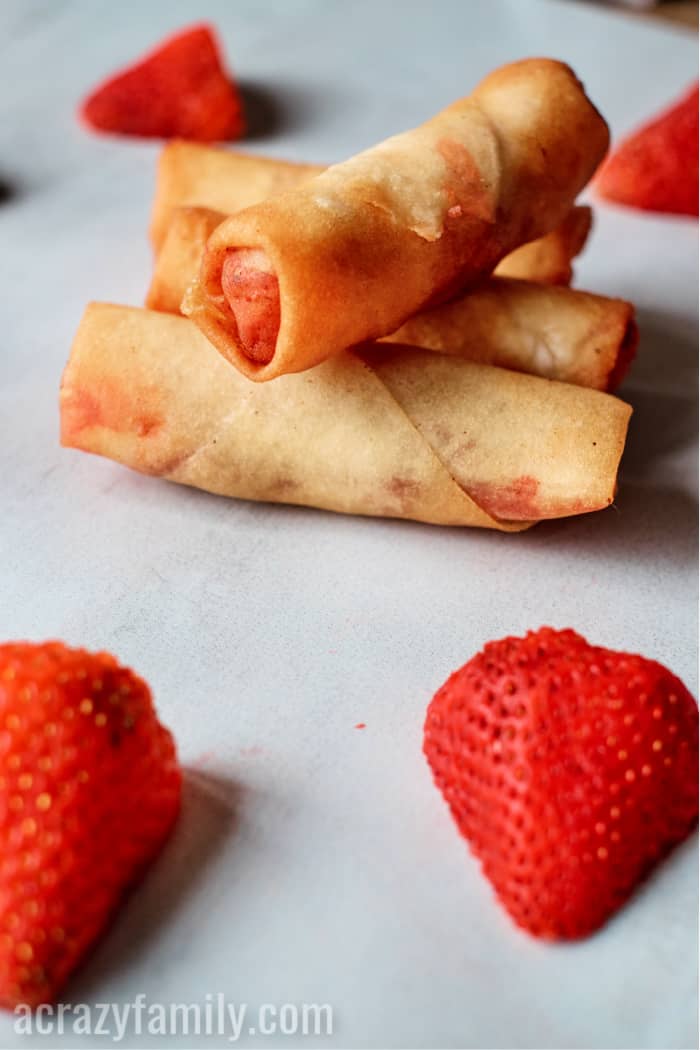 Tips For Getting Spring Roll To Seal
Using a slurry mix with cornstarch and water or an egg wash is required. This is what you will use to brush around the edges. Then as you fold up your roll it will stick.
Otherwise, you will find if you skip the mixture as the paste, it will break open and not stay sealed. Either method will work, so it is up to you if you want egg or cornstarch mix to be used.
Do These Store Well
Like any fried food these strawberry rolls are best when served fresh and warm from being fried. The outside shell can become soggy once it cools down and gets refrigerated.
If you do have leftovers go ahead and store them in the fridge. But, just know these do taste a lot better fresh from being fried up.
You can eat them cold straight from the fridge, or microwave them. Or if you want a crispier texture than go ahead and preheat the oven and toss them in to reheat that way. They will have a slightly more crisp texture. Where the microwave will make them a bit soft.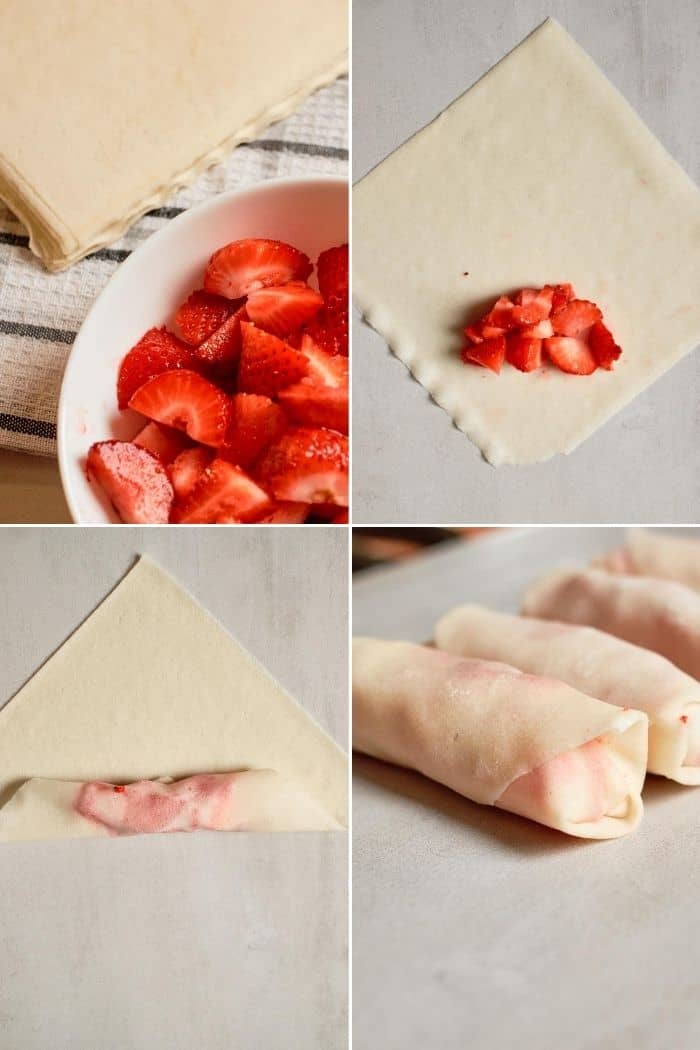 What to Serve With These Strawberry Rolls
You can serve this with a chocolate sauce, caramel sauce, hot fudge, or even a whipped cream. These are great to be eaten alone, but even better when you dip into a sweet sauce.
I have done this where I give options so people can pick and choose how they want to eat their rolls.
This is a great dessert for parties, anyone who has a sweet tooth is going to enjoy this.
Craving More Strawberry Desserts? Try These Recipes!
Don't forget to pin for later…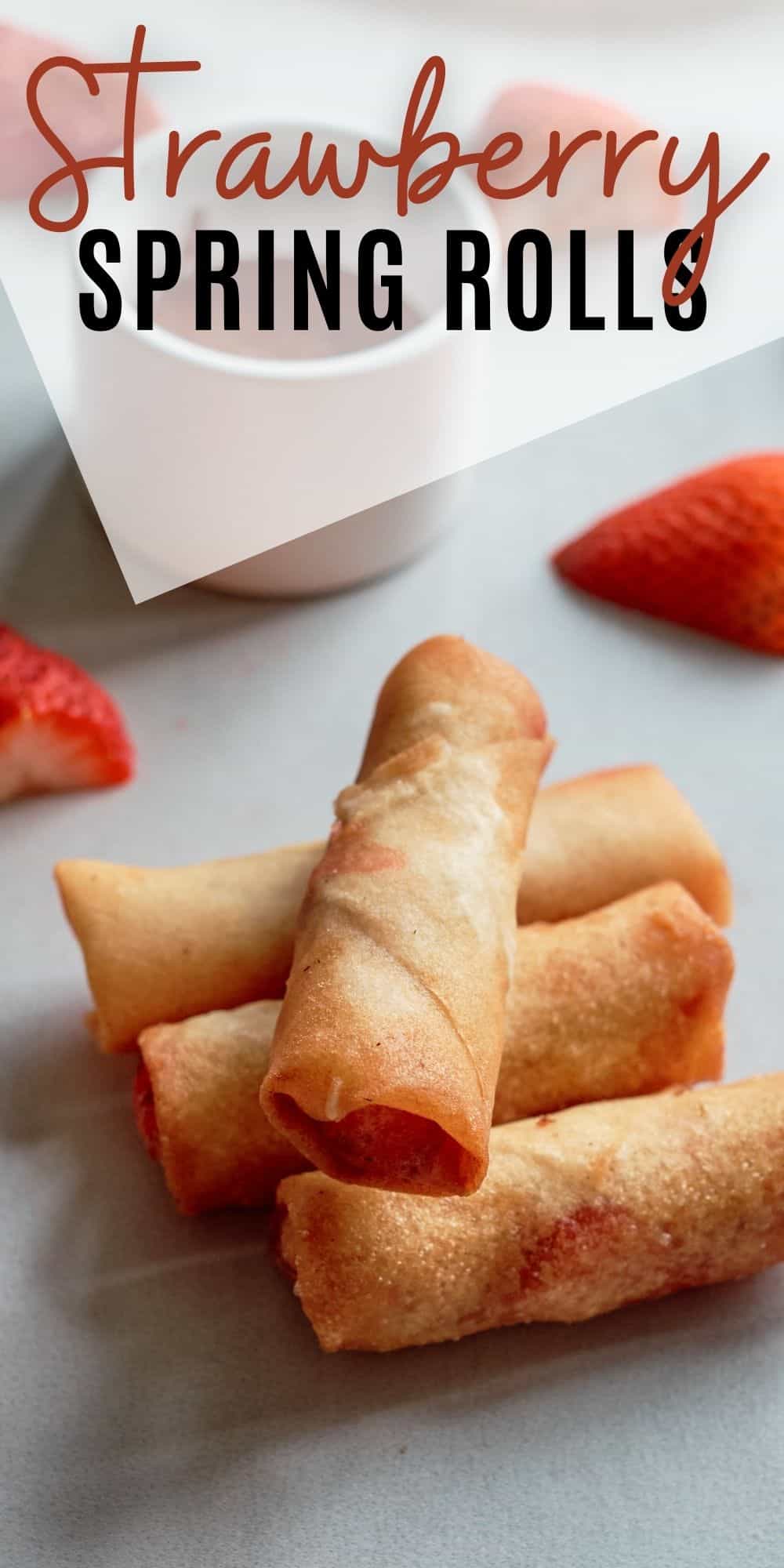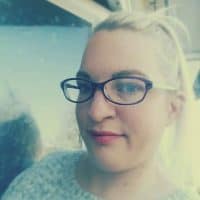 Vickie Louise is the Founder and Editor-in-Chief of A Crazy Family. She is a stay at home mom of a little boy with a big personality. After having her son, she realized how important it is for moms to take care of themselves, physically and mentally. Vickie believes in the power of using social media and her online presence for good and is thrilled to provide you with a space to celebrate all that is awesome (and a little crazy) in the world.