42 Valentine's Day Cookie Recipe Ideas
This post and its photos may contain affiliate links. As an Amazon associate, I earn from qualifying purchases.
Need some amazing and fun Valentine's Day cookie ideas? These recipes will impress everyone, from kids to that special someone. We have everything from heart-shaped conversation shortbread and raspberry cheesecake to chocolate marshmallows, truffles, and cookie bars!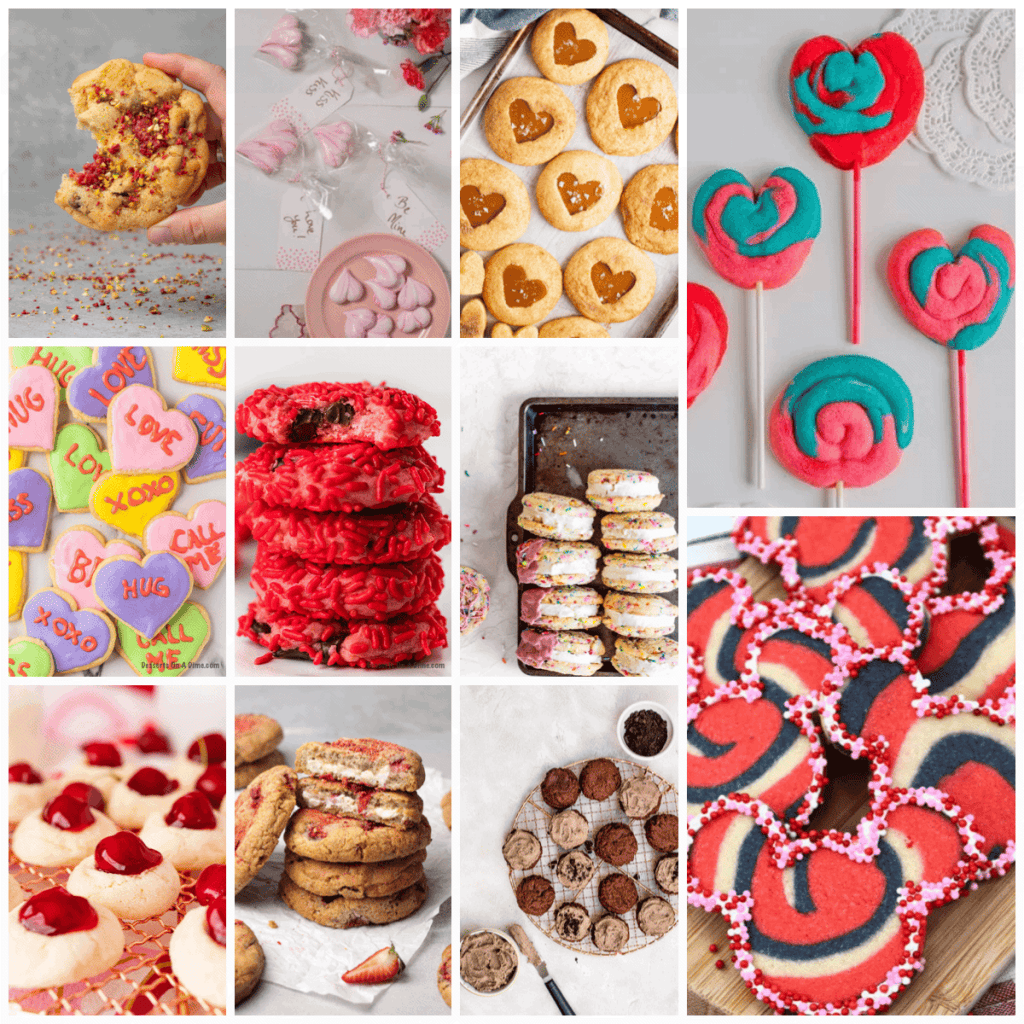 What Kind Of Cookies Should I Make For Valentine's Day?
You can make any cookie recipe for Valentine's Day but choosing one that's pink, red, white, or a combination of these will really impress everyone. Furthermore, take the extra step to shape them like hearts with a cookie cutter for an extra festive flare.

And if you like these cookies, you might want to pair them up with some of our ideas for Valentine's Day cupcakes or romantic red cocktails.

Now you're ready to celebrate the day of love with the best desserts. These Valentine's Day cookie ideas are the most amazing recipes you will come across.
Fruity Valentine's Cookie Recipes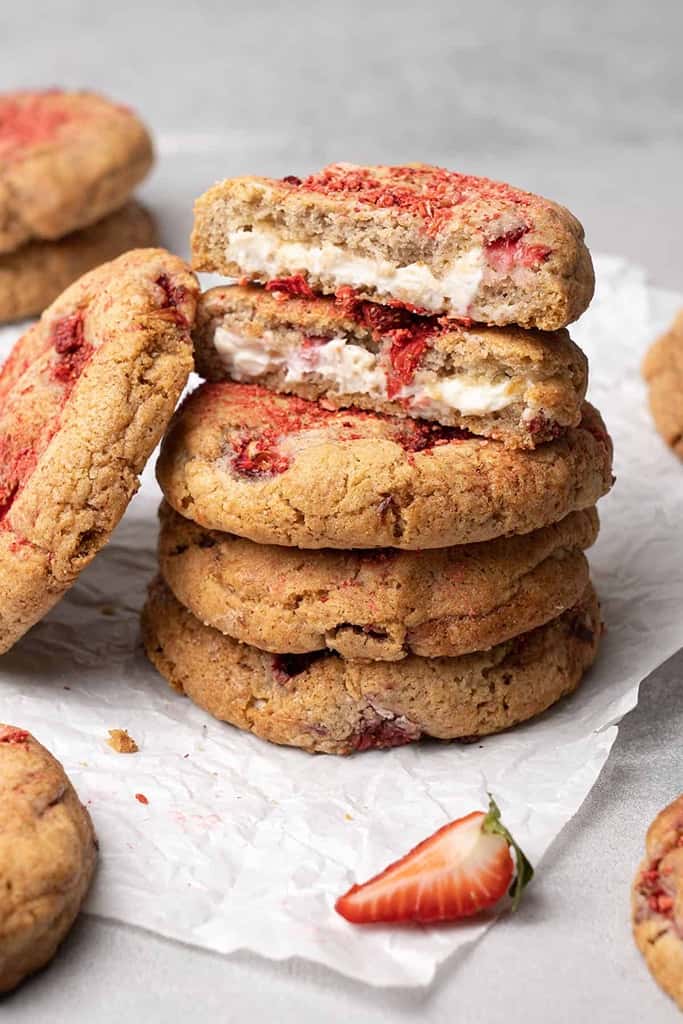 Strawberry Cheesecake Cookies: Strawberry cheesecake cookies are delicious for Valentine's Day. You can make them for the whole family, a kid's snack, or a romantic dessert for two.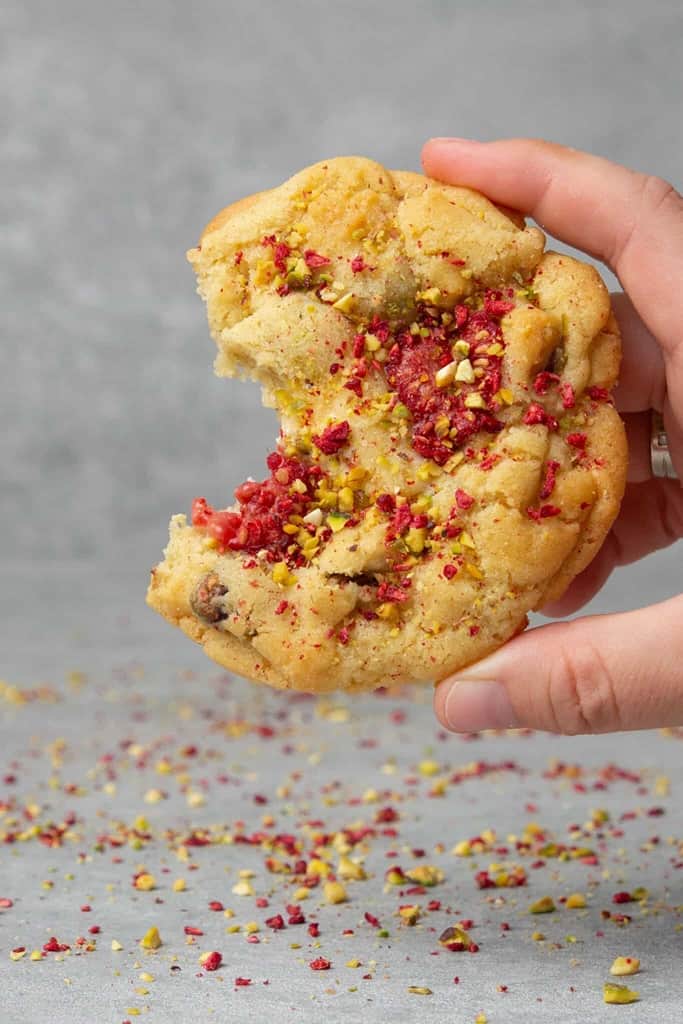 Raspberry Pistachio White Chocolate: Raspberries and pistachios with white chocolate is the perfect combination of flavors for the day of love. The red fruit adds the pretty red flavor that really pops in contrast to the green and white.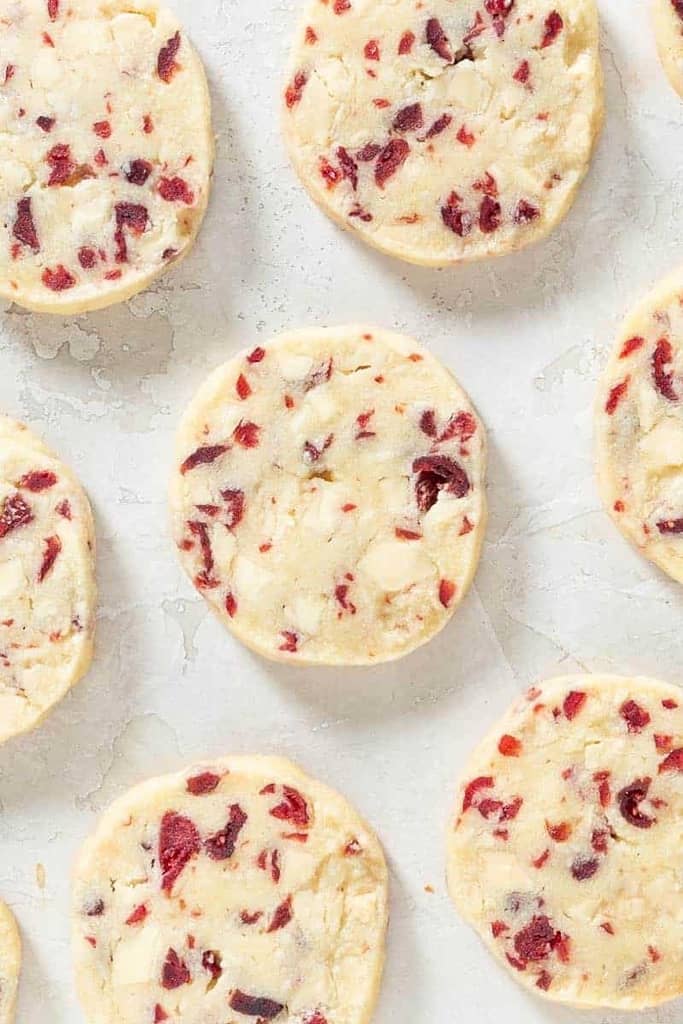 Cranberry White Chocolate Shortbread: Cranberry white chocolate shortbread is the best Valentine's Day cookie idea. The tartness of the cranberry is a lovely contrast to the creamy white chocolate.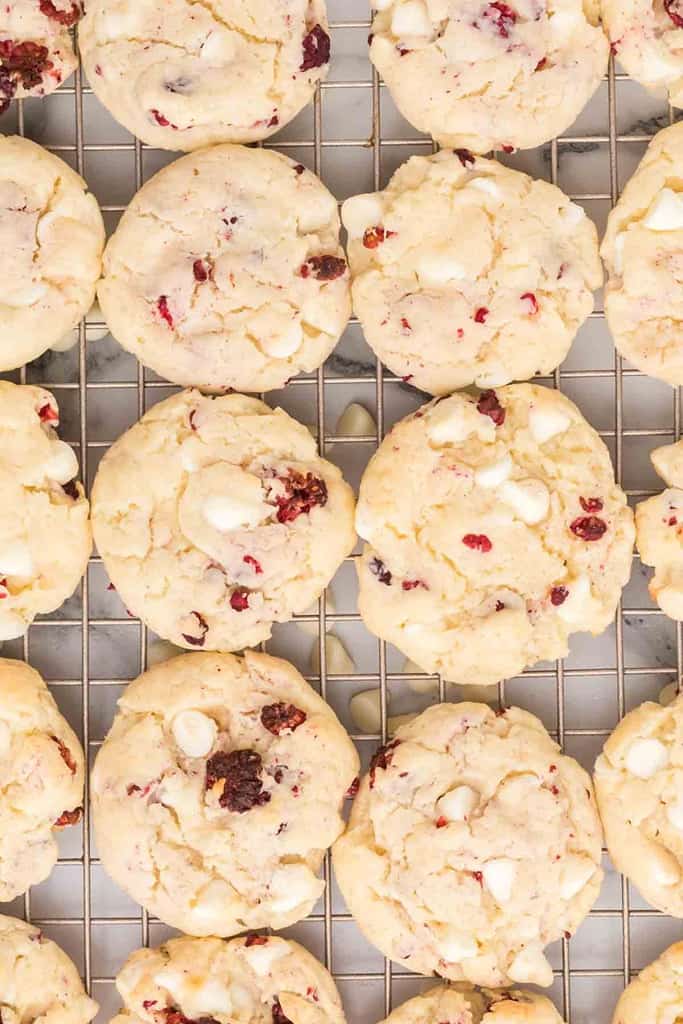 Raspberry Cheesecake Cookies: What's a better Valentine's cookie recipe than raspberry cheesecake? It's got a creamy sweet taste with tart raspberries and that red pop of color that brings it all together.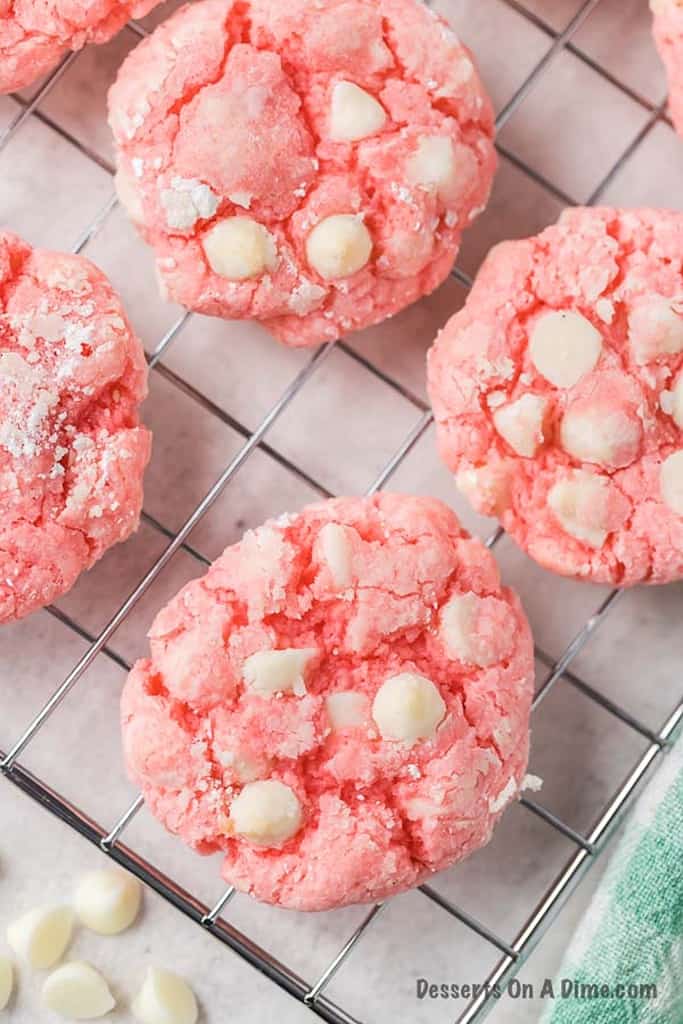 Strawberry Cheesecake Cookies: If you don't like raspberries try strawberry cheesecake cookies instead. The kids love how they taste and so do adults. You could whip up a batch of these for that perfect someone on that special day.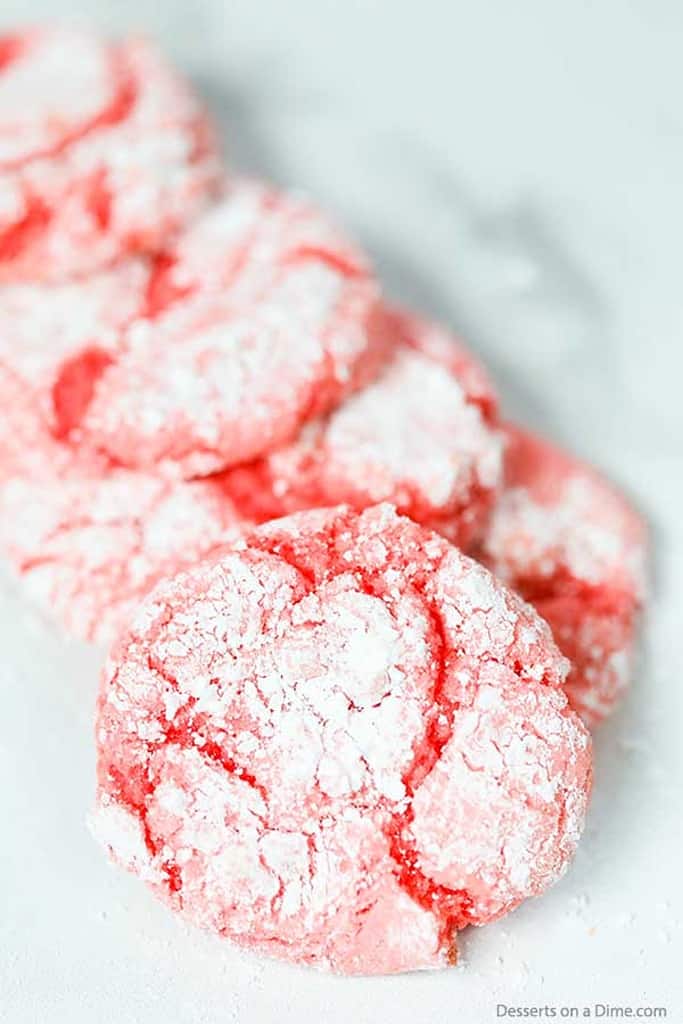 Strawberry Cake Mix: Grab a box of your favorite strawberry cake mix and whip up a batch of these cookies for Valentine's Day. They are the perfect pink color that everyone adores!
Chocolate Valentine's Cookie Recipes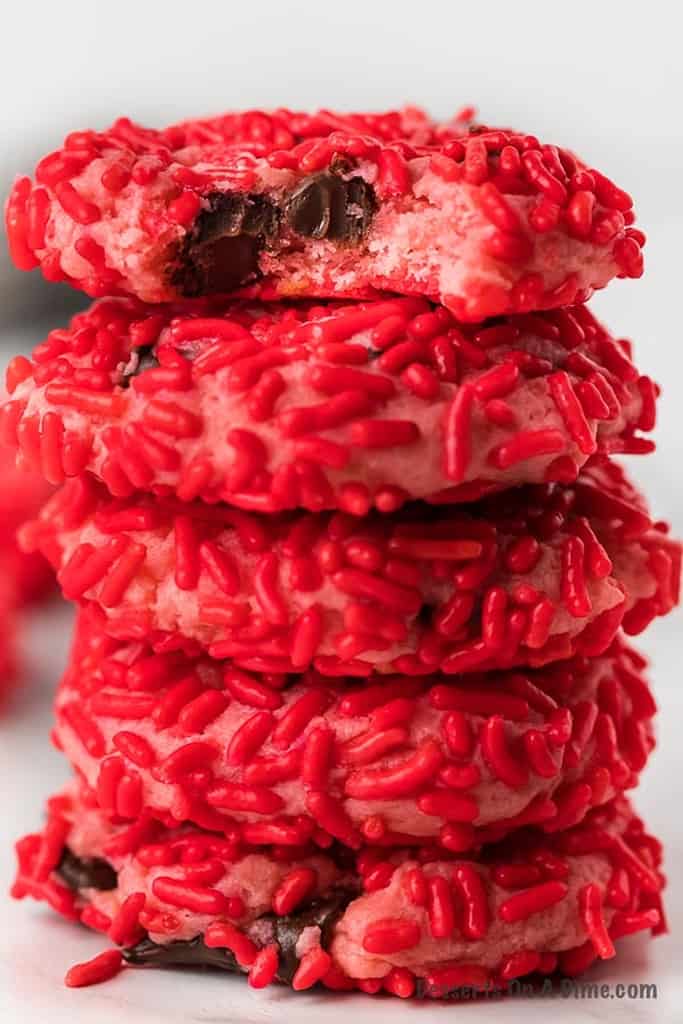 Strawberry Chocolate Chip: Strawberries and chocolate go together like American and apple pie! The best thing is all you need is some simple pantry staples to put these together and serve up to the ones you love most.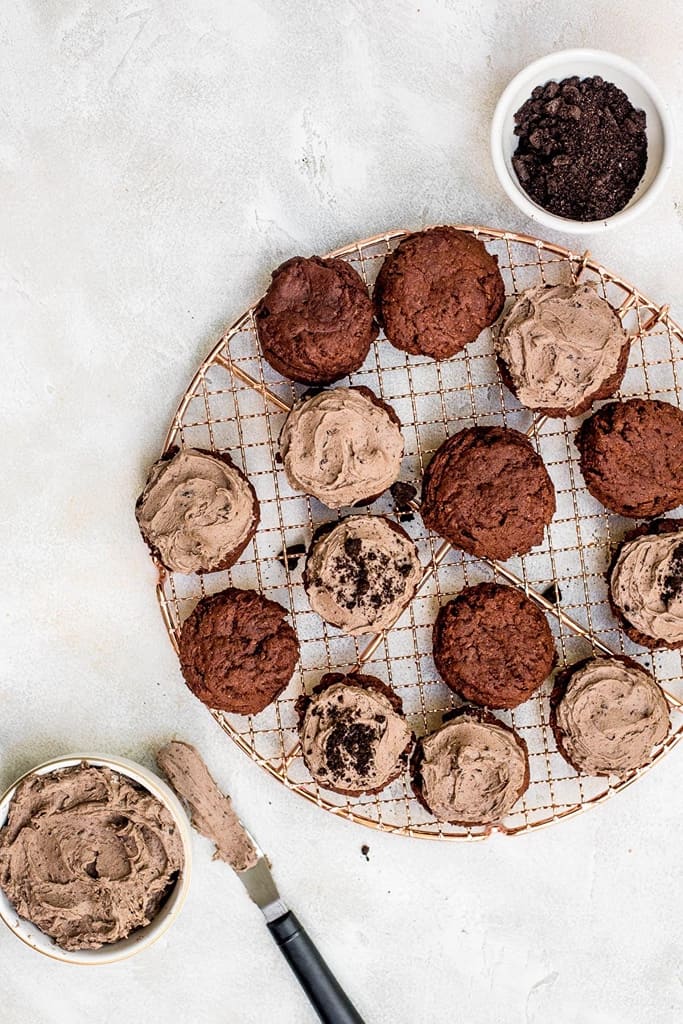 Cookies & Cream: Cookies and cream is one of my favorite dessert recipe themes. Like these cookies that taste heavenly with your favorite Oreo flavors.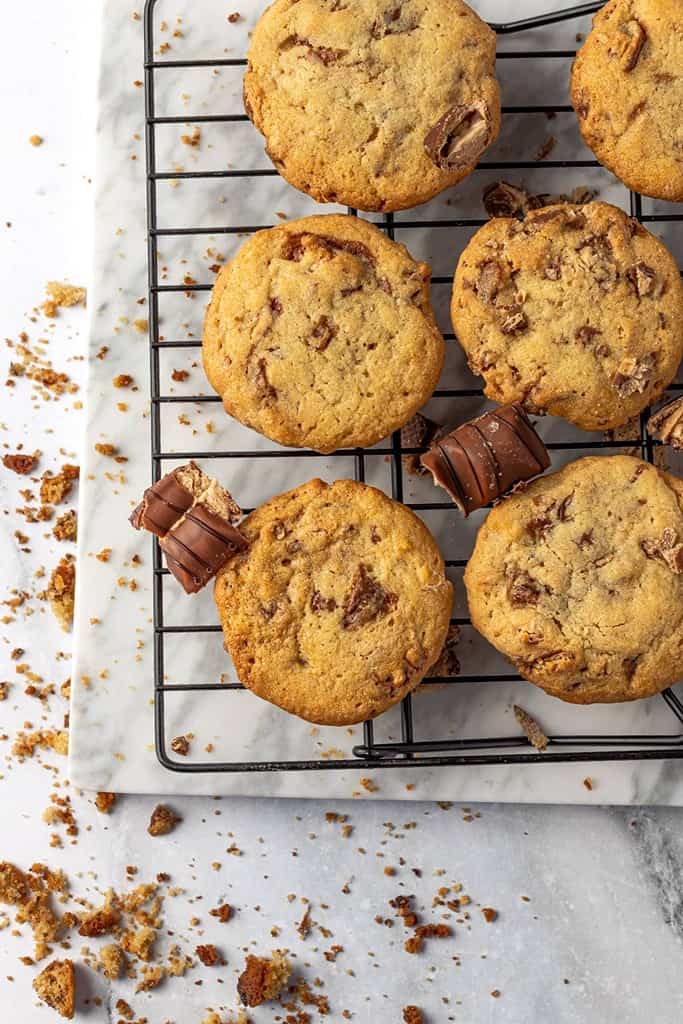 Kinder Bueno: I would be lying if I didn't admit that I've cracked open a kinder candy or two that my kid didn't eat. I'll take that delicious flavor and stuff it in a delicious sugar cookie.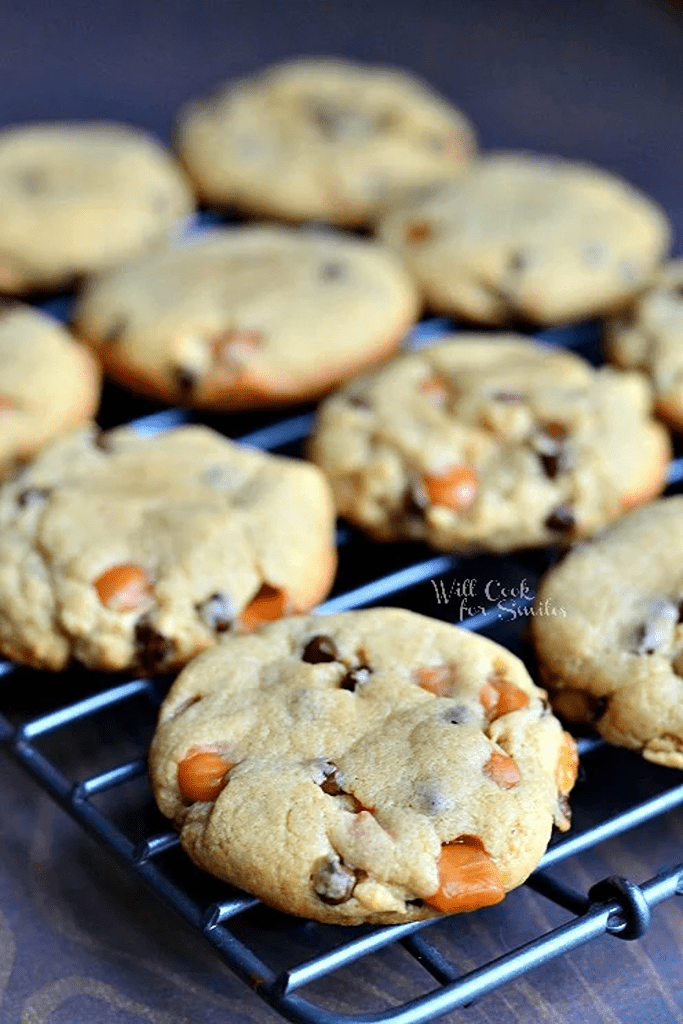 Peanut Butter Chocolate Caramel: This Valentine's Day cookie idea has all your favorite classic flavors like peanut butter, chocolate, caramel, and more. Whip up a batch of these for that special day.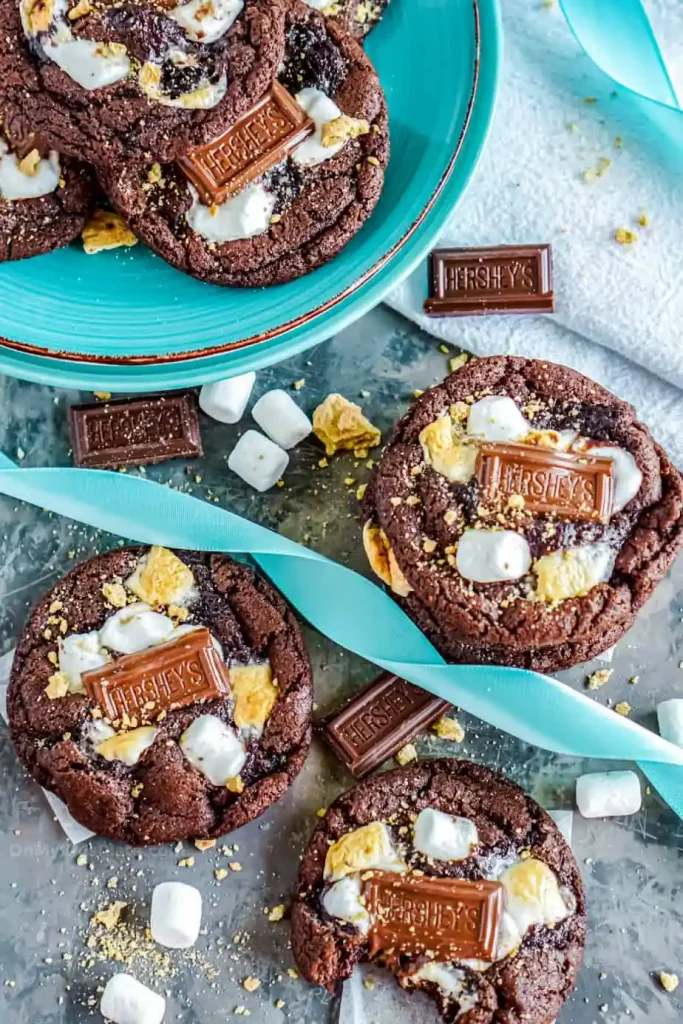 Triple Chocolate Marshmallows: Who doesn't love a good s'more? If you ask me, marshmallows are the epitome of a dessert ingredient! These triple-chocolate marshmallow cookies are perfect for a crowd.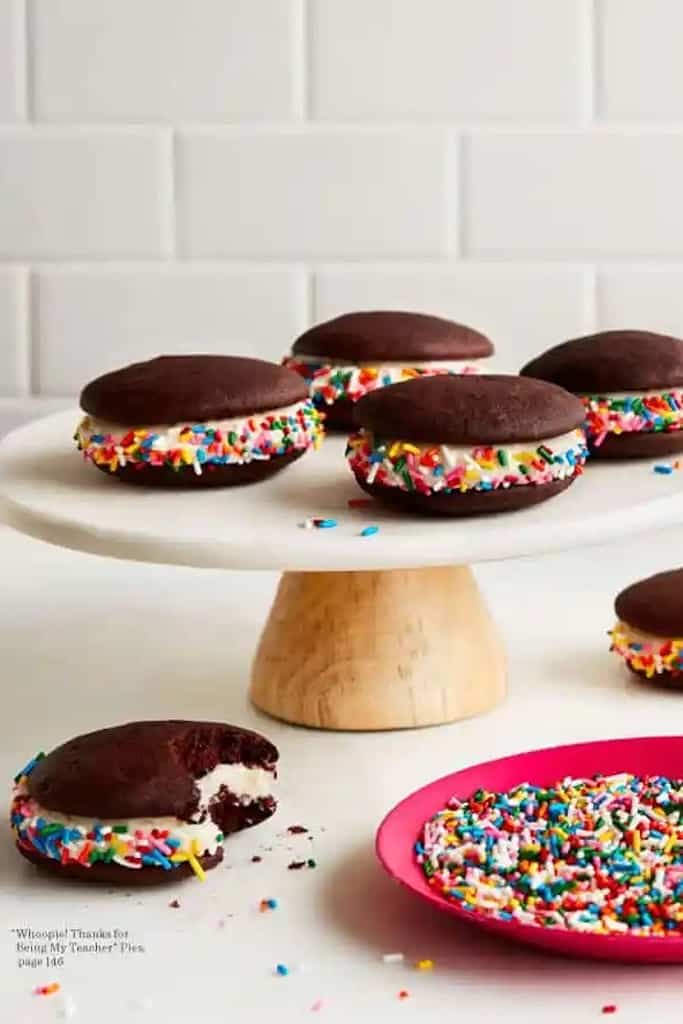 Chocolate Whoopie Pies: All you need is some simple household ingredients to make these chocolate whoopie pies. You can serve them up on Valentine's Day for a snack or a late-night dessert.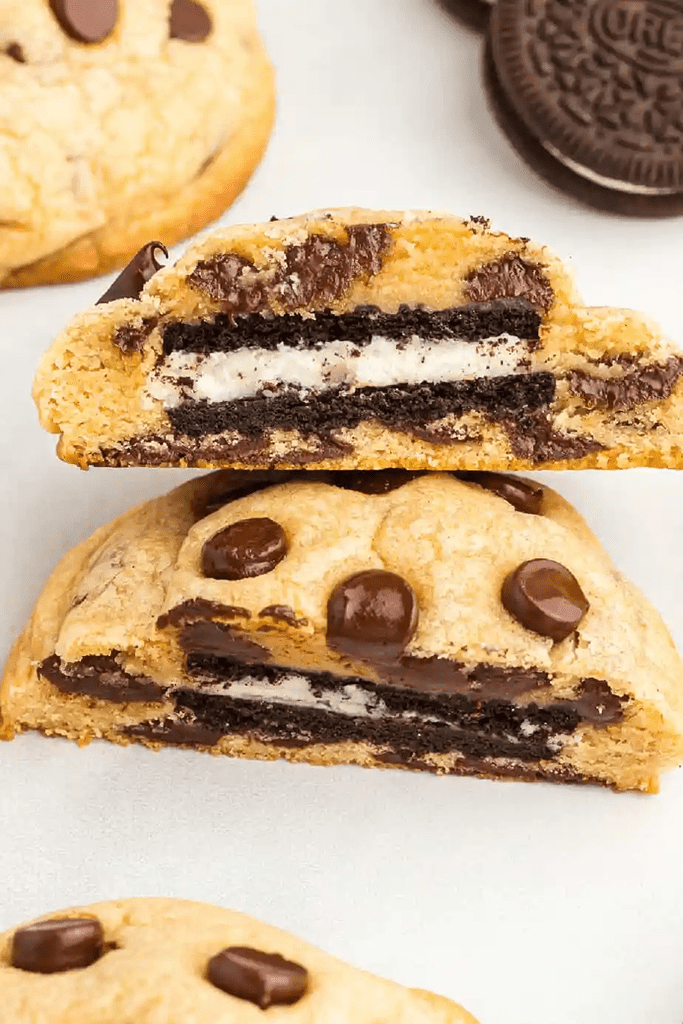 Oreo Stuffed Chocolate Chip: This Valentine's cookie recipe will put a smile on everyone's face. That's because when you take a bite you will be surprised at the tasty Oreo inside.
Red Velvet Recipes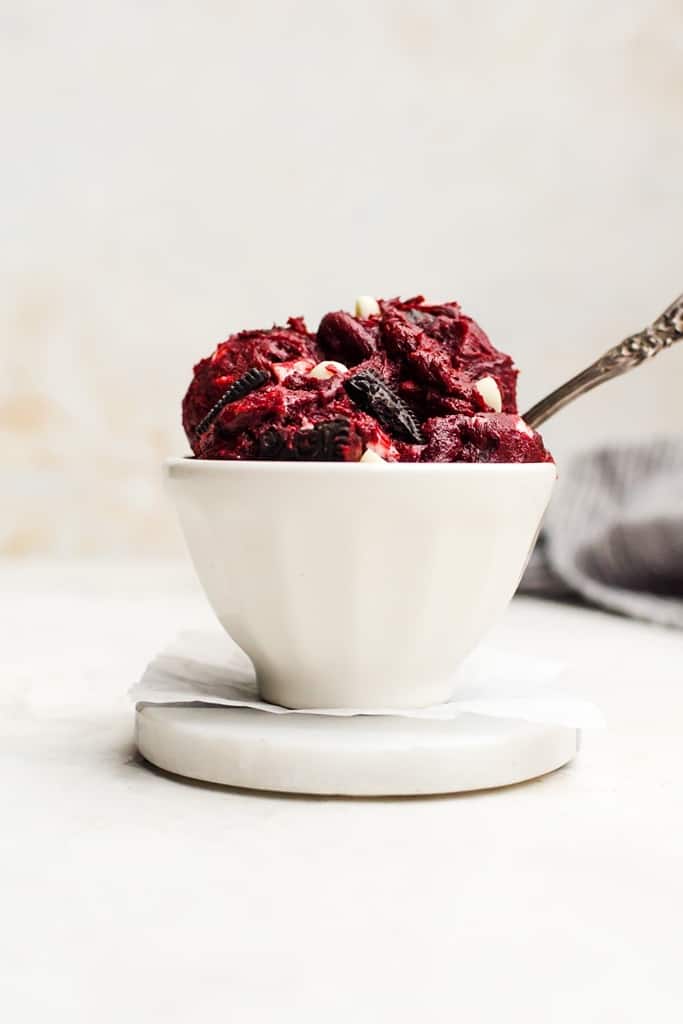 Red Velvet Cookie Dough: Red velvet is the perfect flavor for your Valentine's Day dessert recipes. Just like this raw edible cookie dough that's a beautiful red color and tastes amazing.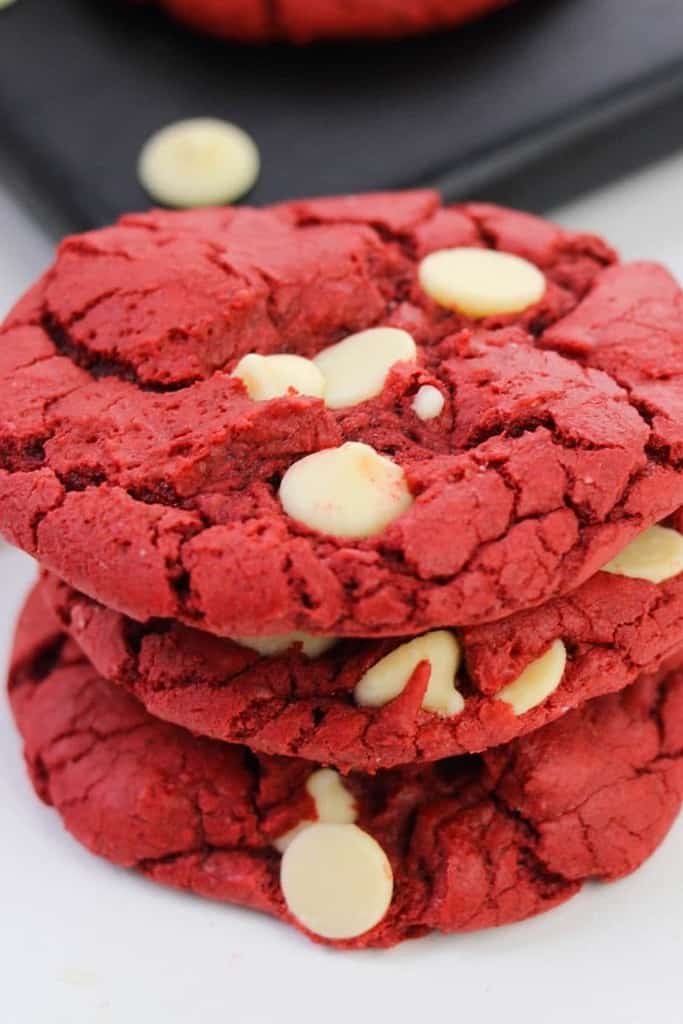 Red Velvet Cake Mix Cookies: Just grab your favorite brand of red velvet cake mix in the box and a few other pantry staples for this cookie idea. It's great for a snack, a dessert charcuterie board, or a simple snack for two.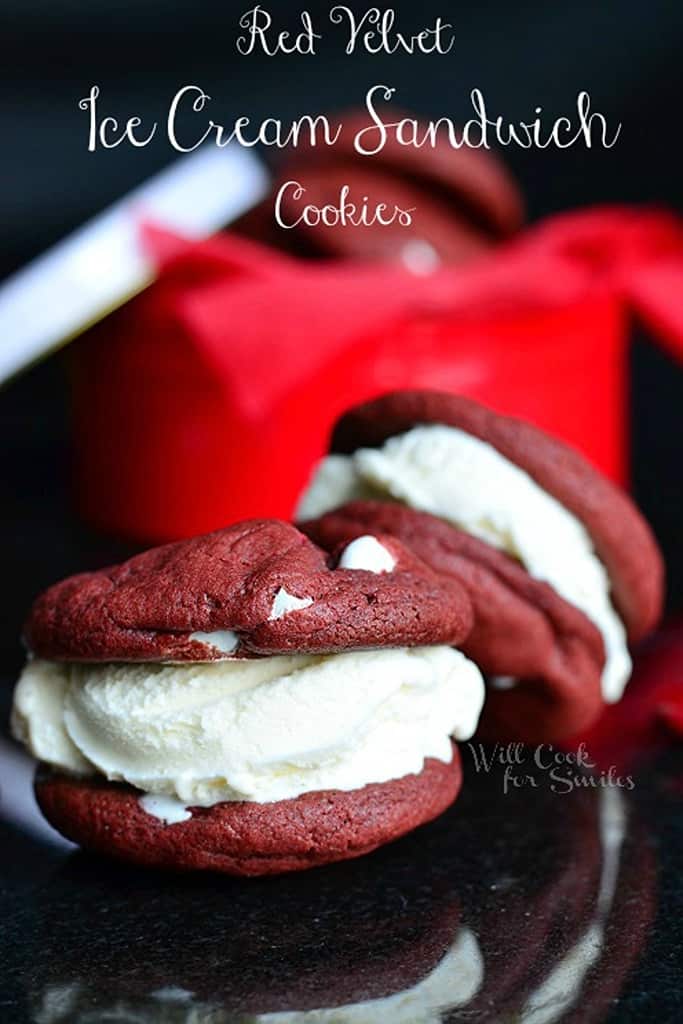 Red Velvet Ice Cream Sandwich: February isn't the warmest month in a lot of areas however an ice cream sandwich cookie could still hit the spot! With pretty red cookie sandwiches stuffed with creamy cold ice cream, you will be in love.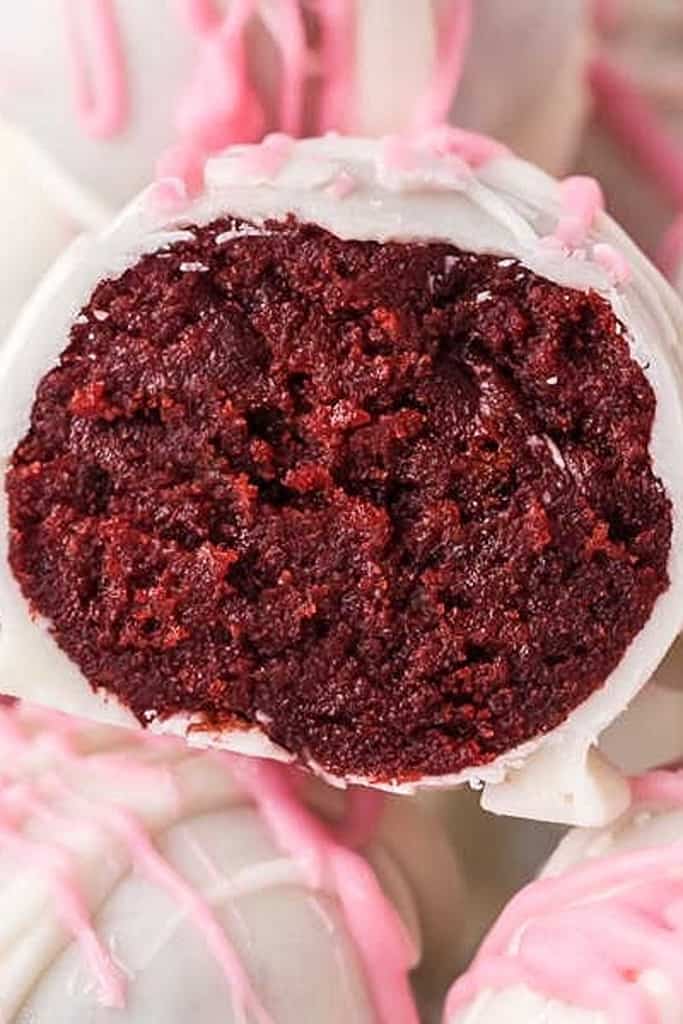 Red Velvet Cookie Balls: Red velvet cookie bars could be just the thing you need to impress someone special; the bite-size portions with a chewy inner filling will amaze you.
Extra Fun Ideas For Kids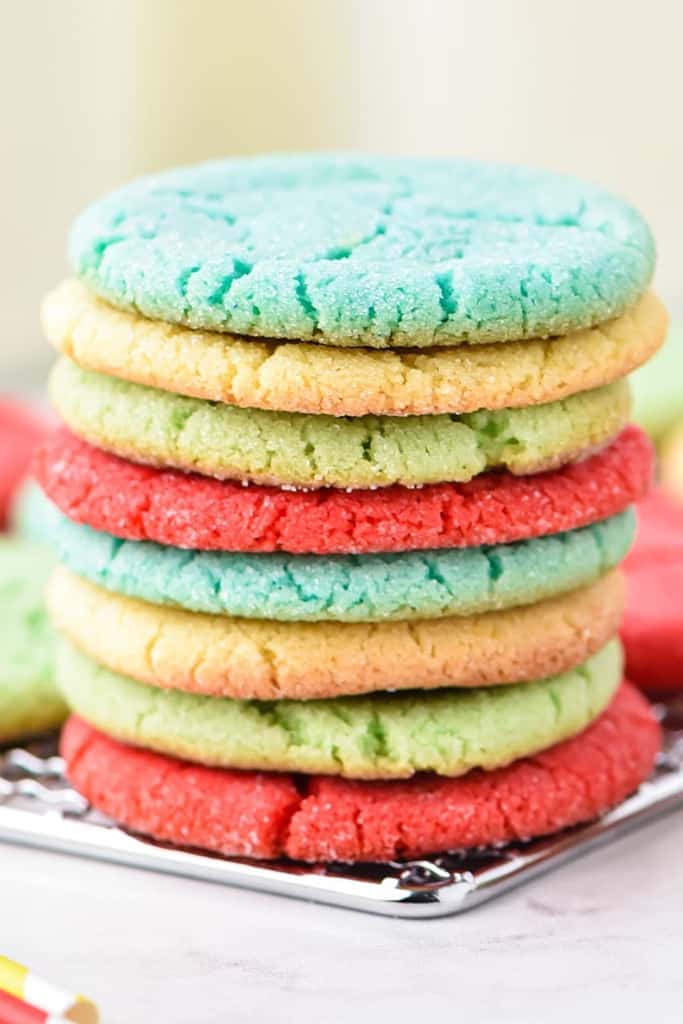 Jello Cookies: This recipe is the perfect Valentine's Day cookie idea for kids to enjoy. Plus they get to partake in the baking process and make it a fun holiday family activity. Use any Jell-O flavor you want.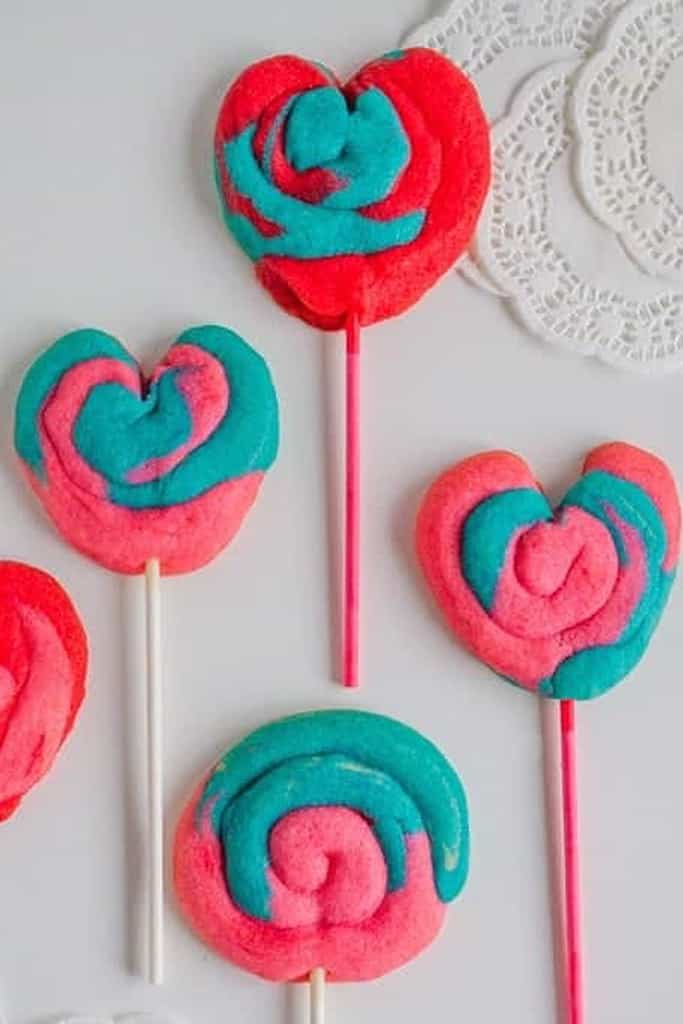 Play Dough Cookie Pops: Another perfect Valentine's Day cookie recipe for the kids. These Play-Doh cookie pops are so much fun and delicious. Kids can help assemble them making for lovely quality family time.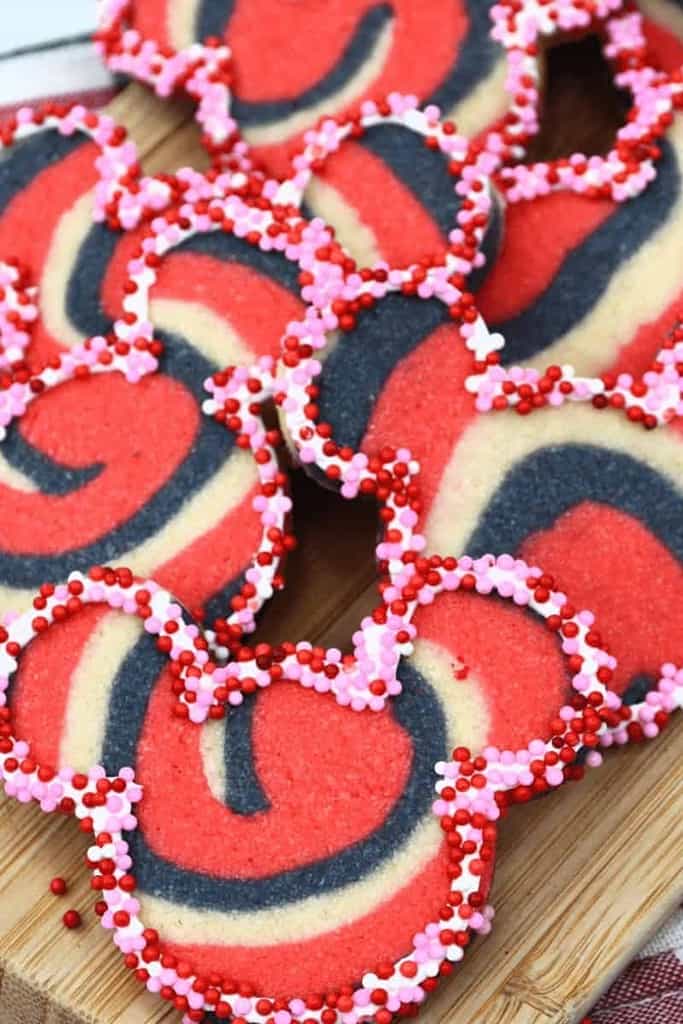 Mickey Tye Dyes: These Mickey tie-dyes have everything you could possibly want from a valentine's cookie recipe. The pen will swirl colors of red pink white and black are perfectly on theme for the day. Plus the colorful delicious sprinkles around the rim.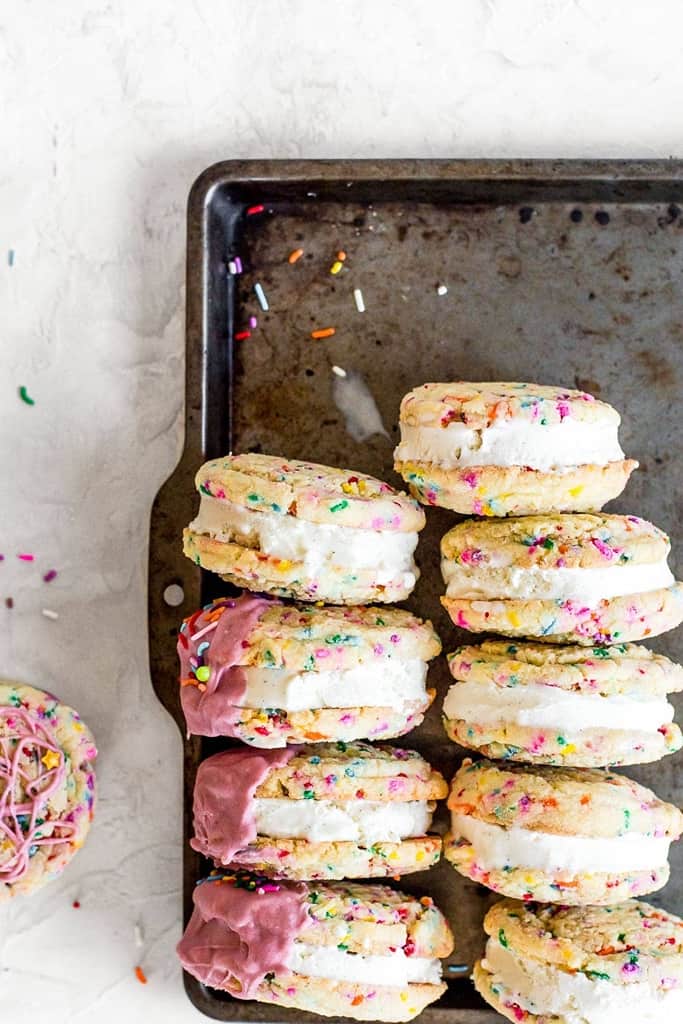 Sugar Cookie Ice Cream Sandwich: Sugar cookies make the perfect sandwich stuffed with ice cream in the center. This is the perfect dessert to serve on the day of love to the whole family or that special someone.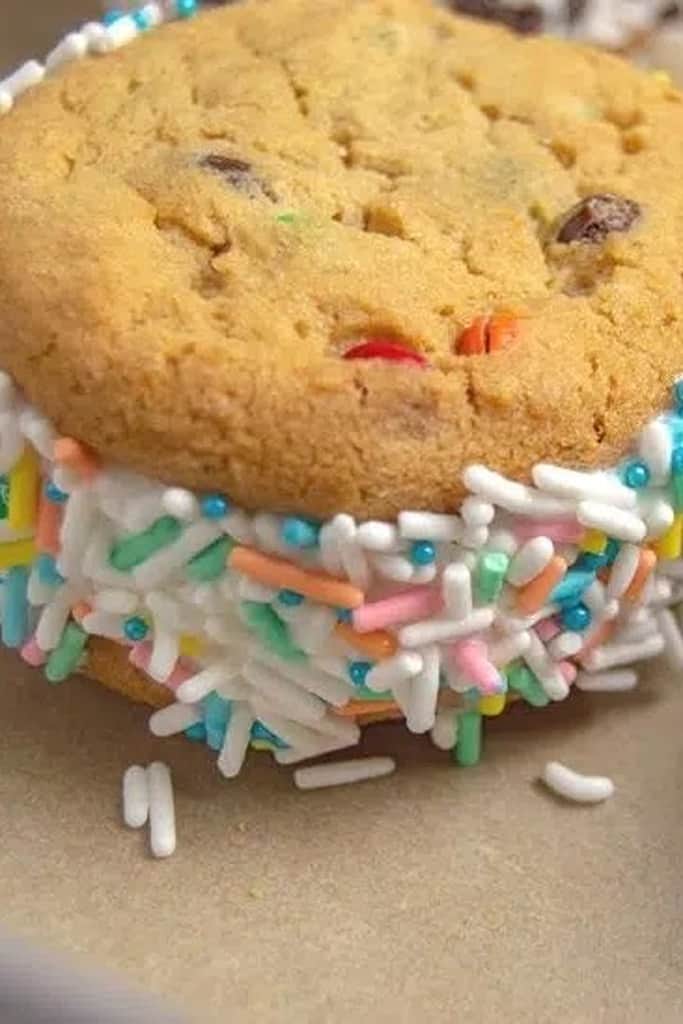 Chocolate Chip Ice Cream Sandwich: It's simple and made of classic flavors like sugar cookies, chocolate chips, and vanilla ice cream. Plus, these ice cream sandwiches store well in the freezer with plastic wrap or in a sealed container so you can keep the leftovers around for a few weeks.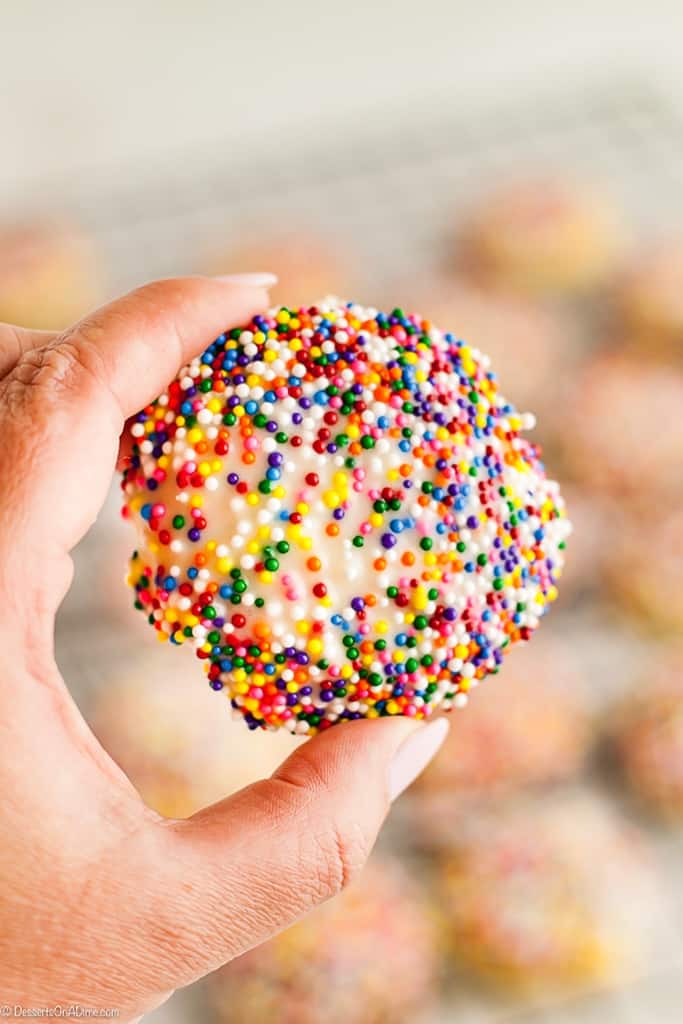 Italian Cookie Recipe: Italian cookies are a super underrated dessert recipe idea for special holidays like Valentines. They are so delicious and easy to make with rainbow sprinkles that everyone loves.
Truffle Cookies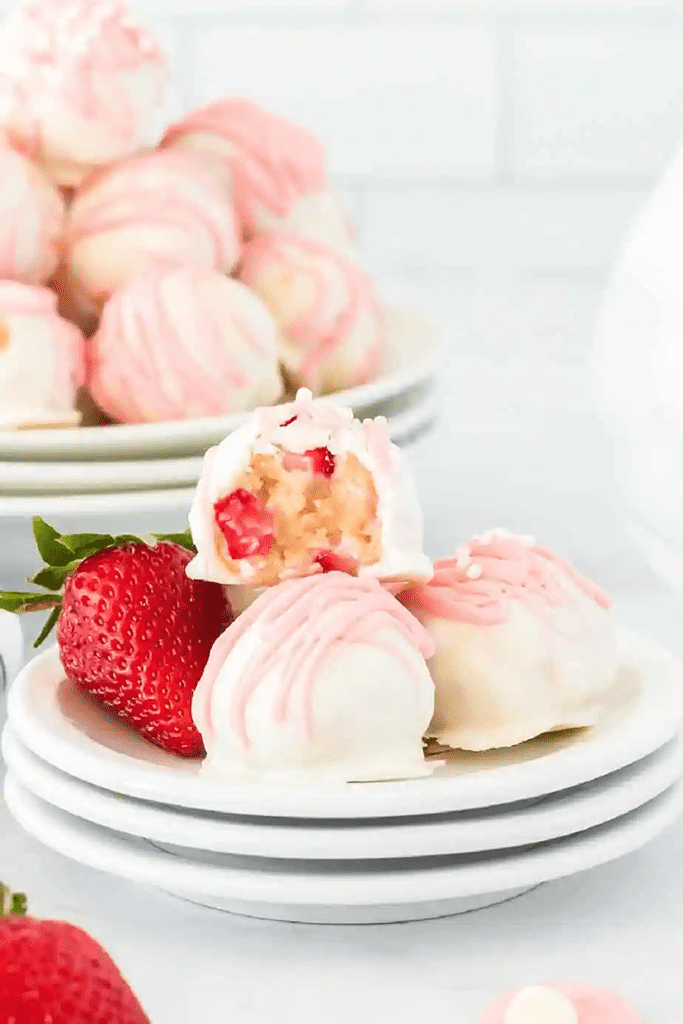 Strawberry Truffle Cookies: I love a good truffle cookie, especially this one with white chocolate and strawberry flavor. Truffles are easy to make, so elegant, yet extremely quick and simple. You can serve these up with champagne for a romantic date.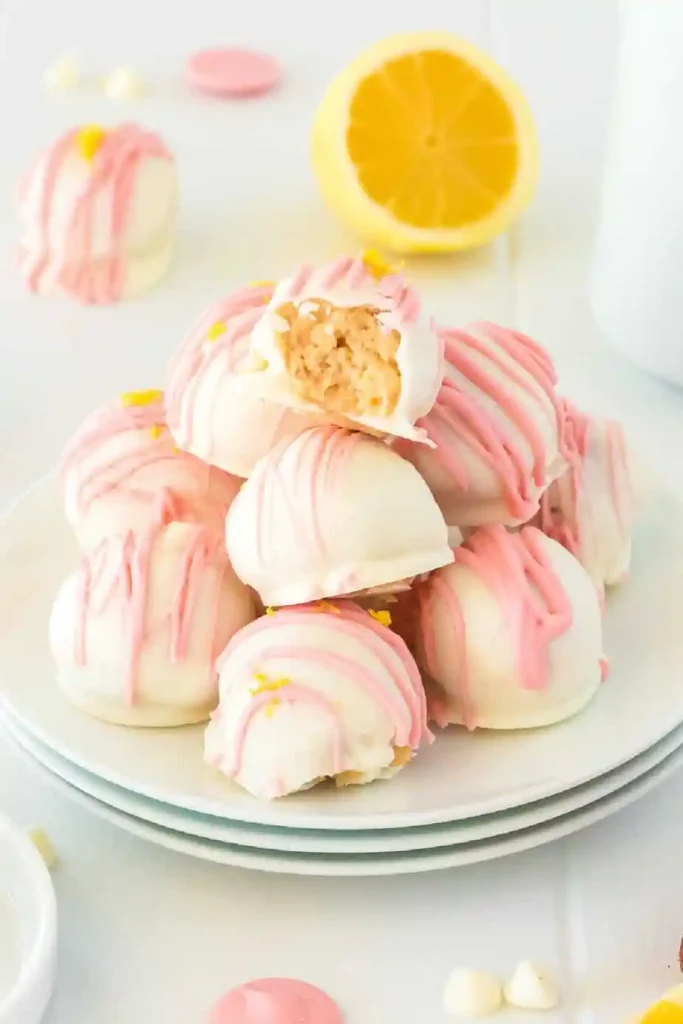 Strawberry Lemonade Truffles: This Valentine's Day cookie idea has the most fantastic combination of sweet strawberries and tart lemon. Plus, they are so cute and pretty to serve for dessert.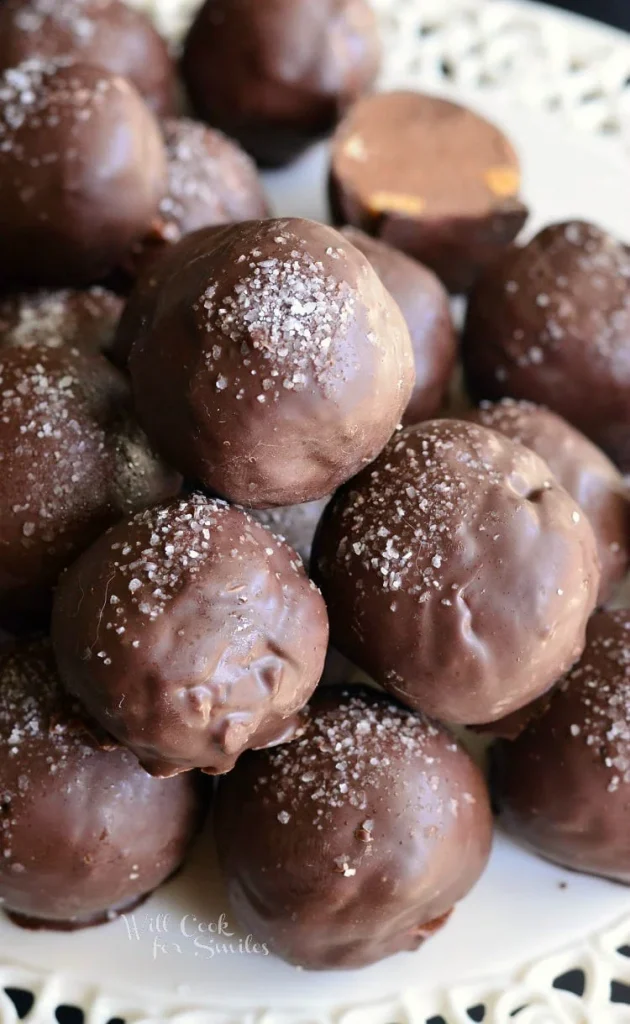 Salted Fudge Truffle Cookies: When I think of a romantic dessert, I automatically think of chocolate and even salted caramel. Especially when they are combined, now that's what I call love!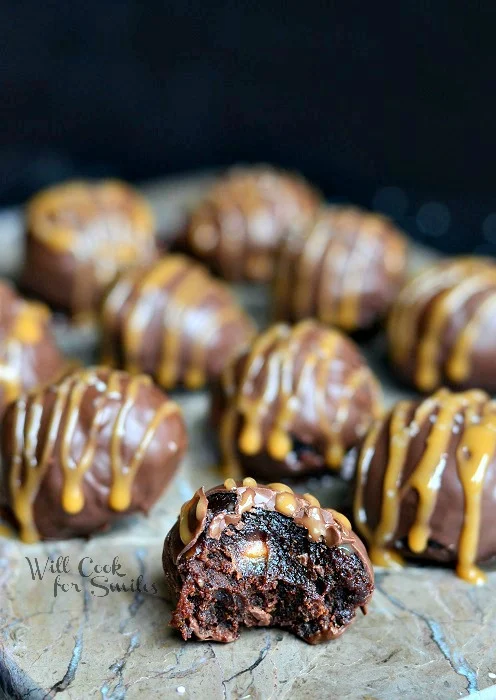 Salted Caramel Brownie Cookie Balls: Is it a brownie? Is it a cookie? Or is it a truffle? Who cares, just give one to me right now! Whip up a batch of these for that special day of love.
Heart Shaped Cookies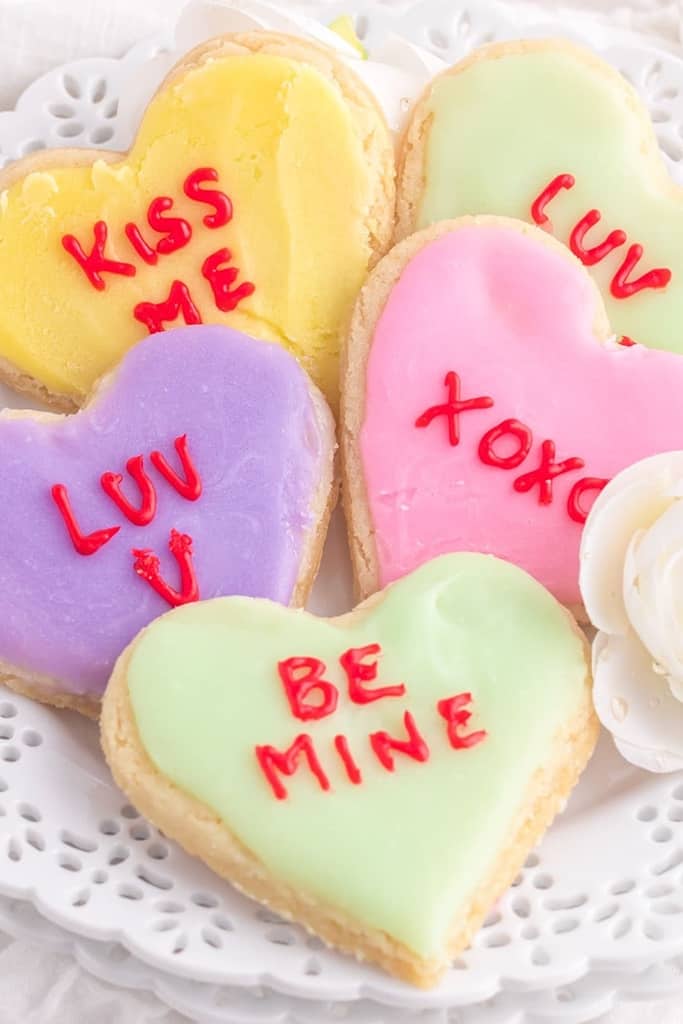 Conversation Heart Cookies: The best thing about conversation heart cookies is that you can write whatever message you want on them. You could put the names of all your kids or your boyfriends. You could write a message of love as well.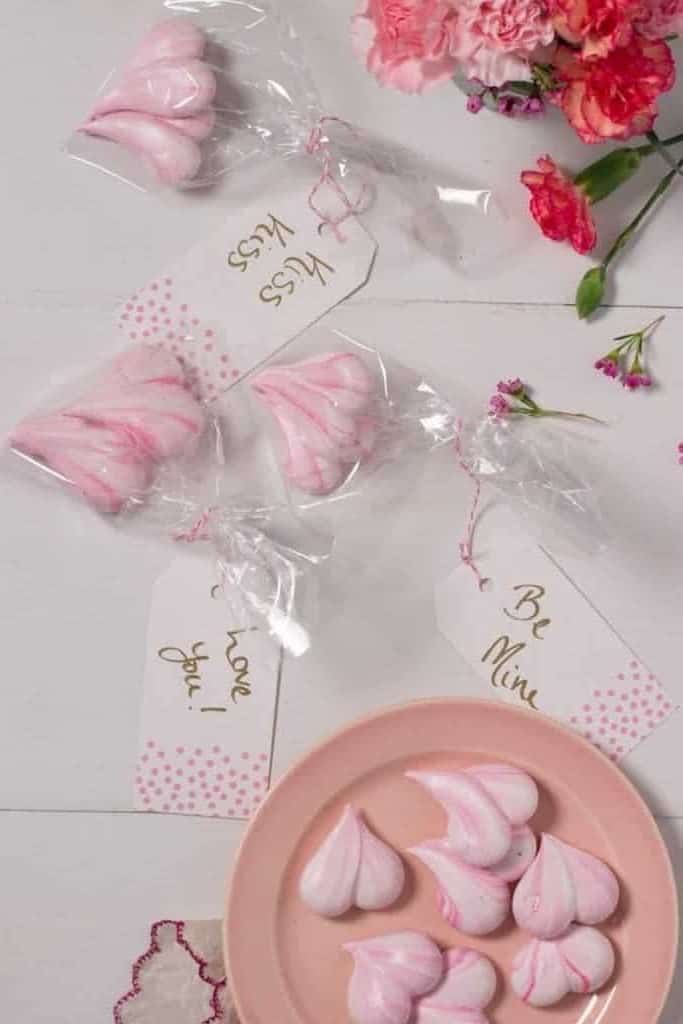 Easy Meringue Hearts: Try something unique and delicious as your Valentine's Day cookie recipe. These easy meringue hearts are so delicious, airy, and flavorful.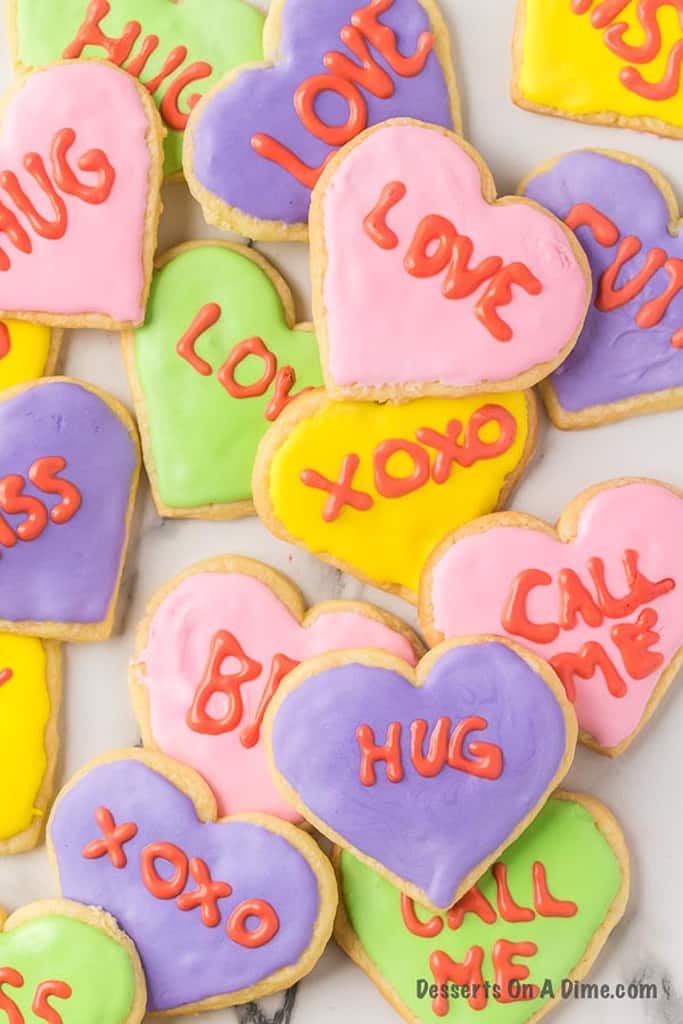 Valentine's Sugar Cookies: How adorable are these Valentine's Day sugar cookies? Everyone will love them when you whip up a big batch for a crowd.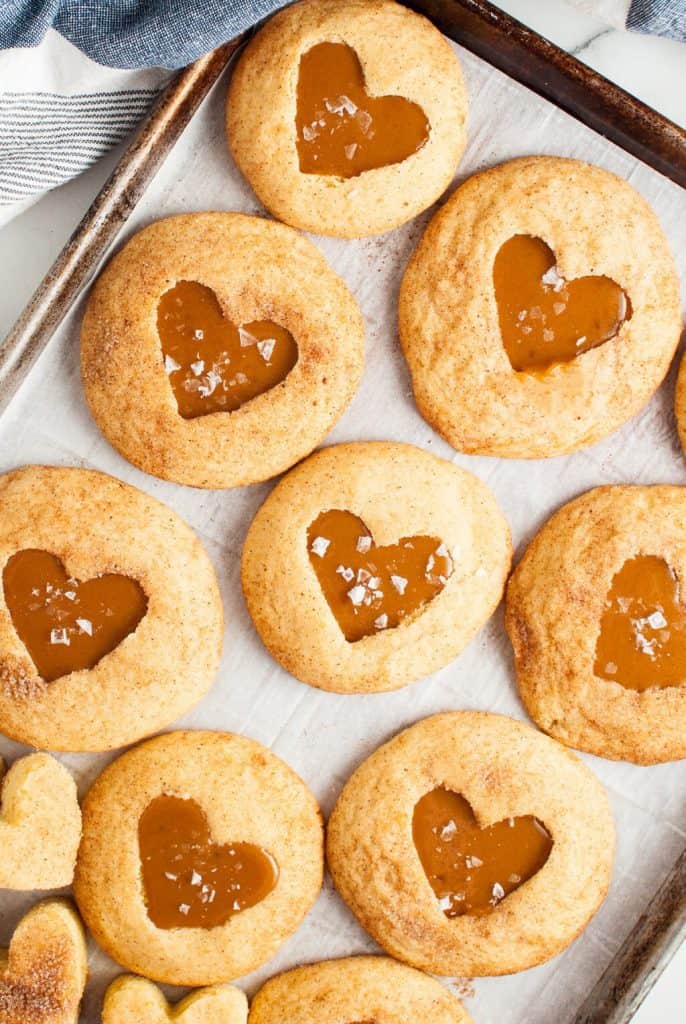 Salted Caramel Heart Center: Out of all the different dessert flavors, salted caramel is my absolute favorite. I just love the smooth, creamy sweet flavor that's unlike anything else. That's why this recipe is so great, plus the heart shape center is really unique.
Our Top Picks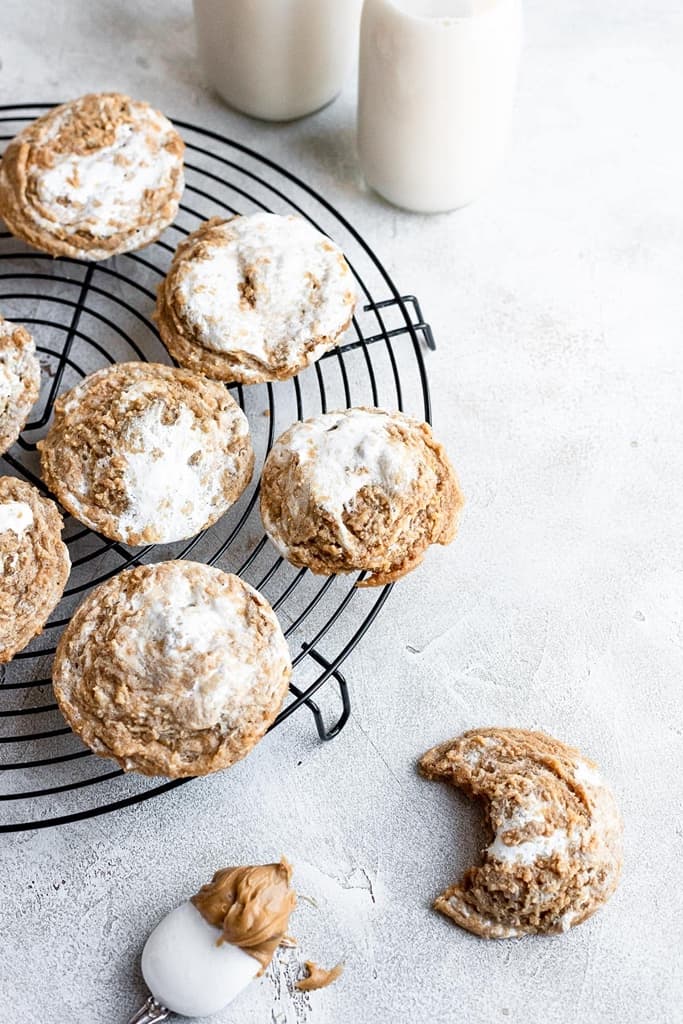 Fluffernutter Cookies: What is Fluffernutter? Well, that is the traditional name of the combination of peanut butter and marshmallow. This combination is absolutely out of this world delicious!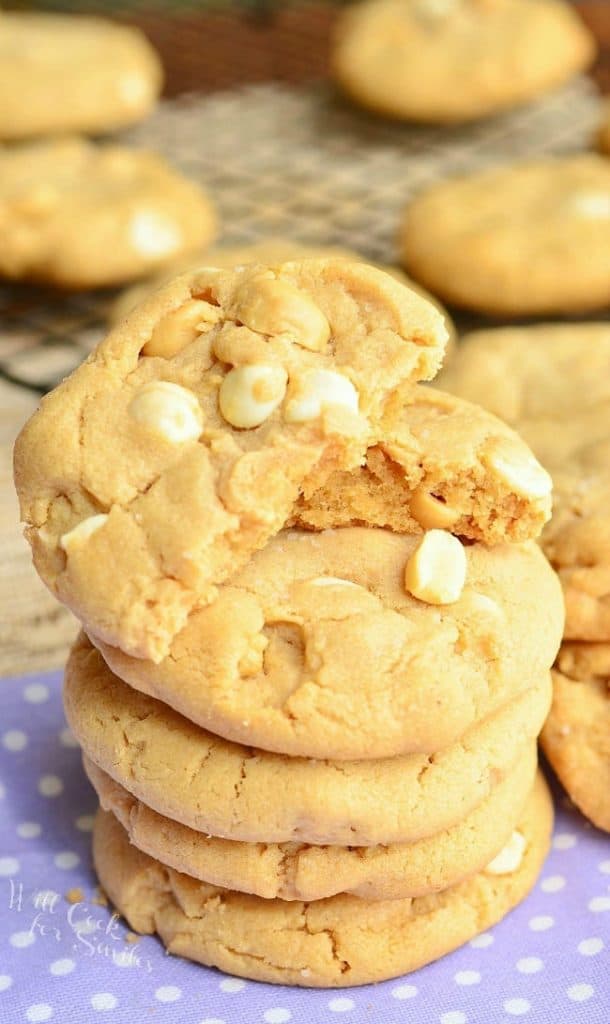 White Chocolate Peanut Butter: Another winning peanut butter combination-flavored cookie recipe is this one with white chocolate. These flavors taste so good together you won't believe it.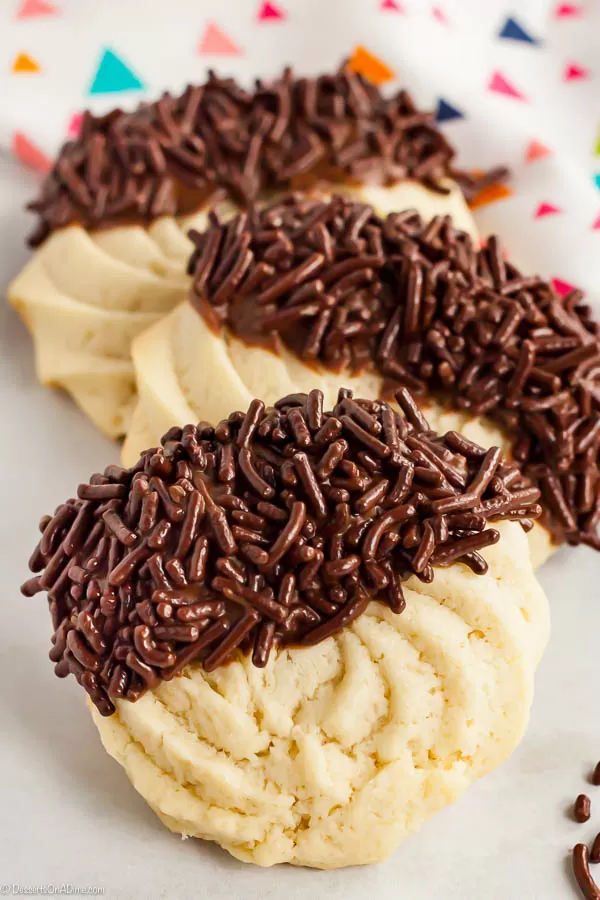 Butter Cookie Recipe: This butter cookie recipe is simple yet mouthwatering. Plus, it's the perfect versatile recipe because you can add your favorite ingredients and food coloring or even make them cut-outs!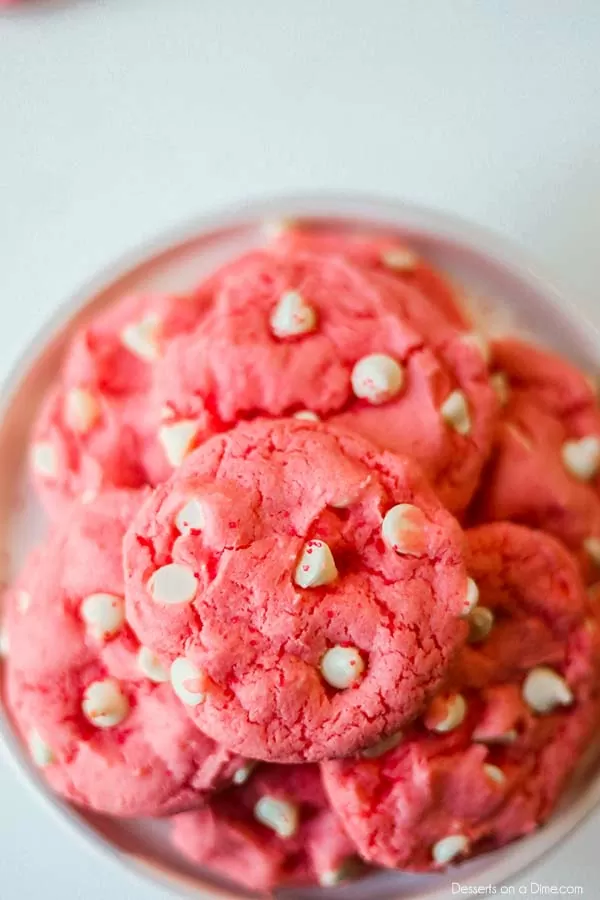 Valentine's Cake Mix Cookies: Whip these up in the month of February for a quick and easy box cake mix cookie recipe. They are pretty in pink and full of flavor. Plus, easy recipes like this are fun to get the kids involved.
Extra Creative Cookie Ideas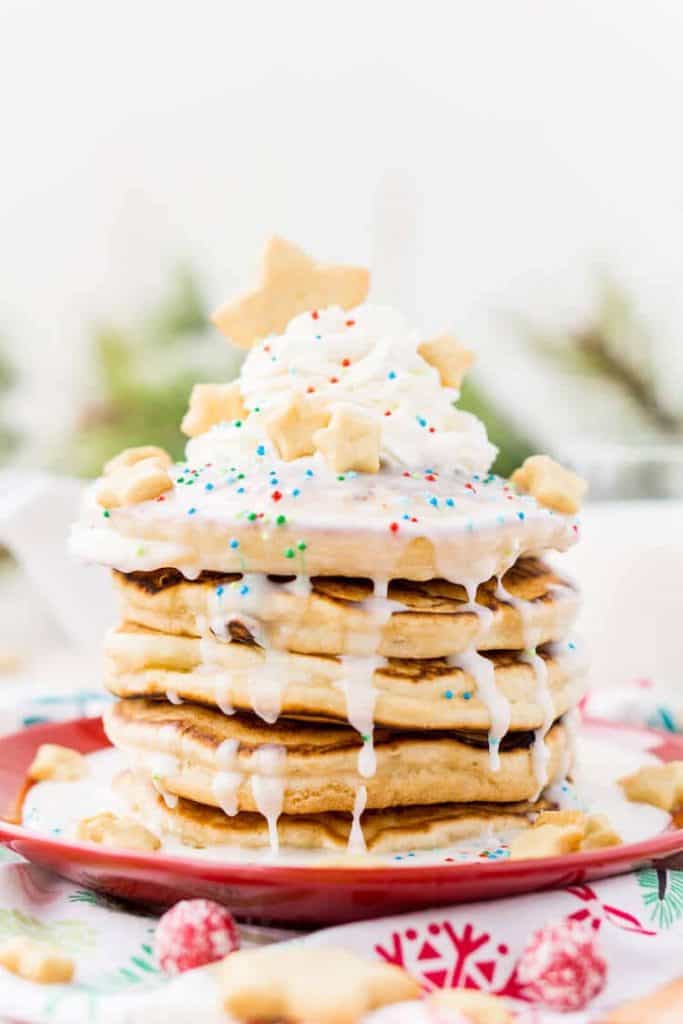 Sugar Cookie Pancakes: Imagine it's Valentine's Day morning, and you whip up a batch of these sugar cookie pancakes for that special someone. They will be so impressed, especially when you top them with sugar glaze or whipped cream.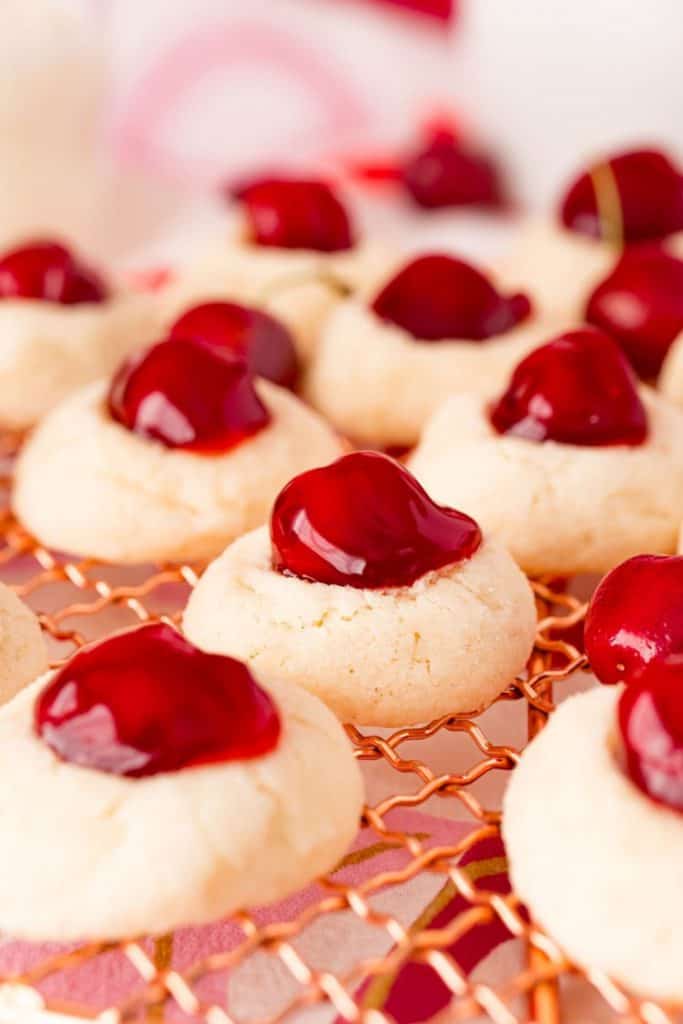 Cherry Cheesecake Cookies: Another absolutely fabulous Valentine's cookie recipe idea is this one with cherry and cheesecake flavors. Everyone will fall in love with your baking skills as soon as they have their first bite.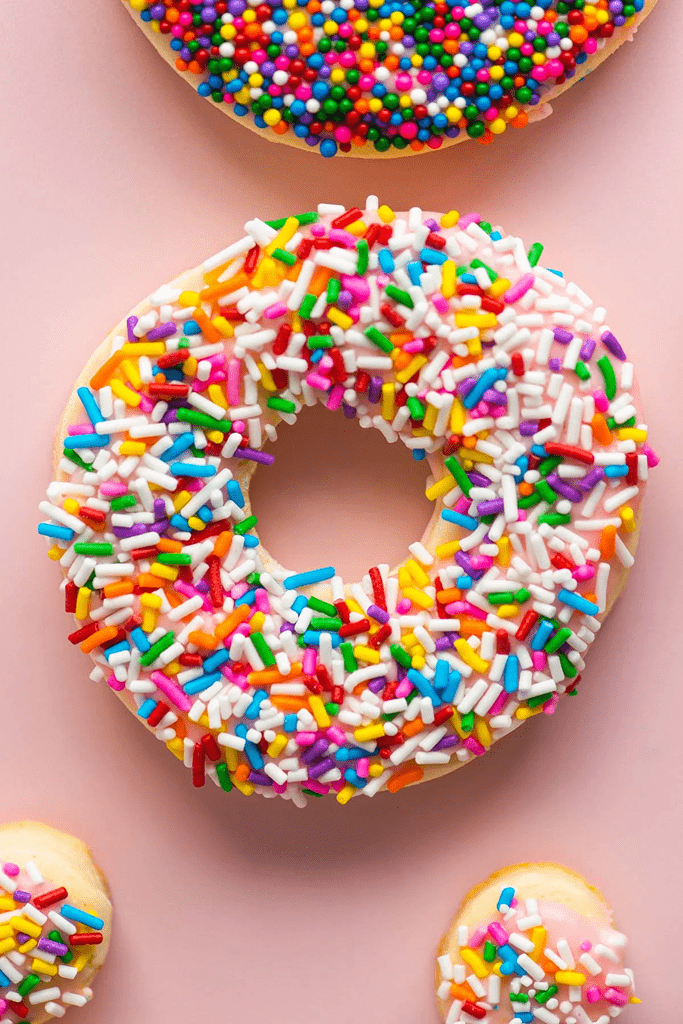 Donut Cookies: Who wouldn't be impressed when presented with these donut cookies? Serve them up to a crowd of all ages and watch the happiness spread like wildfire.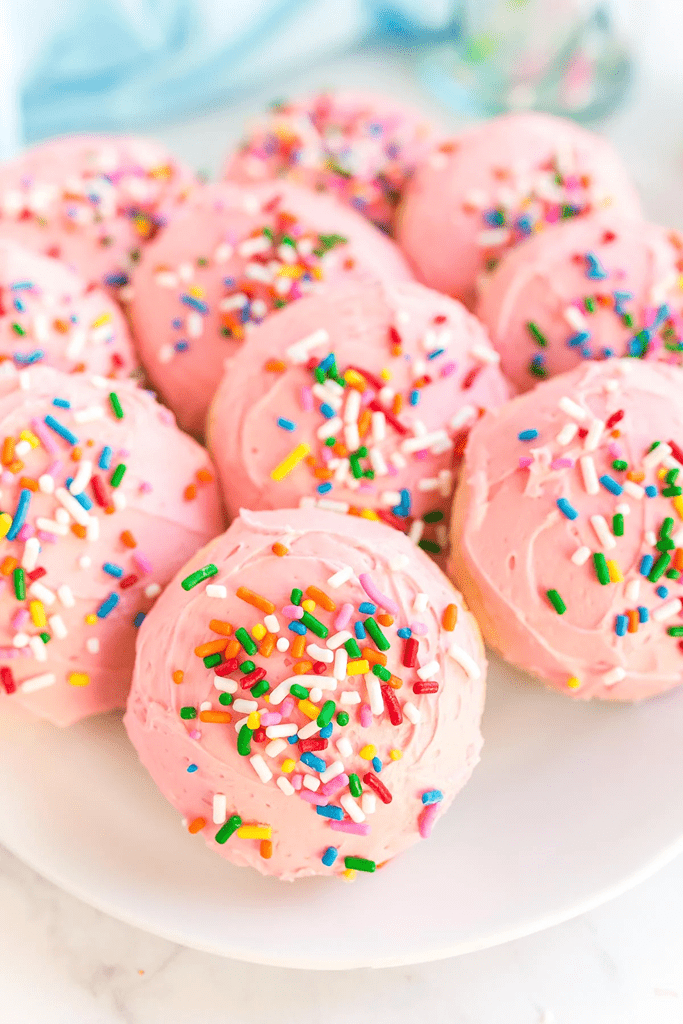 Pretty Pink Sugar Cookies: What more could you ask for on Valentine's Day than some pretty pink cookies that will burst with flavor in your mouth? Top them with beautiful rainbow sprinkles for that extra pop of color!
Cookie Bars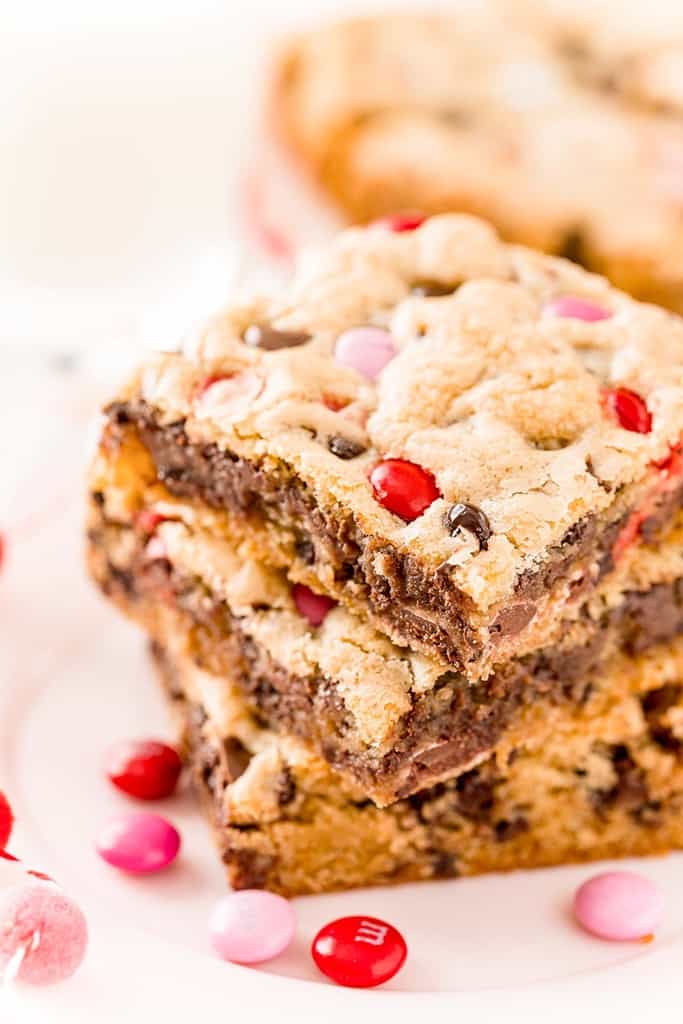 Chocolate Chip Cookie Bars: Simple yet impressive, these chocolate chip cookie bars are perfect for a party. Your friends and loved ones will be reminded of how much you care when you bring these to the dessert platter.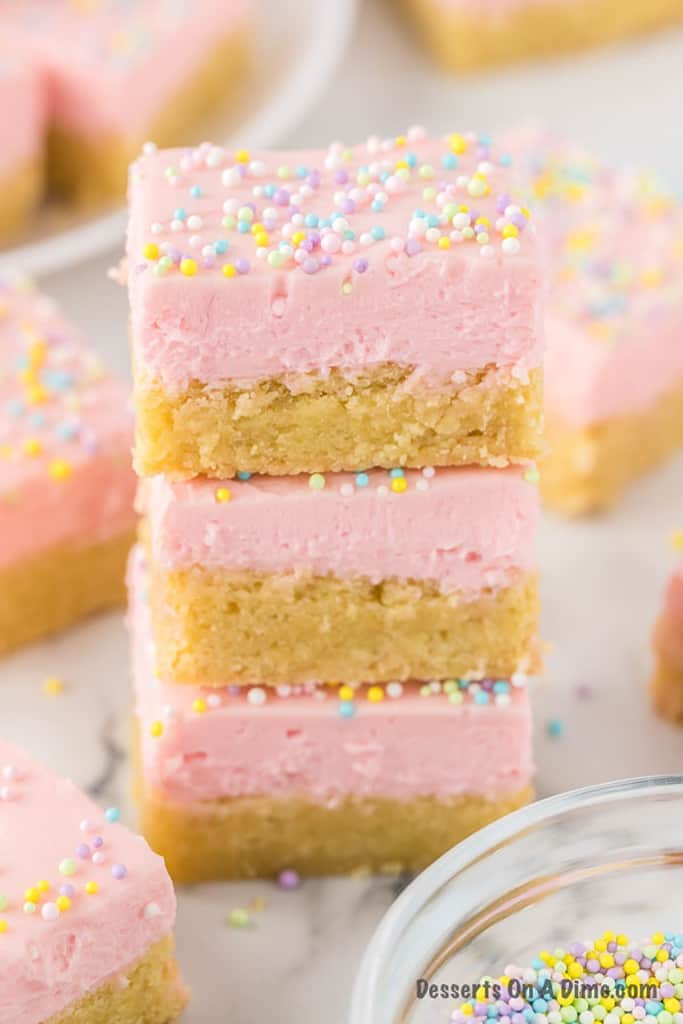 Sugar Cookie Bars: All you need is simple ingredients like flour, butter, sugar, eggs, and more to make sugar cookie bars. The pink frosting is the best for Valentine's Day, but you could also make it red or any color you like.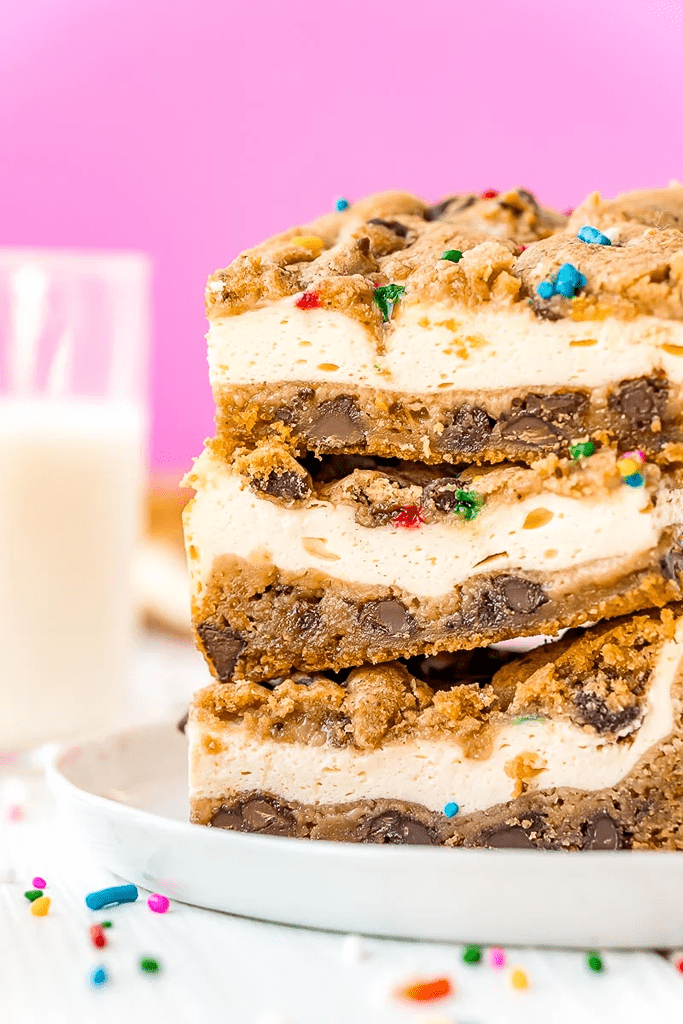 Chocolate Chip Cheesecake: Valentine's Day cookie recipe ideas like chocolate chip cheesecake bars will knock the socks off your whole family. You will also be amazed at the flavor, and they will quickly become your new favorite treat.
Get Even More Valentine's Recipes and Ideas!
Don't Forget to Pin These Valentine's Cookies For Later!