41+ Quick and Easy Dessert Recipes
Explore a variety of mouthwatering easy desserts for the family. From simple cookies to no-bake fluff salad, find the perfect quick and easy desserts to make. Get inspired and try these delightful recipes today!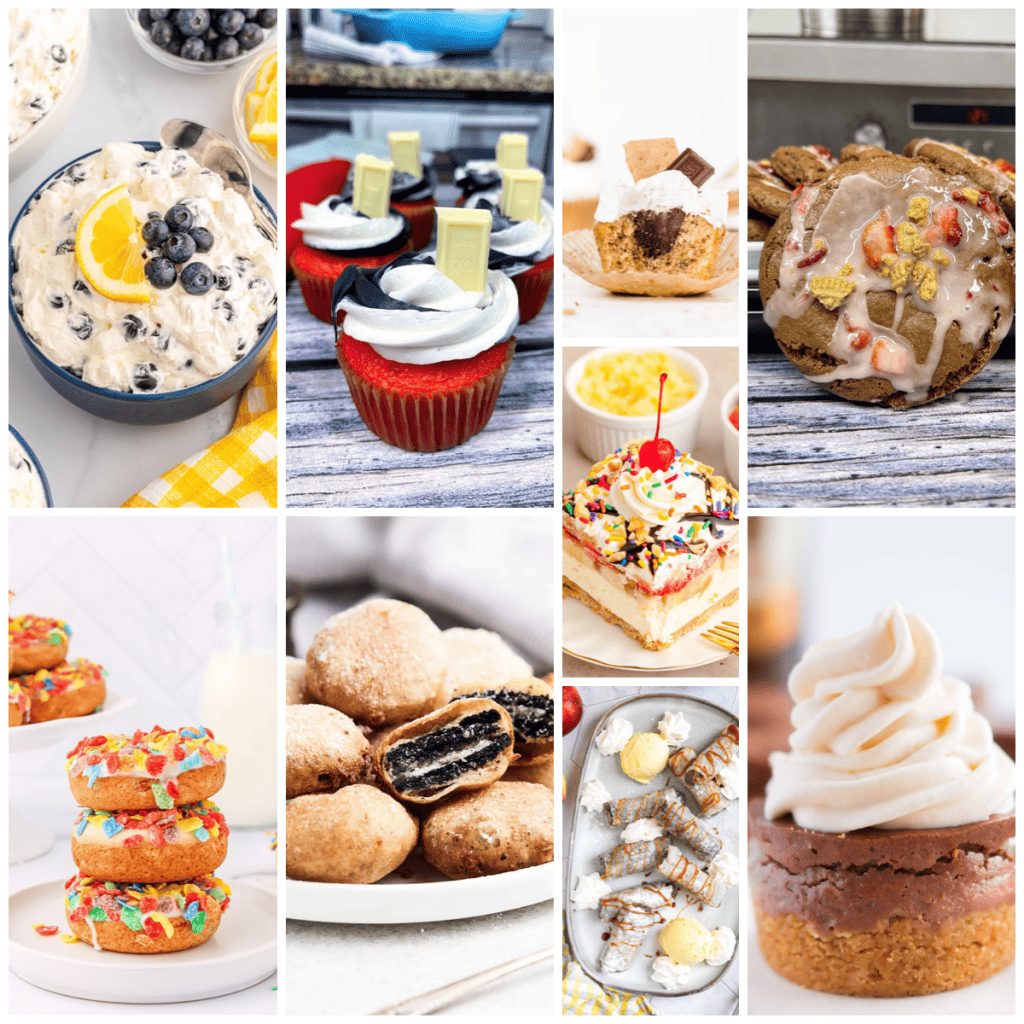 Creating delicious and beautiful treats does not have to be complicated! You don't have to buy a bunch of expensive ingredients or fancy equipment, either!

With this list of Quick and Easy Dessert Recipes, your friends and family won't believe their luck when they visit your house. With recipes for cookies, cobblers, cupcakes, cheesecakes, and more, this list will have you excited to cook!
Our Favorite Easy Desserts to Make
Cookies
Cake mix cookies are the quickest and easiest cookies you can make. With so many flavors, you can be sure there's one you like. Our family loves these chocolate mint cookies or fruity cherry chip cake mix cookies for a delicious and simple dessert.
Cupcakes
Again cake mix makes these so quick and easy. You could try a sweet banana cream pie cupcake or any flavor that you like. They're all simply delicious and a great dessert to make for your family and friends.
Cobblers
Cobblers are such an easy dessert. You can try almost any fruits for a sweet treat that your family will adore.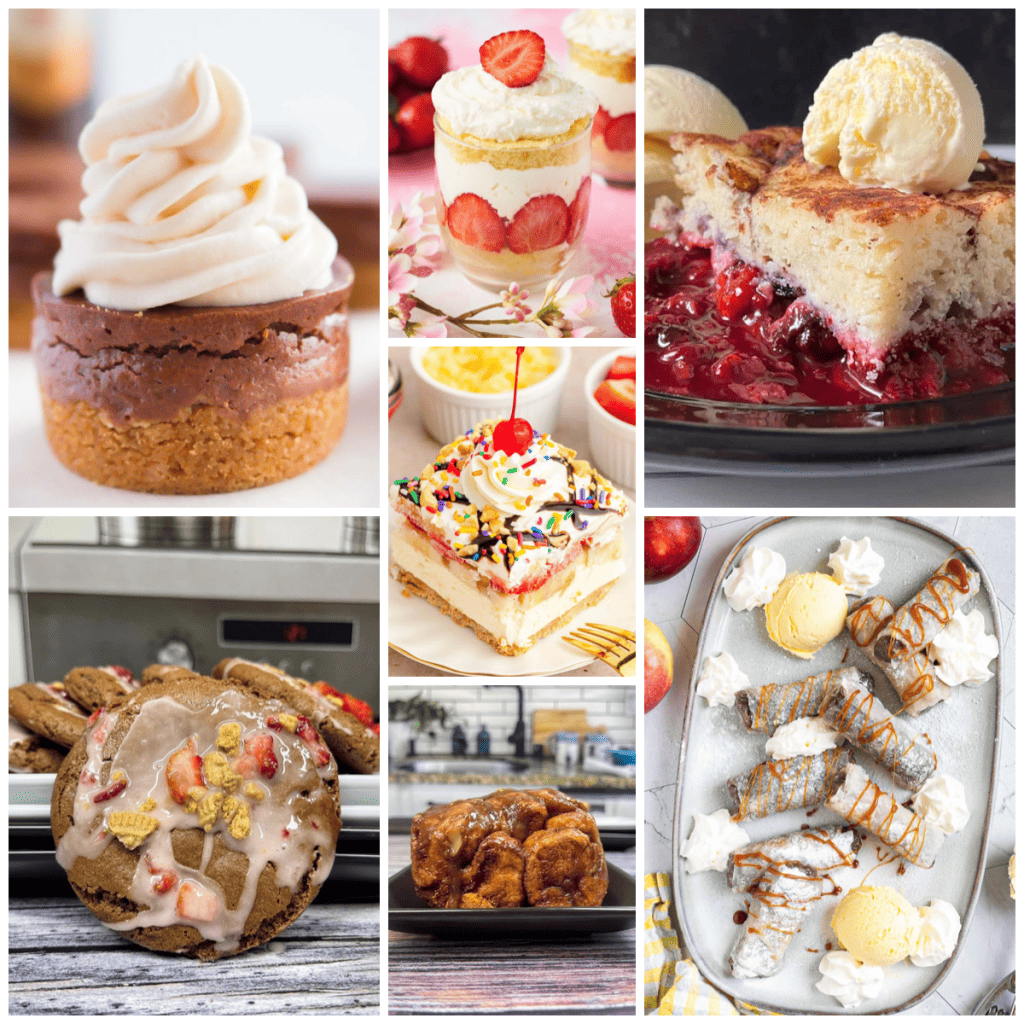 The Best Quick and Easy Dessert Recipes
Explore a variety of mouthwatering easy desserts for the family. From simple cookies to no-bake fluff salad, find the perfect easy desserts to make. Get inspired and try these delightful recipes today!
Quick & Easy Dessert Recipes For Cookies
1. Snickerdoodle Cheesecake Cookies – Quick and easy desserts like cookies are always a hit. Especially a recipe like this using box cake mix, cinnamon, sugar, caramel, and a cheesecake filling.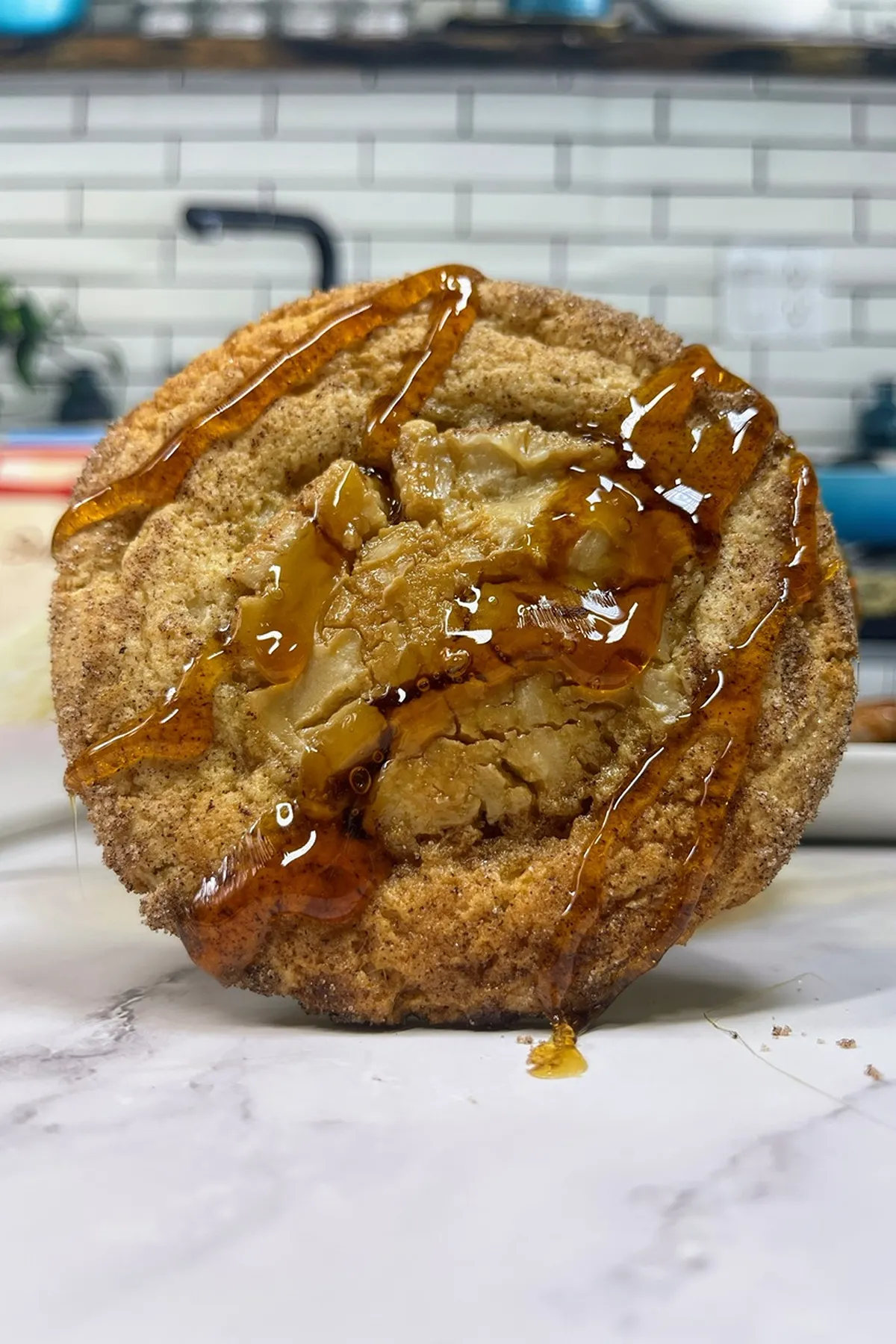 2. Lemon Blueberry Cookies – Lemon blueberry cookies have the loveliest flavor profile. You can make them at home for the family or share them at a party or potluck.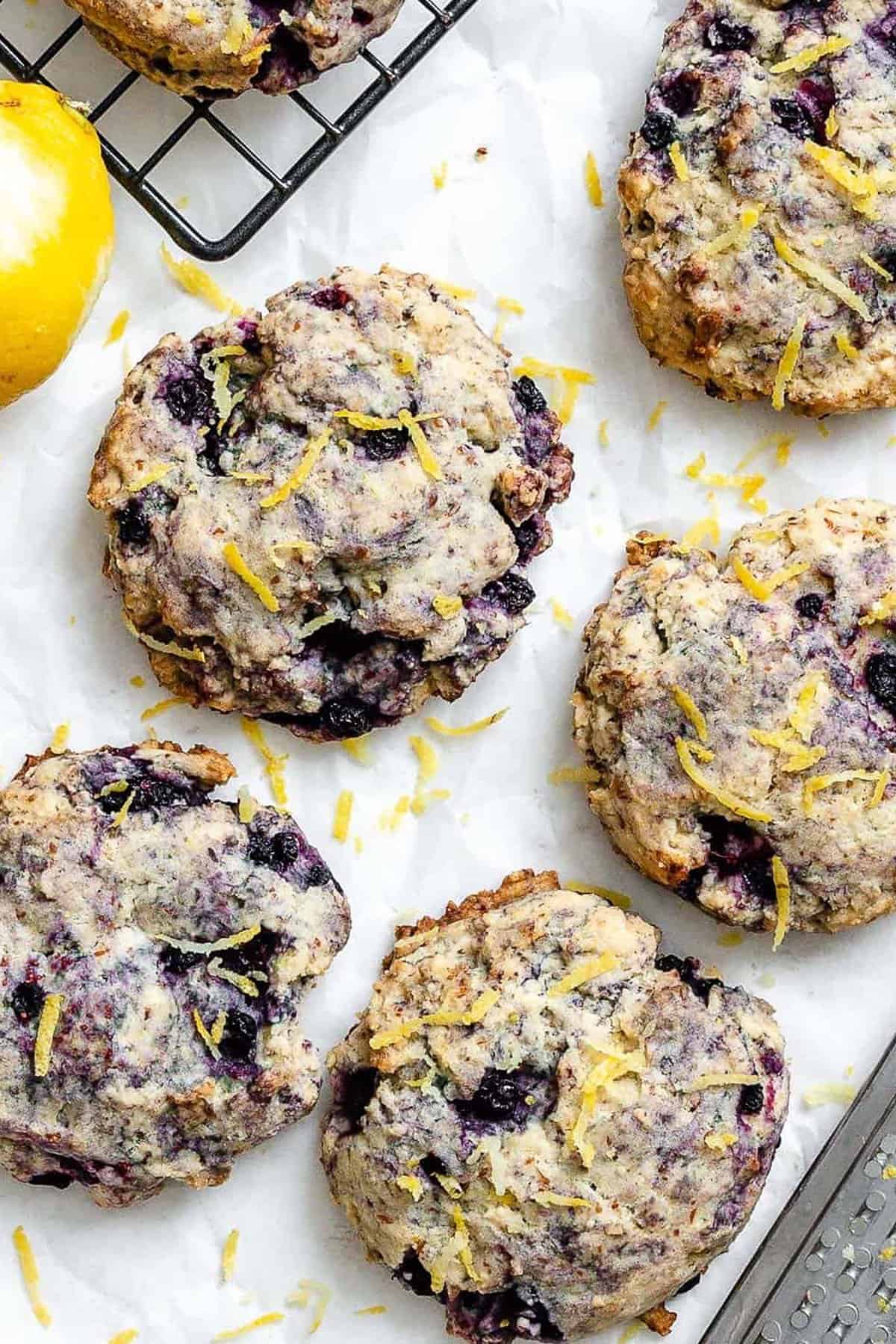 3. Oreo Chocolate Chip Cookies – Who doesn't love chocolate, Oreos, and cookies? I don't know anyone who doesn't! That's why this recipe is excellent for any occasion.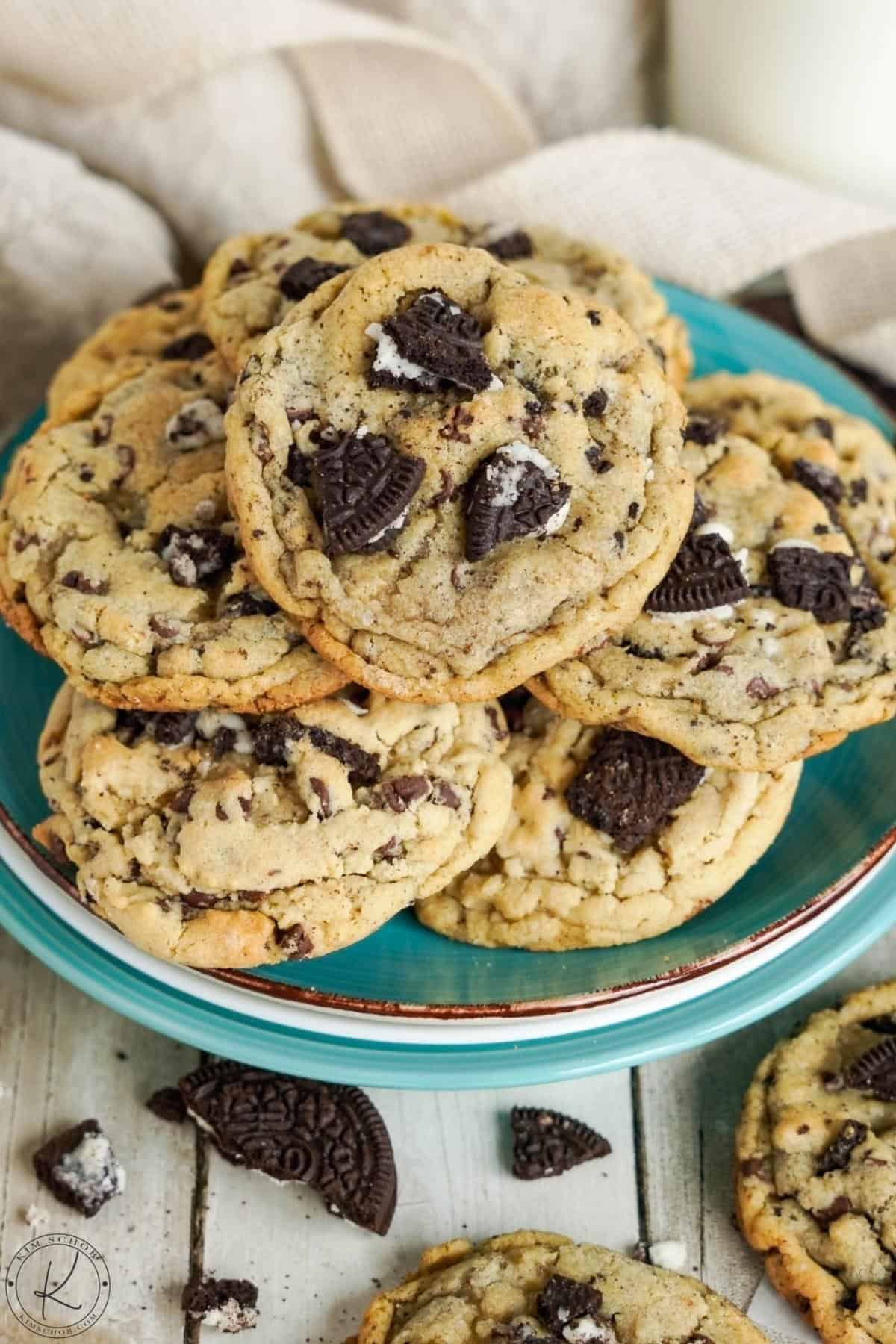 4. Cake Mix Cookies With Sprinkles – If you're looking for the best desserts for your family, look no further. These cake mix cookies with sprinkles are simple yet delicious treats you have to try.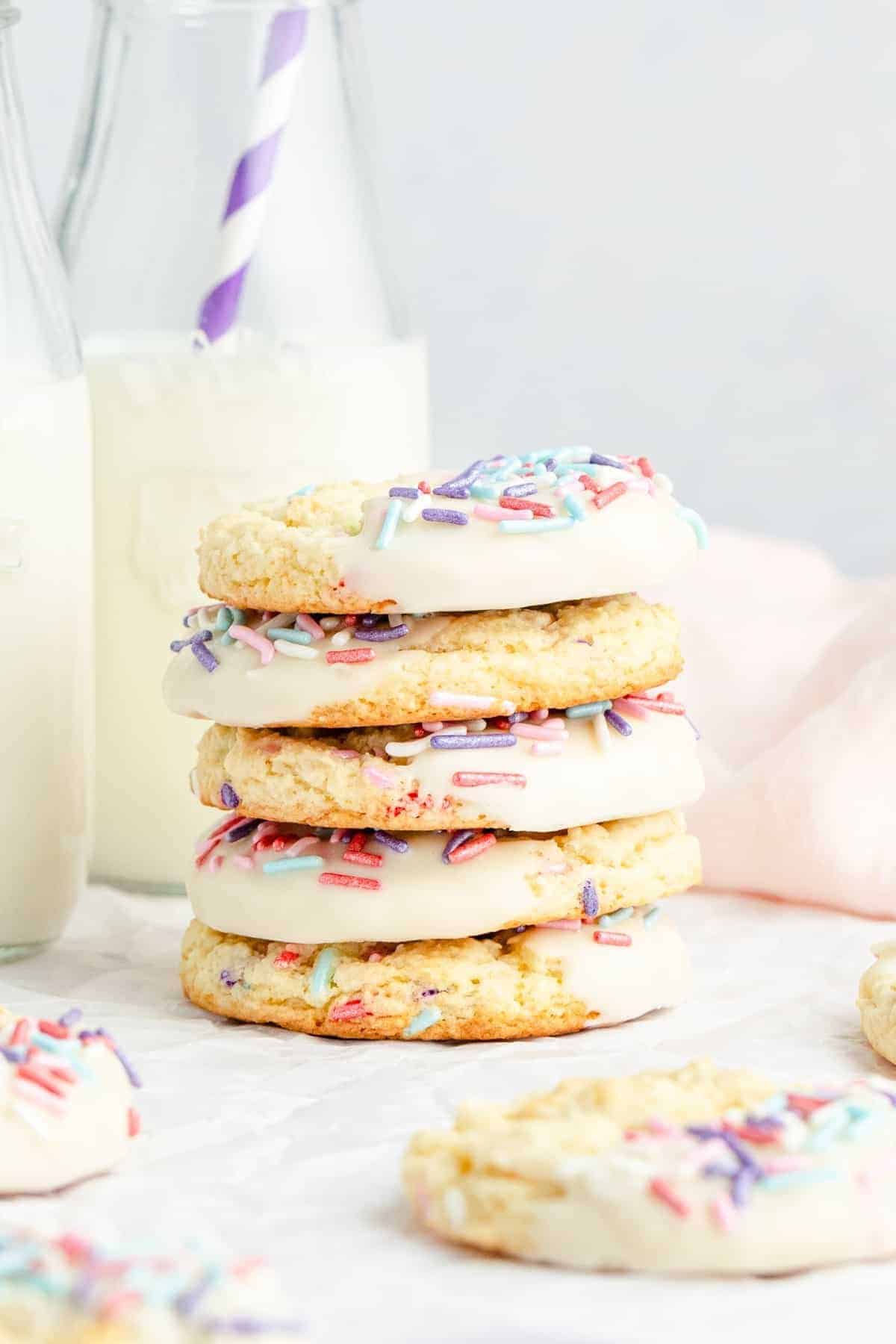 5. Chocolate Cheesecake Cookies With Strawberry Glaze – Quick and easy desserts with chocolate and cheesecake combined will knock your socks off! The best part is that they're ready in a flash using simple baking hacks!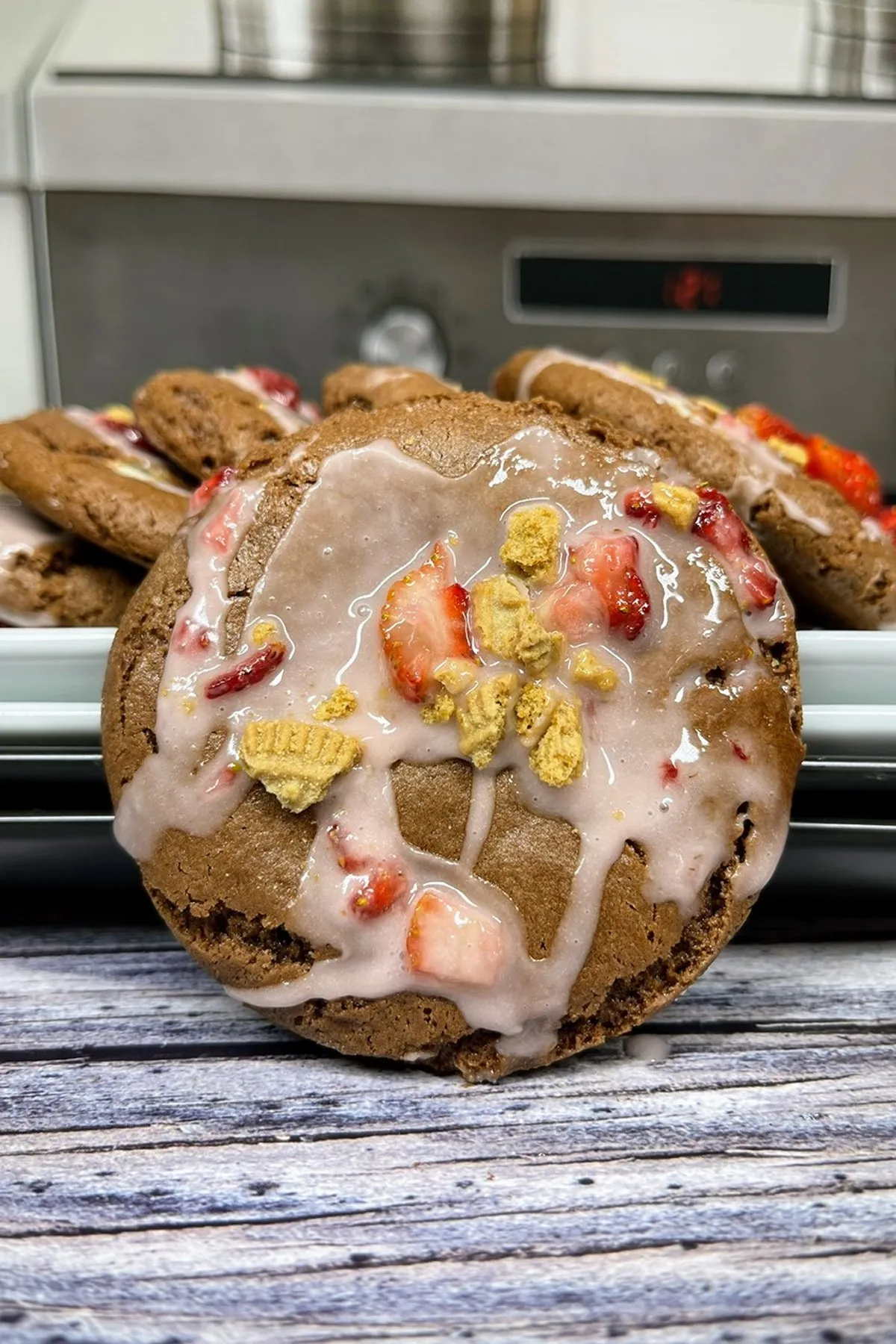 6. Lemon Raspberry Cookies – These Lemon Raspberry Cookies are sweet, tart, and easy. If you love a soft and fluffy treat with a sweet slight tang these cookies are for you.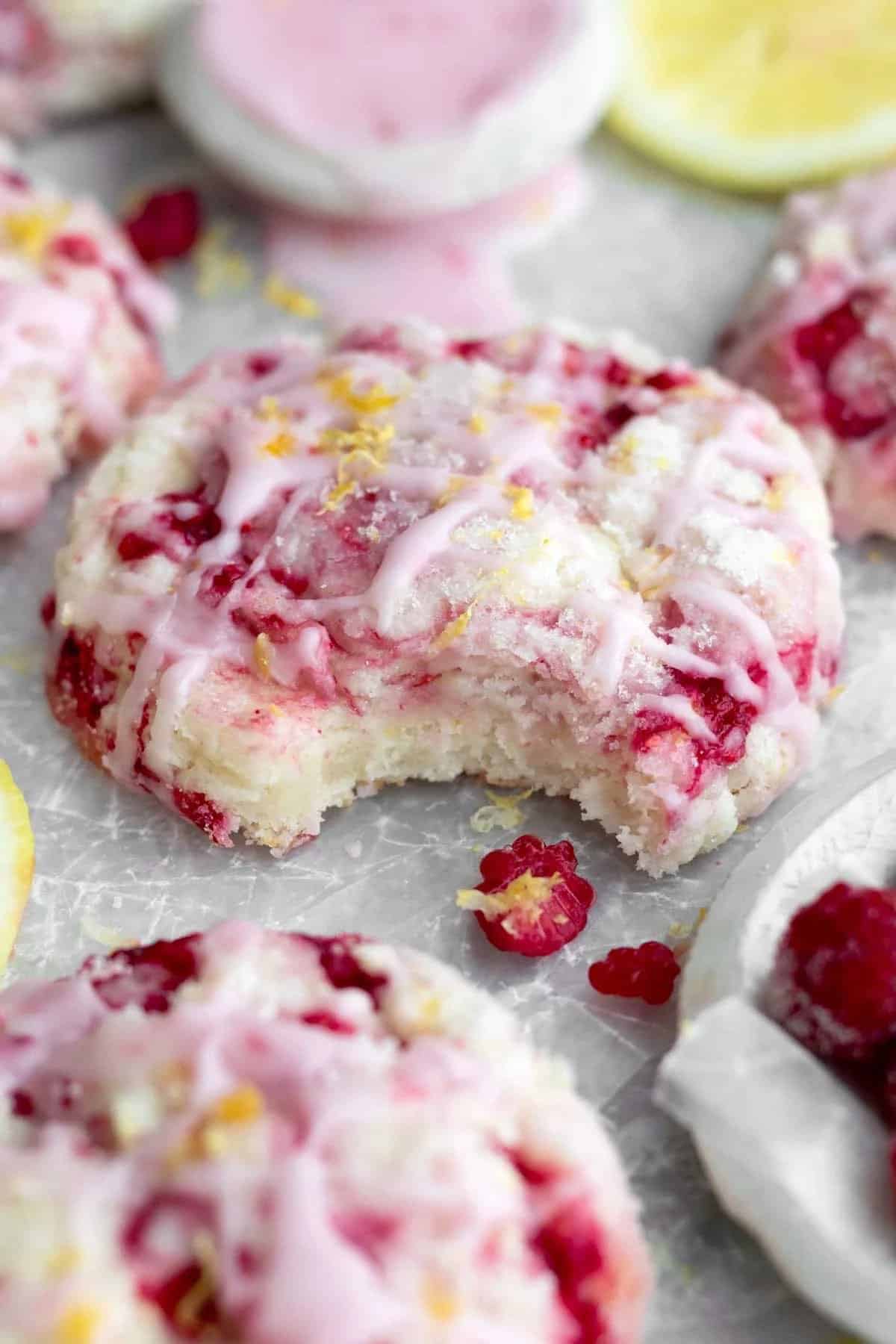 Best Chocolate Ideas
7. Box Mix Brownie Cupcakes – Box mix brownie cupcakes are rich, decadent, and heavenly! They can be served as an elegant dessert too. No one will know you used box brownie mix.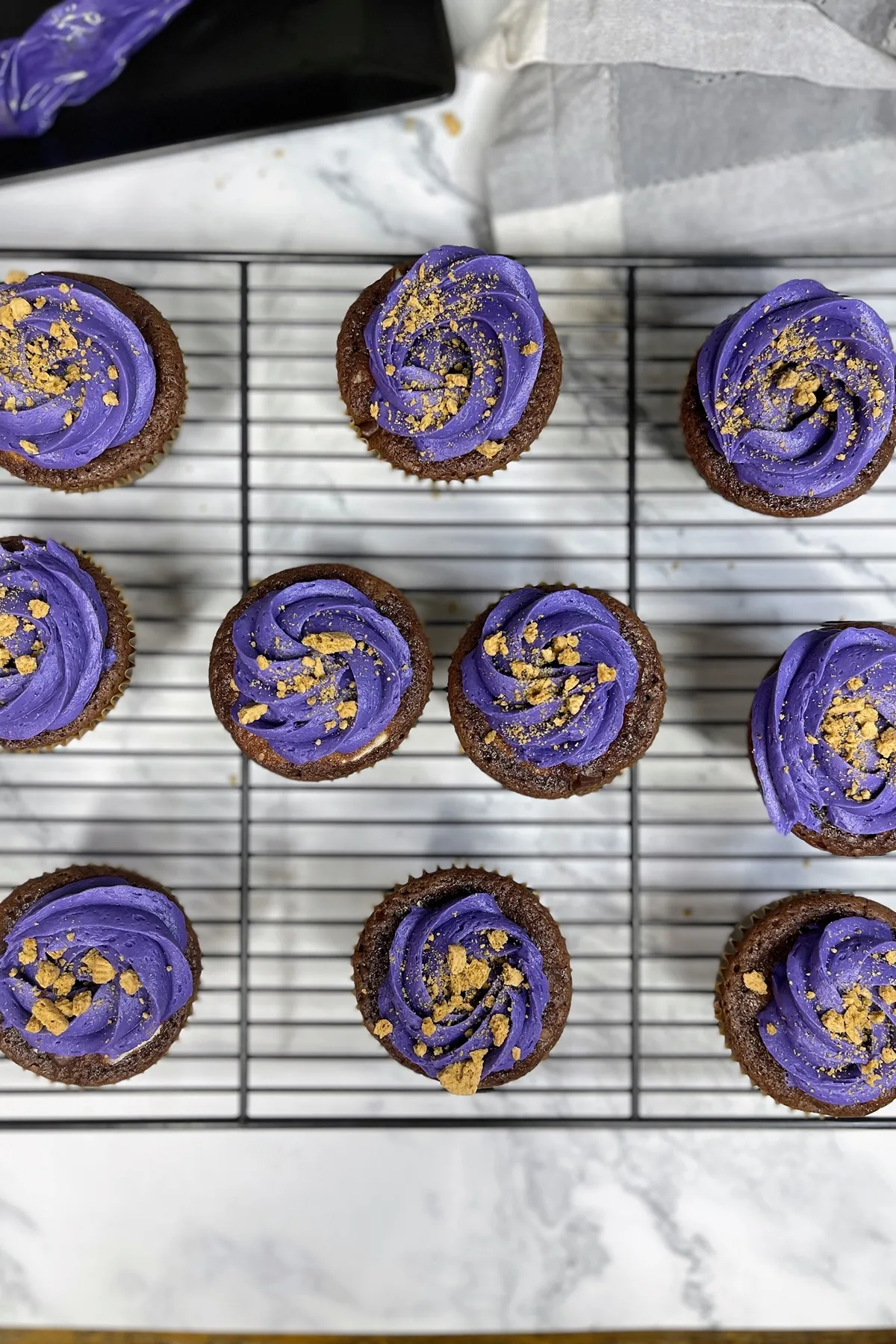 8. Ice Cream Sandwiches – I love desserts for family time that I can make with the kids! These ice cream sandwiches are fun to put together and even more fun to eat. You can make them any time of the year and have a tasty treat in the freezer.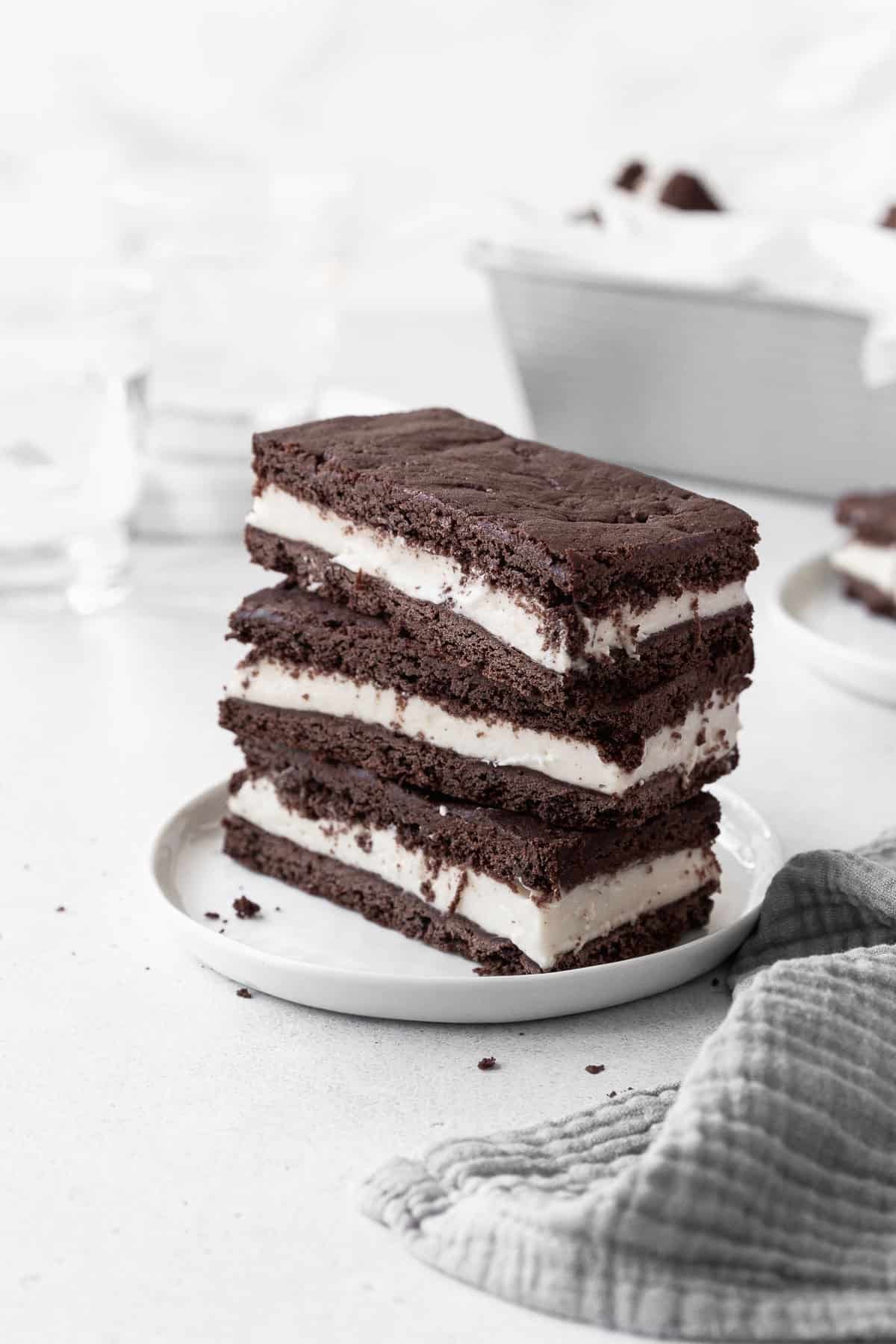 9. Gluten-Free Whoopie Pies – Quick and easy desserts like these gluten-free whoopie pies will delight everyone. With soft chocolate cookie buns that are filled with creamy filling, you won't be able to put them down!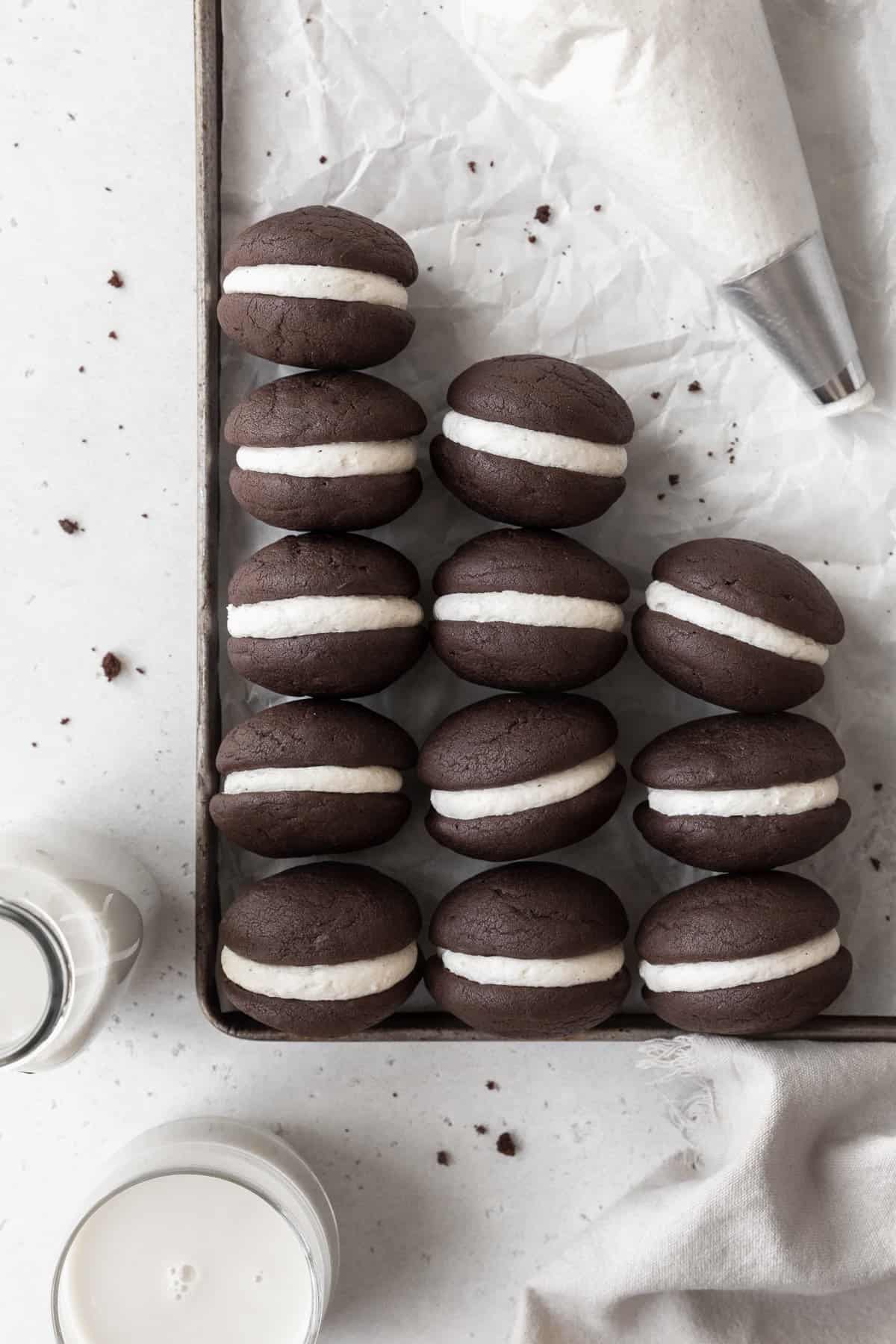 10. Air Fryer Smores Dip – I love using my air fryer to make desserts! So when I found this recipe for air fryer s'mores dip, I was jumping for joy. You can serve it with fruit, cookies, and more!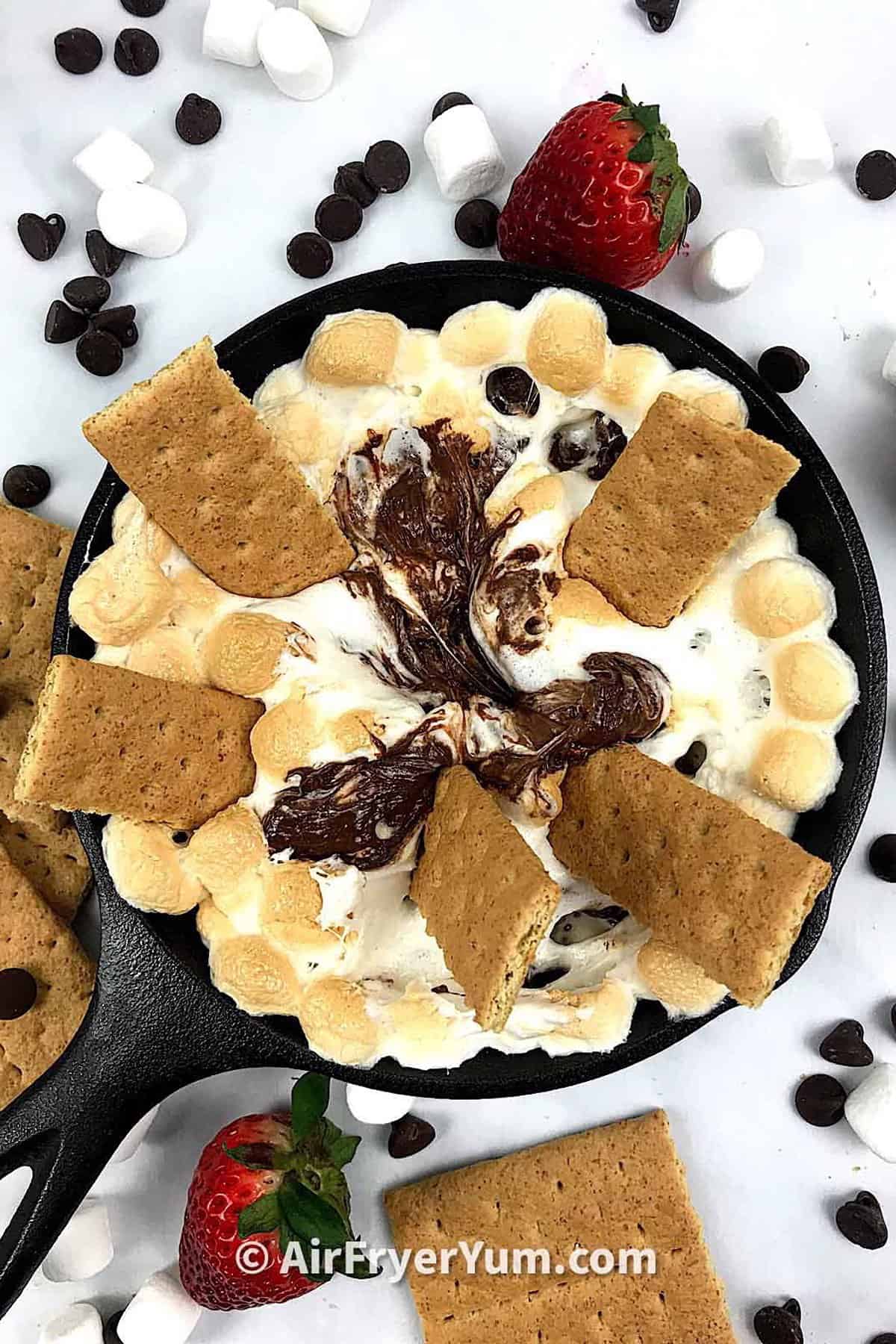 11. Chocolate Mousse Cake – Chocolate mousse cake is ready in the blink of an eye and ready to serve for the family, at a party, a potluck, and so much more. The creamy silky smooth pie filling is next-level delicious!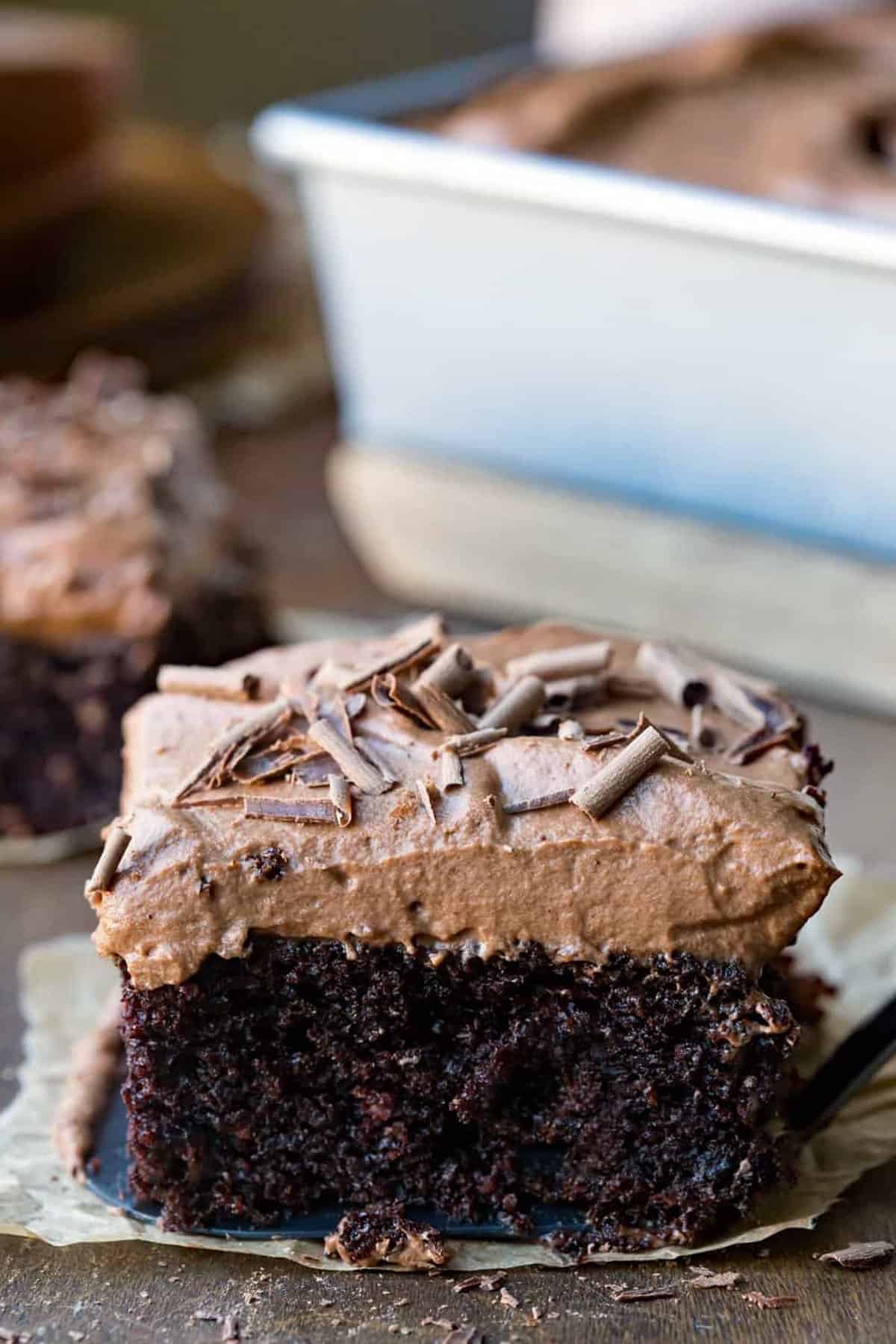 12. Deep-Fried Oreos – Indulge in carnival food in the comfort of your own home with these deep-fried Oreos! I love whipping up a batch of these with my kids on a Saturday afternoon and then throwing a movie night!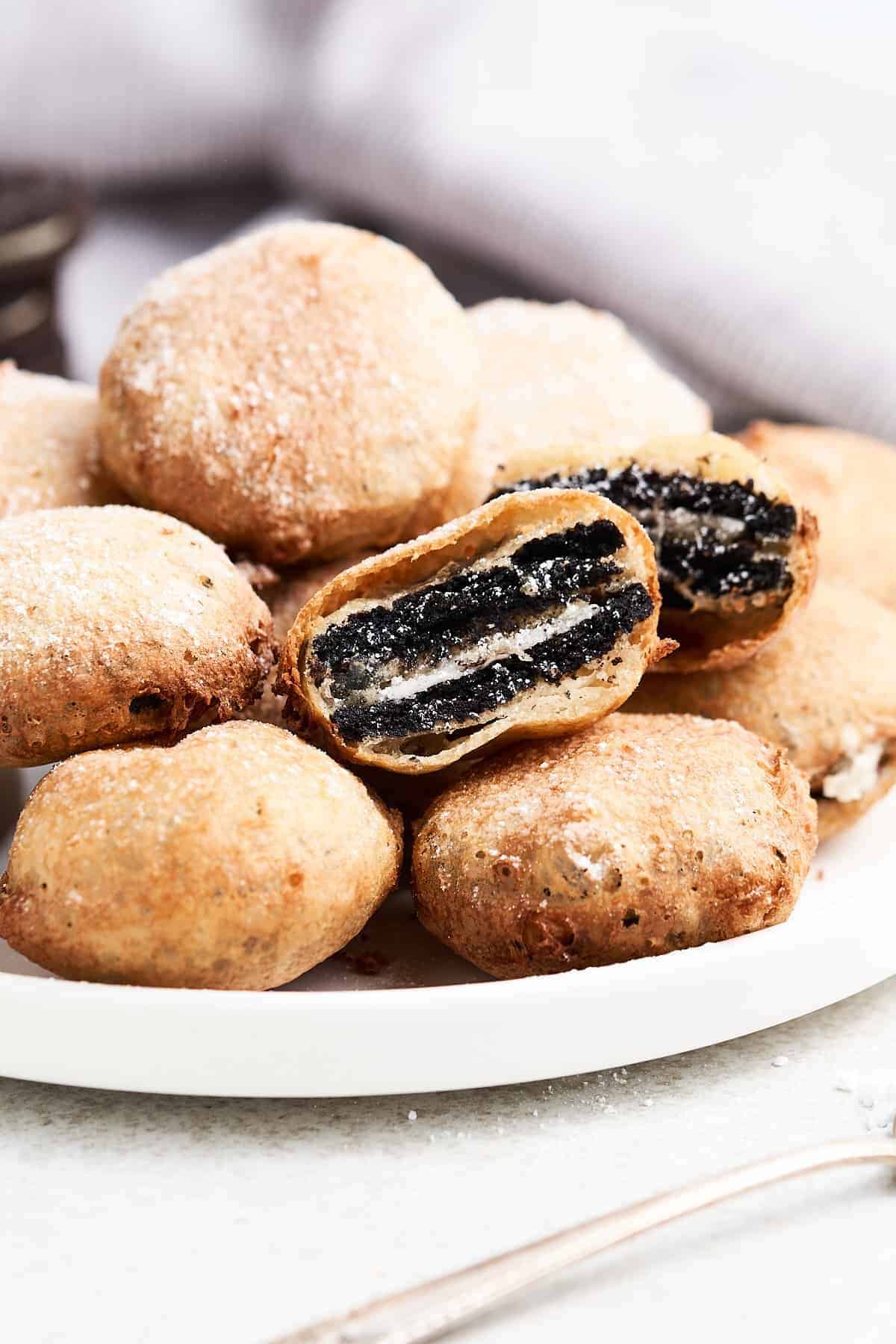 Cakes & Bakes
13. Hot Chocolate Monkey Bread – Quick and easy desserts made with canned biscuit dough like this hot chocolate monkey bread are surprisingly mouthwatering. Just cut up the dough, coat it with the sweet mixture, and bake to perfection.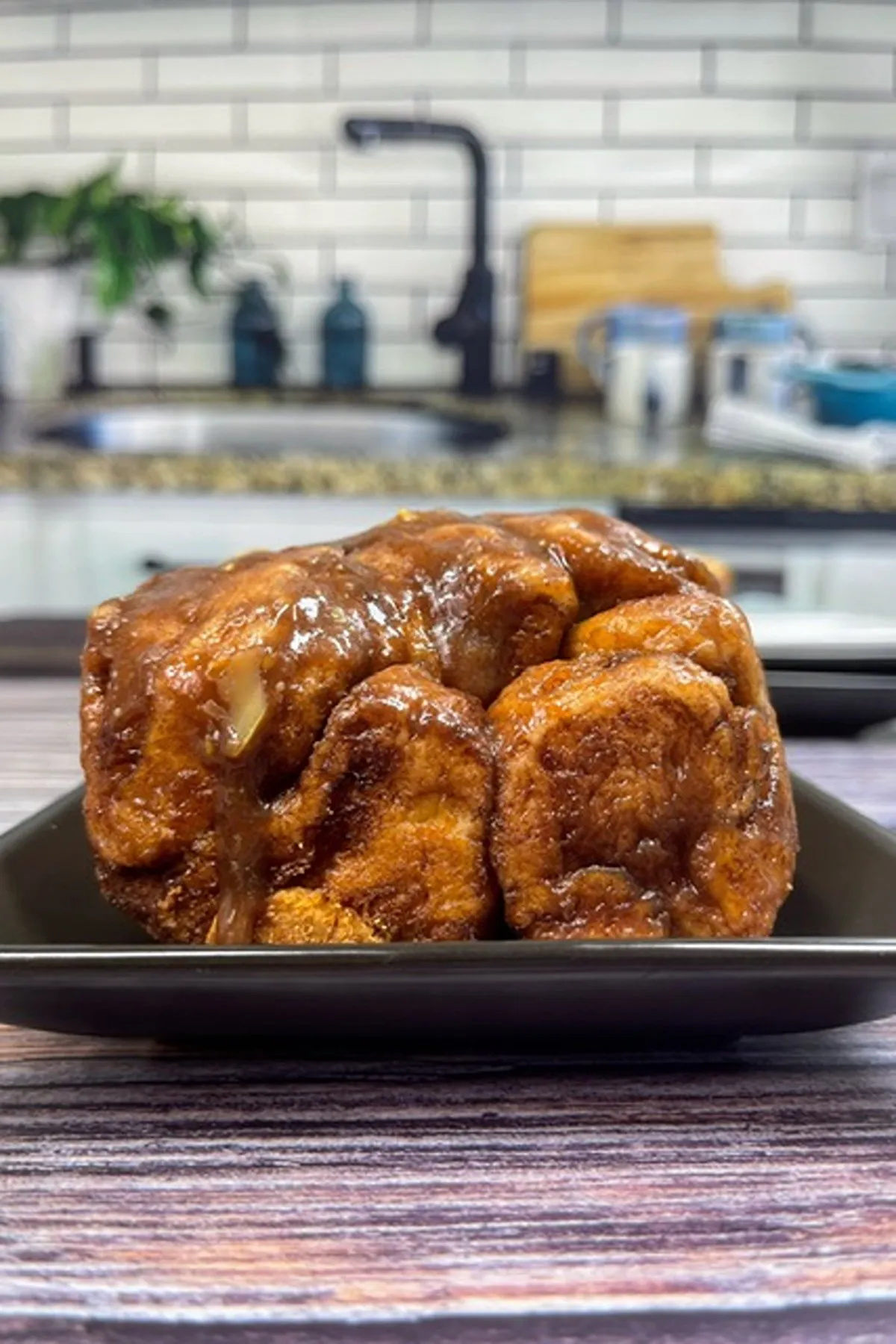 14. Cookie Monster Cinnamon Rolls – How pretty and cute are these Cookie Monster cinnamon rolls? They taste like heaven, too, and are fantastic for things like a gender reveal party or a kid's birthday party. Make them for yourself on an average Wednesday; we don't judge!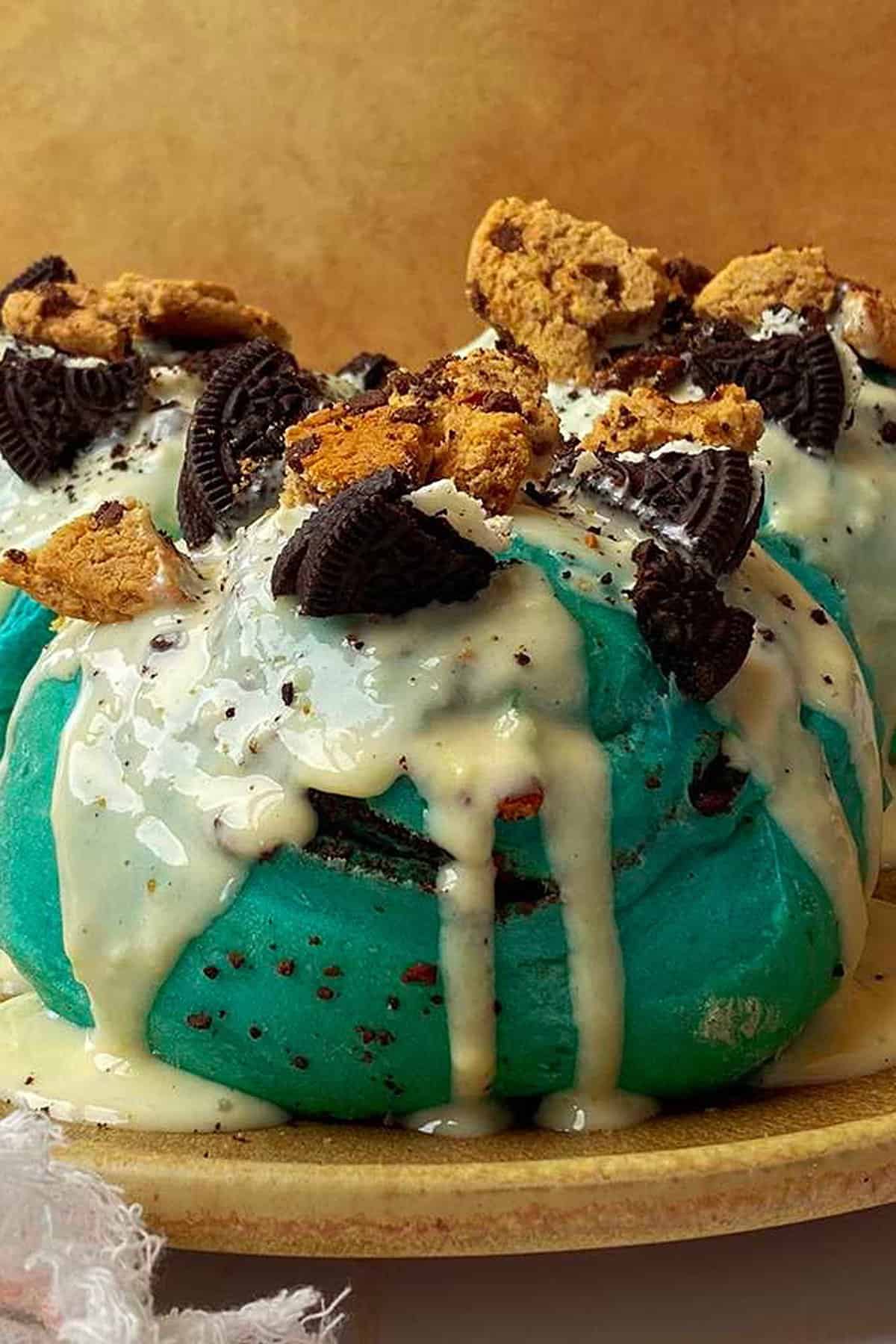 15. Raspberry Lemonade Cupcakes – Raspberry lemonade is a delightful flavor profile for these soft pillowy cupcakes. The sweet and creamy buttercream frosting really amps up the dessert to new flavor heights!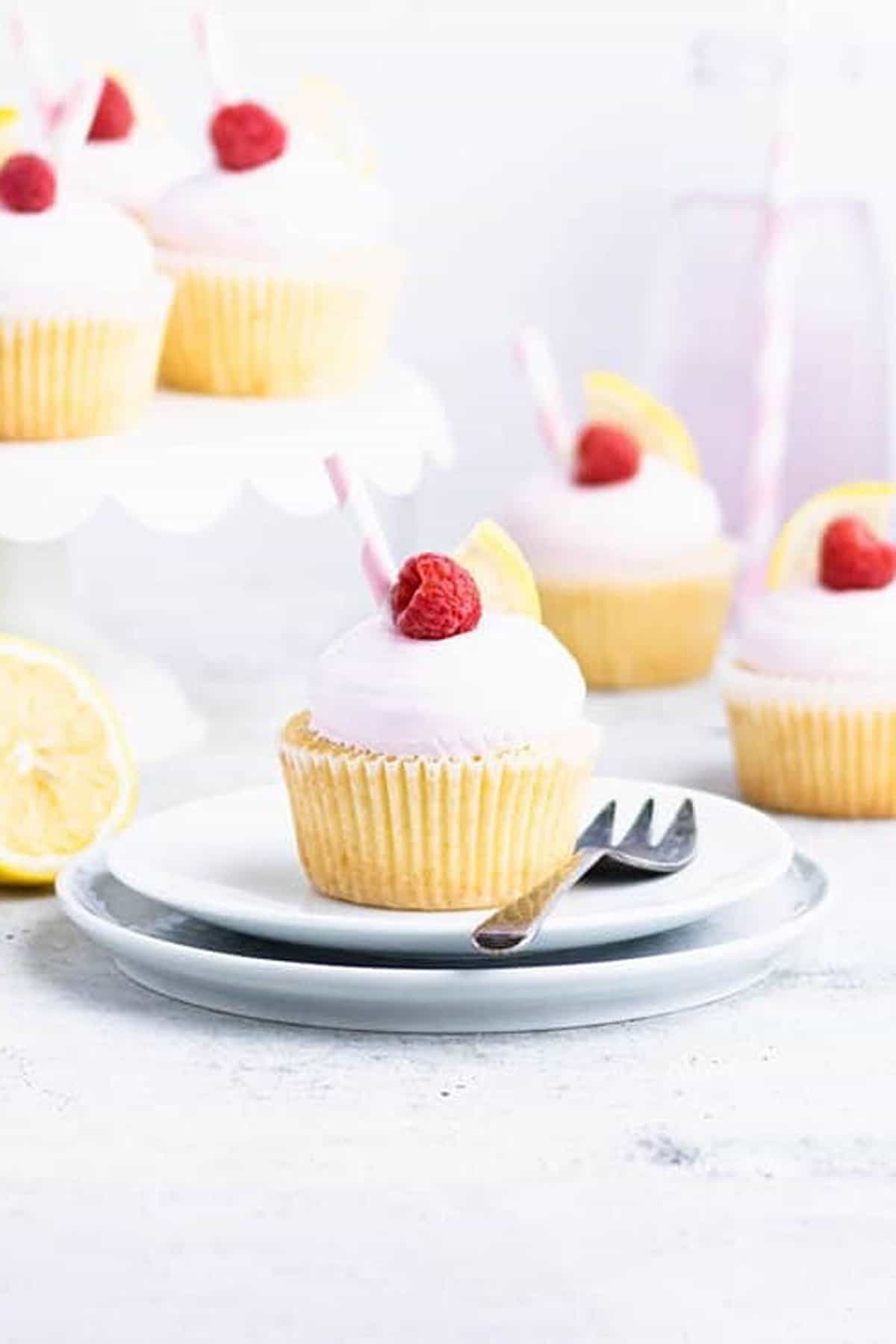 16. Bisquick Mix Blueberry Cobbler – Try some desserts for the family that are easy and different from your normal routine. This peach cobbler is so easy and made with Bisquick Mix!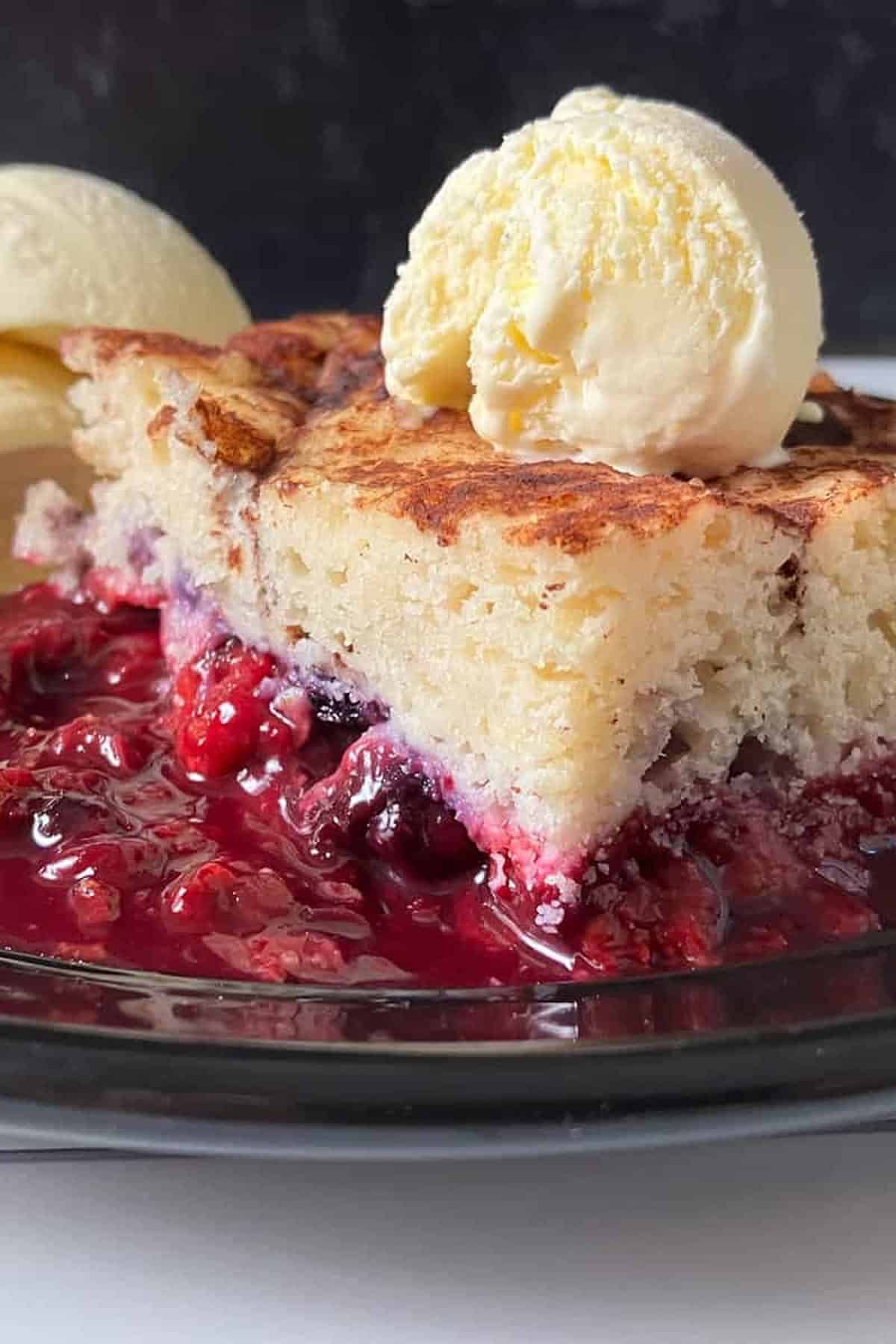 17. Apple Pie Spring Rolls – Quick and easy desserts like apple pie spring rolls will change your life! These restaurant-quality treat rolls are so easy to make and absolutely scrumptious.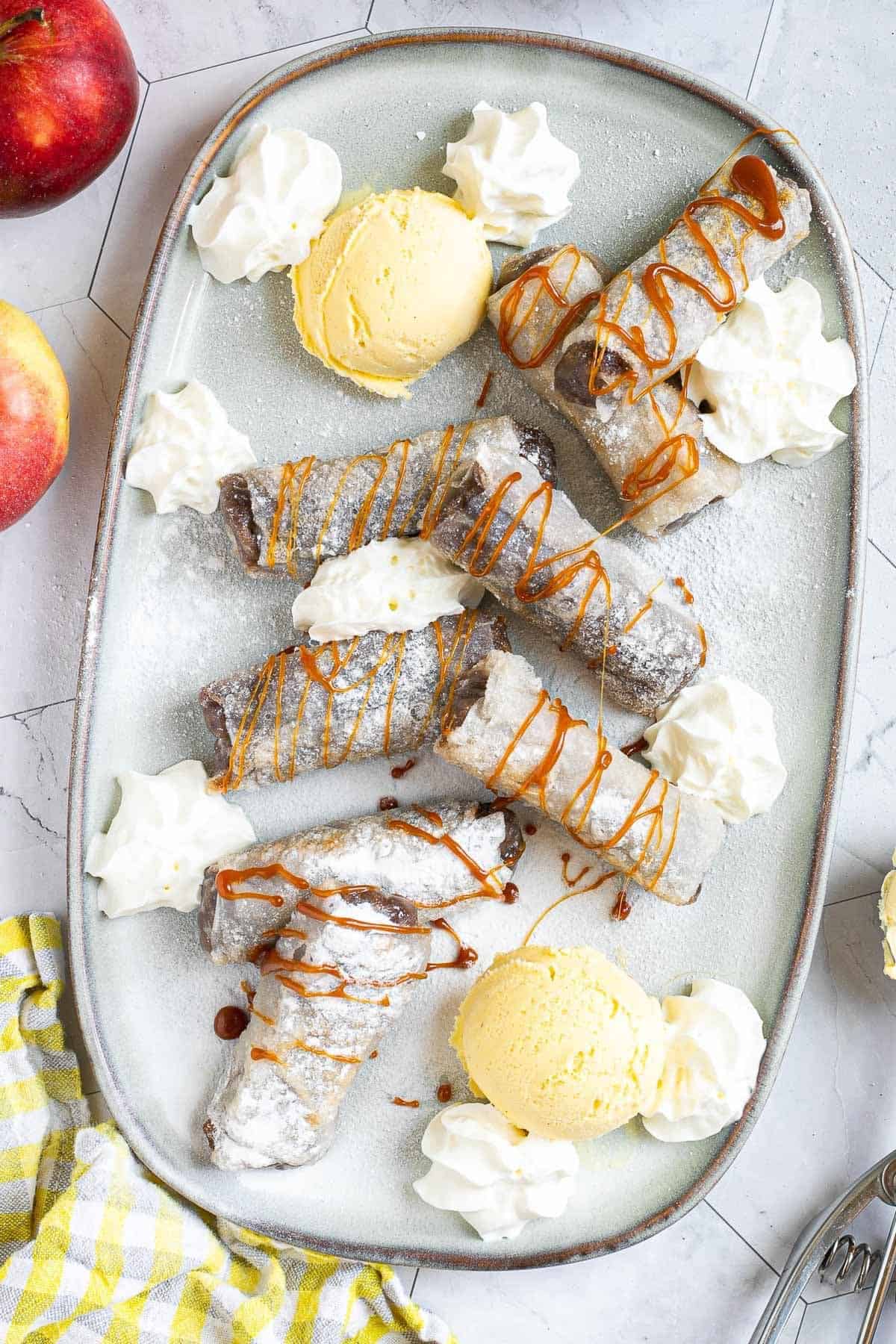 18. Funfetti Blondies – Funfetti Blondies are simple and absolutely scrumptious. Key ingredients include flour, granulated sugar, salt, baking powder, butter, eggs, vanilla extract, white chocolate chips, and rainbow sprinkles.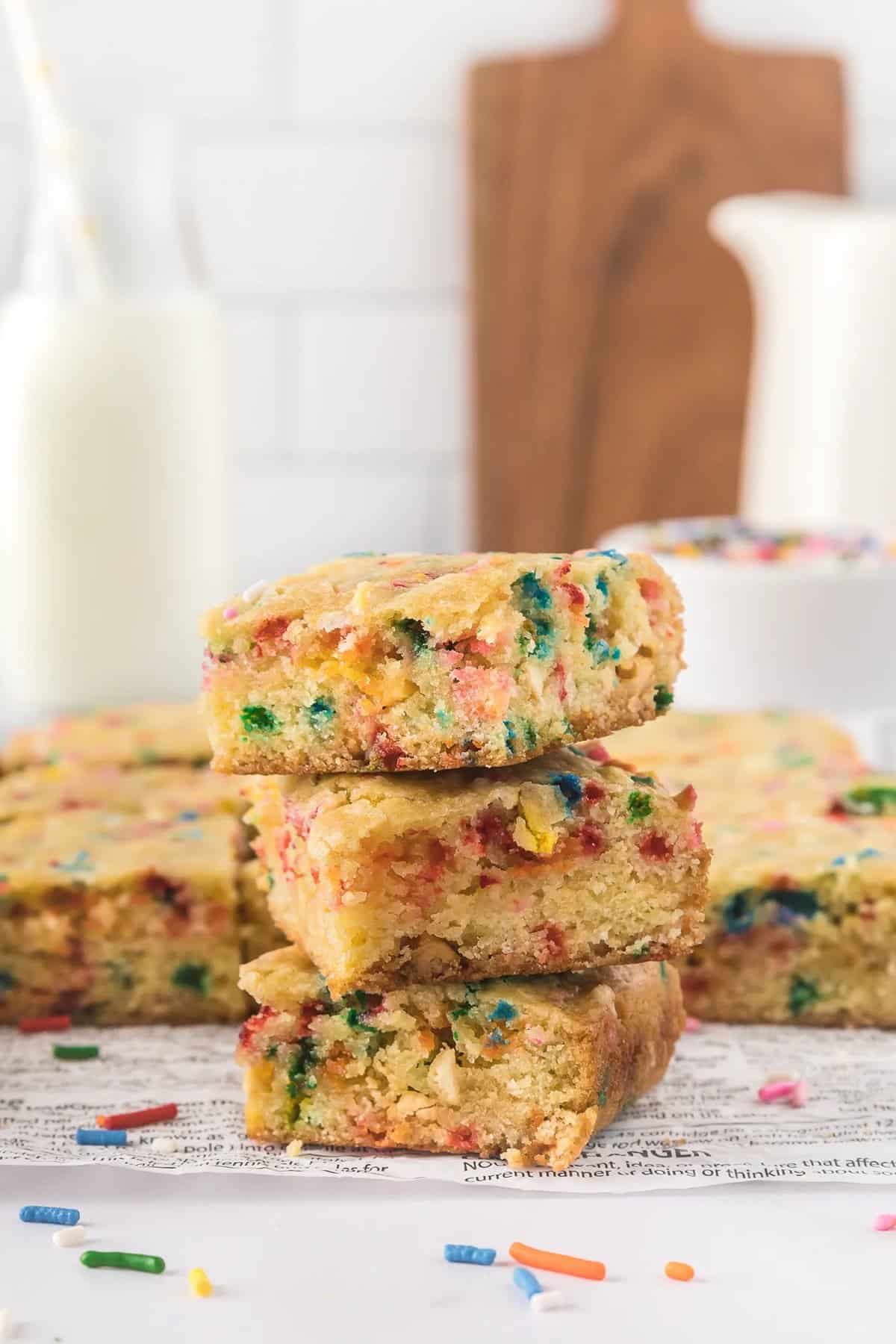 Best Cheesecake Ideas
19. Funfetti Cheesecake Stuffed Cookies – I love Funfetti so much that I had to include one more recipe. These cookies are stuffed with cheesecake and are so tasty. Ingredients include Funfetti cake mix, eggs, vegetable oil, strawberry cream cheese, and blue glaze.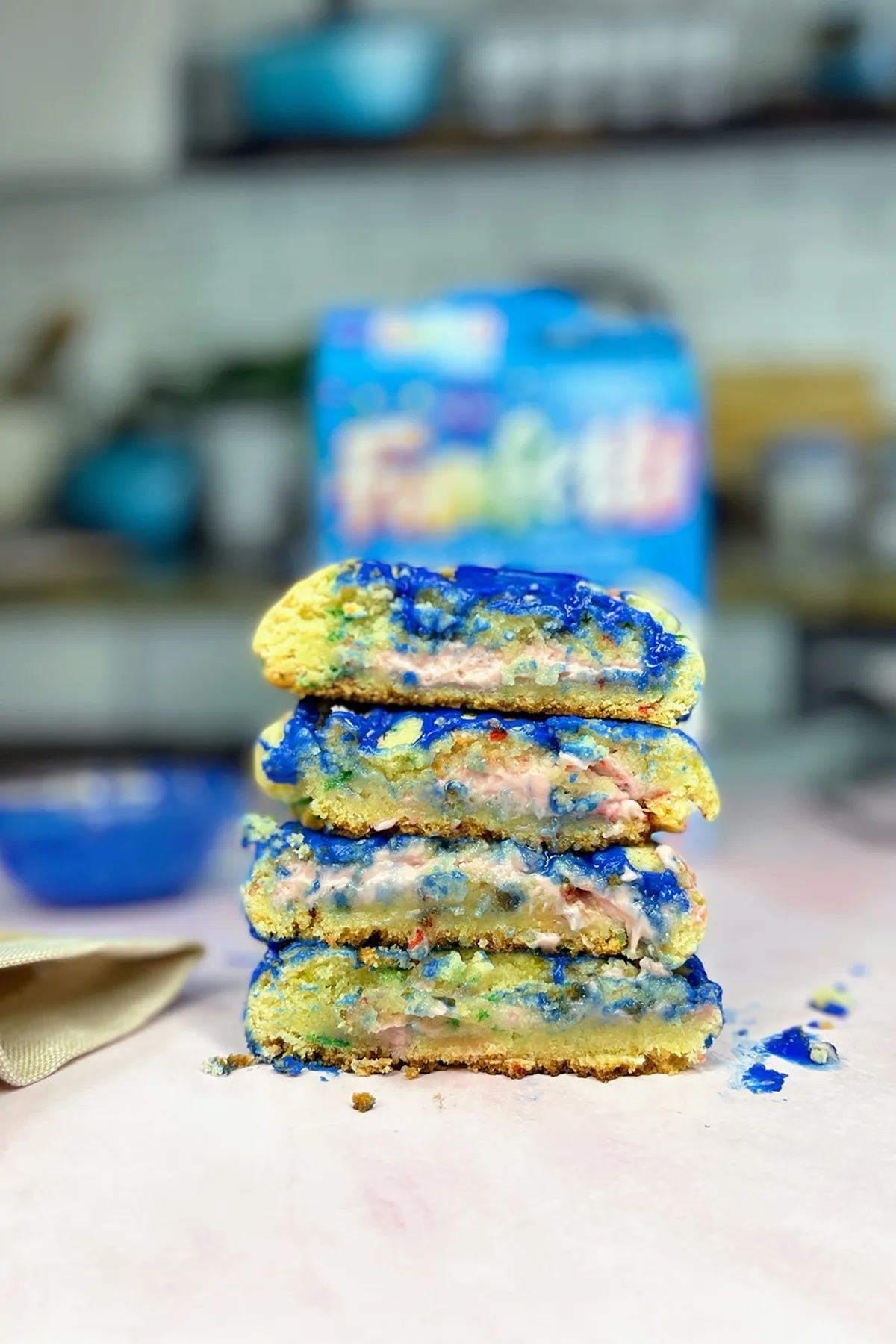 20. Amarillo & Chocolate Mini Cheesecake Bites – Ingredients for Amarillo & Chocolate Mini Cheesecake Bites are simple to assemble. You need graham cracker crumbs, butter, cream cheese, sugar, cocoa powder, sour cream, vanilla extract, Amarula Cream Liqueur, whipping cream, and chocolate syrup.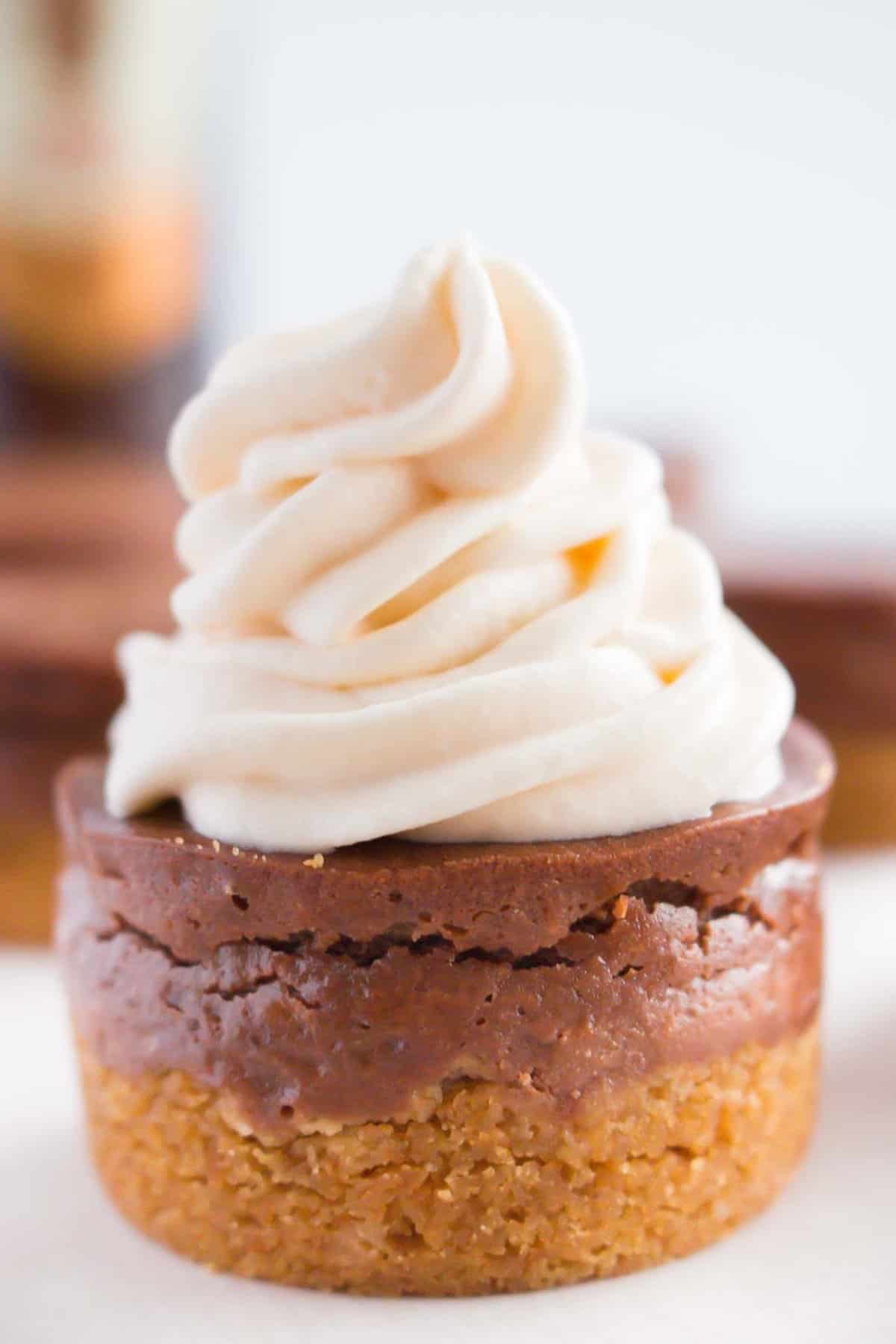 21. Ninja Foodi S'mores Cheesecake – Quick and easy desserts with s'mores and cheesecake combined really impress me! The best part is you can make it in your Ninja Foodie or air fryer!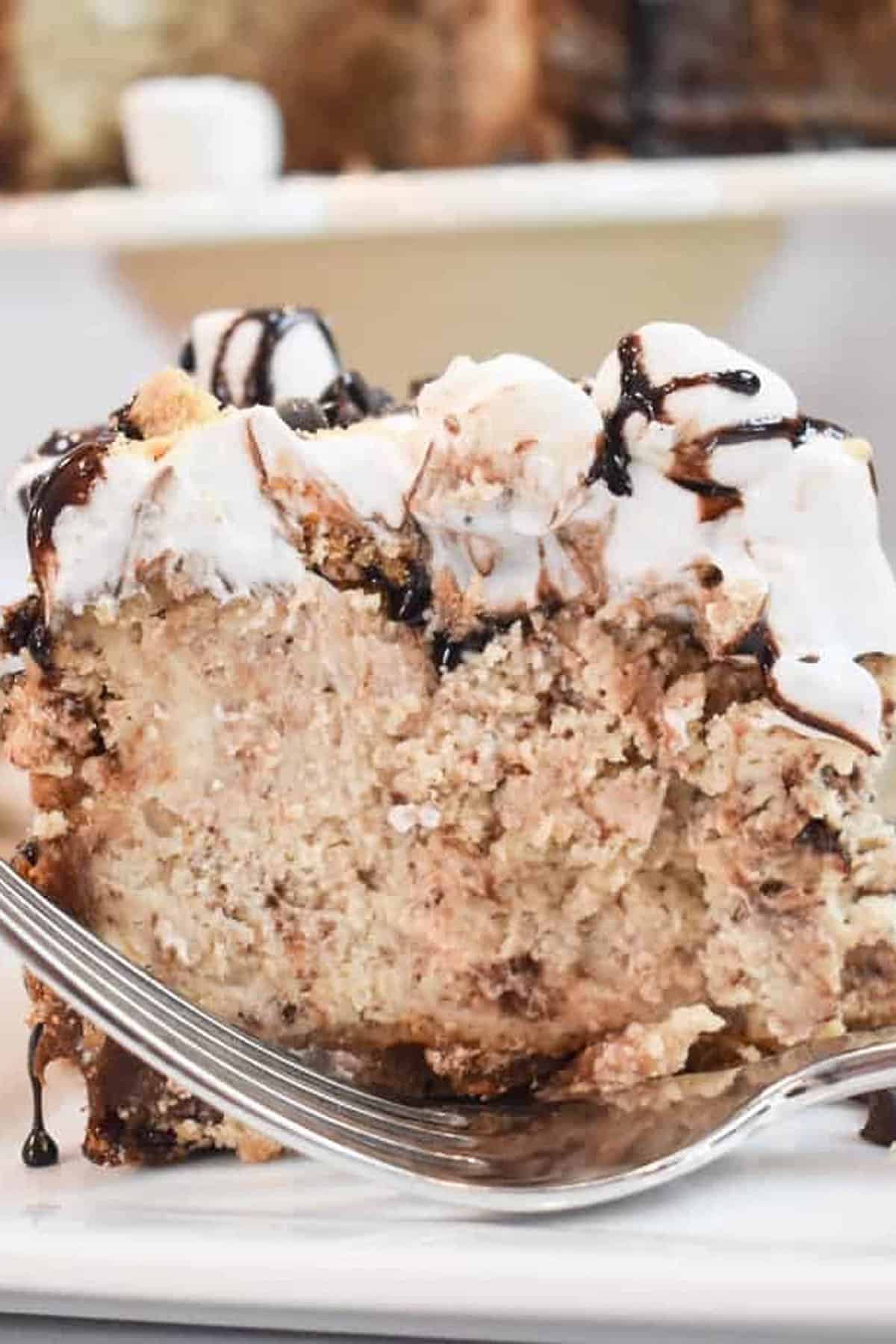 22. No Bake Cherry Cheesecake Jars – Look how pretty these jars filled with cheesecake and cherry pie filling are. You won't believe they require no baking and taste like they came straight from the bakery!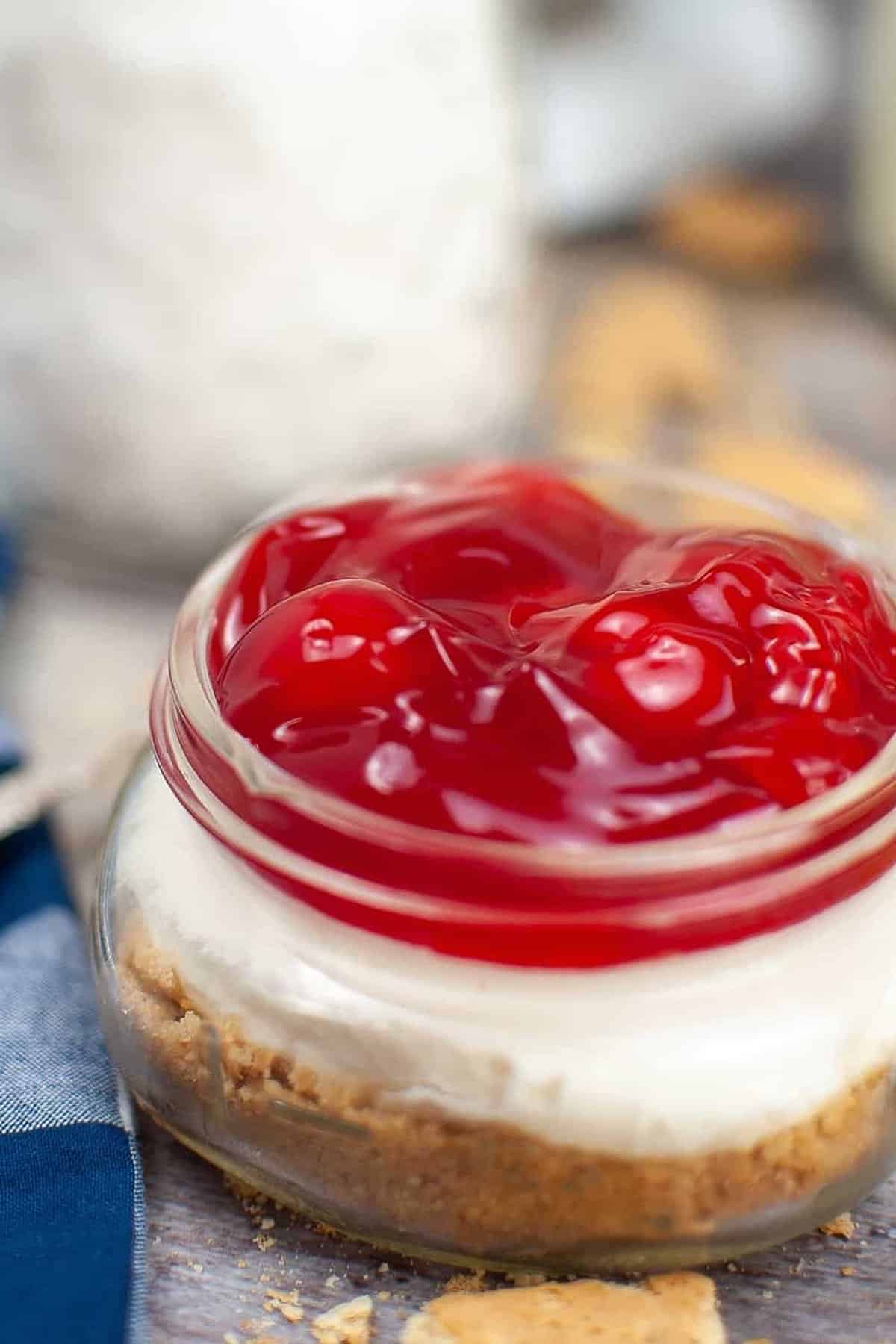 23. Sopapilla Cheesecake Bars – Sopapilla Cheesecake Bars Recipe is a lovely creamy treat you will absolutely adore. All you need is crescent roll tubes, sugar, ground cinnamon, cream cheese softened, eggs, and vanilla!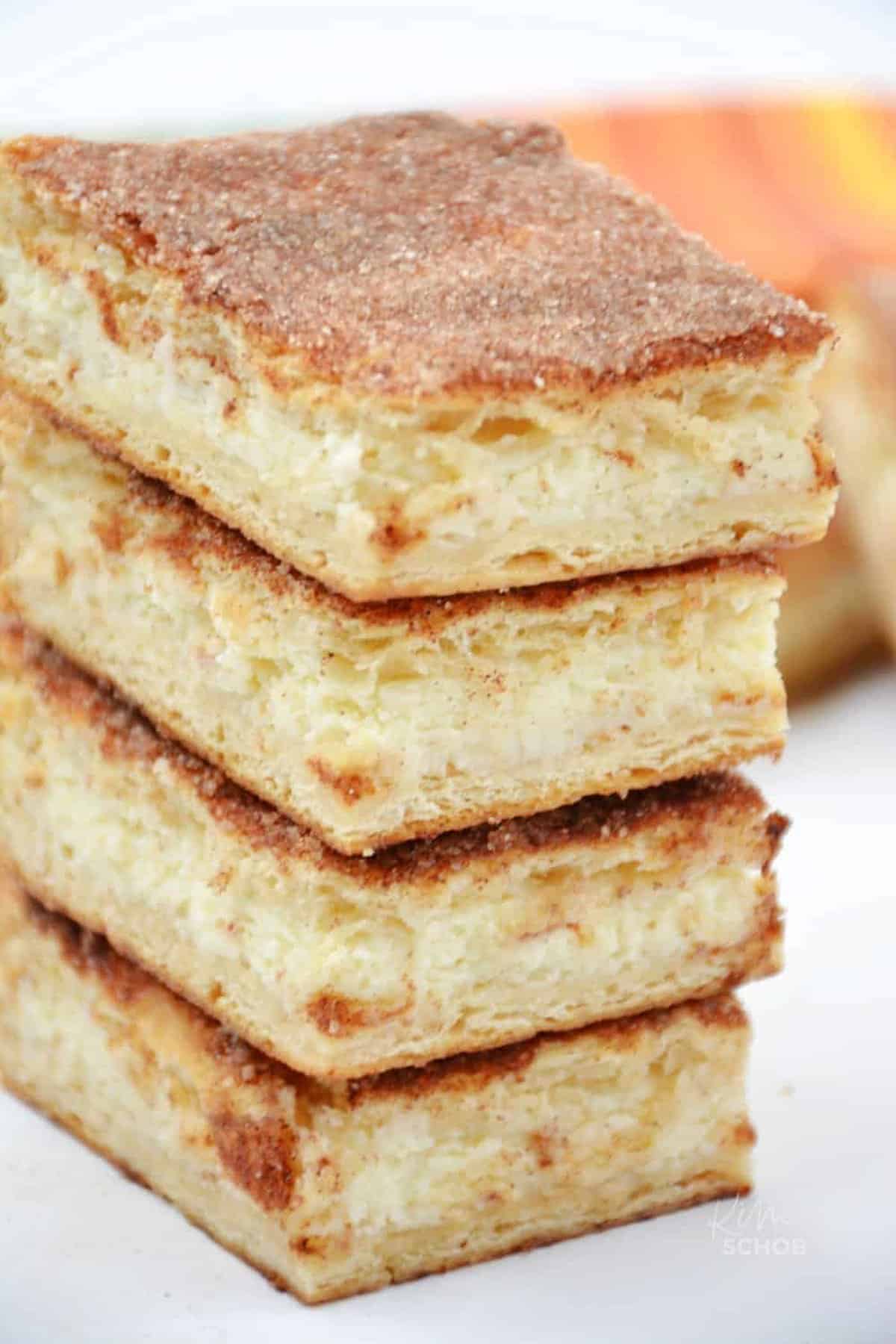 24. Galaxy Cheesecake – Making desserts for family events doesn't have to be stressful! Enter the Galaxy Cheesecake Recipe!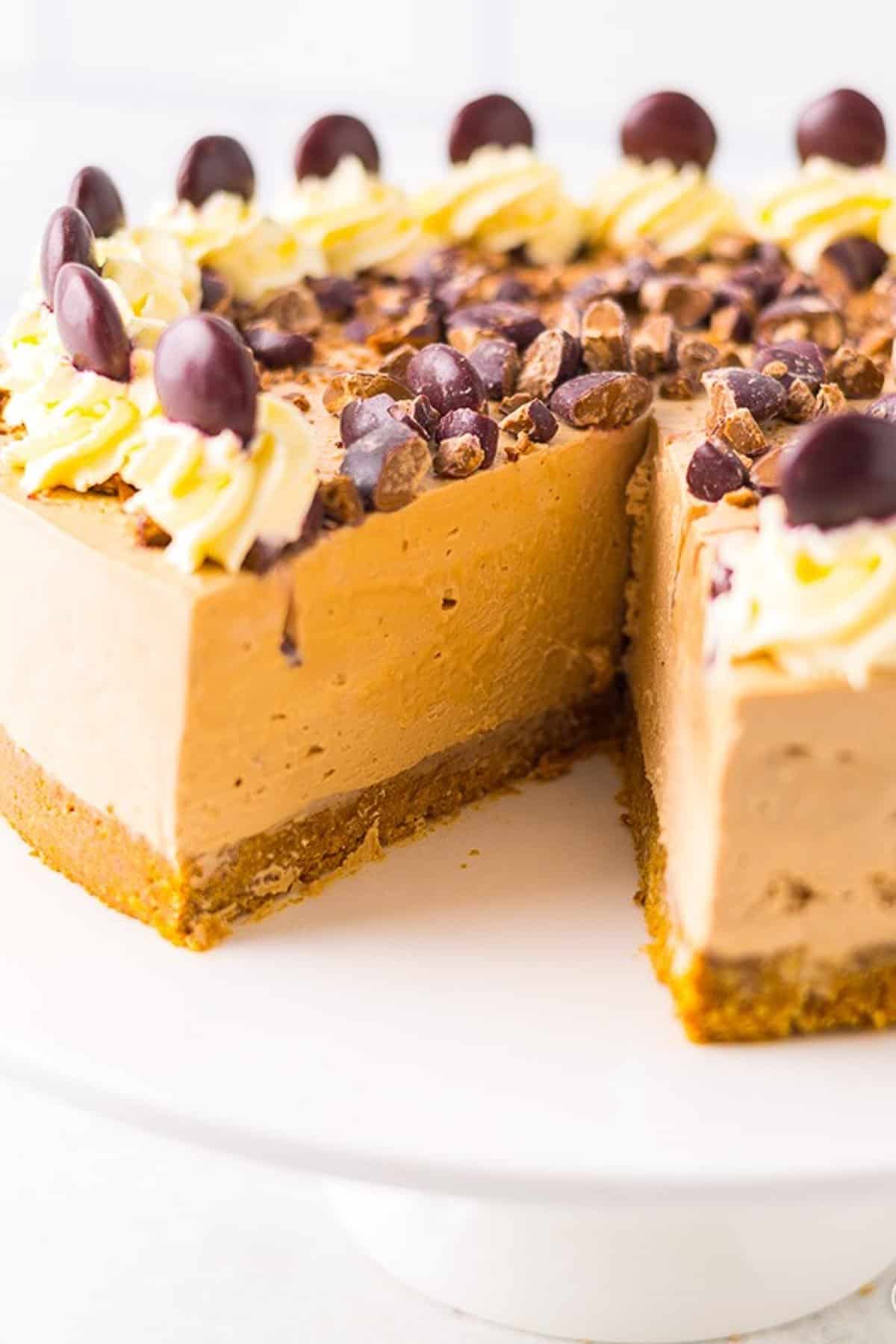 No Bake Recipes
25. Cherry Pie Fluff Salad Dip – Quick and easy desserts like dessert salad or dip make your life so easy. With minimal ingredients and optimal flavor, you won't be able to put this cherry pie fluff salad down!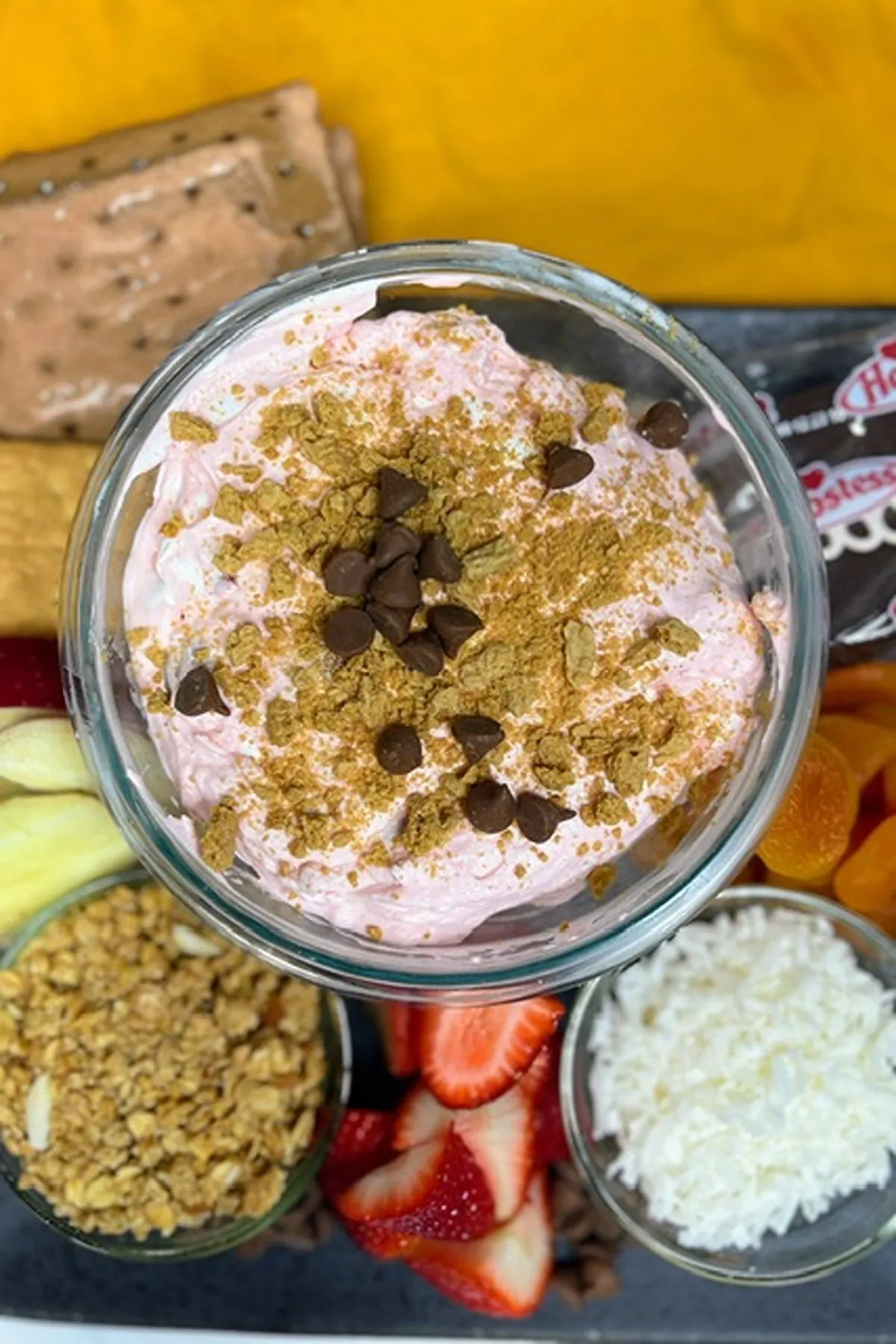 26. Southern Banana Pudding – Looking for a healthier dessert option? This banana bread pudding is vegan, gluten-free, allergy-free, and processed sugar-free!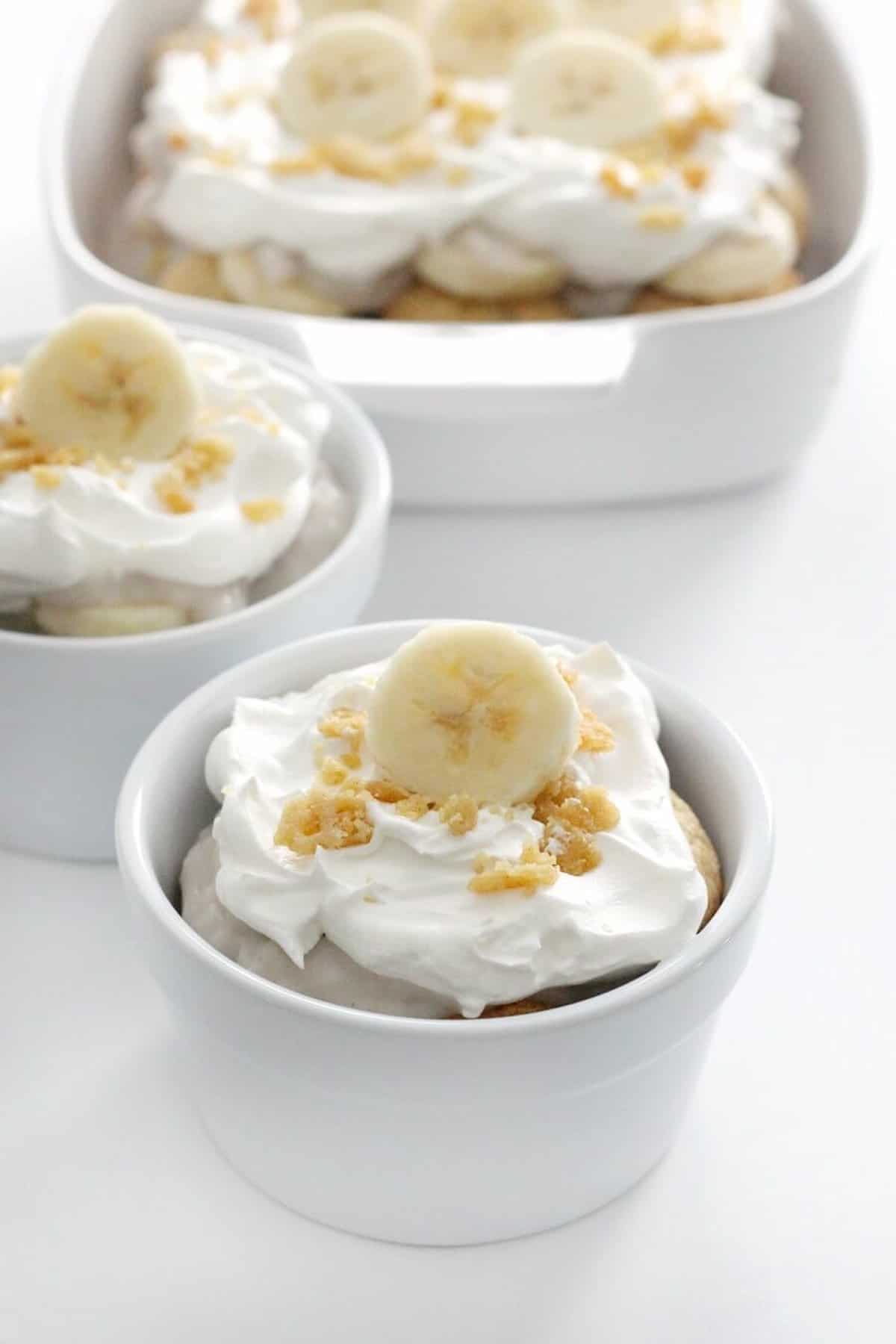 27. Strawberry Cream Trifle – Looking for desserts for your family that you can whip up in a flash? Try this Strawberry Cream Trifle Recipe with tasty layers of fresh strawberries, whipped ricotta and cream, and fluffy pound cake!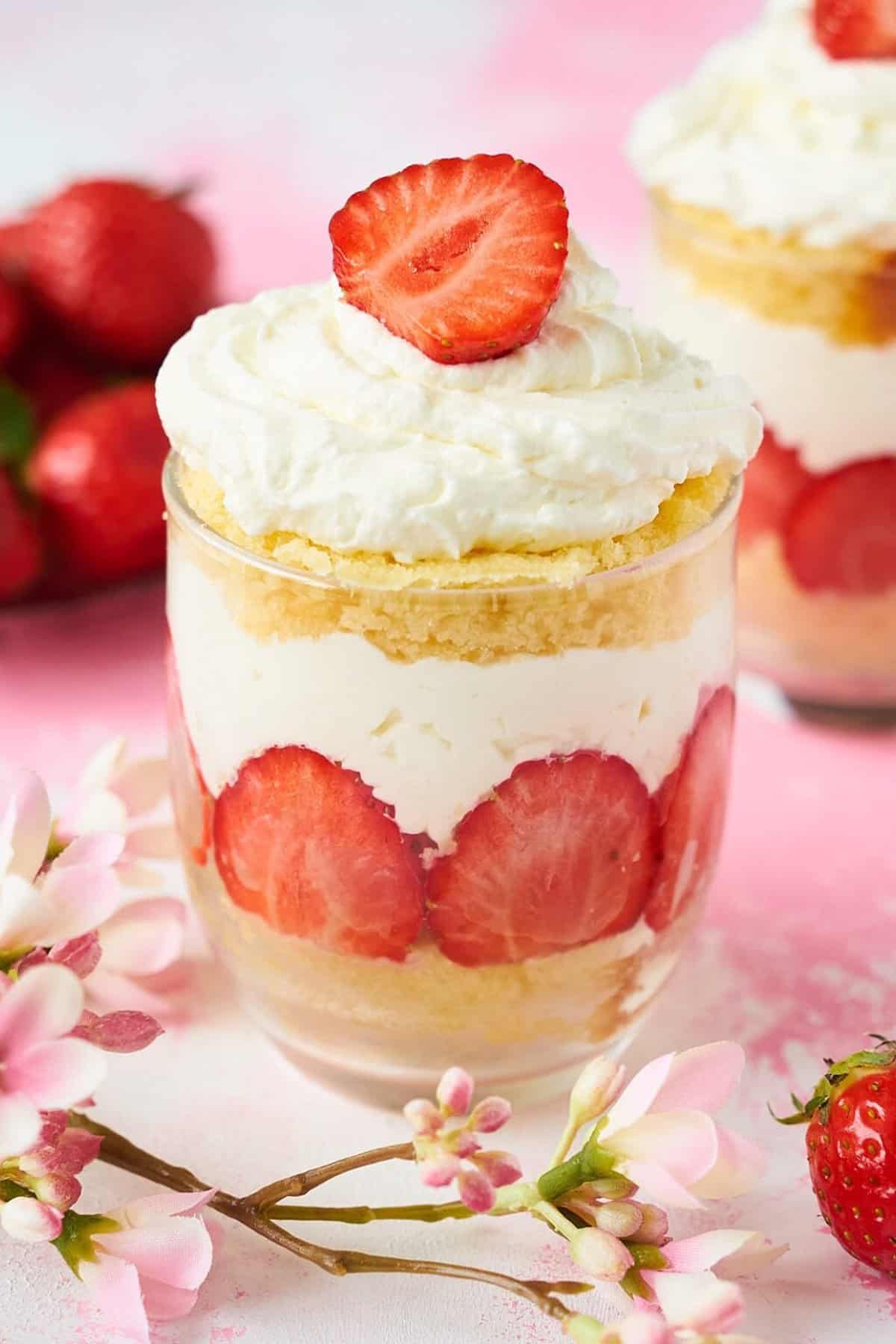 28. Lemon Blueberry Fluff Salad – Quick and easy desserts with lemon and blueberry will have you jumping for joy! Just make sure your cream cheese is softened or at room temperature before preparing the dessert.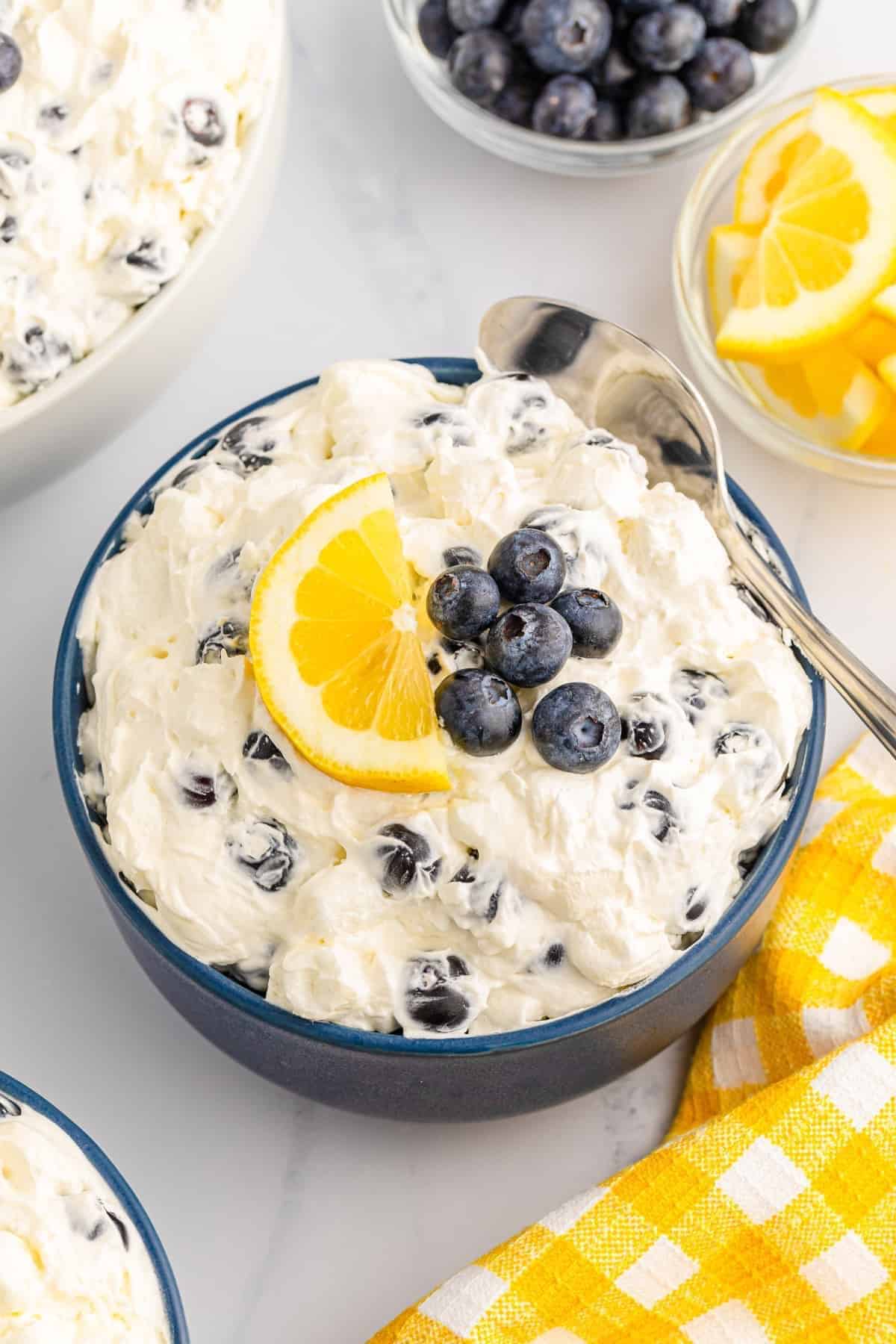 29. No-Bake Banana Split Dessert – This no-bake Banana Split Dessert can feed a whole crowd or be served as a family dessert! Just grab a 9×13 casserole dish and assemble the ingredients!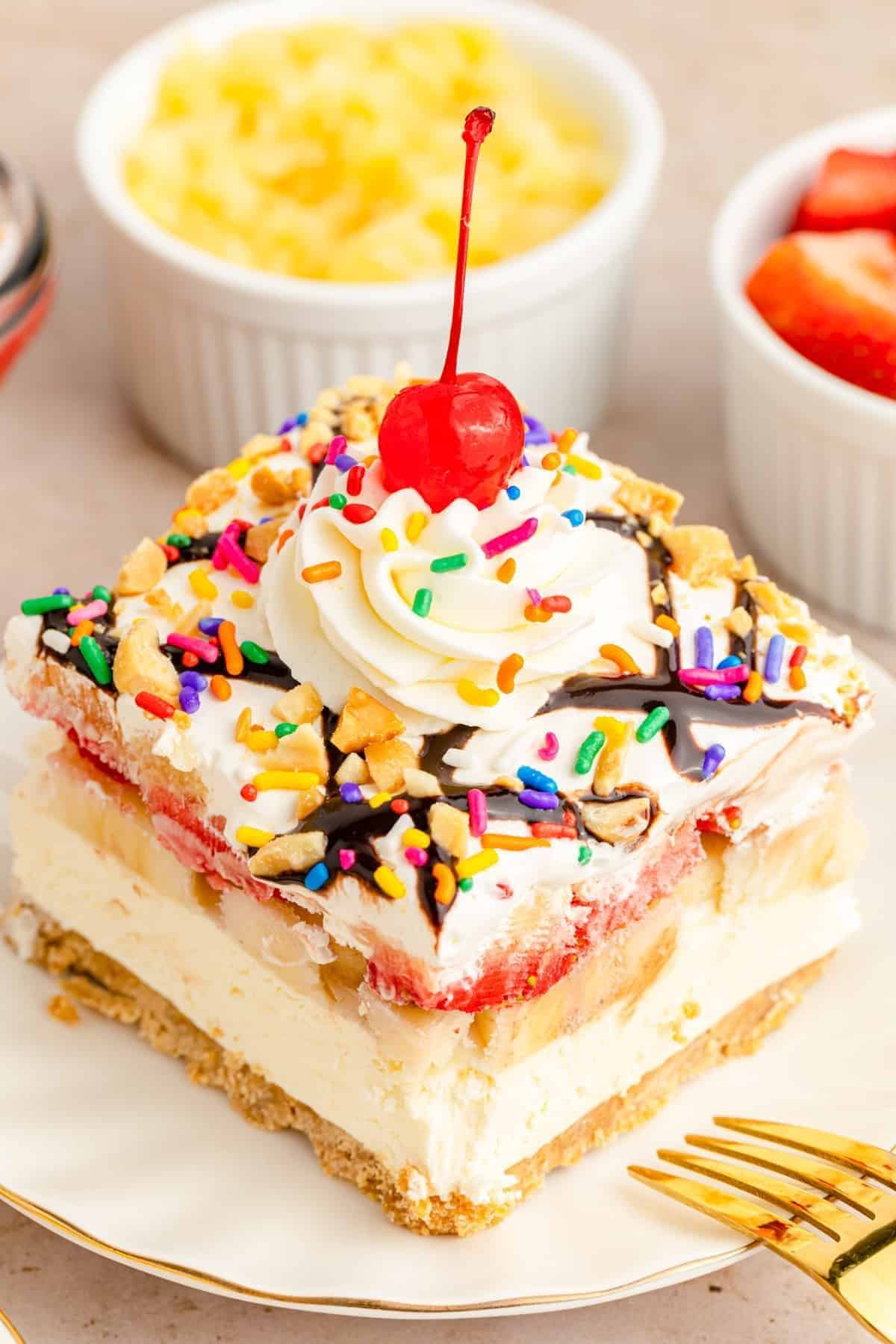 30. No-Bake Lemon Cake Balls – These no-bake lemon cake balls are sweet and slightly sour. Coated in a candy shell and topped with crispy Fruity Pebbles! It's a fun and unique treat that you can really get creative with!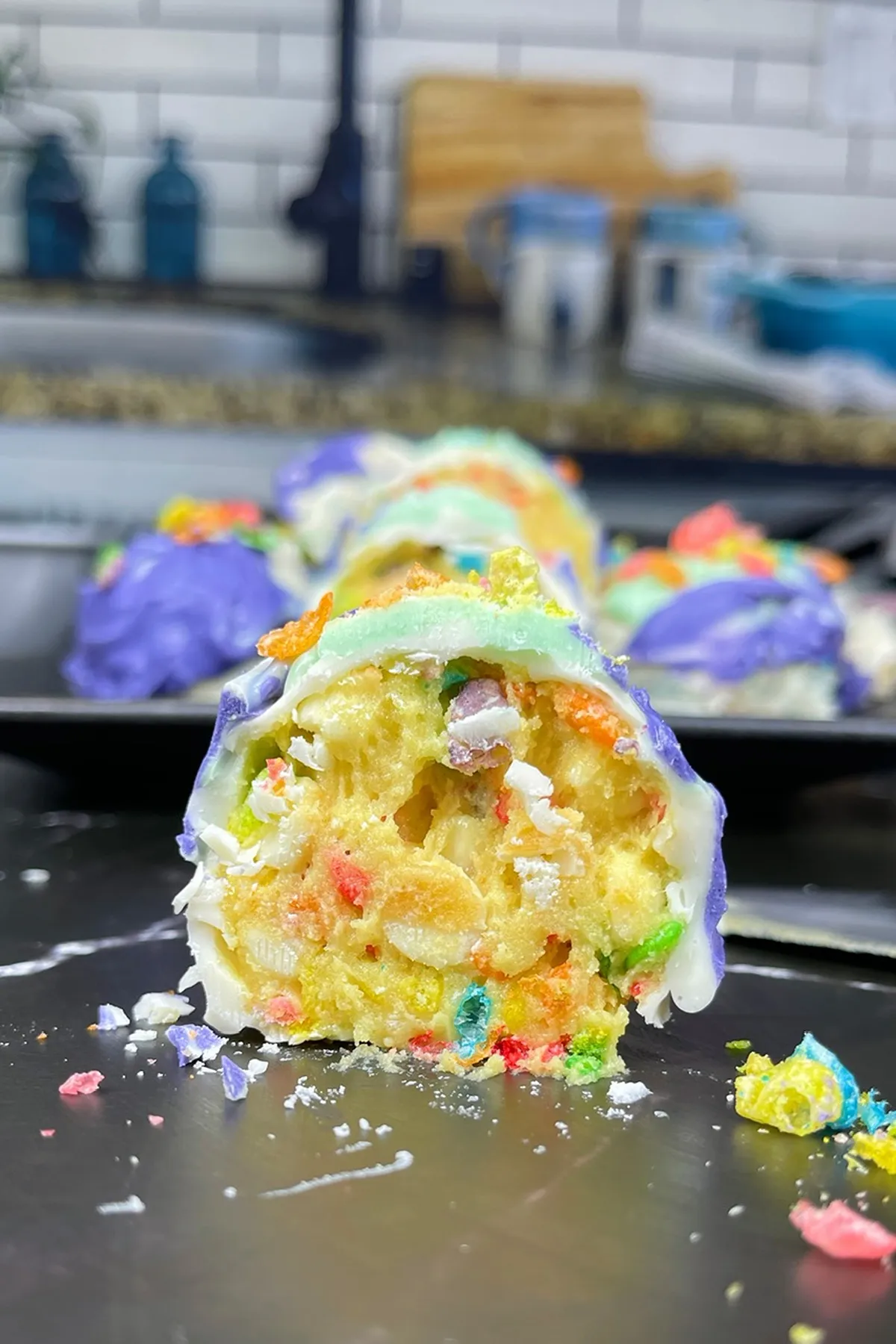 Unique Treats
31. Cruella De Vil Cupcakes – Having a Disney movie night or just love the cool color combinations of these cupcakes? Try these Cruella De Vil-inspired box mix cupcakes.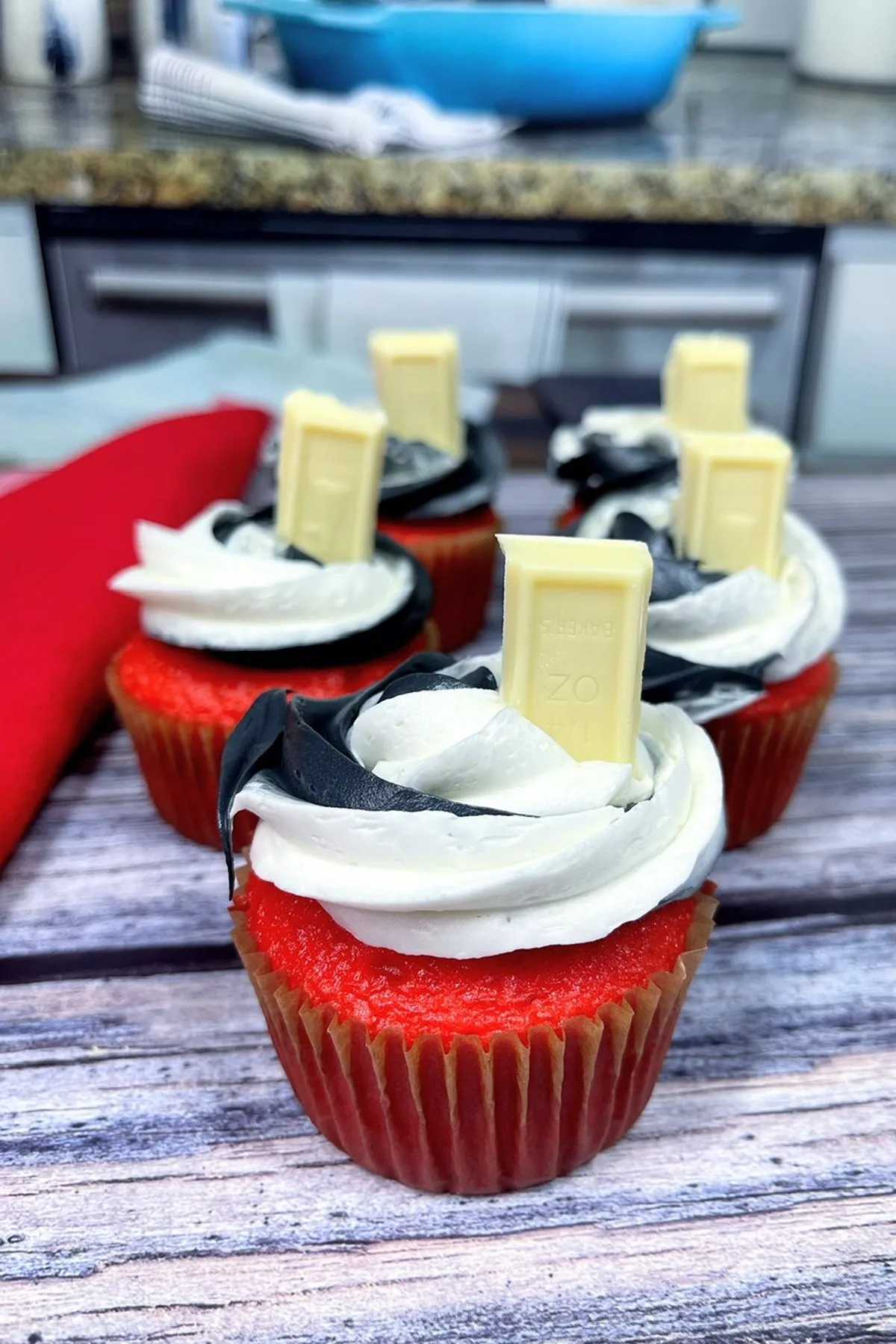 32. Strawberry Mini Pies With Rose Glaze – Desserts for family that are portable and kid-friendly are always welcome in my house! Like these strawberry mini pies that are easy to make and provide mess-free snacking!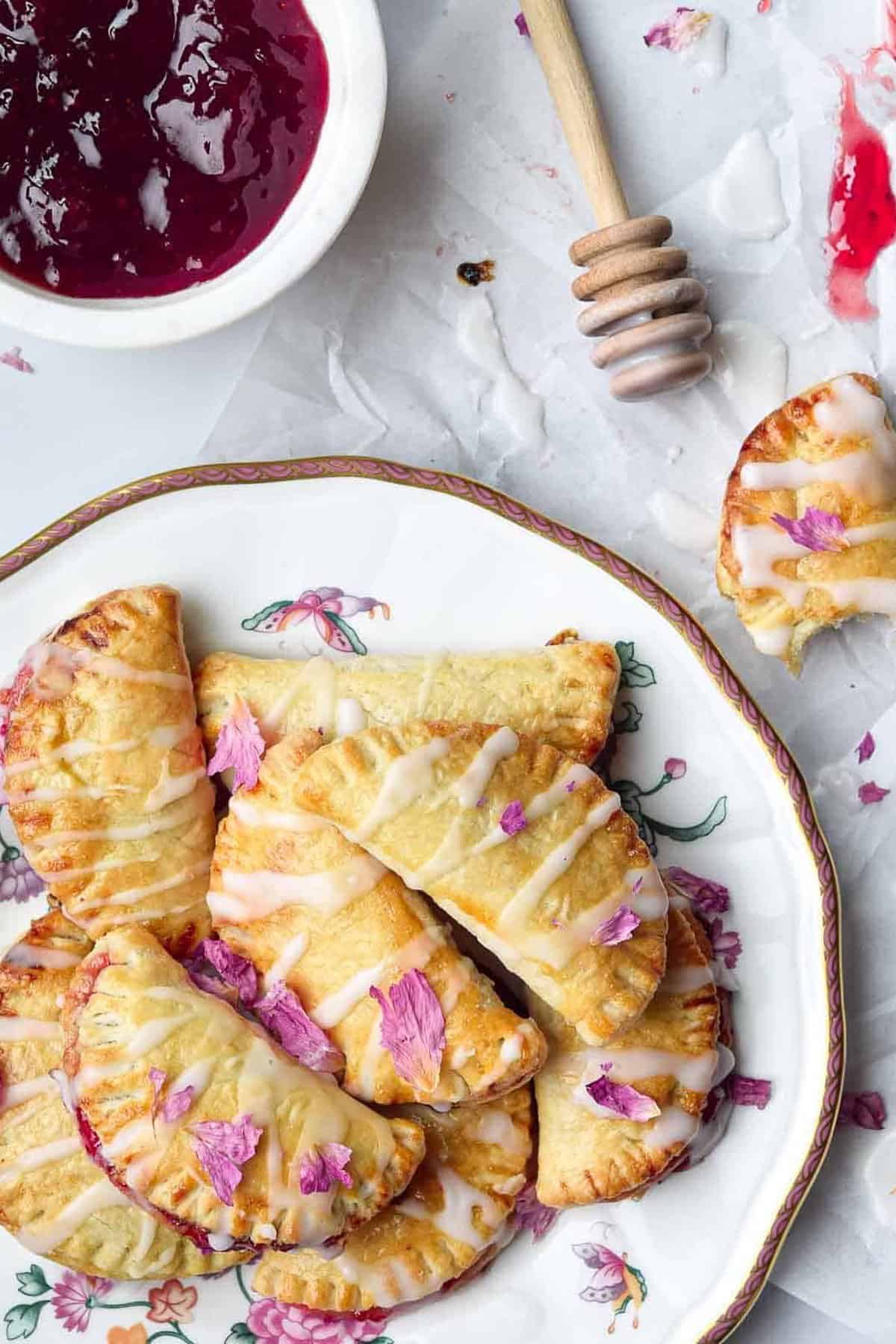 33. Vegan Biscoff Blondies – Quick and easy desserts with Biscoff are sure to impress! These Biscoff brownies are so soft, chewy, fudgy, and buttery. You won't believe they're totally vegan.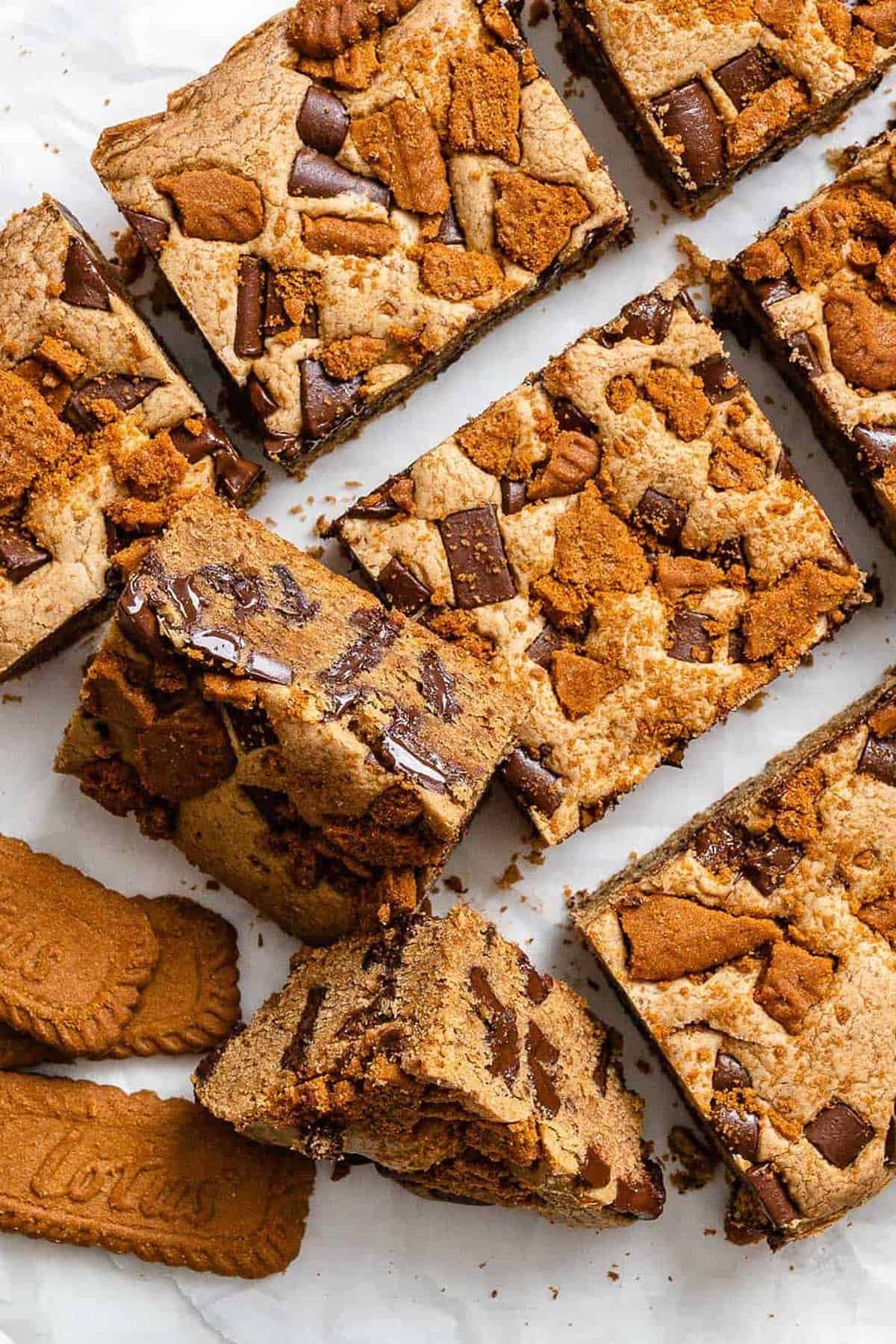 34. Ultimate Smores Cupcake – S'mores are one of my favorite desserts ever. So when you give me a cupcake recipe bursting with marshmallow, chocolate, and Graham cracker flavor, you know I have to make it! The best part is the classic Swiss Meringue Buttercream.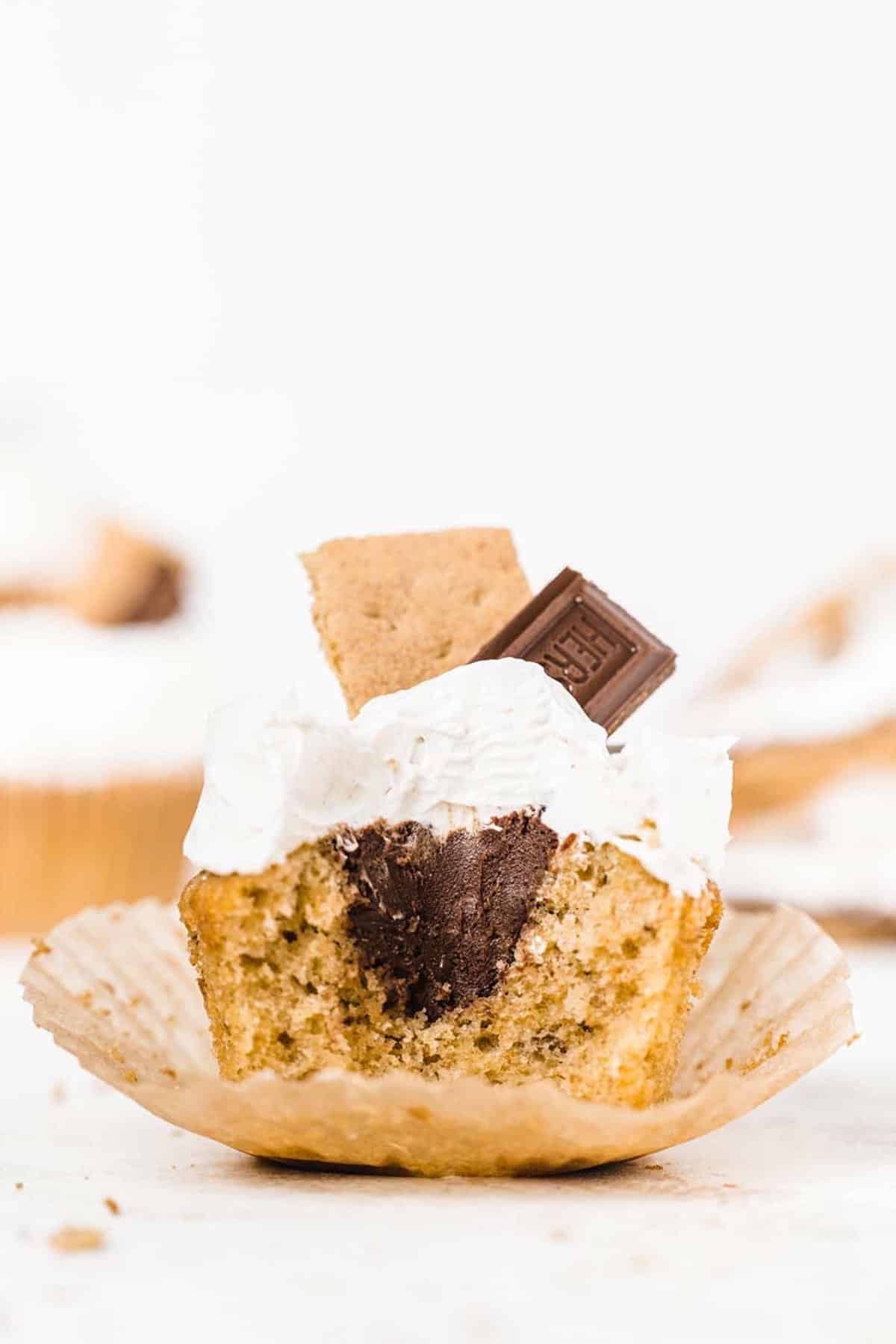 35. Apple Crisp With Eggnog Sauce – A simple but delicious recipe with a succulent filling, a buttery rich almond top, and a creamy, spicy sauce: this Apple Crisp is made without oats and is perfect for every season.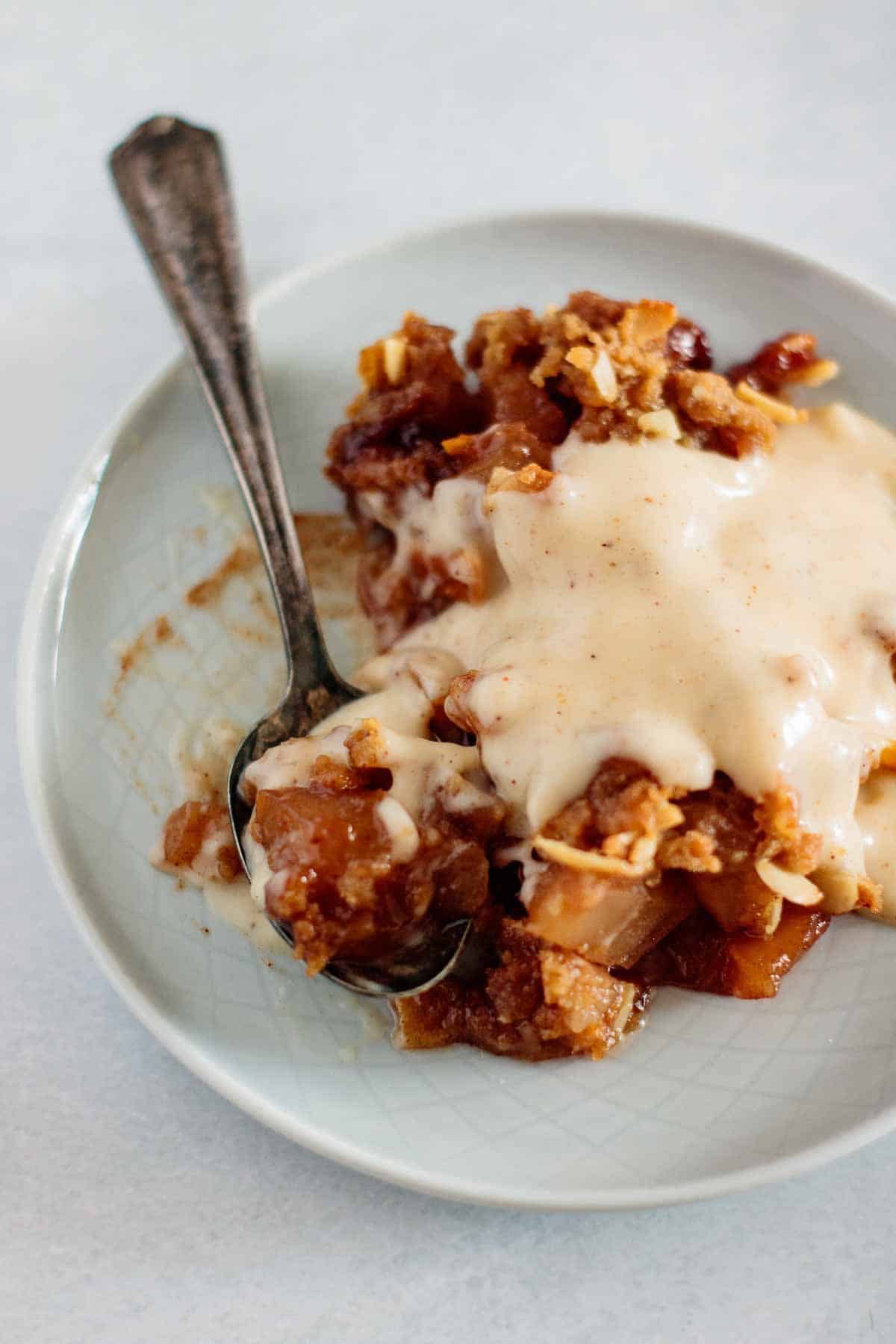 36. Ube Mochi Waffles – Desserts for family that double as breakfast are all right in my book! If you didn't know, ube is a sweet yam from the Philippines that is a beautiful purple and makes wonderful treats!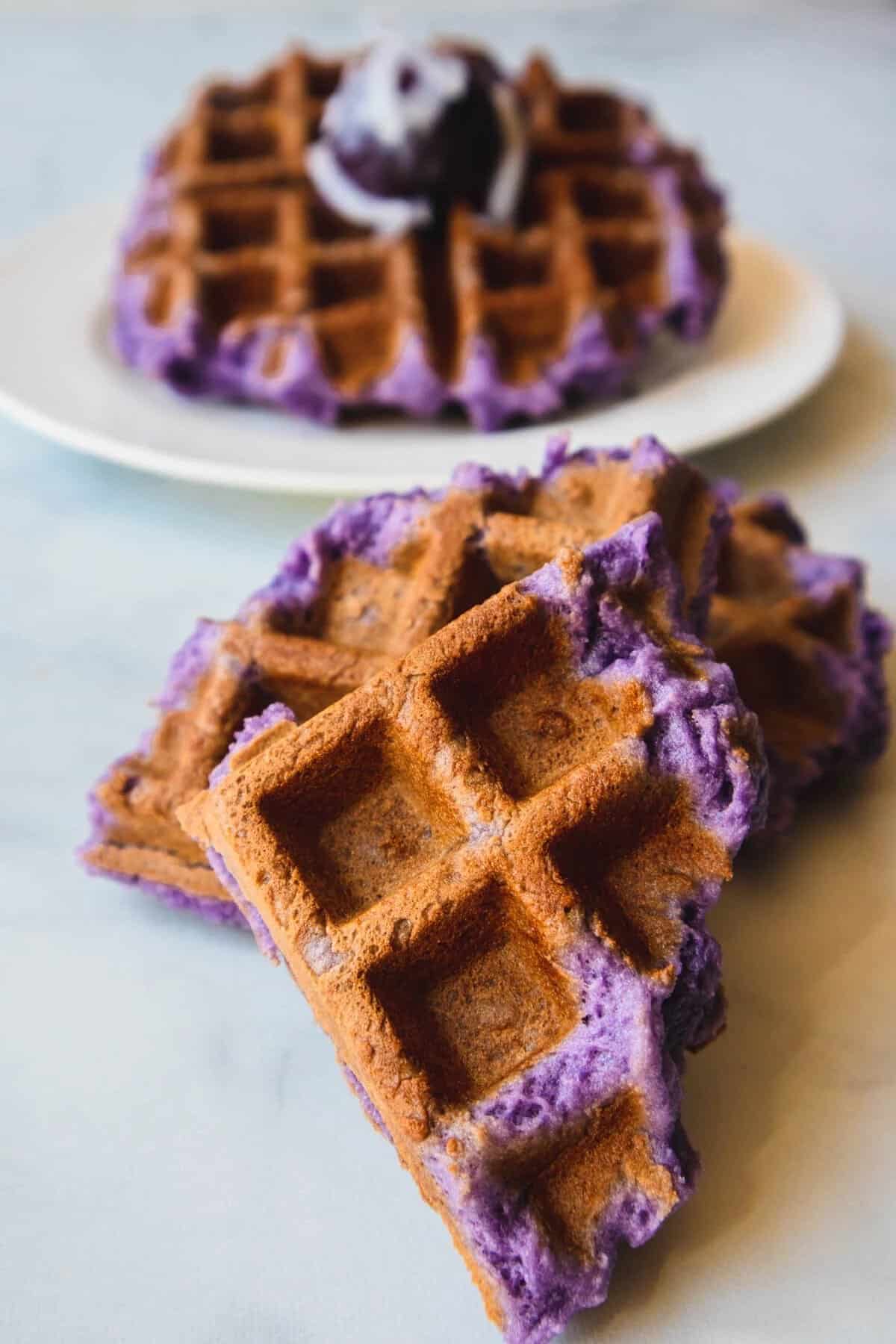 Our Top Picks
37. Easy Funfetti Cake Batter Dip Recipe – Quick and easy desserts that require no baking will make your party menu a breeze to whip up. This Funfetti cake batter dip is so simple, with no special ingredients or equipment needed.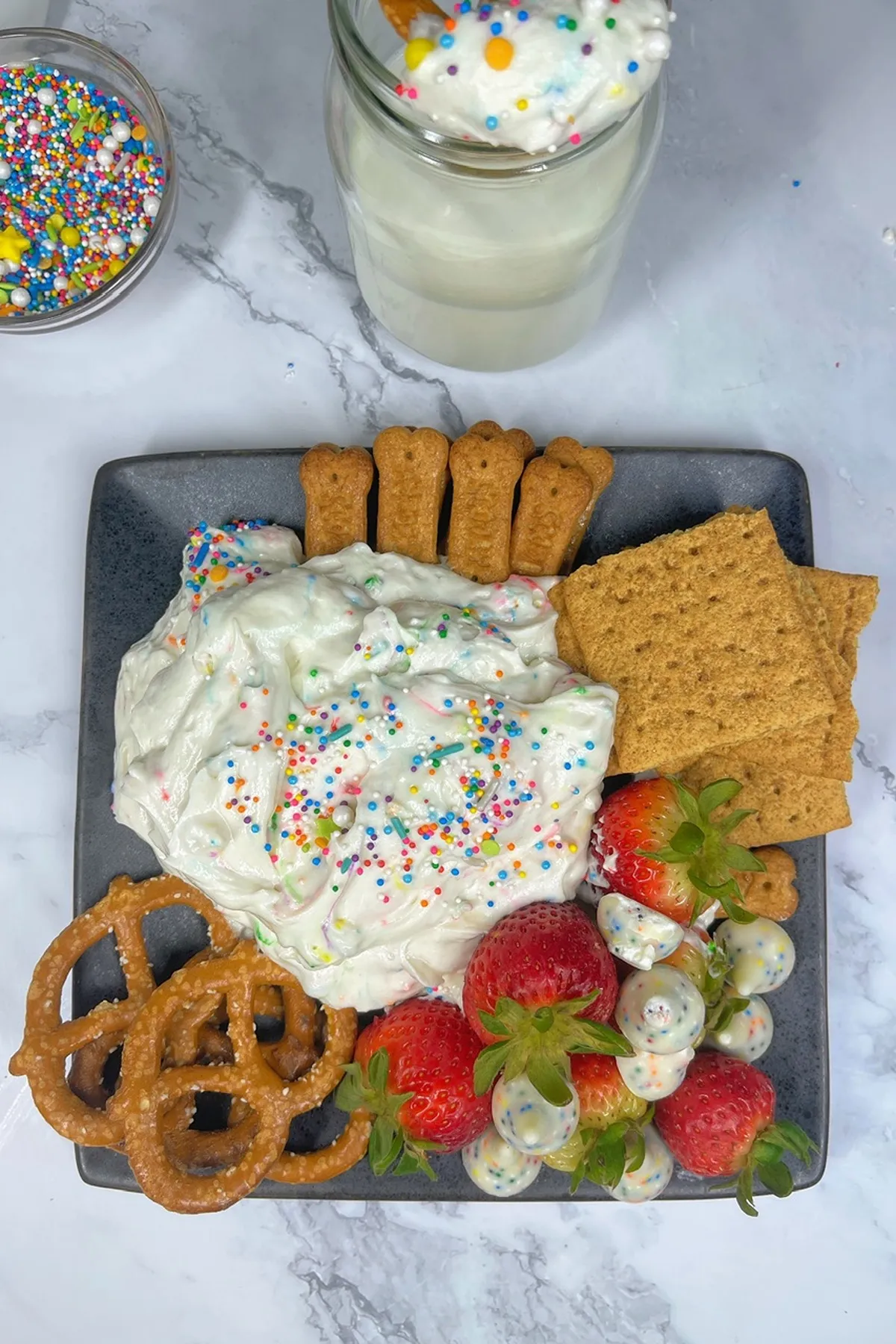 38. Box Mix Strawberry Poke Cake With Filling – Want to try a poke cake filled up with custardy pudding? I'm sure that you do; that's why we added this Box Mix Strawberry Cake recipe.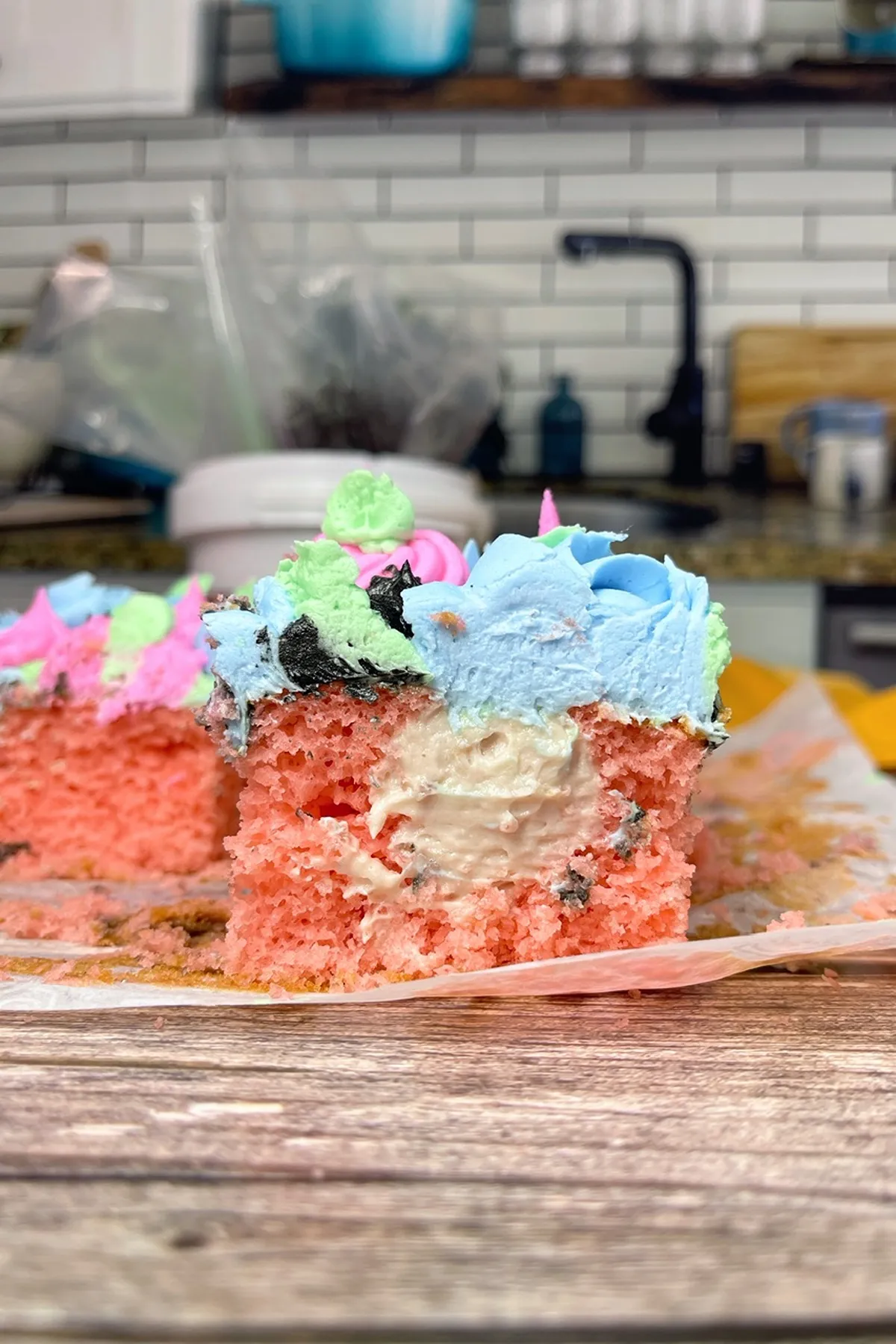 39. Cake Mix Apple Cobbler – Cobblers make great desserts for family! With sweet apples and cozy spices, this cake mix apple cobbler won't disappoint!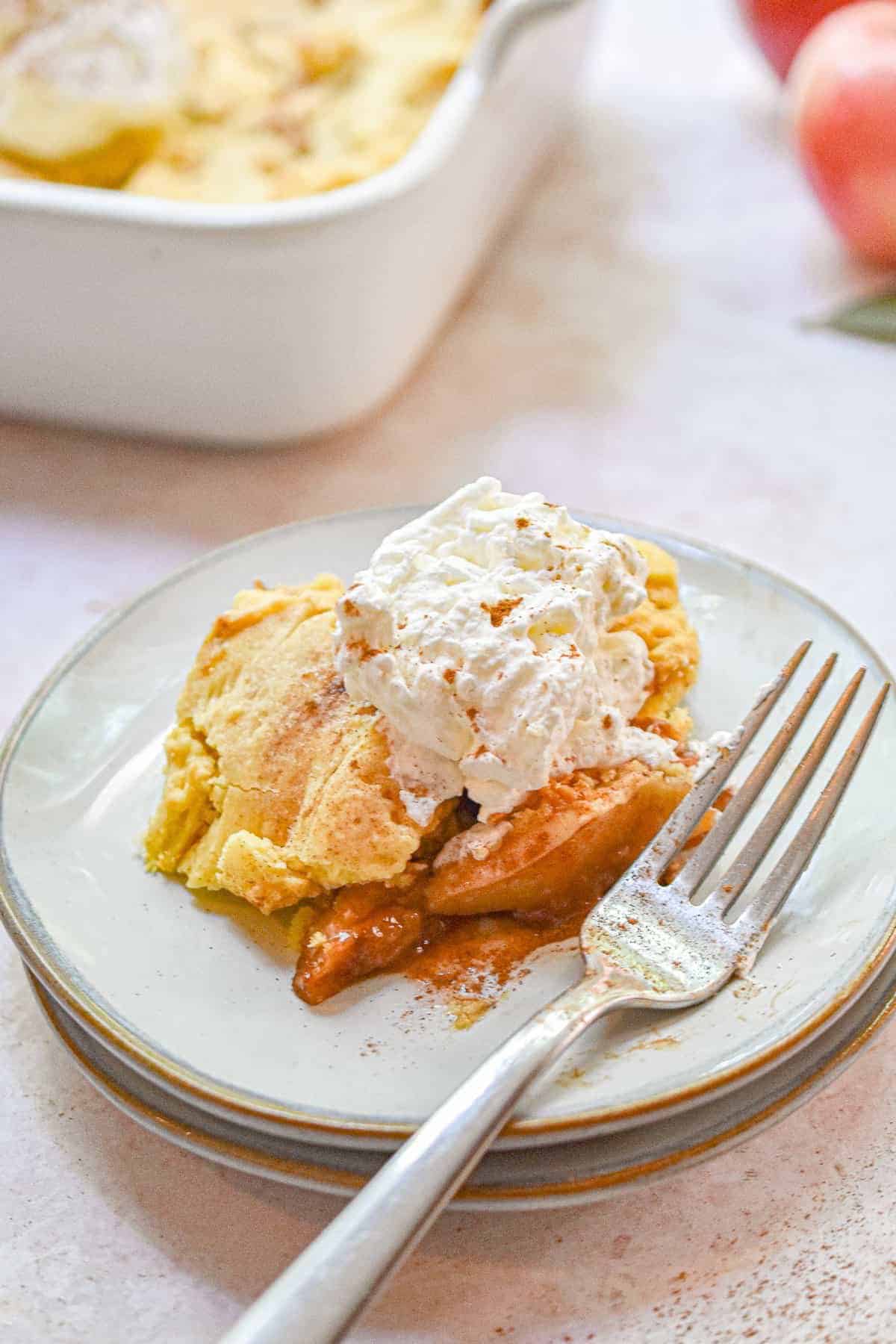 40. Fruity Pebbles Donuts – Quick and easy desserts like Fruity Pebbles donuts will delight your kids and family for breakfast or dessert! They're super sweet, tasty, and fun with a crunchy texture from the Fruity Pebbles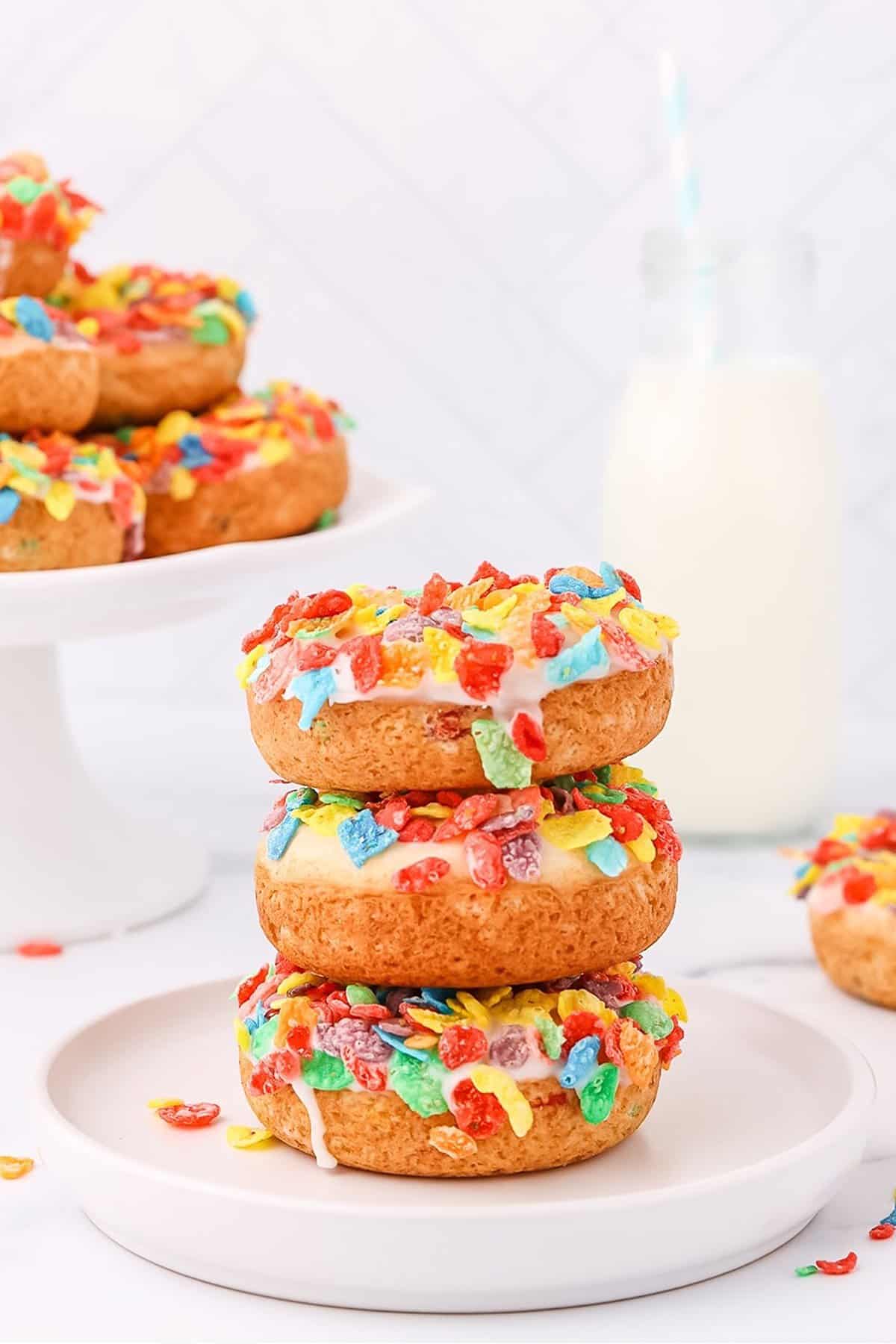 41. Billy Miner Pie – This Billy Miner Pie recipe is lucious and rich! With mocha ice cream cake on an Oreo crumb crust and topped with sliced almonds, what's not to love?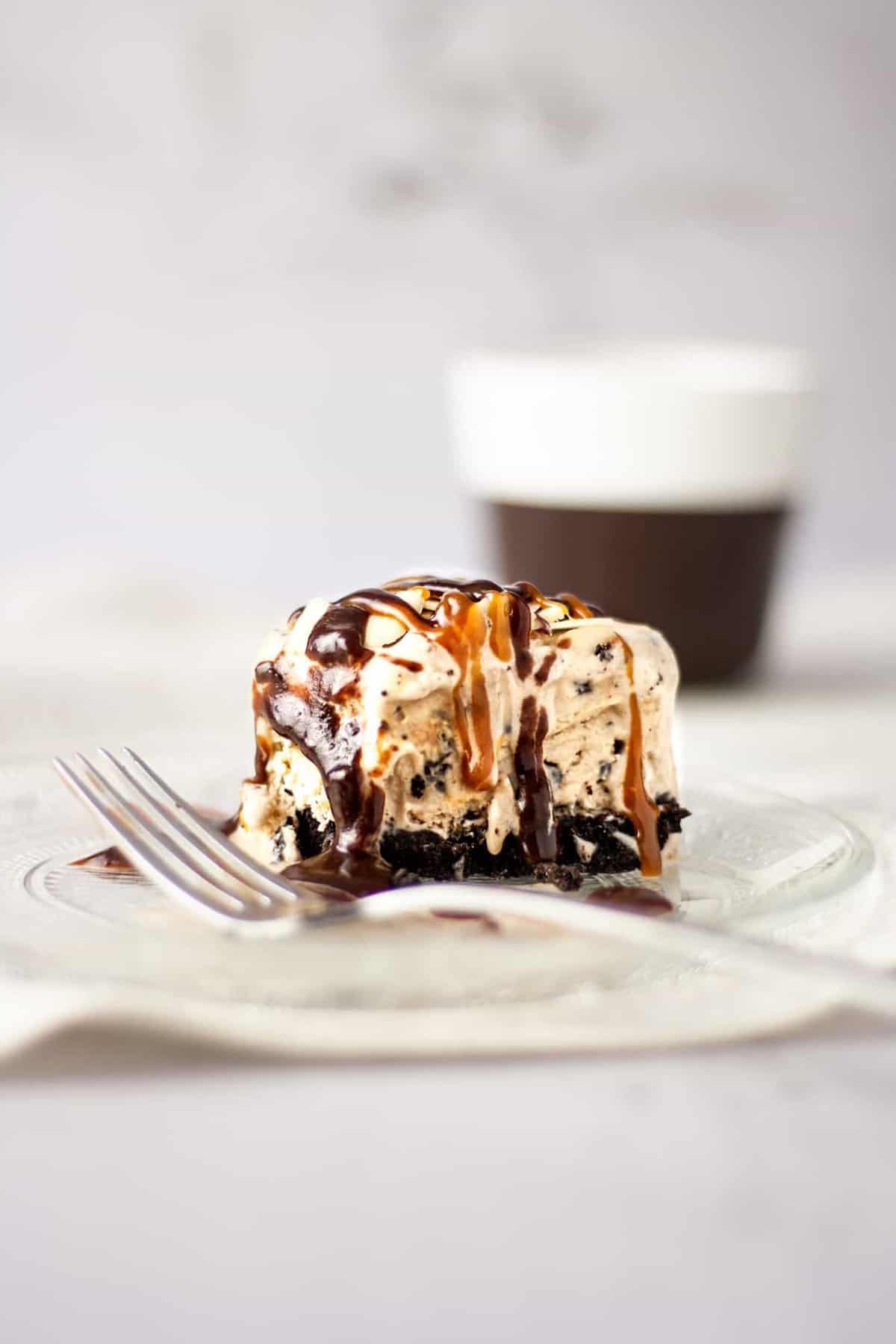 If you're planning a special occasion or just spoiling your family, these Quick & Easy Dessert Recipes are sure to hit the spot! Let us know which ones you liked the best in our comments or on our socials!
For even more delicious fun, be sure and check out our list of Best S'mores Dessert Recipes & Treats and our list of Decadent Homemade Candy Recipes!