Sheet pan dinners are all the rage right now and it's super easy to see why. They're quick, easy, healthy, and delicious. And the best part? Cleanup is a breeze – especially if you line your baking sheet pan with tin foil! There's nothing I hate more than a counter full of pans waiting for me after I stuff my face.
They are the perfect solution for busy weeknights where you don't want to sacrifice a family meal together but just can't stand one more dirty dish!
Most of these recipes are ready in under 30 minutes and because they are baked, they tend to lean toward a healthier option. Find the most delicious beef, pork, shrimp, salmon and of course, CHICKEN, sheet pan recipes you and your family are going to want to make over and over again!
Lunches and dinners for your family or party just got a whole lot more savory and super-duper EASY.
These brilliant recipes are delicious and sure to become family favorites.
The BEST Quick, Easy & Delicious Sheet Pan Dinner Recipes – Family Lunch and Simple Dinner Meal Ideas using only ONE Baking Sheet PAN!
1. Sheet Pan Sesame Chicken and Veggies
A much healthier version of "take-out" that has half the calories, but ALL the flavor! You can easily prep this the day before too by chopping up all your veggies and marinating the chicken. (via Eat Yourself Skinny)
2. Sheet Pan Honey Garlic Shrimp and Broccoli
Flavorful roasted broccoli and tender, juicy shrimp join forces in this super easy Sheet Pan Honey Garlic Shrimp and Broccoli. This one-pan wonder makes a great fuss-free weeknight dinner! (via Peas and Crayons)
3. Sheet Pan Garlic Ranch Pork & Potatoes
Roasted in an easy garlic ranch seasoning mix and made in a sheet pan. Healthy, delicious weeknight meal for all the pork chop lovers. (via Together as Family)
4. Parmesan Crusted Steak and Potato Sheet Pan Dinner
Juicy flank steak and crispy potatoes served with asparagus. A full meal on one pan! (via Lemons + Zest)
5. One-Pan Salmon, Asparagus, & Sweet Potato Dinner
A super superfood fix, this one-pan salmon dinner with asparagus and sweet potatoes provides a full meal that is easy, healthy, and quick! (via Catz in the Kitchen)
6. Easy Sheet Pan Steak Fajitas
Made with lean beef, fresh veggies and your favorite Mexican-style fixings, and on the table in under 25 minutes! (via The Busy Baker)
7. Sheet Pan Mini Meatloaves with Potatoes and Green Beans
Sheet Pan Mini Meatloaves with Potatoes & Green Beans is the ultimate comfort food, cooked on one pan for easy cleanup. (via Strawberry Blondie Kitchen)
8. Sheet Pan Lemon Chicken
Sheet Pan Lemon Chicken is delicious, and with very few steps it makes the perfect weeknight or Sunday supper meal. (via Bobbi's Kozy Kitchen)
9. Maple-Glazed Salmon with Sweet Potatoes
With just 5 ingredients, this Sheet Pan Dinner is an easy way to get a healthy meal on the table FAST! (via The Seasoned Mom)
10. Sheet Pan Spinach Tomato Ricotta Frittata
Perfect for meal prep or feeding a group for breakfast. The savory Italian flavors are great for breakfast, lunch or dinner! (via Recipe Runner)
11. Sheet Pan Cashew Chicken
This easy Sheet Pan Cashew Chicken makes a quick weeknight dinner and is great for meal prep! (via I Heart Eating)
12. One Pan Healthy Sausage and Veggies
Roasted veggies with sausage and herbs all made and cooked on one pan. 10 minutes prep, easy clean-up! (via Chelsea's Messy Apron)
13. Oktoberfest Sheet Pan Brats with Roasted Vegetables
This is an easy-to-make, fall-inspired meal that's big on flavor, but not on prep or clean up! (via Grab A Plate)
14. Sheet Pan Garlic Parmesan Chicken & Potatoes
This easy and healthy sheet pan dinner will blow you away with its incredible flavor. (via Creme De La Crumb)
15. Sheet Pan Hoisin Chicken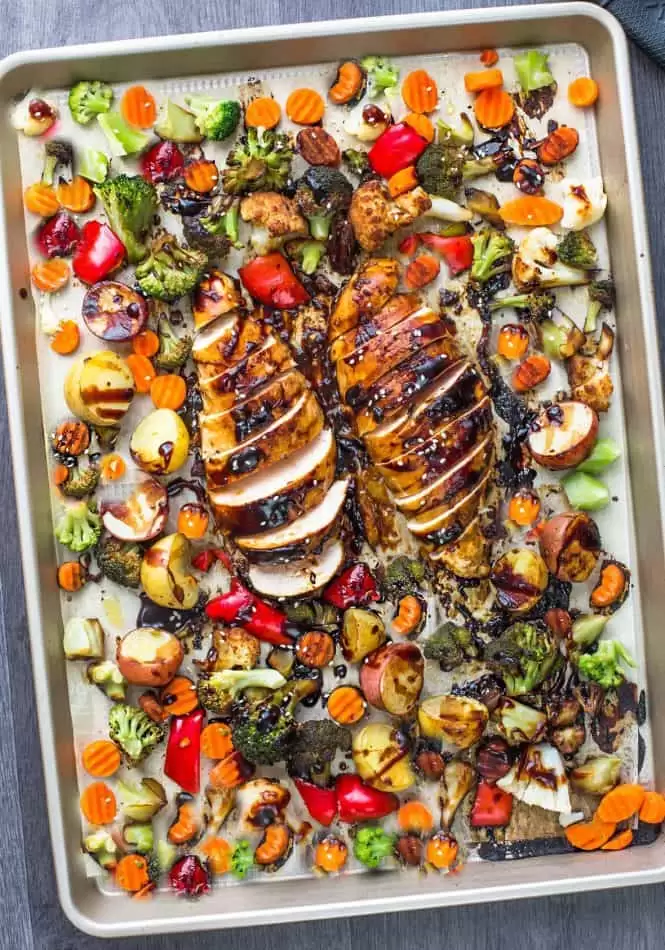 Tender chicken, flavorful and juicy with a delicious sweet and savory Asian-inspired sauce. (via Life Made Sweeter)
16. Greek sheet pan chicken with potatoes and feta
Greek sheet pan chicken with potatoes, capers, and feta cheese – ready in 30 minutes and simply packed with flavor. (via Super Golden Bakes)
17. Sheet Pan Sausage and Pepper Hoagies
Sheet Pan Sausage and Pepper Hoagies – sweet peppers, caramelized onions, and chicken sausage tucked inside a toasted bun. (via Destination Delish)
I hope you found an amazing new sheet pan recipe that all your family loves!
Enjoyed this post? Don't forget to pin it to your favorite Pinterest board by clicking on the image below! 
---