15 Frightfully Fun Halloween Cakes That Are Scary Good
Are you looking for spooky sweet ideas for your Halloween celebration? You will not want to miss out on whipping up these easy and delicious Halloween cakes! Not only do they look amazing, but they taste even better.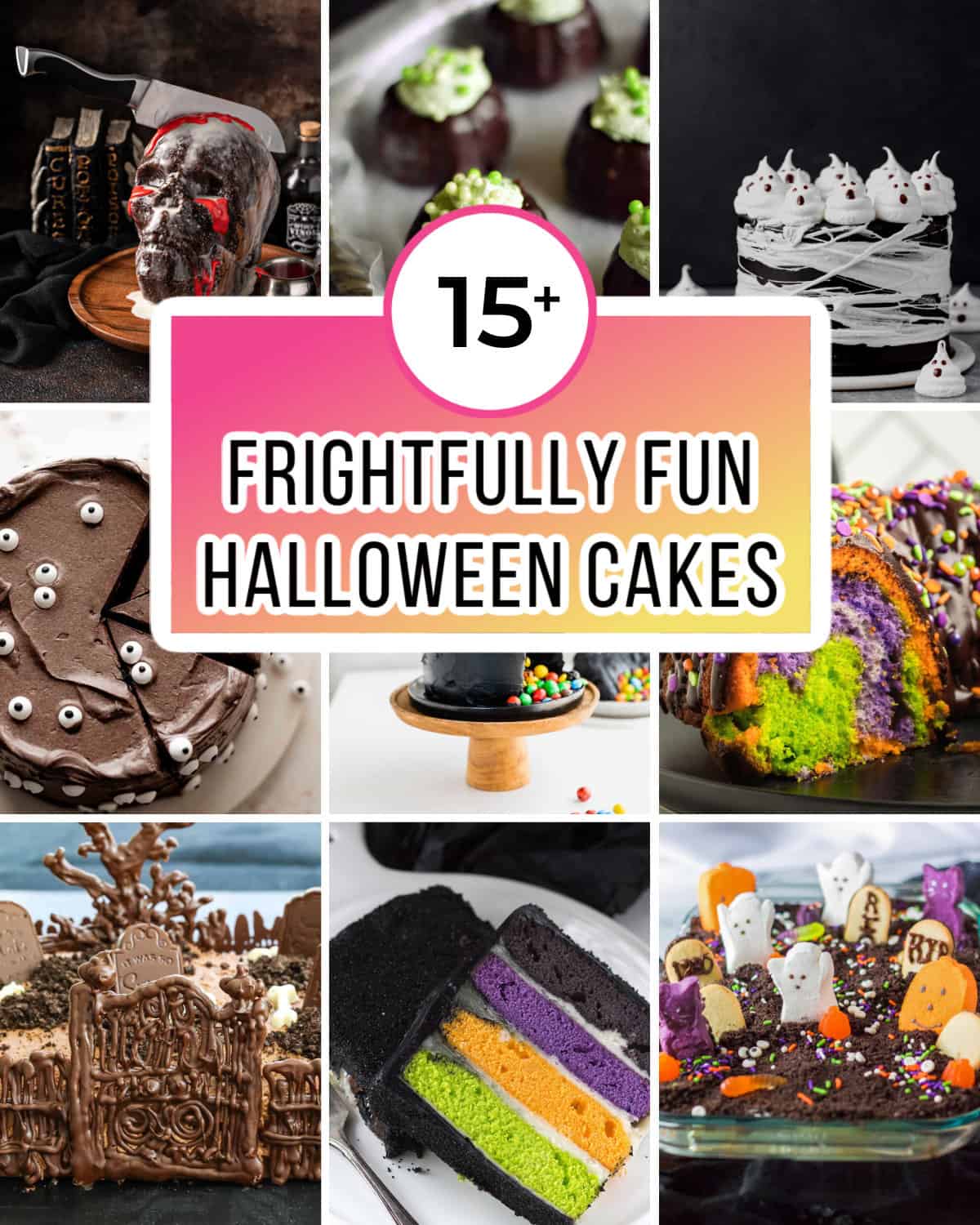 Halloween Cakes
Baking up something frightful is the perfect way to get into the spirit! Whether it's for a special occasion or just for fun, these easy Halloween cakes will take your next party from eerie to eye-catching.
From ghouls and ghosts to creepy crawly creations that send shivers down your spine, you'll be sure to find inspiration in our selection of scary good treats. To view a full recipe, tap the recipe title or photo.
Graveyard Dirt Cake – This poke cake is perfect for the holiday. It looks like a delicious graveyard. You will be dying to get a slice!
10-Minute Bat Cake – This chocolate cake is so easy to decorate! You only need a few minutes and no special skills to make a creepy yet cute cake.
Candy-Filled Midnight Layer Cake – This decadent and dark cake is filled with candy for the ultimate sweet to share with your friends who might be too old to go trick or treating.
Cut Up Witch Cake – You only need one 9×9 cake to make this adorable witch cake. With a few select cuts and some frosting, this cake will make everyone cackle with delight.
Graveyard Bumpy Cake – Have you ever had a bumpy cake? This recipe uses buttercream frosting and covers it with decadent ganache. Sounds great, right? Then, add cookies, candy, and gummy worms for a creepy yet yummy effect.
Black Cocoa Layer Cake – With layers of deep decadent chocolate cake, and creamy black frosting, this cake is a show-stopper dessert to offer on Halloween. Top with meringue ghosts, if you dare.
Black Velvet Cake – If you like chocolate, then this is the cake for you. It has a gorgeous dark cake base with the silkiest buttercream. Don't forget the eyes for a freaky food to share with your favorite ghouls and goblins.
Halloween Bundt Cake – This bundt cake starts with a box mix but gets colorful! Your family will love the way this shortcut recipe comes together for a fun and festive dessert.
Death by Chocolate Cake – This creepy cemetery cake has the most delicious decorations! Find out how you can make these chocolate accessories for the most elaborate Halloween cake.
Bubbling Cauldron Mini Cakes – This cake recipe makes the best homemade ding dongs and fills them with a witches brew. Make these for a perfect portion of fun and chocolate on Halloween.
Ghost Treat Bag Cake – This is the cutest cake ever. It would be perfect for a Halloween party, but the instructions are so easy to follow you can make this to surprise your family with an unforgettable dessert.
4-Layer Halloween Cake – This cake has a pitch black icing, but hidden inside, you can find 4 colorful and delicious layers. You are sure to love the flavor as well as the appearance of this easy cake.
Oozing Brain Cake – This cake is gory, gruesome, and has the best flavor! The brain topping is a brilliant touch. You will love how easy this festive and fun cake is to make.
Chocolate Skull Cake – No matter how you slice it, this chocolate skull cake will be killer at your Halloween festivities! You can make this with a cake mix that looks like a creepy work of art but tastes perfect!
Poison Apple Cake – This creepy cake is perfect for dessert at your Halloween party. It has a green apple, dark ganache, and colorful layers to grab everyone's attention and bring them back for another slice.
How to Store Leftovers
If you have leftovers of your spooky cakes, pop them in an airtight container and store them in a cool, dark place.
More Ideas for Halloween Treats
For more creative ideas on what to bake for Halloween, why not try some of these recipes?
With a little bit of imagination and inspiration, you can come up with some truly spooky treats that will be the star of any Halloween celebration. Have fun making some frightfully delicious goodies this year!
Love these Recipe Collections?
If you love being able to find some of the best recipes that we've collected for you, then you'll also love these: