15 Delicious Dutch Oven Dinners
Are you looking to add some tasty new recipes to your dinner rotation? Dutch ovens are a great way to cook delicious meals with minimal effort.
From hearty stews, chilis, and creamy casseroles, there's something for everyone! These 15 incredible Dutch oven dinner recipes will be sure to wow the family.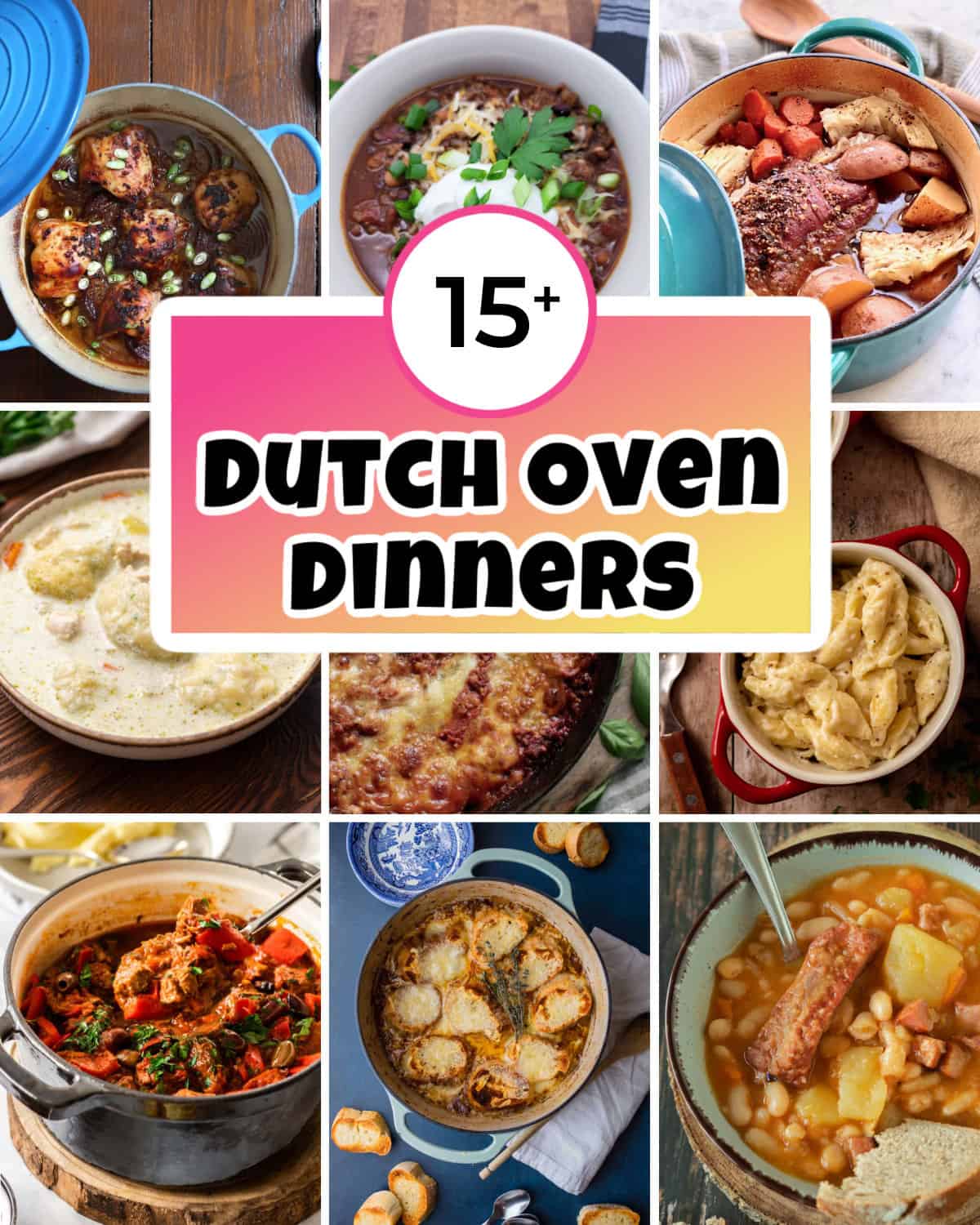 Easy and Flavorful Dutch Oven Dinner Recipes
Nothing quite brings the warmth of home to the dinner table like a Dutch oven meal. Whether you're making stew, soup, or chili, it will be sure to make your taste buds happy!
With Dutch ovens, you can make a variety of delicious dishes such as coq au vin, chicken tikka masala, beef bourguignon, and so much more.
Not only are they incredibly tasty, but the cooking process is also fun and simple! So if you're looking for something cozy and delicious, try cooking in a Dutch oven – you won't regret it!
And if you're looking for ideas on what to cook in your Dutch oven, here are our favorites. So start making some delicious Dutch oven meals today!
Delicious Dutch Oven Dinners
Chicken and Dumplings – Make this comfort food meal from scratch; it is easier than you expect! After trying this recipe, you won't reach for biscuit dough to make dumplings again!
Dutch Oven Lasagna – This Dutch oven lasagna is easy and so cheesy! Make this lasagna with layers of noodles, saucy meat, and plenty of cheese for a filling and delicious family meal.
Creamy Dutch Oven Chicken – Pop this creamy chicken into the Dutch oven for a filling and comforting meal that everyone will love. It has the best buttery cracker crumb topping and nutty poppy seeds. After one bite, you will make a mental note to make this again. It is that good!
Dutch Oven Mac and Cheese – It is always a good time to make mac n cheese! This recipe is ultra creamy and extra cozy. Serve Dutch oven mac n cheese when you need comfort food or just an easy addition to dinner that everyone will love.
Dutch Oven BBQ Pulled Chicken – This easy Dutch oven chicken recipe is so easy! Shred chicken after cooking, and don't forget to add plenty of BBQ sauce, so you can enjoy the best bbq chicken sammy ever.
Pot Roast – Pop a pot roast into the Dutch oven with carrots, potatoes, and onions for a classic family meal that never goes out of style. This also reheats well if you want to make an open-faced pot roast sandwich for lunch tomorrow!
Braised Short Ribs – This recipe for short ribs is so tasty. It doesn't require red wine, so you can make this anytime without having to run out and grab a bottle!
Dutch Oven Chili – Pop the ingredients for chili into your Dutch oven, and in no time, you will have a delicious dinner! The whole family will love this. Offer cheese, sour cream, and crackers as garnish.
Elk Osso Bucco – Osso Bucco is such a delicious dinner option. This recipe uses elk for lean meat and serves it with brown butter mashed potatoes for a classic comfort food dinner from the Dutch oven.
Dutch Oven Corned Beef – Carrots, potatoes, and corned beef are perfect from the Dutch oven! Make this for St. Patrick's Day or anytime you crave comfort food.
Dutch Oven Chicken Pot Pie – This pot pie is cozy, comforting, and so good! It can also feed a hungry crowd. You will love the way this pot pie bakes in a Dutch oven for the perfect fall meal.
Dutch Oven French Onion Soup – There is nothing like homemade French onion soup! This recipe cooks it in a Dutch oven for a meal that can feed a hungry family something extra cozy.
Mediterranean Beef Stew – Tender chunks of beef cooked in a rich tomato sauce make this stew extra delicious. Serve this on a chilly evening for cozy comfort food.
White Bean and Smoked Pork Stew – This hearty stew has plenty of filling white beans, which are complimented perfectly by smoked pork. This budget-friendly meal is easy to make and reheats well for leftovers for lunch the next day.
Sticky Chinese Chicken Thighs – This budget-friendly dinner starts with chicken thighs and turns into a delicious sticky meal that pairs perfectly with rice! Make this and stretch your food budget while still getting take-out flavors!
Tips for Cooking in a Dutch Oven
Preheat the oven before placing your ingredients in it.
Use a light oil to coat the surface of the Dutch oven – this will help prevent sticking and retain flavor.
Make sure you use enough liquid for your meal to cook properly, but don't overfill it either!
Let the dish rest on its own after you've finished cooking; this will help all the flavors settle in together.
When reheating Dutch oven dishes, keep them at low heat instead of boiling them. This will ensure that the food doesn't overcook and lose its flavor or texture.
More Recipe Collections
Check out some of the fun collections we've created, and enjoy more delicious recipes:
Pin These For Later