15+ Easy Creative Crostini Appetizer Recipes
Make your next event one to remember with these easy and creative crostini appetizer recipes. These delicious ideas are sure to impress your guests and are a must-have for your entertaining needs!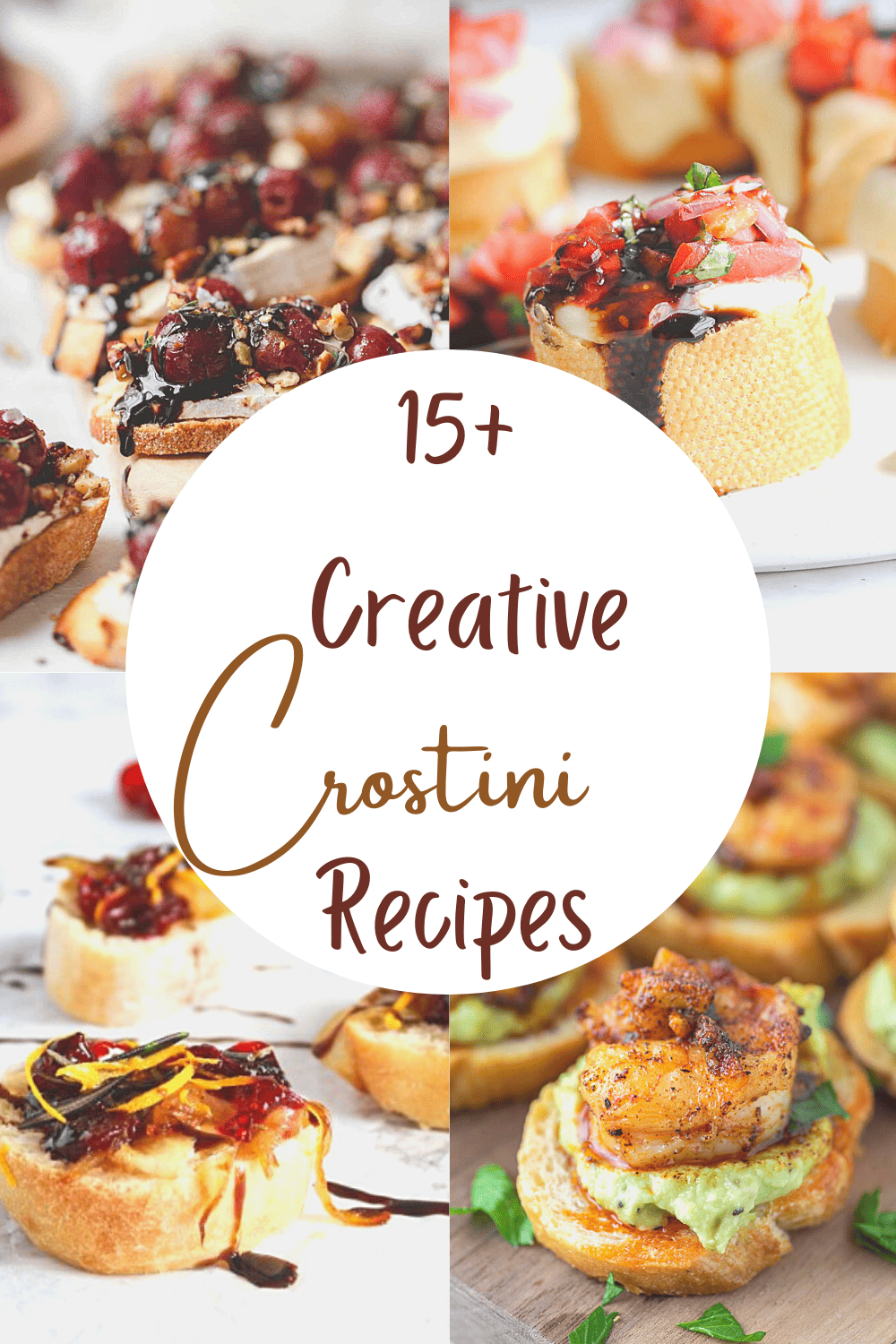 Best Crostini Appetizer Recipes
Crostini are the perfect finger food for any party or gathering. With just a few ingredients, you can transform everyday bread slices into unique and flavorful appetizers that will wow your guests!
Are you ready to make your next party a hit? From classic combinations to creative takes on crostini appetizers, this collection of 15+ easy and delicious bite-sized foods is sure to get the party started!
What is The Best Bread for Crostini?
Crostini, which are toasted slices of bread used as an appetizer or snack, can be made with many different types of bread.

For crisp and savory crostinis, the best type of bread to use is a crusty Italian loaf, such as ciabatta or focaccia. However, if you want to add some variety to your Crostini game, try French baguettes, which also work great, or multigrain loaves or sourdough.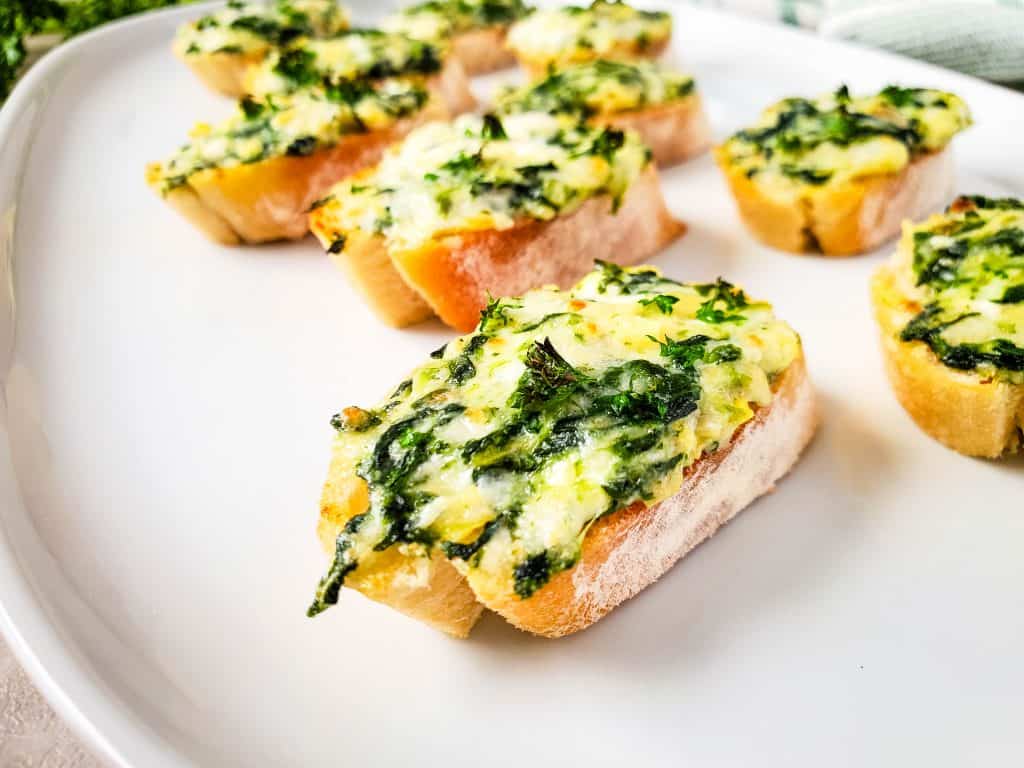 Spinach and Artichoke Crostini – Two of my favorite types of appetizers are packed into one in this delicious recipe. You get the savory flavors of a classic spinach and artichoke dip spread onto a baguette, then broiled to perfection.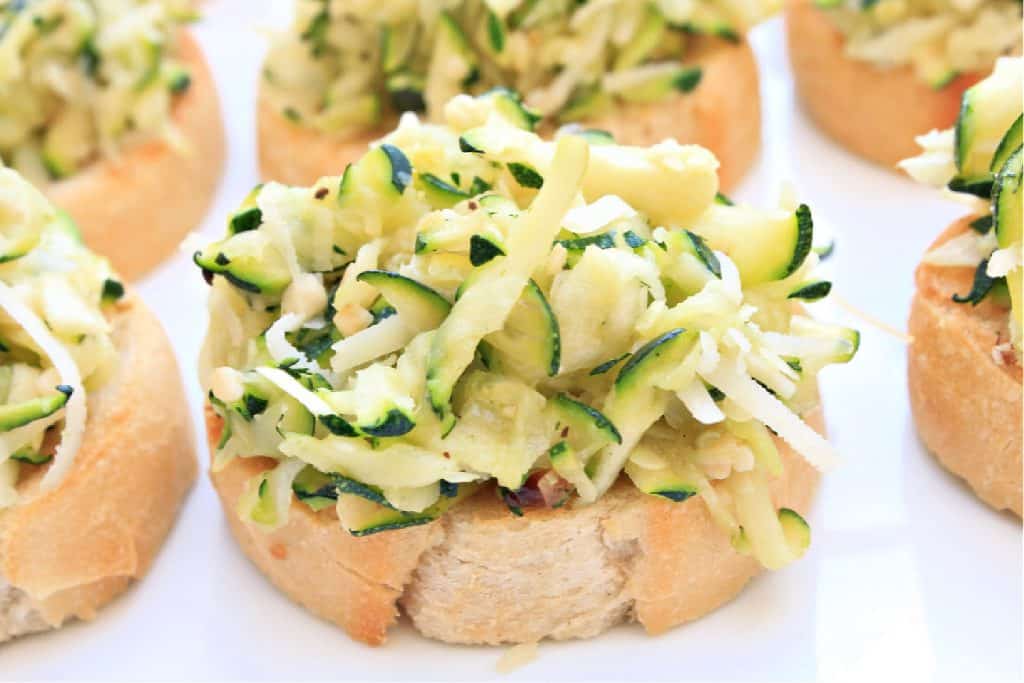 Zucchini Crostini – Toasted baguette slices topped with an easy bruschetta made with freshly grated zucchini, vegan parmesan, garlic and onion, and basic seasonings. This is so good for a light summer meal.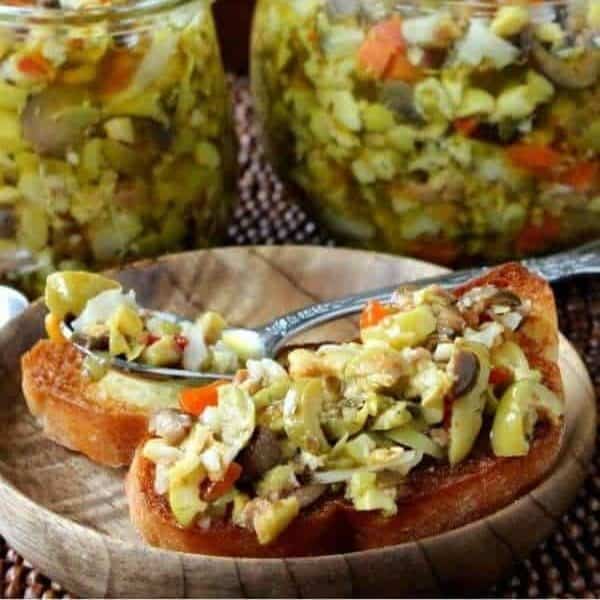 Olive Tapenade Crostini – This Green and Black Olive Tapenade Recipe is combined with homemade toasts for a classic crostini appetizer. It has so much flavor but comes together in under 30 minutes for a great party food offering.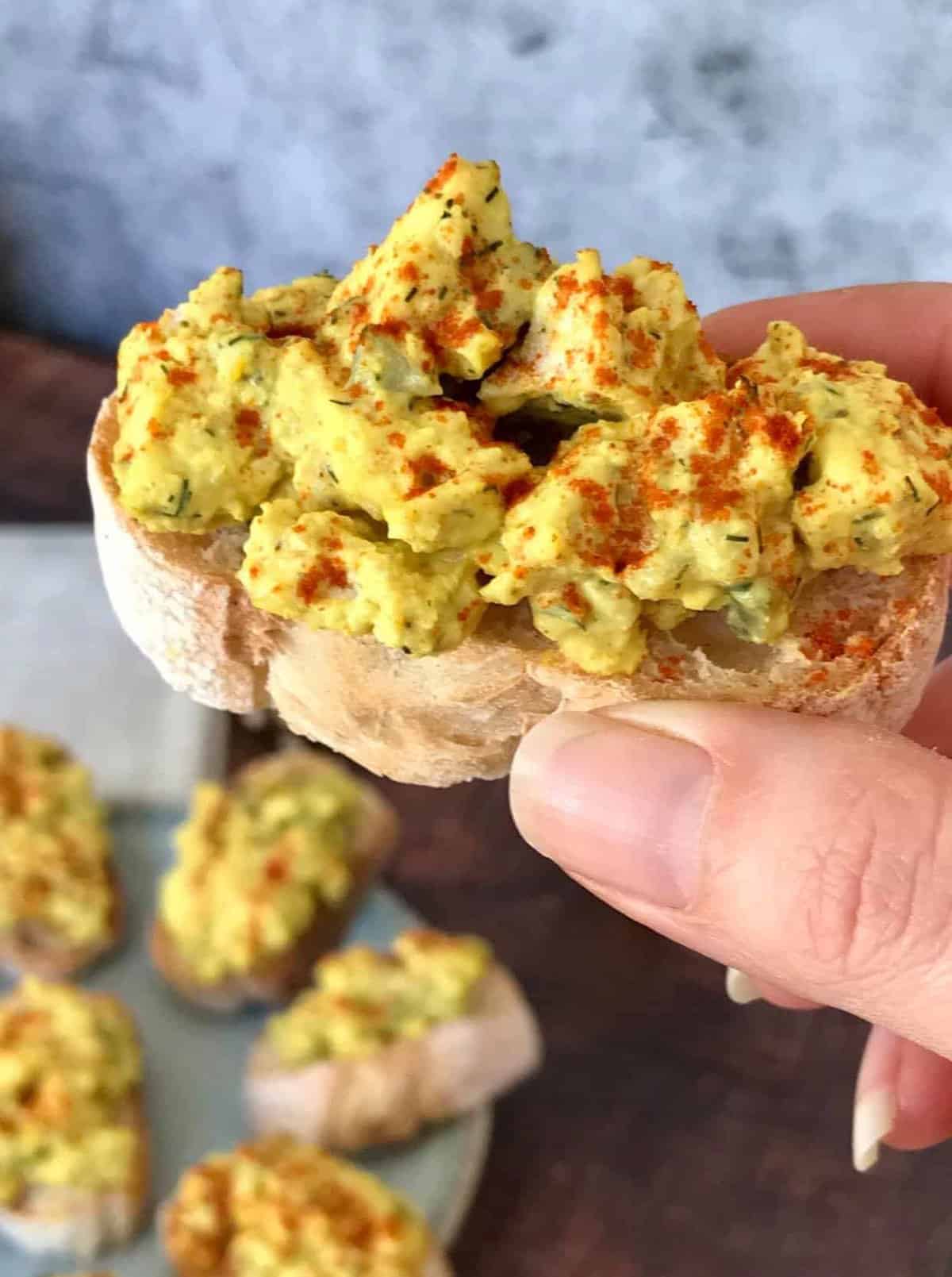 Deviled Egg Crostini – All the flavor of deviled eggs on a crunchy slice of baguette? Sign me up! Not only are these deviled-egg crostini super easy to make, but they're also 100% vegan.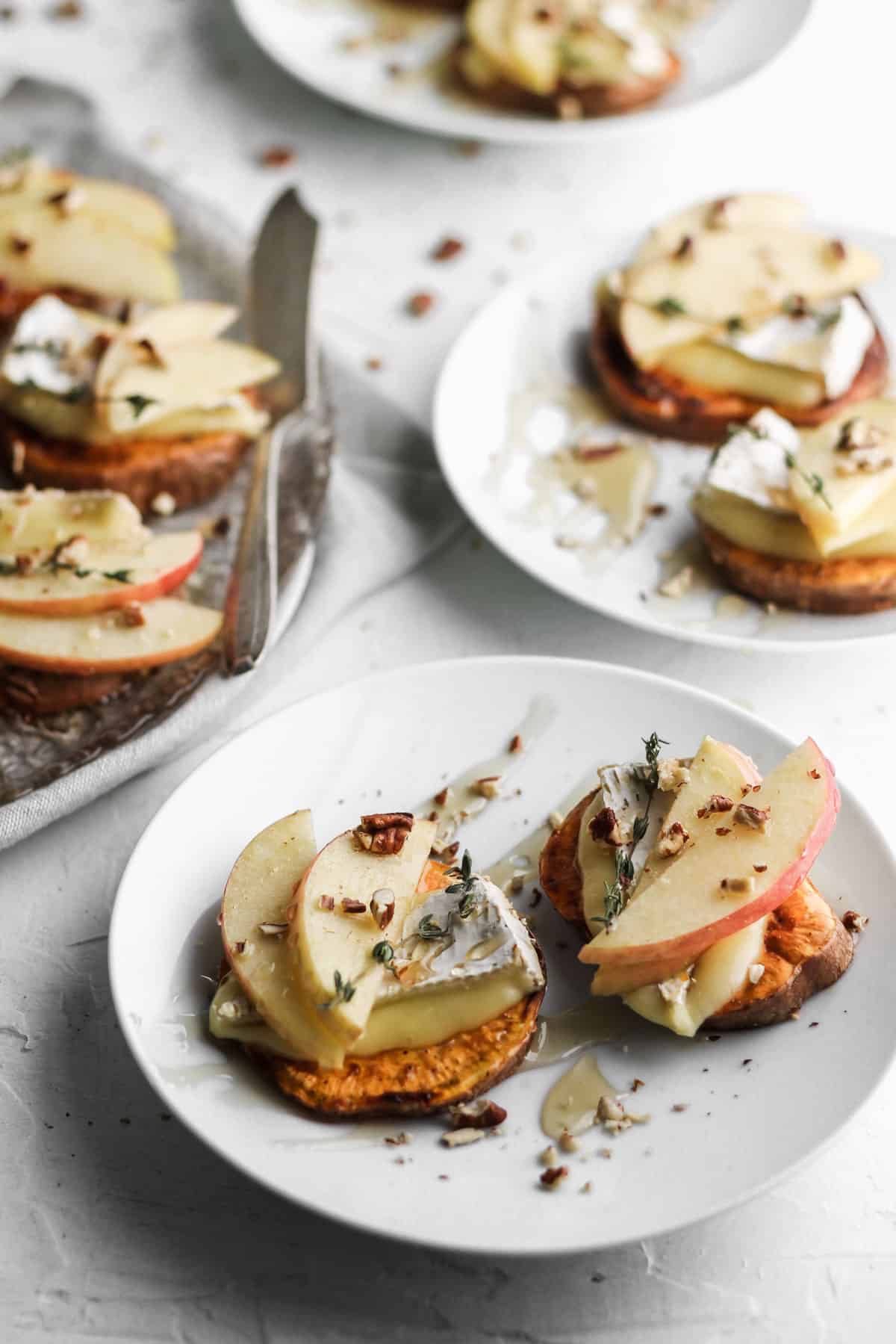 Apple Brie and Sweet Potato Crostini – These apple and brie sweet potato crostini are a perfectly festive way to celebrate any occasion. They are delicious as an appetizer before a meal, served as hors d'oeuvres during happy hour or cocktail hour, or a great light and healthy snack for both adults and kids.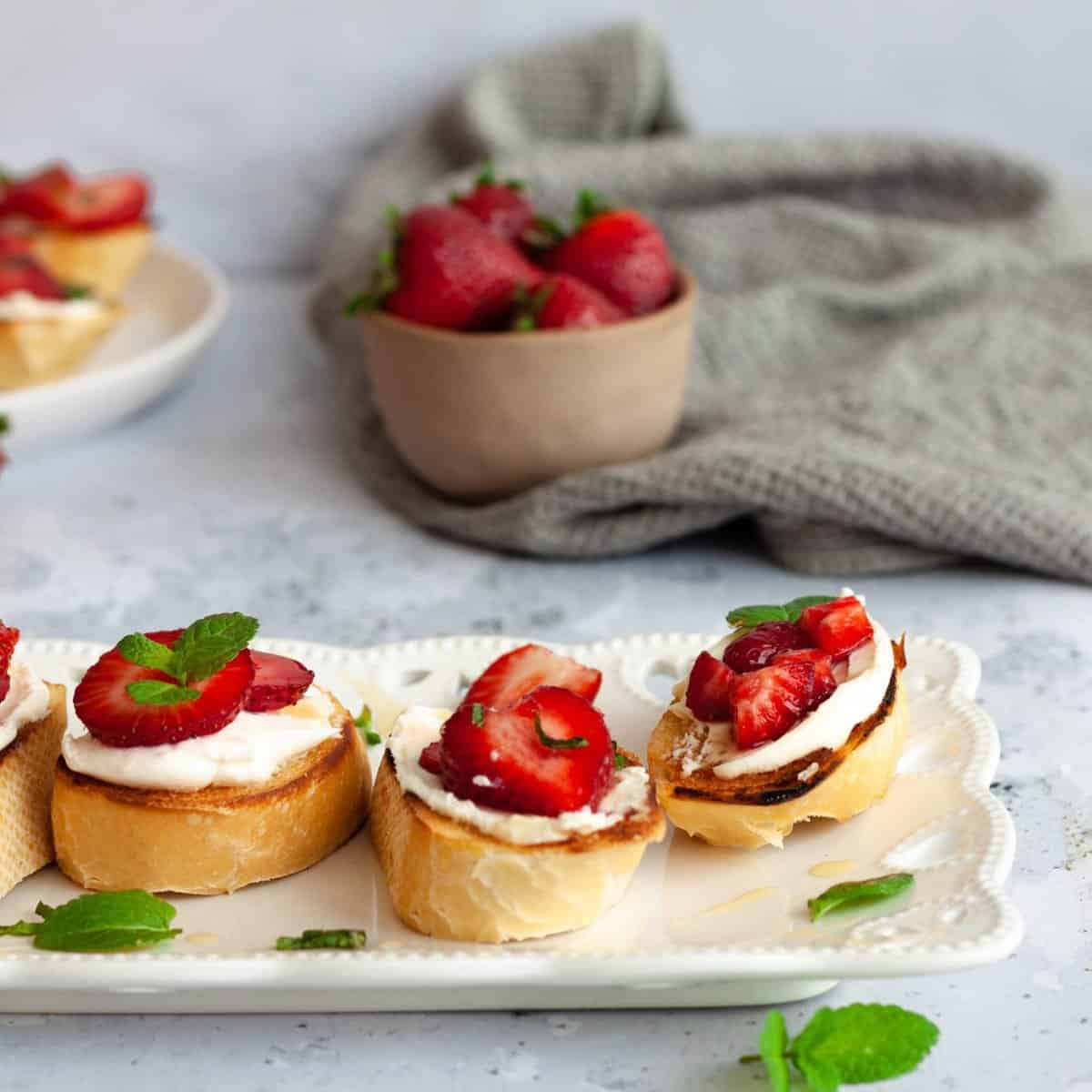 Strawberry Mascarpone Crostini – This Strawberry Mascarpone Bruschetta drizzled with honey and sprinkled with fresh mint is a must-have simple dessert for the spring and summer months!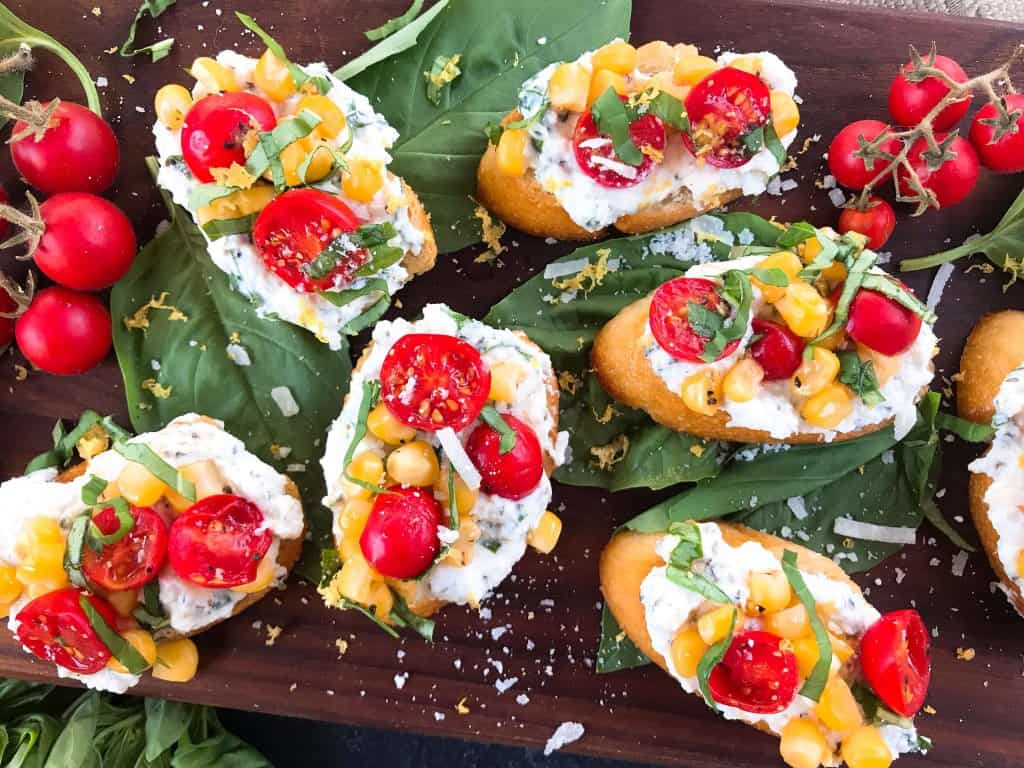 Tomato Corn Ricotta Crostini – Tomato Corn Basil Crostini with Herbed Ricotta Cheese is fresh and light, perfect for summer party entertaining. This is also fantastic for a summer meal on the deck.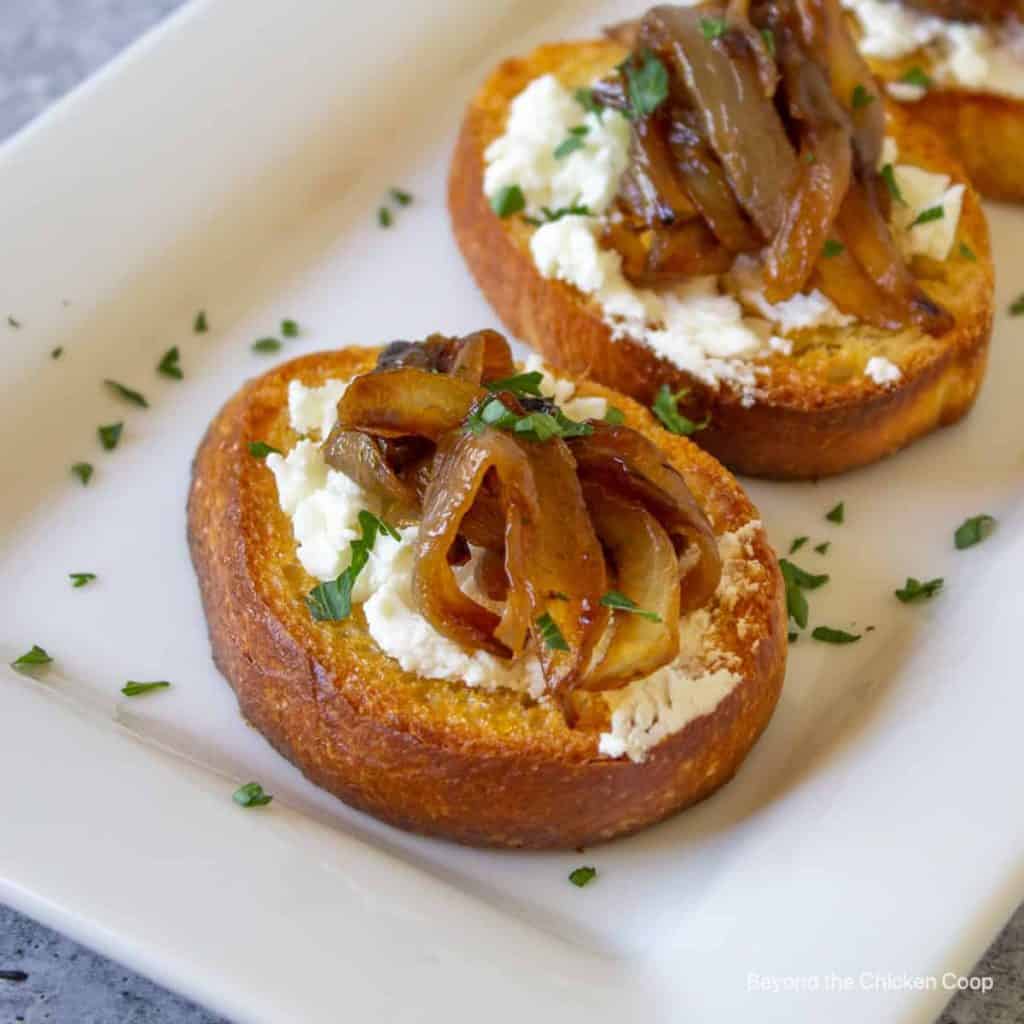 Goat Cheese Crostini – An easy-to-make appetizer that's elegant and tasty. These crostini with goat cheese and caramelized onions are perfect any time of the year. You can have this ready in under 15 minutes for a last-minute addition to any meal or party.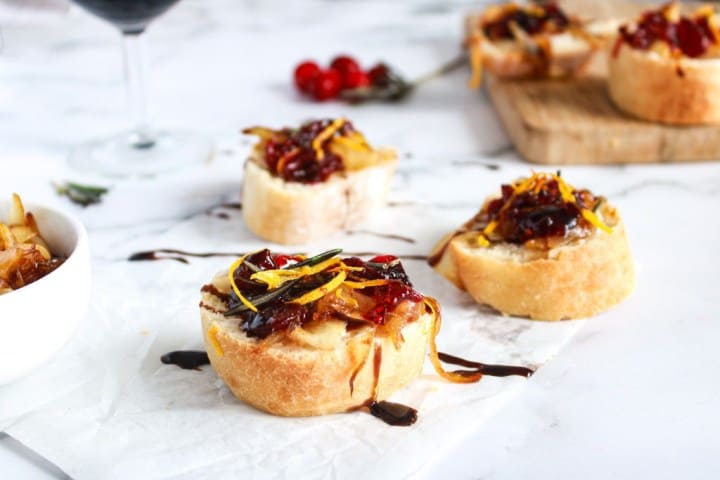 Caramelized Onion and Cranberry Bruschetta – These Caramelized onion cranberry cream cheese bites are so easy to make for any occasion! They are perfect for parties and taste so good that everyone will be talking about them.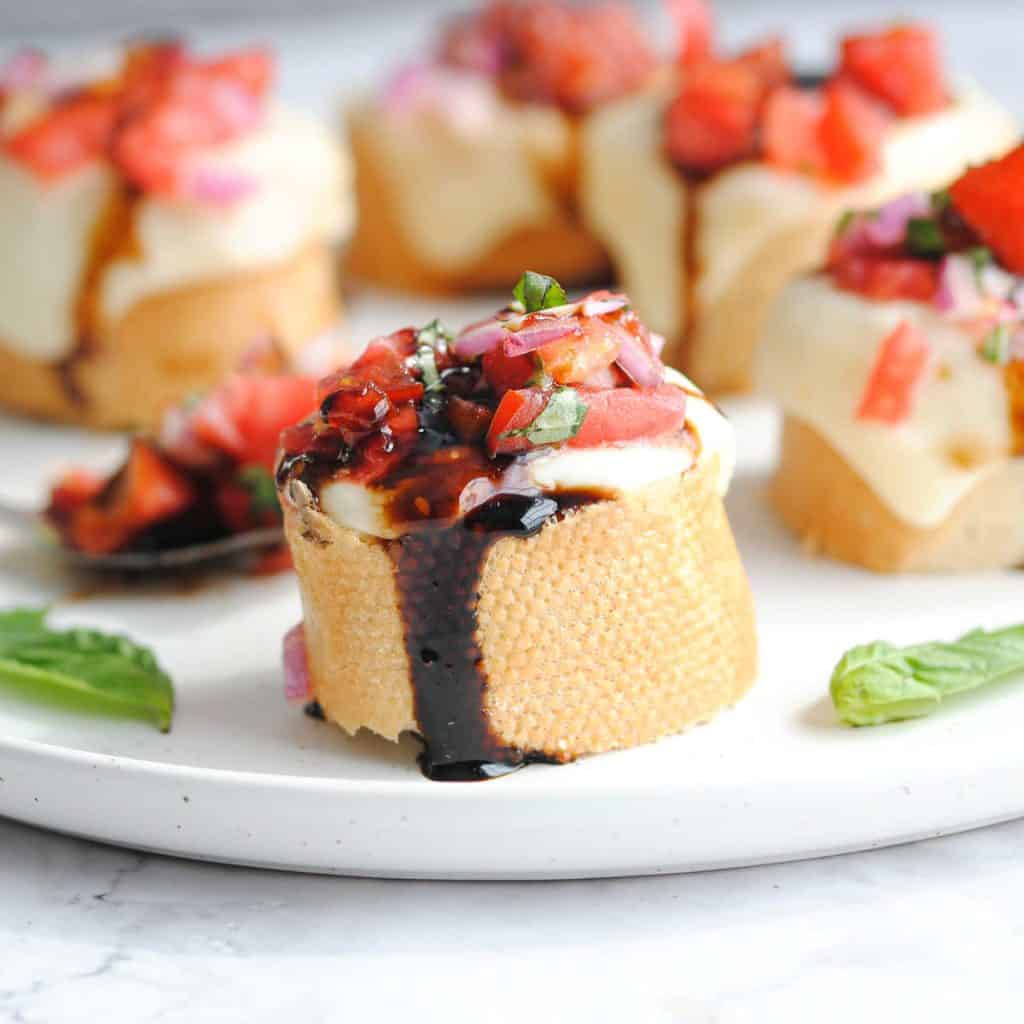 Caprese Bruschetta – Looking for a quick and fresh appetizer option? This Caprese Bruschetta with Balsamic is a crowd-pleaser year-round. With the perfect balance of sweet and salty, the fresh ingredients bring delicious flavor to every bite. And the cheese? Well, that's just the cherry on top!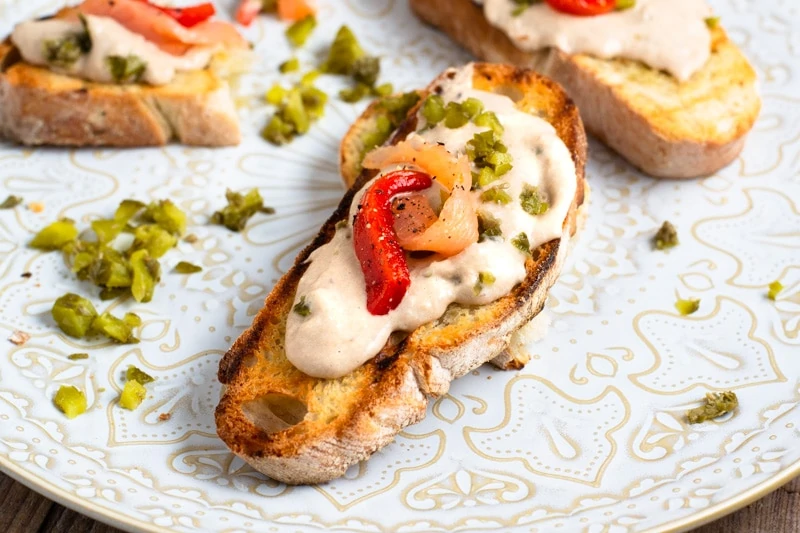 Creamed Sardine Crostini – Canned sardines go upscale in this easy Cream of Sardines tapas recipe. You will never look at a tin of fish the same again!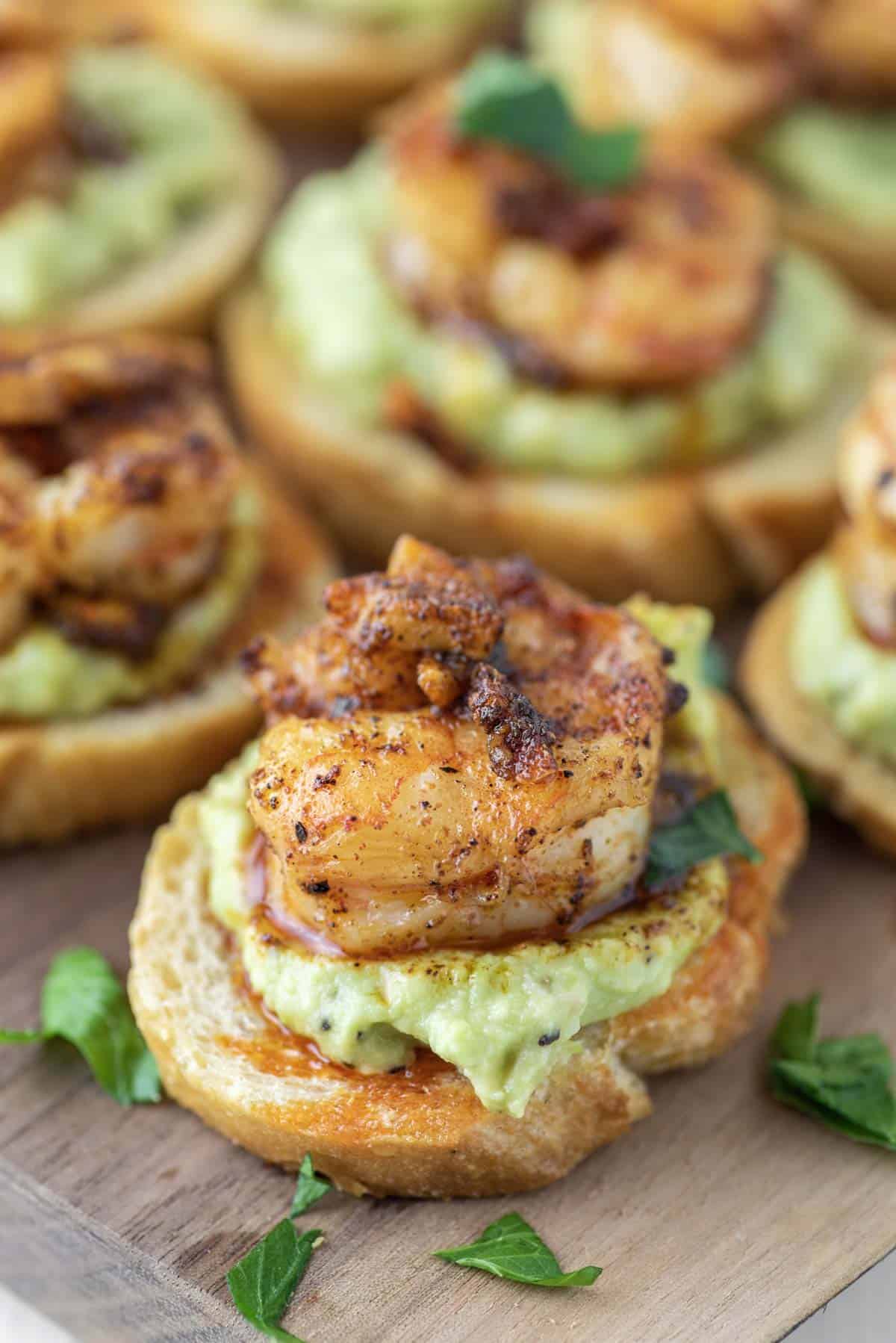 Garlic Shrimp and Avocado Crostini – These garlic shrimp crostini with avocado are the perfect bite-size appetizer. These are great for any gathering or party you might be hosting.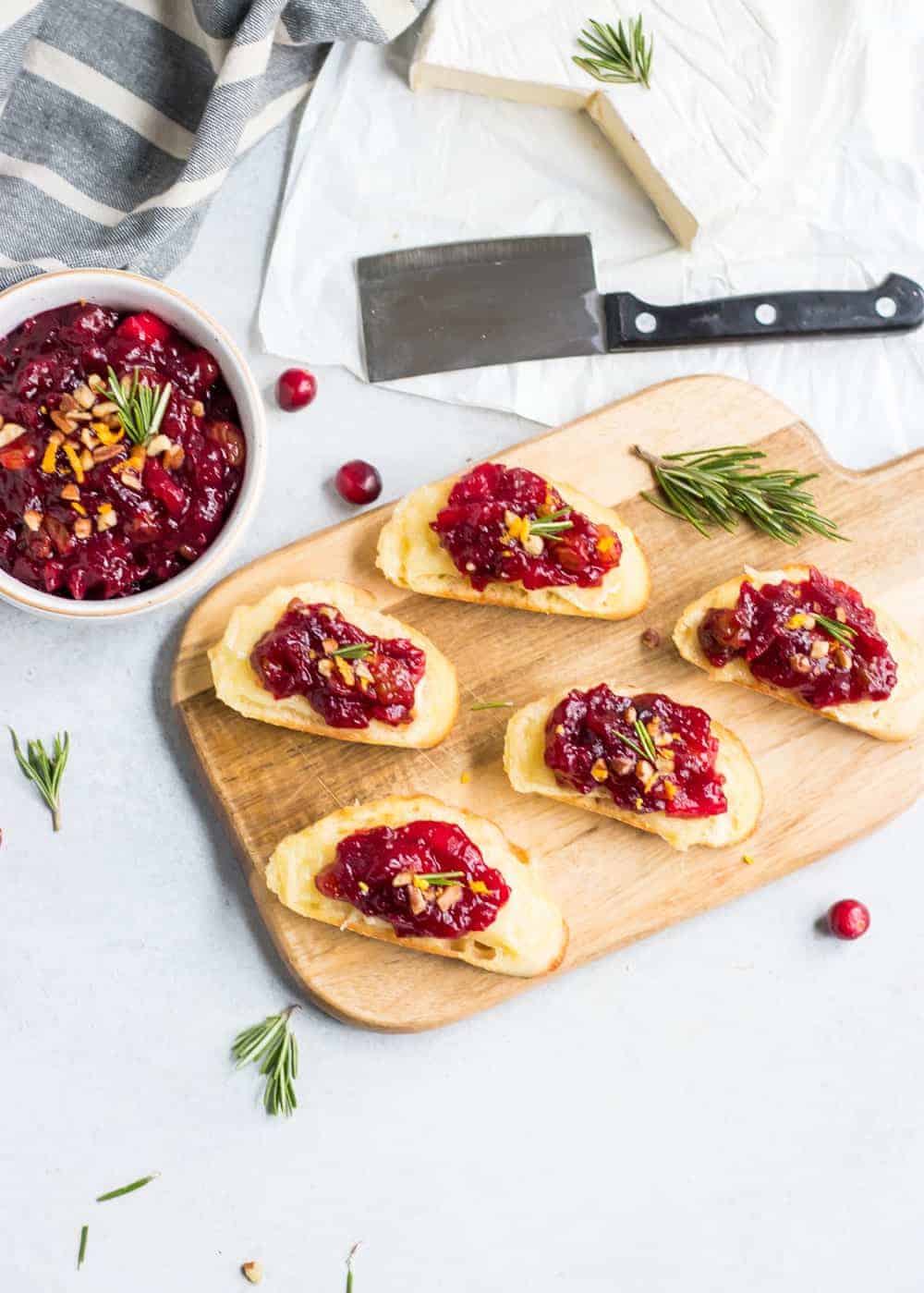 Brie and Cranberry Chutney Crostini – This is the perfect appetizer to make for the holidays. It is easy, elegant, and incredibly delicious!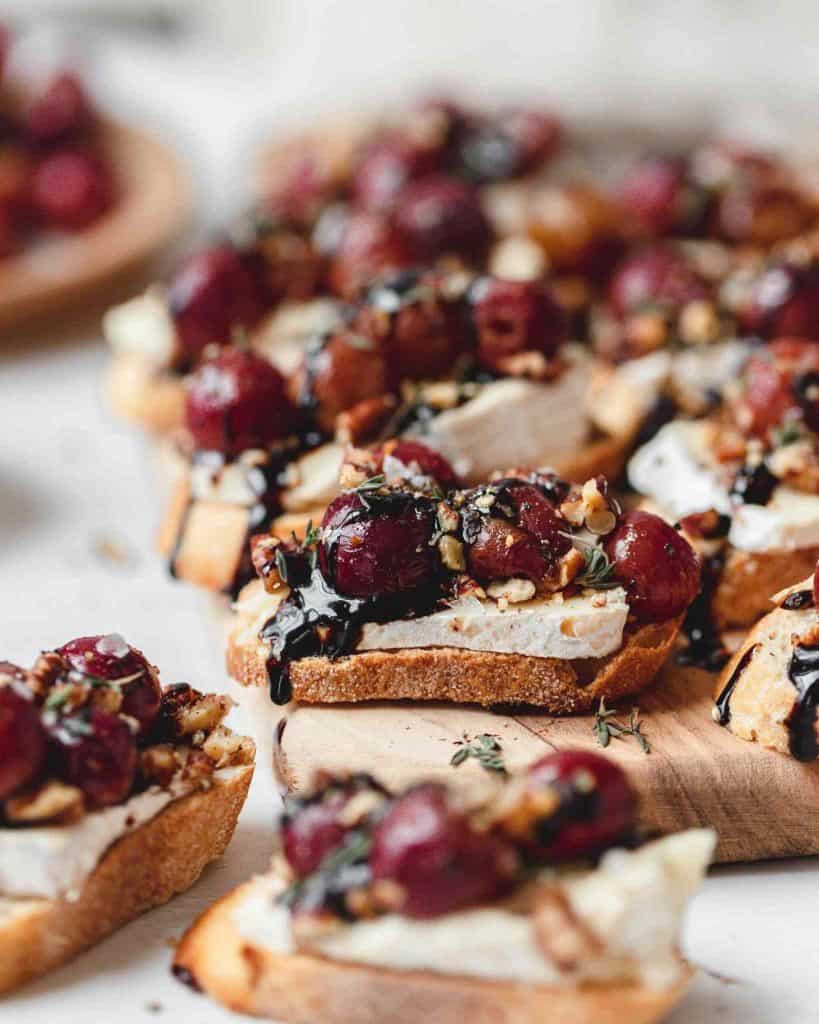 Roasted Grape and Brie Crostini – Have leftover cheese, bread, and fruits from a party? Make this crostini for an afternoon pick-me-up that repurposes ingredients perfectly.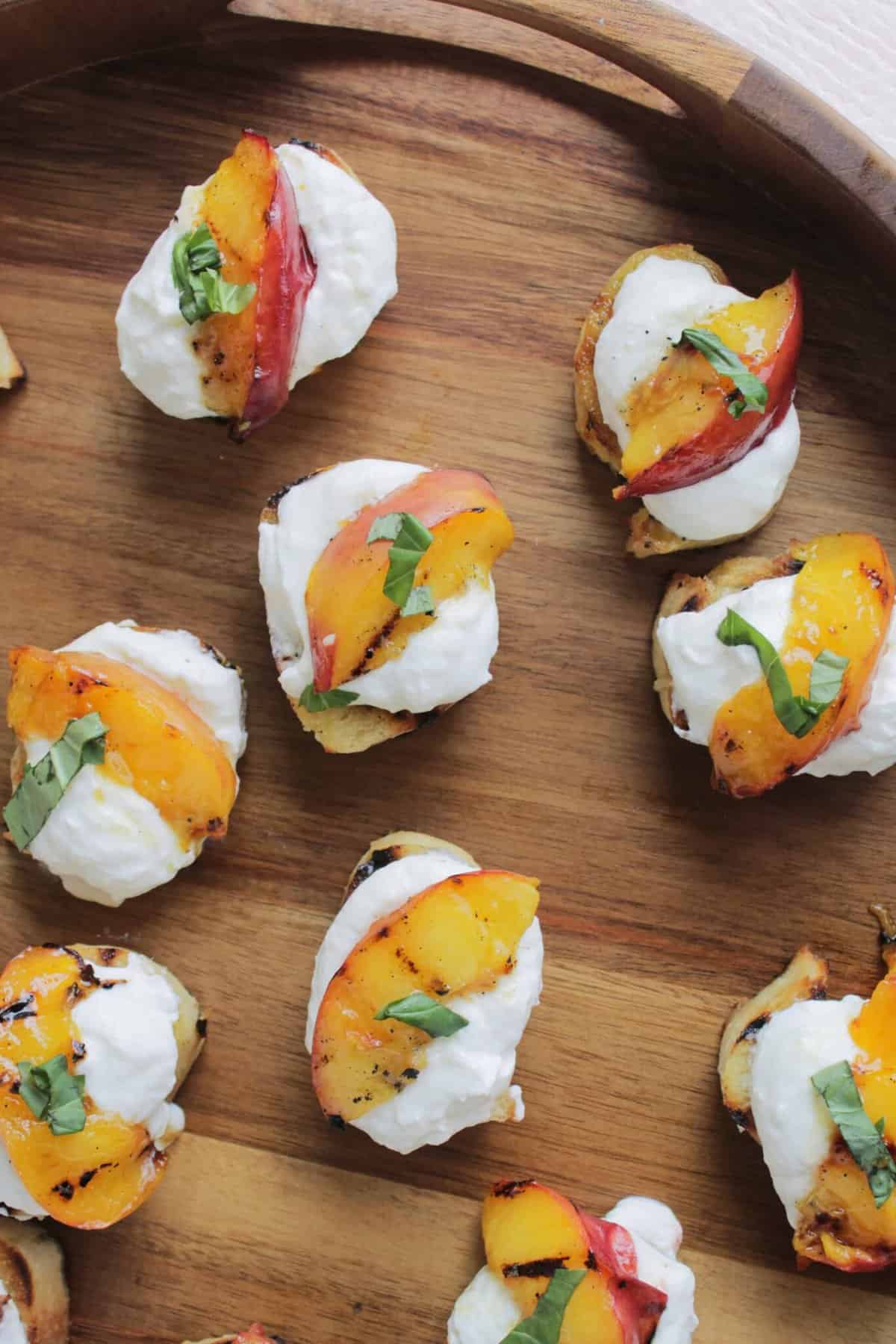 Grilled Peach and Lemon Ricotta Crostini – Grilled peach & lemon ricotta crostini is an elegant but simple appetizer! The grill infuses just the right amount of smokiness into this dish. It's an ideal dish for entertaining because it comes together so quickly & effortlessly!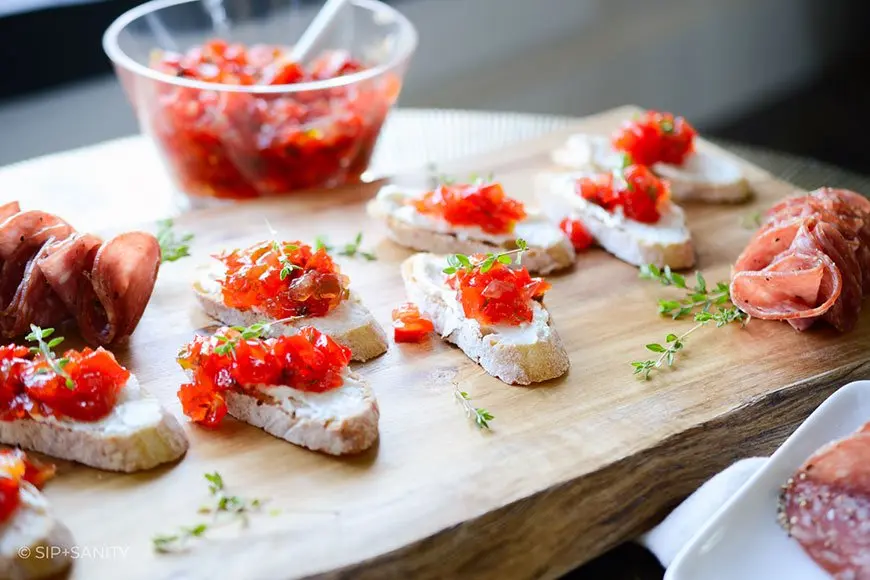 Red Pepper Jam and Goat Cheese Crostini – Serve Red Pepper Jam + Goat Cheese Crostini at your next gathering and watch your guests keep going back for more. There is nothing better than tangy, pungent goat cheese contrasted with this sticky, sweet, and a tad spicy jam.
More Fun Party Appetizers