By: Vickie | Updated: 23rd November 2022
Sweet and salty treats are the perfect way to satisfy a craving. And when you find a no-bake recipe that features both sweet and salty elements, it's sure to be a hit!
This simple recipe for peanut butter Chex bars combines sweet chocolate candy with crunchy pretzels to create a delicious snack that's perfect for any occasion.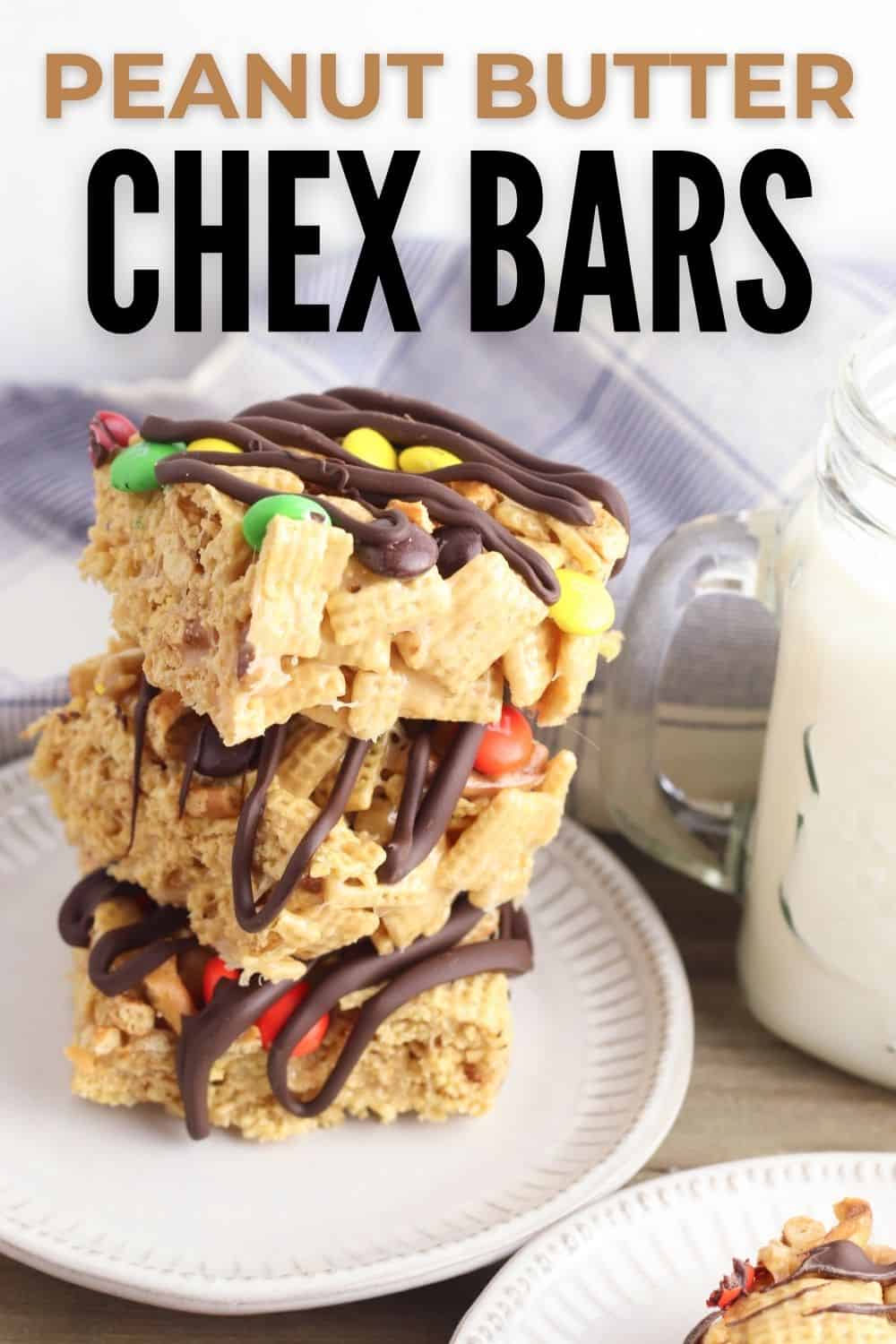 Peanut Butter Chex Bars Ingredients
The beauty of this easy recipe is that you only need a handful of ingredients to whip it up. To make your own peanut butter cereal bars, you'll need:
Butter. The fat from the butter is essential for binding the sweet ingredients together to form a thick and chewy bar. Since this recipe includes both sweet and salty ingredients, you can use unsalted or salted butter to create the sauce.
Peanut butter. In addition to butter, peanut butter gives these bars a delicious, creamy flavor. Smooth peanut butter is the best option for creating a smooth finish for your sauce.
Marshmallows. Create a sweet and chewy sauce to form your cereal bars with the help of marshmallows. Mini marshmallows area great option for this recipe because they melt faster and more smoothly than full-sized marshmallows.
Chex. To form the base of your bars, Chex cereal is the key ingredient. Corn or rice Chex both make great options for making these no-bake treats.
Pretzels. Give your pretzels a salty flavor with the help of pretzels. Since the pretzels will be crushed before adding them to the bars, you can use mini pretzels, traditional pretzels, or pretzel sticks to make these bars.
Chocolate chips and candy. Top your cereal bars with some sweetness with the help of chocolate candy and a drizzle of melted chocolate.
How to Make Peanut Butter Chex Bars
Since these bars require no baking, you can whip them up in a matter of minutes! That means they're a great last-minute treat for a get-together or even a quick afterschool snack.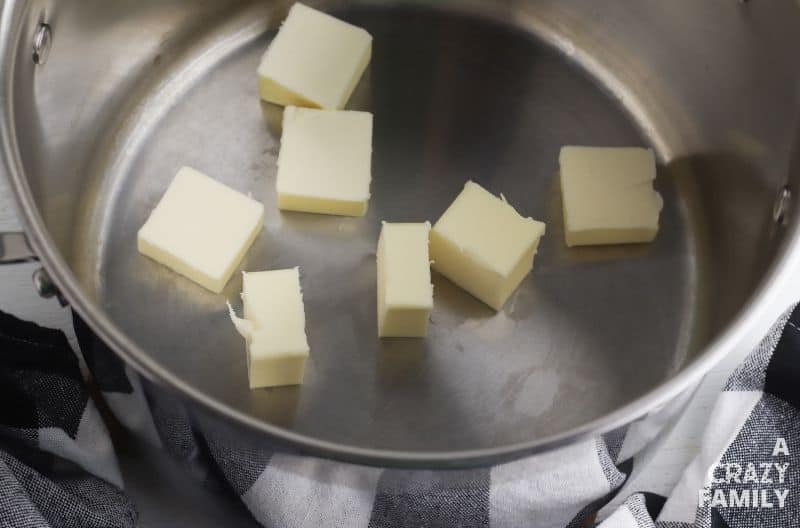 The first step to making these no-bake bars is to melt the butter. It's a good idea to mix up the bars in one pan, which means it's best to use a large stockpot or Dutch oven to combine the ingredients. Place the butter in the bottom of the pan and cook over medium-low heat until melted.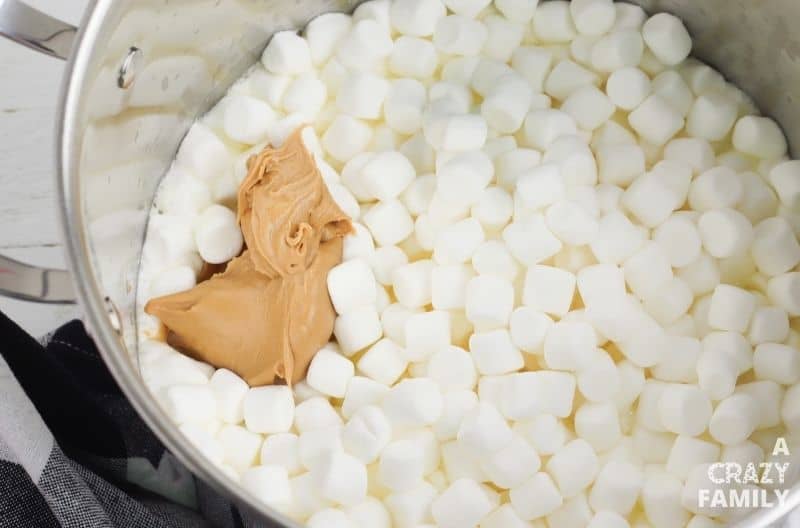 When the butter is fully melted, add the marshmallows and peanut butter and stir to combine all the ingredients.
Heat the mixture over low heat, stirring constantly to keep the marshmallows from burning. Continue stirring until all the marshmallows are melted and the ingredients are thoroughly combined.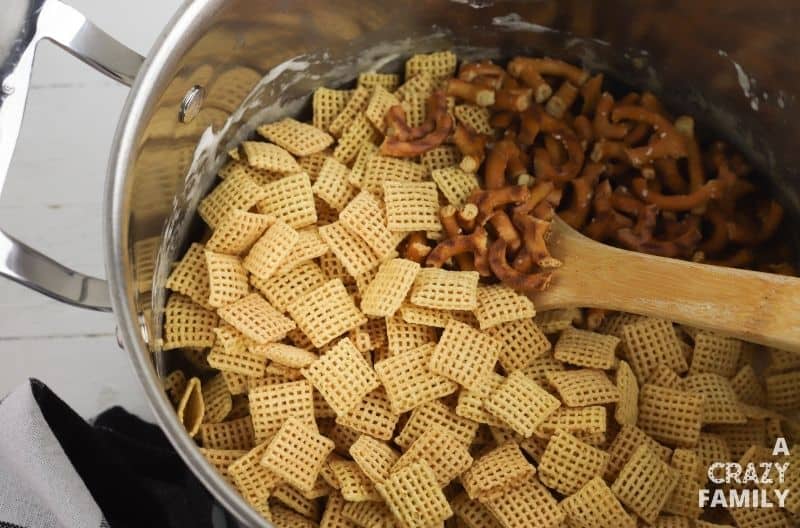 Remove the pan from the heat source and pour in the Chex and crushed pretzels. Carefully stir the ingredients together, making sure you don't crush the cereal in the process.
When the cereal and pretzels are evenly coated with marshmallows, you can create your cereal bars.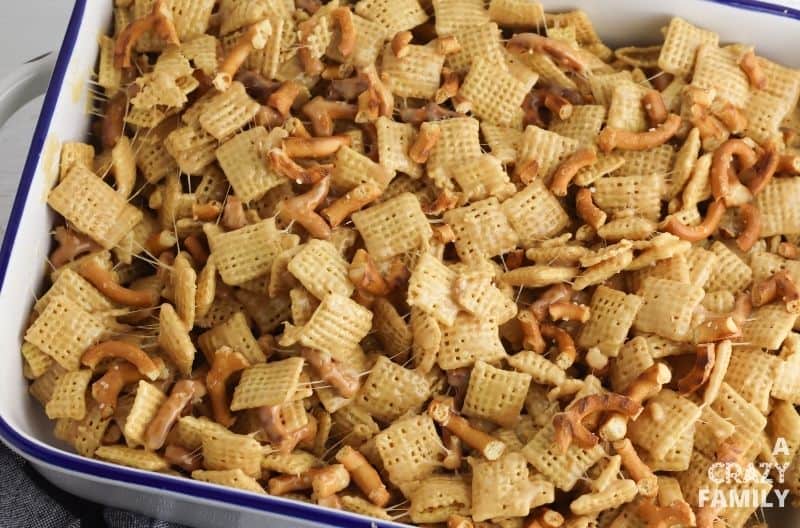 Spread the cereal mixture into a 9×13 pan, making sure the cereal is spread evenly across the entire pan. Sprinkle the M&Ms over the top of the bars, then press the cereal into the pan until the mixture is solid.
To keep the cereal from sticking to your hands, wear a pair of plastic gloves or spray nonstick cooking spray on your hands before you start pressing.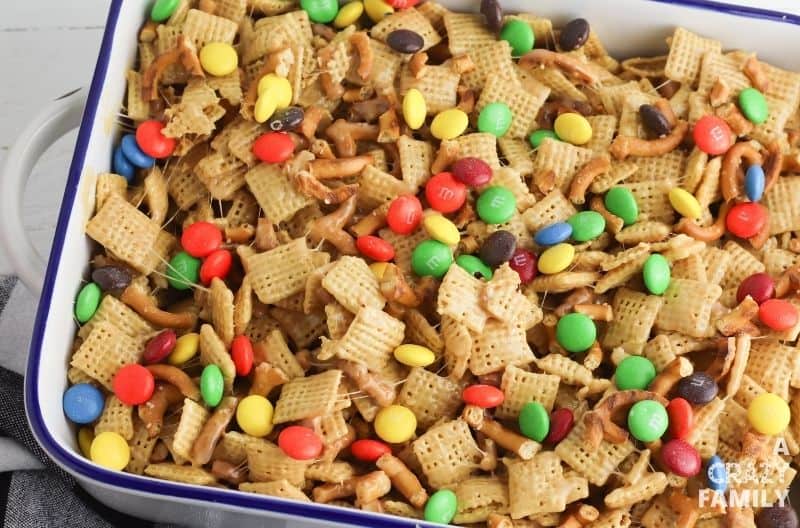 Allow the mixture to cool completely, which usually takes around one hour. After the marshmallow sauce has cooled, you can cut the treats into bars.
Place the bars on top of a wire rack, then drizzle melted chocolate over the top to decorate. Once the chocolate has cooled and set, your bars are ready to be served.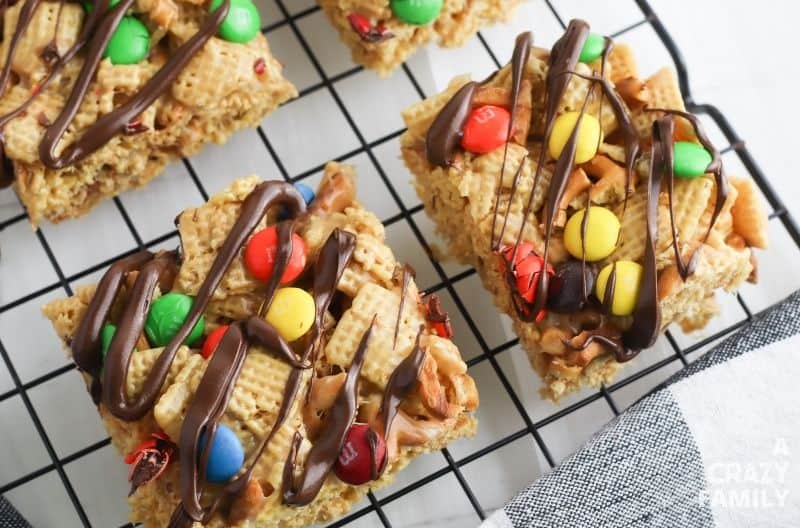 Recipe Substitutions and Ideas
These sweet and salty treats make a great snack option because they're so simple to make. And that means the recipe is easy to adjust to suit the occasion. Try these simple recipe substitutions to adjust your treats to your needs:
Make them gluten free. This recipe is simple to adjust if you need a gluten free treat. Simply use gluten free pretzels instead of traditional pretzels when you make your bars. All the other ingredients in this recipe are gluten free!
Mix the chocolate into the bars. Instead of decorating your cereal bars with chocolate on top, try mixing the chocolate into the bars instead. Add the chocolate chips to the pan with the Chex and pretzels to quickly and easily mix the chocolate into the peanut butter bars.
Top with peanut butter candy. Add to the peanut butter flavor with the help of peanut butter candy. Instead of using M&Ms in your cereal bars, top your treats with Reese's Pieces to give them even more peanut butter flavor.
Mix in more salty snacks. Give your treats even more salty flavor with the help of different salty snacks, like corn chips, potato chips, or oyster crackers. Simply replace one cup of Chex with an additional salty snack to add more unique flavor to your treats.
How to Serve
Enjoy this sweet snack anytime you have the munchies. Add these peanut butter Chex bars to the table at holiday parties.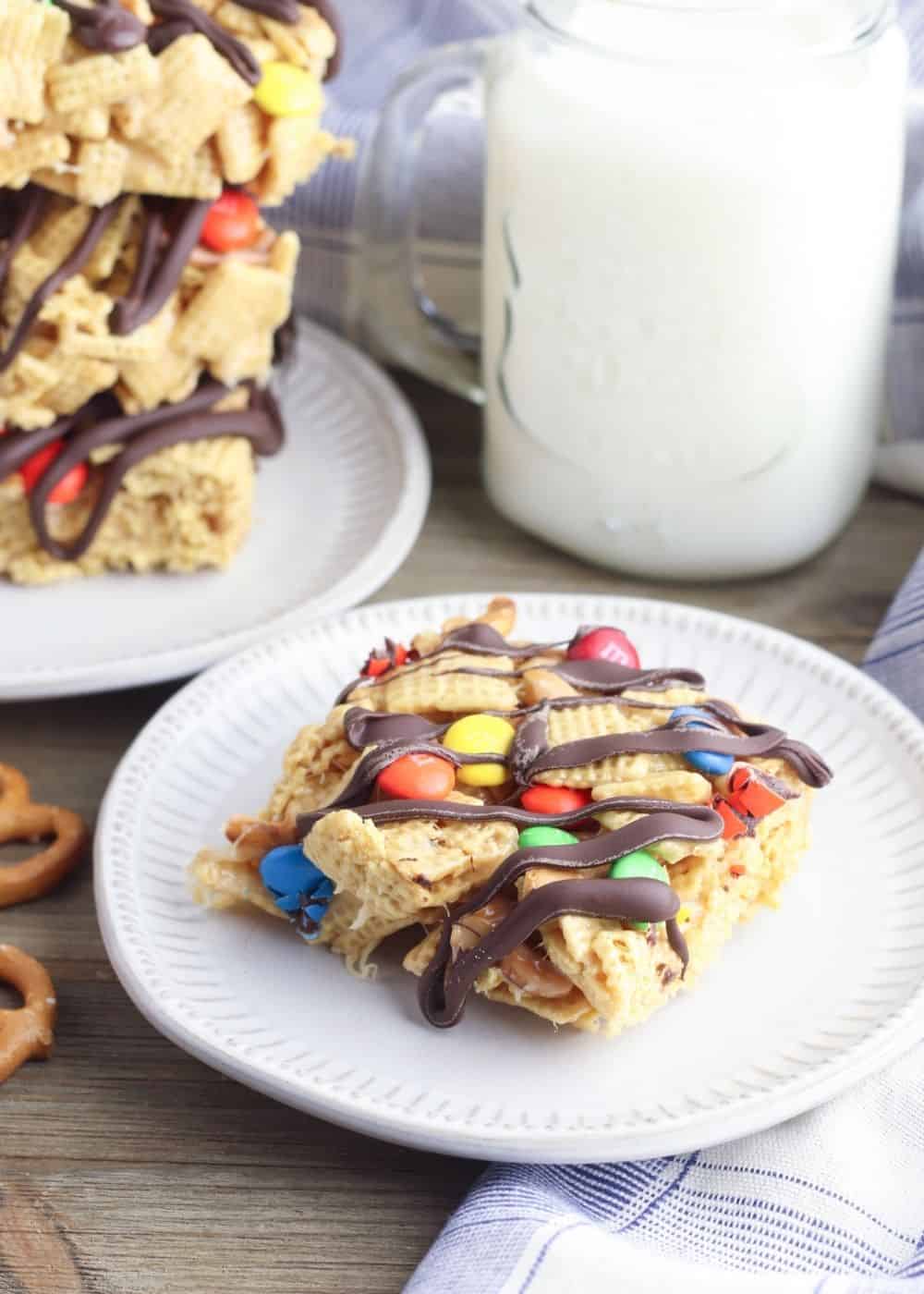 A fun spin on classic cereal bars, but be warned, once you start, you won't be able to stop snacking; they're that addictive.
More Recipes You'll Love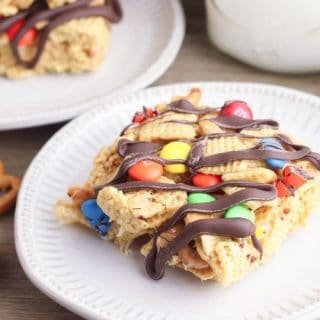 Ingredients
½

cup

butter

1/3

cup

creamy peanut butter

1 10-

ounce

package mini marshmallows

6

cups

corn Chex

1

cup

crushed mini pretzels

½

cup

M&Ms

½

cup

chocolate chips

melted
Instructions
Melt the butter in a large stockpot, then add the peanut butter and mini marshmallows. Stir until melted and remove from heat.

Add the Chex and mini pretzels and stir until coated.

Spread the mixture in a 9×13 baking dish. Top with M&Ms. Press the mixture into the pan until solid.

Allow to cool completely, then cut into 12 bars. Drizzle the chocolate over the top of each bar and allow it to harden before serving.
Nutrition
Serving:
1
serving
|
Calories:
338
kcal
|
Carbohydrates:
48
g
|
Protein:
4
g
|
Fat:
16
g
|
Saturated Fat:
8
g
|
Polyunsaturated Fat:
6
g
|
Cholesterol:
22
mg
|
Sodium:
291
mg
|
Fiber:
2
g
|
Sugar:
25
g
Nutrition information is automatically calculated, is intended to serve as an estimate only, and is provided for informational purposes. The accuracy of nutritional information is not guaranteed.
Click stars to rate now! Or leave a comment below.