12 Essential Kitchen Tools To Make Cooking Simple
A lot of people tell me that they find cooking difficult, or they don't enjoy it. Usually it's because they don't have the right equipment. You're only as good as your tools, after all!
Whilst you don't need your entire kitchen decked out with the latest gear on every available counter, there are definitely some essentials that will make cooking simpler. Here are my 12 most essential kitchen tools to make preparing your next meal as easy as pie.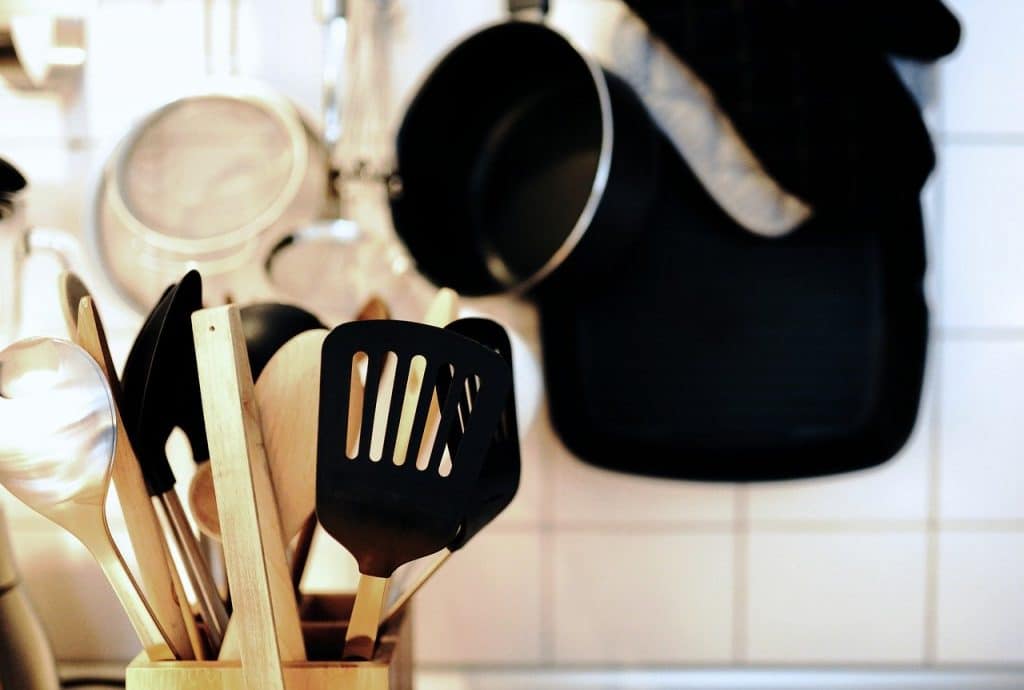 Food Processor & Blender
My food processor and my blender are hands-down my two favourite kitchen items. Possibly my two favourite household items, actually. I use them a ridiculous amount because they're just so useful! A blender is perfect for making smoothies and I also use it a lot to make soups in the winter.
Having a food processor allows me to make my own sauces and spreads with ease, such as my homemade peanut butter, and it's also a handy tool for mixing up cake batter. I even use it for chopping onions and other vegetables when I'm feeling really lazy! I'd always advise getting a combination set for your food processor and blender, such as this Kenwood 2.1 litre food processor and blender that I have in my own house. It also comes with slicing and grating discs, which makes it even better.
Slow Cooker
I was really late to the party getting a slow cooker, but when I did I was amazed. Imagine making an entire dinner from scratch, except once you've done the basic food prep it just does it itself. That's pretty much the idea of a slow cooker!
I've used mine to make loads of different curries, stews, and soups, and I've even heard of people using them to make things like cakes and other desserts. They're especially convenient if you're at work all day. Simply chuck some ingredients in before you leave for the morning, and dinner is served by the time you get back. Perfect!
Good set of cooking knives
A really good set of cooking knives is something that every household should have. Good knives really are essential kitchen tools as they make food preparation so much easier. I've used a fair few blunt knives in my time and they make cooking really stressful, but having a sharpened blade can make all the difference.
When you buy a set, make sure that it contains a variety of different sizes of knives so you know you'll have the right one for you, plus of course a mixture of serrated and plain edge blades. I'd also recommend a kit with its own sharpener so you can keep your knives as sharp as new.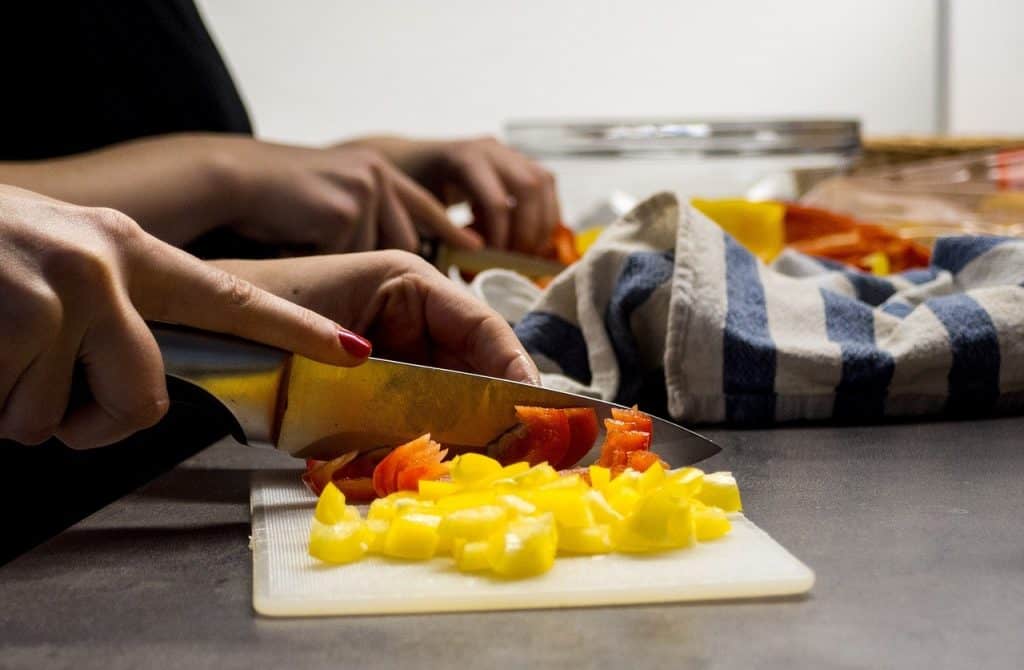 Large pan and wok
If you like making Asian food then you really need a wok in your household. Spacious and heavy-duty, they're perfect for cooking large amounts of noodles, rice, and other fried things, and if you remember to oil it regularly and look after it then it will last for ages.
It's also worth investing in a large pan – something bigger than your standard saucepan. If you've got one of these then it's much easier to cook in bulk or for large parties. Plus, you can also do things like braise entire birds no problem. They may be a little more awkward to wash up, but they're totally worth it.
Electric hand blender
Nothing beats a full-on stand mixer when it comes to baking, but they're often both expensive and super heavy. If you need something cheaper and much more mobile then it's well worth purchasing an electric hand blender instead.
Hand blenders are really essential kitchen tools for as they simplify making batters and dough, yet they're not that expensive and they're pretty lightweight. They're not too hard to clean, either. I've found mine an absolute godsend for recipes such as meringues and cheesecakes where "stiff peaks" are required. You can also easily turn leftover cream into homemade butter with them!
Potato masher
You'd probably think that if you don't like mashed potato then you can skip this one, but you'd be wrong. Obviously, potato mashers are excellent for producing creamy mashed potatoes, and make quick work of them compared to other methods. However, they can also be used for a variety of other things.
Scrambled eggs, scrambled tofu, canned tomatoes, and feta can all be broken up to perfection using a potato masher. You can also use them to even out any minced meat that you're cooking with. And don't forget your little ones – potato mashers are an excellent tool for creating baby food.
Measuring spoons and cups
Where would I be without my measuring spoons and cups? Despite not being American, I still own a set of measuring cups as so many recipes online are from the US. It makes things a lot easier! Alongside these I have different measuring spoons for each size, plus of course things that show you other measurements such as pints and litres.
The spoon and cup sets are absolutely brilliant, but I'd also recommend getting a measuring jug that contains a variety of different types of measurements on it. Our one contains cups, litres, pints, and various other things as well. Get a couple, and then you know measuring up your ingredients will be as easy as can be.
Multi-sided grater
I'm willing to bet that there's a significant portion of people reading this who own a multi-sided grater but have only ever used the standard cheese grating side. Not because I think you don't know how to cook but because this was me until last year.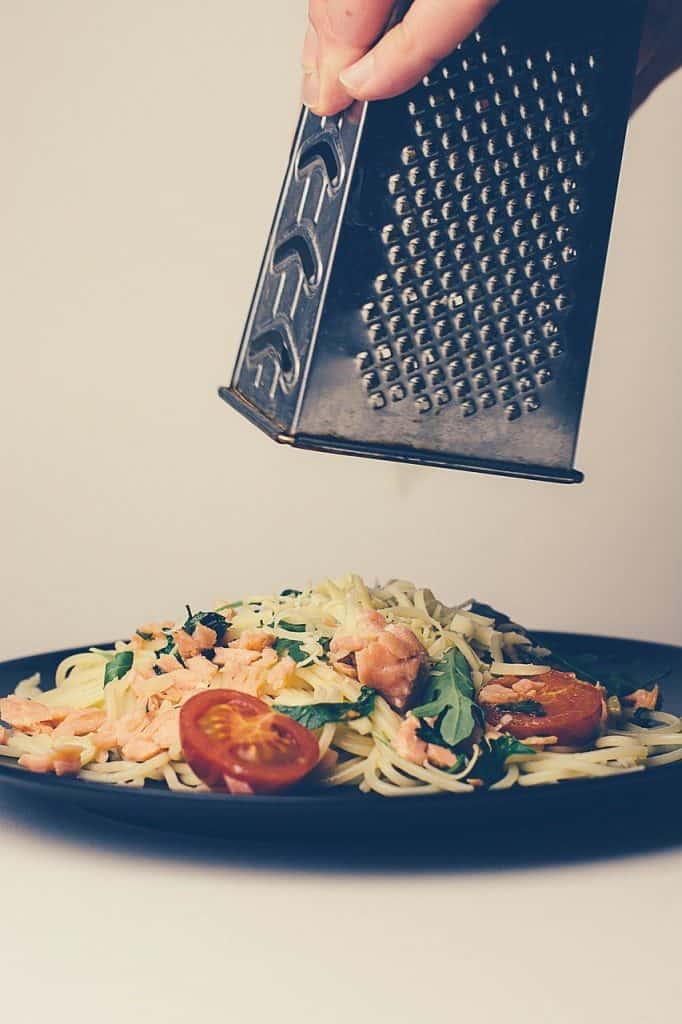 I've owned a multi-sided grater ever since I started cooking for myself yet it honestly never occurred to me to use it for anything other than grating cheddar on top of various (read: all) meals. But then I learnt that a grater can do far more than that. It can shred potatoes and carrots to make patties, and grate ginger and citrus zest for curries and baking. It can even slice vegetables thinly, which is perfect for stir fries and similar meals (and great if you're rubbish at thinly slicing things with a knife, like me). Simply put, the humble multi-sided grater can perform a whole host of tasks so I strongly recommend you get one if you don't have it already.
Microwave
The majority of people own a microwave where I live, but I thought I'd include them anyway as they really are essential. As I make a lot of food in bulk I end up using my microwave quite a lot. It's great for reheating sauces and leftovers (providing you do it properly, of course!) Many people complain about them not heating food evenly enough, but a quick stir every 30 seconds or so usually does the trick.
The other thing that I love about microwaves is they can really save on the washing up. Brilliant for things like porridge when you just can't fathom making a mess of your pans so early in the morning.
Barbeque tongs
Barbeque tongs, like the name suggests, are excellent for serving barbequed food. They're really useful whether you throw big parties with lots of guests or you're sharing smaller portions between two. I use my barbeque tongs loads, but actually not so much for barbeques.
The main way I utilise my barbeque tongs is when I'm making recipes with lots of different, larger ingredients that need to be mixed together. Take stir-fries, for example, where you somehow have to mix clingy noodles, big vegetable slices like pepper and mange tout, and smaller, easily lost food items like peas. Barbeque tongs have a very good level of control and make it so easy to do this. Far more efficient than a wooden spoon or large fork which usually fails to mix everything evenly.
Spaghetti Spoon
Ever seen one of those weird, forked ladle things with a hole in the middle? That's a spaghetti spoon, and it's a brilliant little tool. Spaghetti and other noodly things can be a nightmare to scoop out of a pan, but these cooking spoons make it a breeze. And if you're wondering what the whole is for? Just stick dried spaghetti through it and it will measure out a portion for you. How cool is that?!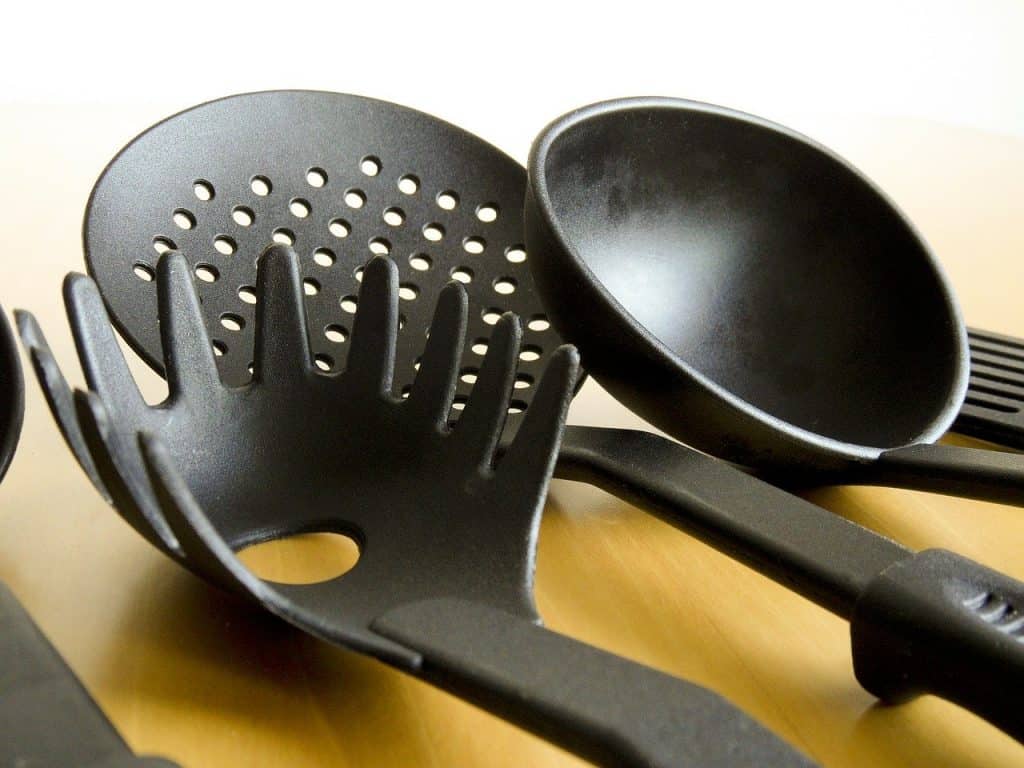 Reusable storage containers
I've always wondered if storage containers have the ability to breed… You buy a set, and suddenly you're overrun with them! Certainly not complaining though, as they are worth far more than their weight in gold.
I mentioned earlier that I do a lot of batch cooking, and reusable storage containers are one of a handful of essential kitchen tools for this. If you have enough then you can easily cook for an entire week in just one day, then store it all away for later. Make sure to purchase microwaveable and freezable containers so they can be used for all types of food. I'd also recommend getting BPA-free ones, especially if you do plan to use them in the microwave.
What essential kitchen tools could you just not live with out? Let me know in the comments and don't forget to pin for later! If you want an efficient kitchen then you'll also love this post on 20+ mind-blowing DIY kitchen organisation hacks.