15+ Decadent Waffle Recipes
This post and its photos may contain affiliate links. As an Amazon associate, I earn from qualifying purchases.
Who doesn't love waffles? They are a classic breakfast favorite and can be enjoyed any time of day. From the classic Belgian waffle to sweet and savory variations, waffles are a versatile and delicious treat. If you are a fan of waffles, you'll get inspired to try these delightful recipes today!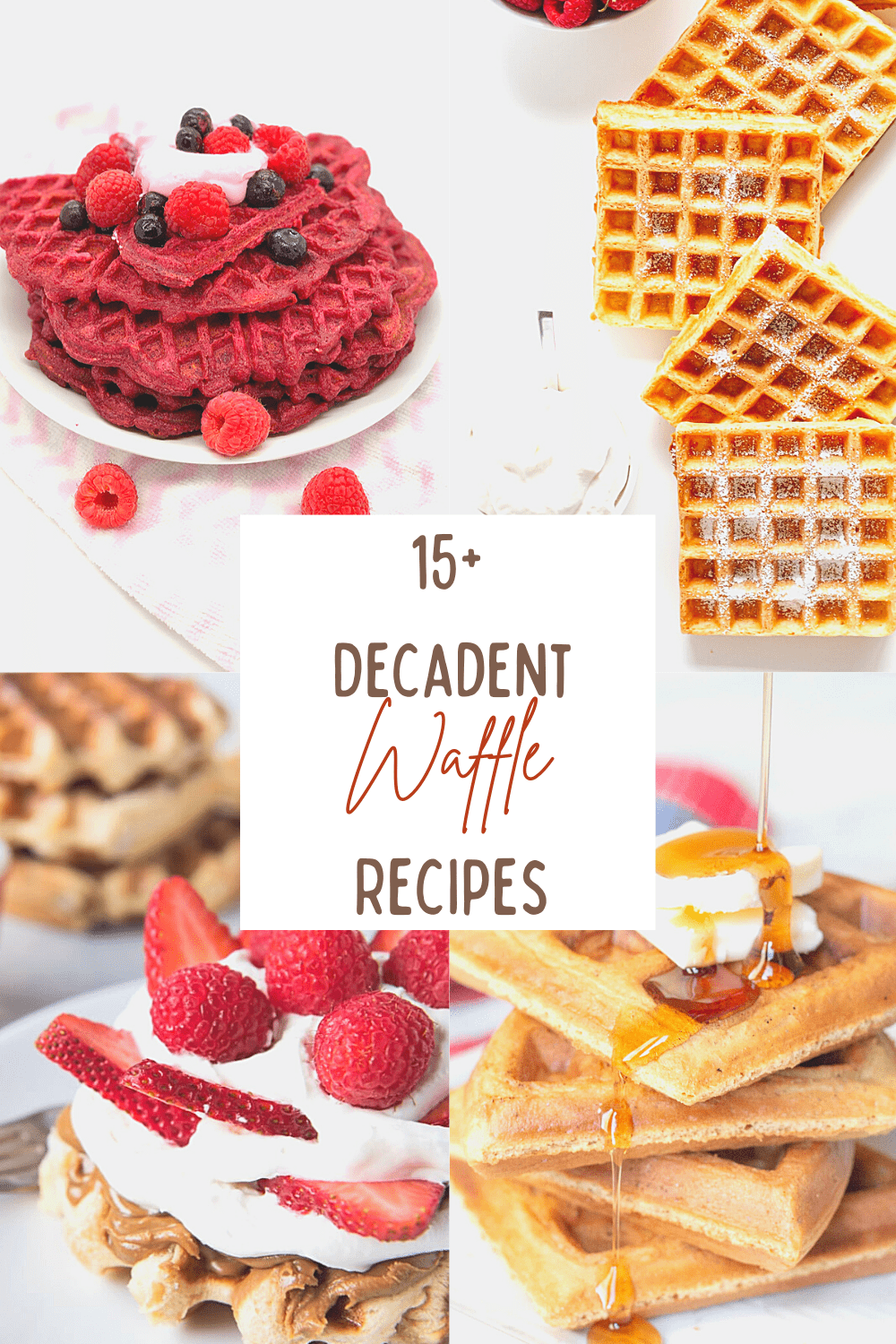 Waffles are one of those breakfast foods that are both versatile and comforting. Top them with sweet or savory toppings, and they are the perfect breakfast for any occasion – special occasions or just because!
If you're looking for a decadent way to enjoy your waffles, look no further! These 15+ recipes will show you how to make the best waffles ever.

From sweet to savory, they are sure to wow your taste buds. So get your waffle maker ready and enjoy these sinfully delicious recipes!
Best Toppings for Waffles
For the sweet tooth:
Maple syrup with a dollop of whipped cream
Sweetened cream cheese and fresh berries
Toasted pecans, dark chocolate chips, and marshmallows
For the savory lover:
Sautéed mushrooms and onions in buttery garlic sauce
Crispy bacon and a fried egg
Grilled cheese and tomato slices
How to Store Leftover Waffles
Leftover waffles can be stored in an airtight container in the fridge for up to three days. If you need to store your waffles for longer, wrap them up well and freeze them for up to two months.
Thaw frozen waffles overnight in the refrigerator. To reheat, just place the waffle in a toaster or microwave until warm and crispy.
The Best Homemade Waffles
These decadent recipes will show you how to make the most delicious and indulgent waffles around. From sweet to savory, these recipes are perfect for any occasion.
White Chocolate Raspberry Waffles – The best homemade waffles with white chocolate chips and smashed raspberries. These mini waffles take just 2 minutes to make!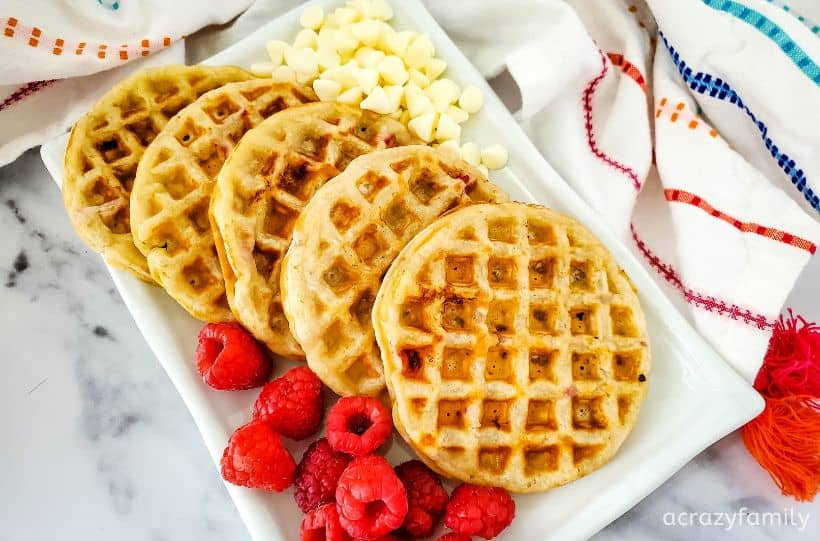 Easy Gluten-Free Belgian Waffles – On top of being so simple to make, these Belgian waffles are so light and fluffy you'd never guess they were gluten-free.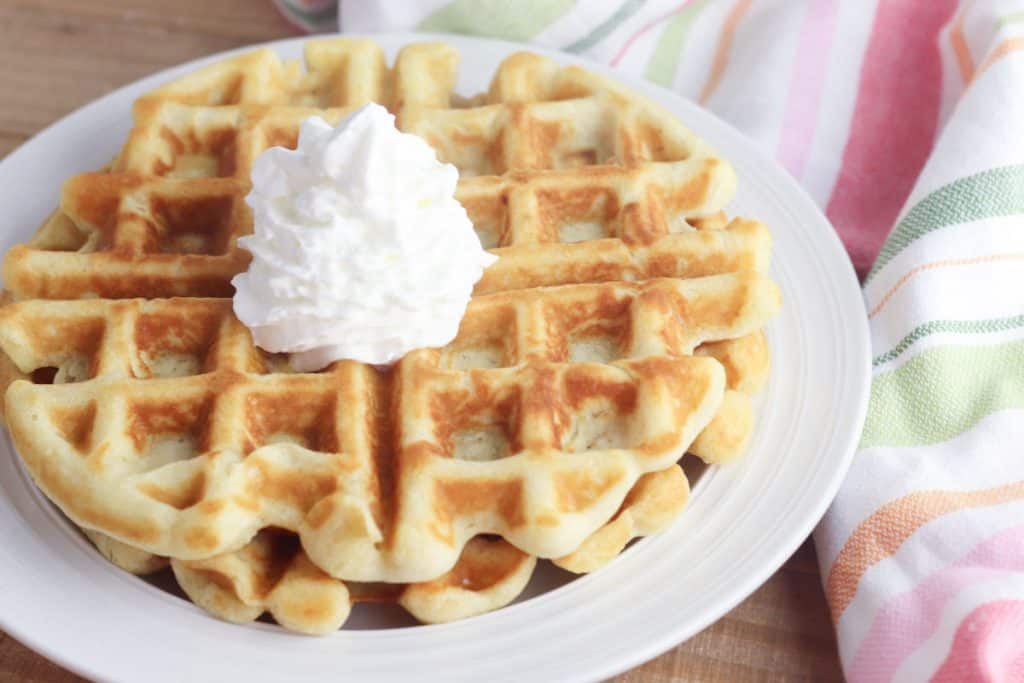 Double Chocolate Mint Cookie Waffles – It could be a dessert, or technically, I mean, waffles are meant for breakfast. No matter when you eat them, these chocolate mint goodies will be delicious.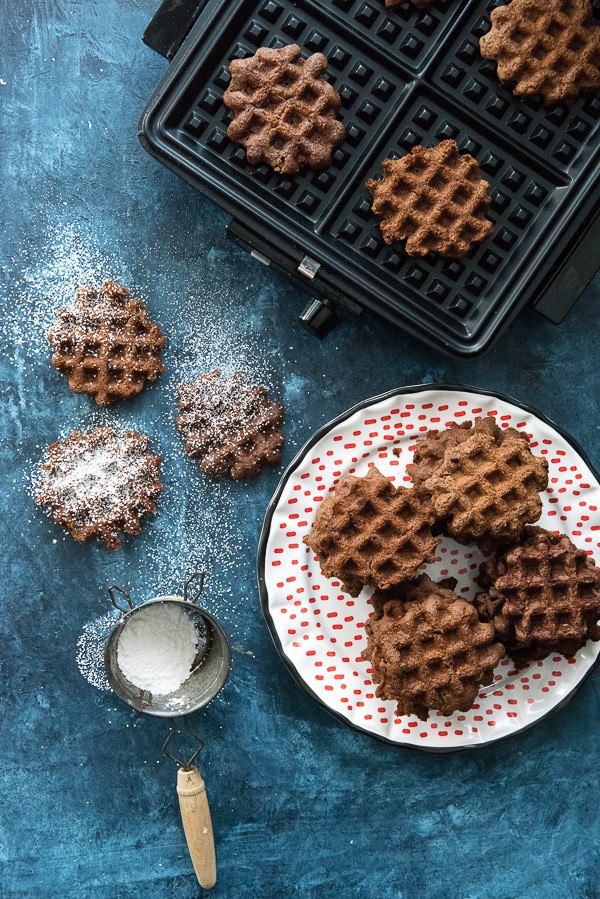 Black Forest Waffles – These black forest waffles are everything you love about the classic dessert rolled into a decadent breakfast treat.

Dark chocolate waffles topped with fresh whipped cream and a homemade cherry sauce… What's not to love about this summery dish?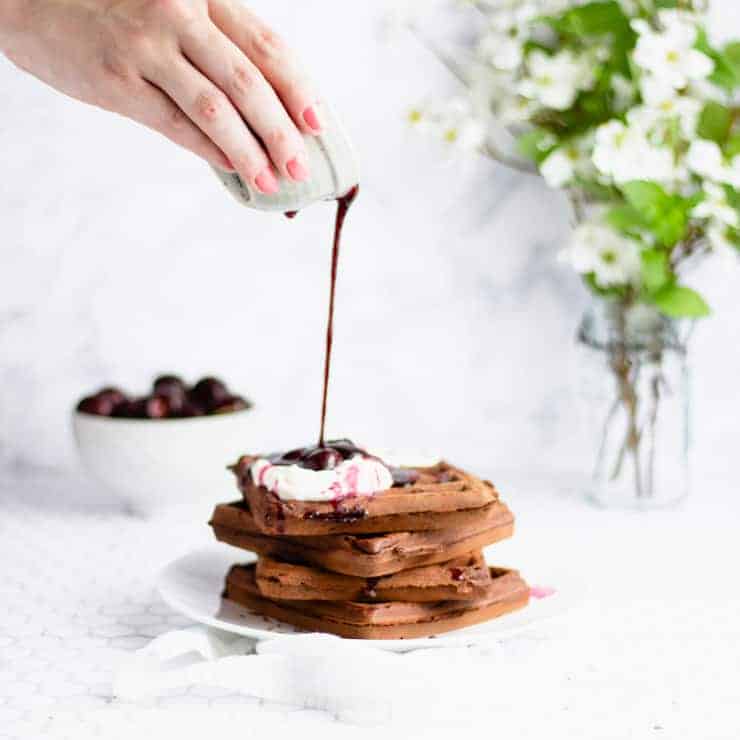 Vegan Lentil Waffles – These are gluten-free, kid-friendly, and perfectly crispy. You will never look at Lentils the same again.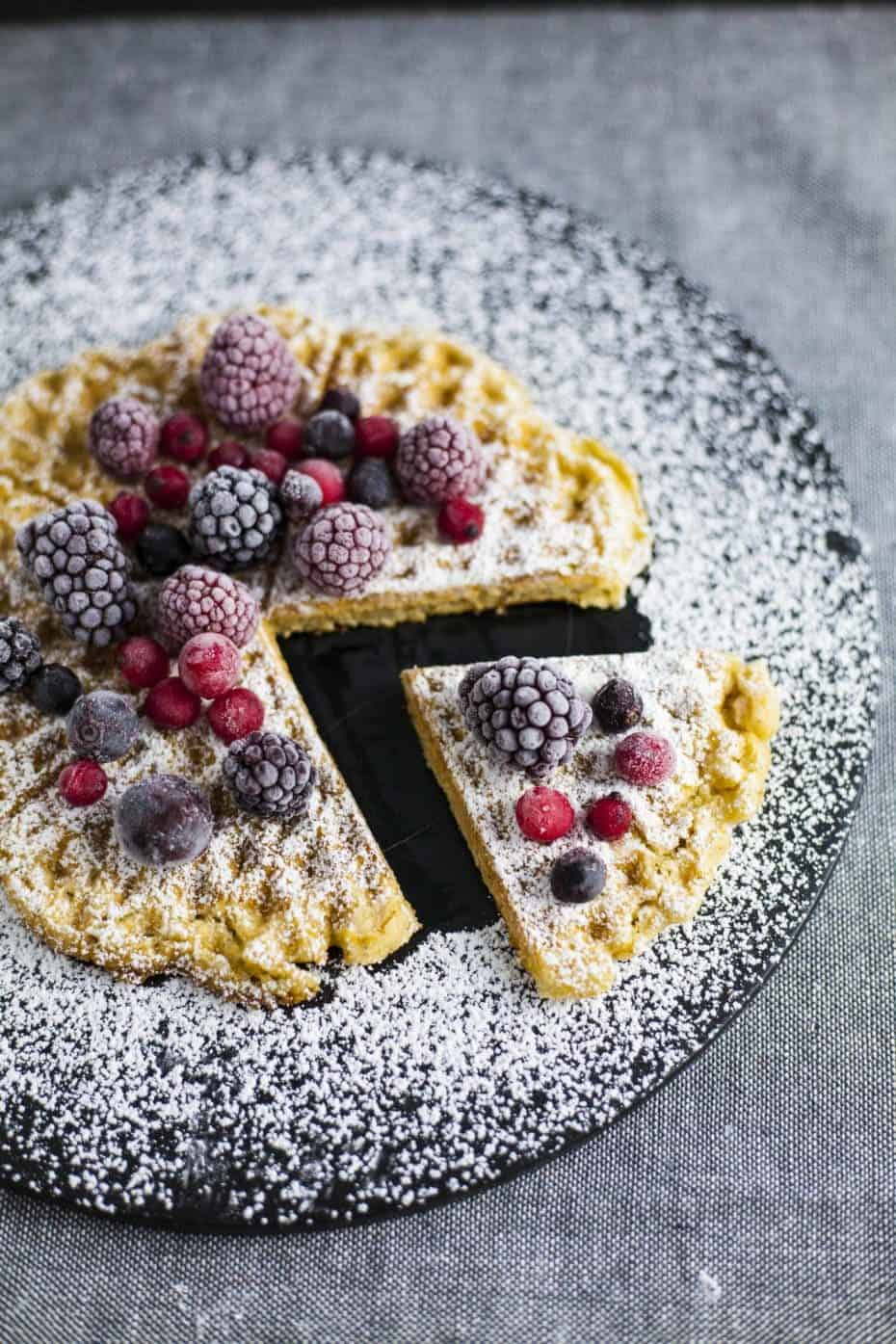 Beet Raspberry Waffles with Coconut Cream Topping – Filled with tasty tart fruitiness (and hidden veggies), these vibrant Red Beet and Raspberry Waffles are a delightful breakfast and brunch idea.

Bonus – you can sneak some extra fiber and nutrition into your (and your kiddos') diet!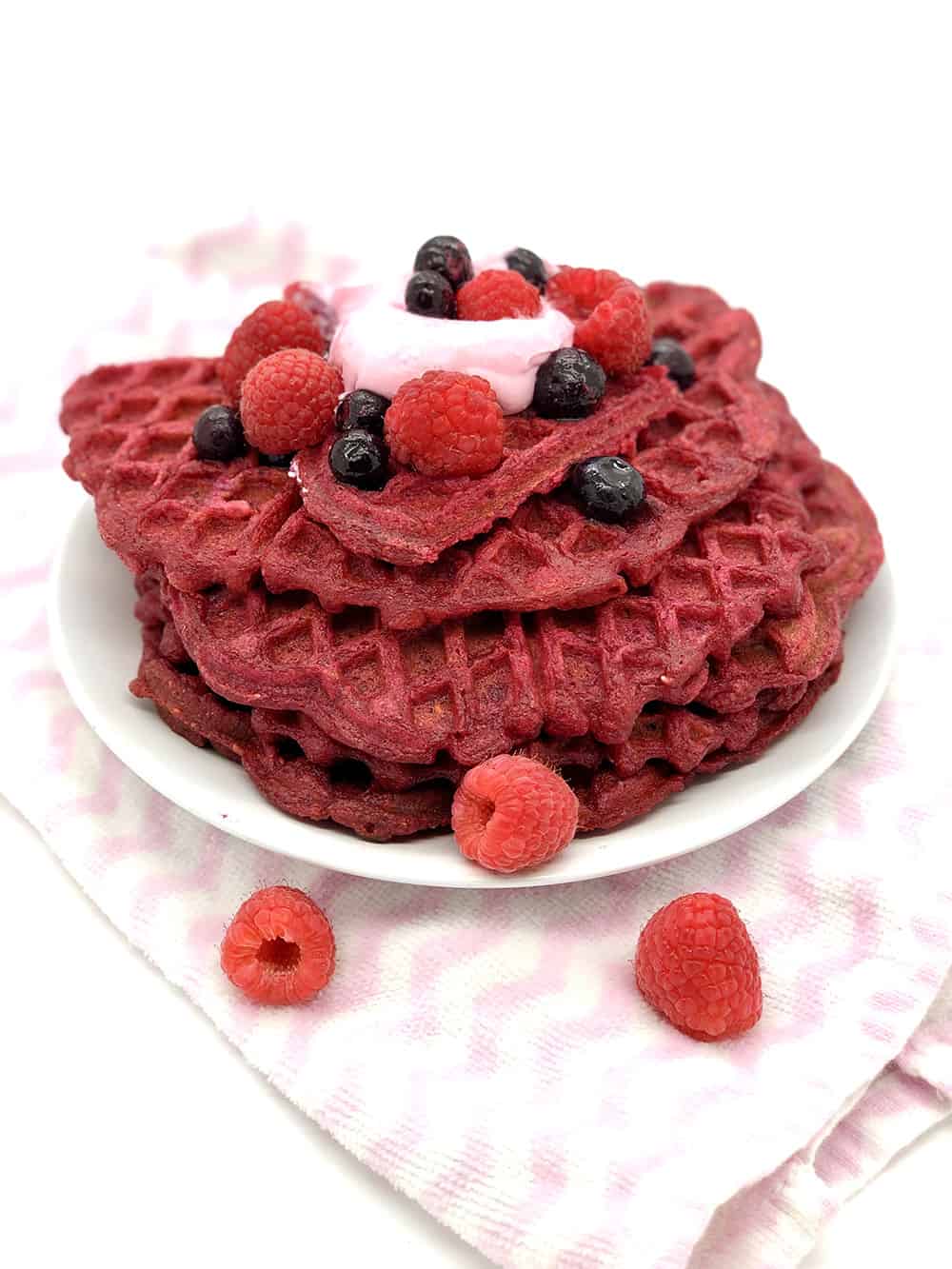 Coffee Waffles – Do you love coffee and waffles? Well, why not combine your two loves and enjoy together in this delicious coffee waffles recipe?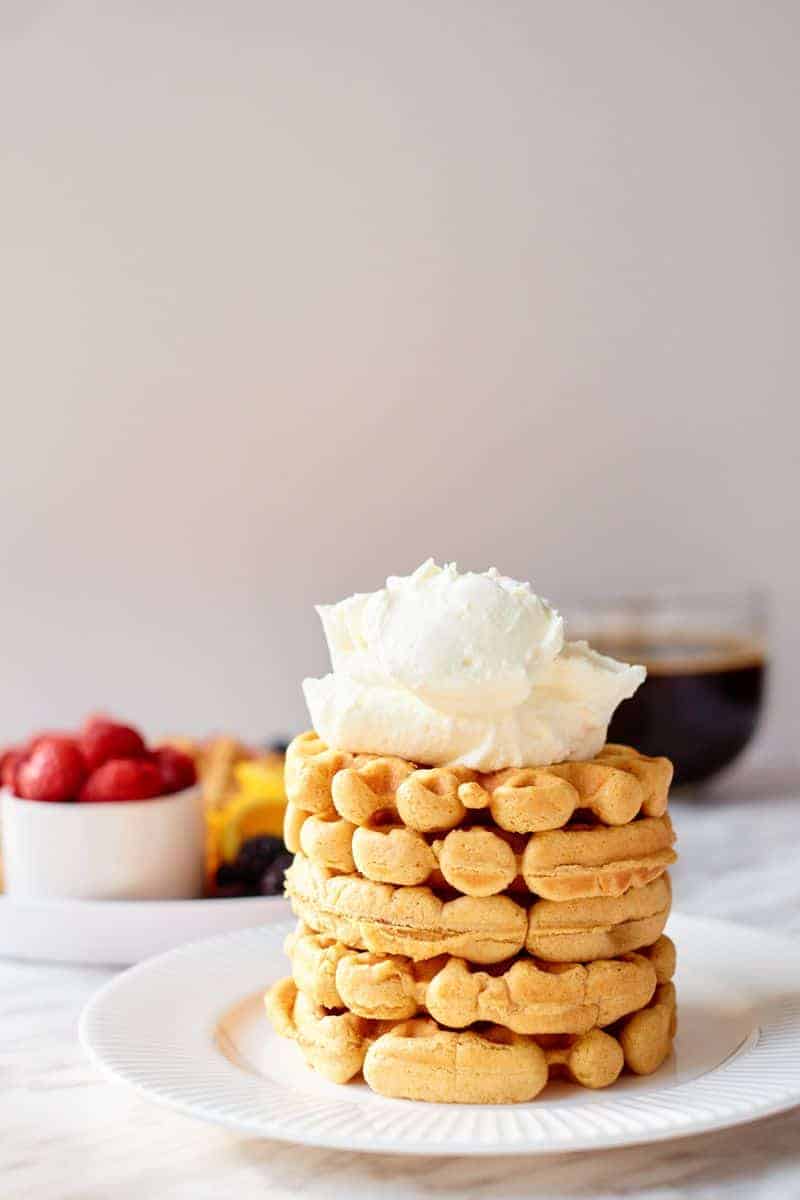 Candy Corn Waffles – These are perfect for anyone who loves fall festivities or breakfast! They look just like candy corn but taste like the perfect start to the day!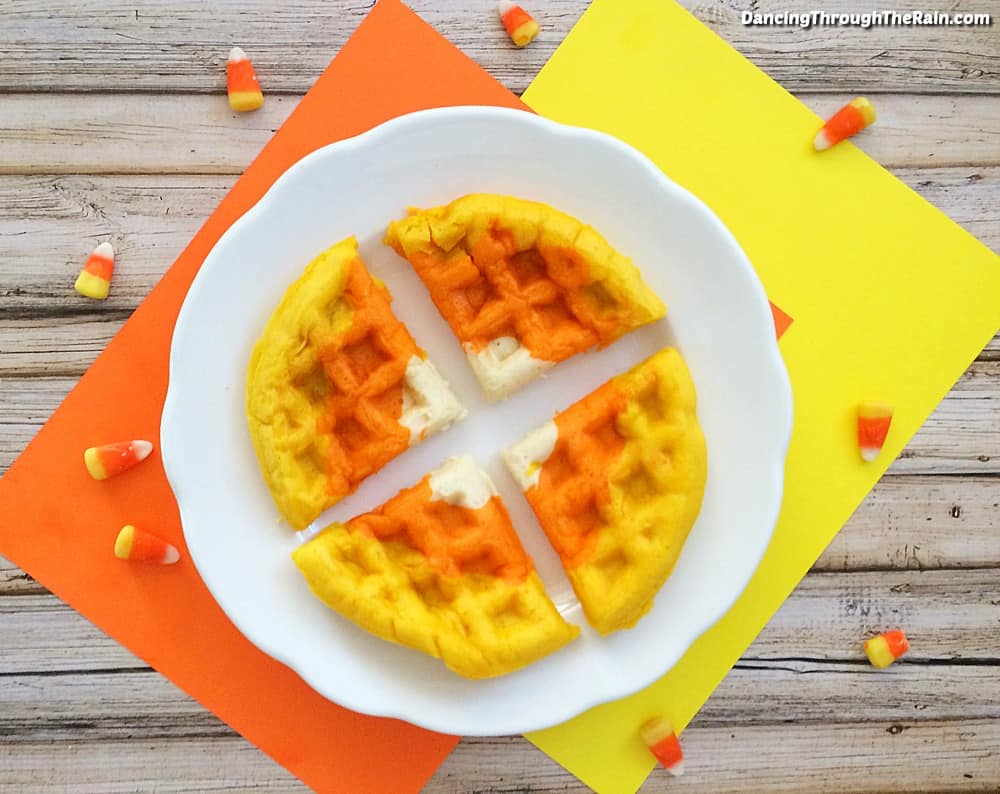 Chocolate Caramel Waffles – I love indulging in delicious homemade brunch recipes on the weekends, and these Caramel Chocolate Waffles definitely fit the bill.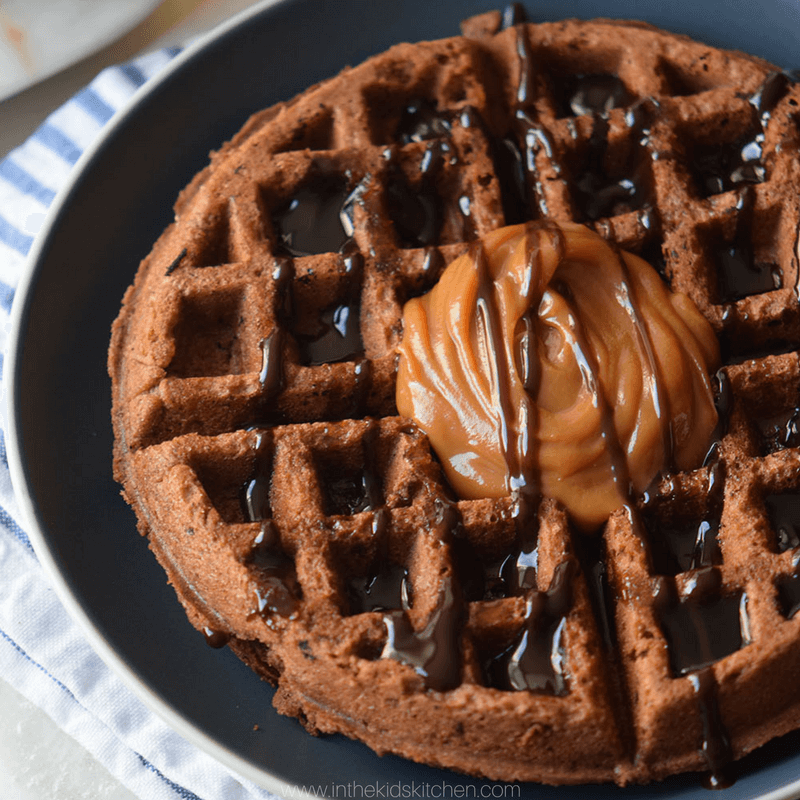 Keto Peanut Butter Waffles – This keto peanut butter waffle recipe is the BEST keto waffle I've ever tasted! Light and fluffy and full of creamy peanut butter flavor, you won't believe they're low-carb!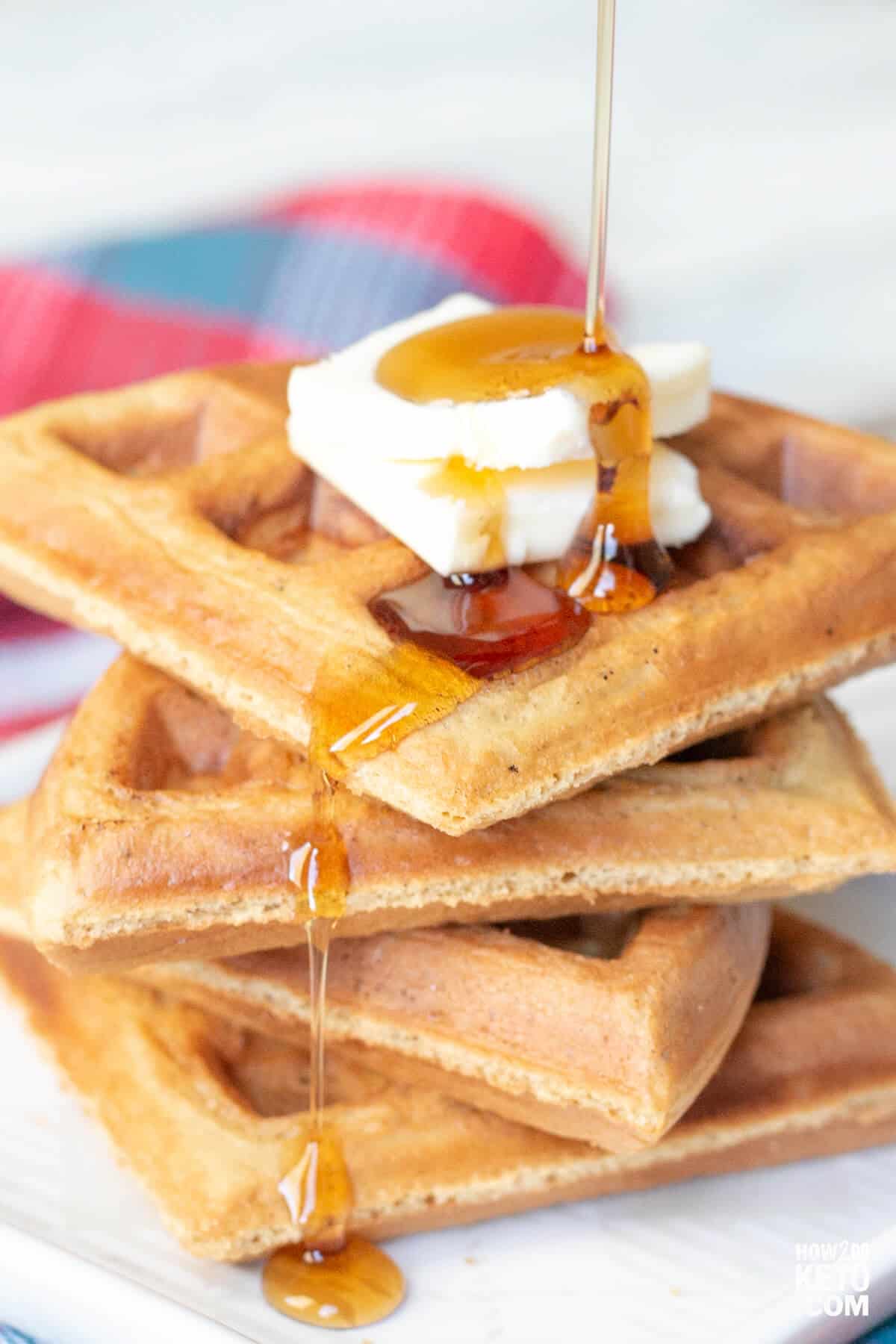 Oreo Waffles – Weekends were made for homemade waffles. It's a wonderful feeling to wake up and not have to rush to work and have time to make homemade waffles from scratch.

Learn how to make Oreo waffles in a waffle iron with this simple recipe. Similar to regular waffles, this easy breakfast idea is made using real crushed Oreos as an added bonus for a delicious treat.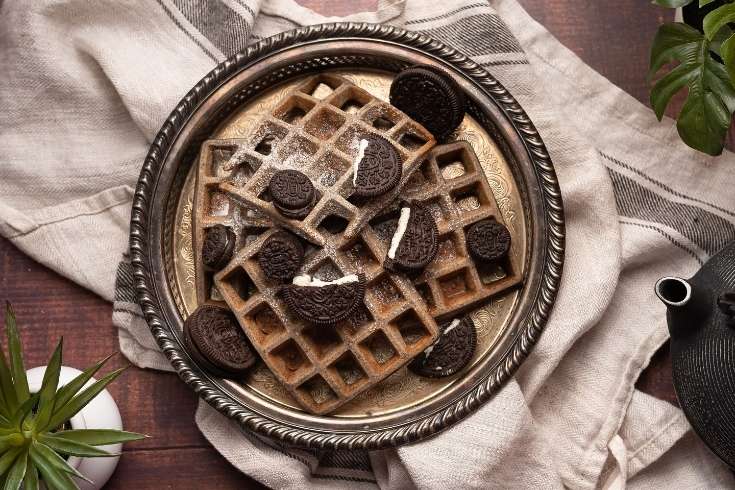 Banana Bread Waffles – The last time I made waffles, I realized that they were essentially just a quick bread recipe. So why couldn't I take my favorite quick bread recipes and just make them in a waffle iron?

And thus, Banana Bread Waffles were born. Banana bread waffles with brown sugar caramel syrup, to be precise.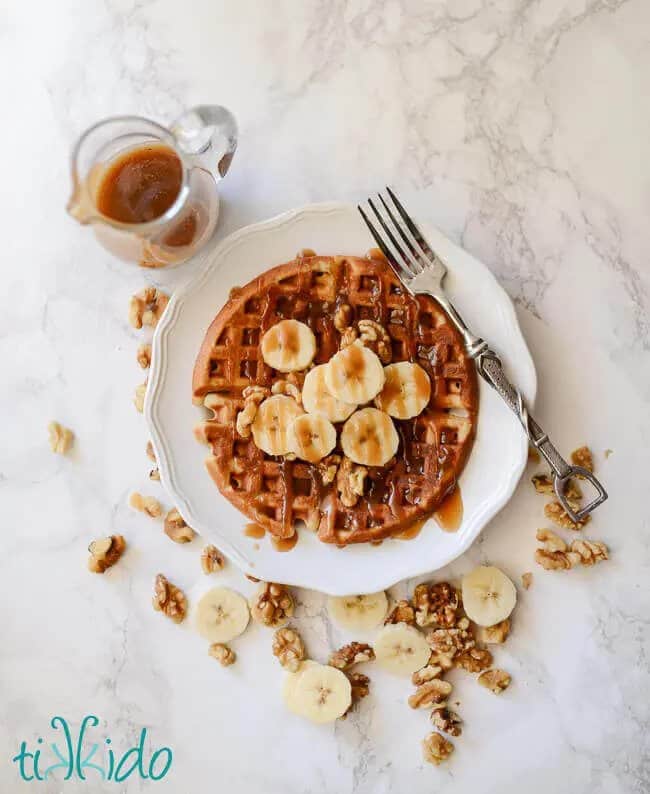 Churro Waffles – Who doesn't love a dessert-inspired breakfast?! These waffles are light and fluffy on the inside, golden and crispy on the outside, and coated in cinnamon sugar just like a churro.

Turning your waffles into churros for breakfast is not only fun but makes for the ultimate breakfast or brunch. Serve with maple syrup for breakfast, vanilla ice cream for dessert, or sweet and spicy Mexican chocolate sauce for a traditional churro snack!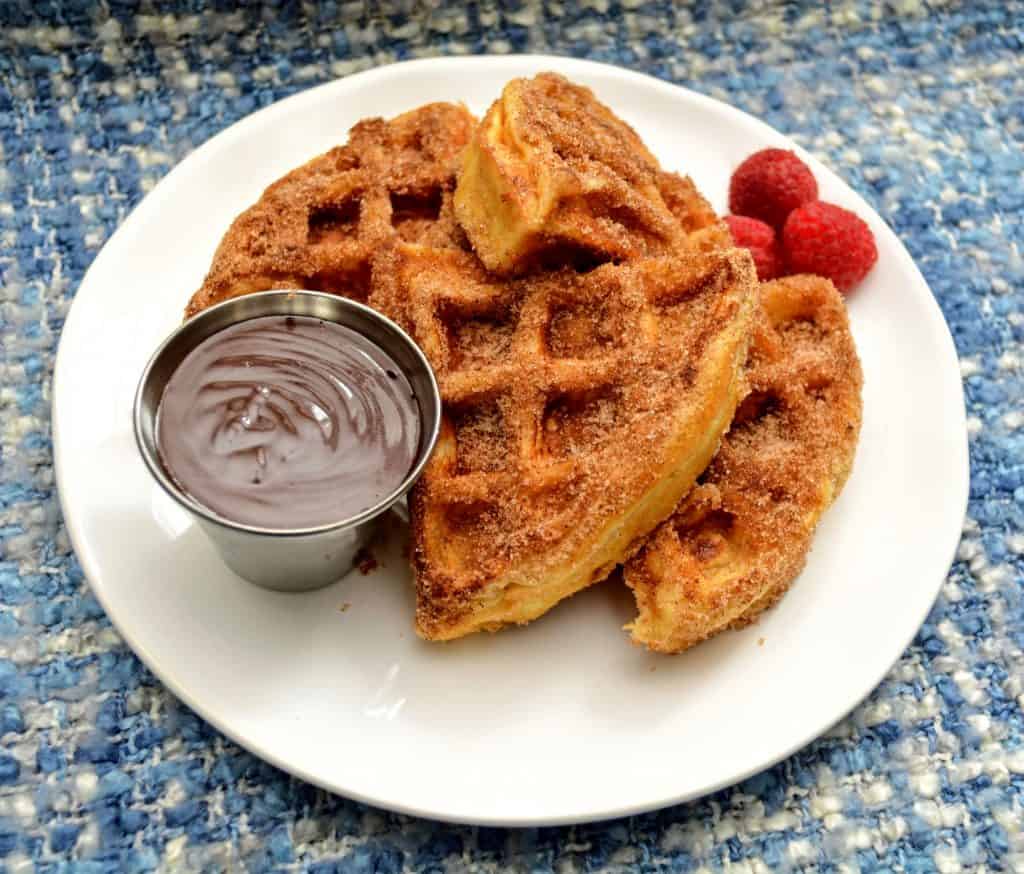 Chocolate Chip Waffles – This waffles recipe is perfect for a sweet bite in the morning. They are fluffy on the inside and crispy on the outside, just what you want in waffles!

The waffles have a classic vanilla flavor with chocolate chips for extra deliciousness. You can also use peanut butter chips if you have any.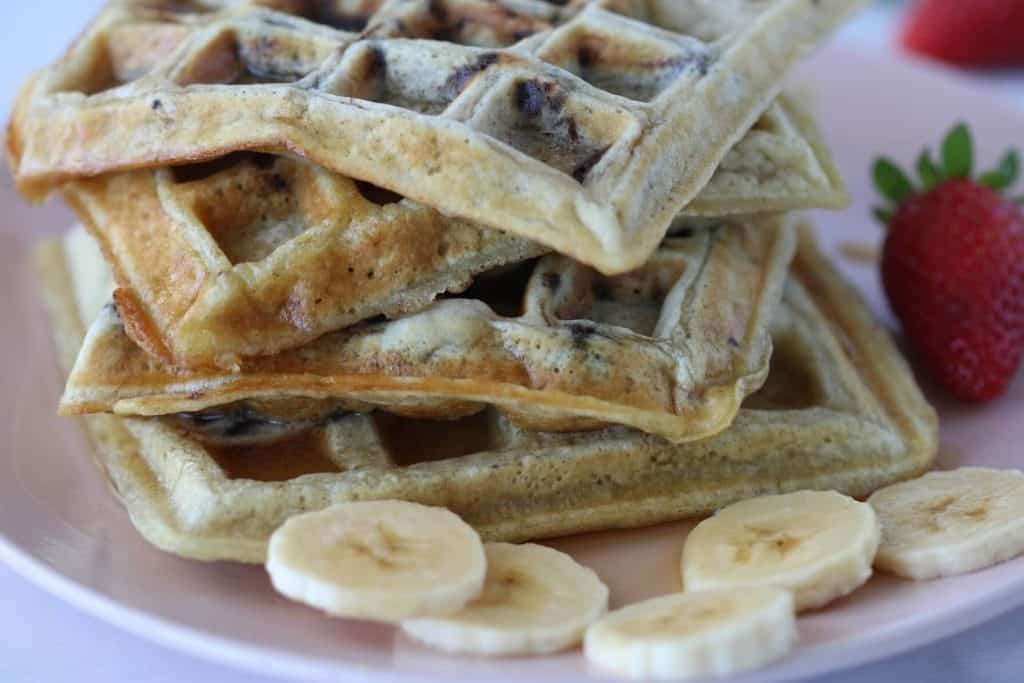 Copycat Waffle Love Liège Waffles – These Copycat Waffle Love Liège Waffles are made from rich, yeast-based brioche dough with Belgian pearl sugar kneaded into it to create a crunchy, caramelized sweetness around the individual pockets and ridges of each waffle.

Top them with Biscoff cookie butter, a big scoop of freshly whipped cream, raspberries, and sliced strawberries for an incredible dessert or a super decadent breakfast!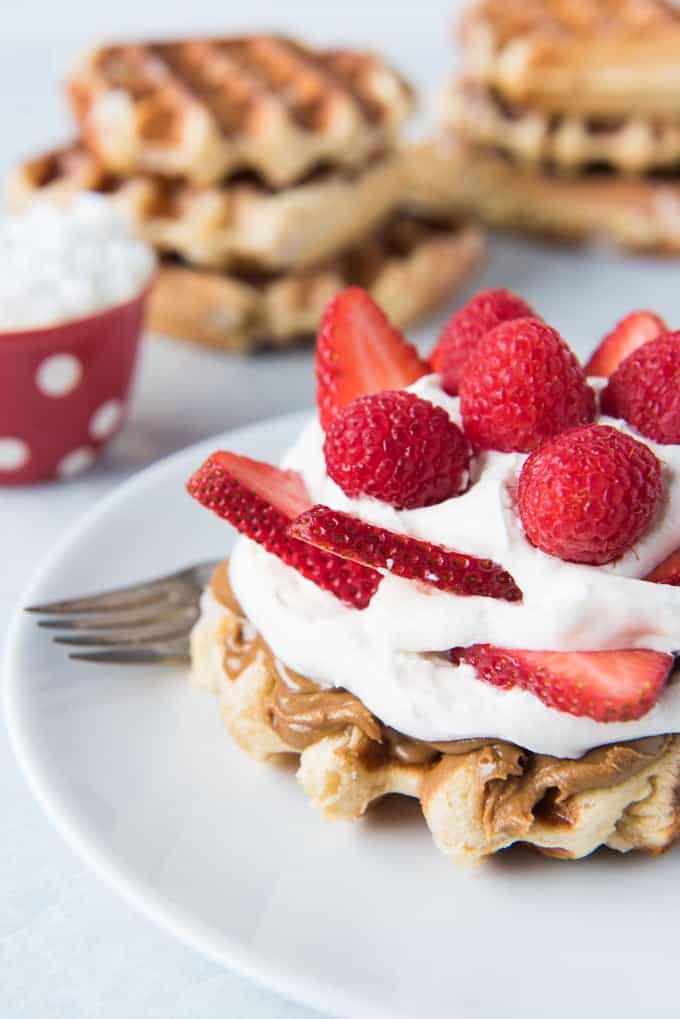 German Waffles – Calling all waffle lovers! These sweet German Waffles are perfect for a weekend breakfast, brunch, or even dessert. Made with simple ingredients and super delicious!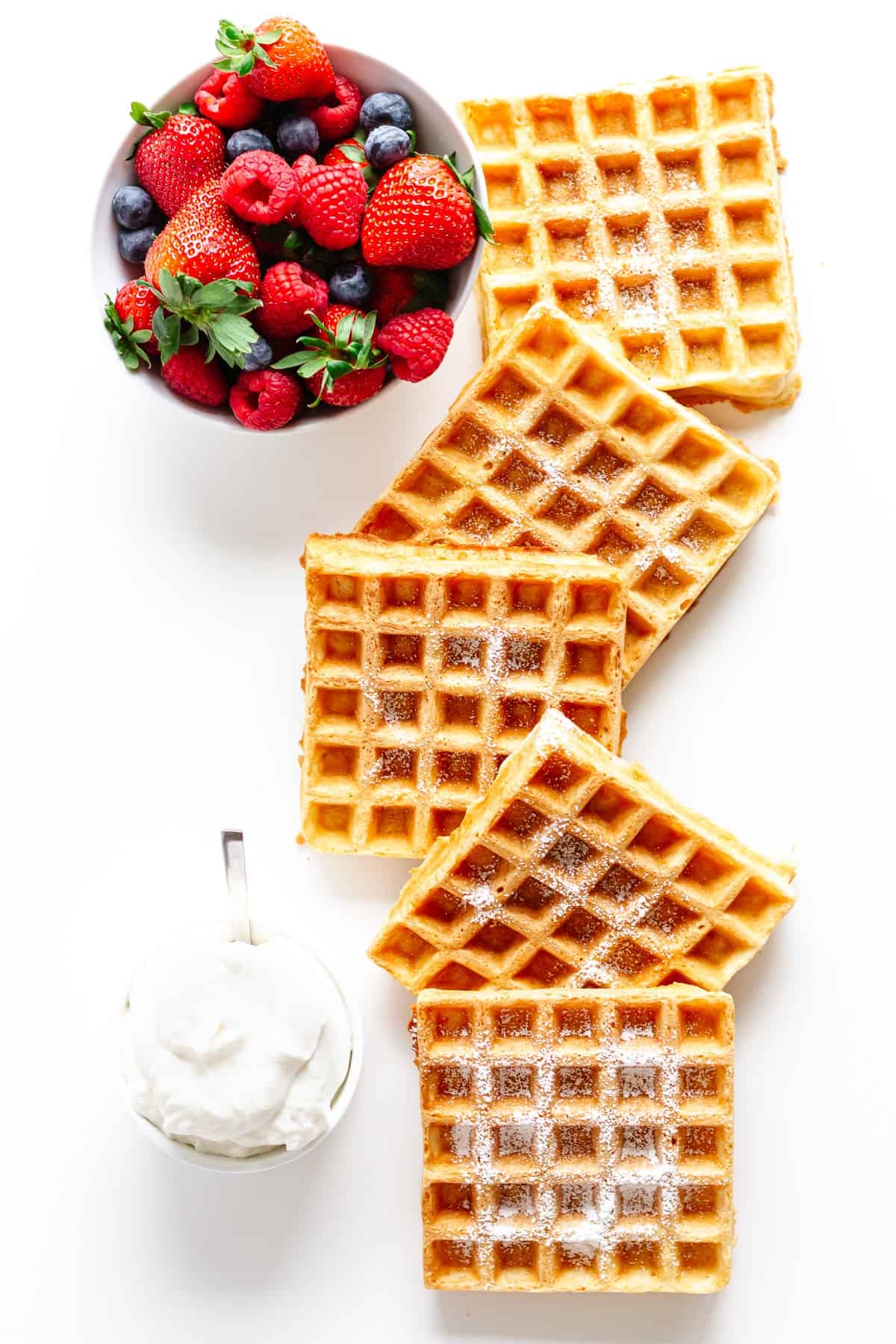 Butter Tart Waffles – You're going to LOVE this Butter Tart Waffles Recipe! With a light and fluffy raisin butter waffle smothered in a creamy, rich butter tart sauce, now you can get your butter tart fix at breakfast too!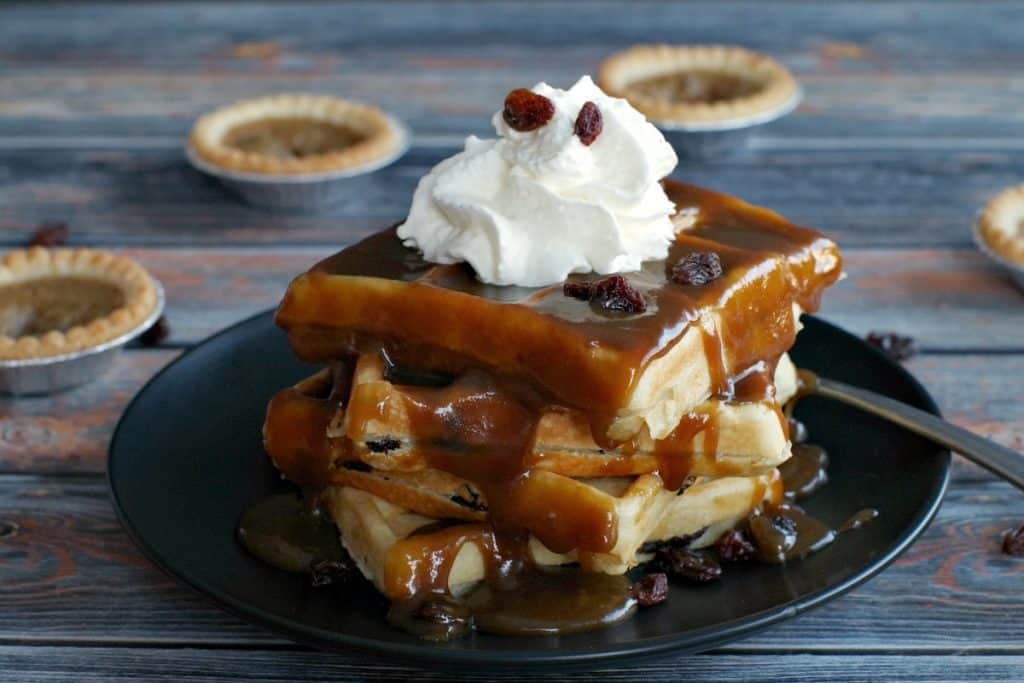 Waffles are a delicious and fun breakfast or brunch option that you can customize with different flavors and fillings. These recipes are just a few examples of the many possibilities.
Whether you prefer sweet or savory, fruity or chocolatey, waffles can always satisfy your cravings. So, try some of these recipes and let us know which one is your favorite.