Some links in this post are affiliate links. If you buy from one of our links, we may earn a commission.
Valentine's Day is so fun to celebrate when you have kids! You can give them cute gifts, enjoy eating sweets together, and make fun crafts to celebrate the holiday.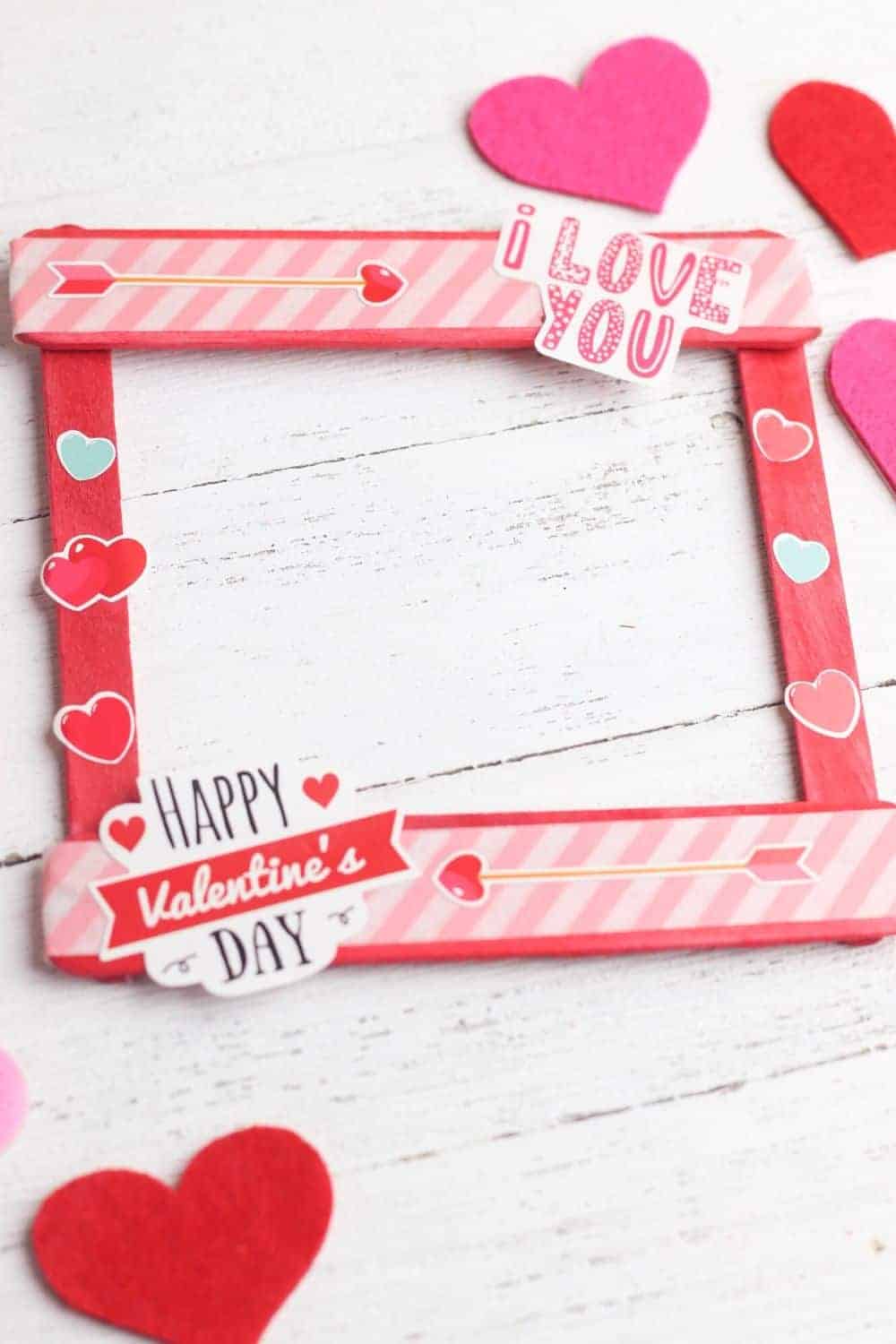 And if you're looking for a simple way to celebrate the holiday, it doesn't get much better than this adorable popsicle stick picture frame.
On top of being simple enough for kids of any age to make, you also get a cute keepsake to commemorate all the fun you had on Valentine's Day.
The beauty of this craft is that kids of any age can put it together, depending on how much help they get from you.
Making this fun Valentine's Day craft is so simple, a toddler or preschooler could do it with a little bit of assistance! But it's also great for older kids, who can put the entire craft together all on their own.
The first step to putting this cute craft together is to make the picture frame. If you have young kids making this Valentine's Day craft, it may be a good idea for you to take control of this step of the craft.
To make a popsicle stick picture frame, start by lining up two popsicle sticks to form the top of the frame and two popsicle sticks to form the bottom of the frame.
Then, attach the top and bottom together with two single sticks on each side. Place a drop of glue on each end of the popsicle sticks, then press them together to attach the sides to the top and bottom. Apply pressure to the corners of the frame as the glue dries to ensure the corners stay intact as you decorate your frame.
To ensure your frame stays together for years to come, I suggest attaching the sticks together using hot glue. That's why little kids should probably skip this step. But if you have older kids who want to construct the entire craft on their own, you can skip the hot glue and use traditional white glue instead. Just be sure your kids hold the sticks together, putting pressure on the spot where the popsicle sticks meet until the glue is dry.
This easy picture frame craft was made using red popsicle sticks. But if you can't find red sticks, why not make your own!
Simply add a step to the craft that includes painting the popsicle sticks. You could paint the sticks before you put the frame together or glue the frame together and let your little one paint the frame after it's finished.
When the frame is constructed, it's time to have some fun! Your kids can have a blast decorating their own popsicle stick frame using any kind of craft supplies you have on hand. The decorations we used on our Valentine's Day craft were perfect for young crafters because they're so simple – washi tape and stickers.
To start, we decorated the top and bottom of the frame with some pink washi tape. Then, we decorated the rest of the frame with fun Valentine's Day stickers. But don't think you have to stick to these simple craft supplies to make your own Valentine's Day frame!
There are so many other great ways your kids can decorate their frame, including:
Paint
Glitter
Markers
Sequins
Jewels
The sky is the limit when it comes to customizing your Valentine's Day picture frame!
After decorating your frame, it's time to add a cute picture.
To put a picture in your popsicle stick, cut the picture to fit the frame, then tape the picture to the back of the frame. After adding the picture, give this cute Valentine's Day craft as a gift or hang it up to display your kid's handiwork for everyone to see!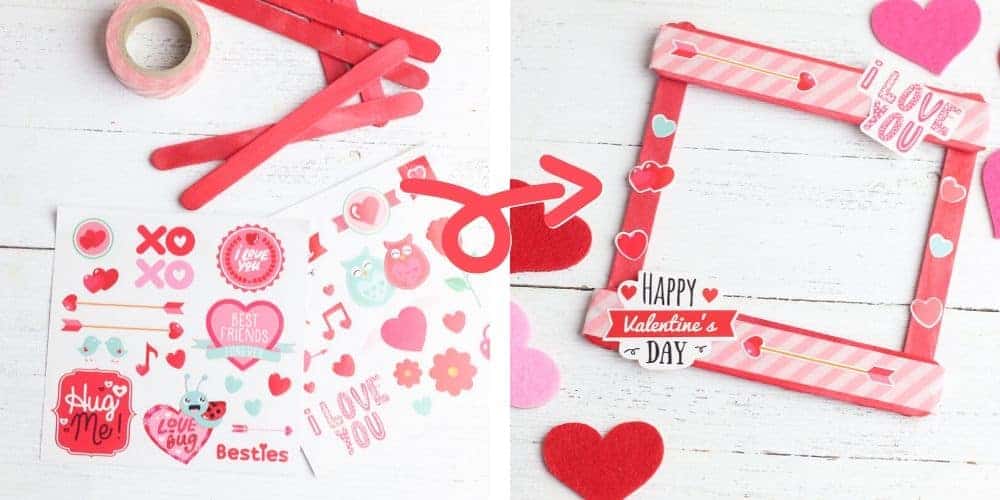 Holiday Popsicle Stick Picture Frames
While we decorated our popsicle stick picture frame for Valentine's Day, you can use this simple concept for any holiday!
Wondering how you can adapt this popsicle stick craft to other holidays throughout the year? Here are some fun ideas:
St. Patrick's Day: use green popsicle sticks to form the picture frame and decorate the frame with shamrocks
Easter: make the frame using pastel popsicle sticks, then decorate the frame with Easter egg stickers, spring flowers, chicks, or rabbits
Summertime: use brightly colored popsicle sticks to make a rainbow picture frame and decorate the frame with summer-themed decorations, like shells
Patriotic frame: form the frame with red, white, and blue popsicle sticks and add stars to the frame to make a patriotic popsicle stick picture frame
Fall frame: use natural popsicle stick popsicle sticks and decorate with pieces of nature during the fall, including fall leaves, acorns, and feathers
Christmas: make a red and green popsicle stick picture frame and decorate the frame with mini ornaments, star stickers, and tinsel
So go on… grab the kids and get crafting and make this Cute Valentine's Day Popsicle Stick Picture Frame!
I would love to hear from you!
Please let me know if you make this Popsicle Stick Valentine Picture Frame in the comments below.
More Valentine's Day Ideas:
Chocolate Covered Strawberry Truffles
70+ Romantic Nail Art Designs For Valentine's Day
More Easy Crafts:
Easy DIY Jewelry and Trinket Tray
Rustic DIY Snow Globe Ornament
15 Decorative DIY Bookends To Spruce Up Your Shelves