This simple DIY Christmas ornament is a water-free snow globe that's perfect for a farmhouse Christmas tree.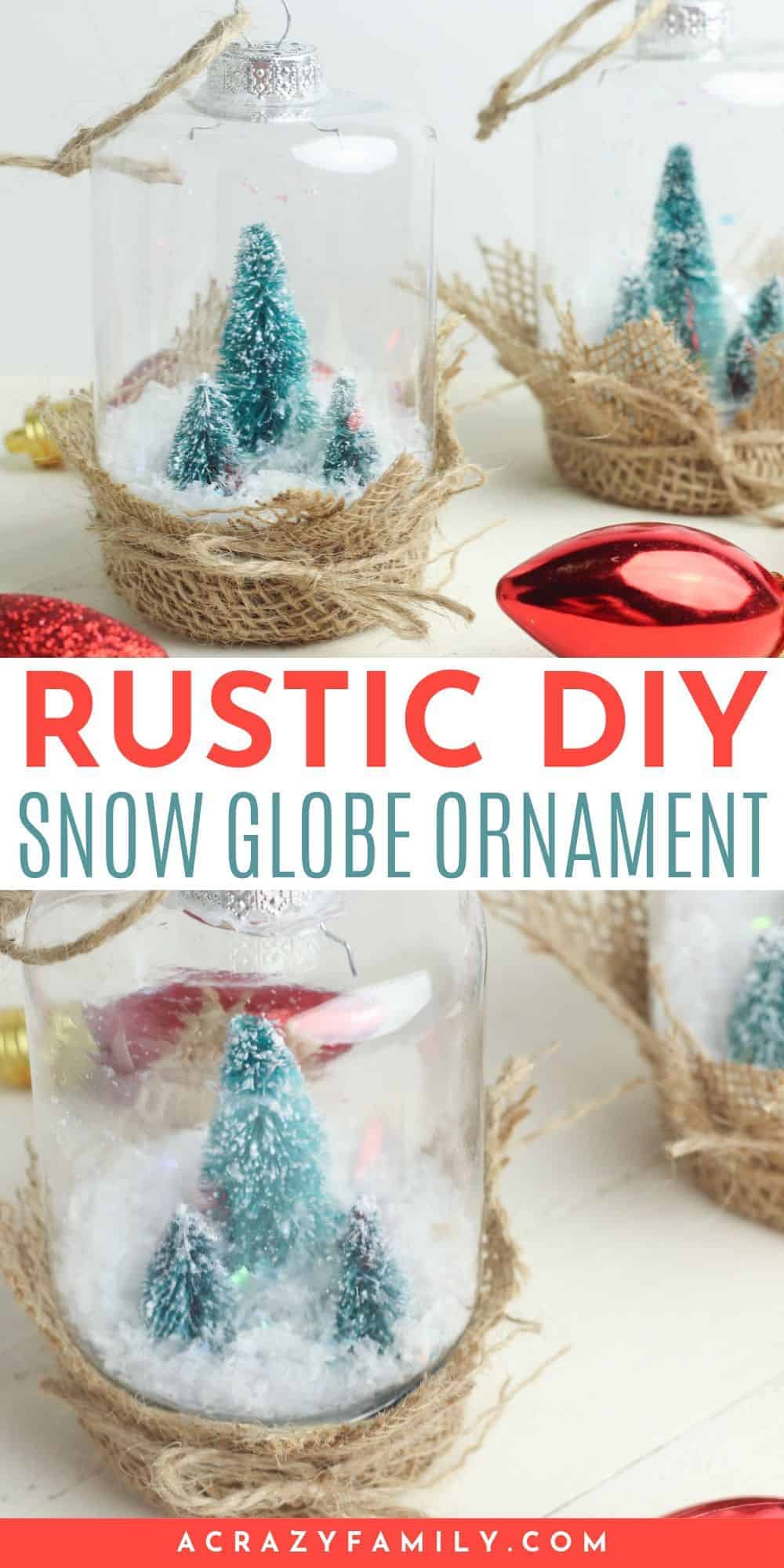 Snow globes are such a popular way to decorate for the holidays. And they look amazing hanging on your Christmas tree, too.
With this simple craft, you can quickly create your own water-free snow globe ornaments to decorate your tree. And since these farmhouse style show globe ornaments don't have liquid inside, you can hang them from year to year without worrying about messy leaks!
---
See Also:
---
How to Make Snow Globe Ornaments
Typically, snow globes are made with a liquid inside to help the snow look like it's floating inside the globe. But creating a snow globe ornament using liquid can be difficult and messy.
I found these cute blank snow globe ornaments at the Dollar Tree, and I knew I had to turn them into farmhouse style snow globes. But since the top on these cute ornaments isn't water-tight, there was no way I could make them into traditional snow globes.
Luckily, this easy water-free snow globe craft doesn't need liquid to look amazing. And you can still get a snowy effect when you shake it!
Plus, they're so easy to make, your kids can even get in on the fun.
Start by gathering all your supplies. To make these DIY farmhouse ornaments, you'll need:
Empty snow globe ornament (from Dollar Tree)
Cotton balls
Mini trees
Glitter snowflakes
Burlap
Jute twine
Hot glue gun
Set the Scene in Your Snow Globe Ornament
The first step to making this rustic snow globe ornament is to set the winter scene inside the ornament. To make my winter forest scene, I used a cotton ball for the snow and some mini winter trees. And to put it all together, I used my handy hot glue gun.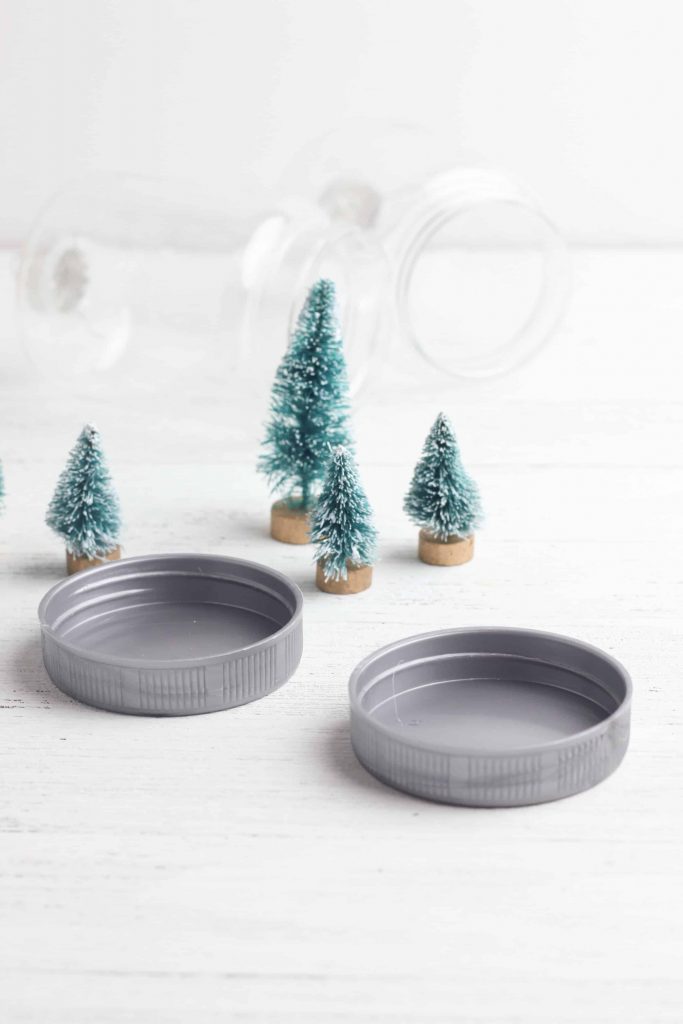 First, remove the bottom from your snow globe ornament and set the top aside. The bottom of the snow globe ornament will be the base for the winter scene inside. Start by gluing your cotton ball on the bottom of the lid to resemble a blanket of snow on the ground.
To make the cotton ball look like snow, pull the cotton ball apart a little bit to spread it out. Add a few drops of glue to the inside of the lid and spread the cotton ball all over the area. After gluing the cotton ball into place and fluff it with your fingers.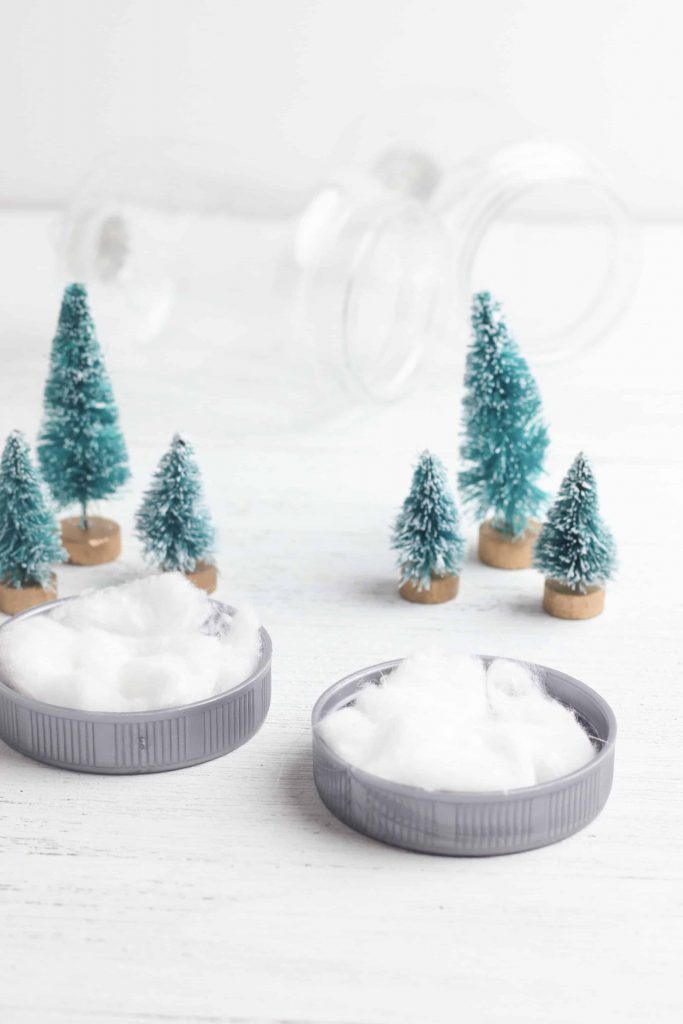 After waiting for the glue to dry on your cotton ball snow, it's time to add the trees.
To ensure your trees stand up straight, I recommend spreading the cotton ball out until you see a clear spot of the lid. Place a drop of glue on the bottom of your tree and glue it to the lid. Keep adding trees like this until your winter forest scene is finished.
Make sure your lid is completely covered with cotton ball snow by fluffing the snow one more time and covering the bare spots before moving on to the next step.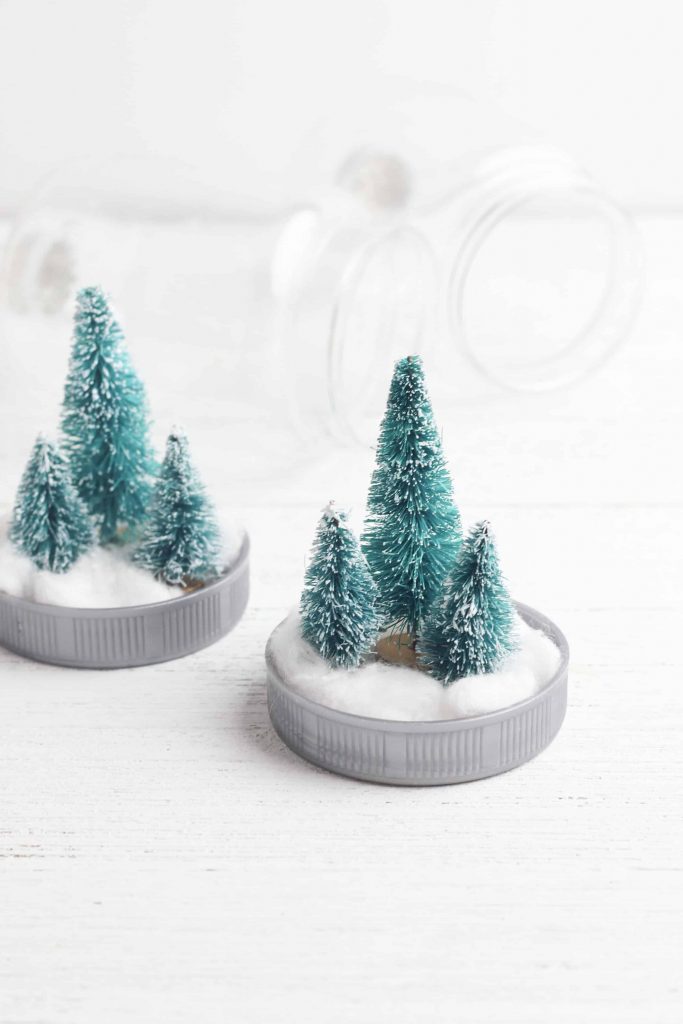 Add the Snow to Your Snow Globe Ornament
When you're happy with the look of your forest scene inside your snow globe, it's time to add the snow! Give the glue time to dry on your winter scene by setting it aside for a few minutes.
Take a second to make sure the top hanger on your ornament is secure, then spoon a small amount of glittery snow inside the globe. My snow globe ornaments have around three scoops of snow inside but add more or less to suit your needs.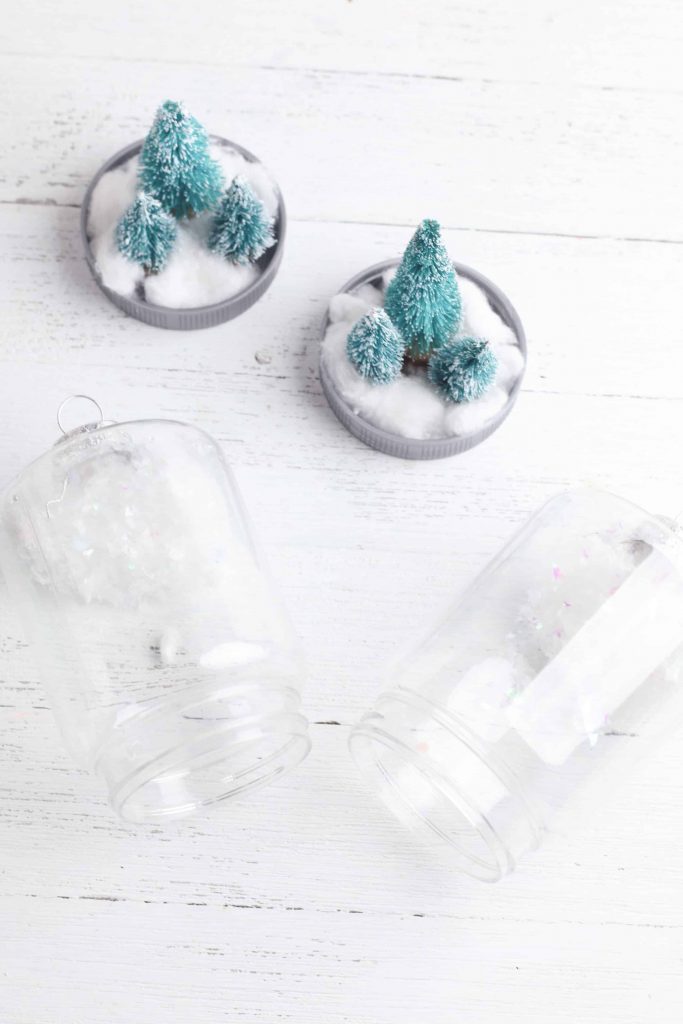 Double-check to make sure the glue is dry on your winter forest scene inside your snow globe lid. Then, carefully screw the lid into place on your snow globe.
Give the globe a quick shake to stir the snow.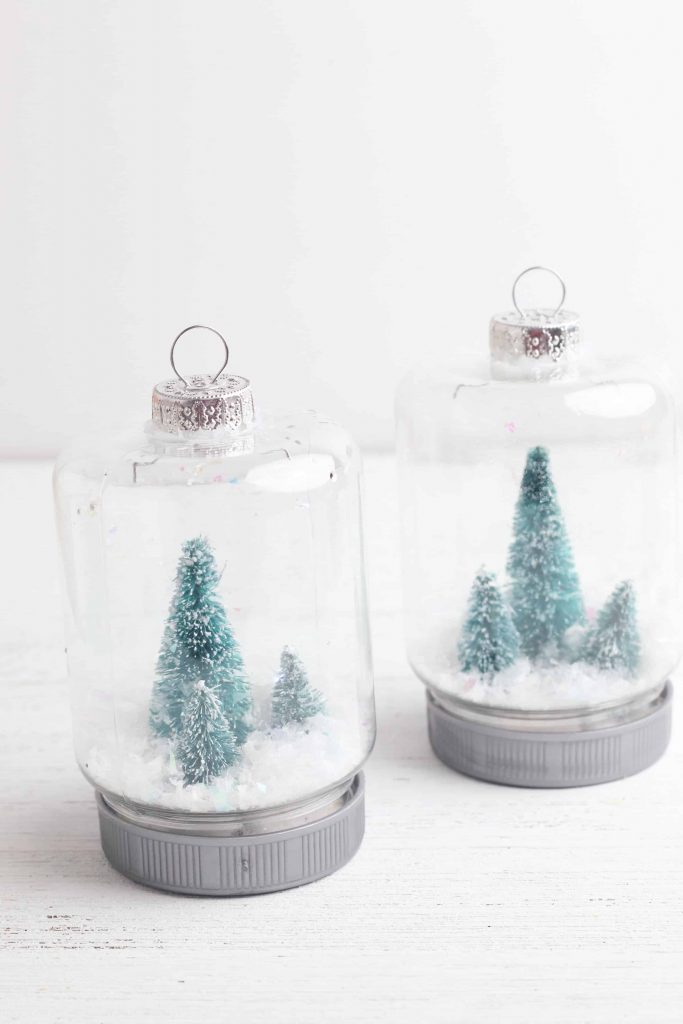 Decorate Your Snow Globe
While you could finish your snow globe craft here, if you want a more rustic look to your ornament then keep reading!
To add a rustic touch to your snow globe ornament, add a little bit of burlap and twine. Start by gluing burlap to the bottom of the snow globe to cover the plastic lid on the bottom and add a rustic touch to the snow globe.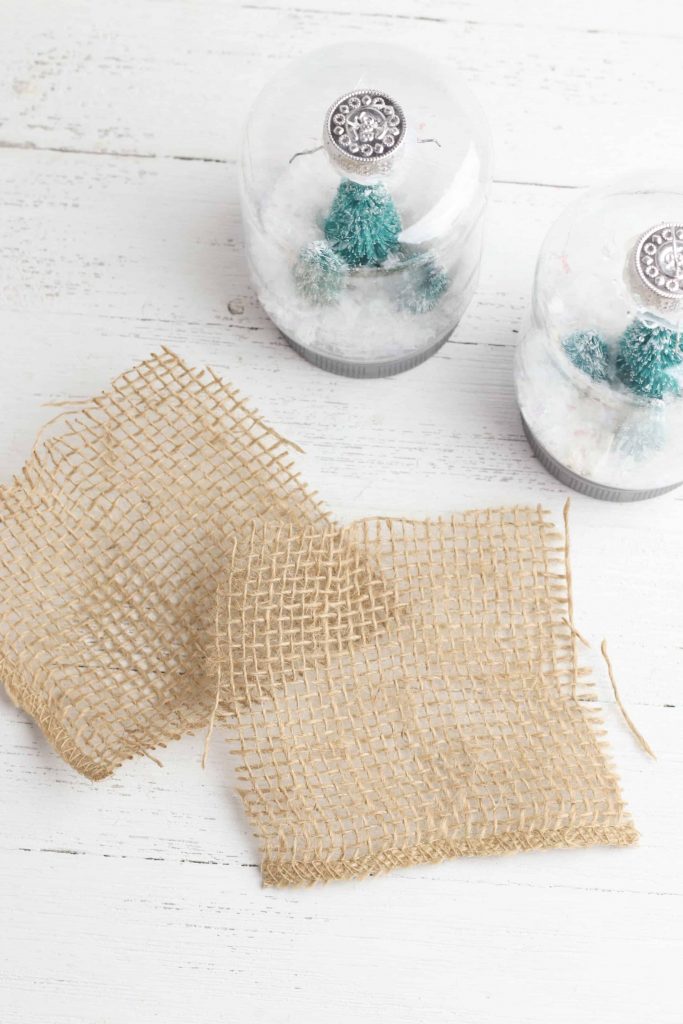 Cut two small squares of burlap to cover the bottom lid of each ornament. Stagger the burlap pieces, then attach them to the bottom of the ornament with glue. Add some hot glue to the bottom of the ornament and secure the burlap in place there, then add a small amount of glue to the sides and secure the burlap there, too.
Finally, add a bow of twine around the burlap pieces to finish the decoration and secure the burlap in place.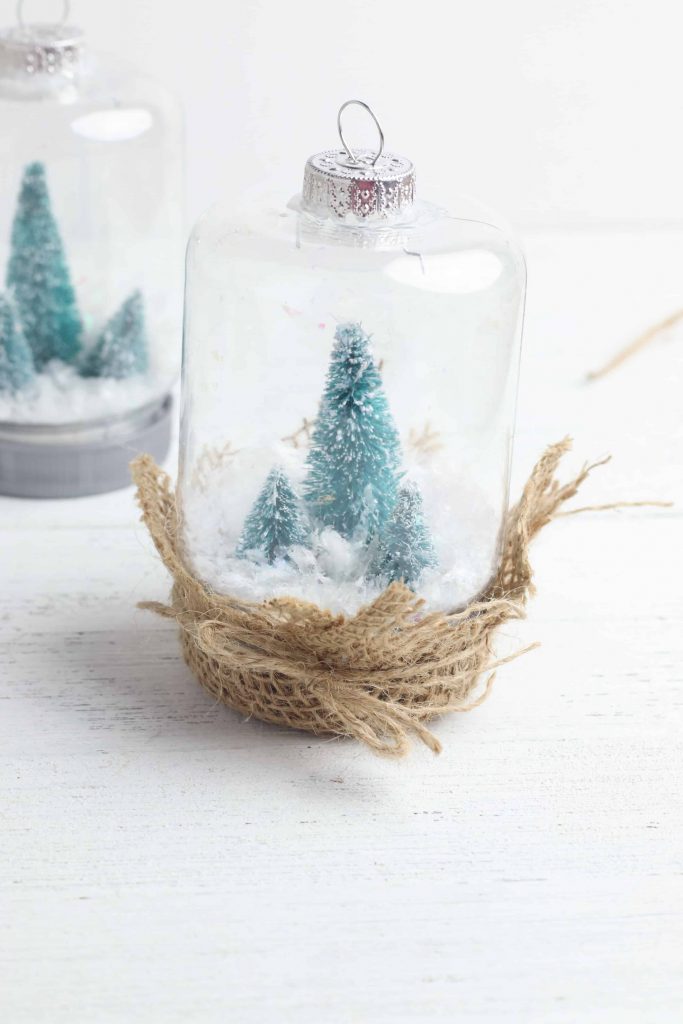 Finish decorating your snow globe ornaments by cutting off the silver string from the top of your snow globe ornament and tying a small loop of jute twine to the top of the ornament to give it a farmhouse look.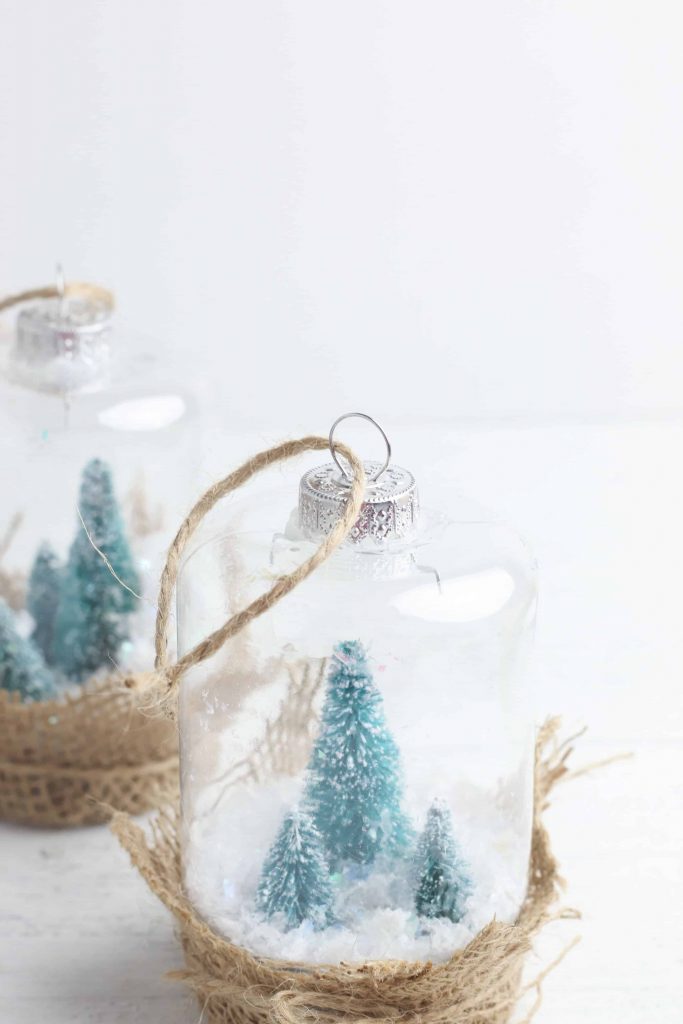 I love how the glittery snow rests around the base of the trees inside this cute snow globe ornament. But when you want to see some snowfall around your forest trees, simply give the ornament a shake!
A DIY Christmas Craft That Kids Can Make.
This simple DIY Christmas ornament is so easy to do, your kids could definitely put it together! However, since this craft uses hot glue, I suggest that you provide supervision while your kids are making the craft.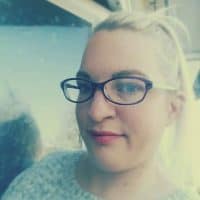 Vickie Louise is the Founder and Editor-in-Chief of A Crazy Family. She is a stay at home mom of a little boy with a big personality. After having her son, she realized how important it is for moms to take care of themselves, physically and mentally. Vickie believes in the power of using social media and her online presence for good and is thrilled to provide you with a space to celebrate all that is awesome (and a little crazy) in the world.