Gluten-Free Gingerbread Pancakes
This post and its photos may contain affiliate links. As an Amazon associate, I earn from qualifying purchases.
Finding a delicious gluten-free breakfast to enjoy during the holidays can sometimes be difficult – especially if you're looking for a sweet treat to eat in the morning.
Pancakes are a great sweet breakfast option, but traditional pancakes are out of the question when you're gluten-free! Luckily, these easy gingerbread pancakes are delicious and simple to make.
On top of being completely gluten-free, they're also packed with Christmas flavor.
If you enjoy this delicious recipe, then you are sure to love our incredibly easy pumpkin oat pancakes and blueberry muffin mix pancakes. Just a couple of our favorite pancake recipes that are super easy to put together and perfect for breakfast or brunch.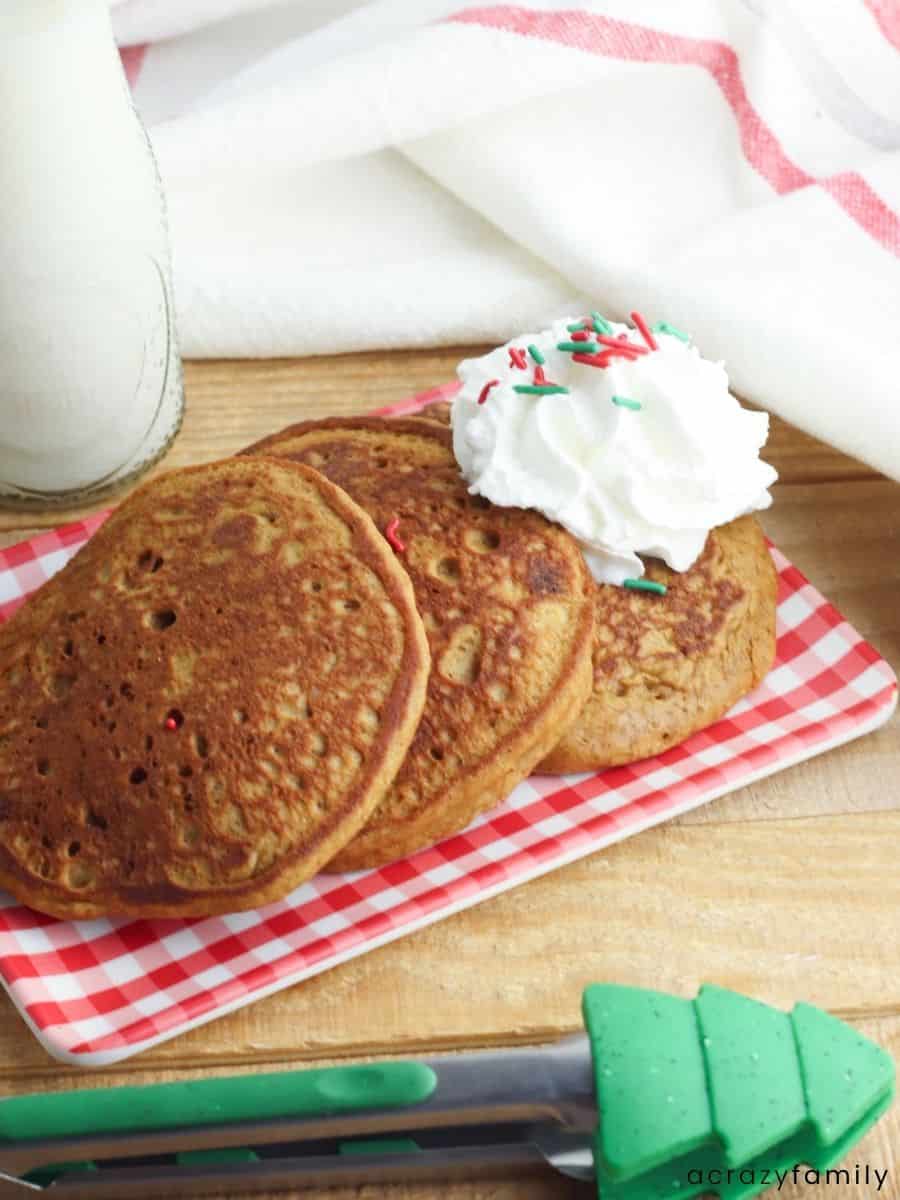 Ingredients for Gluten Free Gingerbread Pancakes
Making this simple recipe for gluten-free gingerbread pancakes is so easy. And if you have the ingredients for gingerbread cookies, then you already have everything you need to make them! To whip up these delicious pancakes, you'll need:
Gluten free baking flour: Using a cup-for-cup gluten free baking flour will ensure you come out with nice, fluffy gluten free pancakes.
Sugar: Add some sweetness to your pancakes with the help of a small amount of sugar.
Baking powder and baking soda: Using baking powder and baking soda in your gluten free pancakes will help the pancakes rise as they cook, ensuring they're thick and fluffy.
Salt: Enhance the flavors of your pancakes and help them rise with a little bit of salt.
Gingerbread spices: To add to the gingerbread flavor of these pancakes, the recipe calls for a handful of gingerbread spices, including ginger, cinnamon, nutmeg, and cloves.
Molasses: Another classic component of gingerbread cookies is molasses. In addition to adding to the flavor of your pancakes, molasses also gives the pancakes a sweeter flavor.
Milk: Thin the batter for your pancakes with the help of milk.
Eggs: Fill out the batter for your gingerbread pancakes with the addition of some eggs.
Melted butter: Using melted butter in your pancakes gives them a richer flavor.
How to Make Gingerbread Pancakes
Making these pancakes is so easy! In fact, you can make this simple Christmas breakfast in just four steps: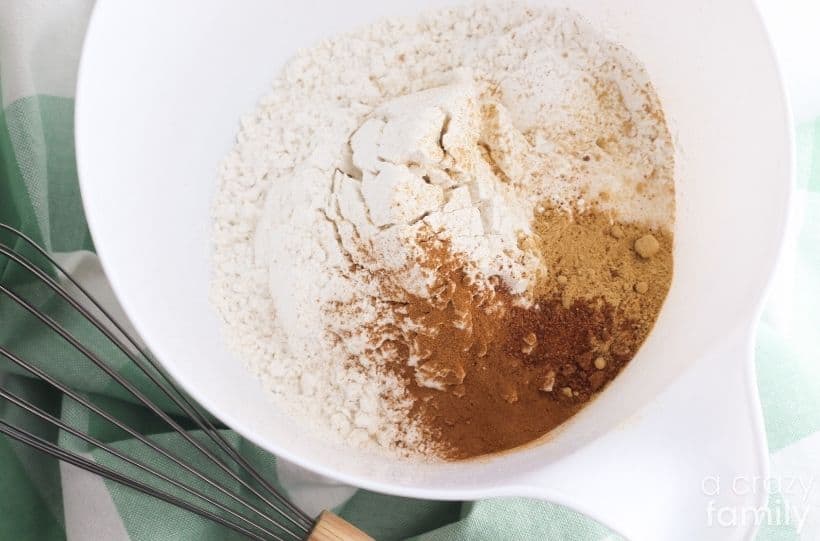 Mix your dry ingredients. Combine all the dry ingredients, including flour, sugar, baking powder, baking soda, salt, ginger, cinnamon, nutmeg, and cloves in a medium bowl. Whisk all the ingredients together until they're well combined, then set the bowl aside.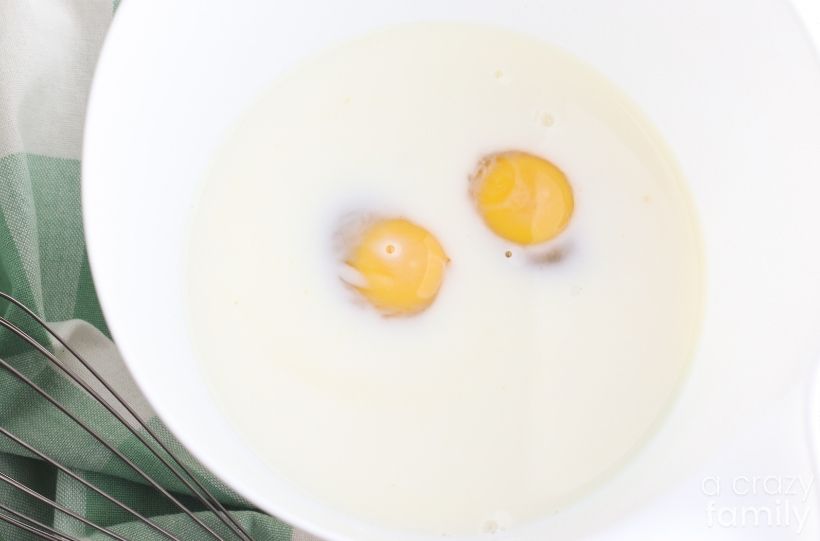 Mix your wet ingredients. Next, beat together all the wet ingredients. Add the milk, eggs, melted butter, and molasses to a separate bowl. Use a whisk or hand mixer to beat all the wet ingredients together until they're well combined.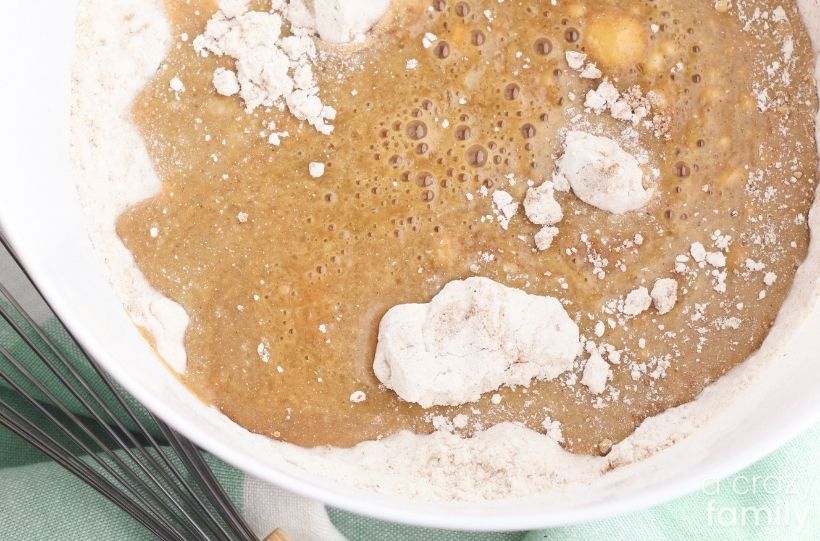 Combine the wet and dry ingredients. Add the flour mixture to the milk mixture and stir to combine. Make sure not to overmix your gingerbread pancakes. It's fine to have a few lumps in your batter before you start cooking.
Cook your pancakes. Preheat a griddle or skillet and grease the pan with nonstick cooking spray.
Use ¼ cup to scoop the batter onto the hot griddle for medium pancakes. For larger pancakes, use 1/3 cup to scoop the batter.
Allow the pancakes to cook on the hot pan until bubbles begin to form, usually between four and five minutes. Then, flip the pancakes over and cook the other side for around two minutes.
Continue cooking the batter until all the pancake batter has been used.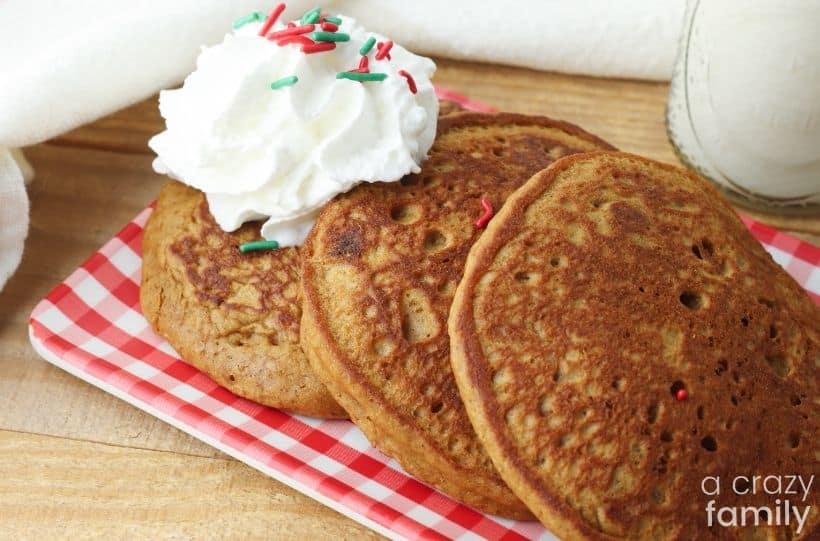 How to Serve Gingerbread Pancakes
Now that you have your pancakes cooked, it's time to enjoy them! Luckily, there are so many delicious ways to serve your gingerbread pancakes.
These fun ideas will help you find the best way for your family to eat these yummy gluten-free pancakes:
Topped with butter and maple syrup. Serving these gingerbread pancakes with traditional toppings like butter and maple syrup is a great idea. The maple syrup enhances the gingerbread flavors, making them a delicious pairing for Christmas morning.
With whipped cream on top. Adding a dollop of whipped cream to the top of your gingerbread pancakes is another fun way to enjoy this sweet breakfast. Whipped cream is always a great option for pancake toppings for kids.
Decorated with sprinkles. Add some holiday cheer to the top of your pancakes by decorating your pancakes with some sprinkles. You can sprinkle colorful sprinkles on the top of your whipped cream or syrup to add holiday flair to your Christmas breakfast.
Drizzled with chocolate syrup. Chocolate and gingerbread is another delicious combination, which means adding a drizzle of chocolate syrup to your pancakes is fun way to enjoy this holiday breakfast. And chocolate syrup can be combined with whipped cream and sprinkles to make this Christmas treat even more festive.
Topped with gingerbread cookies. Decorate your pancakes with a cute gluten free gingerbread cookie to add to the fun of the holiday meal. Use your homemade gluten free gingerbread cookies for Santa as an adorable topping for a Christmas morning breakfast.
Topped with powdered sugar snow. Create a winter look on the top of your pancakes by sprinkling some powdered sugar over the top. Use a sifter to create a fine layer of powdered sugar over your pancakes to make it look like the pancakes are topped with freshly fallen snow.
This is a fun, yet easy, option for a holiday breakfast or brunch. You can even enjoy them extra festive with sprinkles or powdered sugar snow!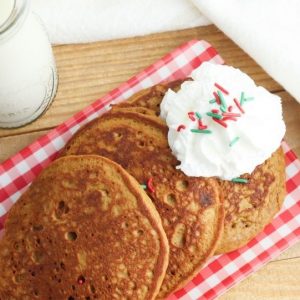 Gluten Free Gingerbread Pancakes
Ingredients
2

cups

gluten free baking flour

2

tablespoons

sugar

1

tablespoon

baking powder

½

teaspoon

baking soda

2

teaspoons

ground ginger

1

teaspoon

cinnamon

½

teaspoon

salt

¼

teaspoon

nutmeg

¼

teaspoon

ground cloves

1 ¼

cup

milk

2

eggs

1/3

cup

molasses

¼

cup

butter

melted and cooled slightly
Instructions
Preheat griddle or skillet over medium-high heat.

In a medium bowl, whisk together the flour, sugar, baking powder, baking soda, ginger, cinnamon, salt, nutmeg, and cloves. Set aside

In a separate bowl, beat the milk, eggs, molasses, and butter until well combined.

Add the dry ingredients and stir until just mixed.

Spray the griddle or skillet with nonstick cooking spray and use a ¼ cup measuring cup to scoop the batter onto the pan.

Cook until the pancakes begin to bubble, then flip and cook the other side. Continue cooking until all the batter has been used.

Nutrition
Calories:
160
kcal
|
Carbohydrates:
31
g
|
Protein:
5
g
|
Fat:
3
g
|
Trans Fat:
1
g
|
Fiber:
3
g
|
Sugar:
14
g
|
Vitamin A:
108
IU
|
Vitamin C:
1
mg
Nutrition information is automatically calculated, is intended to serve as an estimate only, and is provided for informational purposes. The accuracy of nutritional information is not guaranteed.
Did you make this recipe? Click stars to rate now! Or leave a comment below.
Pin it for later!