Oven-baked fudgy chocolate donuts with peanut butter frosting is a must make to kickstart your morning. A rich and flavorful chocolate donut that is then frosted with a homemade creamy peanut butter frosting. Kids and adults will love this easy chocolate donut recipe!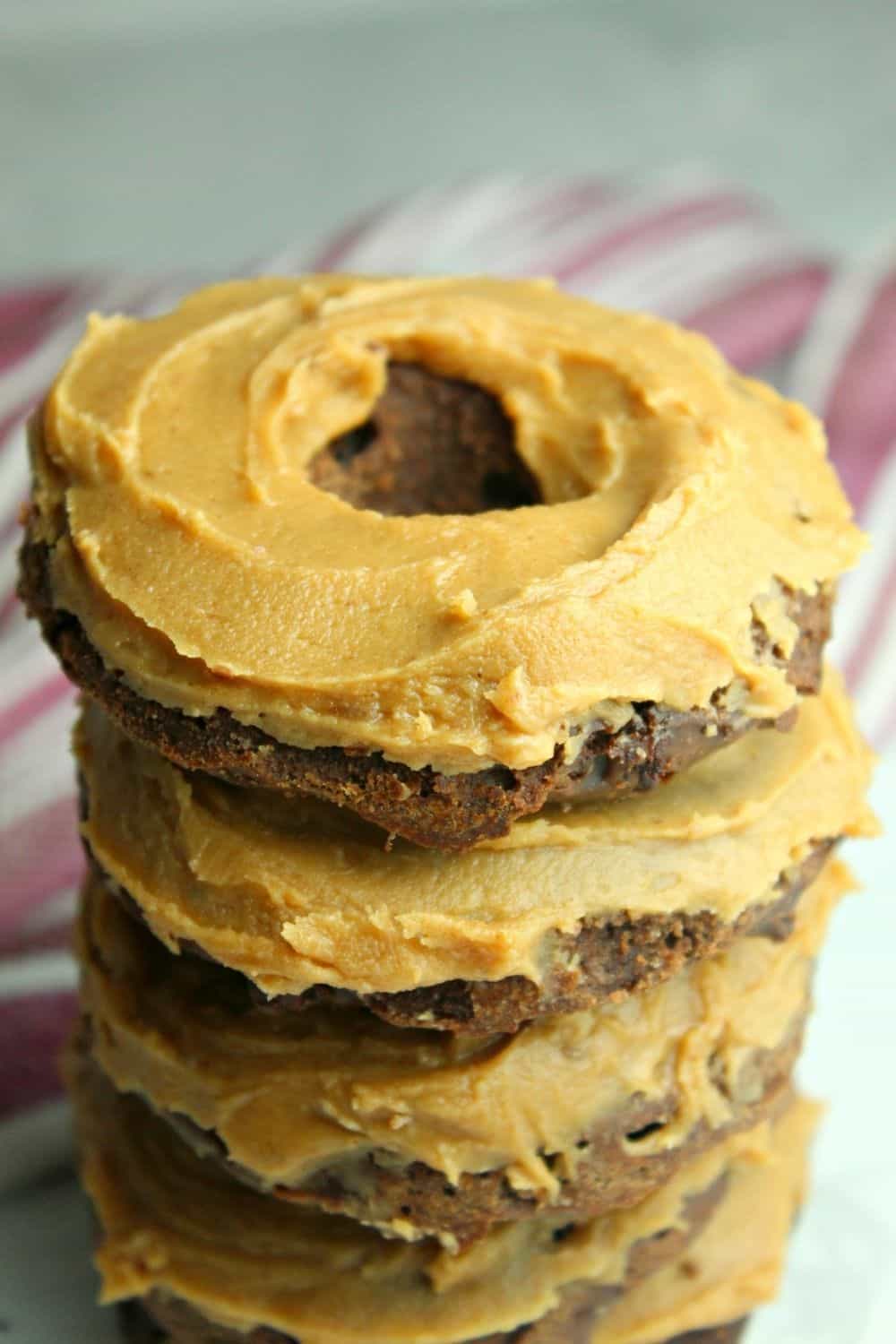 Whip up these cinnamon sugar scones, gluten-free chocolate donuts, or even these Belgian waffles. These are all great breakfast recipes to try out as well.
Chocolate Donuts with Peanut Butter Frosting
Have you tried making baked donuts? It is a great way to get homemade donuts that taste similar to your favorite donut shop. This peanut butter frosting is incredible.
Tips For Getting Donut Dough in Donut Pan
You can use a sealable bag or a piping bag. I find that pouring the donut batter into a sealable bag is a great hack. Then push the mixture to one end, and cut the tip-off. Then you can use that to squeeze "pipe" into the donut pan.
I also find putting the bag into a cup and then fold the edges over the cup is a great way to get the batter into the cup easily, so it pours into the bag.
This saves you from having to buy a piping bag, or try spooning it in.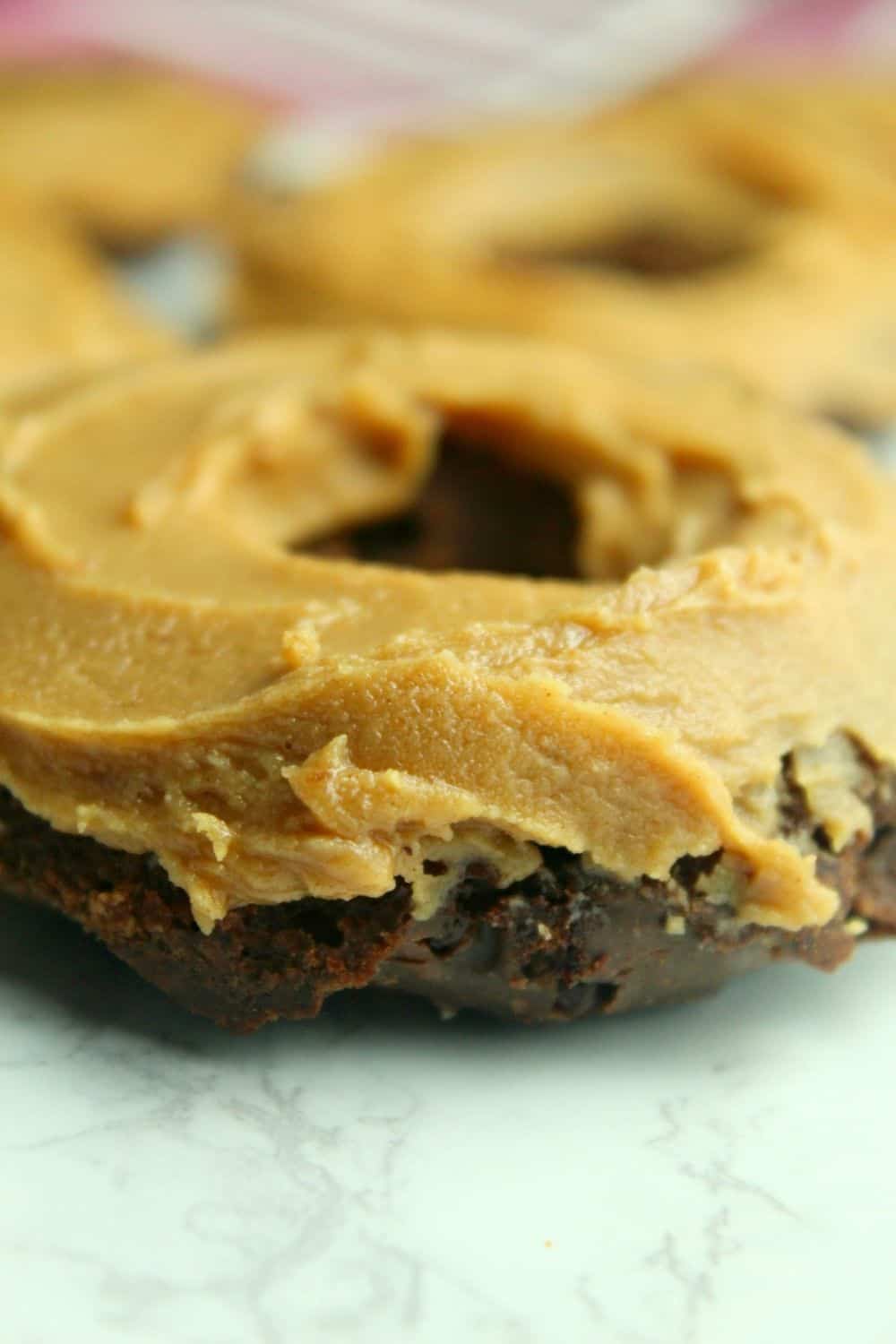 Can I Skip The Peanut Butter Frosting
If you want a classic chocolate donut, you are more than welcome to skip the peanut butter frosting. You can even dip in a classic glaze, dust with powdered sugar, or eat them plain. No matter how you choose to serve up this donut is going to be delicious.
How to Know When Donuts Are Done
Just like other baked goods, you will find these donuts will firm up like a cake-like texture. You can take a toothpick and stick it in the center of the donut. If the toothpick comes out clean with no wet batter your donuts are done. Then you can remove them from the oven and place them on a cooling rack.
Does This Recipe Double Well
Go right ahead and double this recipe if you are looking for extra donuts to serve up a crowd or meal prep with. Just batch cook your donuts. I can fit two donut pans in the oven at once!
Tips For Freezing Donuts
These fudgy chocolate donuts freeze really well. Just allow them to fully cool and then place in a freezer-friendly container. I would recommend using wax paper in between layers if you decide to stack your donuts. Otherwise, you might find they will freeze together.
These peanut butter frosted donuts are great for freezing for easy grab-and-go breakfasts, or even a dessert to break up the day. They are just sweet enough it is a treat anytime you sink your teeth into these donuts.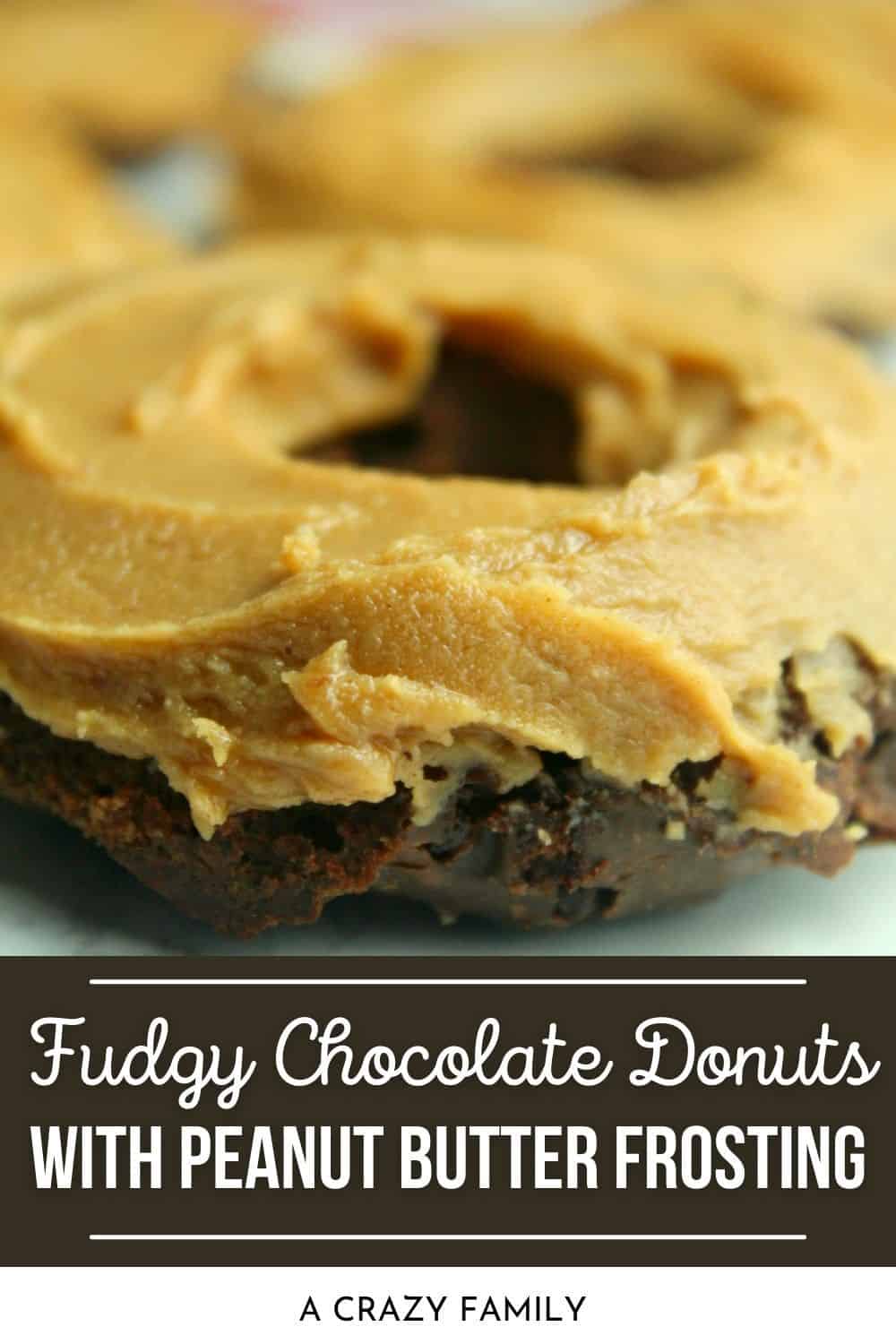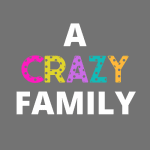 A Crazy Family strives to be the go-to destination for modern, savvy moms. Our aim is to share great tips, good food, recommendations, and helpful info for smart, busy moms just like you!