25+ Delicious Chocolate Chip Cookies
All the best chocolate chip cookie recipes that you can make at home! Whether you are looking for paleo, vegan, keto, or gluten-free choc chip cookies, There's something for everyone!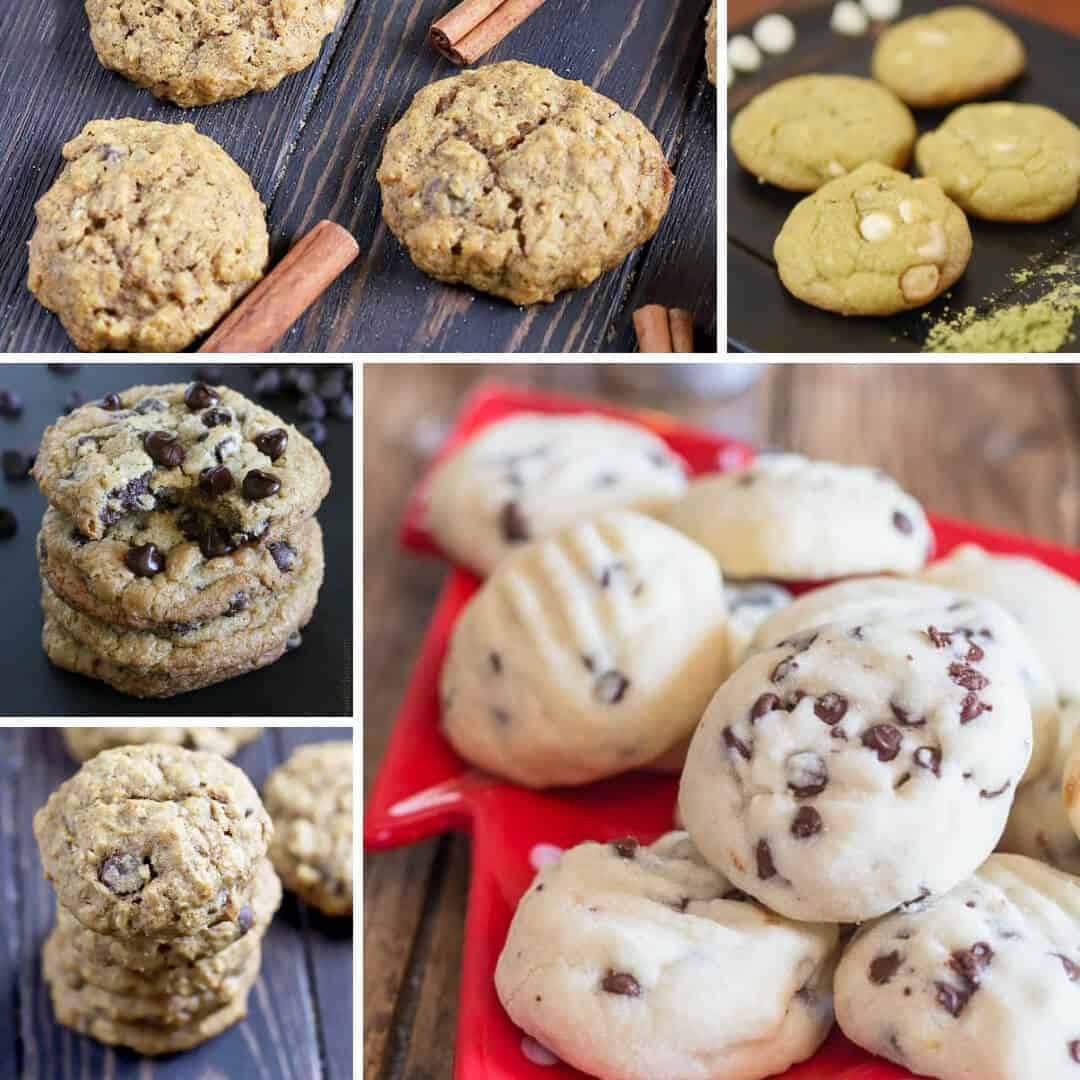 Delicious Choc Chip Cookie Recipes
Who knew there were so many types of chocolate chip cookies? We found recipes with peanut butter, pumpkin, chewy, crispy, stuffed, there are so many to choose from!

Not only are they delicious, but these recipes will also become a go-to when you need a sweet treat.
Why You'll Love Chocolate Chip cookies
Everyone loves a classic chocolate chip cookie.
So many delicious recipes to choose from.
Perfect as a snack or as a treat crumbled over ice cream.
Recommended Tools
What's the Best Way to Store Homemade Cookies?
Allow your cookies to cool completely before transferring them to an airtight container. Store your homemade cookies at room temperature for up to 4 days.
Now if you are ready to see all the delicious choc chip cookie recipes. Check out this collection!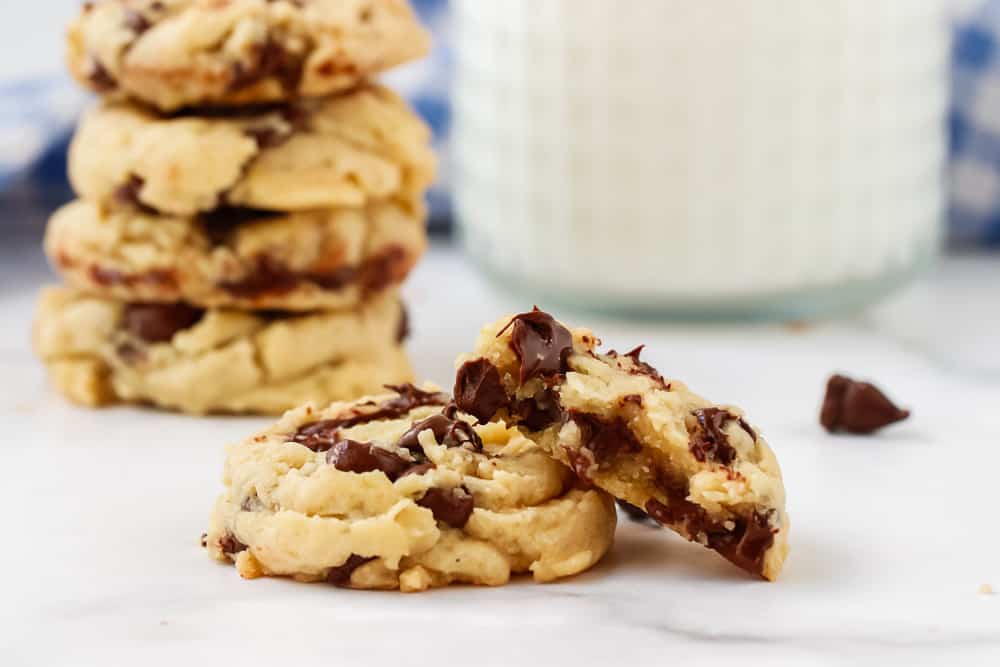 The Best Ever Chocolate Chip Cookies – Soft, chewy, and packed full of chocolate chips in every bite, this easy recipe uses simple ingredients and steps to create a delicious treat that's sure to impress.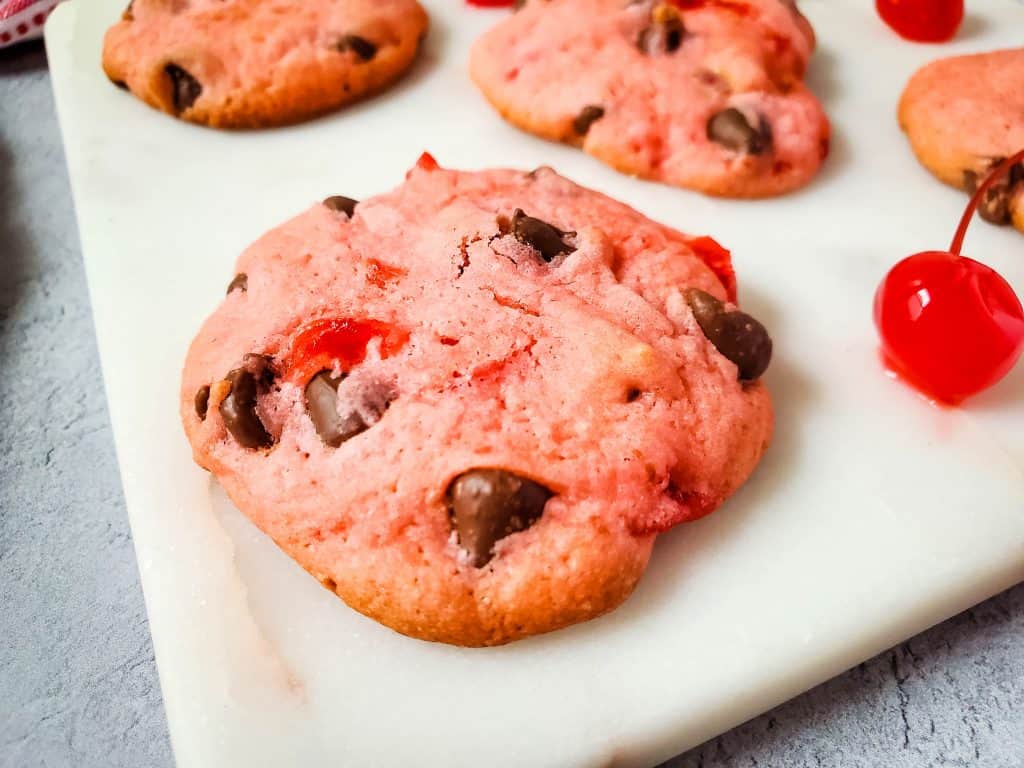 Cherry Chip Cake Mix Cookies – This delicate cake mix cookie is loaded with chocolate chips and maraschino cherries for a perfect flavor combination. These pretty pink cookies are the perfect treat for Valentine's Day, baby showers, or just because!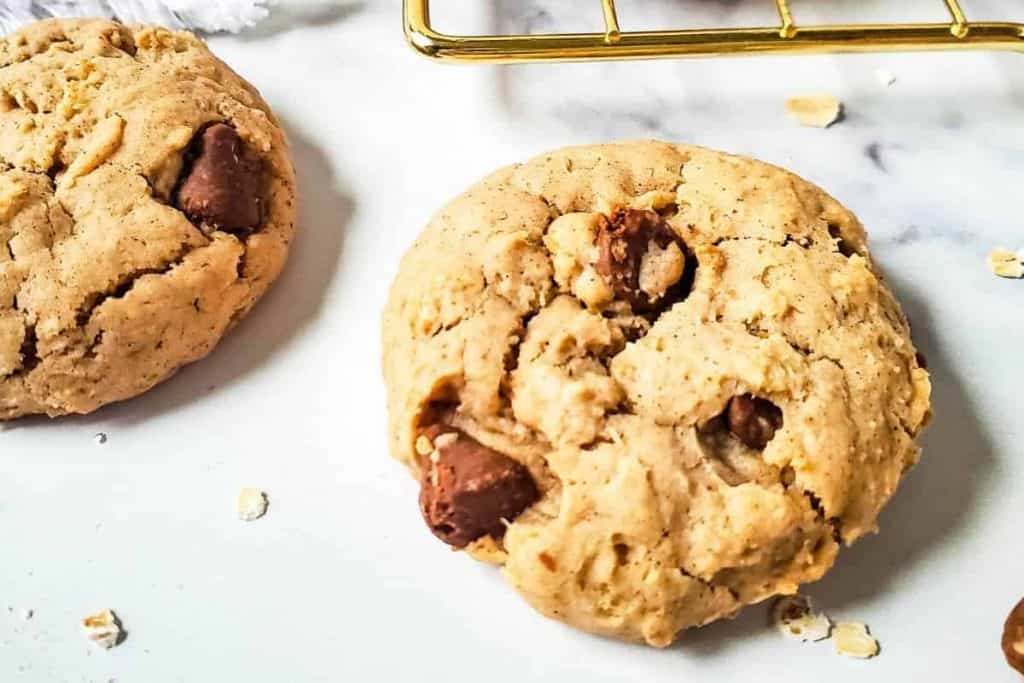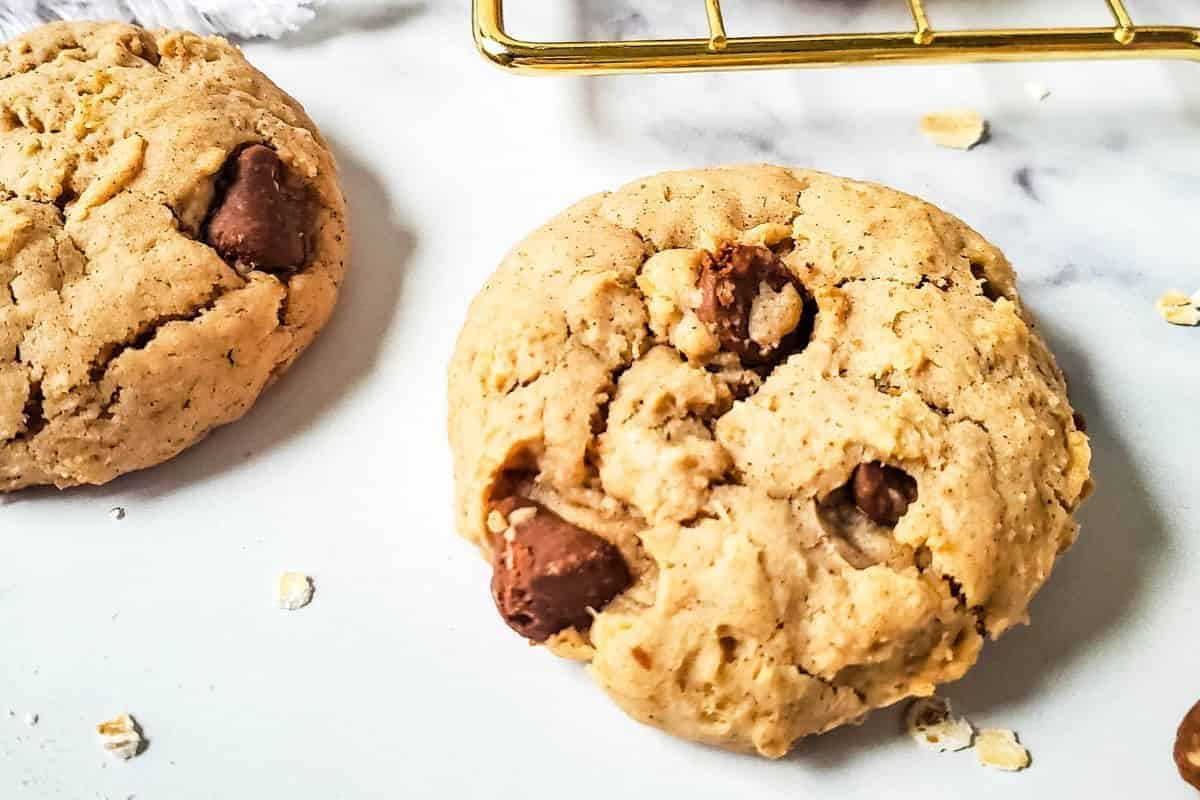 Chocolate Oatmeal Cake Mix Cookies – Loaded with flavor yet easy as can be to make! Grab a spice cake mix, toss in some other ingredients, and add some oatmeal and chocolate chips. You're going to be amazed at how simple and delicious this cookie recipe is!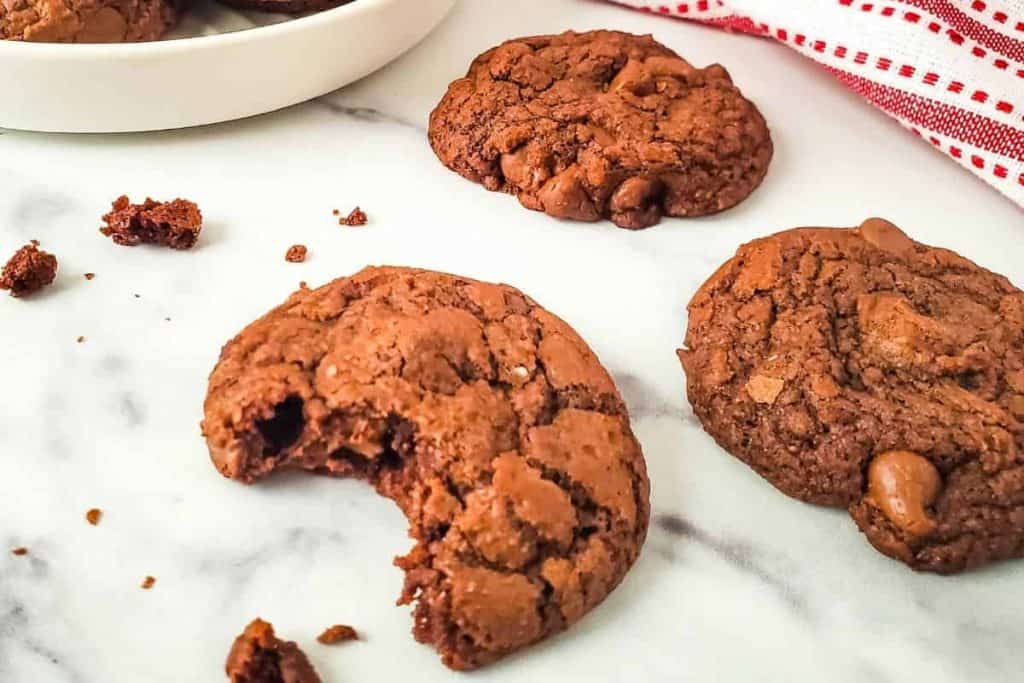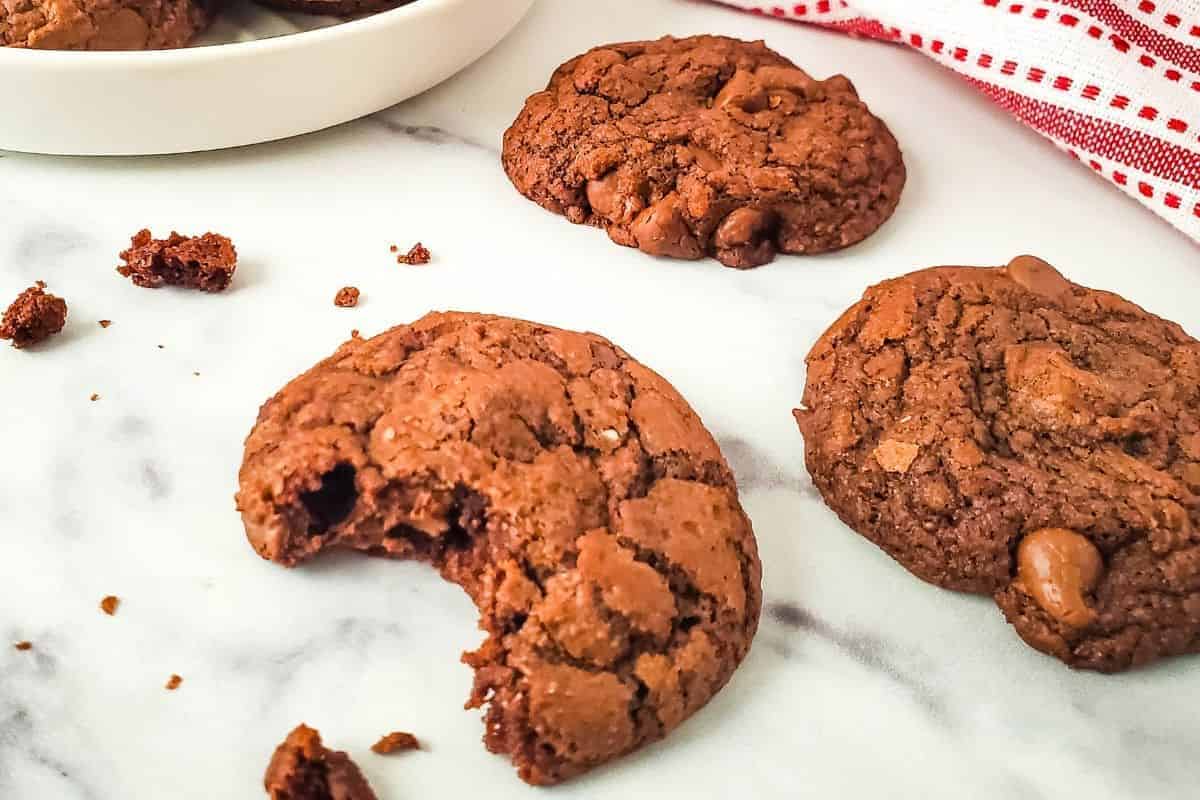 Brownie Mix Cookies – These cookies are loaded with chocolate chips and packed full of flavor. And with only 4 ingredients, including a brownie mix, vegetable oil, eggs, and chocolate chips, you'll have a chocolate treat in no time.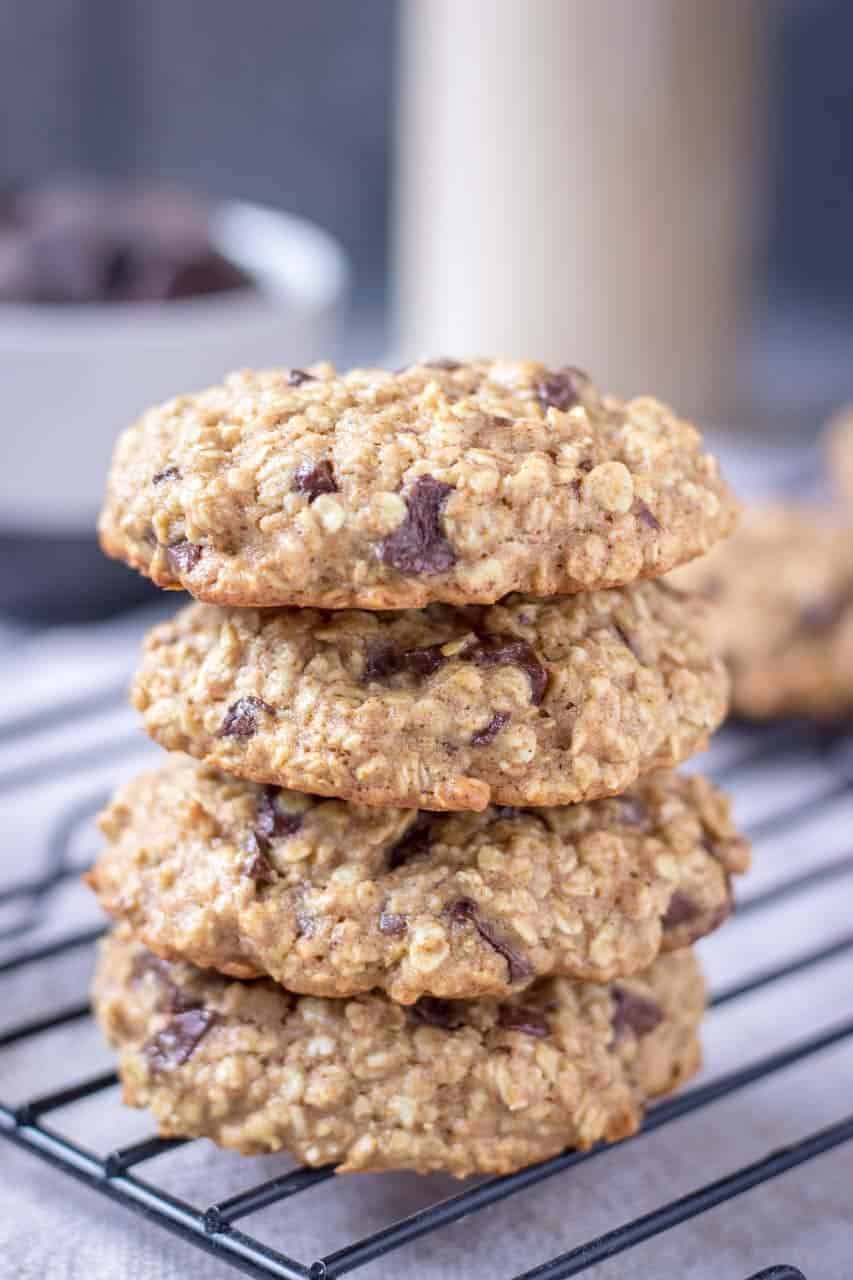 Chocolate Oatmeal Cookies – Soft and chewy, loaded with dark chocolate, and equally healthy and tasty.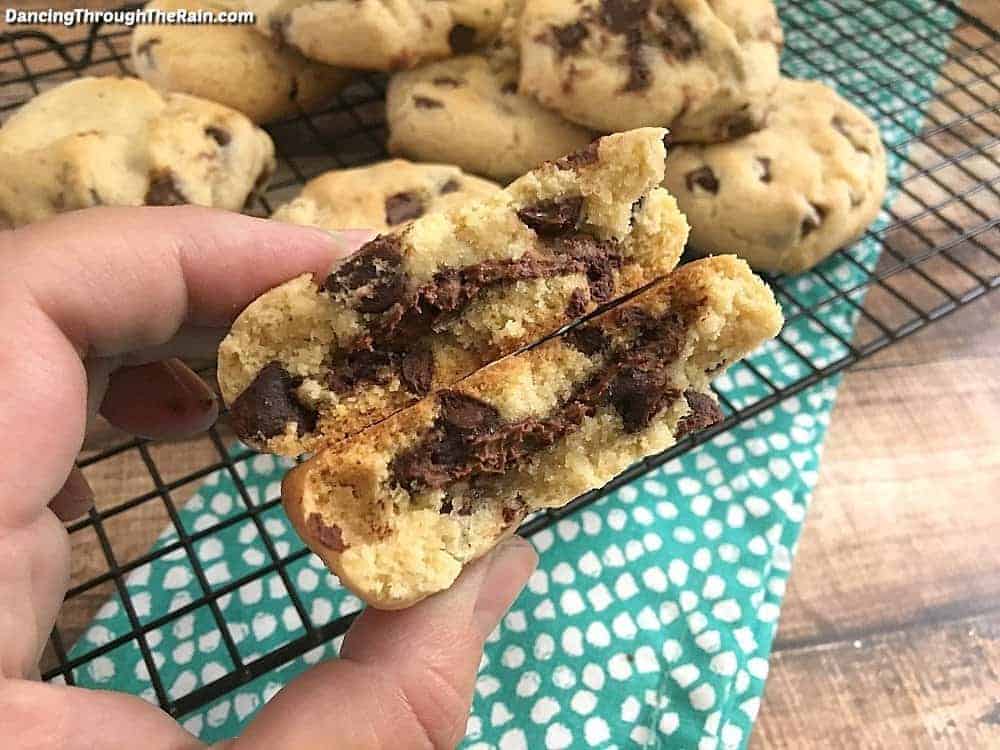 Nutella Stuffed Chocolate Chip Cookies – Amazing soft cookies with a gooey Nutella center.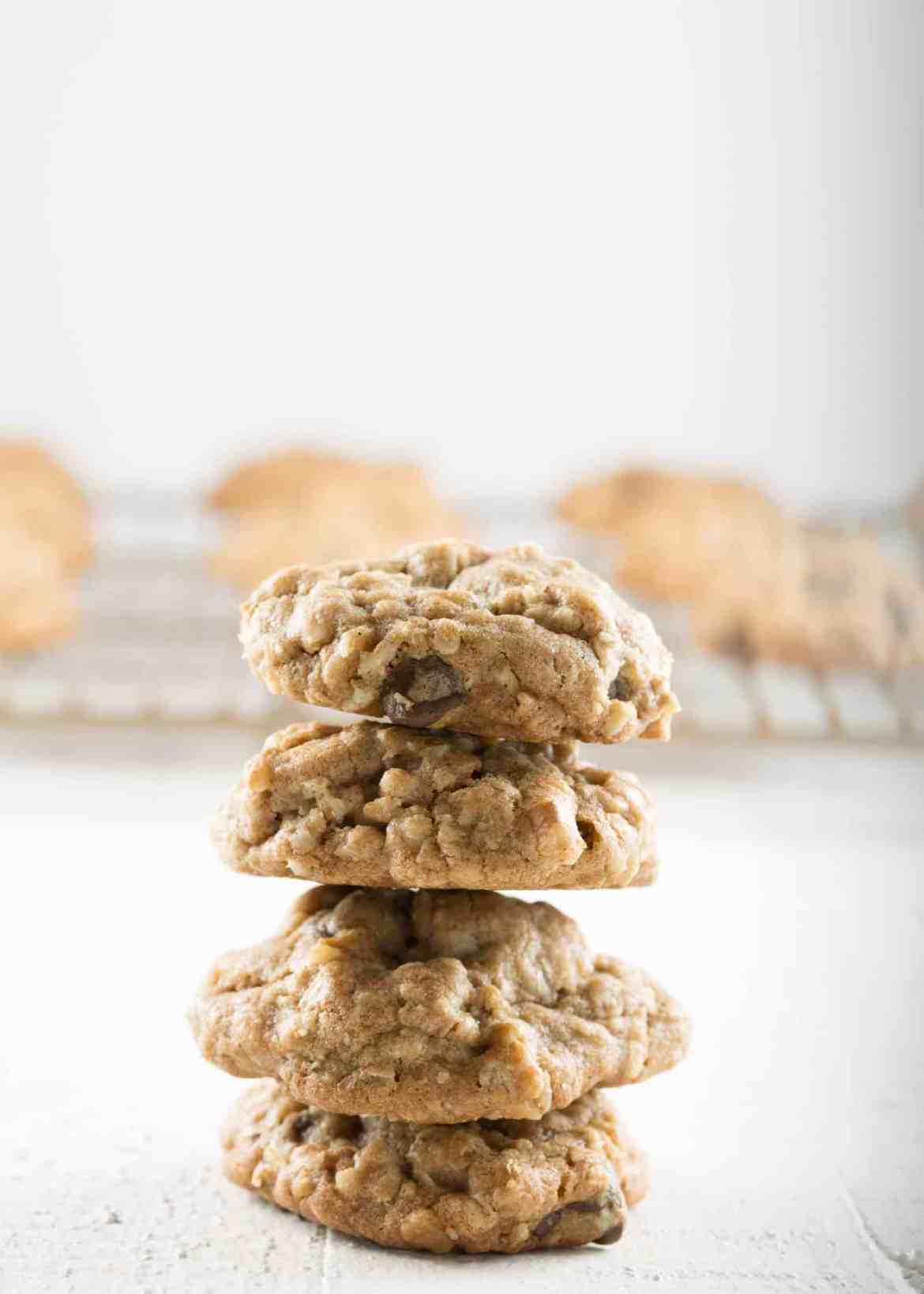 Spiced Oatmeal Chocolate Chip Cookie – A warm and inviting cookie with a combination of cinnamon, oatmeal, chocolate, and pecans.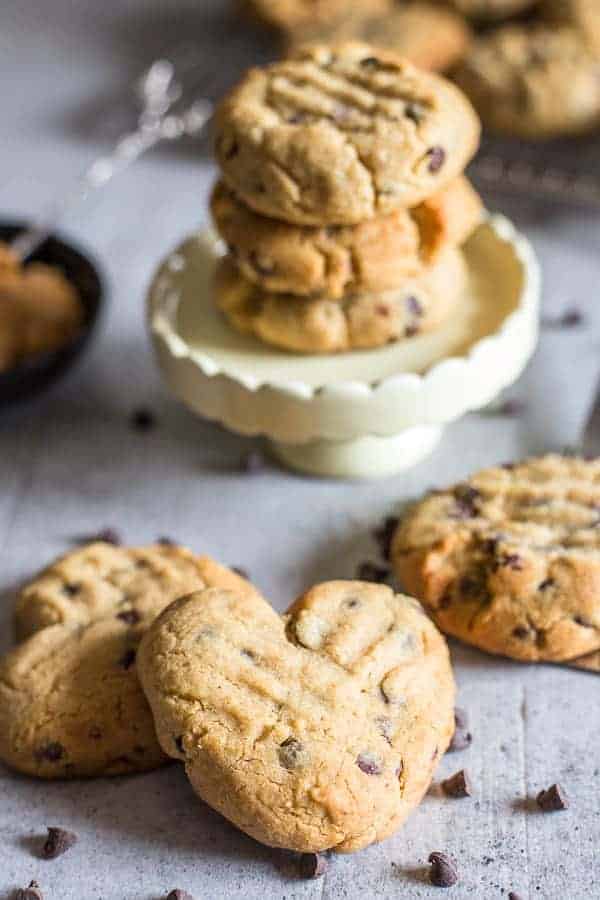 Thick Peanut Butter Chocolate Chip Cookies – The best Peanut Butter Cookies you will make or eat. Made with loads of chocolate chips and deliciously thick.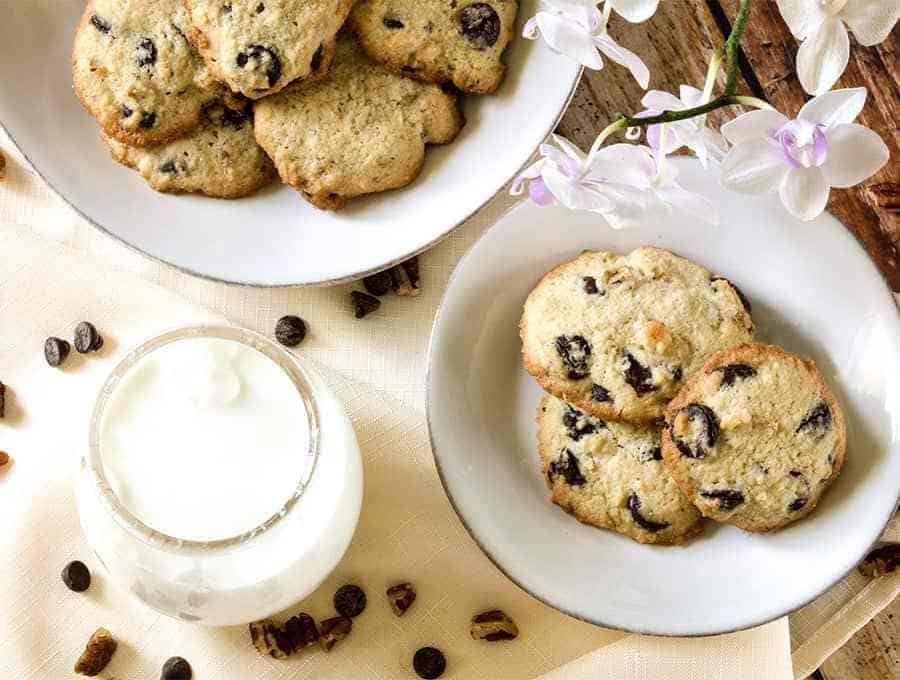 Keto Chocolate Chip Cookies – With these Low Carb Cookies, you'll be enjoying all the ooey gooeyness of chocolate cookies without all the carbs and sugar!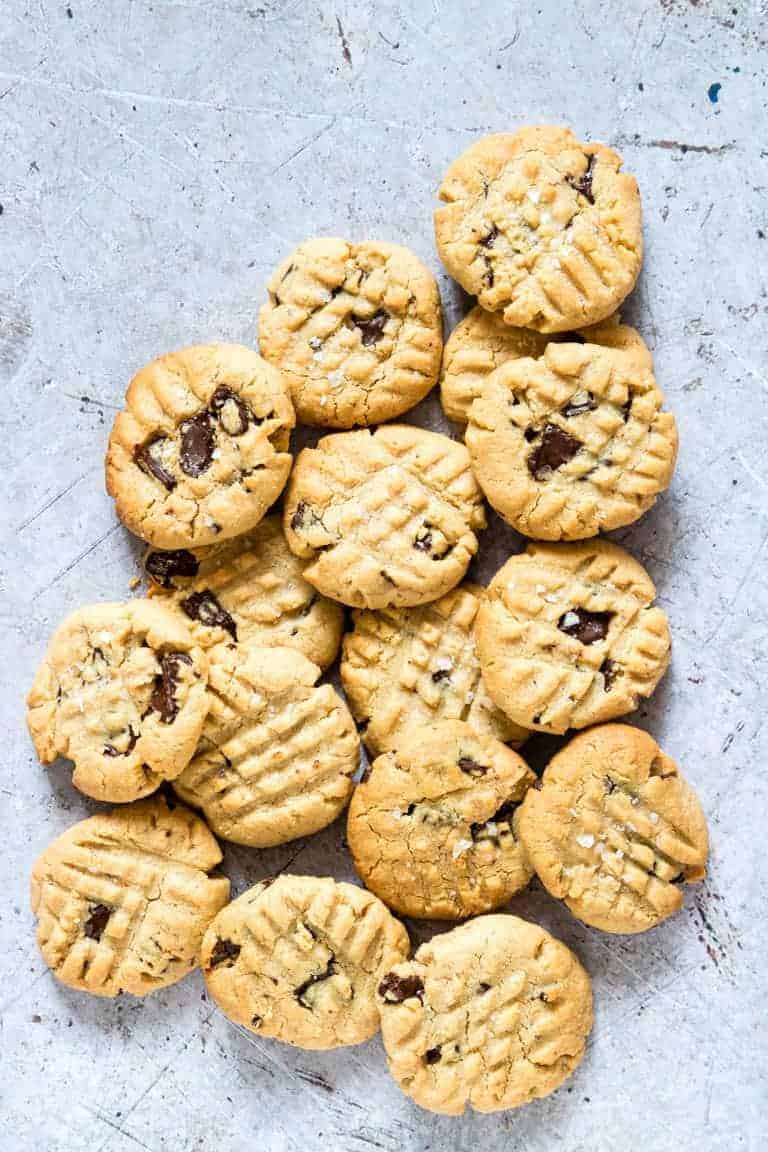 Salted Chocolate Vegan Peanut Butter Cookies – An easy recipe for deliciously soft peanut buttery bites with melting chocolate chunks.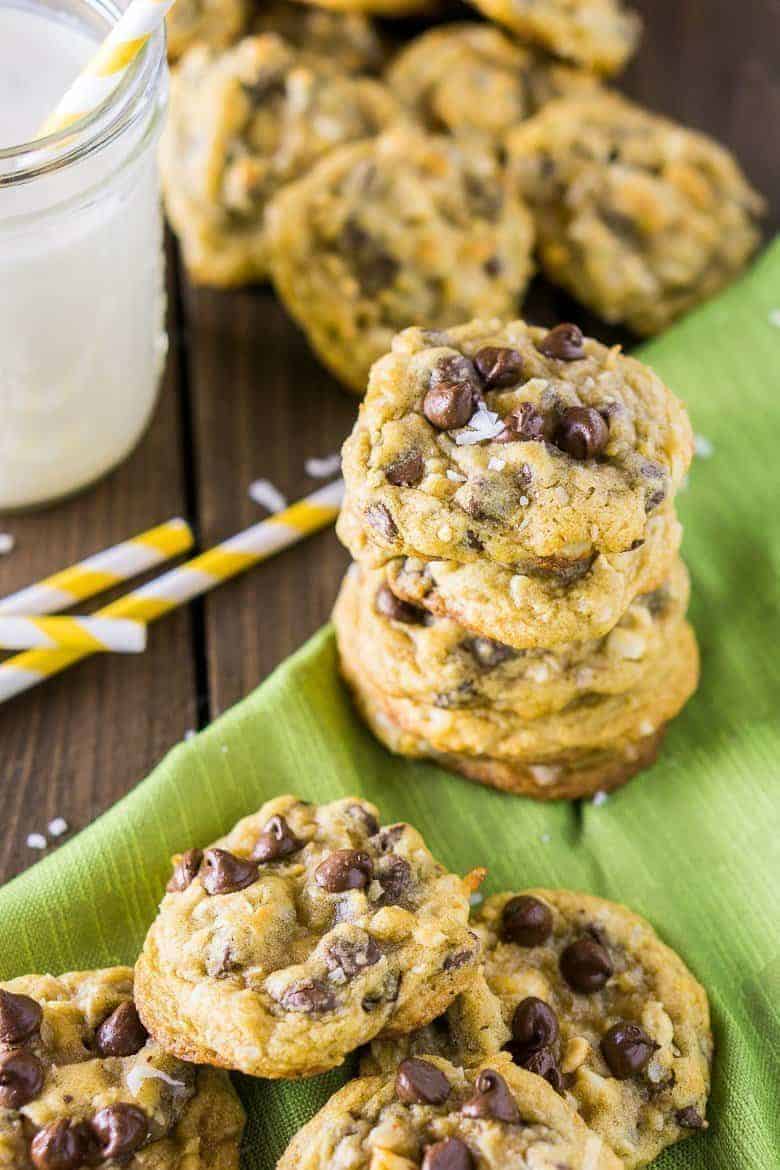 Chocolate Chip-Coconut-Macadamia Nut Cookies – Filled with tropical coconut and macadamia nuts, these twist-on chocolate chip cookies are perfectly soft and chewy and will give you a taste of the tropics any time of year.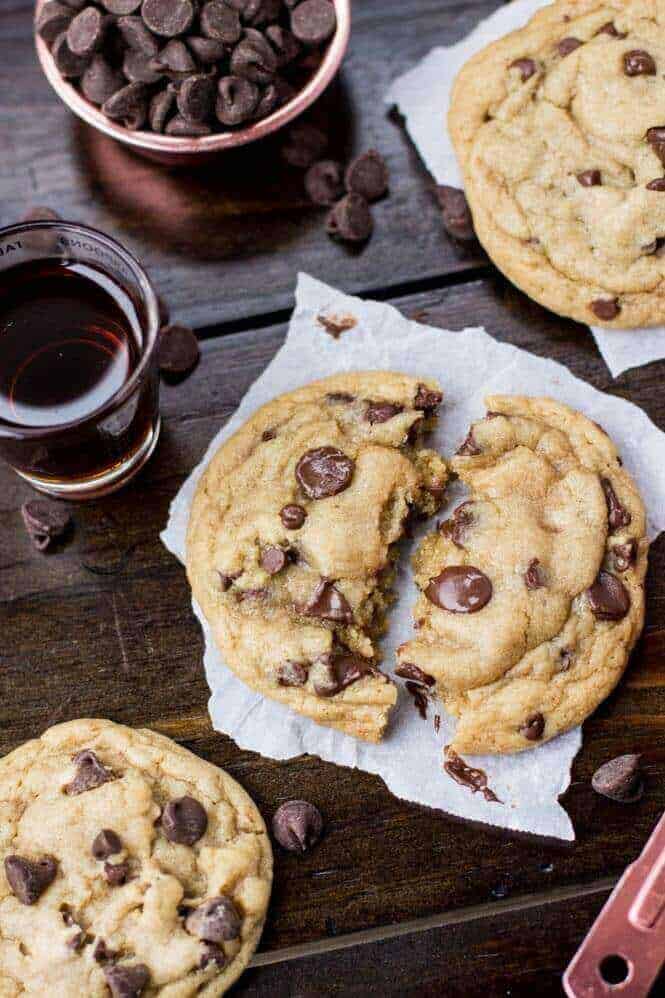 The WORST Chocolate Chip Cookies – Are they the worst or are they the best chocolate chip cookies in existence? Either way, this easy, soft cookie recipe is insanely addictive.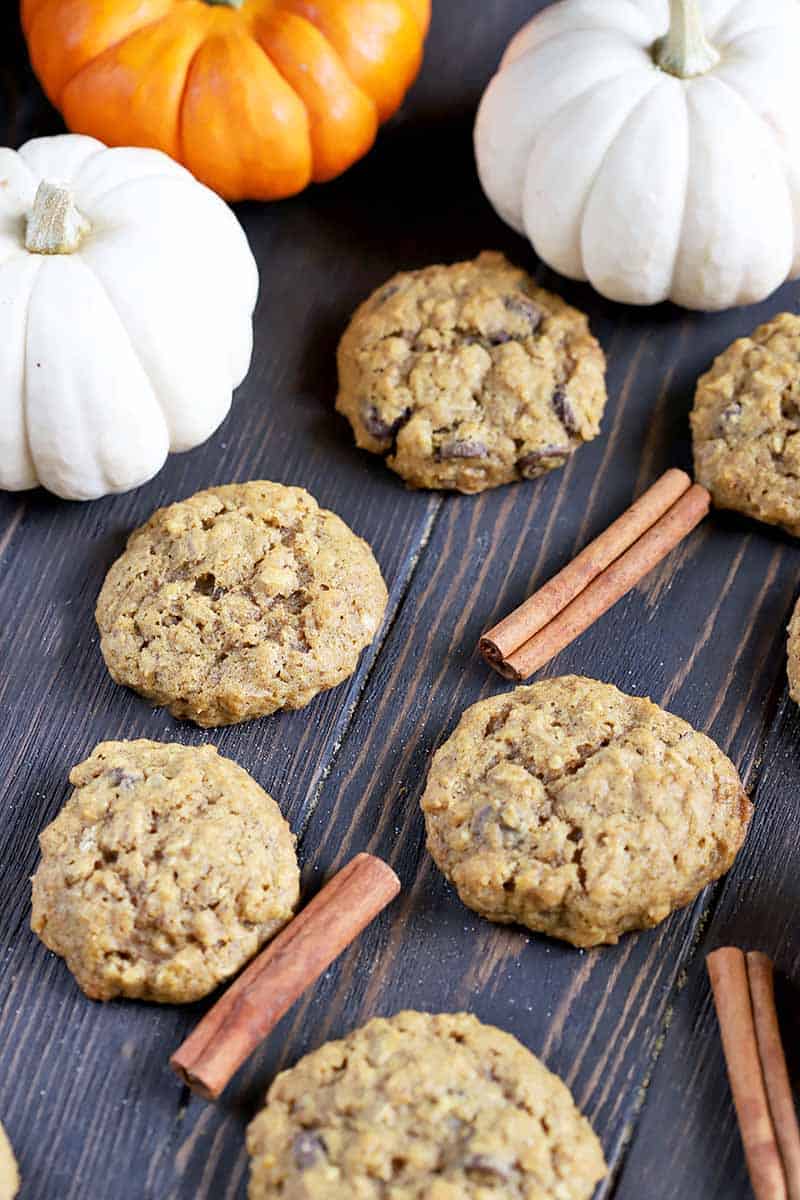 Soft and Chewy Pumpkin Chocolate Chip Cookies – You won't be able to resist gobbling up these chewy chocolate chip cookies with pumpkin.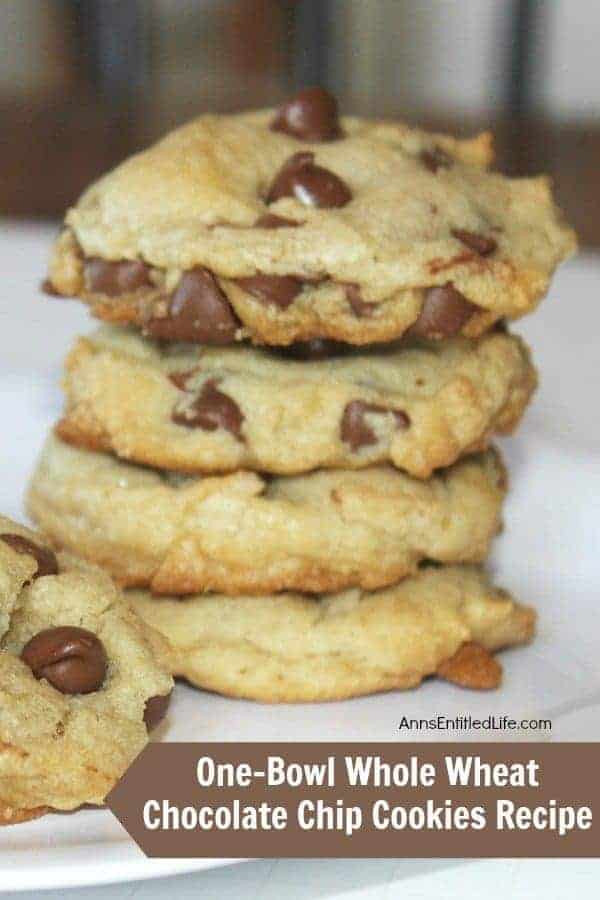 One-Bowl Whole Wheat Chocolate Chip Cookies – These are delicious and chewy chocolate chip cookies, using whole wheat flour. Simple to make, these one-bowl chocolate chip cookies are simply fabulous.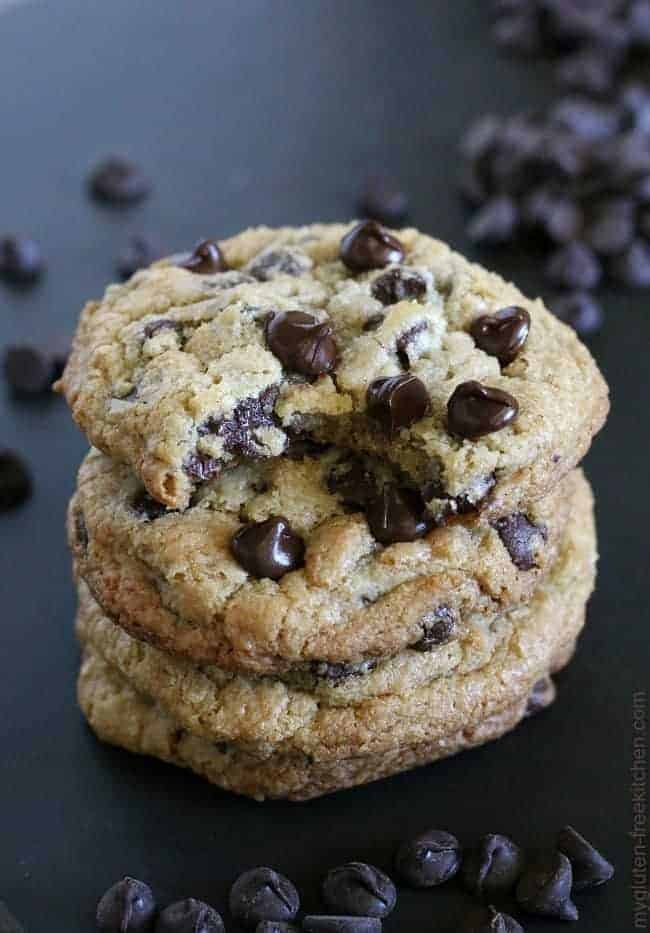 The Best Gluten-Free Chocolate Chip Cookies – If you're looking for gluten-free chocolate chip cookies that have crispy edges, are chewy with a bit of a gooey center, and are full of chocolate, then these are the cookies for you!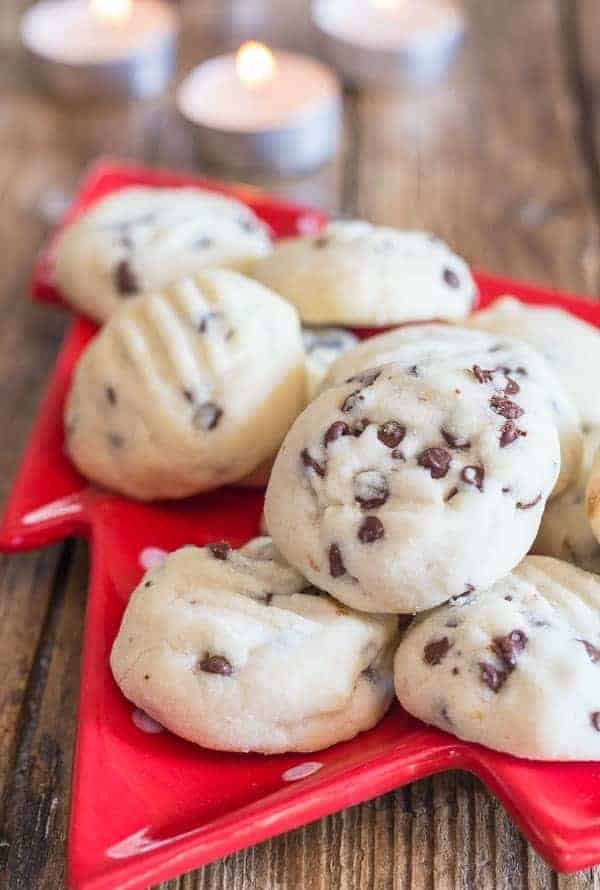 Easy Chocolate Chip Whipped Shortbread – These easy shortbread cookies are the absolute melt in your Mouth Shortbread Cookie. Fast, Easy and they will be gone in seconds.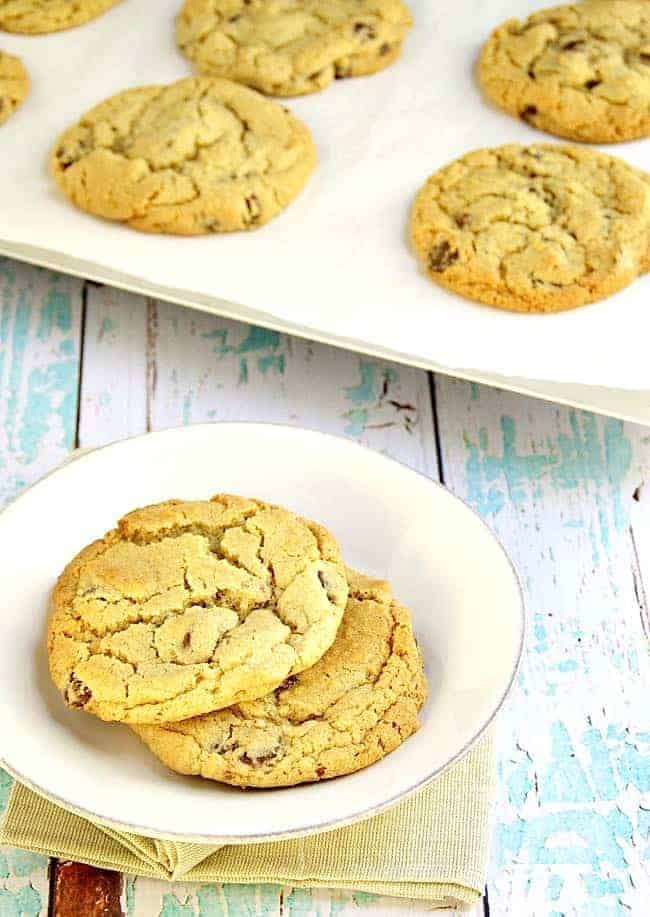 Crispy Chewy Chocolate Chip Cookies – This might very easily become your favorite go-to cookie recipe.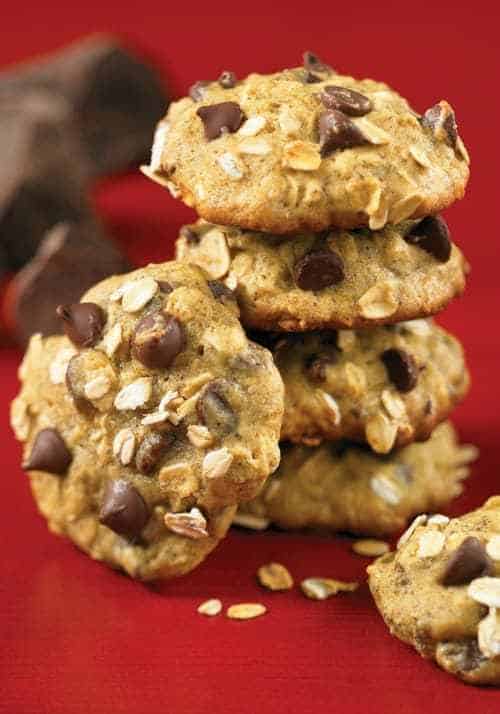 Ancient Grain Chocolate Chip Cookies – Chocolate chip cookies are iconic treats, and this ancient grain interpretation has just the right balance of flavor, texture, and sweetness.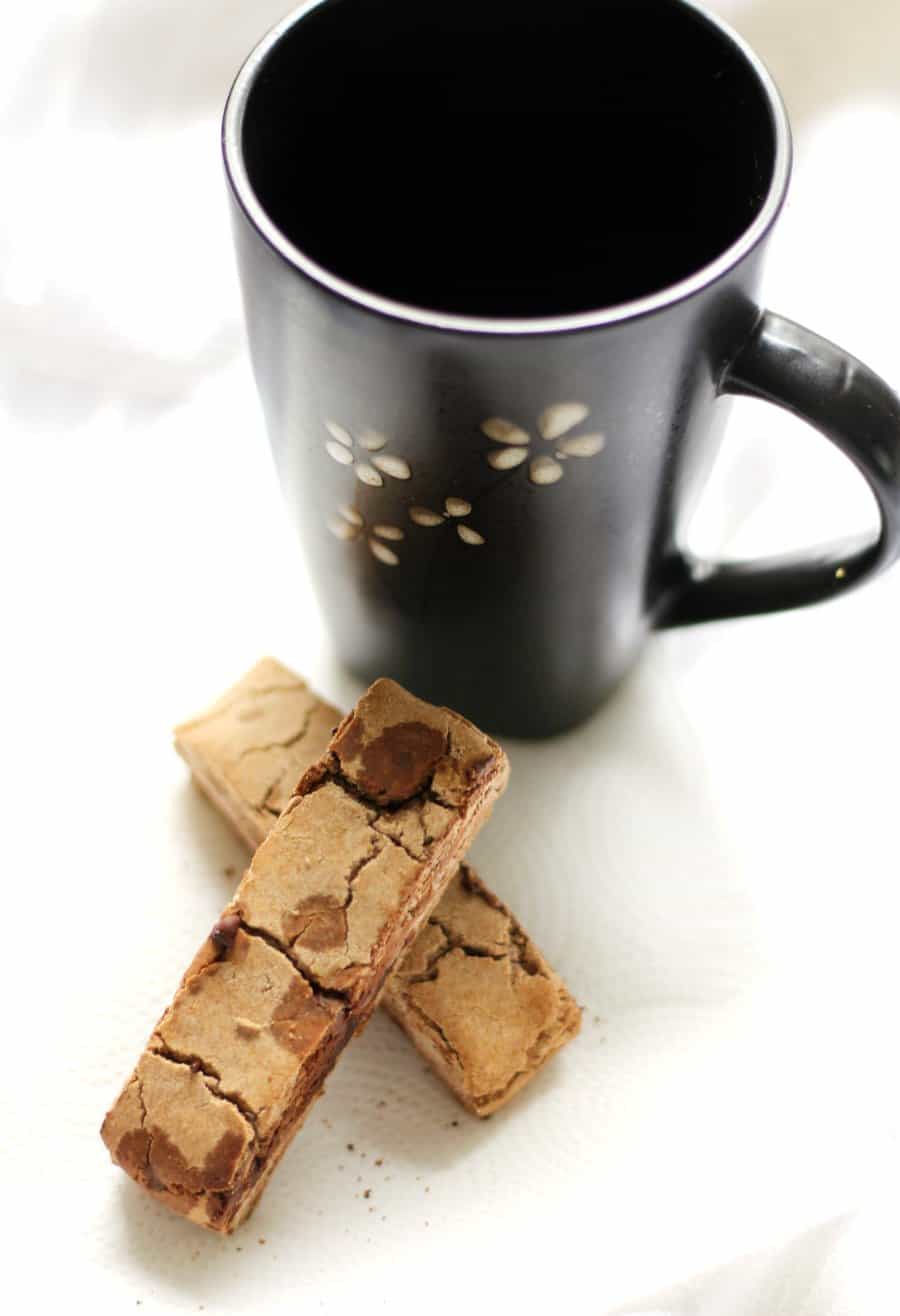 Chocolate Chip Teff Biscotti – A gluten-free, nut-free, allergy-free, and vegan healthy recipe so you can enjoy this Italian classic once again without sacrificing flavor or crunch!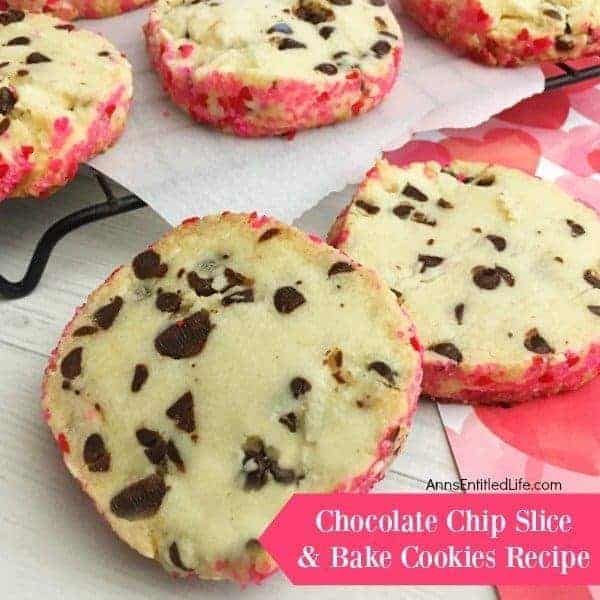 Chocolate Chip Slice and Bake Cookies – These tasty chocolate chip slice and bake cookies are simple to make, look beautiful, and tastes fabulous!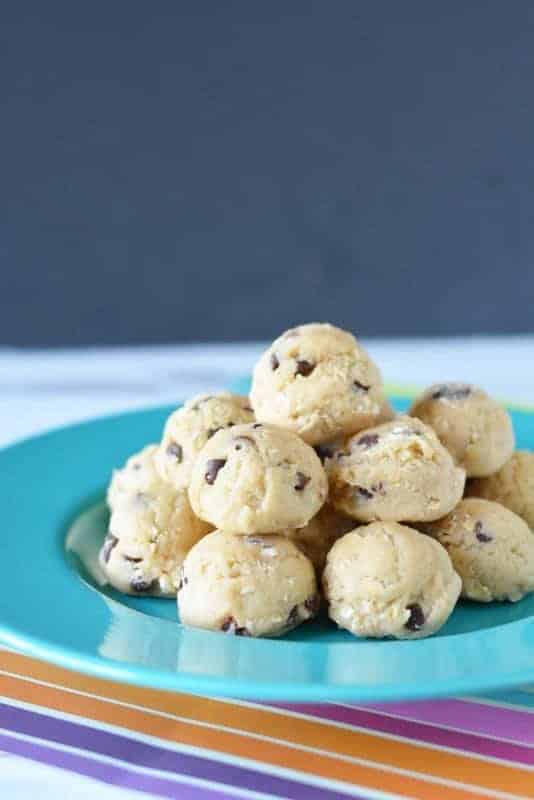 No-Bake Chocolate Chip Cookies Ball – These super easy Chocolate Chip Cookie Balls are a super tasty treat that everyone in our house loves.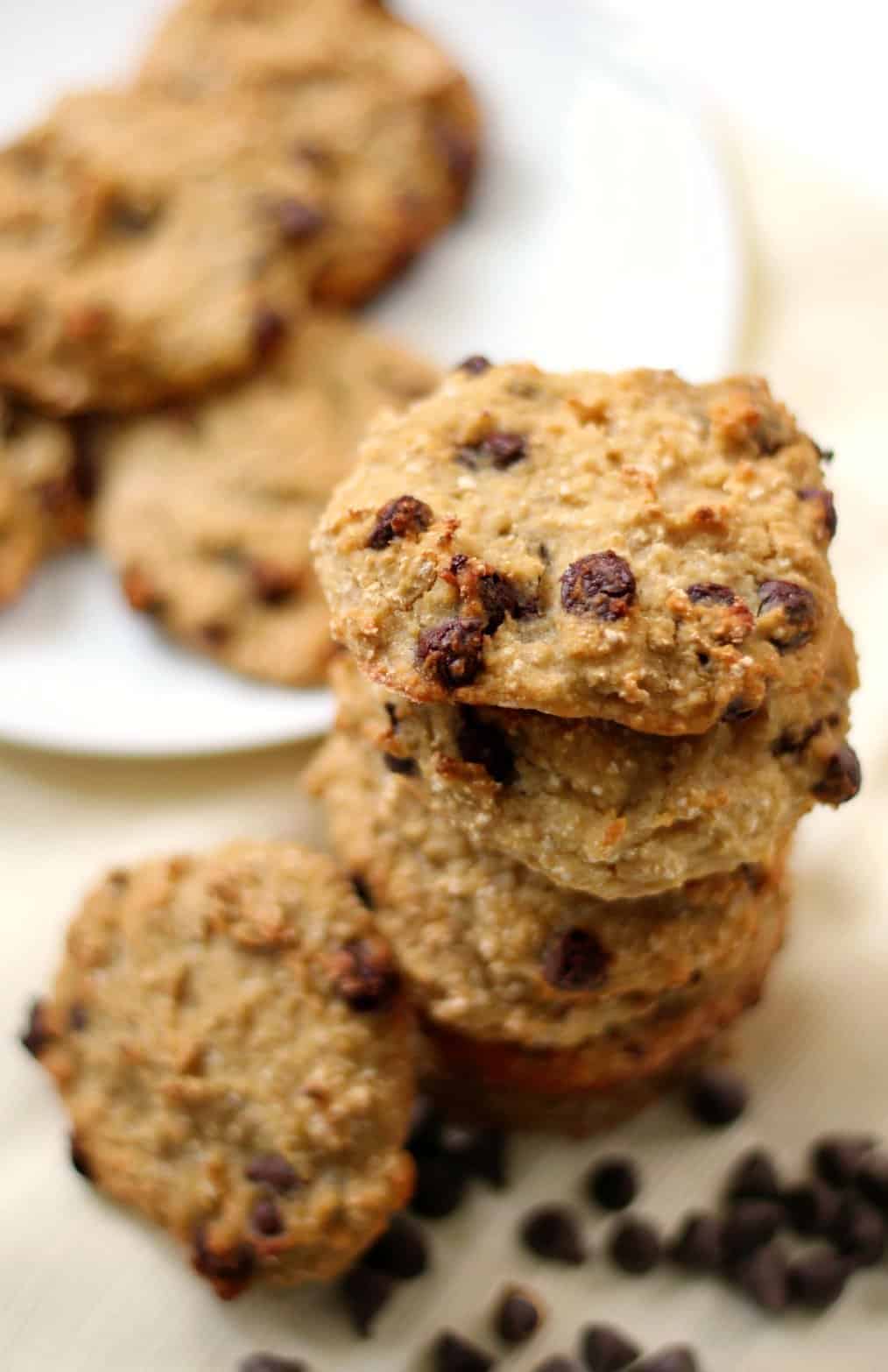 Quinoa Chocolate Chip Cookies – Healthy, gluten-free, vegan, classic chocolate chip cookies with the protein punch of quinoa.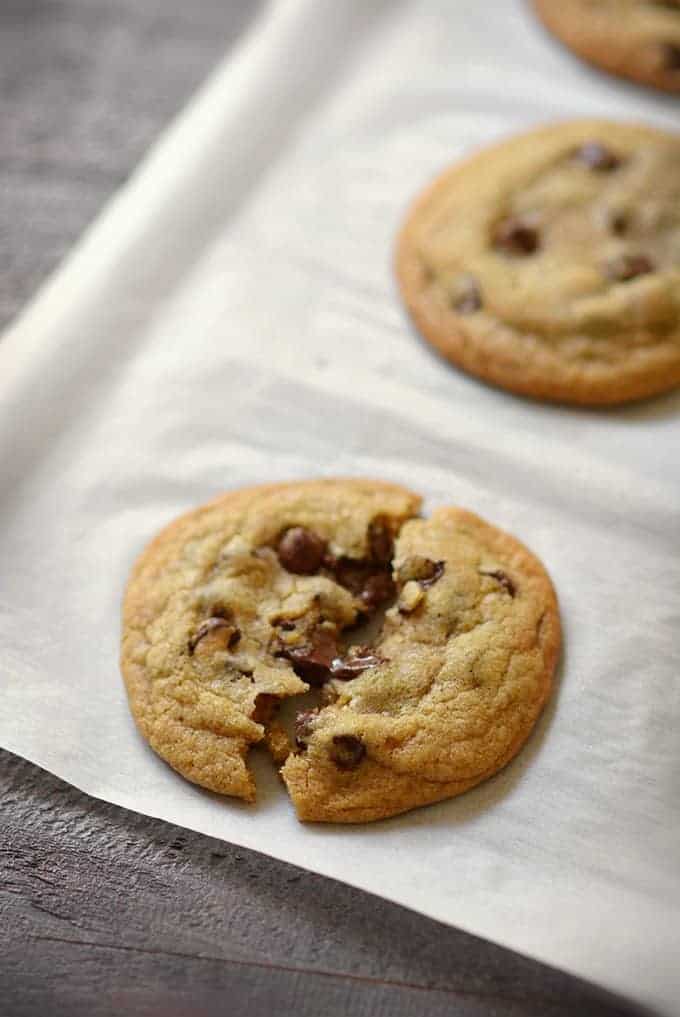 Soft Batch Chocolate Chip Cookies – These Soft Batch Chocolate Chip Cookies are crunchy and buttery on the outside but soft on the inside.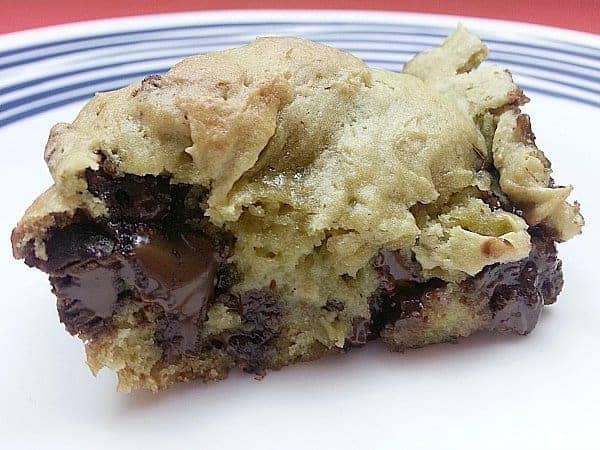 Avocado Chocolate Chip Cookie Bars – You really don't taste the avocado in these chocolate chip cookie bars, but they are extremely delicious and they have a pretty light green color!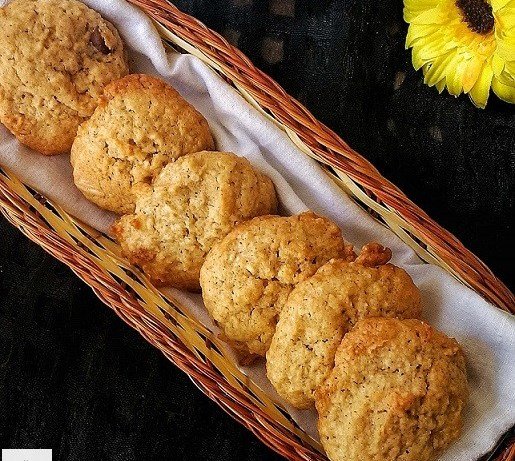 Whole Wheat Coconut Cookies – These Whole Wheat Coconut Cookies pair well with a hot cup of tea or your kiddo's snack box. And delicious even without the chocolate chips.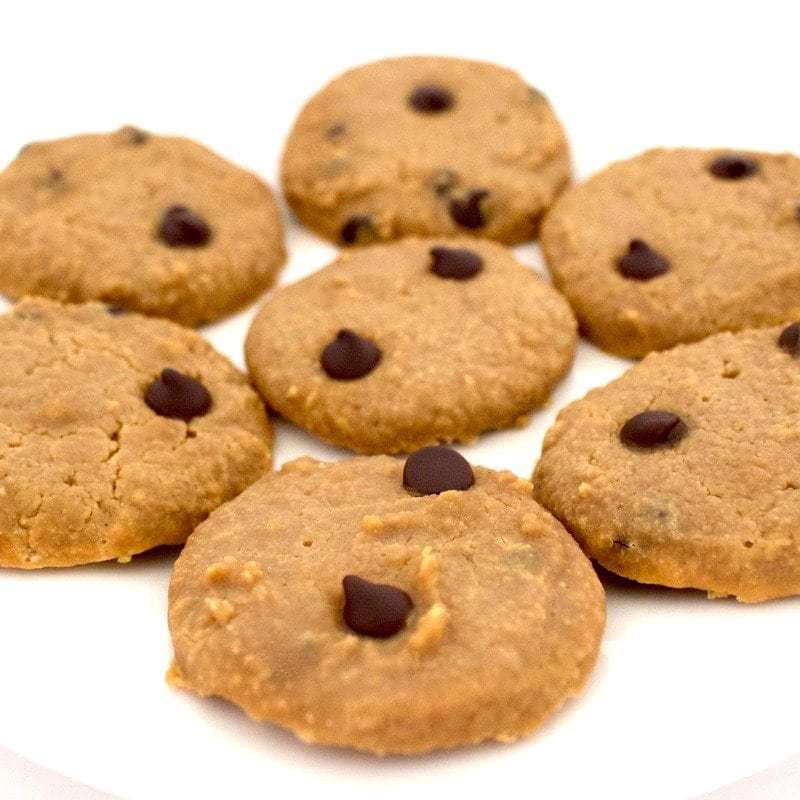 Skinny Chocolate Chip Cookies – The perfect, healthy treat at only 25 calories each. They are vegan, gluten-free, sugar-free, keto, and low-carb so perfect for everyone to enjoy.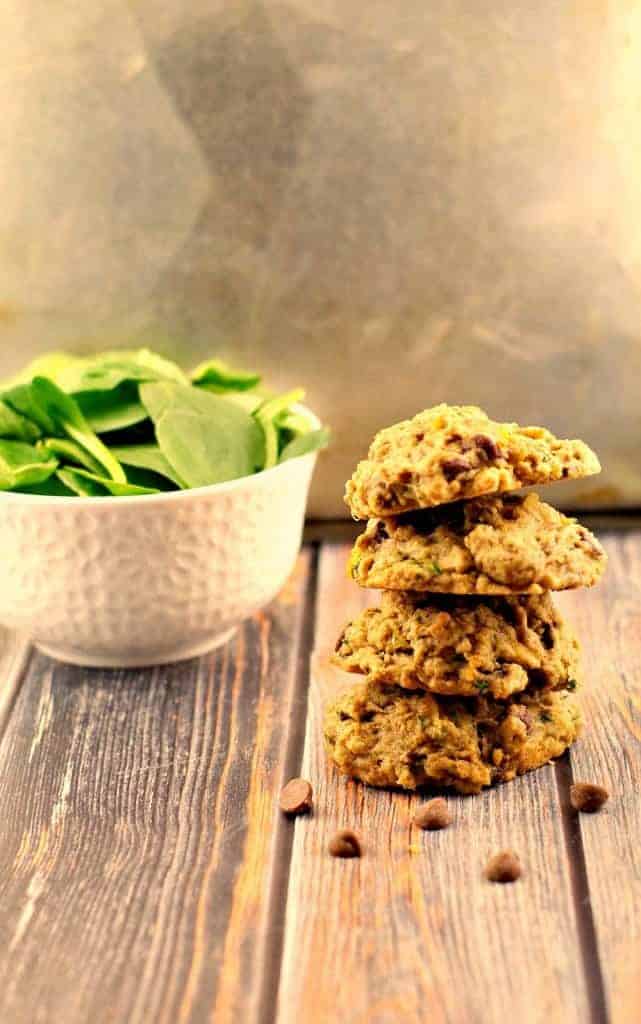 Healthy Chocolate Chip Cookies – These healthy award-winning cookies are made with fresh spinach, pineapple, and banana and are kid-friendly too.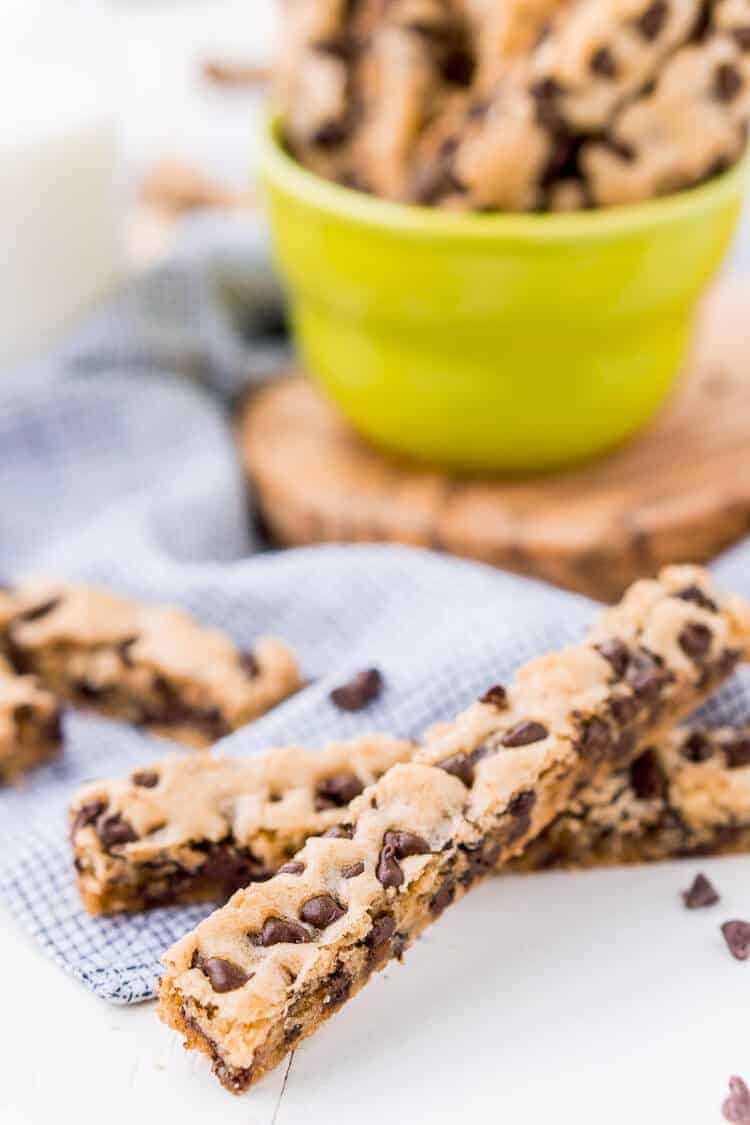 Chocolate Chip Cookie Sticks – A fun twist on classic chocolate chip cookies, thick, slightly crisp, yet still chewy, and perfect for dipping.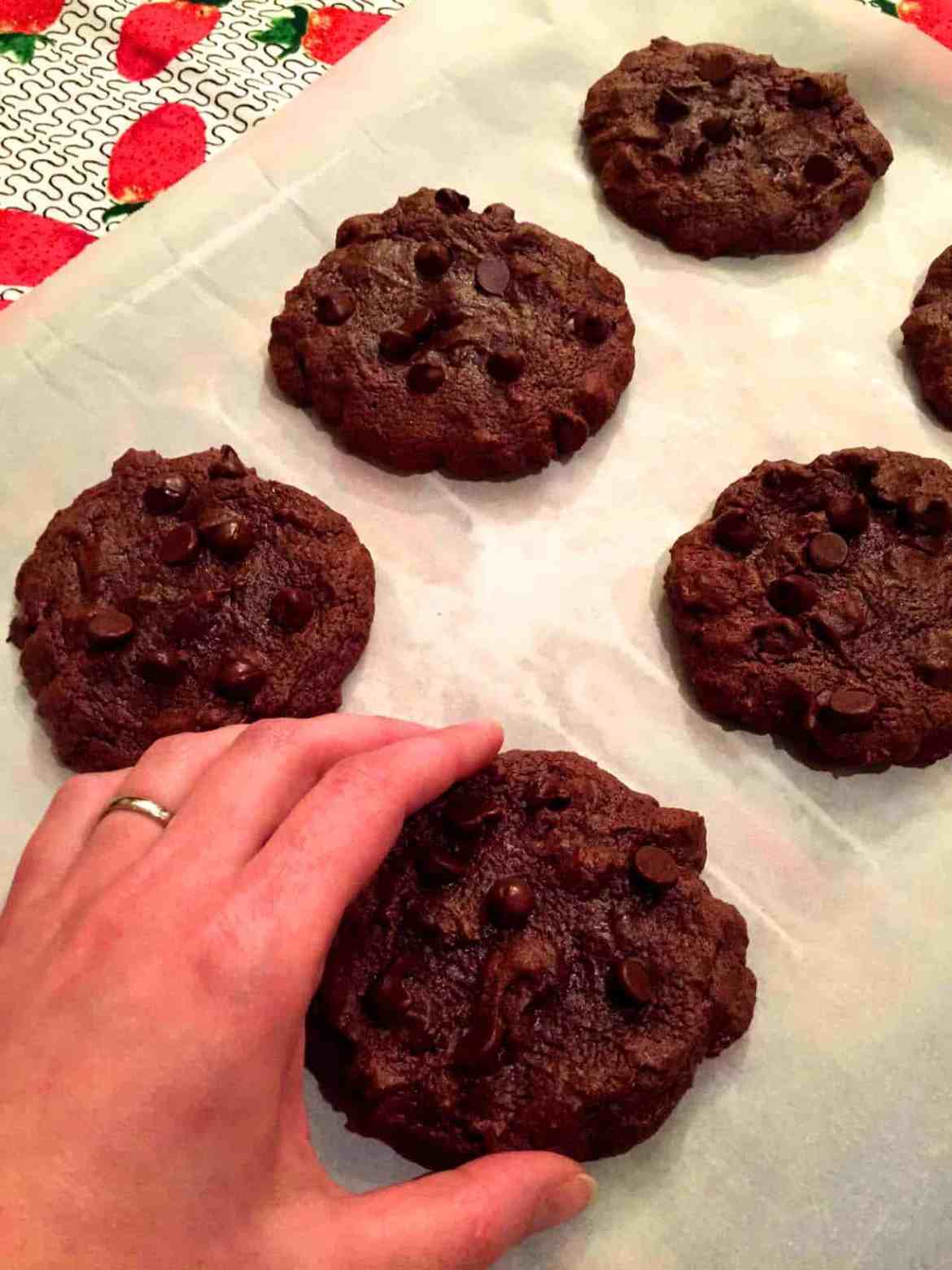 Double Chocolate Chip Cookies Recipe – Dark chocolate cookies with chocolate chips inside, soft and chewy – amazing!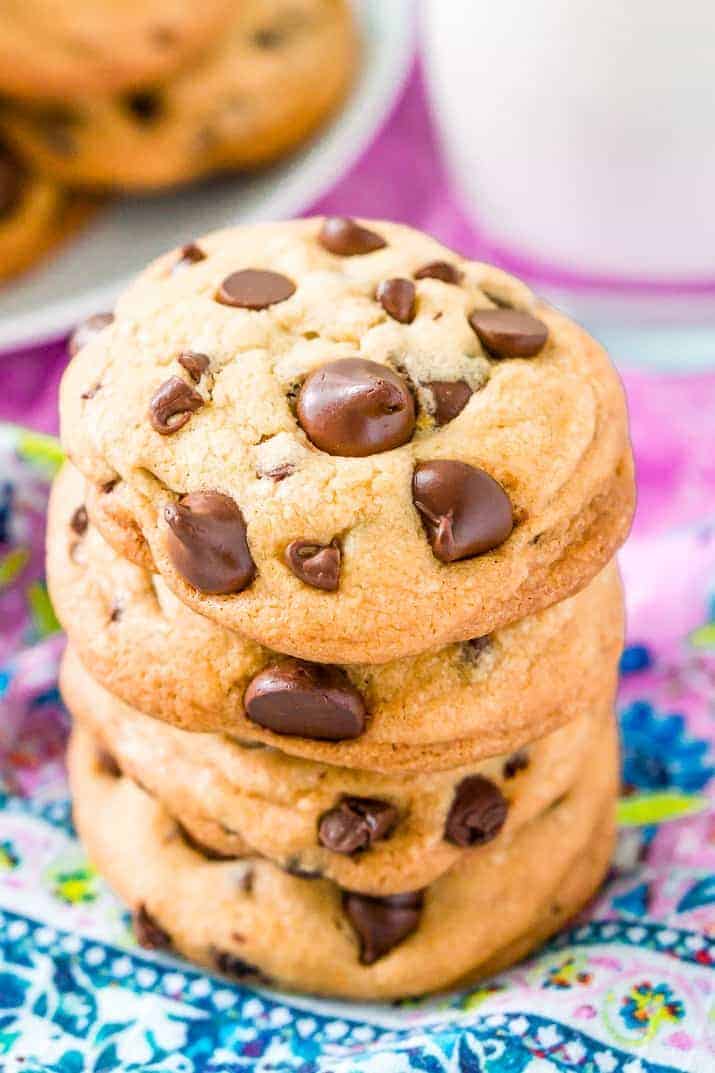 Coconut Oil Chocolate Chip Cookies – Everything you love about the classic cookie, but they're made with coconut oil instead of butter and are still absolutely delicious!
More of our favorite Cookies