50+ Best Christmas Cookie Recipes
This post may contain Affiliate Links. Please read our Disclosure Policy for more information.
These Christmas cookie recipes are the perfect excuse to bake with your loved ones this holiday season!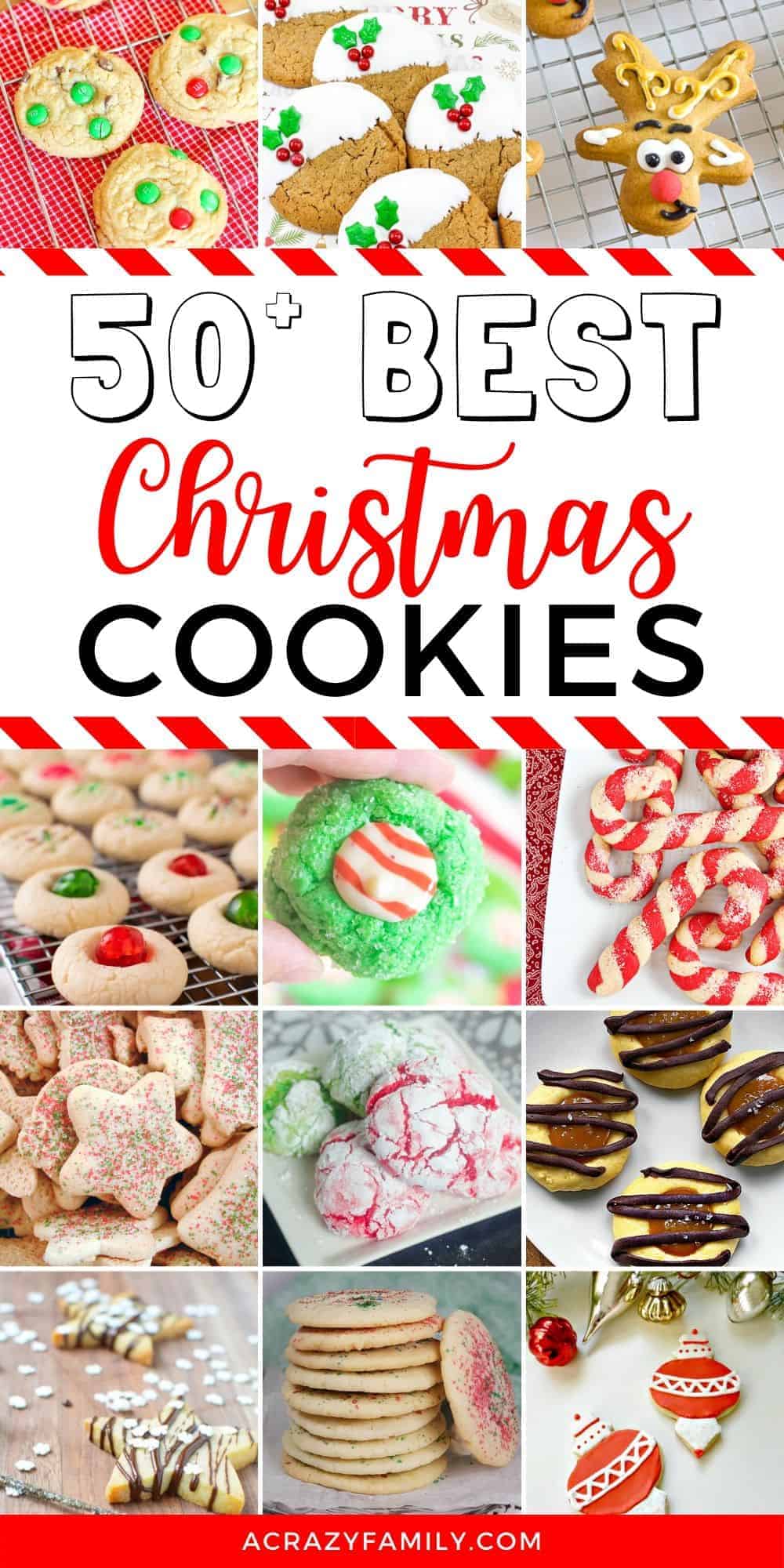 With these amazing cookie recipes, you're sure to find perfect recipes your friends and family will love! Plus, they make wonderful gifts and are perfect for cookie exchanges!
Christmas Cookies You'll Want to Make Every Year
I have separated the 50+ Christmas Cookie Recipes into categories so it will be much easier for you to scroll and find the cookie that you'd like to make.
To get to the recipe simply click on the link beneath each picture!
For more amazing holiday recipe ideas, check out the following:
Sugar Cookies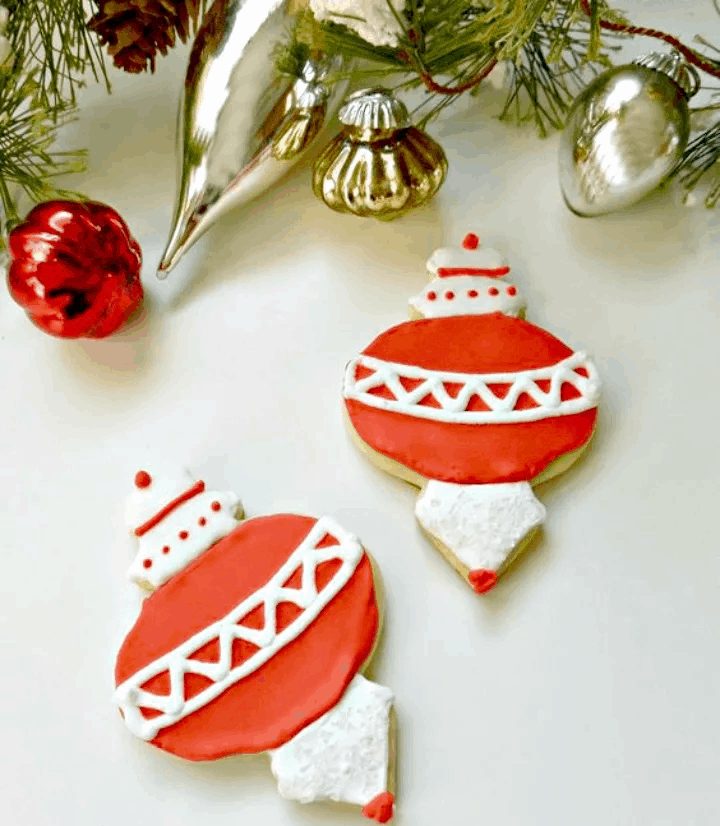 Christmas Ornament sugar cookies – These Christmas Ornament sugar cookies look like they could hang right on your tree. Delicious and easy to make.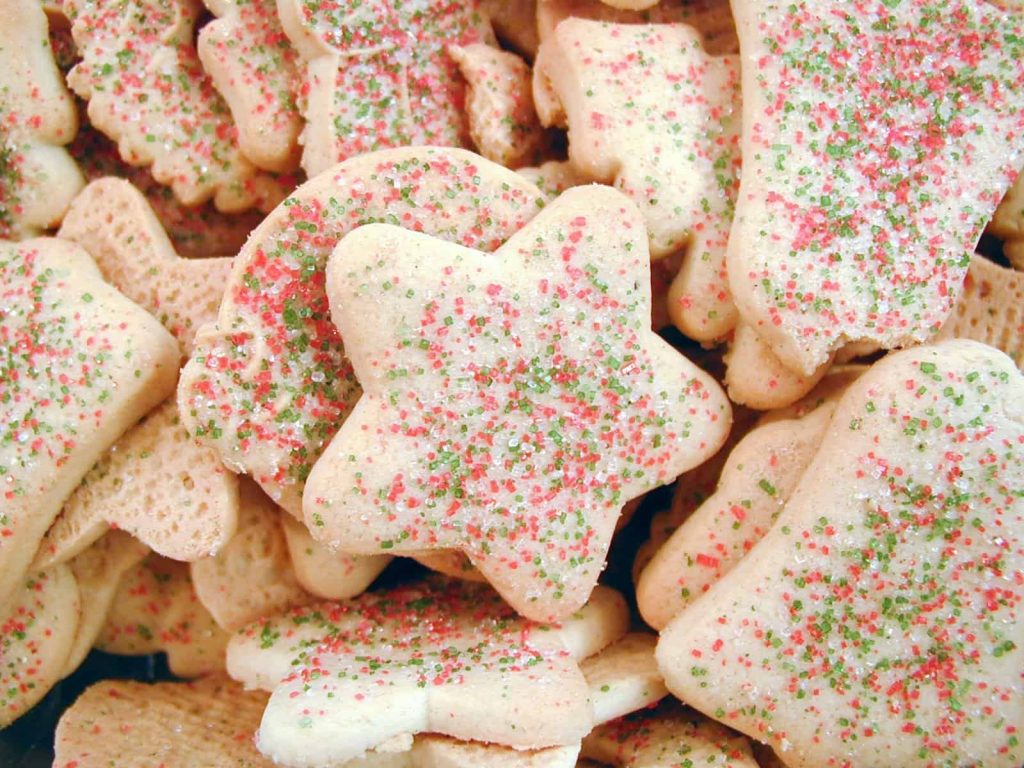 Sour Cream Sugar Cookies With Cream Cheese Frosting – These delicious but easy sour cream sugar cookies are light and fluffy, and they are perfect for cutting into fun, festive shapes with cookie cutters! Topped with a delicious homemade cream cheese frosting, these cookies are perfecting for making and decorating with your children to serve at your holiday party or to give to neighbors while you go caroling!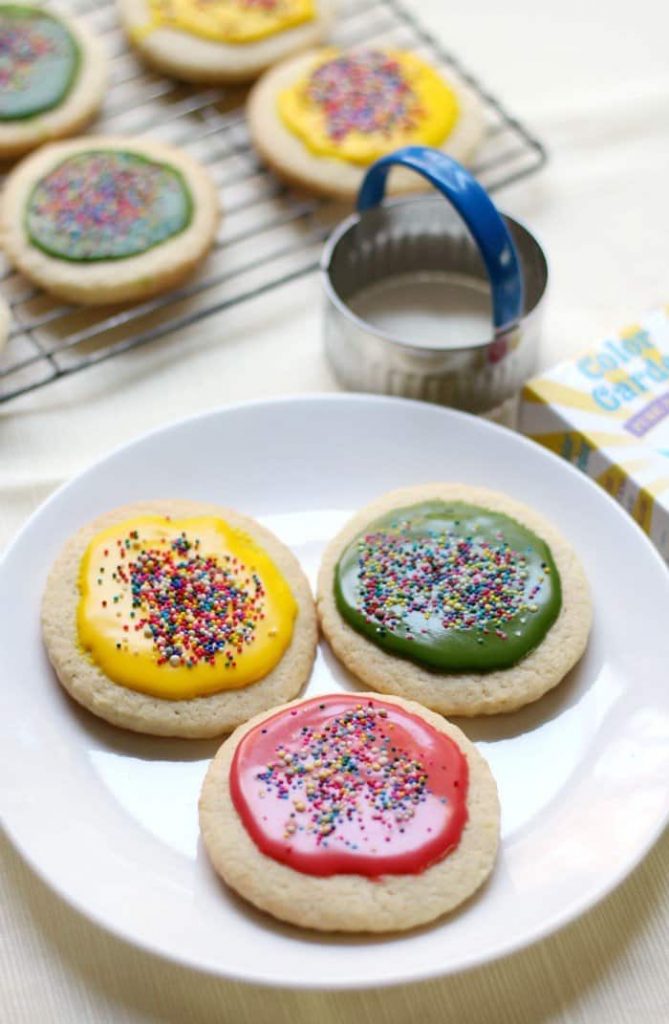 Gluten-Free + Vegan Cut-Out Sugar Cookies – Sugar Cookies that taste exactly like the sweet, buttery, tender delights from your favorite childhood recipe! With a simple sugar-free and natural-colored icing, these top-8 allergy-free treats are perfect for any holiday, party, or celebration! Easy to make and fun to decorate!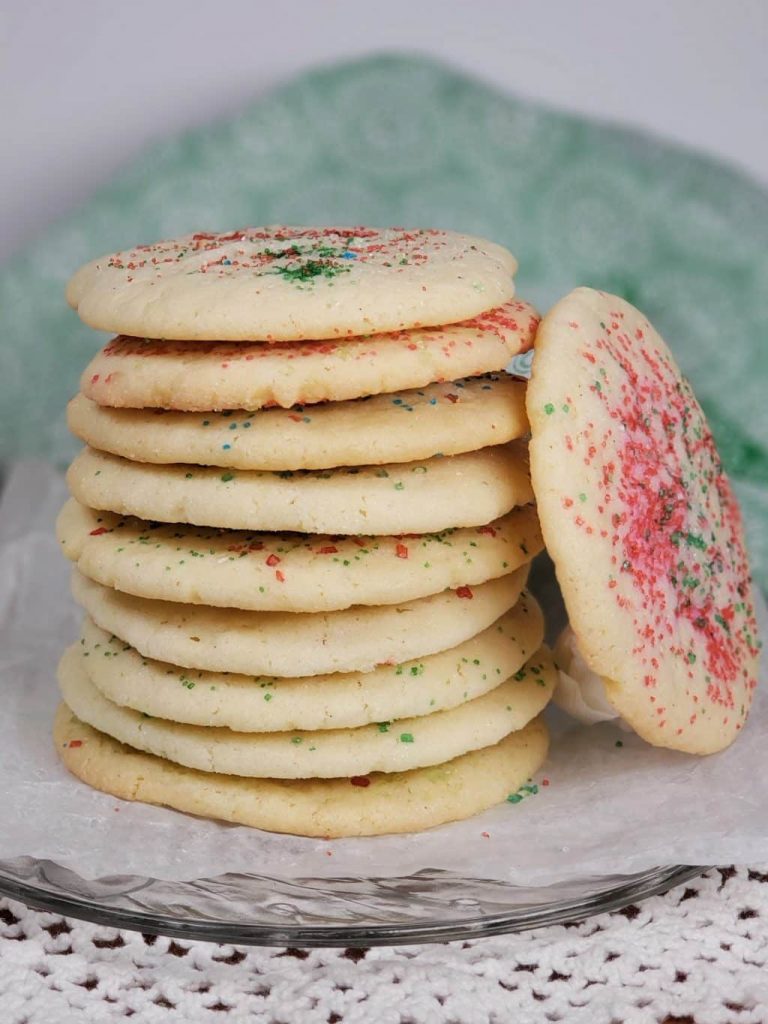 Best Old Fashion Sugar Cookies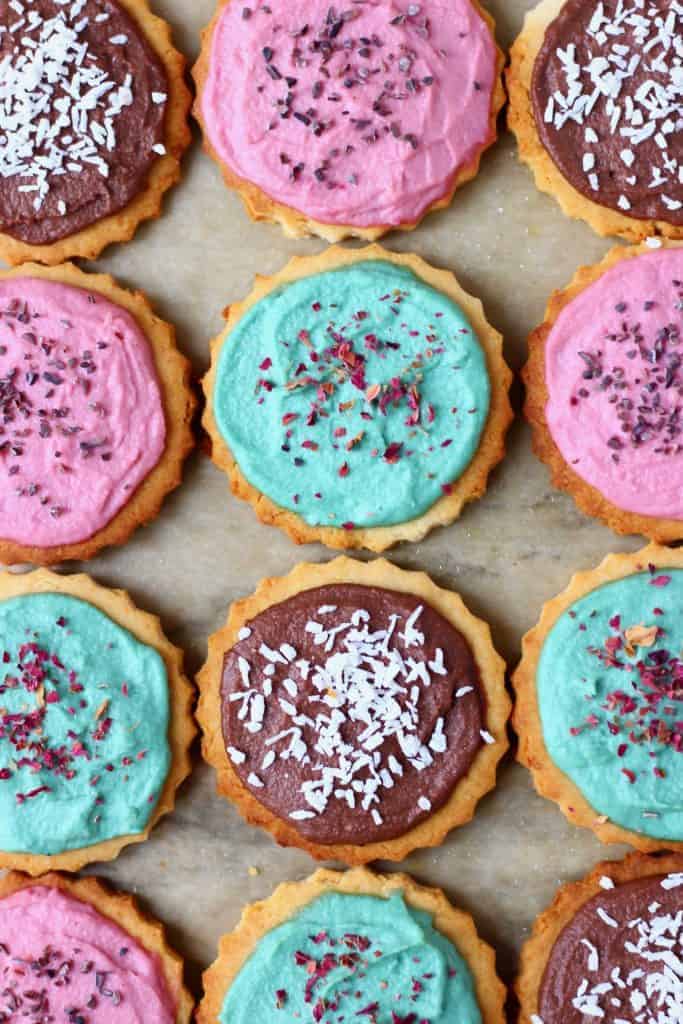 Gluten-Free Vegan Sugar Cookies – These Gluten-Free Vegan Sugar Cookies are soft and chewy, slightly fluffy and covered in a rich, creamy cashew frosting. A pretty and colorful sweet treat for the festive season!
Shortbread Cookies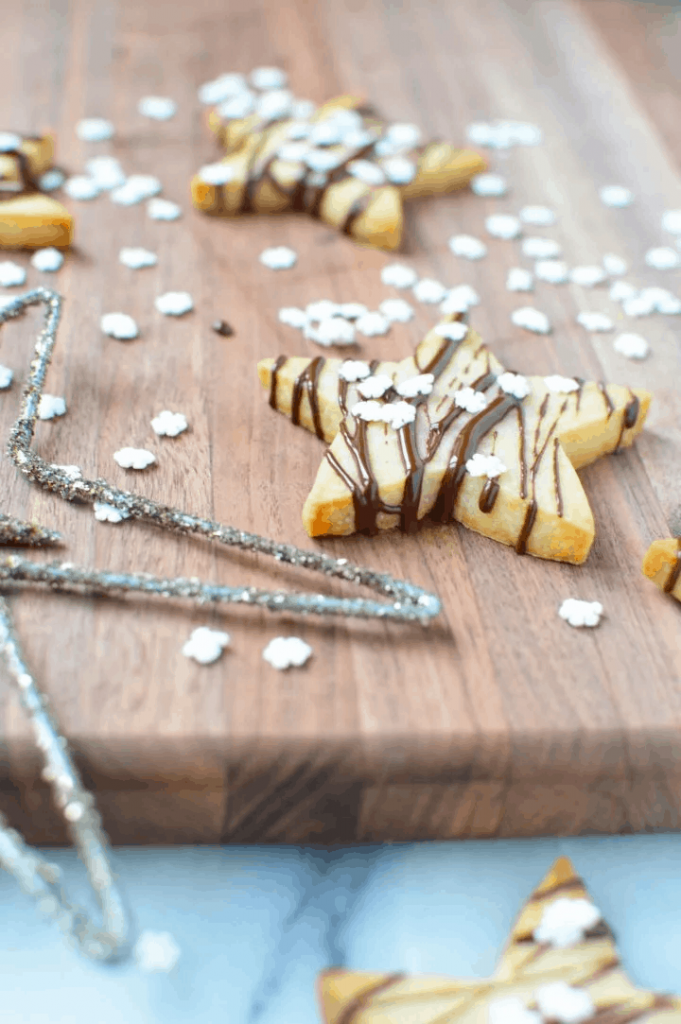 Holiday Stars Shortbread Cookies – Delicious holiday stars shortbread cookies have a rich buttery taste and look amazing! Package them for a gorgeous DIY holiday gift.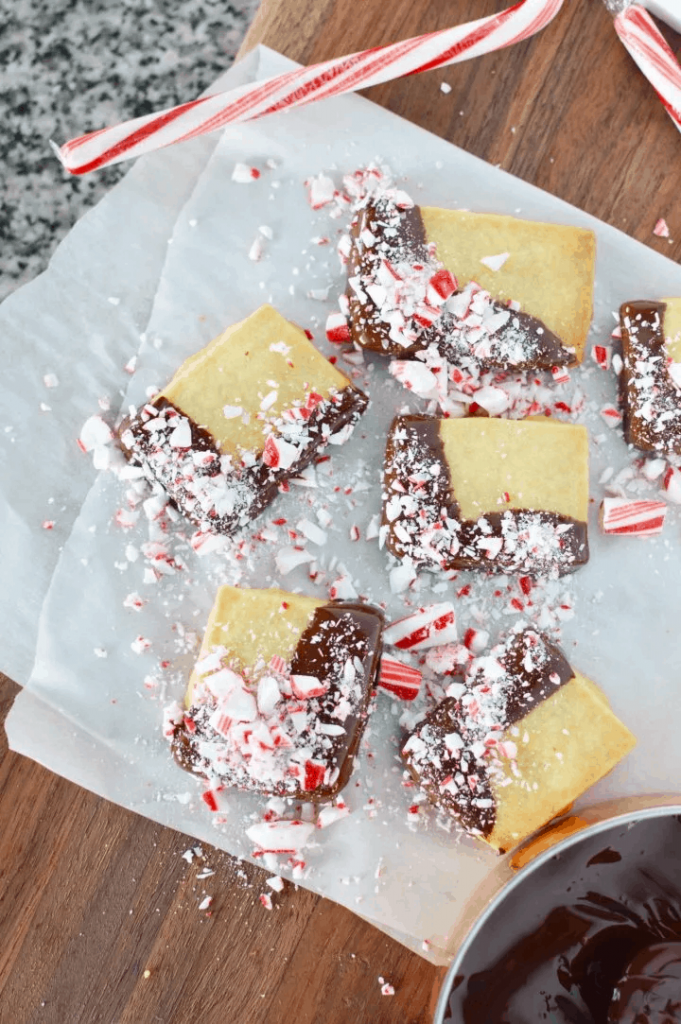 Candy Cane Shortbread Cookies – Bring the flavor of Peppermint into your home this holiday season. Made with real candy canes, these Candy Cane Shortbread Cookies will delight anyone who tries them.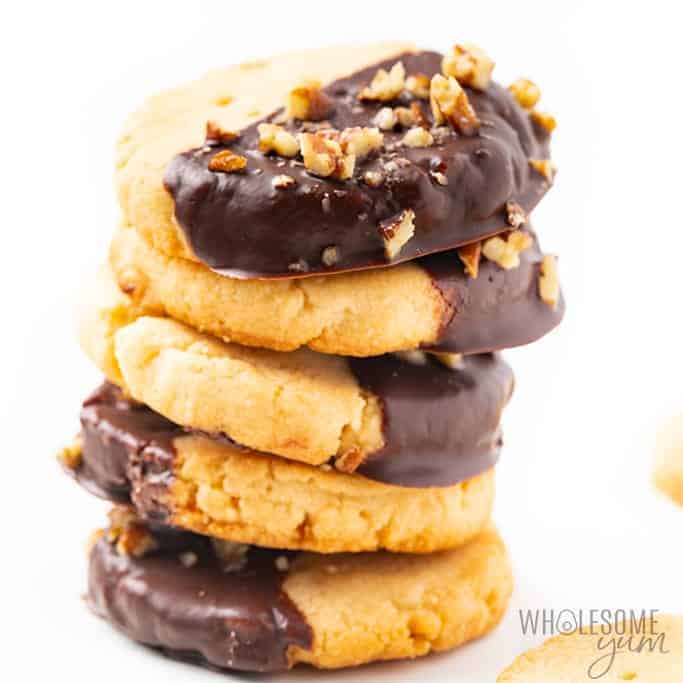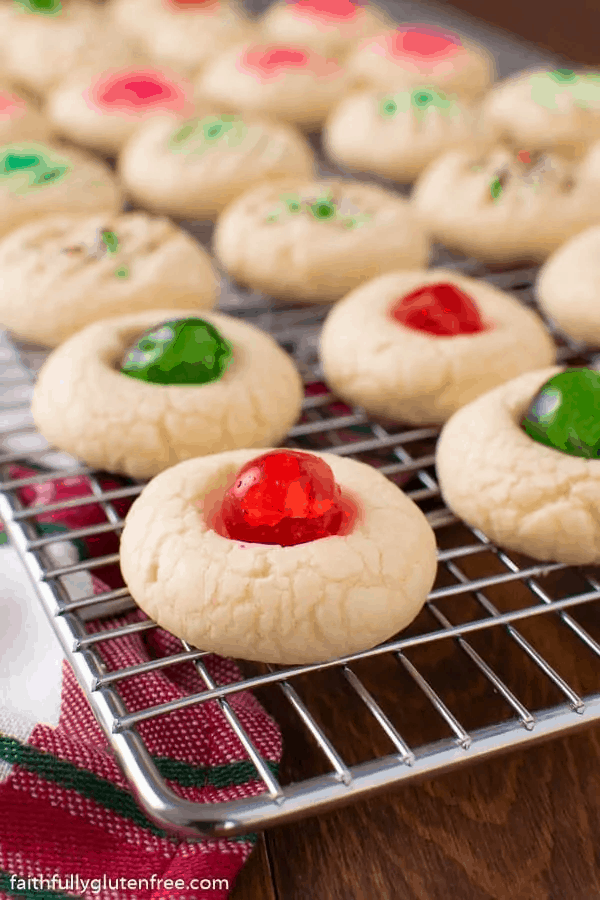 Gluten-Free Whipped Shortbread Cookies – Melt-in-your-mouth Gluten Free Whipped Shortbread cookies that are light, buttery, and oh so pretty. A few simple ingredients create an amazing holiday favorite.
Gingerbread Cookies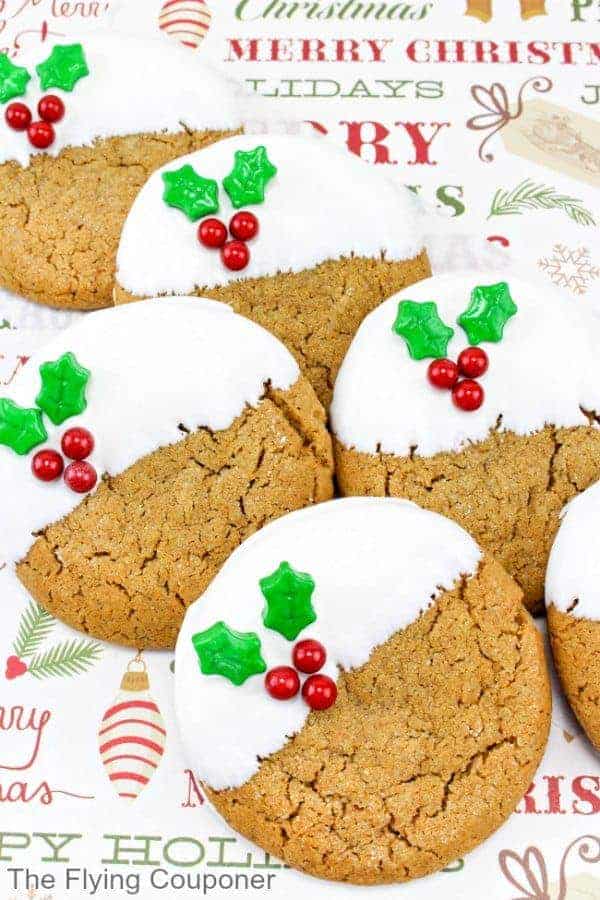 Gingerbread Holly Cookies – They are so easy to make and are loaded with tasty ginger.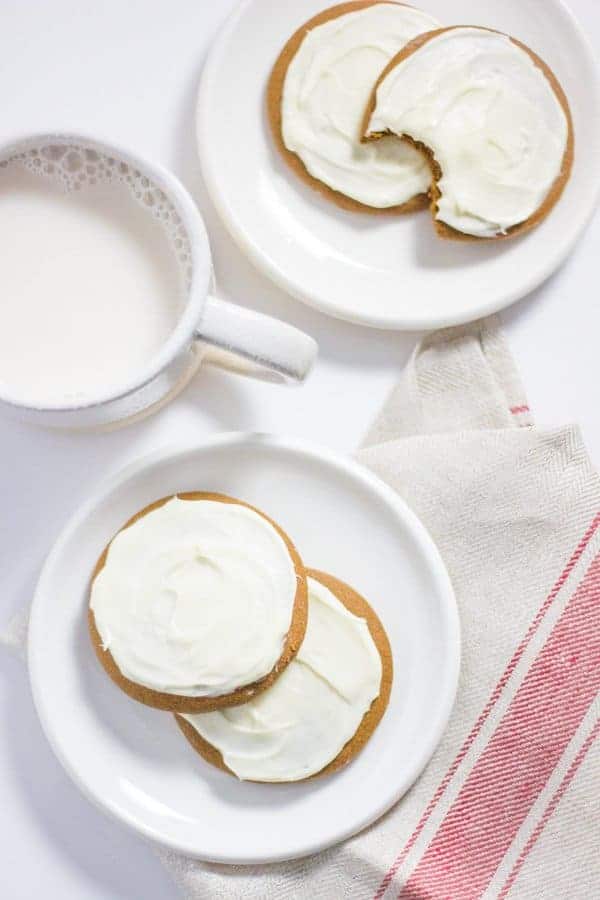 Gluten-Free Gingerbread Cookies with Cream Cheese Frosting – A soft and perfectly spiced gluten-free gingerbread cookie topped with a dreamy cream cheese frosting.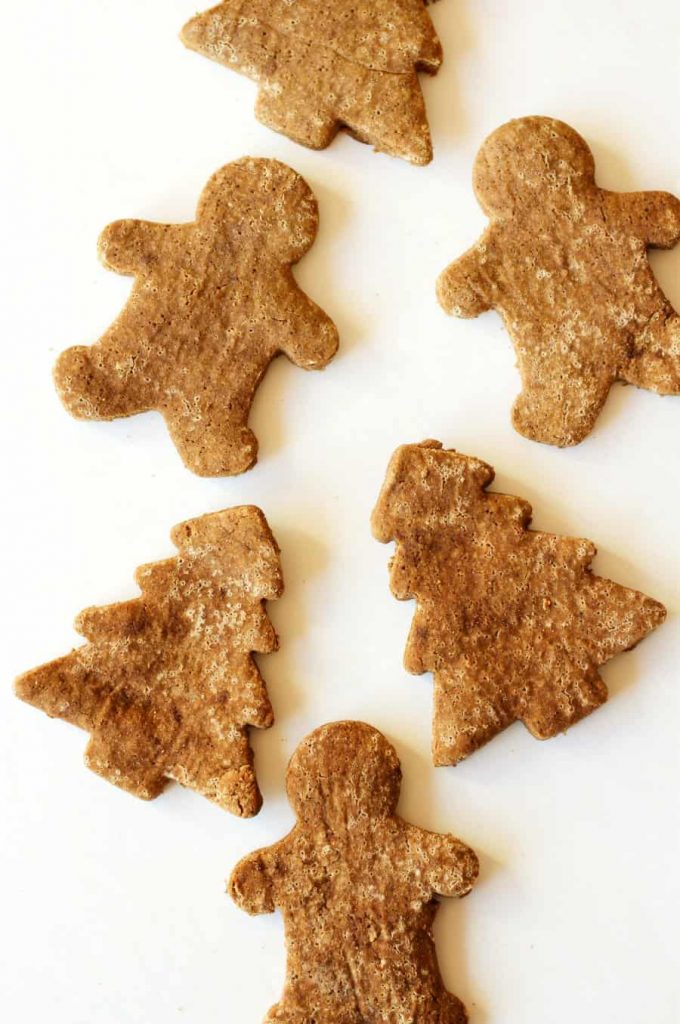 Classic Gluten-Free Gingerbread Cookies – These classic gluten-free, vegan, and allergy-free gingerbread men (and friends) are such a fun sweet treat for all to have this Christmas. Food allergies don't have to get in the way with this dessert recipe!
Snowball Cookies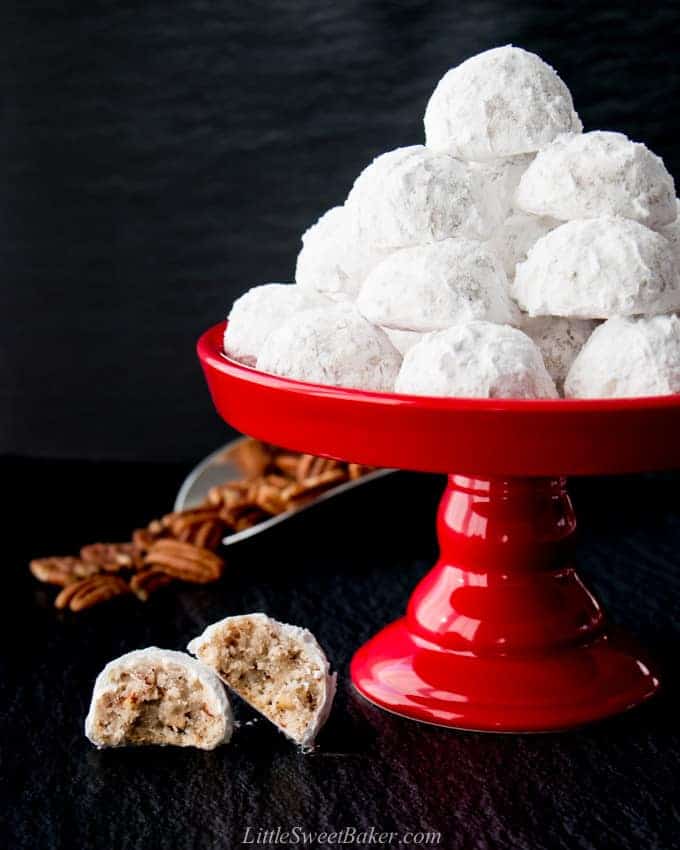 Snowball Cookies – These dreamy snowball cookies are rich and buttery, filled with toasted pecans and covered in powdered sugar. They only require 6 ingredients and are super easy to make.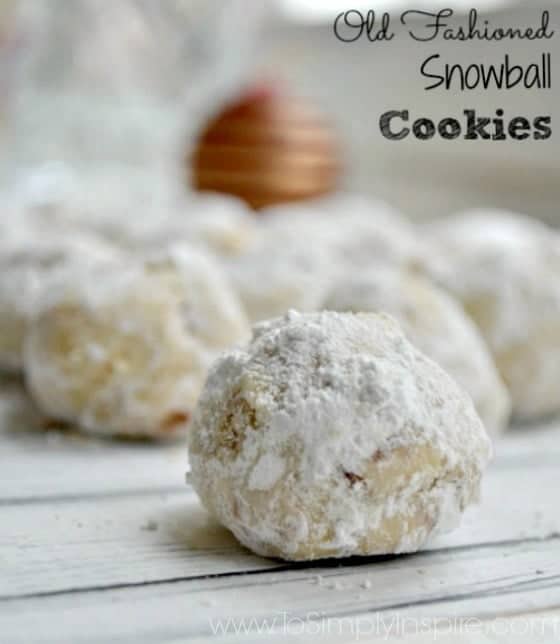 Easy Snowball Cookies – These Easy Snowball Cookies are a buttery, shortbread cookie with pecans that are baked then dipped in powdered sugar. A Holiday favorite addition to your Christmas cookie list!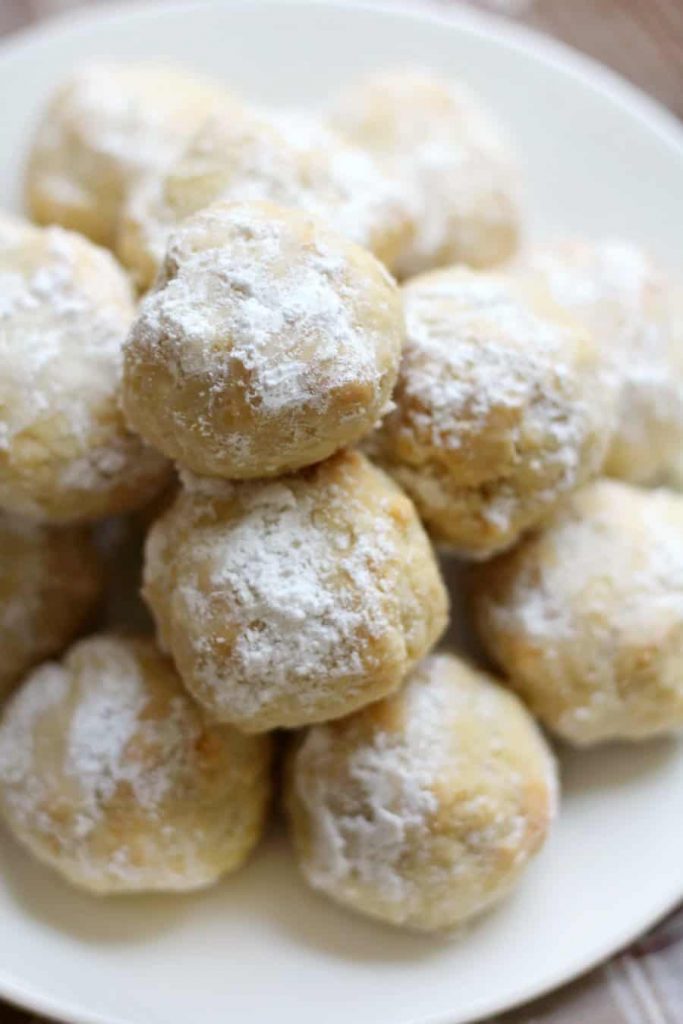 Grain-Free Snowball Cookies – This almond-based recipe for Grain-Free Italian Wedding Snowball Cookies is gluten-free, vegan, paleo, and sugar-free! Just 4 ingredients, they're a healthy low-carb addition for the Christmas cookie tray!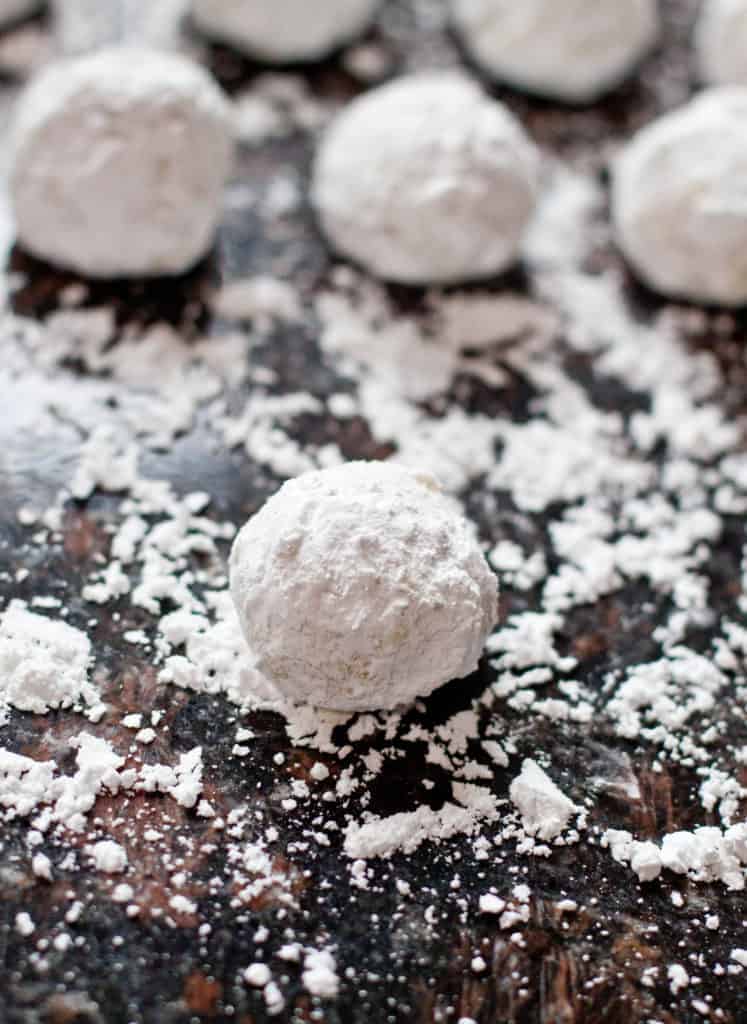 Classic Butter Balls – A Christmas Classic! These Butter Balls, also known as Russian Tea Cakes, are so easy, but so delicious and perfect little snowball bites of Christmas!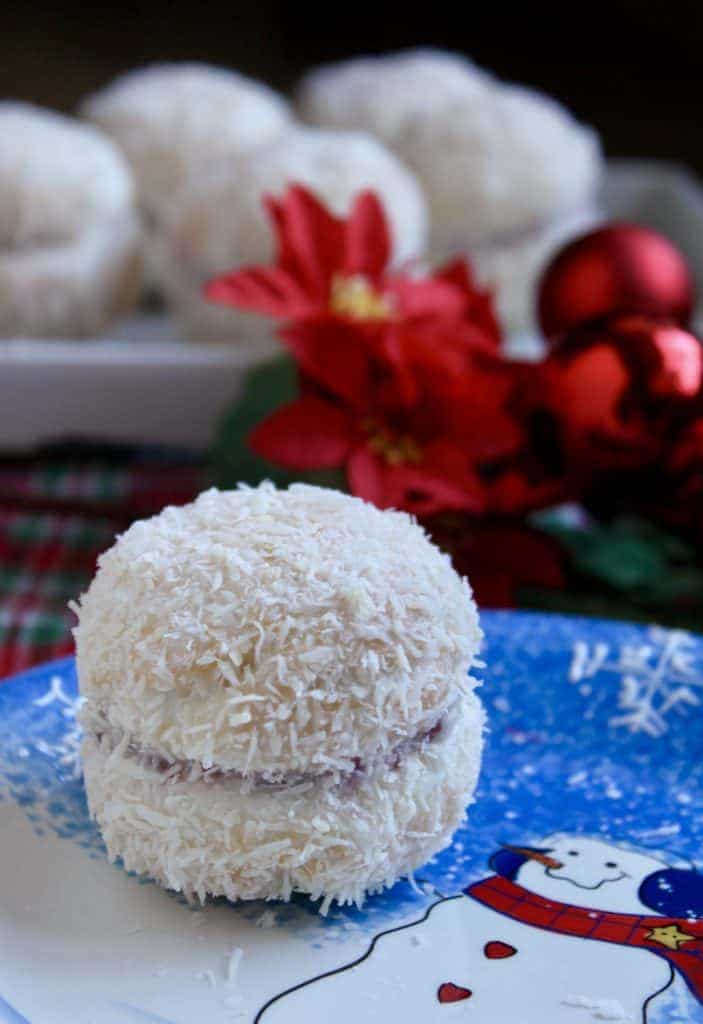 Scottish Snowballs – If you grow up in Scotland, you grew up with these snowballs. They're absolutely delightful and taste even better than they look!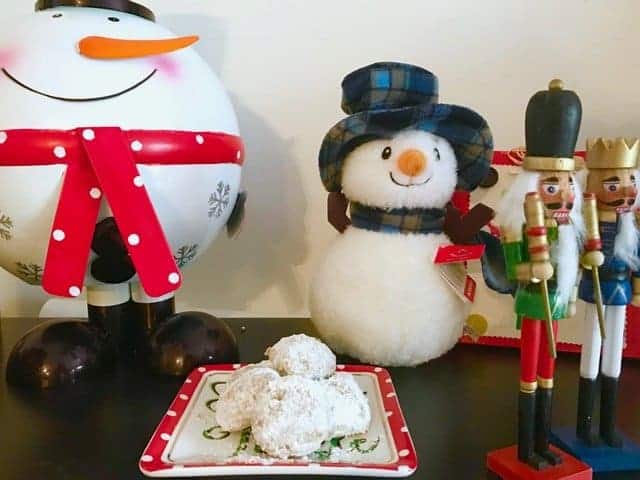 Nana's Snowball Cookies – These famous Snowball cookies will melt in your mouth. A Holiday favorite!
Christmas Cookies for Chocolate Lovers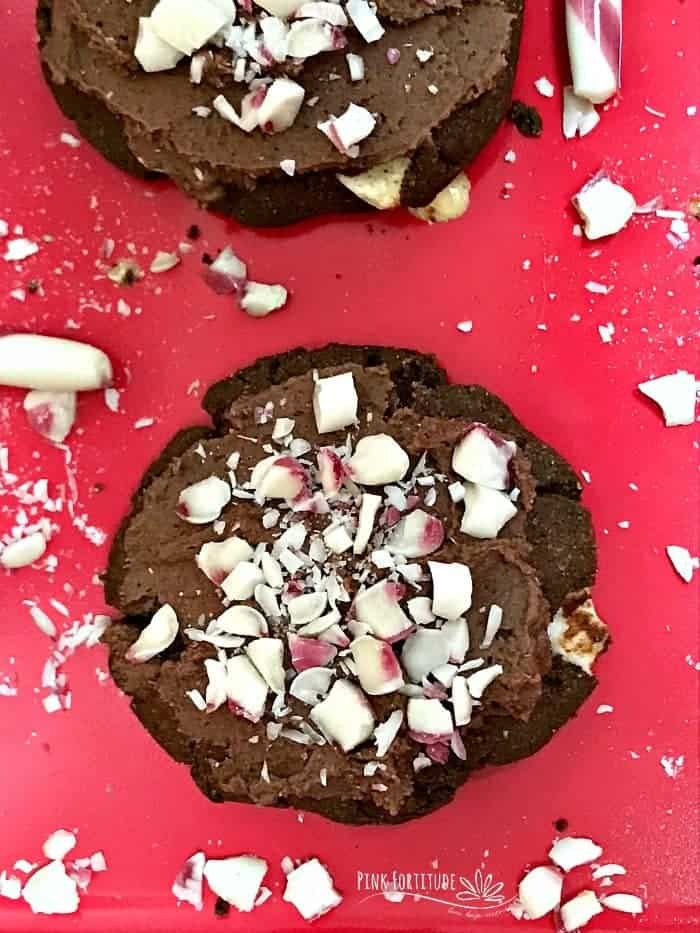 Peppermint Hot Chocolate Cookies – The warmth of a cup of hot chocolate. The zing of a little peppermint. All in a cookie. That PS is gluten-free and vegan. This cookie puts it together with all of the flavors, but none of the sugar crash. Eat it. Dunk it. Take it to a cookie exchange. Leave it out for Santa. Just don't call it ordinary.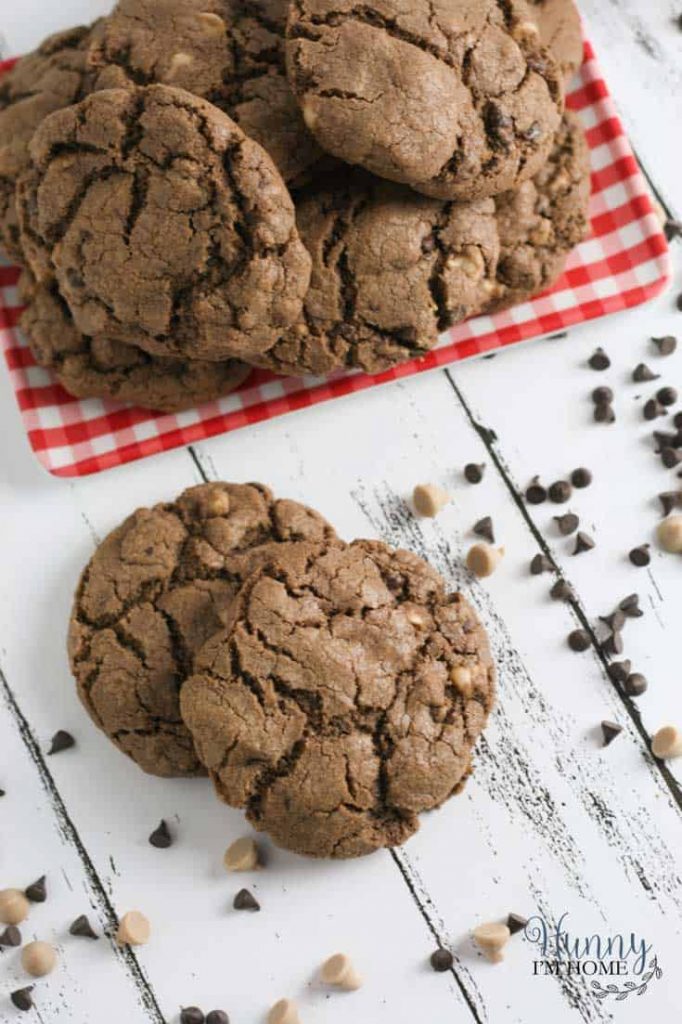 Gluten-Free Hot Chocolate Cookies – These delicious gluten-free hot chocolate cookies are the perfect cookie recipe for any holiday gathering. They're filled with chocolate and include an added twist — salted caramel.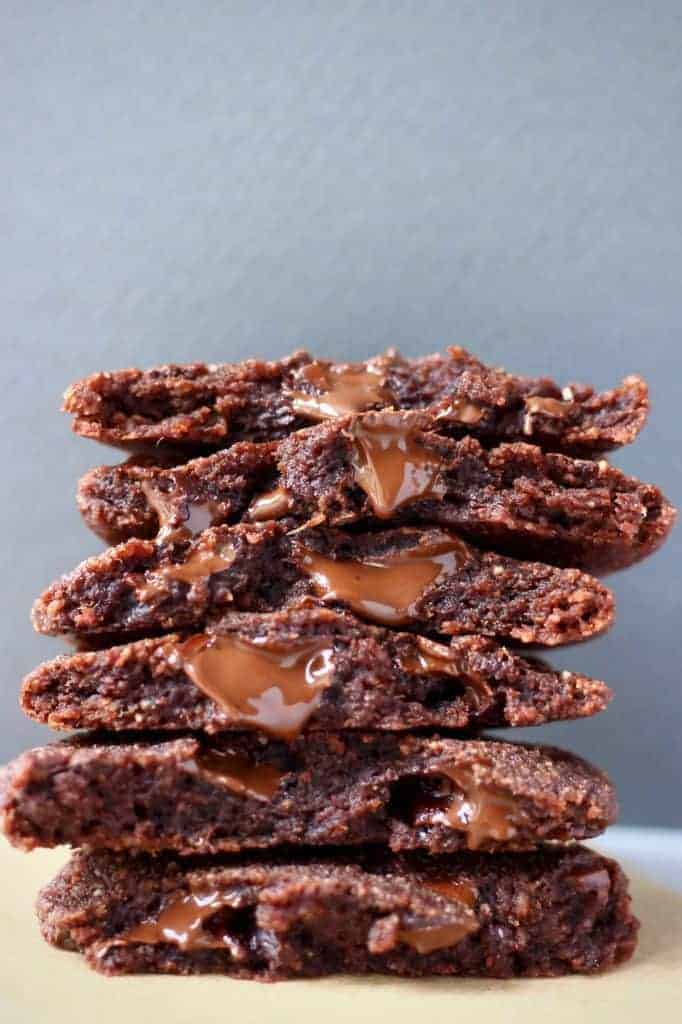 Gluten-Free Vegan Double Chocolate Chip Cookies – These Gluten-Free Vegan Double Chocolate Chip Cookies are super easy to make, chewy and fudgy and seriously indulgent yet secretly healthy!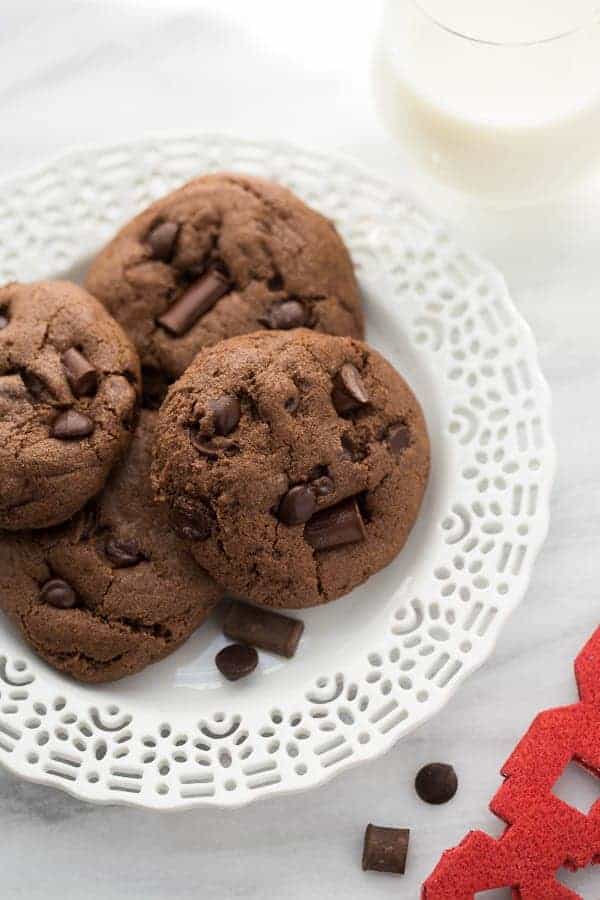 Gluten-Free Double Chocolate Mint Cookies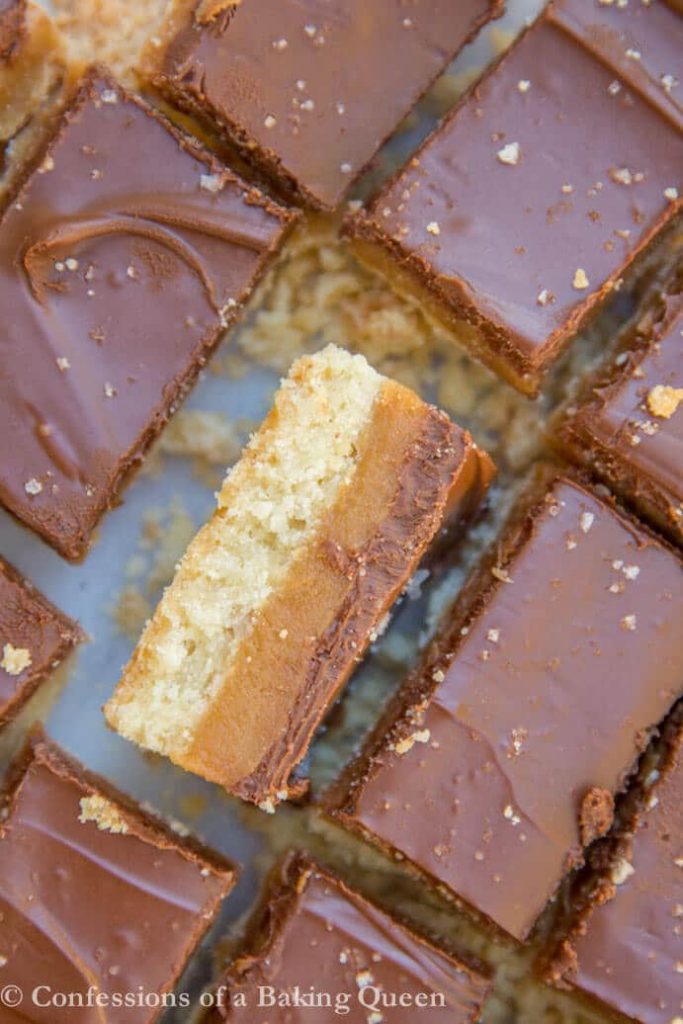 Salted Millionaire's Shortbread – Buttery Shortbread Crust, topped with Salted Caramel, finished with chocolate and sprinkle of sea salt, this Salted Millionaire's Shortbread Recipe is the Best! Perfect for an edible gift, bake sale or your next party!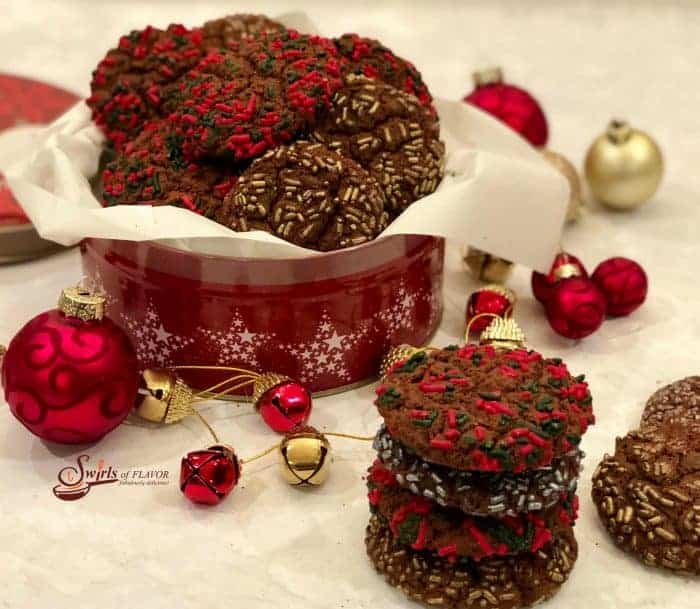 Double Chocolate Espresso Cookies – Combine the flavors of chocolate and coffee in a decadent cookie for the holiday season. When deep rich chocolate cookie dough is flavored with espresso, studded with mini chocolate chips and rolled in festive holiday sprinkles, every bite is an indulgence.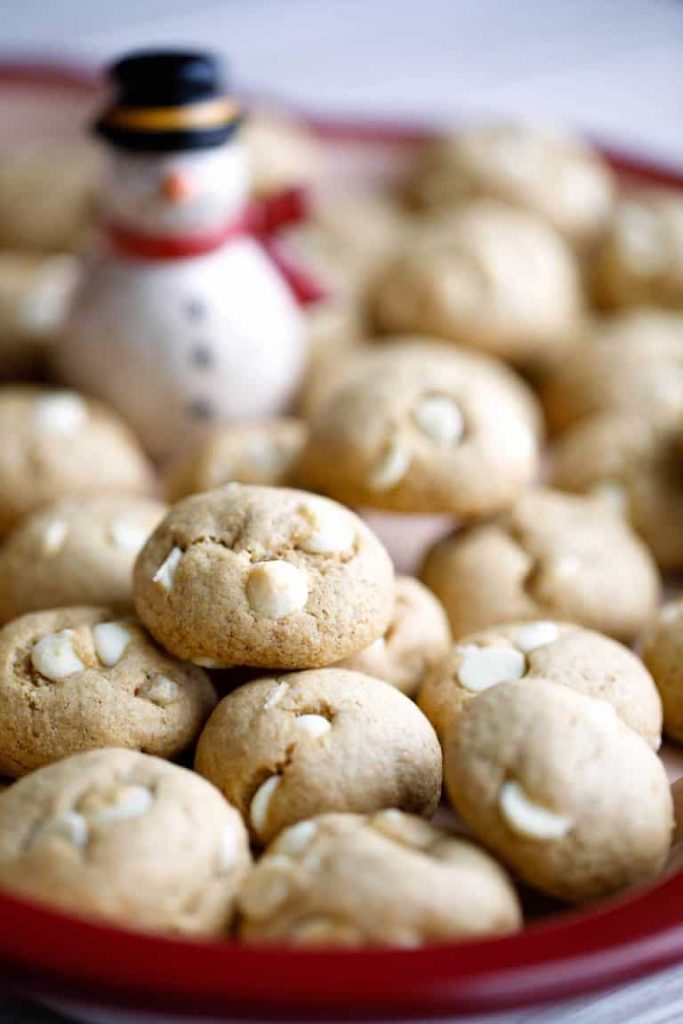 Peppermint-White Chocolate Chickpea Cookies – These scrumptious "chickpea" cookies magically replace most of the butter in "typical" cookie recipes to slash the fat while adding loads of nutritious protein and fiber! They're chewy and satisfying (just like a "normal" cookie), but so much healthier! A guilt-free indulgence, with a peppermint-white chocolate flavor combo that's perfect at the holidays!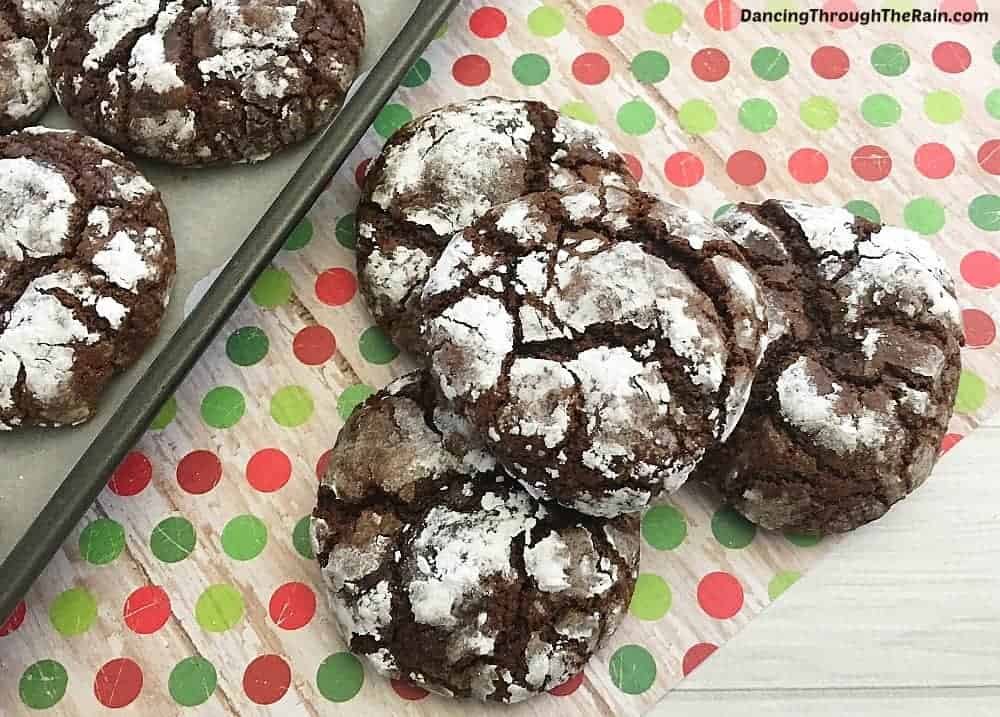 Chocolate Crinkle Cookies – These Chocolate Crinkle Cookies are the perfect winter treat for your next party or bake sale! Whether you bake them for Christmas or give them as a gift, the chocolatey goodness will be loved by all!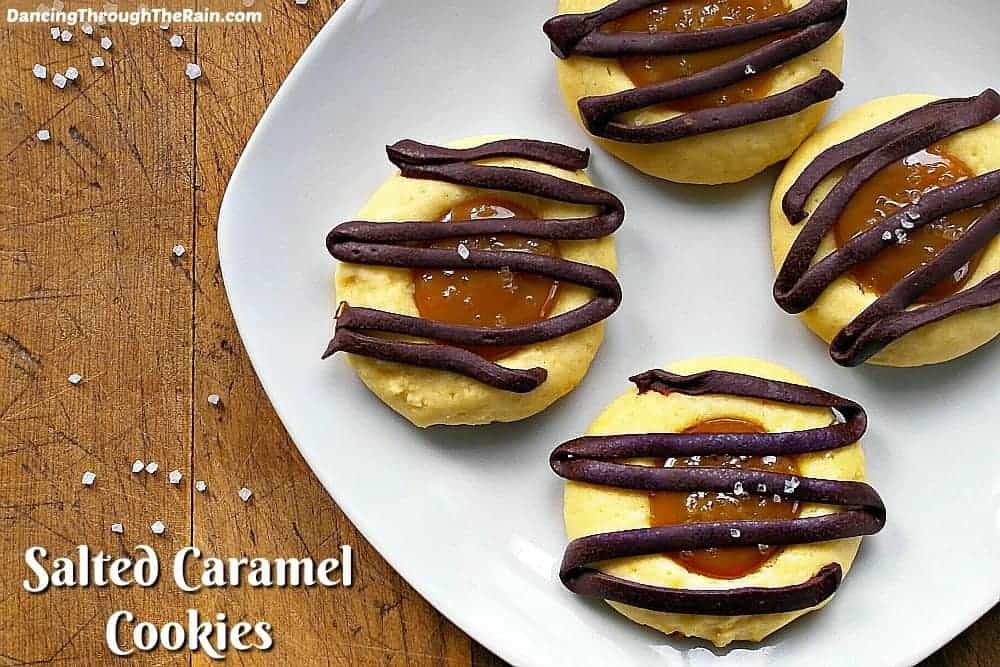 Salted Caramel Cookies – As a thumbprint cookies recipe goes, these salted caramel cookies are beyond amazing! With caramel in the middle and a chocolate drizzle, they're perfect for Christmas, New Year's Eve or any other occasion!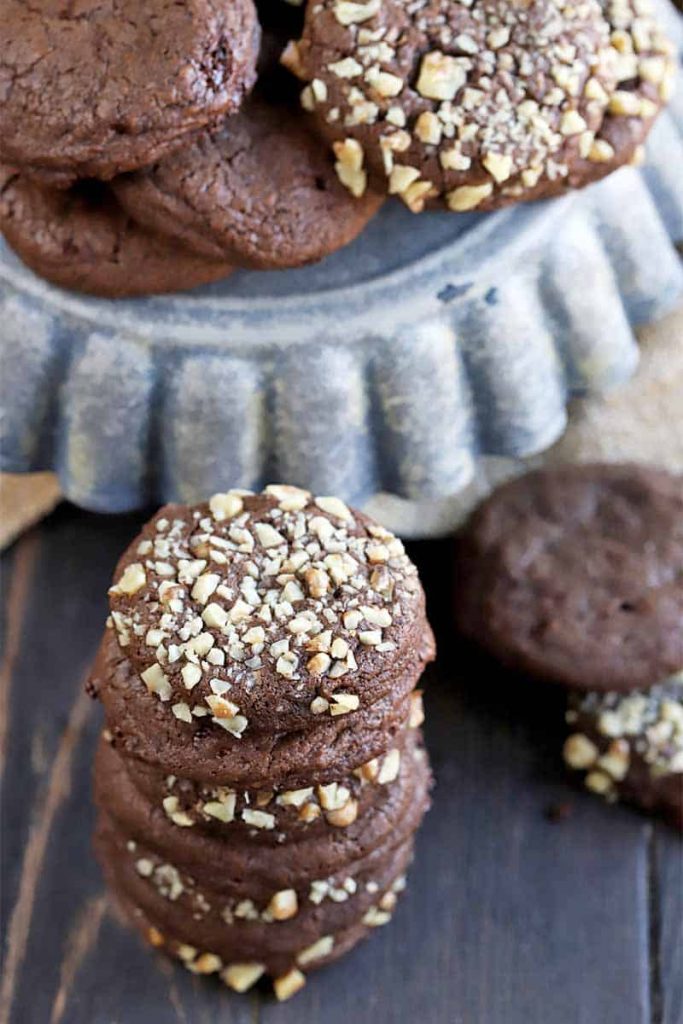 Chocolate Truffle Cookies – The perfect cookie recipe for those that love chocolate and more chocolate. These delightfully decadent truffle cookies feature a light topping of walnuts (or not) to add a nuttiness to all of that chocolate.
Traditional Christmas Cookies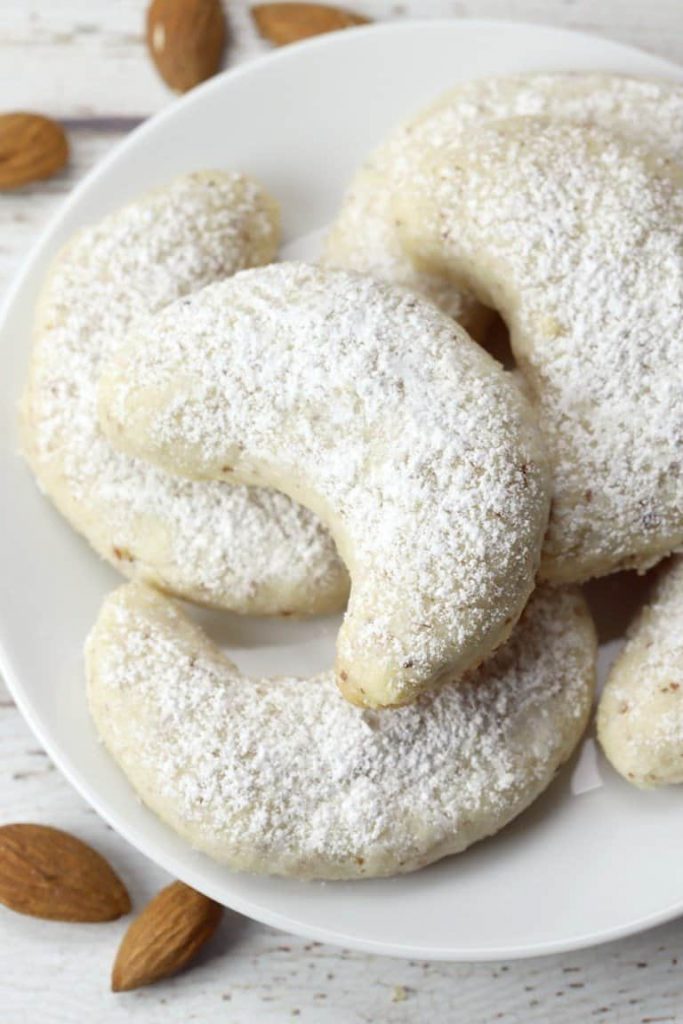 Vanillekipferl – Vanillekipferl are vanilla crescent cookies filled with nuts and dusted in a generous coating of vanilla sugar. A popular European treat, these delicate cookies are perfect for holiday cookie trays.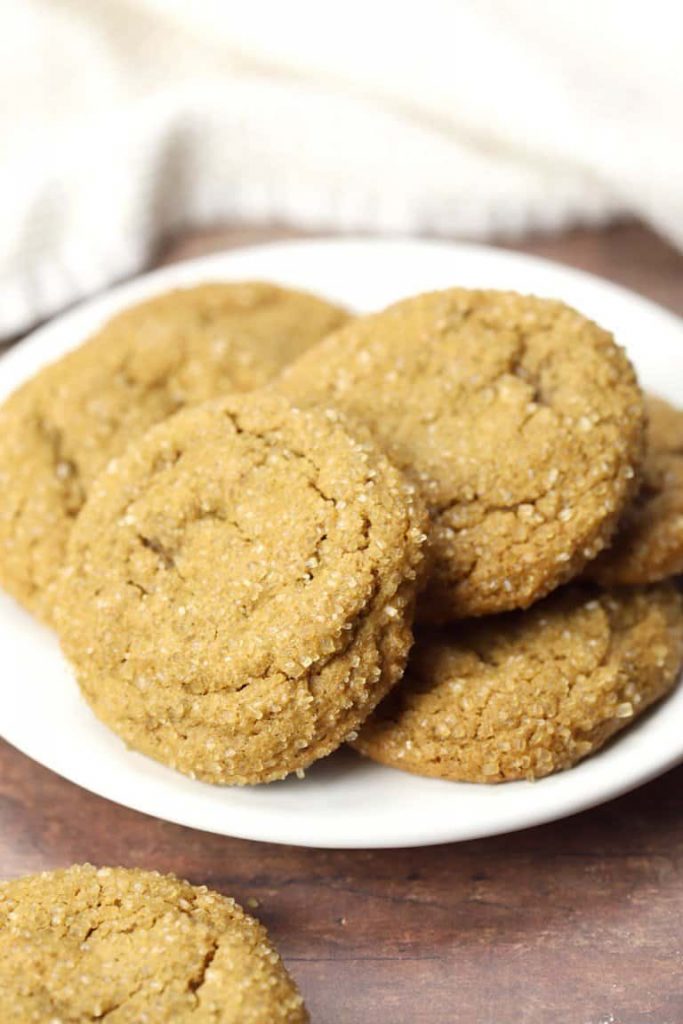 Soft Molasses Cookies – Soft Molasses Cookies are chewy drop cookies that are lightly spiced and rolled in sugar. Popular for the holidays, these soft molasses drop cookies are filled with seasonal flavors like cinnamon, cloves, and ginger.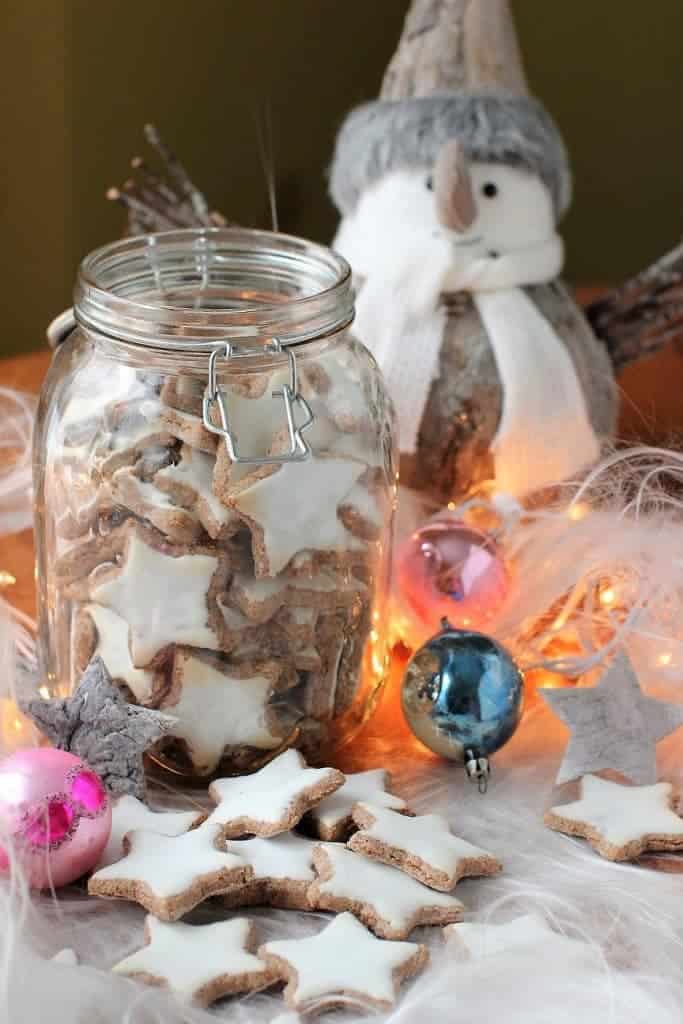 Zimtsterne – 'Cinnamon Stars' – Zimtsterne are a traditional German Christmas cookie. They're sweet and chewy and nutty – naturally gluten-free – and baked in a most unusual way.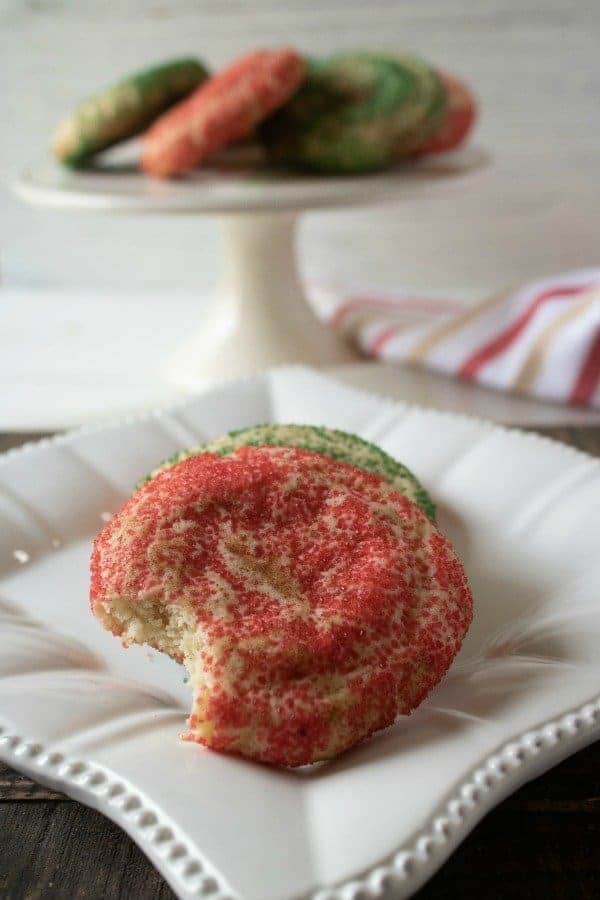 Peppermint Snickerdoodles – This recipe for Homemade Peppermint Snickerdoodles is very simple and easy! The BEST Christmas Cookie for Holiday Dinners or Cookie Swaps.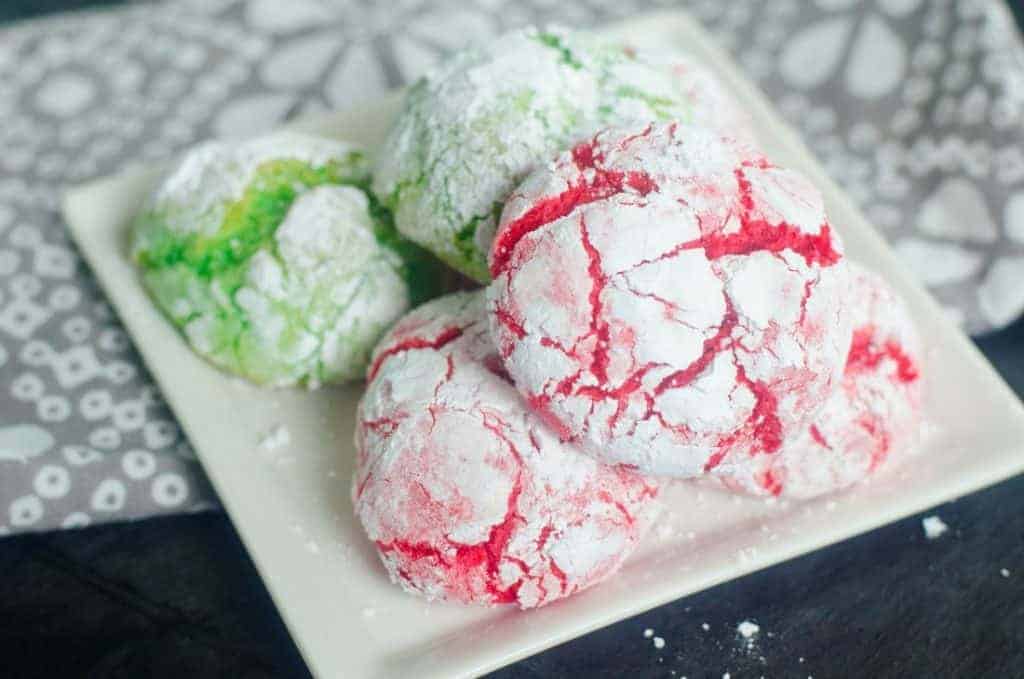 Cake Mix Christmas Crinkle Cookies – Cake Mix Christmas Crinkle Cookies are easy and delicious cookies to make for the holidays. These simple cookies make the perfect edible gift for those on your Christmas list, including good ole Saint Nick!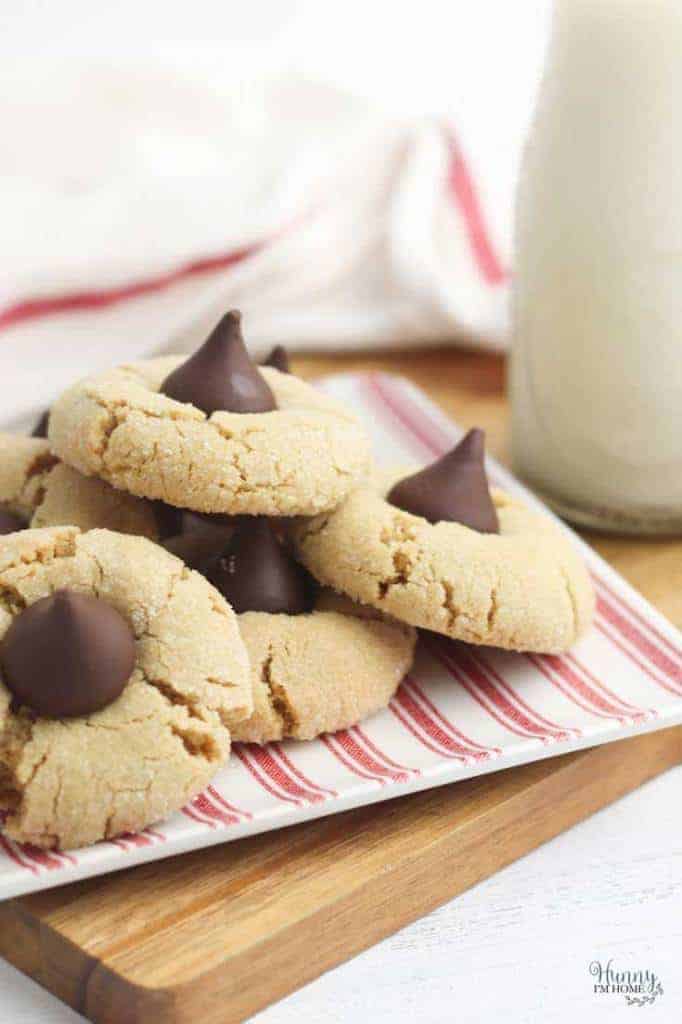 Gluten-Free Peanut Butter Blossoms – This gluten-free take on a classic Christmas cookie is packed with peanut butter flavor and topped with a chocolate Kiss. And that combination of peanut butter and chocolate is just what you need this holiday season!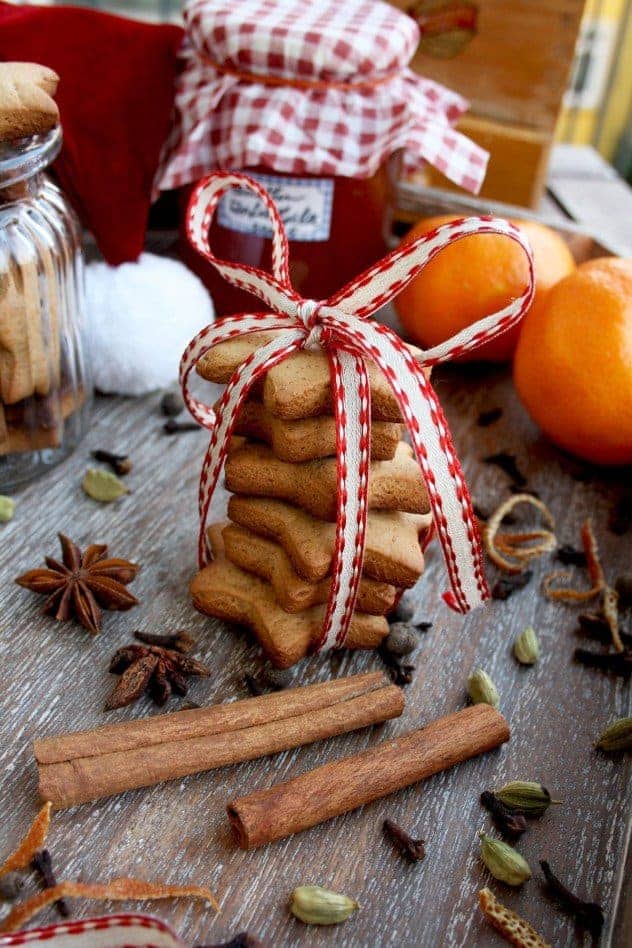 German Christmas Cookies: Lebkuchen – Authentic recipe of the most popular German cookies: spicy, soft and incredibly flavorful. Give them as gifts to your family and friends!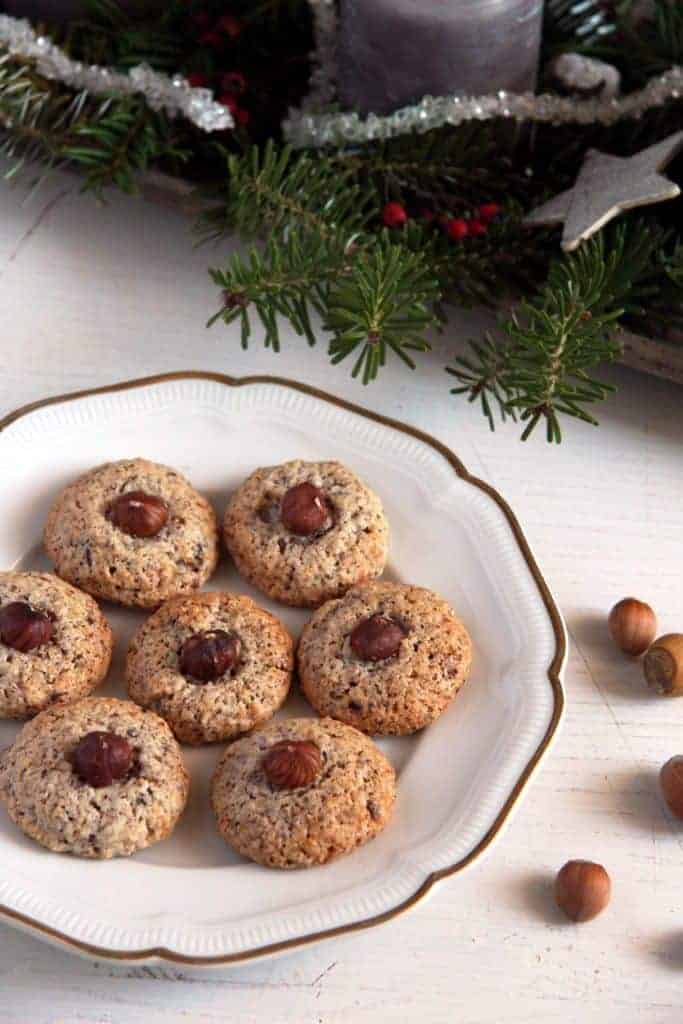 Chewy German Hazelnut Macaroons: Nussmakronen – Chewy and sweet hazelnut macaroons or Nussmakronen, these are typical German cookies made with only 4 ingredients.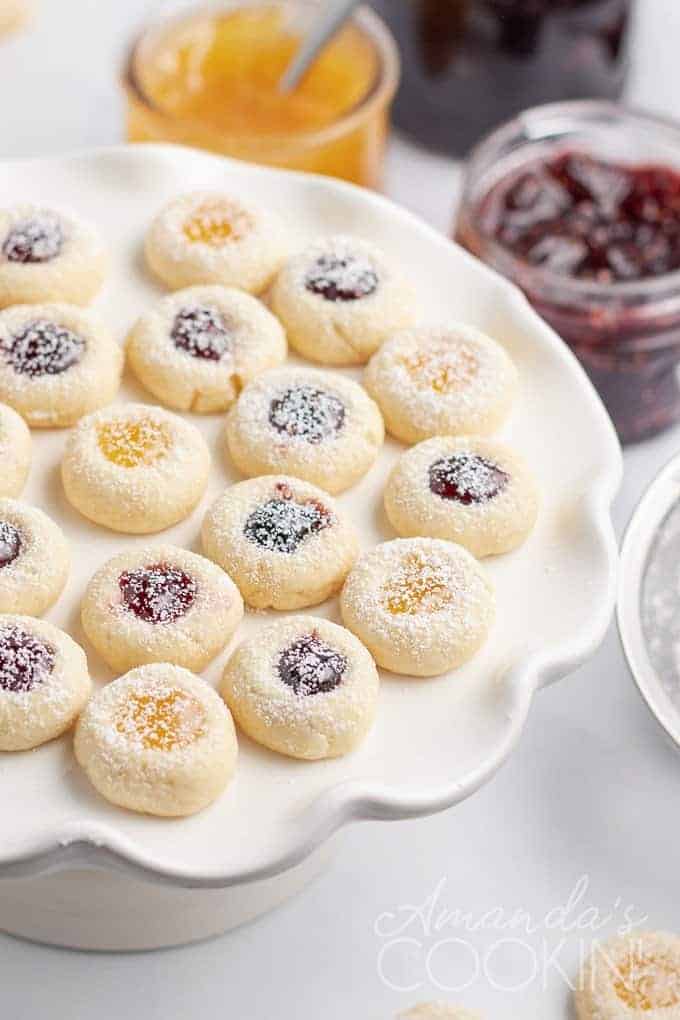 Thumbprint Cookies – Jam filled Thumbprint Cookies are a family favorite, especially for Christmas! These classic cookies are soft yet firm, and oh so popular.
More Christmas Cookies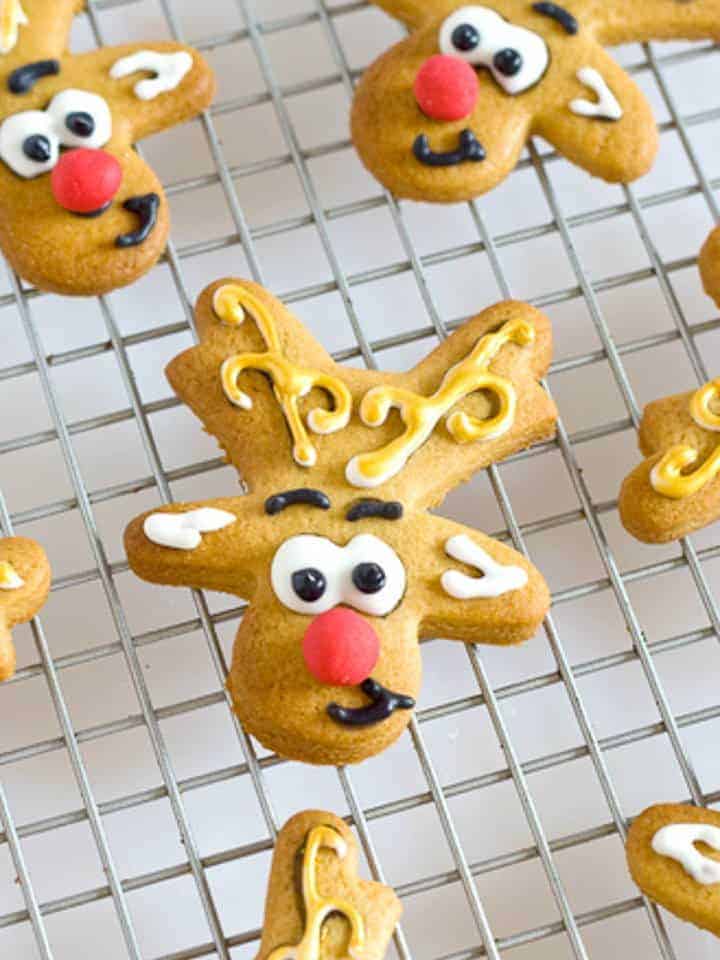 Reindeer Gingerbread Cookies – Super simple and fun to make, these Reindeer Gingerbread Cookies are made using a gingerbread man cookie cutter. They taste amazing too! Don't forget to add Rudolph's red nose!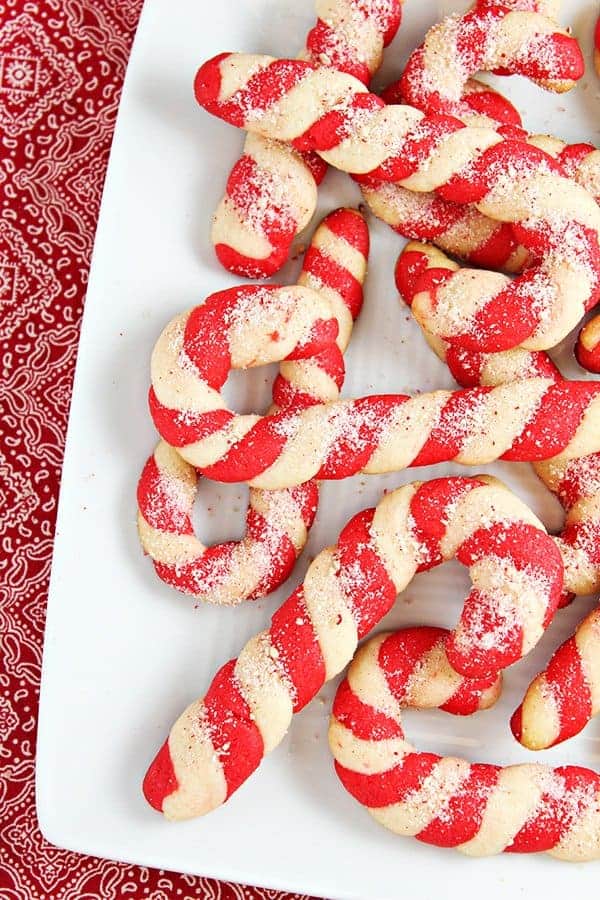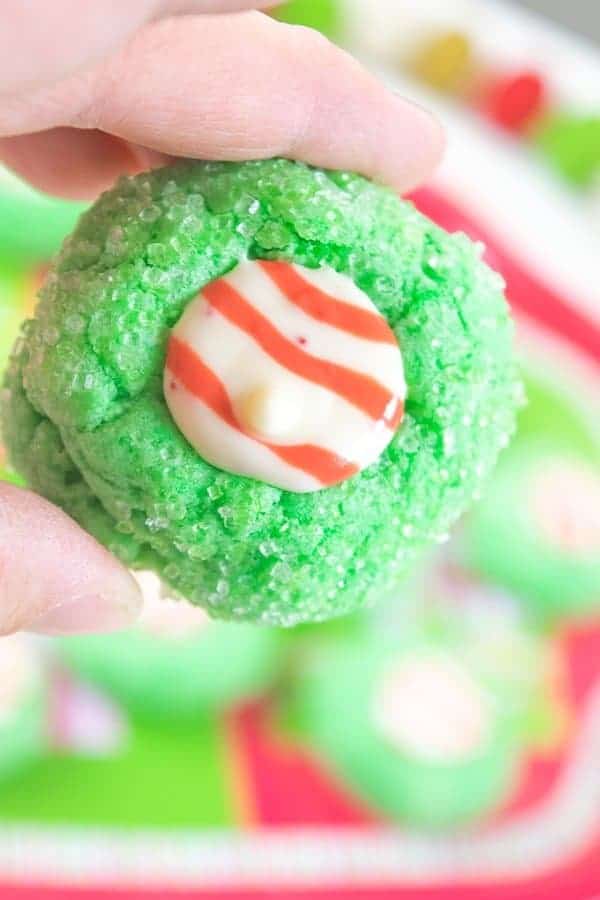 Grinch Christmas Cookies – Add these Grinch Christmas Cookies to your list this year! These sparkly green cookies have a kiss "Santa hat" in the middle making them look just like The Grinch Who Stole Christmas!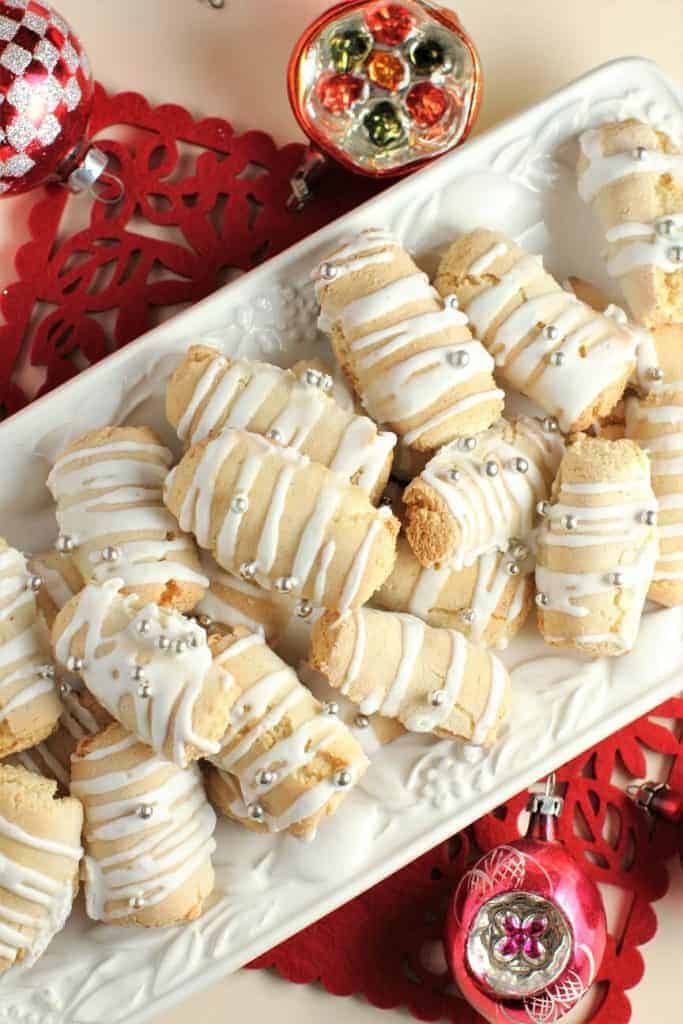 Lemon Cardamom Kransekake Cookies – Combining the fresh tang of lemon, the floral whiff of cardamom, and the sweetness of almonds, Scandinavian kransekake cookies are a unique and delicious little bite (gluten-free, too)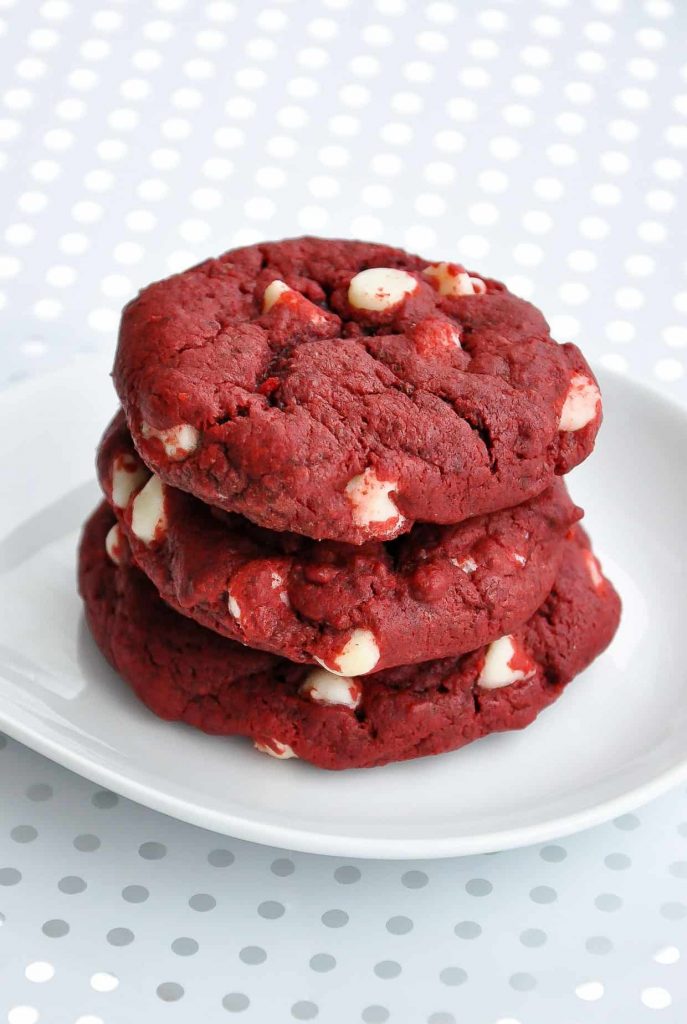 Red Velvet Cake Cookies – These red velvet cake cookies are loaded with white chocolate and perfect for holiday gifts and cookie exchanges! These cake-mix cookies are so easy to make!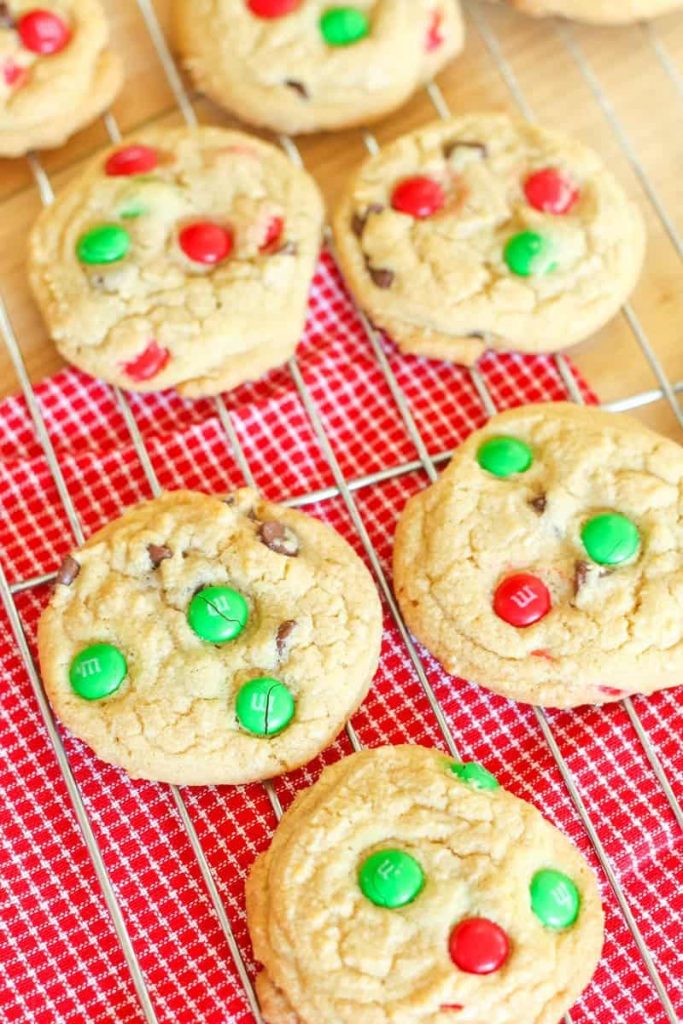 Christmas M&M Cookies – Chewy centers, crispy edges – they're everything you want in a cookie and more! I bet you can't eat just one!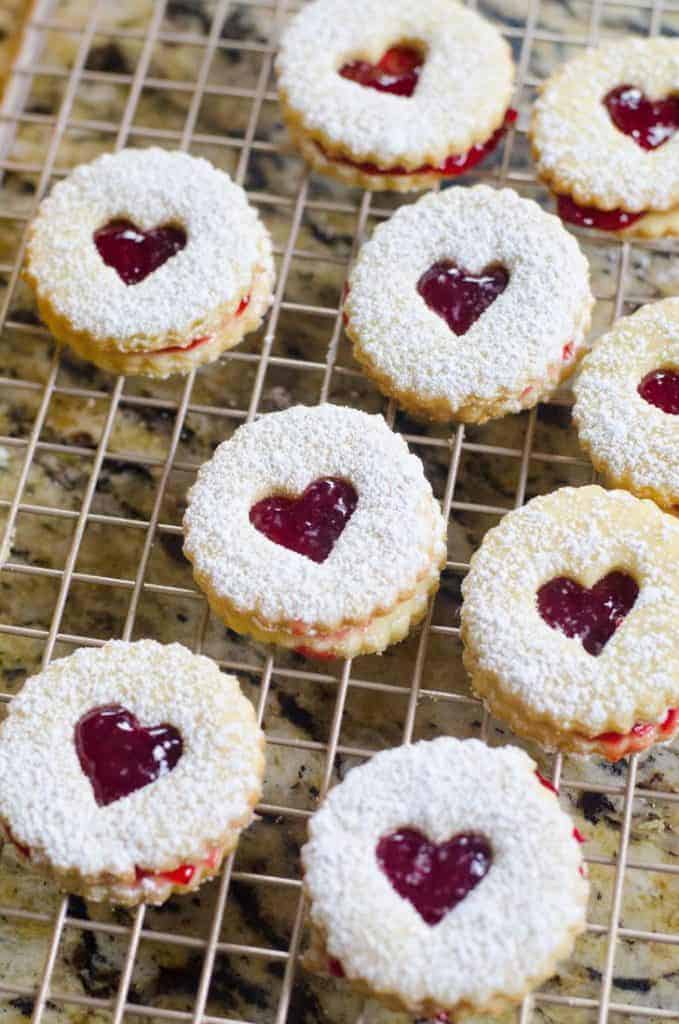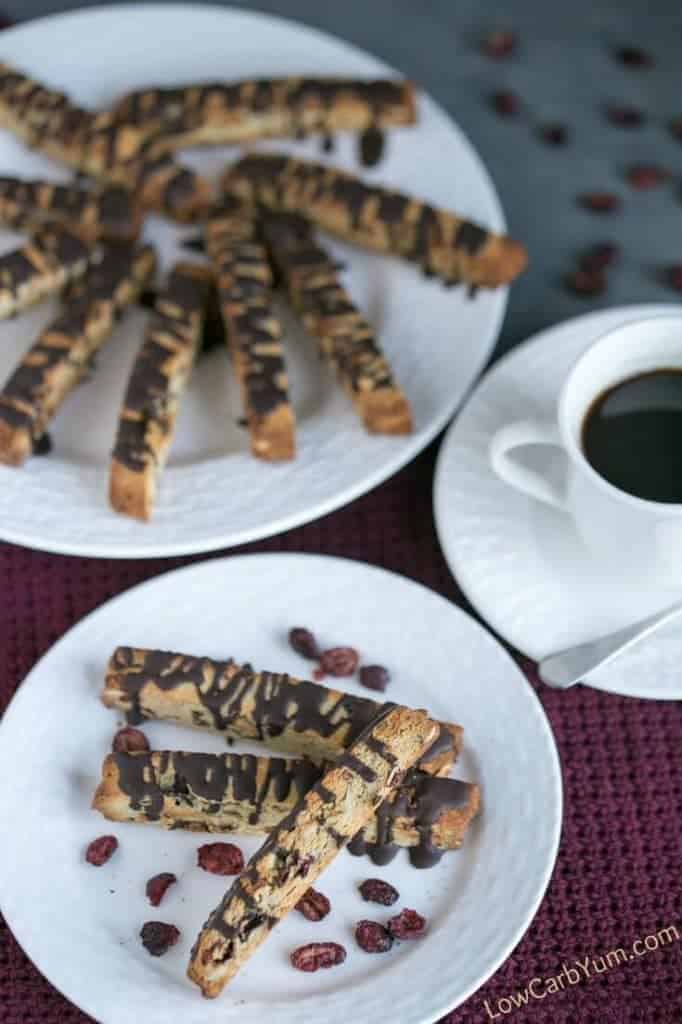 Cranberry Almond Biscotti Cookies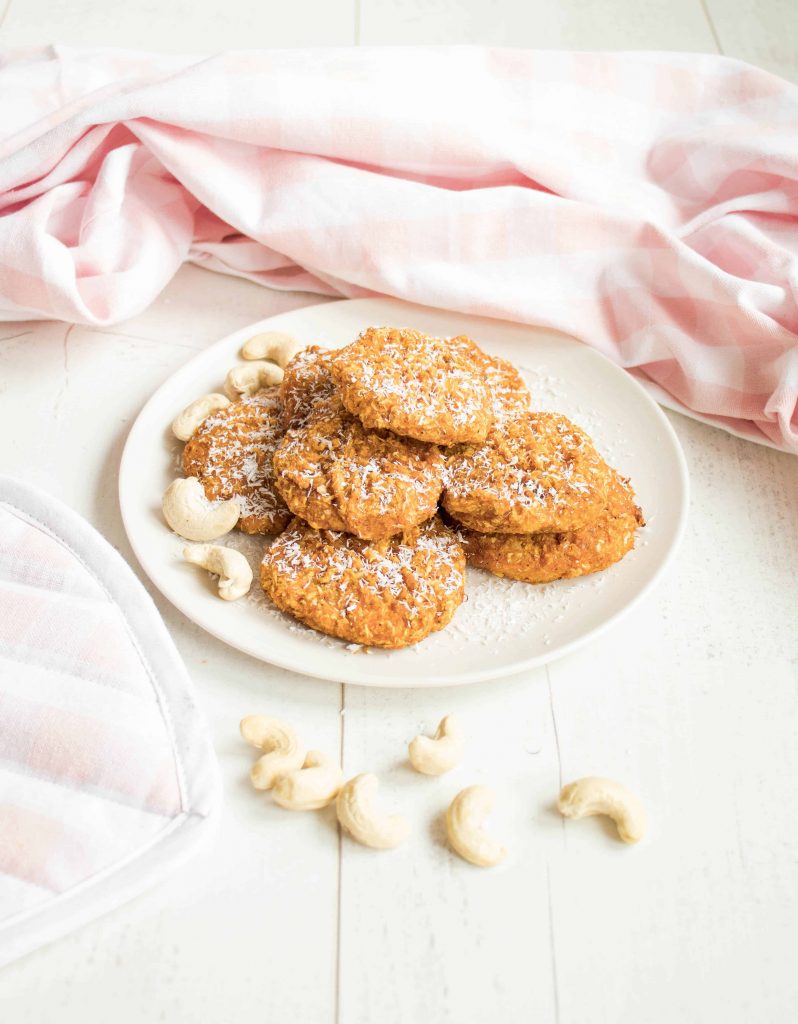 Gluten-Free Pumpkin Sweet Patties – These yummy vegan pumpkin desserts can work as post-workout snacks as well! Feel free to substitute the pumpkin with sweet potato or some apple puree!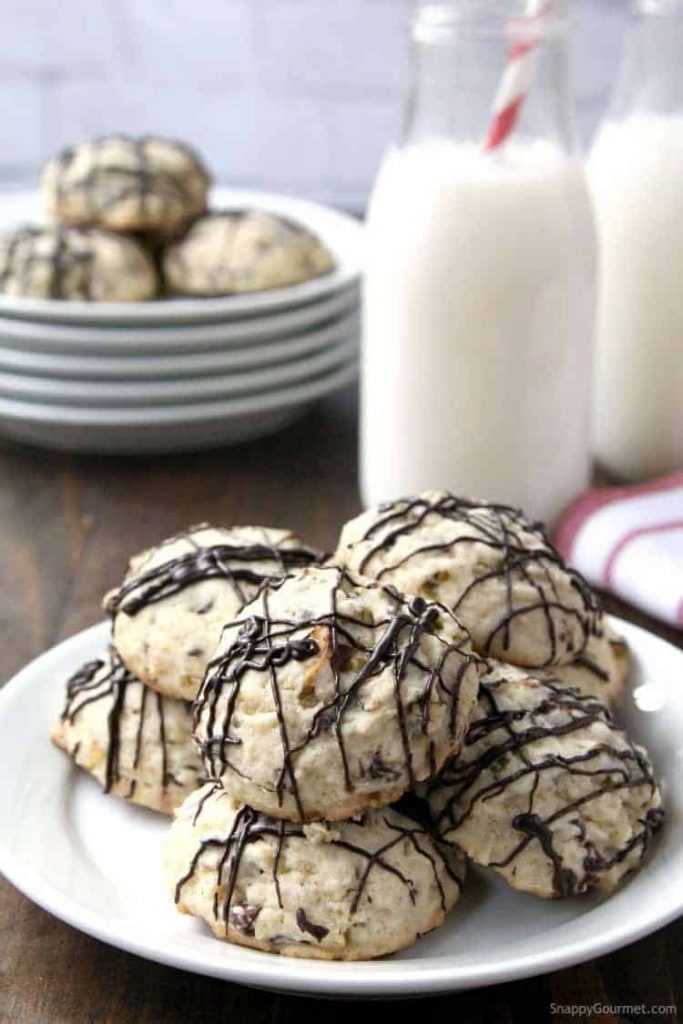 Cannoli Cookies – An easy recipe with ricotta, chocolate chips, and pistachios! Fun Italian Christmas cookies, inspired by Italian cannolis, that will make a great addition to your Christmas cookie baskets and gifts this year!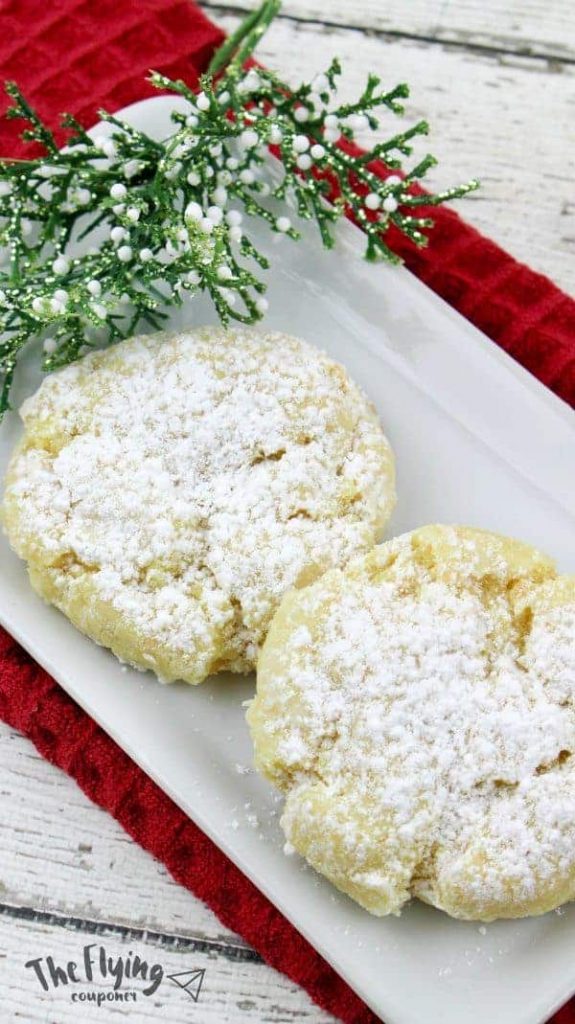 Eggnog Gooey Butter Cookies – These Eggnog Gooey Butter cookies will make your heart sing Christmas songs! Haha! Soft and amazingly buttery, these cookies infused with eggnog will without a doubt please your whole family.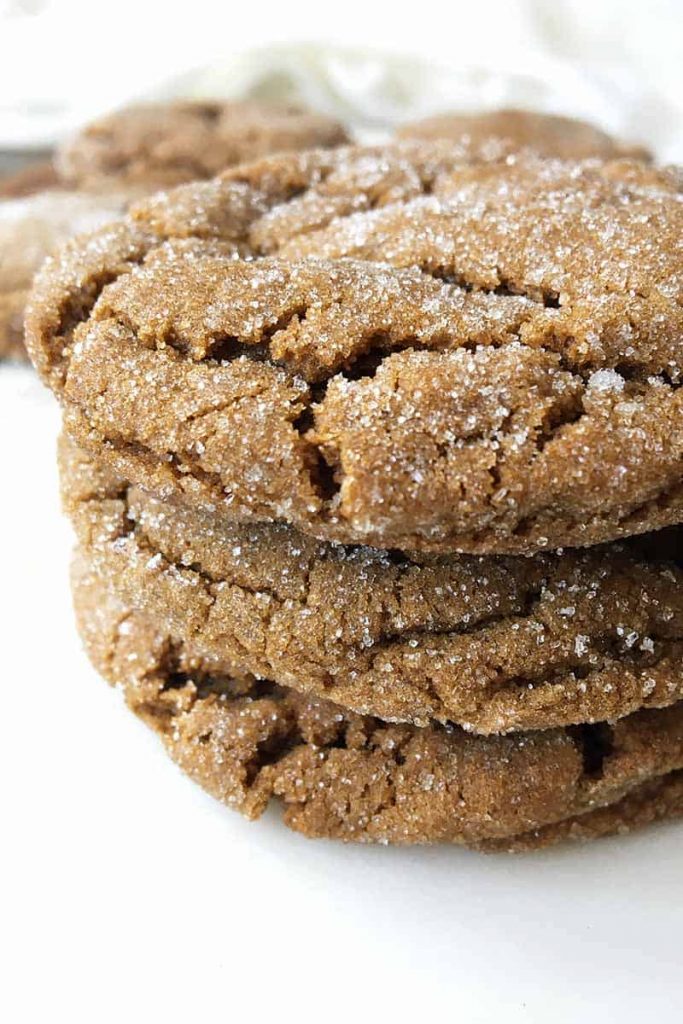 Big And Soft Ginger Cookies – Are gingersnap cookies breaking your teeth? They don't have to be made like concrete wafers. Try these soft and fluffy ginger treats.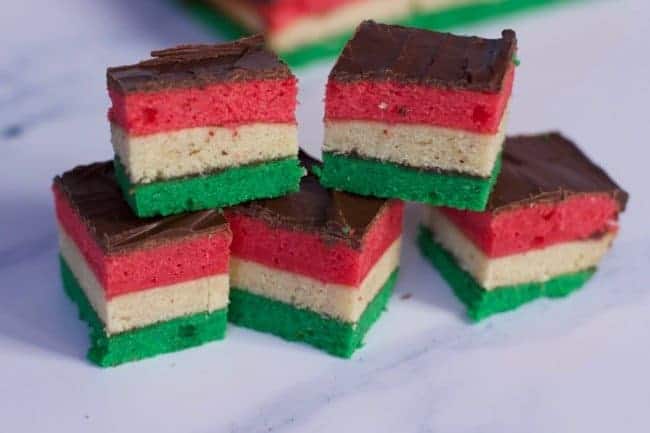 Italian Rainbow Cookies – Nothing says Christmas more than these traditional Italian Rainbow cookies. 7 layers of amazing cake, jam, and chocolate in one amazing bite.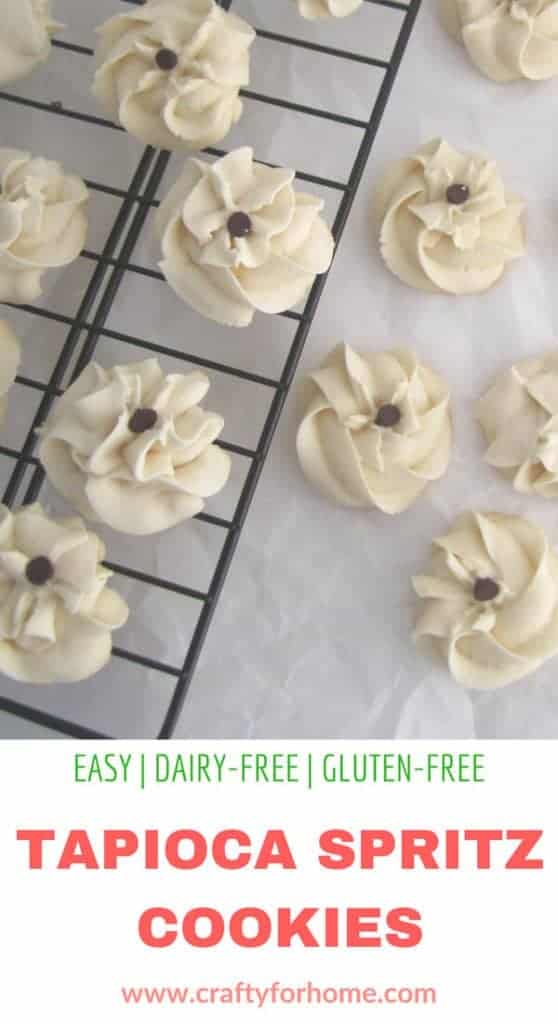 Tapioca Spritz Cookies – Dairy-free, nut-free, gluten-free spritz cookies that melt on every bite.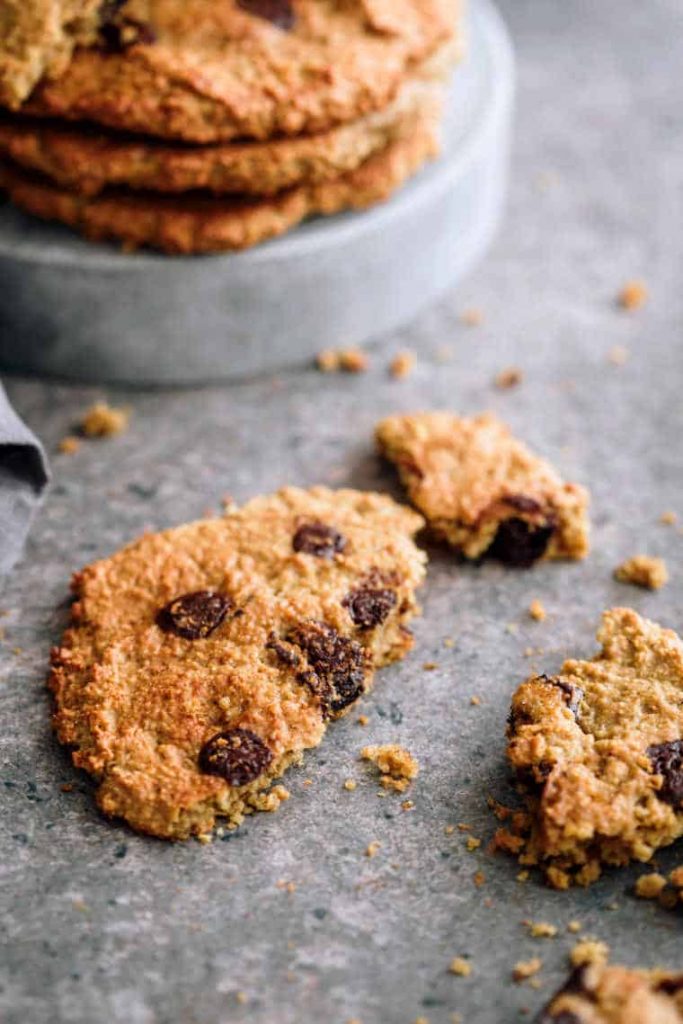 Vegan Oatmeal Cookies – Our gluten-free & vegan oatmeal cookies with chocolate chips are so easy and healthy! Chewy and crumbly with a hint of peanut butter, no sugar or oil needed.
https://nutriciously.com/vegan-oatmeal-cookies/
These Christmas Cookies are sure to please all your guests and everyone on your gift list this holiday season.
Share what you think of these Perfect Christmas Cookies Everyone Will Love in the comments below. Did we miss any of your favorites?
Pin these 50+ Best Ever Christmas Cookie Recipes for later!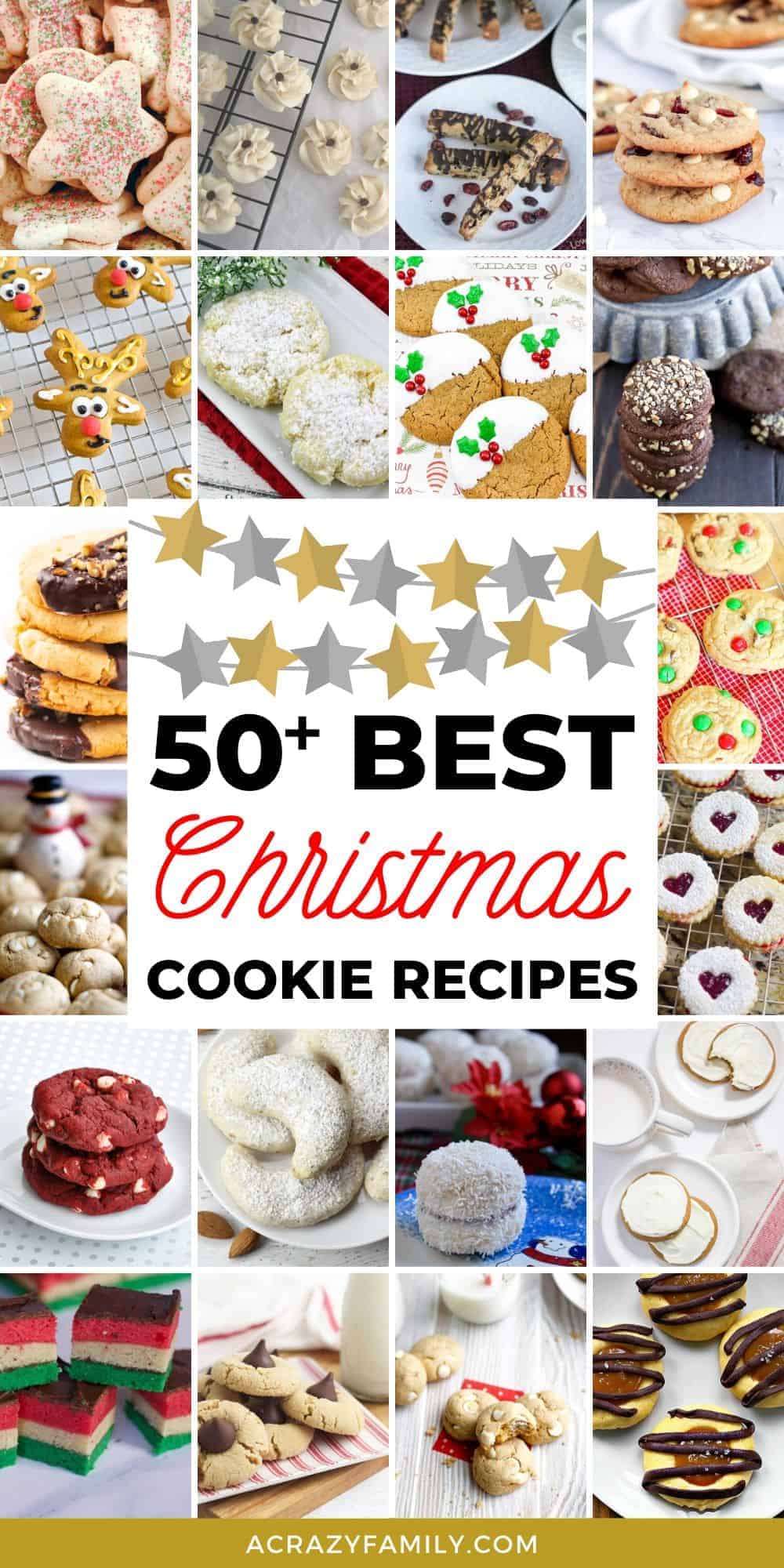 Created by Vickie aka The Crazy Family Mom

Vickie is the creator of A Crazy Family. She is a stay-at-home mom of a little boy with a big personality. She loves to share real food recipes, parenting tips & encouragement, fun kids activities, and so much more! Plus she is thrilled to provide you with a space to celebrate all that is awesome (and a little crazy) in the world.