Beautiful Breakfast Charcuterie Board Ideas
These BEST Breakfast Charcuterie Boards are anything but boring! These boards are an elevated twist on traditional breakfasts. Not only do they look stunning, but they're also surprisingly simple to make and full of wonderfully varied flavors.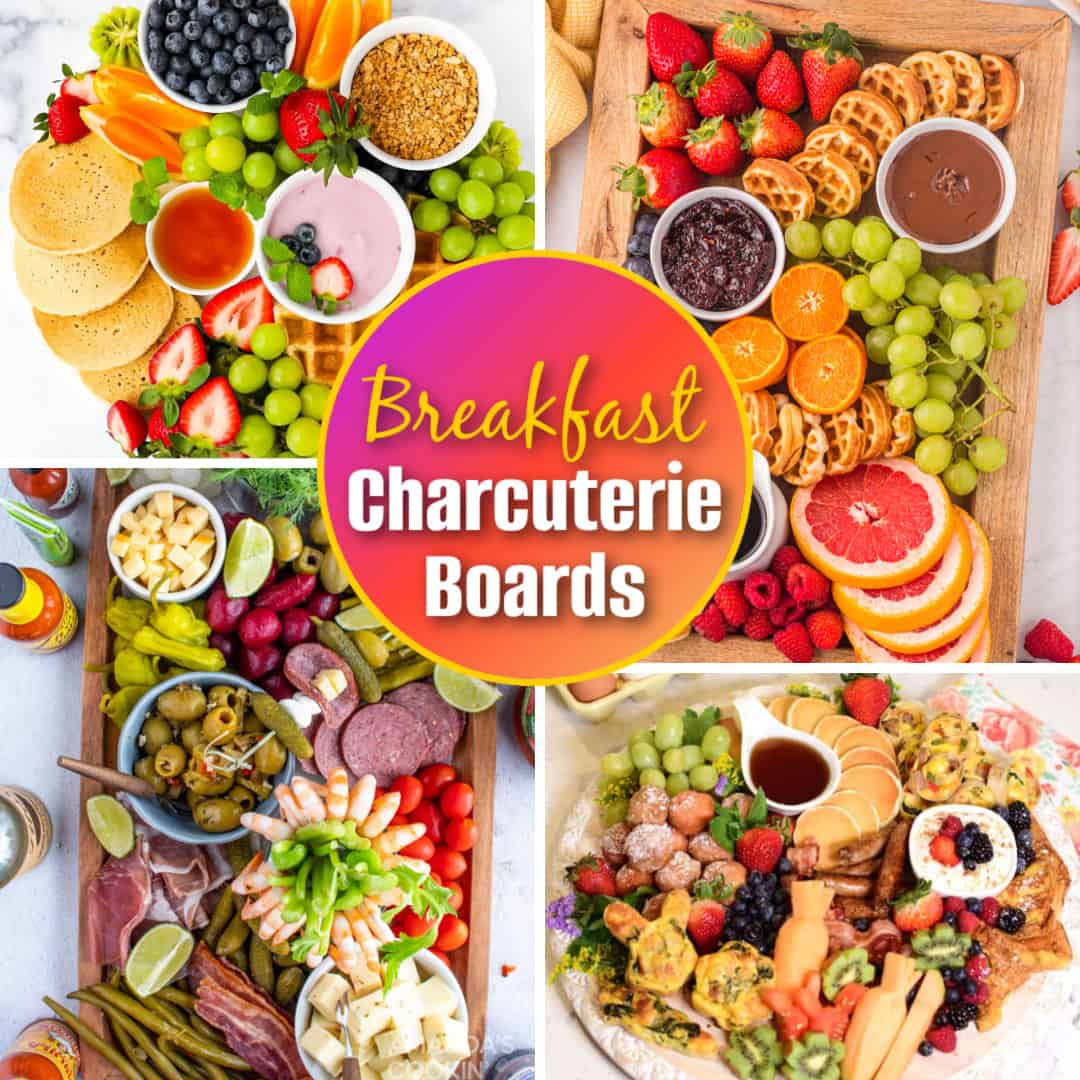 Whether you're having brunch with friends or just want something special at home – put away those boring cereal boxes and set up a beautiful breakfast charcuterie board!
If you are looking for a unique and beautiful way to start your day? Consider taking your breakfast charcuterie game up a notch! A delicious, colorful breakfast board is sure to add some excitement and flavor to any morning.
Read on to find out how to create yummy morning works of art that will make everyone in the house excited about hopping out of bed each morning!
What does "charcuterie" mean?
Charcuterie is defined as the art of preparing and assembling cured meats and other meat products. It often includes cheese, fruits, nuts, olives, and other accompaniments.
What is normally on a charcuterie board?
A charcuterie board typically consists of a selection of cured meats, cheeses, nuts, fruits, olives, and spreads. Meats may include salami and prosciutto, and cheeses can range from soft creamy bries to hard-aged cheddars. Fruits might be grapes, apples, or pears, and nuts can include almonds, cashews, or pistachios.
What can I use as a charcuterie board?
A charcuterie board can be made out of a variety of materials. Wood, slate, or marble boards are the most popular, but you can also use a large cutting board, tray, or even a plate if you don't have a charcuterie board.
What should I put on a Breakfast Charcuterie Board?
The beauty of creating a breakfast charcuterie board is that you can include whatever foods you like! Here are some ideas to get you started:
Toast and bagels.
Cheeses – try cheddar, brie, goat cheese, etc.
Fresh fruits – berries, apples, melon.
Veggies – cucumbers, tomatoes, peppers.
Hummus and other spreads.
Boiled eggs.
Bacon and sausages.
Yogurt with granola or honey.
Pancakes or waffles with syrup.
How to Assemble a Breakfast Charcuterie Board
Once you've gathered all your ingredients for your breakfast board, it's time to assemble:
Start by arranging the larger items first – things like pancakes, waffles, and toast.
Create different sections for your cheeses, fruits, veggies, and meats.
Wash and peel fruit before putting it on the board.
Get creative with color to create a vibrant board.
Place spreads like hummus or peanut butter in small dishes around the board.
Place small spoons, tongs, or serving utensils near the board.
Creating a breakfast charcuterie board is a fun way to brighten up your morning routine – so what are you waiting for? Get creative and show off your artistic skills with a delicious breakfast board!
Breakfast Charcuterie Boards
Waffles and Bacon Charcuterie Board by Britney Breaks Bread – Get excited about mornings when this spread of food awaits you! With waffles, bacon, eggs, and all of your favorite breakfast foods, you can start the day off on a good note with great flavors.
Country Breakfast Board by Homemade Hooplah – With eggs, ham, sausage, fruit, and hash browns, this breakfast charcuterie has all the elements of an outstanding country breakfast. It can feed a crowd with old-fashioned goodness too.
Pancake and Waffle Charcuterie by Happiness is Homemade – This board has plenty of pancakes, waffles, fruits, and toppings for a simple and sweet start to the day.
Bagel and Waffle Board by Sweet Tea and Thyme – A breakfast board packed with fruits and bread like bagels, croissants, and of course, waffles is a great option for the first meal of the day. Make this when you need to feed a crowd and want to offer variety.
Waffle and Berry Board by Maple and Mango – Make this breakfast board for a really beautiful spread worth sharing with your favorite people. It is loaded with a variety of berries, tasty toppings, and filling waffles.
Pecan Praline Butter Board by xoxo Bella – If you have an assortment of fresh breads, waffles, or pancakes, why not make this pecan praline butter board to go with them? This is such a tasty idea for adding sweet flavor to your breakfast offerings.
Smoked Salmon Breakfast Platter by Flavor the Moments – If you are planning a special breakfast or brunch for a group, then consider this elegant and easy smoked salmon board. With cream cheese, veggies, and smoked salmon, plus fruit, everyone can make their dream lox bagel.
Easter Brunch Board by Grand Baby Cakes – If you have a spring event planned, then make this brunch board. It has everything you need for the ultimate meal and some cute additions like a carrot-shaped melon for a festive twist that everyone will admire.
Easy Breakfast Charcuterie by Blackberry Babe – Make this easy board for a breakfast that looks amazing but takes no time to set up. Customize with your favorite fruits.
Granola, Waffle, and Fruit Board by Fantabulosity – With granola, yogurt, fruit, and waffles, this option has something for everyone for a fuss-free breakfast.
Cinnamon Honey Butter Board by The Forked Spoon – This honey butter board has sweet spice from the cinnamon, making it the perfect option for waffles, pancakes, or biscuits.
Fruit Charcuterie by Chenee Today – Make a charcuterie with an assortment of fruit and nuts for a healthy and fresh breakfast for a crowd. Everyone can grab their favorites for a juicy start to their day.
Simple Breakfast Charcuterie by Planted in the Kitchen – With pancakes, fruit, waffles, and granola this breakfast is simple to assemble for a great breakfast. Share with someone special, or graze on this on a weekend.
Bloody Mary Board by Amanda's Cookin' – Make this breakfast board for your 21+ friends so they can have their own one-of-a-kind bloody mary. This is a fun idea at a brunch or a weekend away with friends.
English Tea Board by Simply Designing – Make this English tea board if you plan to spend a day lounging and watching a popular British series. This has so many tasty options with, of course, plenty of tea!
Now that you have seen some creative ideas for your own breakfast charcuterie board, all that is left to do is to put it together! Which one are you going to make?
More Easy Breakfast Ideas
These items may not go on a breakfast board but they are still excellent for breakfast:
Pin These Breakfast Board Ideas For Later