Don't Touch My Stuff: Why Some People Work Better In A Mess
Last updated on: 19th October 2021
Everyone has that one employee at their job.
Instead of keeping a relatively organized area their desk is littered with files, pens paper clips, and other items.
Instead of being able to easily see what they are up to, you find that it is necessary to call them from wherever they are to explain their system to you. It almost never makes sense to anyone but them.
Regardless, there seem to be no issues with their productivity.
We are conditioned to believe that if a person isn't perfectly organized at all times, that they are not as bright and capable as the other people who display clean neat and organized spaces.
The interesting thing is this: just because that is how we have been trained to think, that does not mean it is the correct way of thinking.
Studies are beginning to show new information about the type of people whose desks drive us to distraction, and the truth may not be what you think.
People with genius level IQs are often thought to be messier.
The question is this: why do some people work better in a mess?
Creativity
There could be a correlation between the type of work you do and the tendency to be a little on the messy side.
People with creative minds have long been known for their ability to scatter their supplies and other accouterments everywhere. If you work in a field where creativity is a normal necessity to complete the job, expect to see a little more mess. It is worth what you will get back in creativity.
Genius
It has long been said that with genius comes a little spark of madness.
If you are someone who works with people with genius on the brain frequently, you'll find that you are going to be looking at a bit of disorganization.
People with genius level IQs are often thought to be messier.
Could this be because they spend more time thinking deep thoughts? Is there a complex need for a pattern that our meager minds can't decipher?
It could be for a variety of reasons. Whatever theirs is, give them some space, and let the magic happen.
Different Ordered thinking
For people with different ordered thinking like ADHD, that could be the method to their madness.
People with different ways of thinking like this make their brains work for them. Making what looks like a mess to others helps people with these different ways of thinking sort through their work.
Though it may look inefficient to others, the person who is working there often knows where to find what they need when they need it.
[wpsm_divider top="20px" bottom="20px" style="solid"]
Just because the rest of the world does something one way doesn't mean that it is the only way to work things out.
Looking at different types of organizational systems and keeping an open mind about what we usually think of as a mess is a great way to help be inclusive of people who don't think the way we do.
Be gentle with the people around you, and for heaven's sake, don't move the piles around!
I would love to connect with you via Facebook or Pinterest and if you would like more helpful content from this blog, be sure to follow us on Bloglovin.
[wpsm_ads1]
[wpsm_column size="one-half"]
A tiny request: If you Enjoyed Don't Touch My Stuff: Why Some People Work Better In A Mess, please share.
I know most people don't share because they feel that us bloggers don't need their "tiny" social share. But here's the truth…
I built this blog piece by piece, one small share at a time, and will continue to do so. So thank you so much for your support, my reader.
A share from you would seriously help a lot with the growth of this blog.
Some great suggestions:[wpsm_list type="arrow" gap="small"]
Pin it! (I even made a pretty pin for ya!)
Share it on your Facebook Page!
Tweet it!
[/wpsm_list]
It won't take more than 10 seconds of your time. The share buttons are below 🙂

[/wpsm_column][wpsm_column size="one-half" position="last"]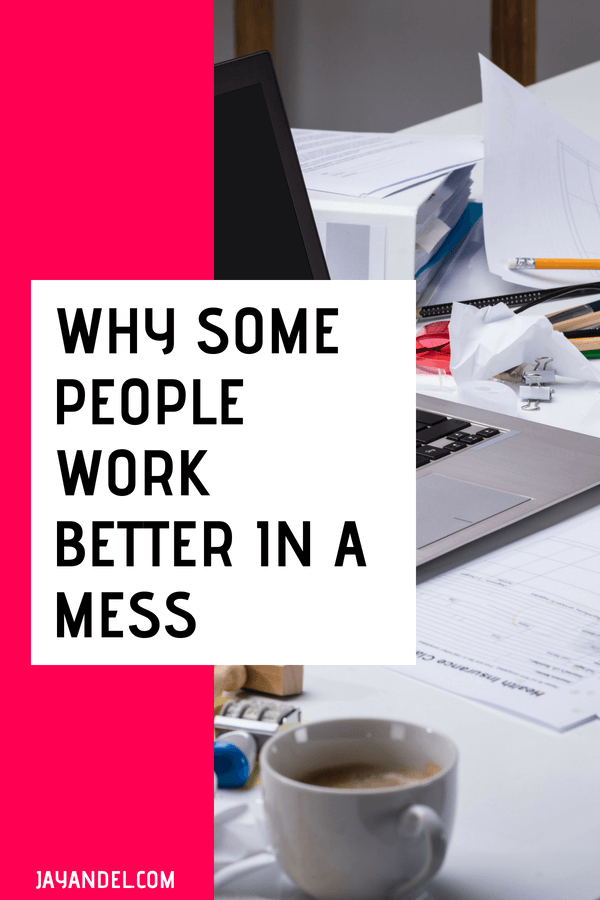 [/wpsm_column]
Vickie aka The Crazy Family Mom

Vickie is the creator of A Crazy Family. She is a stay-at-home mom of a little boy with a big personality. She loves to share real food recipes, parenting tips & encouragement, fun kids activities, and so much more! Plus she is thrilled to provide you with a space to celebrate all that is awesome (and a little crazy) in the world.