11 Free Printables That Will Make Laundry Day Easier For Everyone
This post and its photos may contain affiliate links. As an Amazon associate, I earn from qualifying purchases.
Make doing the washing easier and more fun for everyone, plus take all the guesswork out of doing laundry!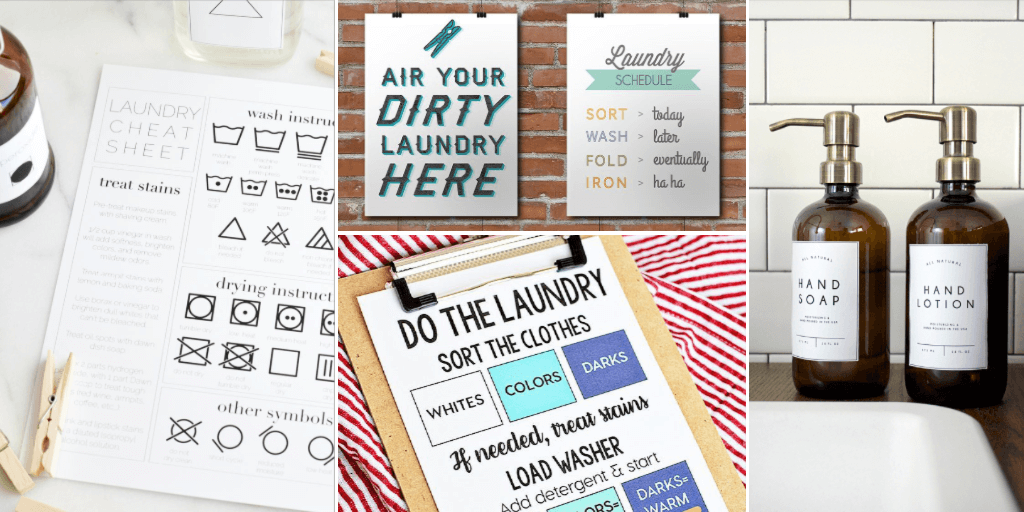 I hate doing laundry. HATE IT. It's a never-ending job, and I always seem to have a mountain of washing waiting to be done (like how is this possible, there are only 3 of us living here)
So, in an effort to make doing laundry more bearable, I started hunting down tips.
Long story short, I haven't got any laundry done yet, but I found these super fun free printables, many of which I'm going to print out, and we shall see if that helps…
1. Handy Laminated Laundry Tips Cards
Print out these cute laminated laundry tips that you can clip to your laundry basket so they will always be handy. (from Tidy Mom)
2. Free Printable Laundry Labels
Print out these Free Labels for Laundry Room Products to add a modern and one-of-a-kind look to your soap, lotion, and stain remover! (from BrePurposed)
3. Printable Laundry Stain Cheat Sheet Cards
Don't guess when it comes to stain removal, this cute stain removal flip guide will come in super handy. (from Better Homes & Gardens)
4. Printable Laundry Room Spring Cleaning Checklist
This free printable spring cleaning checklist for your laundry room is perfect for making sure you get it all done. (from The Decluttering Handbook)
5. Funny & Free Laundry Room Printable
Laundry can be so boring. So, why not add a fun, cheeky sign that will make you laugh every time you see it? (from One Project Closer)
6. Tips for Using Baking Soda in the Laundry
Baking Soda has tons of helpful uses for laundry. Print out this cheat sheet for all the details. (from Ask Anna Moseley)
7. Tips for Using Vinegar in the Laundry
Along with Baking Soda, Vinegar also has so many uses for laundry. (from Ask Anna Moseley)
8. How Often to Wash Everything
Some items should be washed more often than once a week, while others can go a lot longer than you might expect So, quickly print out this checklist as a quick reference guide. (from Good Housekeeping)
9. Teach Your Kids How to Do the Laundry
Kids need all the help they can get when it comes to doing laundry. You can teach your kids the basics using this straightforward printable and avoid many laundry mistakes. (from Thirty Handmade Days)
10. 15 Free Printable Laundry Room Wall Art Ideas
15 laundry room free printables to help dress up your washing space. Fun, but not guaranteed to make you actually like doing laundry! (from Little Gold Pixel)
11. Printable Laundry Room Cheat Sheet
How many times have you stared at a symbol on a shirt tag, wondering what the heck that symbol means? Yeah, me too, but not anymore! Print out this laundry room cheat sheet to refer to quickly. (from Boxwood Avenue)
Which of these laundry room free printables did you like the best?