Smooth & creamy double chocolate vegan fudge that melts in your mouth.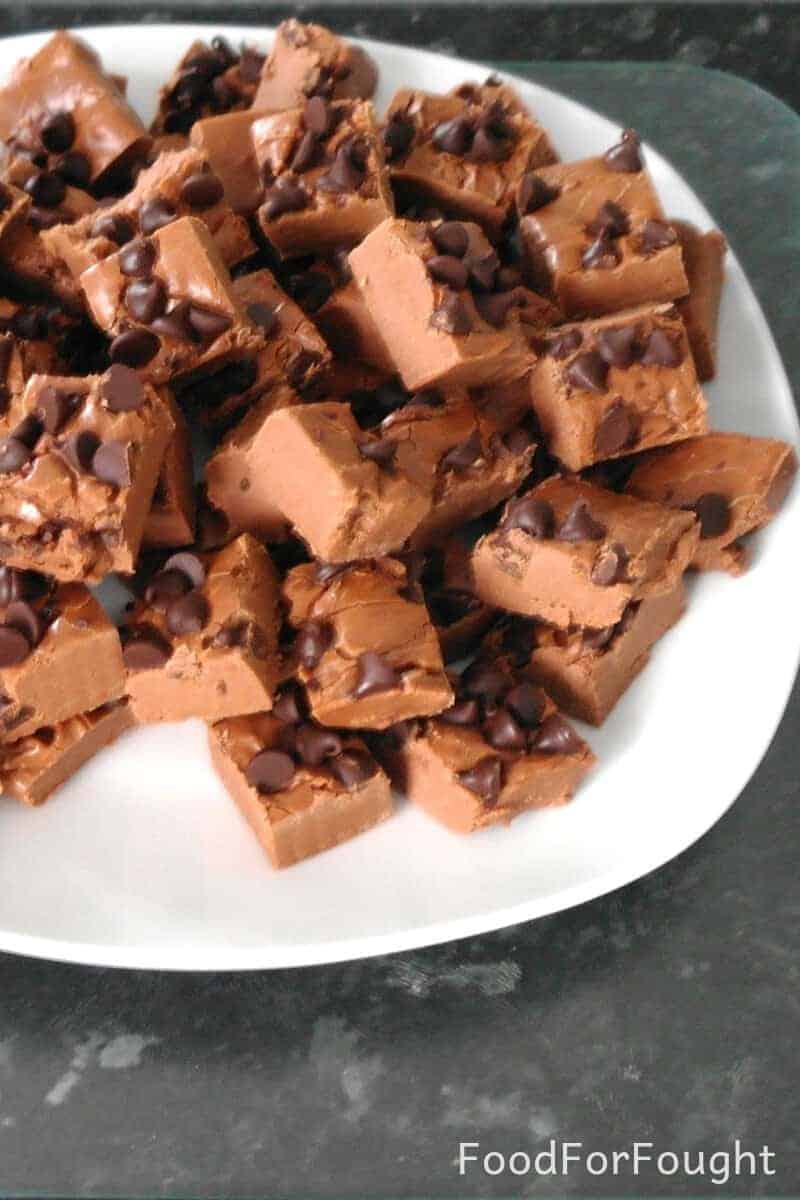 Vegan Fudge that's worth the extra effort – velvety smooth with a rich chocolate flavor.
There are other recipes available online if you want a quick and easy fudge recipe but this decadent double chocolate fudge is seriously creamy and really is worth the extra time and effort that it takes to prepare.
Make it, try it, then you decide…
Double Chocolate Vegan Fudge
We used Coconut milk in our recipe today, and coconut milk powder, feel free to use the one that suits you or that you have in your home.
All dairy-free butter should work exactly the same, we've tried it with 2 different ones with great results.
When you heat the butter in the pan, do not overheat it as it could split. Heat only until it has melted.
Prep time: 10 minutes
Cook time: 20 minutes
Serves: 72 Squares
Ingredients:
1 and 1/4 cups (150g) Dairy-Free Milk Powder
2 and 3/4 cups (550g) Granulated Sugar
1/2 cup (120ml) Hot Water
1/2 cup and 2 Tbsp (150ml) Dairy-Free Milk
1/4 tsp Salt
2 Tbsp Golden Syrup (or another type of syrup)
2 tsp (10ml) Vanilla Essence
300g Dark Chocolate
A small bag of dark chocolate chips
Directions:
Start by making Vegan Condensed milk, using all of the milk powder, 3/4 cup (150g) sugar, all of the hot water, 2Tbsp (30g) of the dairy-free milk and the salt. Add all the dry ingredients to a bowl and mix. Add the wet ingredients and mix until very smooth. And set aside.
Prepare your tray, line it with baking (greaseproof) paper or grease it with oil.
Melt the butter in a thick-bottomed saucepan. Add the syrup, rest of the dairy-free milk and sugar and stir until the sugar is completely melted.
Add the condensed milk that you made, and stir in.
Stir the mixture on a high heat continuously, until it reaches soft boil stage / 115°C on a temperature probe (approx 15-20 minutes.
Remove from heat, and add the vanilla extract and stir in.
Using an electric mixer beat the fudge until it starts to thicken. Add the chocolate and continue until it starts to thicken and the gloss disappears.
Pour into your prepared tray and smooth out.
Sprinkle with dark chocolate chips, press in slightly.
Let cool completely before moving into the fridge.
When cold cut into squares.
Enjoy!
IF YOU LIKE THIS DOUBLE CHOCOLATE VEGAN FUDGE, TRY THESE RECIPES: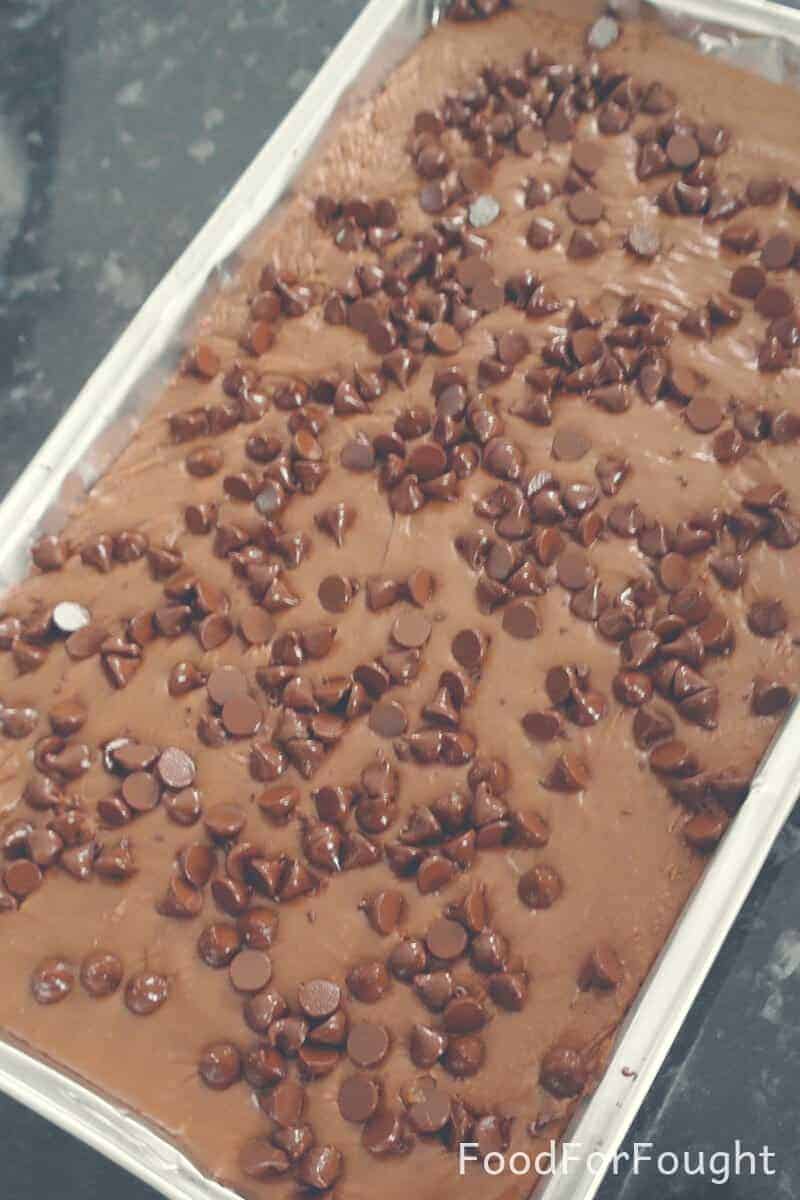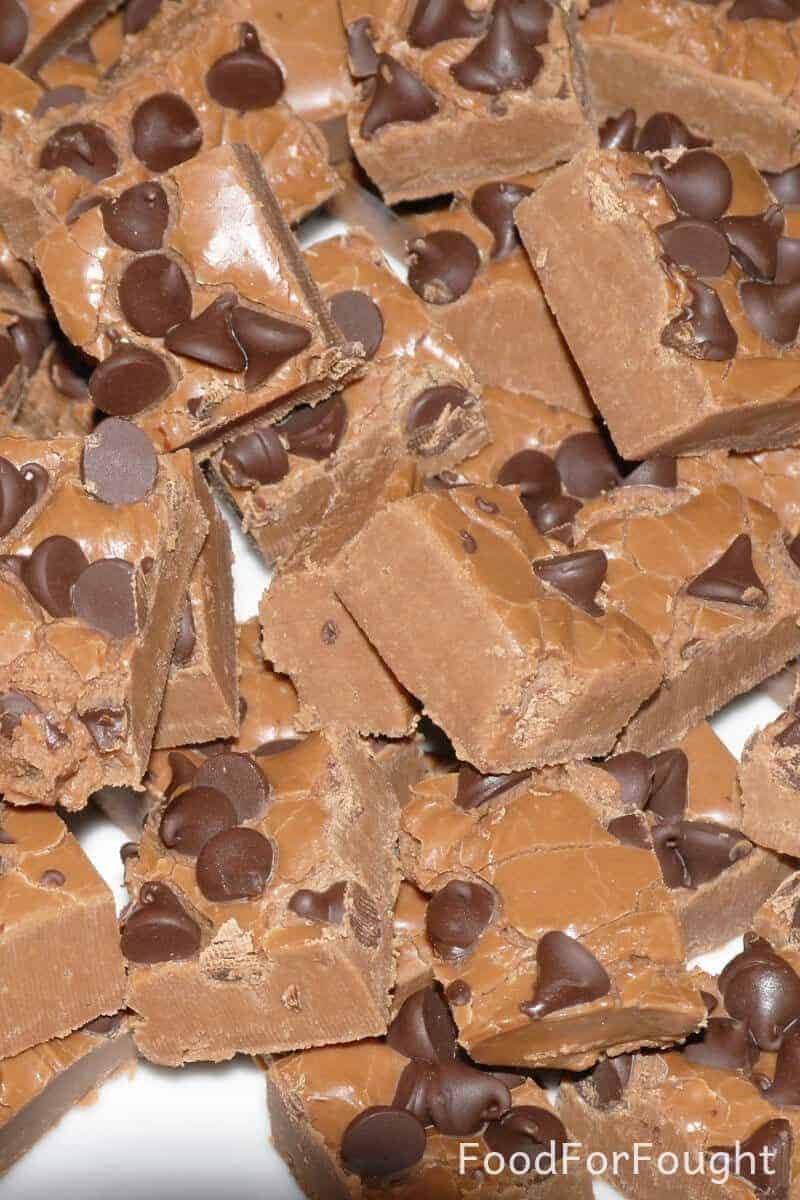 Hello! All photos and content are copyright protected. Please do not use our photos without prior written permission. Thank you!
Nutritional Information?
If you want the nutritional information for a recipe, I recommend entering the recipe into this nutrition analyzer, which will calculate it for you.