5 Stylish Themes For Children's Bedrooms
By: Vickie | Updated: 14th April 2022
If you have children, you know how important their bedrooms are to them. Children should have stylish bedrooms decorated to reflect their interests and personalities.
Get the kids involved in decorating their bedrooms and helping to select a theme for it. Their involvement in decorating a stylish bedroom for themselves will give them a sense of pride and accomplishment.
They might just be a little more enthusiastic when it comes time to clean if they have a stylish bedroom in a theme they love.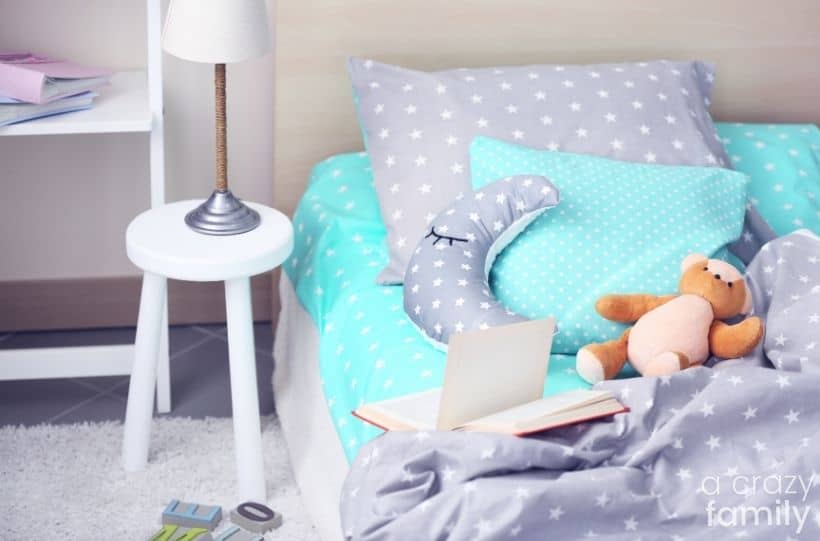 Once a theme is chosen for the child's bedroom, it won't be hard to find stylish and fun items in a myriad of themes.
You can buy children's bedroom accessories ranging from budget-friendly department stores to luxurious high-end children's specialty boutiques. A variety of children's comforter sets, curtains, rugs, and room accessories to suit almost any budget.
When the main inspirational pieces are chosen for the bedroom, then it's time to choose paint colors for the walls. Often home improvement stores will sell DIY accessories in themes for children's bedrooms.
I've seen stencils, wallpaper, wallpaper borders, and wallies decorate a child's bedroom. Craft stores are another great place to find all sorts of items to decorate a child's theme bedroom.
Use your imagination and have fun getting creative with your child.
Girl's Flower Garden Theme Bedroom
Decorate a little girl's bedroom in a classic flower garden theme. This stylish bedroom doesn't have to be age-specific, and the choices for a flower garden theme are almost endless.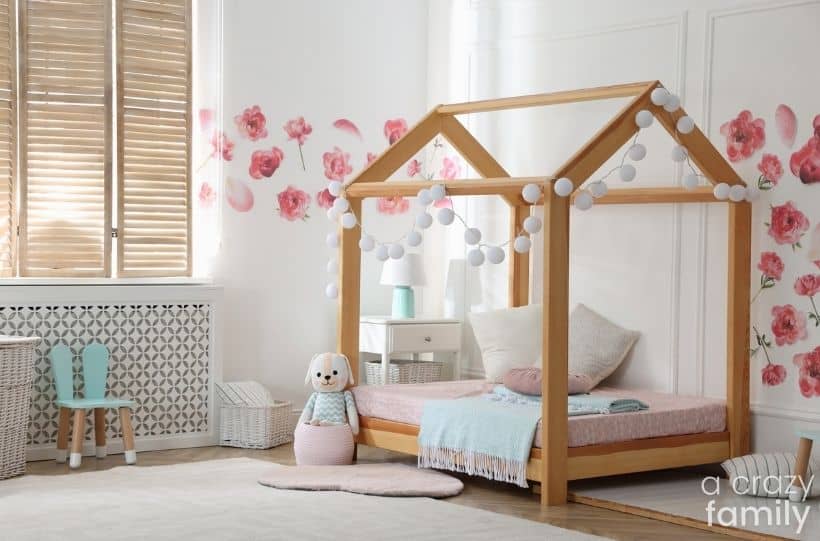 This theme can be as simple as flower garden printed bed linens and accessories or as elaborate as a large mural.
Wallpaper stores have large "borders" designed to go on the bottom of walls above the baseboards that portray a flower garden and white picket fence. Another option is using flower stencils to randomly paint a sprinkling of flowers on the walls.
For a 3d look, use silk flowers, butterflies, or insects throughout the room. Glue or attach them with hook and loop tape to the walls or curtains. Add flower-shaped throw pillows and rugs to complete this flower garden bedroom theme.
Boy's Wilderness Lodge Theme Bedroom
If you have a little boy who loves the great outdoors or camping, a wilderness lodge theme for his bedroom would perfectly match his personality. You don't have to live in a rugged cabin or even a log house to give it a lodge look.
Search the wallpaper stores for wallpaper that looks like logs, or use a paint tool that will create the look of the wood grain to create your own log cabin walls. Take your child on a nature walk and look for fallen tree bark to glue on picture frames for a true rustic accent.
Colors shouldn't be overly bright, but reds, dark blue, forest greens, and lots of browns are great for this child's theme.
The texture is an important part of creating a cozy lodge, so using lots of nubby fabrics, faux suede, faux fur, plaids, and flannel will make for a warm retreat from the great outdoors.
Animals are also an important part of this bedroom theme. Use bears, deer, and moose for the perfect complement to a wilderness lodge bedroom.
Find these animals portrayed in artwork for the walls and stuffed toys for the bed or shelves.
Rustic style furniture is perfect for a wilderness lodge, and knotty pine furniture is a good choice for boys' bedrooms. Toss a piece of faux suede or leather across the bed as a throw or lay them on wooden furniture pieces.
A faux bear rug or other faux animal skin will complete the lodge look.
Girl's Vintage Victorian Theme Bedroom
This is such a pretty and easy to create theme for a little girl's bedroom. Keep the colors soft and feminine with petite floral prints.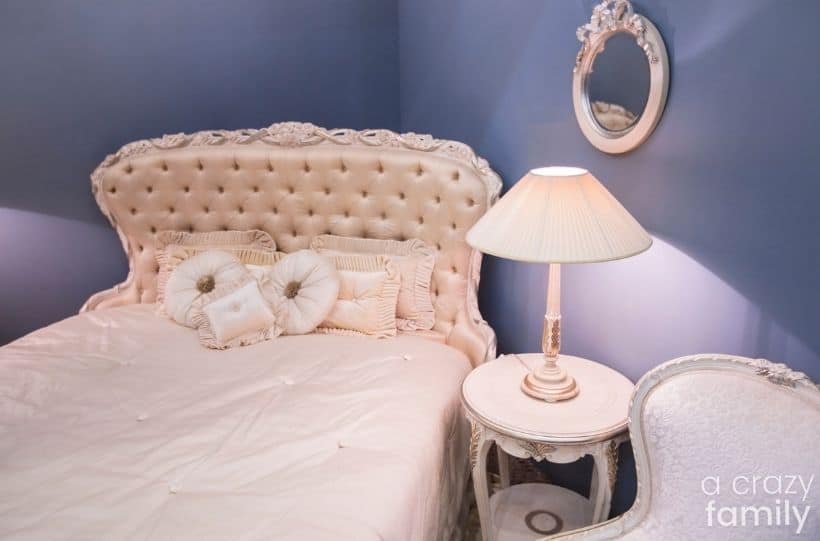 You don't have to own vintage quilts or coverlets to achieve this look. If you have them, use them for decorating and display purposes on a quilt rack or on a wall.
Machine-made quilt sets are readily available and are a better choice for children's bedrooms for everyday use. Then there won't be the fear of ruining an antique or handmade quilt.
Use lots of lace in a vintage Victorian bedroom. Hang lace sheers at the windows, use lace dust ruffles and lots of pillows on the bed.
If you're lucky enough to have vintage lace doilies or handkerchiefs, frame them as artwork. Do the same with a pretty baby gown or dress and use the new petite wire dress forms available in home decorating stores as accent pieces.
Use old-fashioned hat boxes and white wicker to store toys and necessities in this sweetly decorated girl's bedroom. Scour your local thrift stores or flea markets for mismatched floral china plates and group them on the wall for a beautiful display.
Also, don't forget to display her favorite beautiful dolls and stuffed animals.
Boy's Sports Theme Bedroom
This is such a popular and stylish decorating theme for boys' bedrooms. Finding items to decorate in a sport's related theme is easy.
There are comforter sets geared toward one sport or multiple sports depicted altogether. Soccer balls, baseballs, footballs, and basketballs on bedding and accessories are plentiful. If skateboarding is the sport of choice, there are stylish accessories for that as well.
Use solid colors for the most expensive bedding items and add sports theme accessories that can be easily changed later. Buy new drawer pulls in the shape of basketballs, baseballs, or soccer balls to update furniture pieces.
Or add a new piece of furniture in those cool new "locker room" styles that are available in metal with primary colors for boys' bedrooms.
Complete the theme with a sports field or basketball court area rug, toy basketball hoop, and foam basketball.
Girls' or Boys' Jungle/Rainforest Theme
This is a fun and stylish children's theme equally enjoyed by boys and girls. Leave this children's bedroom theme gender-neutral, or add decidedly more feminine or masculine touches if you prefer.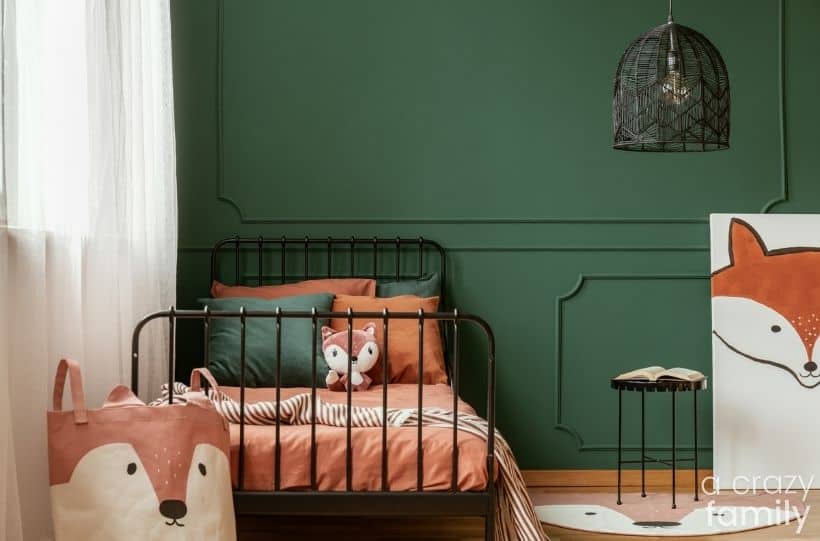 For example, a little girl's jungle room could have tropical flowers added to the mix of wild animal fabric or whimsical monkeys. After all, jungles and rainforests have their share of beautiful tropical flowers.
On the other hand, you can add realistic-looking rubber snakes for a brave little boy. Maybe you should stay with cuddly fur-and-not-so-realistic stuffed toy snakes that might keep him from trouble with mom.
Paint a large palm tree in the bedroom's corner or buy individual rub-on transfers or a wallpaper mural to one entire wall. If you want something a little more subdued for the walls, use a large tropical plant leaf stencil to randomly paint leaves on one or more walls.
Use animal print accent pieces, and lots of jungle theme stuffed animals.
Brown wicker and bamboo are perfect in a jungle/rainforest theme bedroom, and they can be used for shelves, storage baskets, and even furniture. Wicker or bamboo trunks come in a wide range of sizes and are good places to stash toys and books in the jungle.