Easy Melt and Pour Sunflower Soap Bars
By: Vickie | Updated: 25th March 2023
These gorgeous soap bars are a super easy DIY. These goat's milk soap bars are going to be one of your favorites, with the lovely light scent of fresh sunflowers. This is the perfect recipe for beginners too!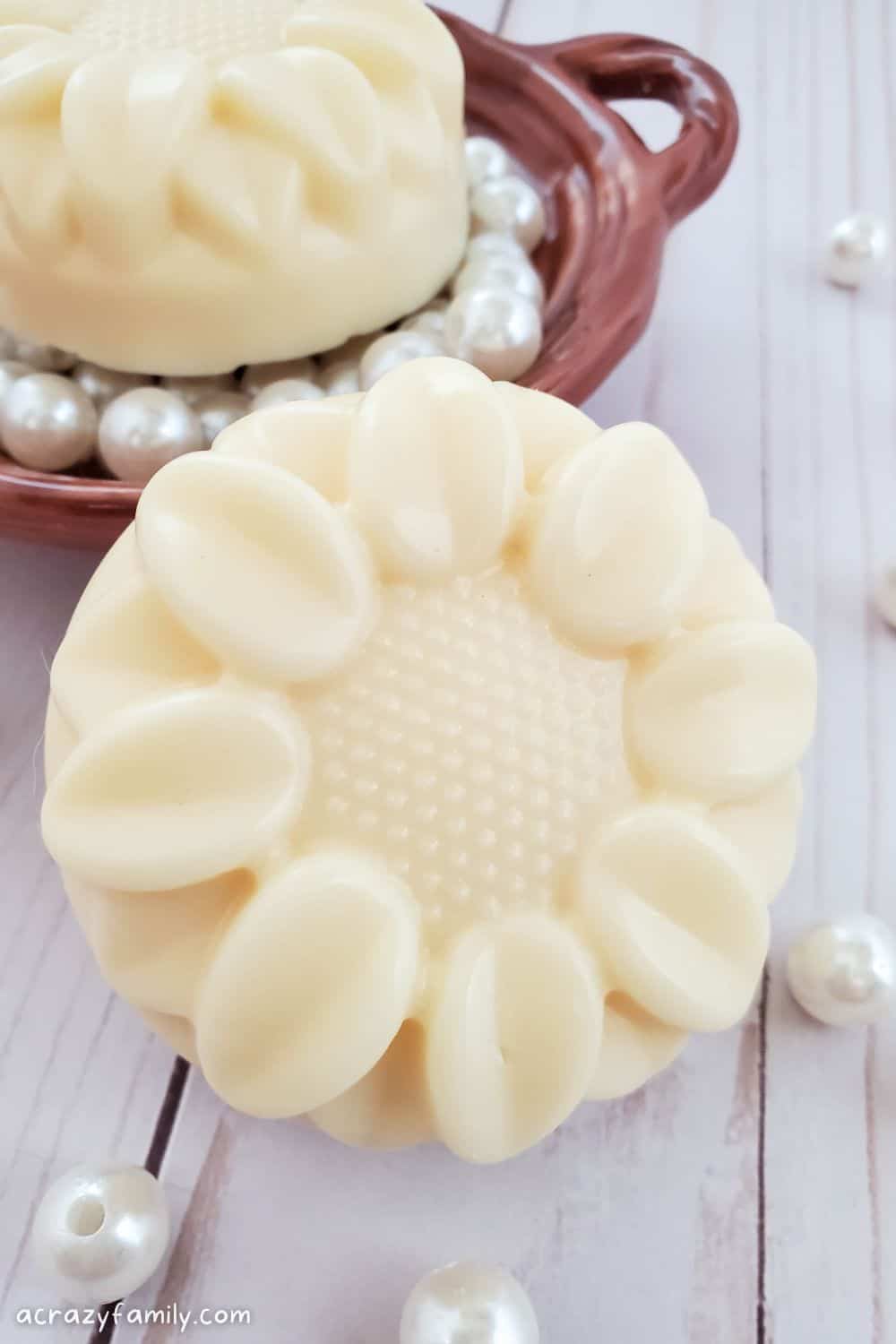 Soap is something that we all need in our homes. It smells lovely, does the job of cleaning our hands, etc, and it can be a lovely thing to display in a bathroom.
But, if you do have a plain-looking bar of soap in your bathroom then this post will help you create something a little special.
Soap is also something that people can offer as a gift or as part of a hamper they create. Making soap is something that many of us can do in the comfort of our home and it not only creates something beautiful, but it also smells incredible and can be a great DIY gift for friends and family.
Do you love making your own bath and body products? If so, be sure and check out these SUPER cute ones next!
Homemade DIY Shark Toy Soap For Kids – This adorable shark kids soap DIY will be a huge hit! Make them for your kids, and all the kids you know! After the soap is used, they will have a fun bath toy to enjoy.
Geode Half Bath Bombs – Transform your bath time into a luxurious spa experience with these beautiful geode bath bombs that were inspired by crystal rocks. They're surprisingly easy to make and only require a few simple ingredients.
Now, back to the Sunflower Soap Bars. They are bright and colorful and smell amazing. I hope you enjoy making them for your home, and your friends and family.
Sunflower Soap Supplies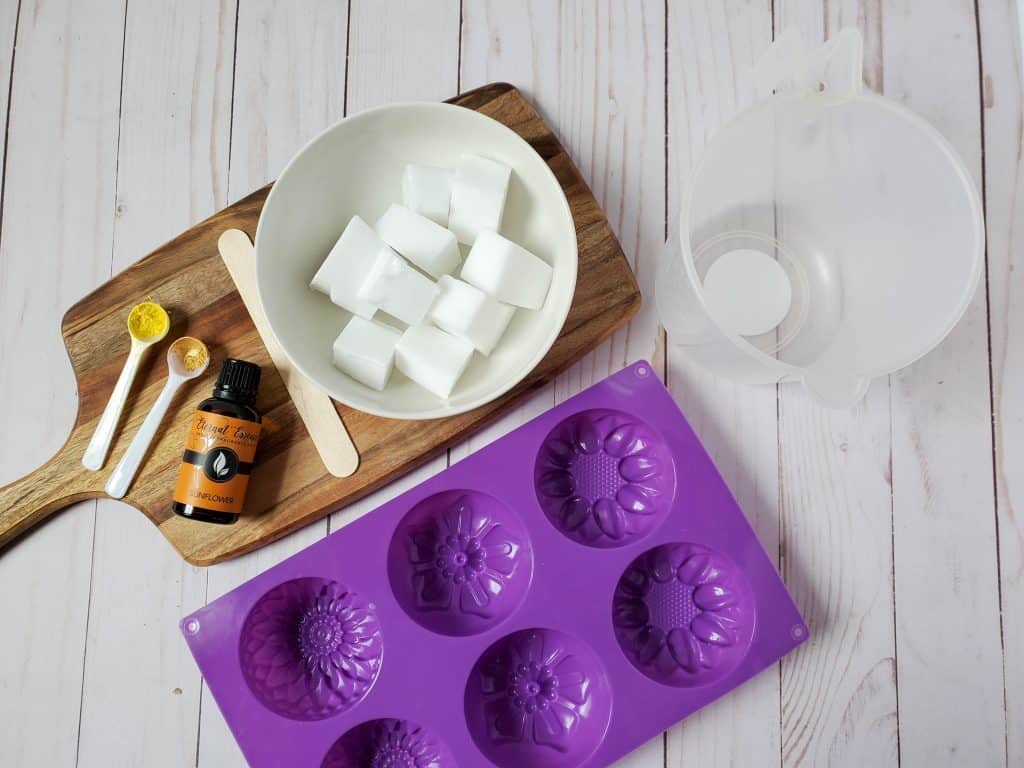 These supplies will make 2 of the Sunflower Soap Bars.
How to Make Sunflower Soap Bars
Cut the soap base into 1-inch cubes and put it into a measuring cup.
Place the soap base cubes into a microwave-safe bowl. Then heat in the microwave for 30 seconds, remove and stir well. If not completely melted, heat for an additional 30 seconds, then remove and stir. Keep an eye on them to ensure they don't burn.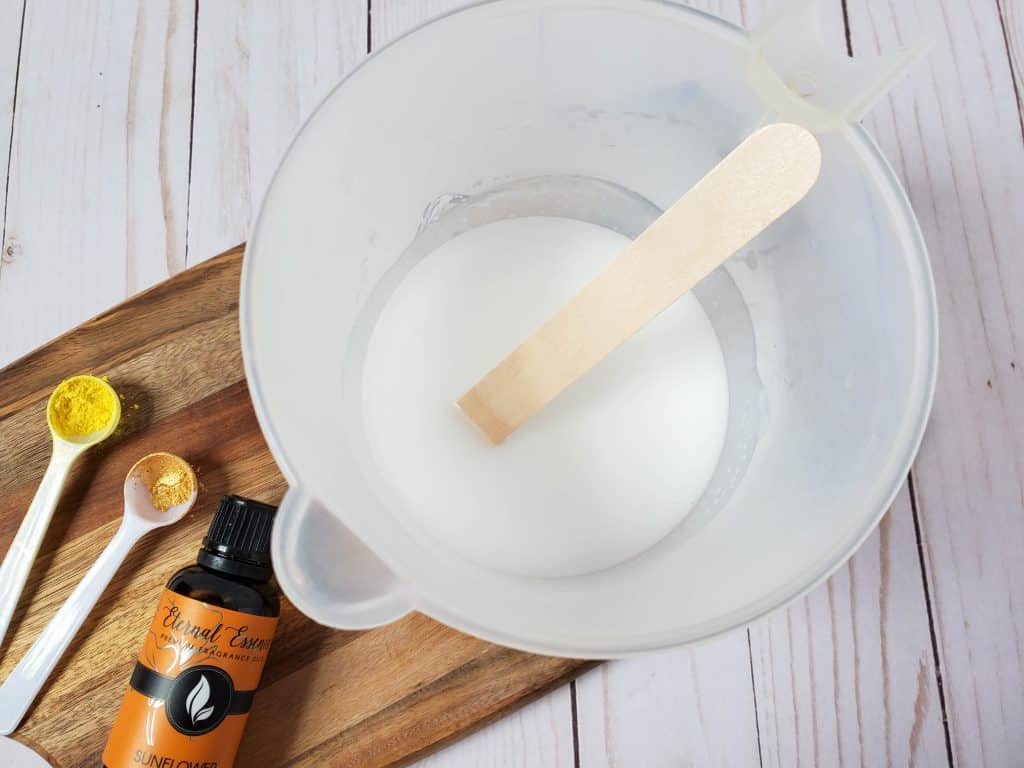 Add the mica powders and stir well until the color is well blended into the soap mix.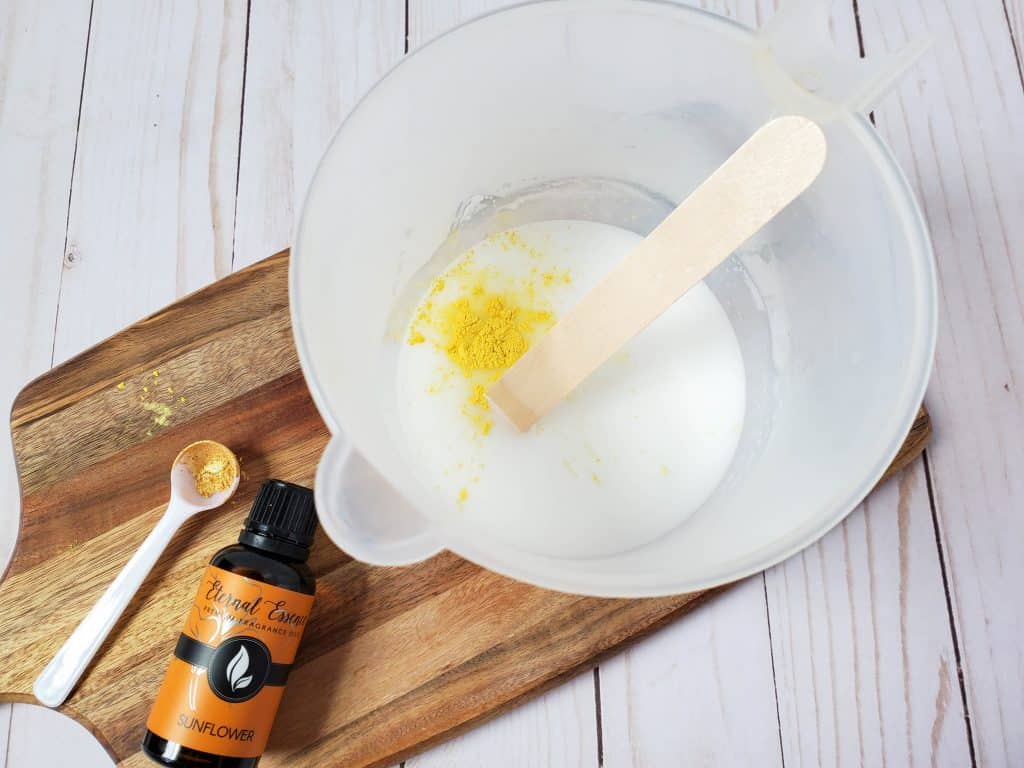 Now for the scent. Take your sunflower essential oil and add it to the colorful soap mixture. Make sure you stir it well to combine the scent.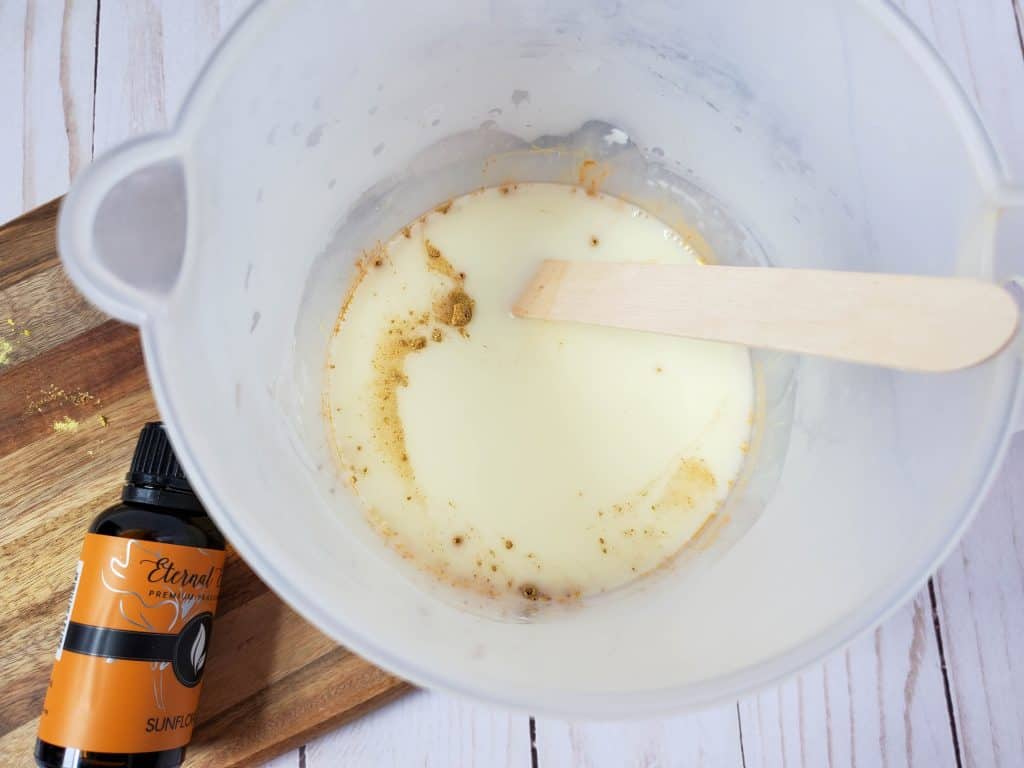 Pour the mixture into the soap mold. You will then need to let the soap set for about 2-3 hours, then remove it from the mold.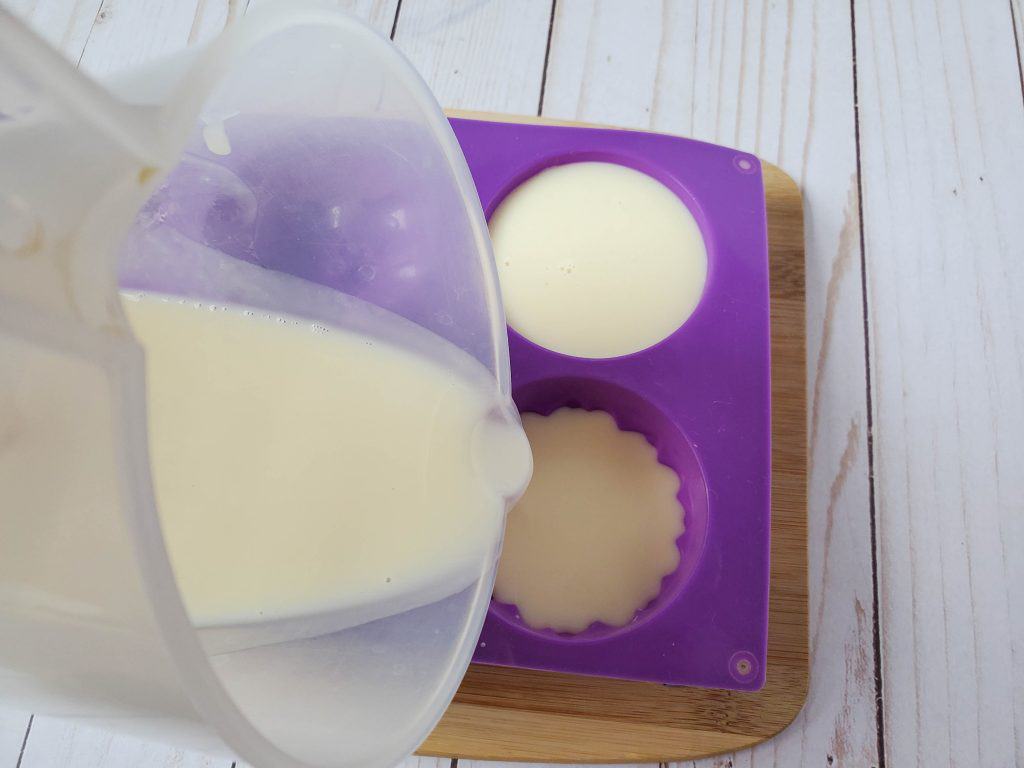 There you have it, your Sunflower Soap Bars. You can then place them in your home or wrap up in cellophane and give them as gifts. Double up the quantities if you want to make more.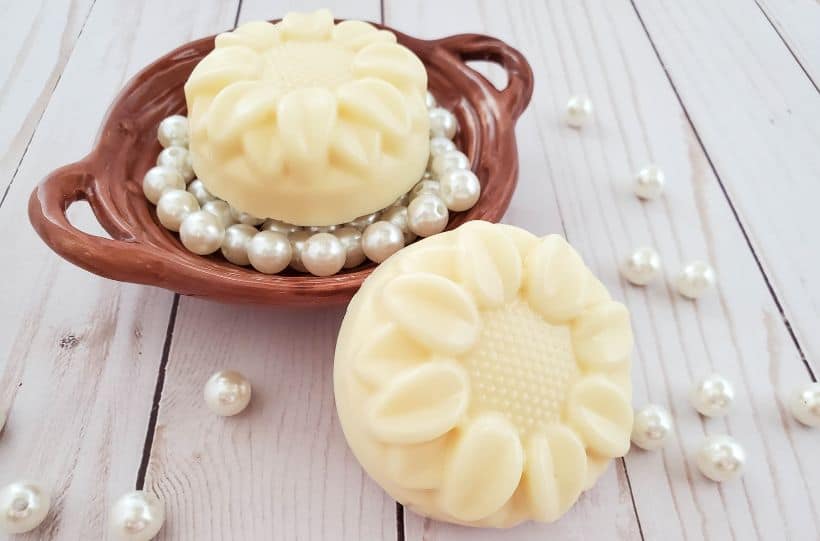 Notes and tips
While the process to make ​​the Sunflower Soap Bars is very straightforward, here are some tips that could help:
Make sure you have all of your supplies to hand in before starting this process. It is important to help you move to each step.
If children are helping then make sure they are supervised at all times. You will be dealing with the hot soap mixture, and this can be dangerous if your children are left alone with it.
Make sure you give the Sunflower Soap Bars time to set. This will ensure that they form properly and will be able to be used.
Don't overheat the soap mix cubes. Always do 30-second intervals in the microwave and check each time.
Variations
If you are not a fan of the sunflower scent, why not change things up a little? There are many different fragrance oils that you could try such as floral scents or things that have a citrus scent to them. You could also change up the color and choose a different mica powder that could be associated with that fragrance. For example, lavender scents could mean using purple mica powders.
You could add a few flower petals to the mold before they are set. Maybe sunflower petals if you have them.
Buy different shaped molds if you are looking to create something a bit different.
If creating the Sunflower Soap Bars as a gift, wrap them in plastic wrapping and then add a sticker to advise what it is.
Frequently Asked Questions
How long will the Sunflower Soap Bars last?
Any homemade soap should give you around three years. If they are being used regularly then they won't last that long.
How do I store the Sunflower Soap Bars?
All homemade soaps should be stored in a cool and dry place if you are not using them and keeping them for gifts. You could also store them in an airtight container before they are put to use.
I hope you enjoy making, using, and gifting your Sunflower Soap Bars.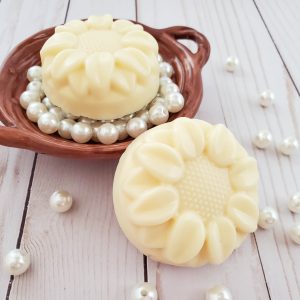 Sunflower Soap Bars
makes how many
2
Soap Bars
Supplies
½

lb

goats milk melt and pour soap base

25

drops sunflower essential oil

¼

tsp

Yellow Mica powder

½

tsp

Golden mica powder
Equipment
Sunflower soap mold

Large microwave safe measuring cup

Measuring spoons

Wooden craft stick for stirring
Instructions
Cut the soap base into 1 inch cubes and put it into a measuring cup.

Heat in the microwave for 30 seconds, remove and stir well. If not completely melted, heat for an additional 30 seconds, then remove and stir.

Add mica powder and stir well until color is well blended.

Add sunflower oil and stir well.

Pour into soap mold.

Let soap set for about 2-3 hours, then remove from mold.
Click stars to rate now! Or leave a comment below.