50 Best Red, White, and Blue Patriotic Desserts
By: Vickie | Updated: 7th August 2023
If you're looking for patriotic desserts to serve at your Fourth of July celebration, look no further! You'll find festive desserts from cookies and cakes to trifles and dips. And best of all, many of these recipes are easy to make, so you'll be able to spend more time enjoying the party and less time in the kitchen.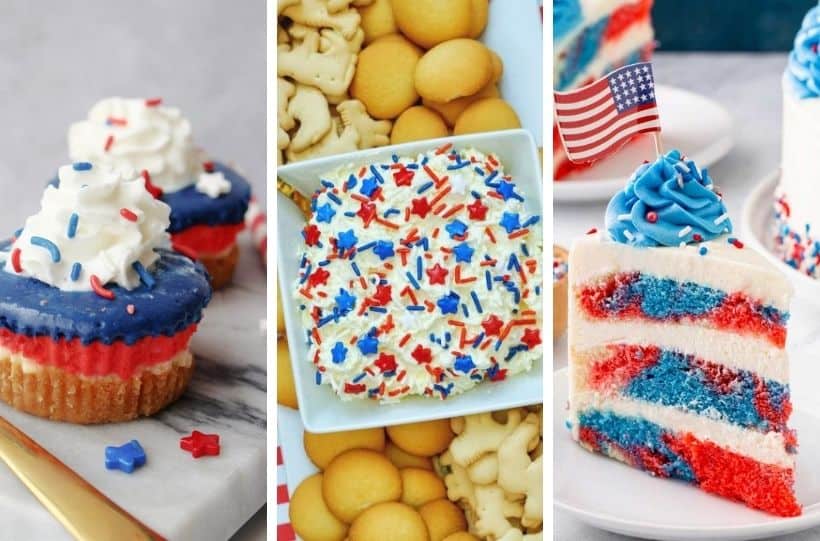 Best Red, White, and Blue Patriotic Desserts
There's no need to reserve your patriotism for flag-waving holidays like the Fourth of July. You can show your colors any day of the year with red, white, and blue desserts.
Whether you're planning a backyard BBQ or a pool party, you can make patriotic recipes that are both delicious and fitting for the occasion. These patriotic Fourth of July desserts are also perfect to celebrate other patriotic holidays such as Memorial Day and Labor Day as well.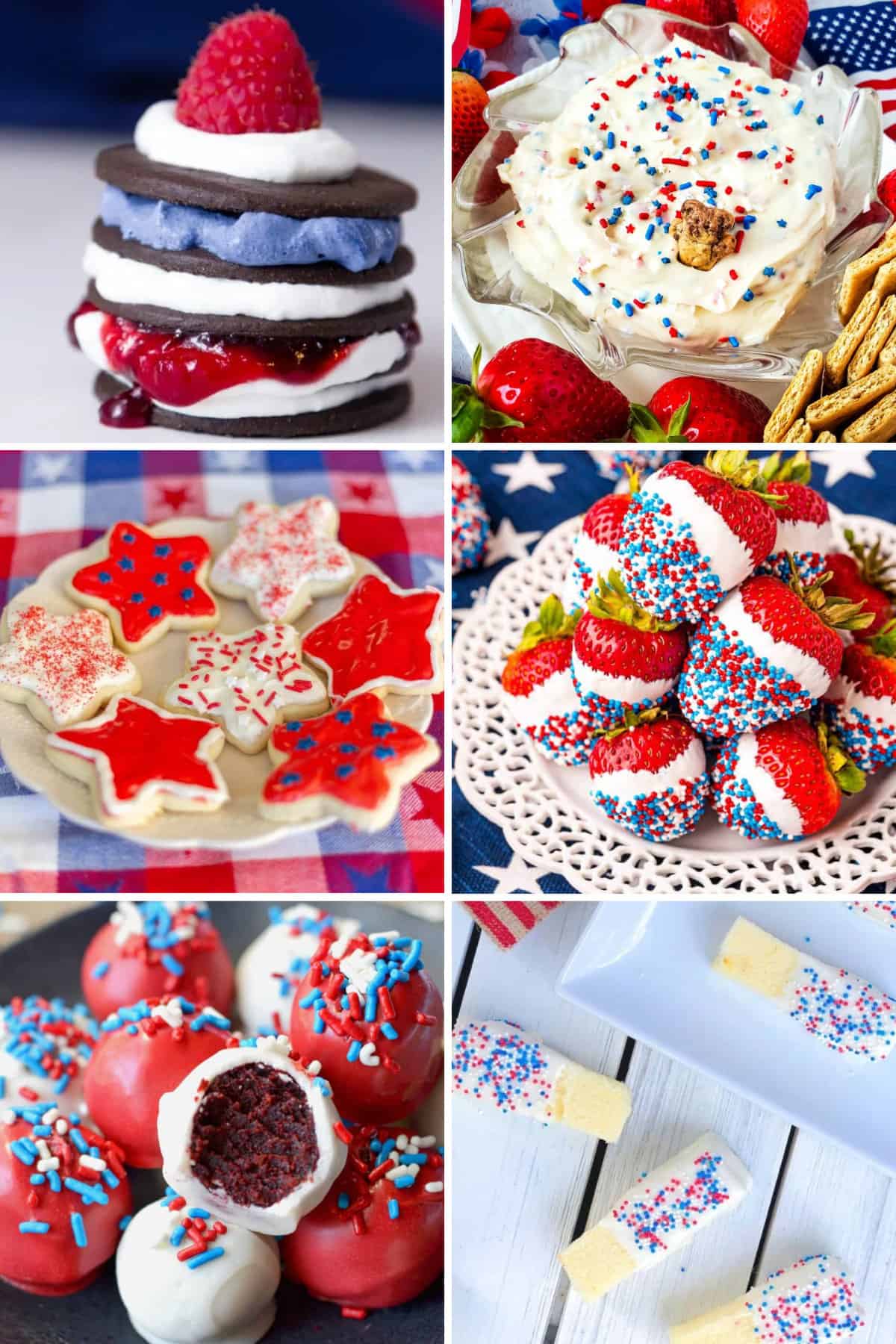 From star-shaped cakes to fruity pies, we've got an Independence Day-inspired dessert for every occasion. I love to make these Red, White, and Blue Sprinkle Explosion Cupcakes, Patriotic Pretzels, and Firecracker Popcorn for our celebrations!
Jazz Up Your 4th Of July Desserts
Add red, white, and blue sprinkles to decorate your desserts.
Use a star-shaped cookie cutter to cut your cookies for a patriotic shape.
Use fresh berries to add both color and flavor to your desserts.
Related: 4th of July Cakes & Cupcakes | 4th of July Jello Treats and Desserts | 4th of July Recipes for the Grill | Patriotic Cheesecake Dip | Red, White, and Blue Charcuterie Board
Fun Patriotic Party Desserts
Here are some of my favorite recipes for red, white, and blue Patriotic Desserts that are perfect for your Fourth of July party!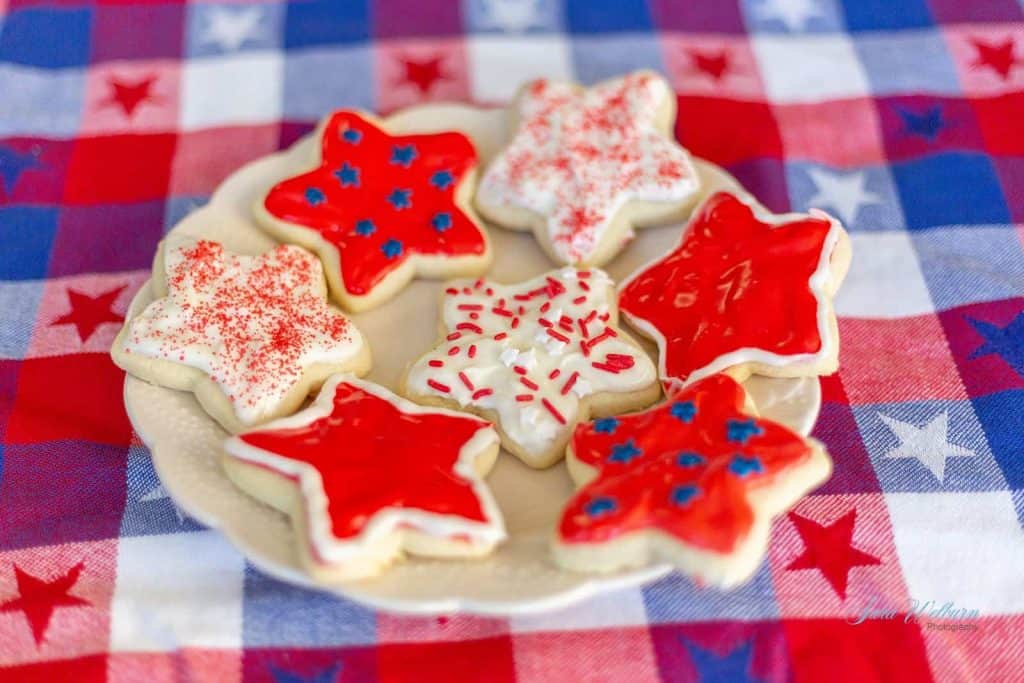 These patriotic sour cream sugar cookies are perfect for the 4th of July! The cream cheese frosting is easily dyed red, white, and blue, and the dough is perfect for cookie cutters!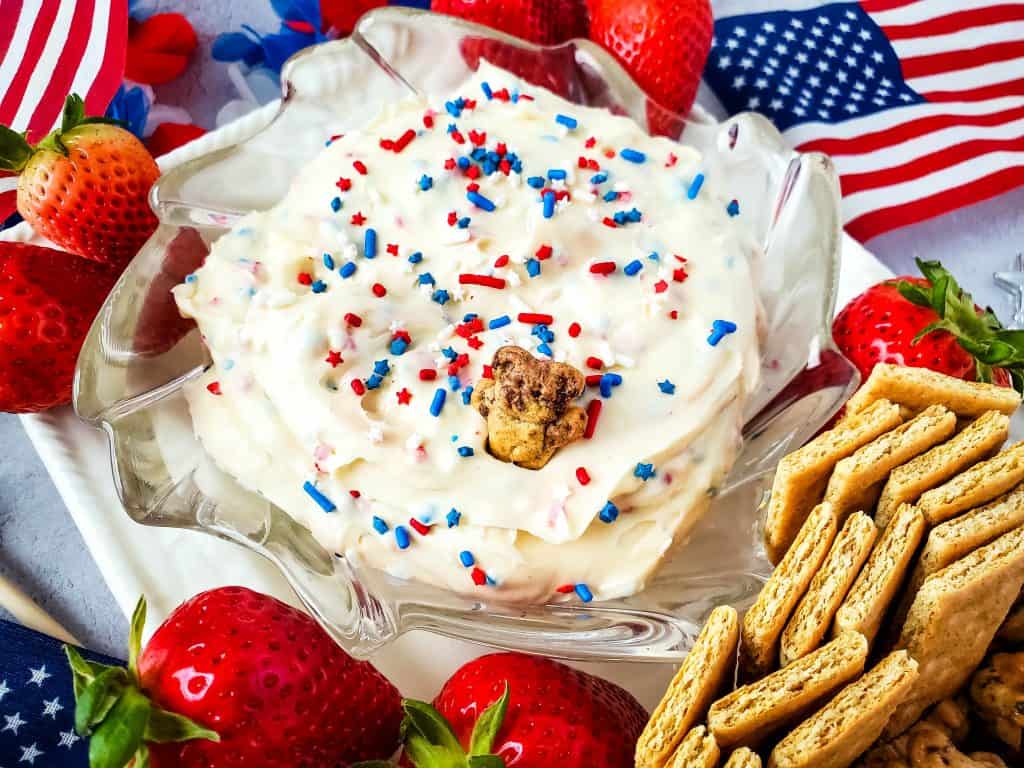 You'll love this sweet patriotic cheesecake dip recipe! This delicious cookie dip is perfect for your summer parties. Bring this dessert dip to potlucks, and it will be the talk of the town!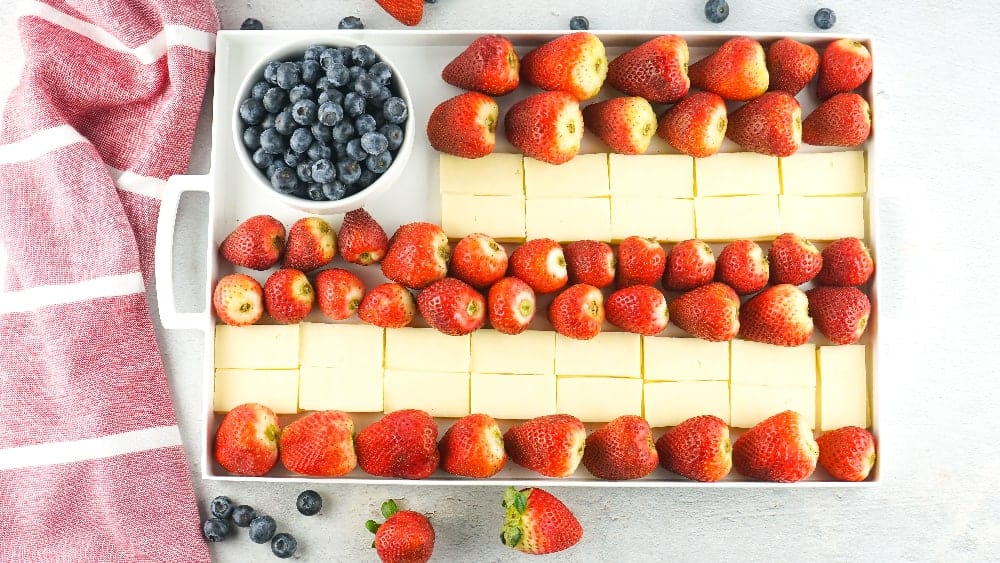 This patriotic-themed red white blue cheese and fruit charcuterie board is the perfect snack or appetizer to bring to summer celebrations. Here's how to make it!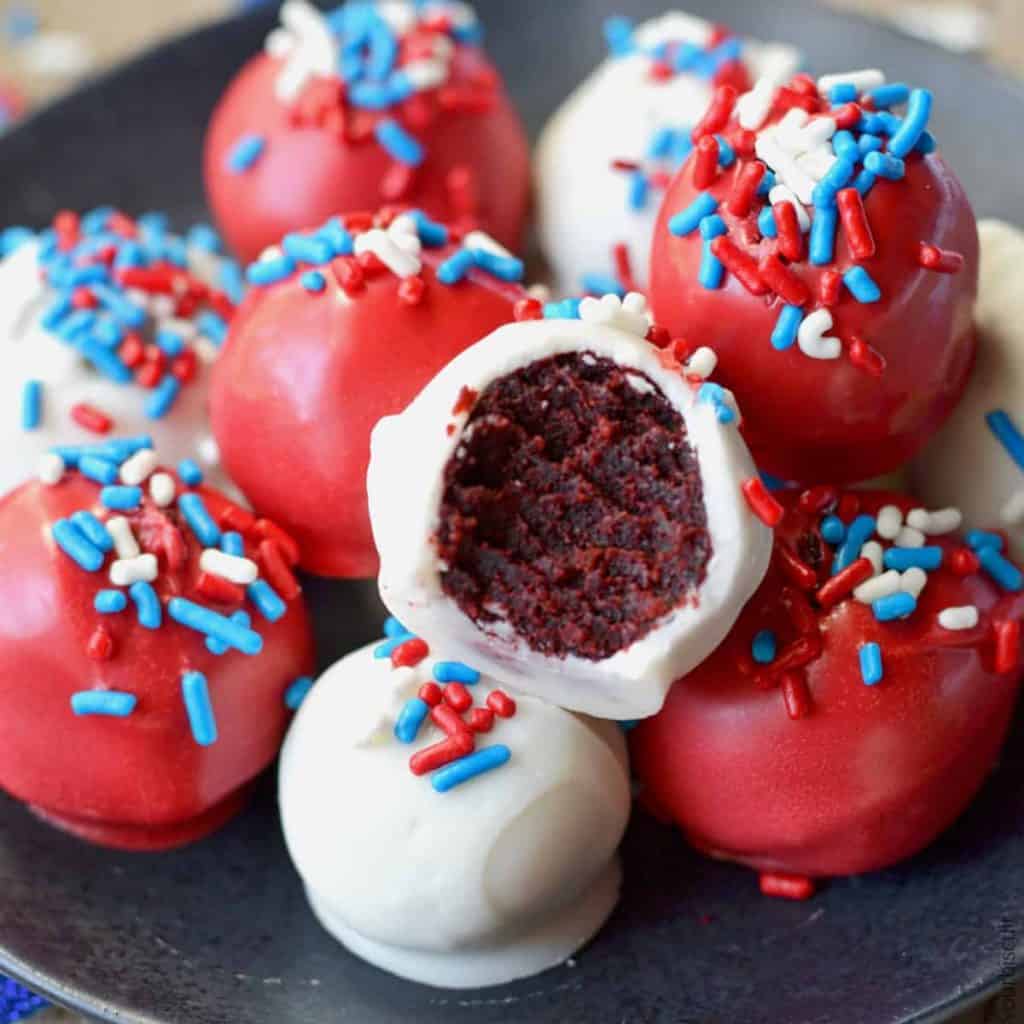 Red Velvet Cake Balls are moist balls of cake mixed with cream cheese frosting and covered in chocolate.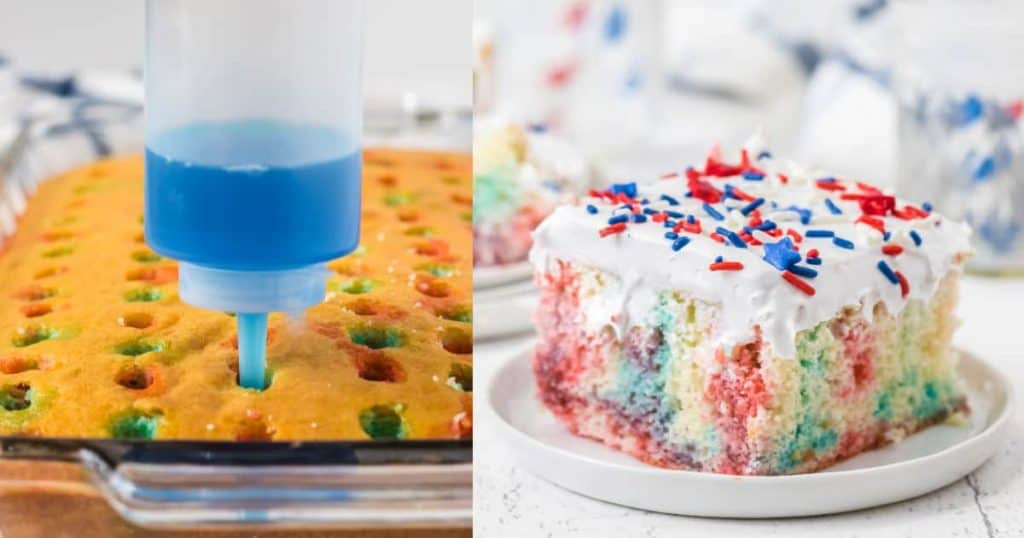 This Red, White, and Blue Poke Cake is the perfect patriotic Fourth of July dessert for your family gathering or holiday cookout. If you haven't made a jello poke cake before, you won't believe how easy it is! It all starts with a box of cake mix!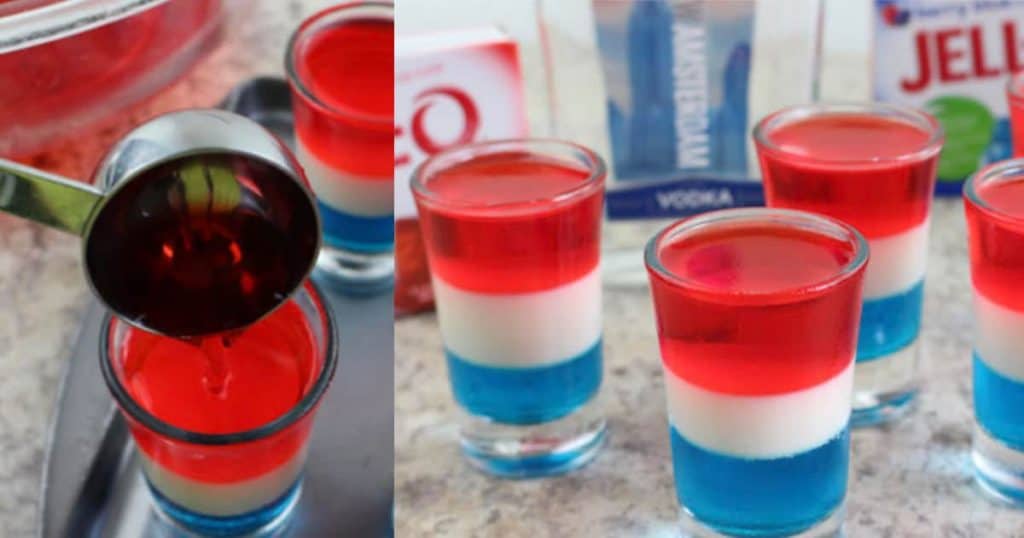 Red, white, and blue layered Jello Shots will be the hit of your summer party. Because it doesn't matter if it's Memorial Day or Fourth of July, you can even celebrate all summer long! Even if it's just for a summer barbecue!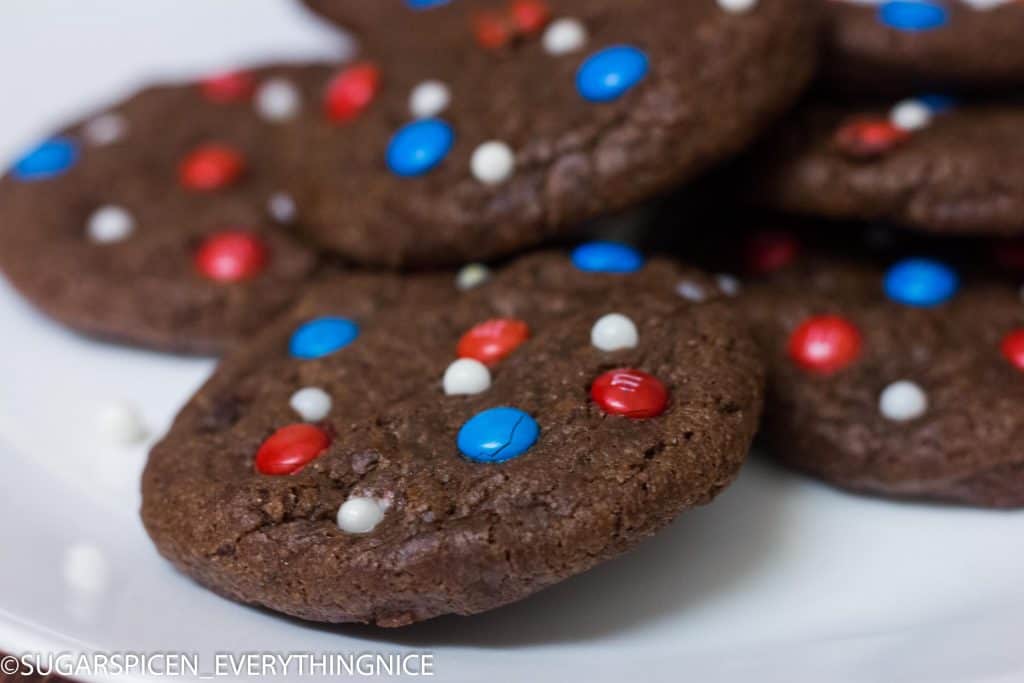 These are the yummiest chocolate cookies I have had. They are oh-so-easy to make and take less than half an hour.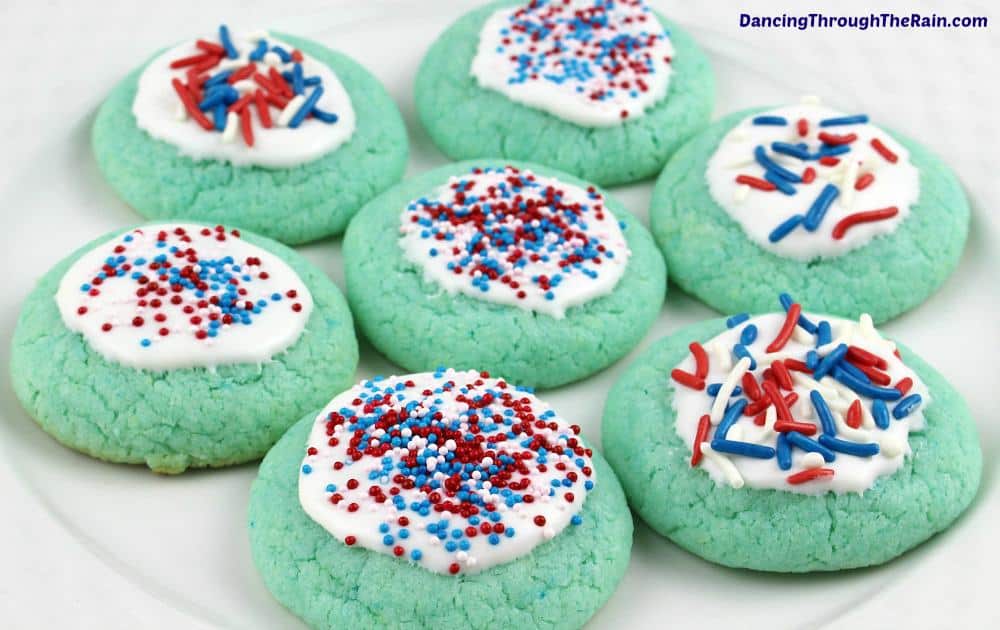 These fun Red, White & Blue Patriotic Cookies are an easy dessert for your next holiday gathering! Bright blue cookies with red and white designs are a tasty treat everyone will enjoy!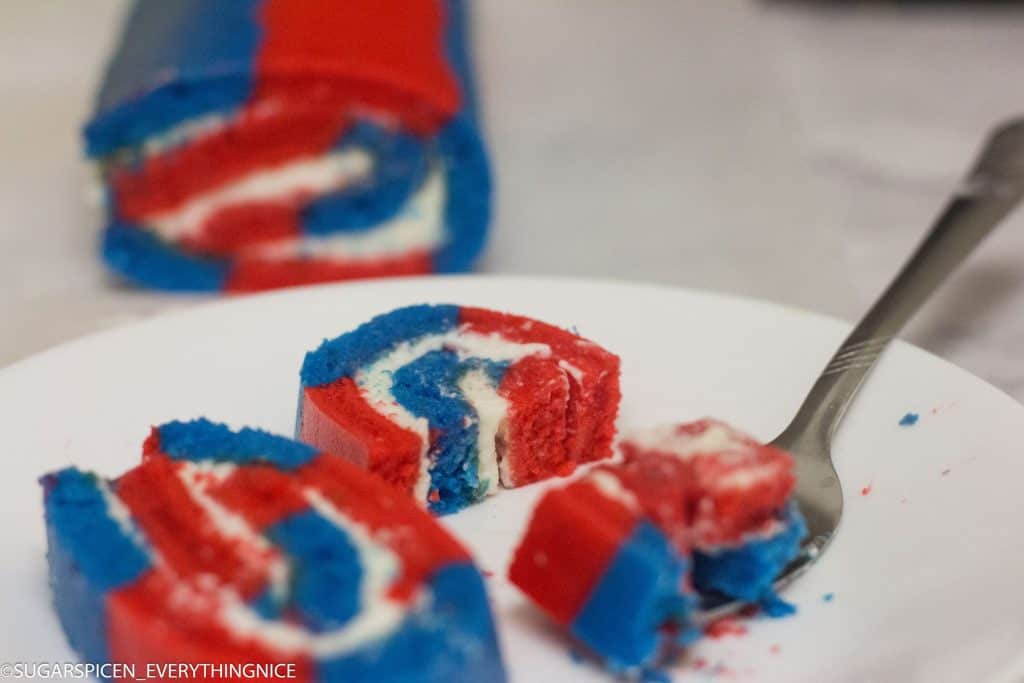 This Eggless Swiss Roll recipe is light, moist, and loaded with flavor. It's easy to make and tastes amazing. A must-have holiday recipe!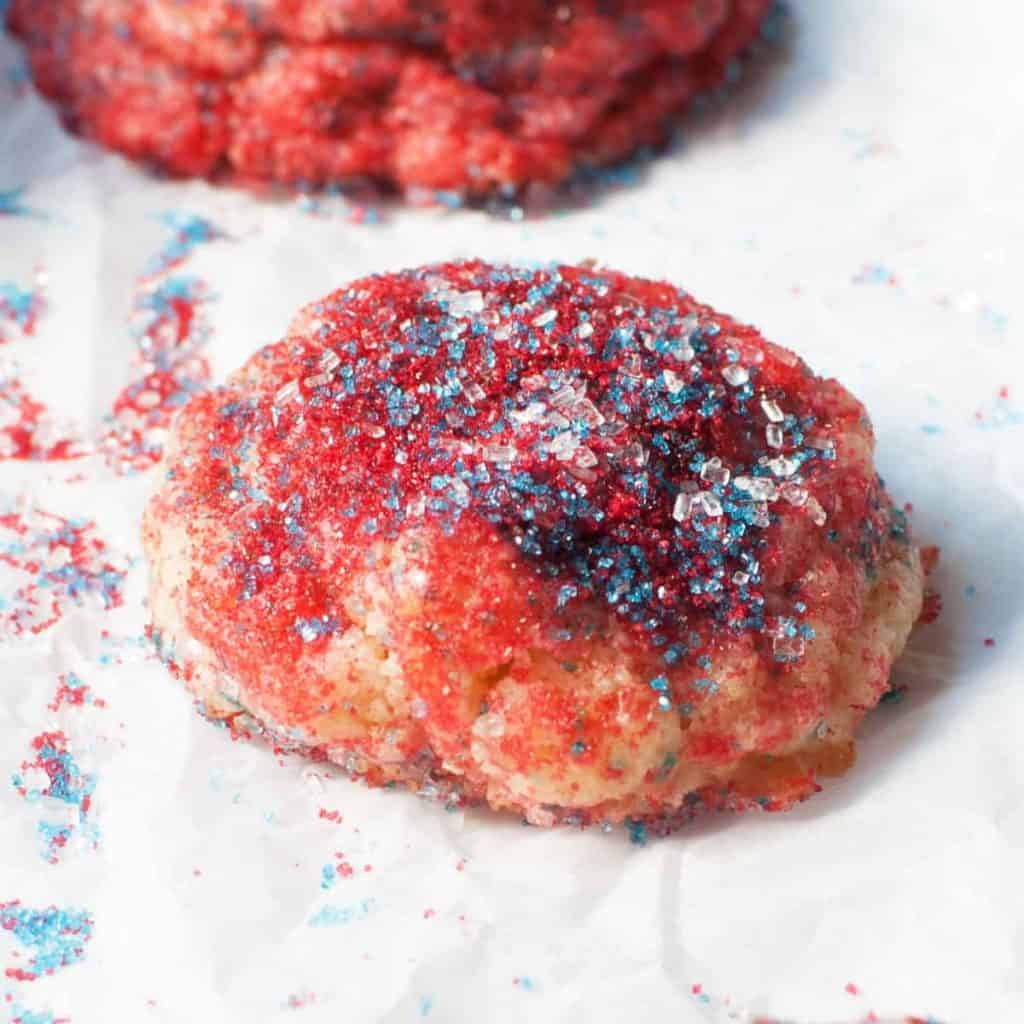 These patriotic sugar cookies are perfect for all patriotic holidays. They're super easy to make and so delicious!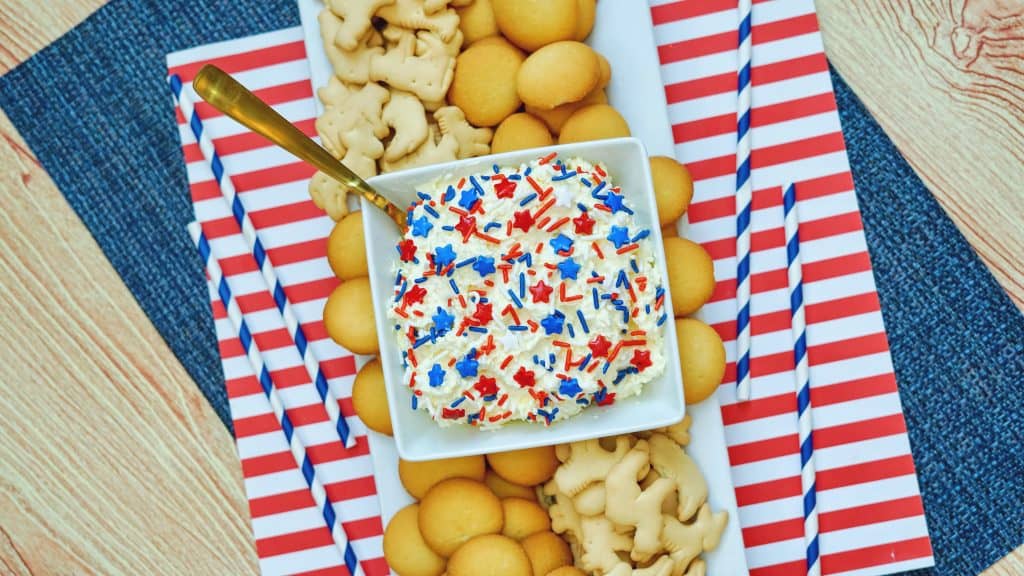 Patriotic Dunkaroo Dip is a 3 ingredient fruit and cookie dip perfect for your holiday party. It's easy to make, delicious, and a crowd-pleaser.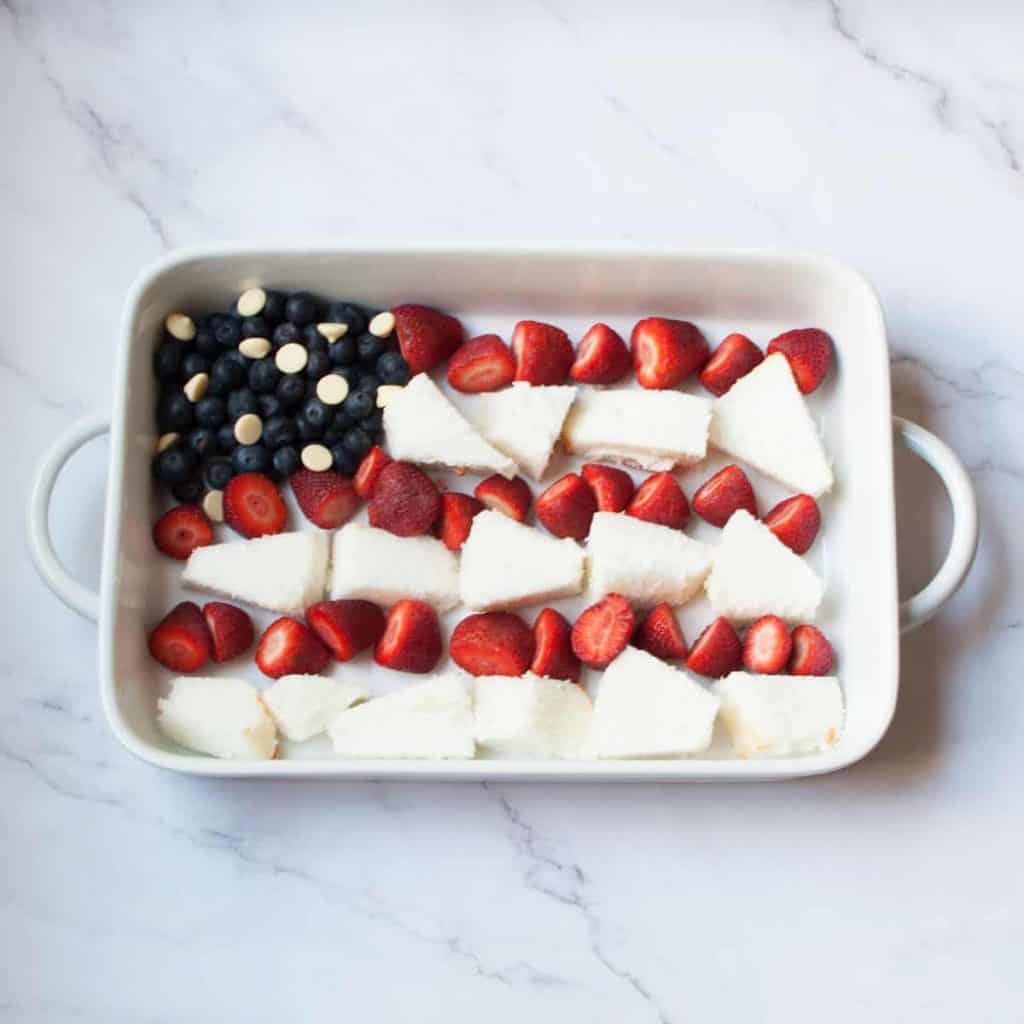 This fruit tray is a fun and festive treat to make to celebrate Memorial Day! This fruit tray is so easy to put together and is sure to be a crowd favorite at parties.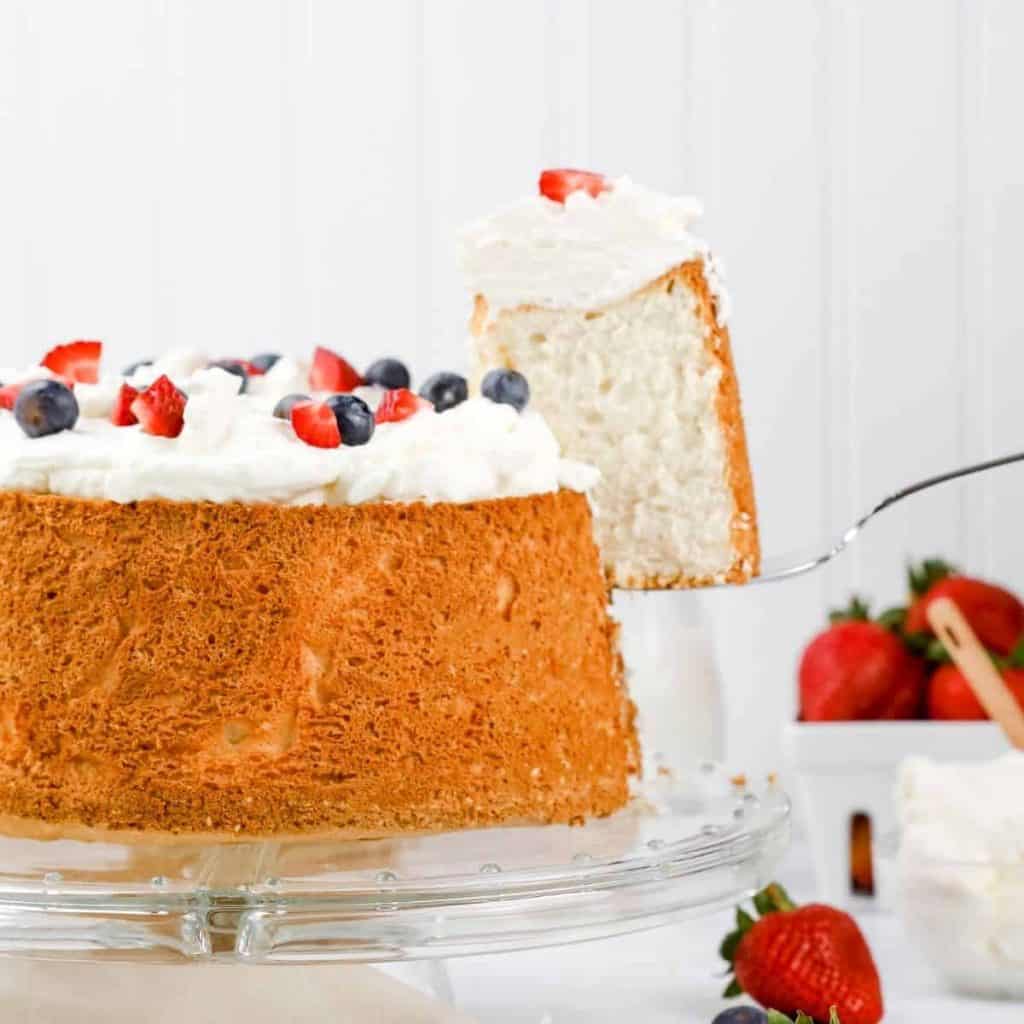 Made with only 8 ingredients, this gluten-free angel food cake is divine! The texture is light and delicate, flavored with rich vanilla and sweetened with two types of sugar.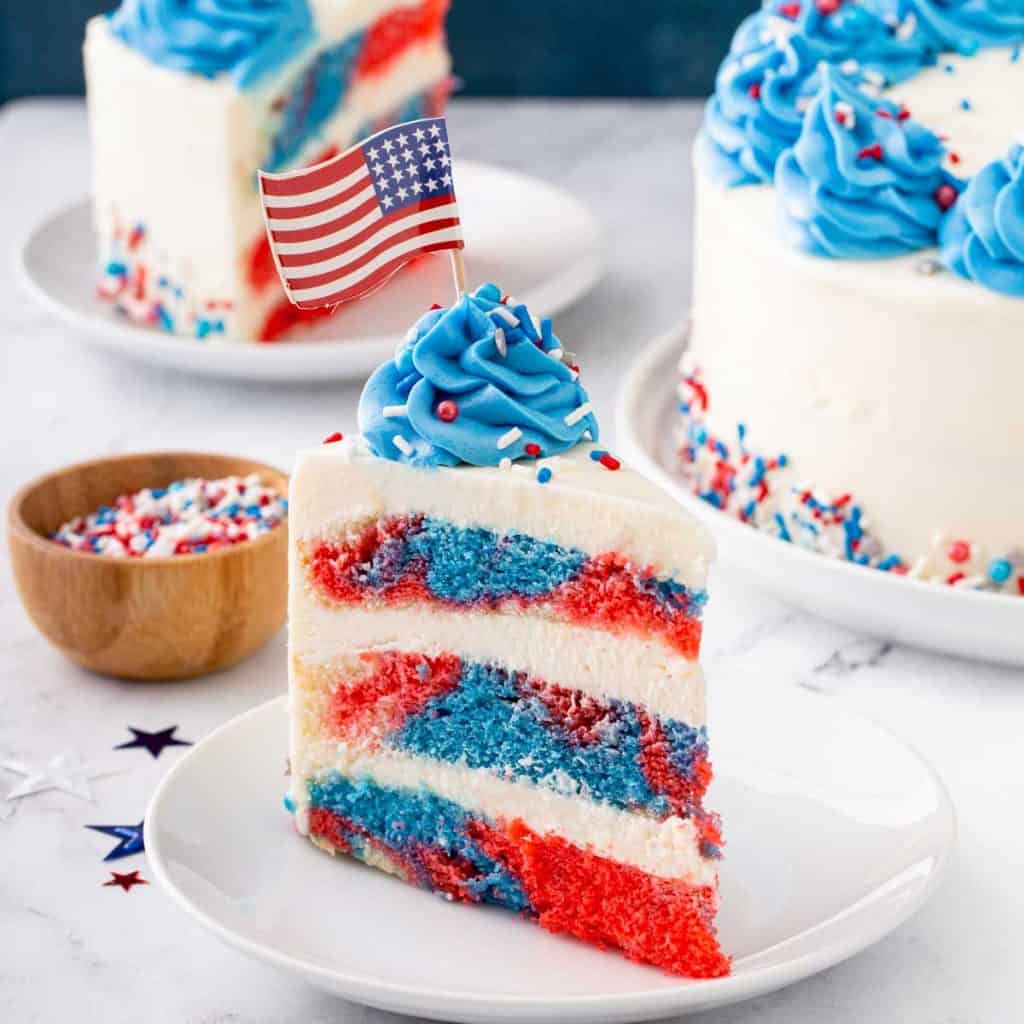 This Red, White, and Blue Marble Layered Cake is the perfect dessert to serve for the 4th of July or any other patriotic celebration, family gathering, or holiday cookout.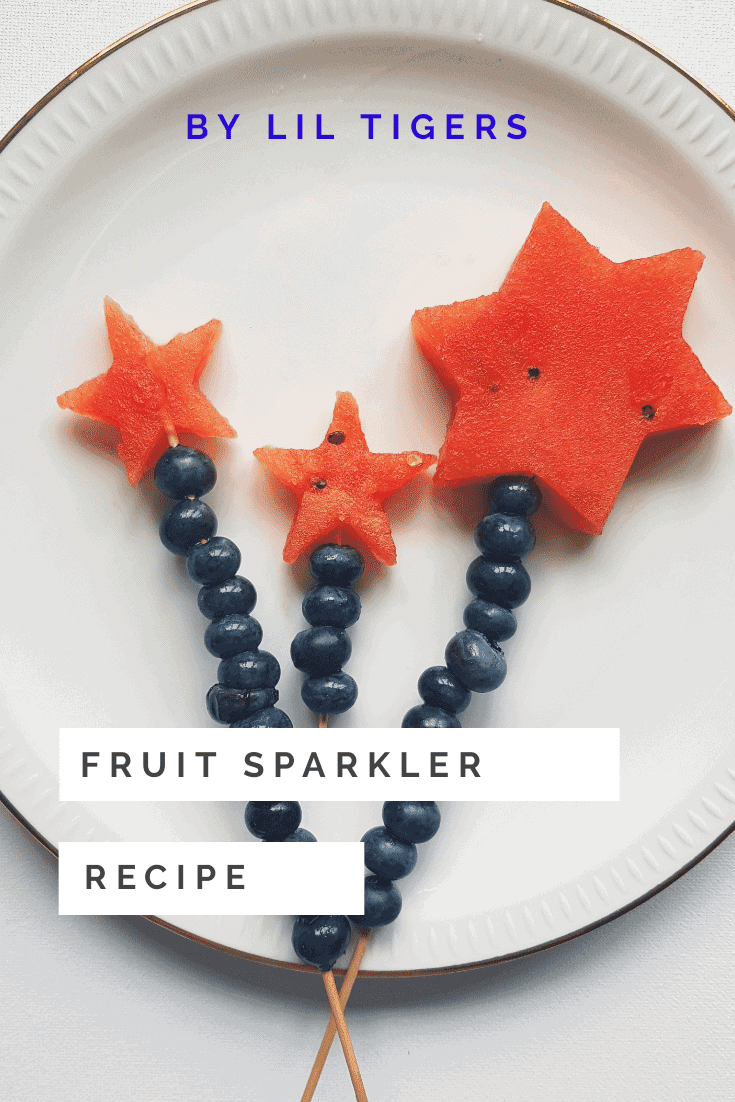 These fruit sparklers are perfect for Memorial Day. It is a super easy fix and makes an adorable eyecatcher for your next Memorial Day party.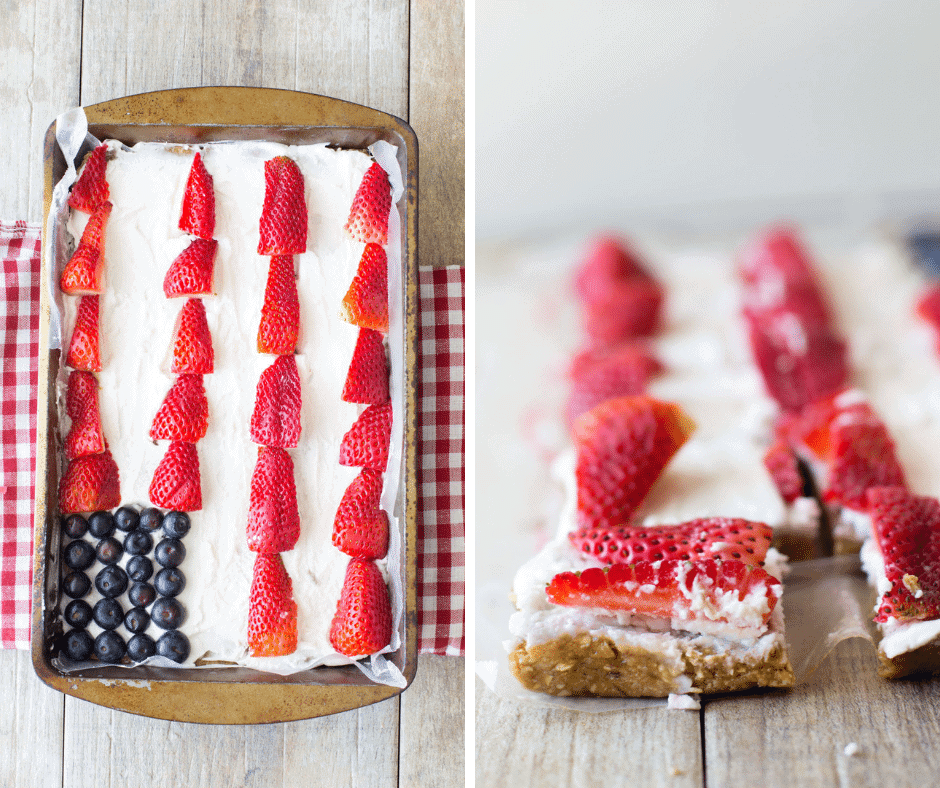 These cold sweet honey oatmeal bars with coconut cream topping underneath layers of berries are the perfect red white, and blue-themed treat!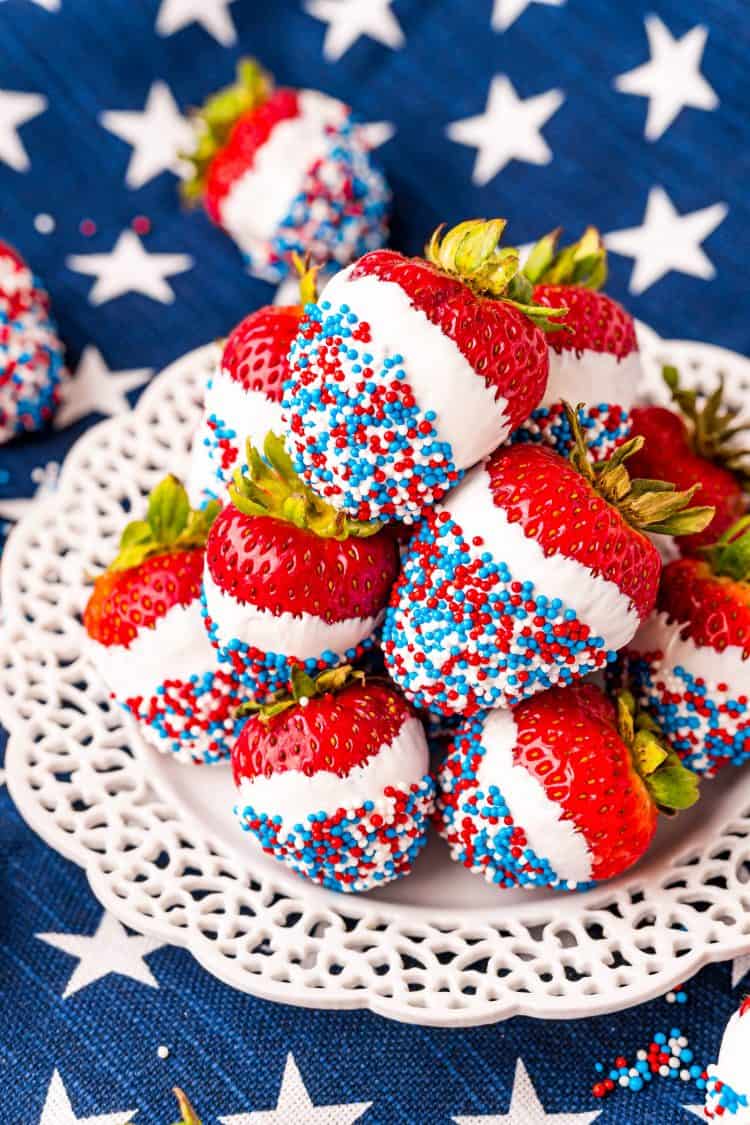 4th Of July Strawberries are homemade white chocolate-covered strawberries coated in red, white, and blue sprinkles for an easy-to-make treat! Ready from start to finish in just 45 minutes!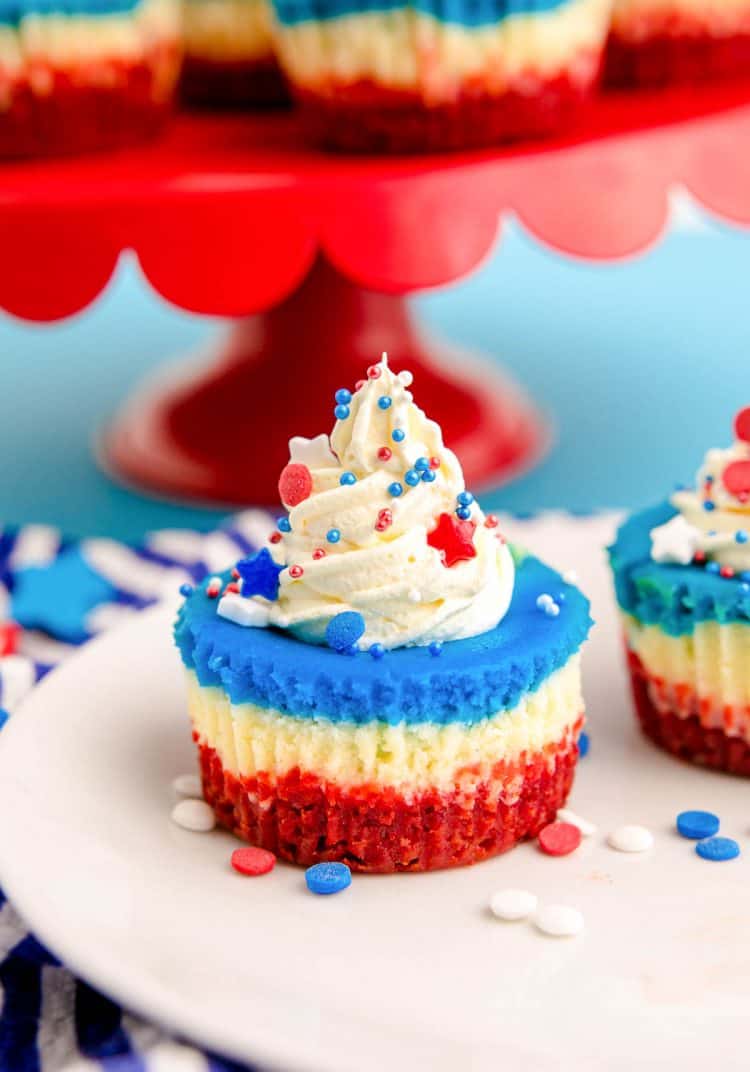 4th of July Mini Cheesecakes is a red, white, and blue layered dessert that has a shortbread crust filled with creamy cheesecake filling! Only 20 minutes of prep time!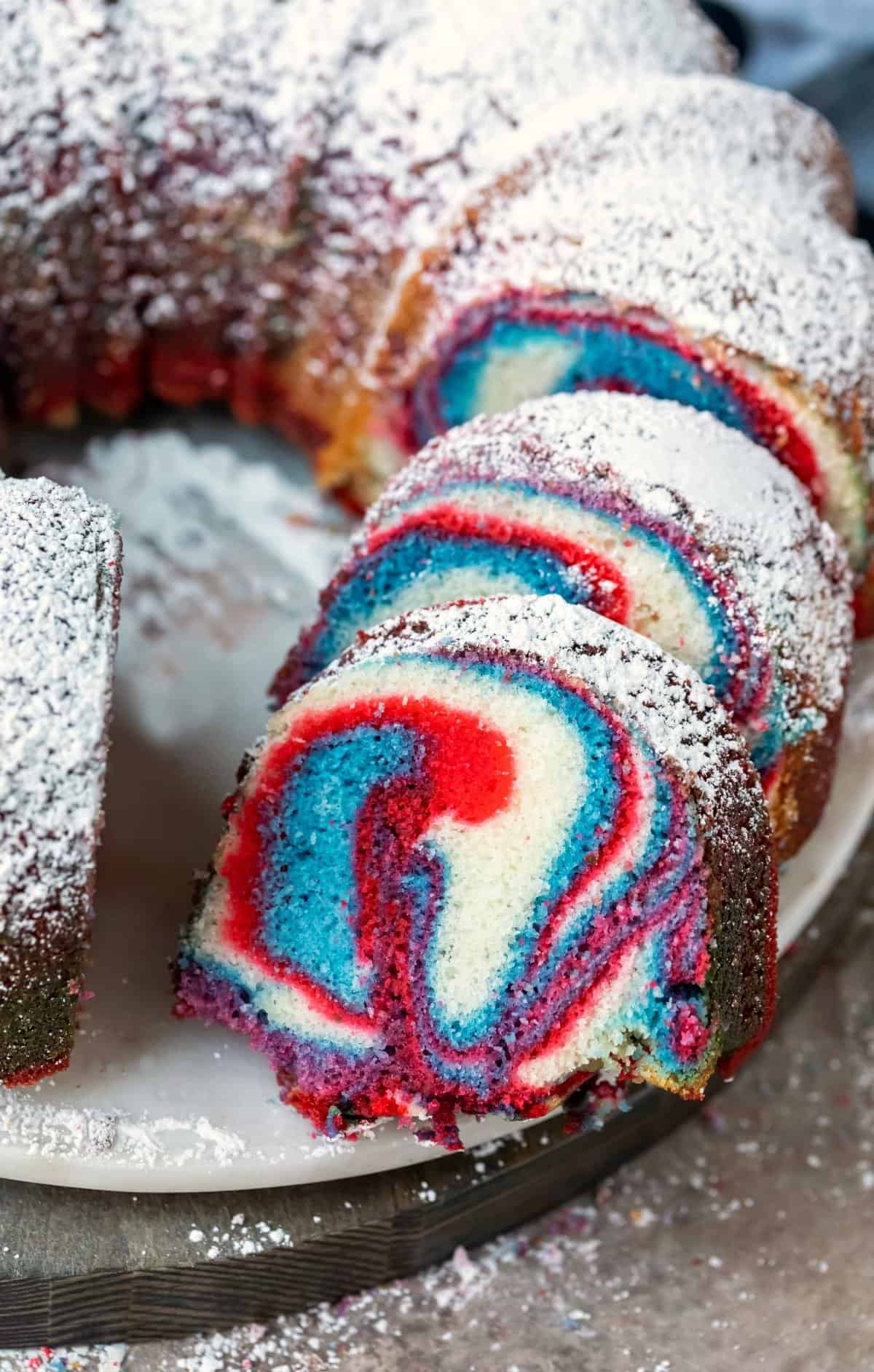 Easy red, white, and blue marble bundt cake recipe! This moist vanilla bundt cake makes a perfect summer dessert.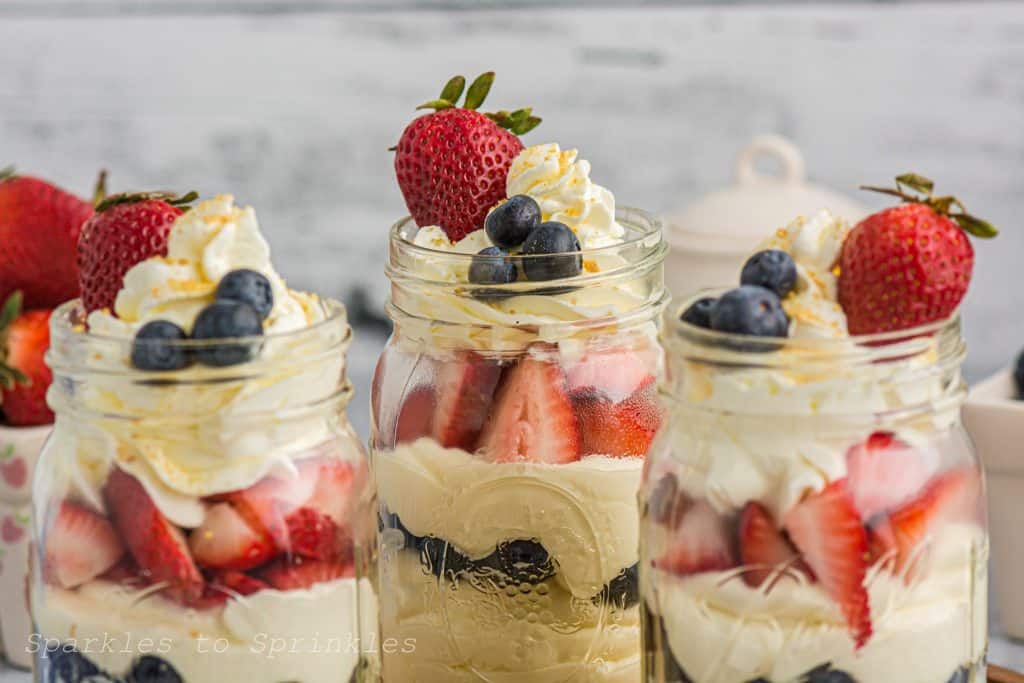 These adorable Red, White, and Blue No-Bake Cheesecake In A Jar are layered with strawberries, blueberries, and a creamy vanilla no-bake cheesecake, topped with whipped cream, more berries, and graham cracker crumbs! These are not only adorable looking, but they are also delicious. Who doesn't love a good red, white, and blue dessert?!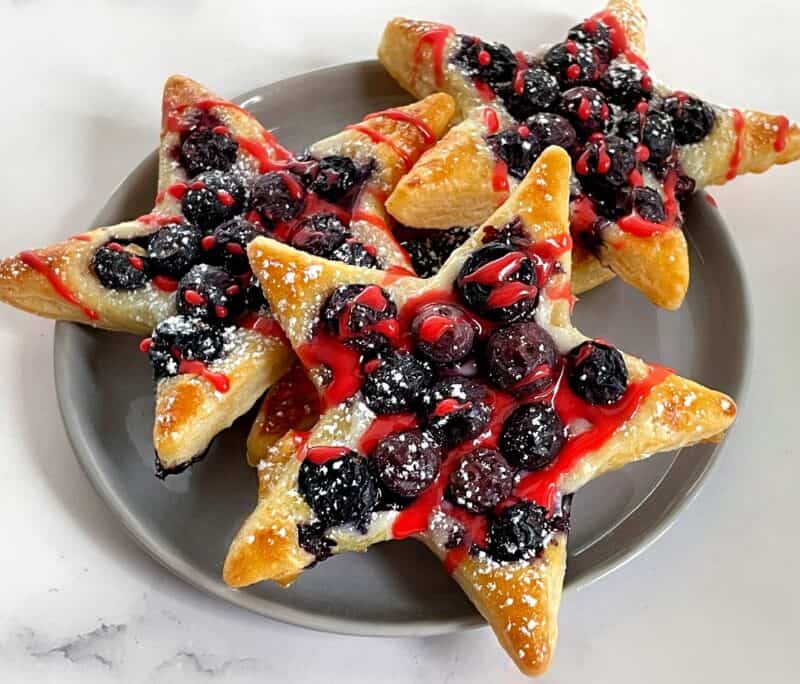 These cute and easy Blueberry Puff Pastry Stars are perfect for July 4th or just for a fun pastry treat! Fresh blueberries and a delicious cream cheese filling make these stars irresistible.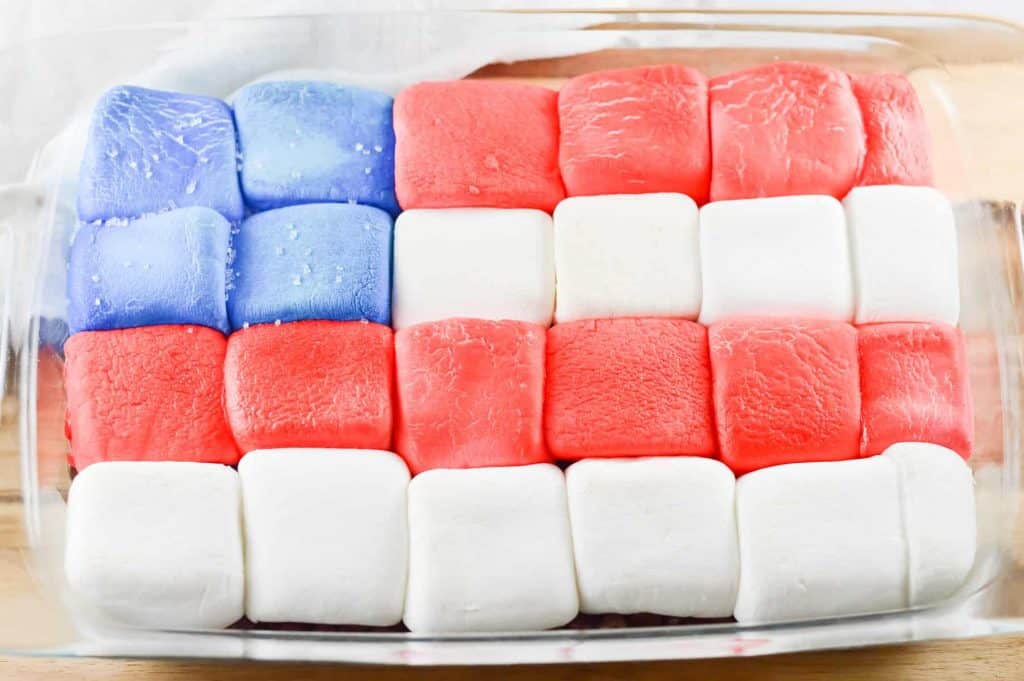 This Red, White, and Blue S'mores Dip is a super-easy way to show your patriotic support. Three ingredients and 15 minutes are all it takes to make a rich and chocolaty dessert everyone will rave over.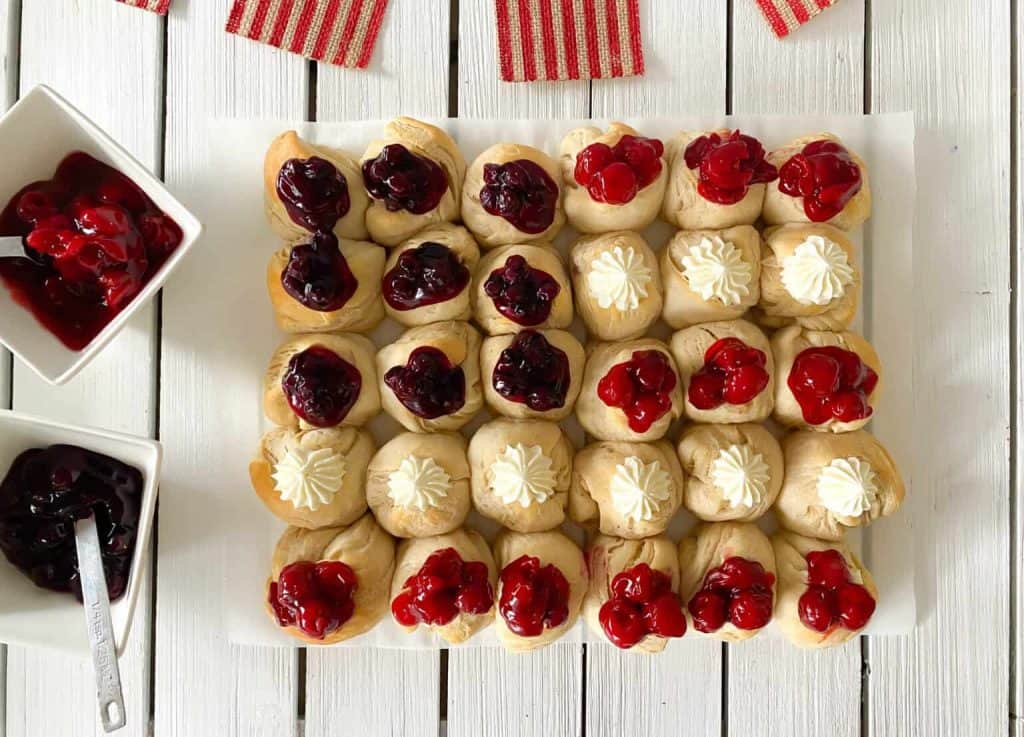 These patriotic pull-apart American Flag Cheesecake Biscuit Bombs are the perfect summer dessert for Memorial Day, Fourth of July, or Labor Day! Super easy to make, fun, and absolutely delicious!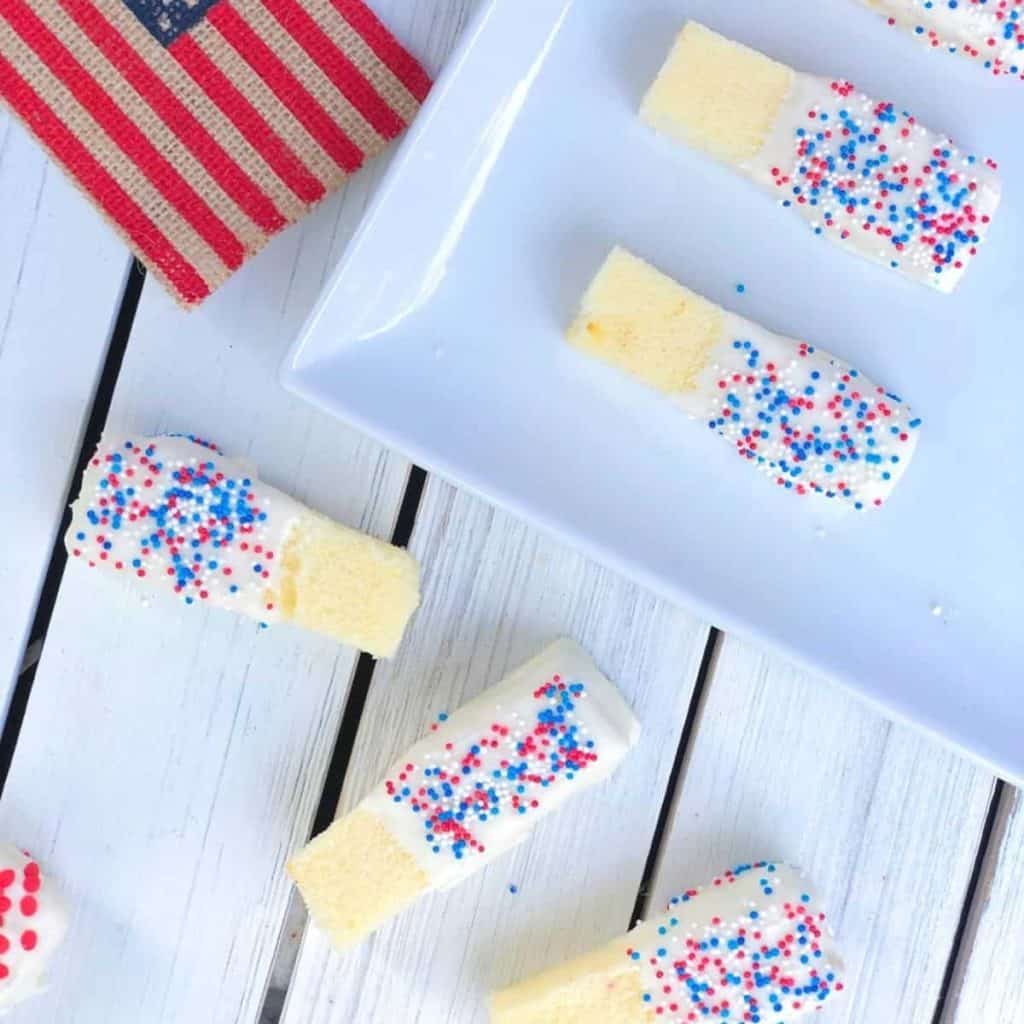 With July 4th around the corner, these no-bake 4th of July pound cake sticks could not be easier to make! With just 3 ingredients and no baking required, these are the ideal patriotic bite-sized dessert for your next patriotic celebration!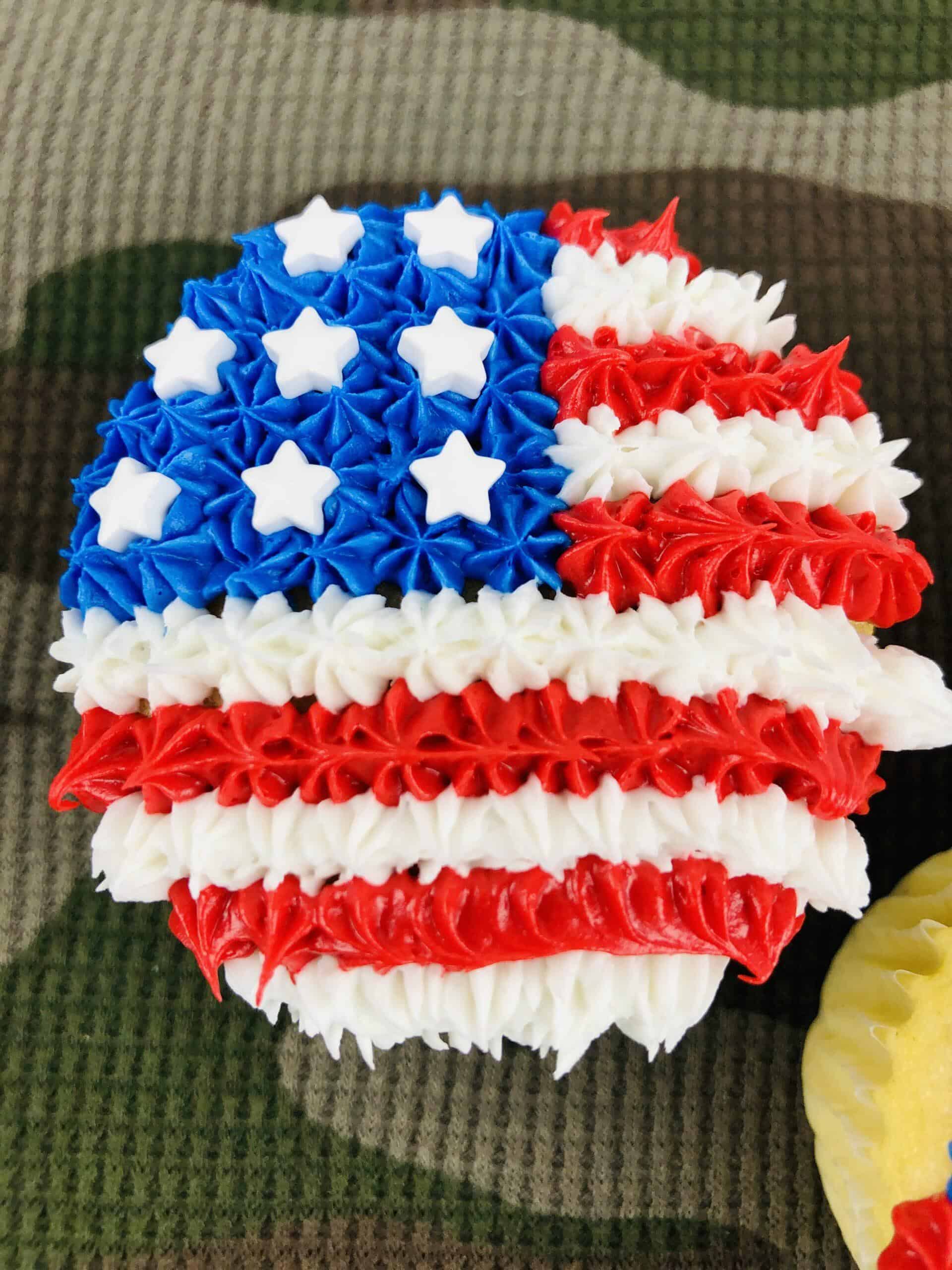 There's nothing more patriotic than a red, white, and blue cupcake, especially when it's topped with an American flag. This easy recipe is perfect for Memorial Day celebrations or any other patriotic event.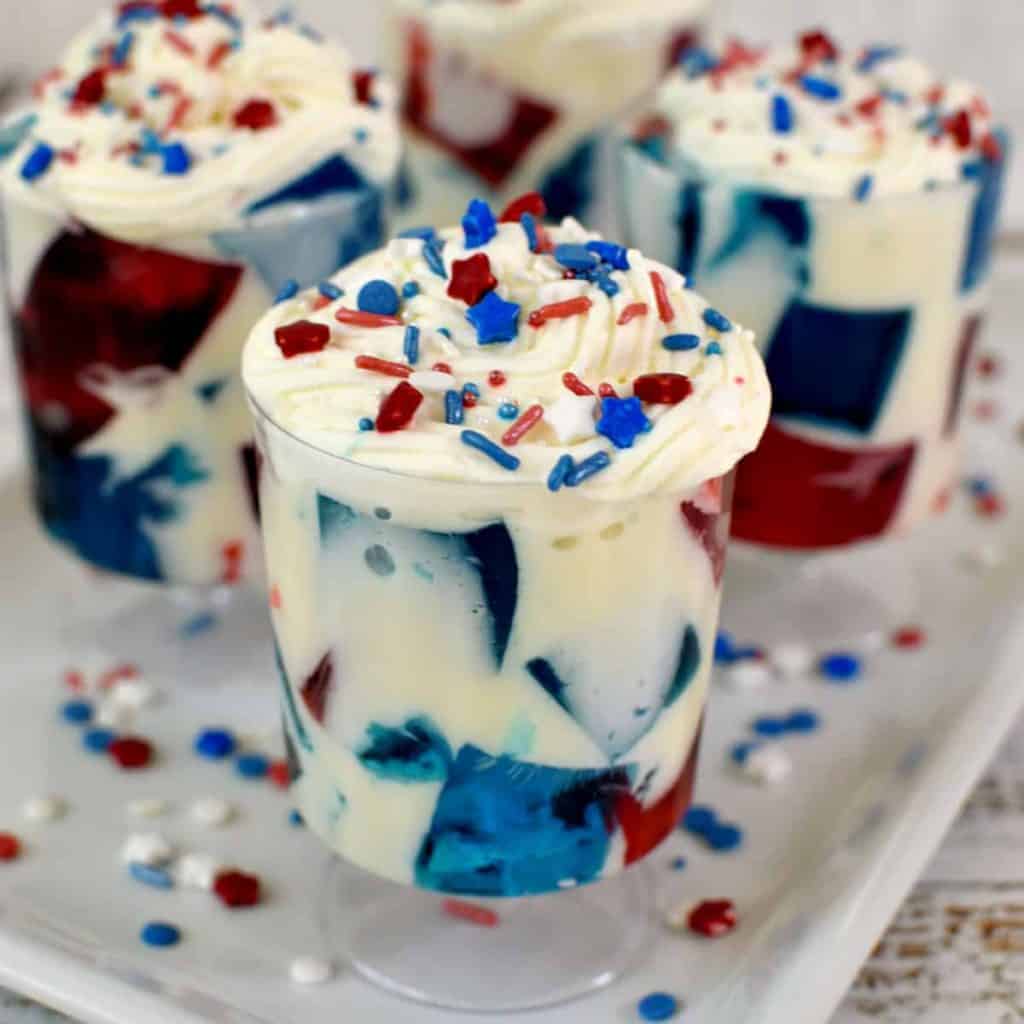 Looking for an easy Patriotic dessert? These red, white, and blue Jello cups are super easy to make and will please kids and adults.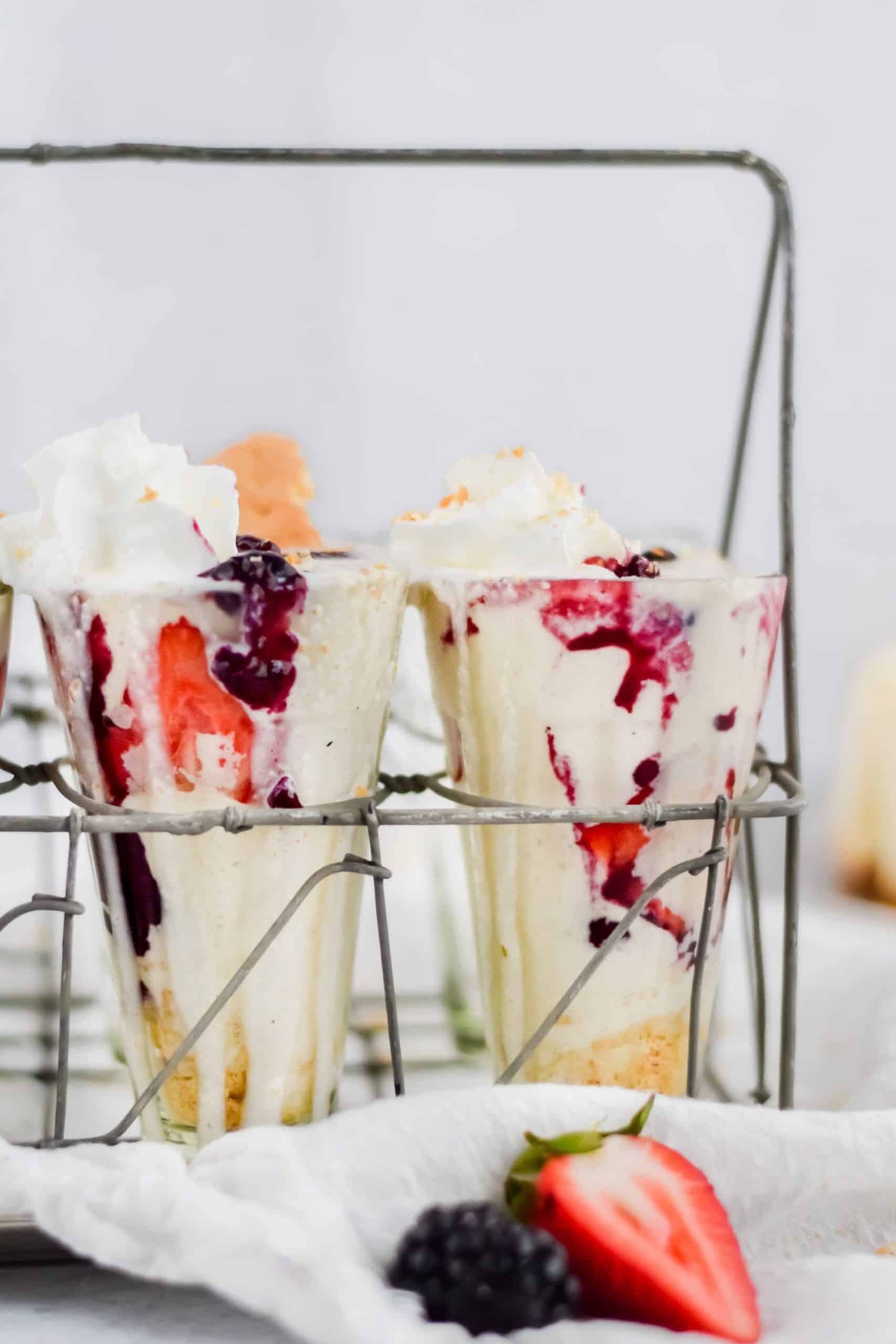 This indulgent Triple Berry Cheesecake Milkshake is sweet, creamy, and a fun way to elevate vanilla ice cream. Made with cold ice cream, delicious strawberries, blackberries, and blueberries, and a slice of creamy cheesecake, it may be better than Dairy Queen's version!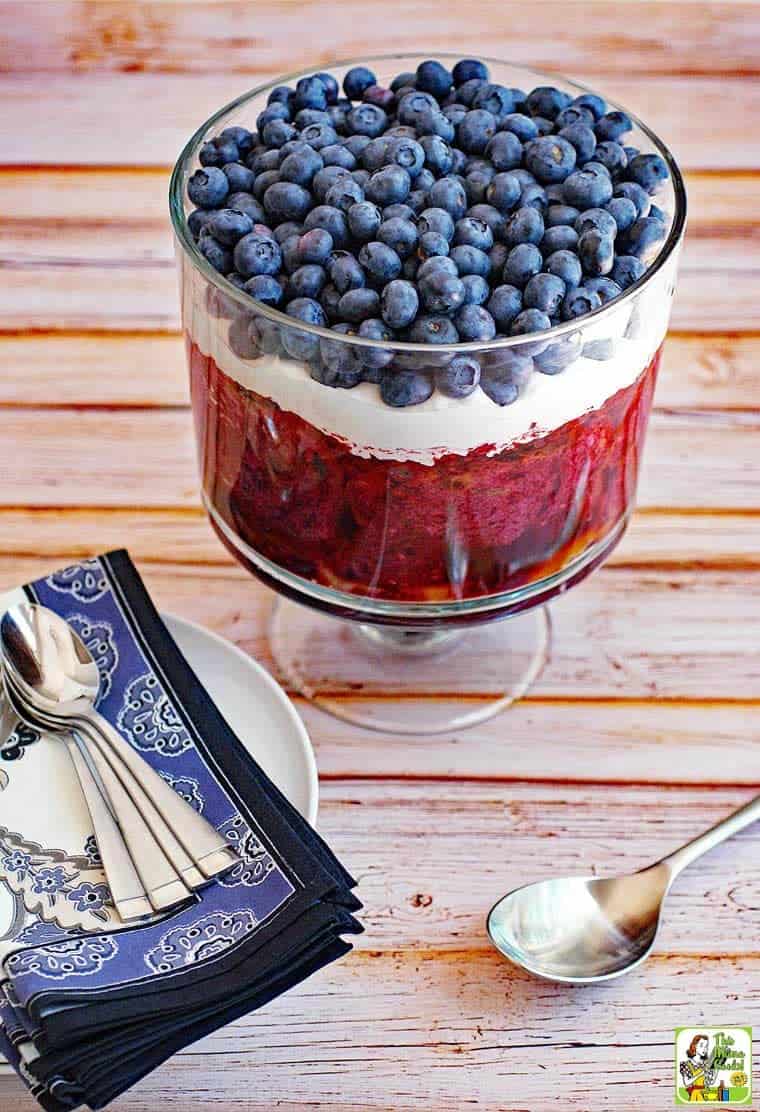 You have to make this Red, White, and Blue Trifle for a special party or brunch! This trifles recipe uses three types of healthy berries – blueberries, blackberries, and raspberries.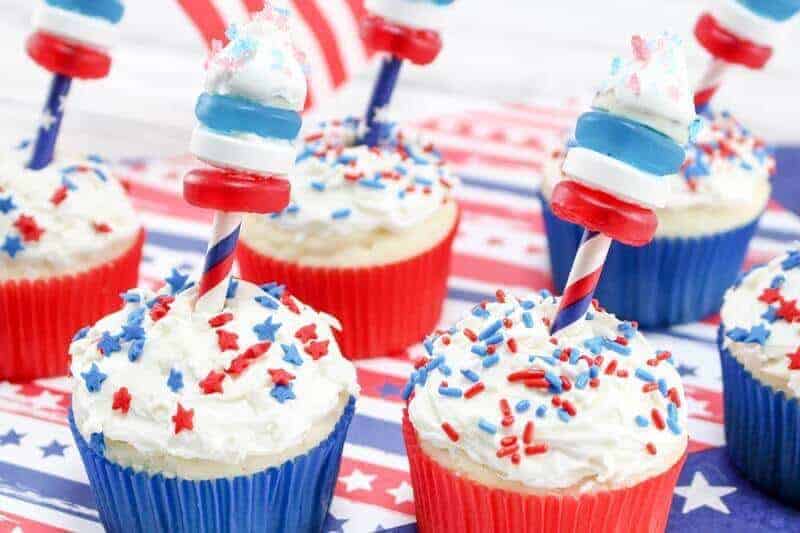 These firecracker cupcakes are a fun and festive Memorial Day party dessert with red, white, and blue firework cupcake toppers made of paper straws and candy.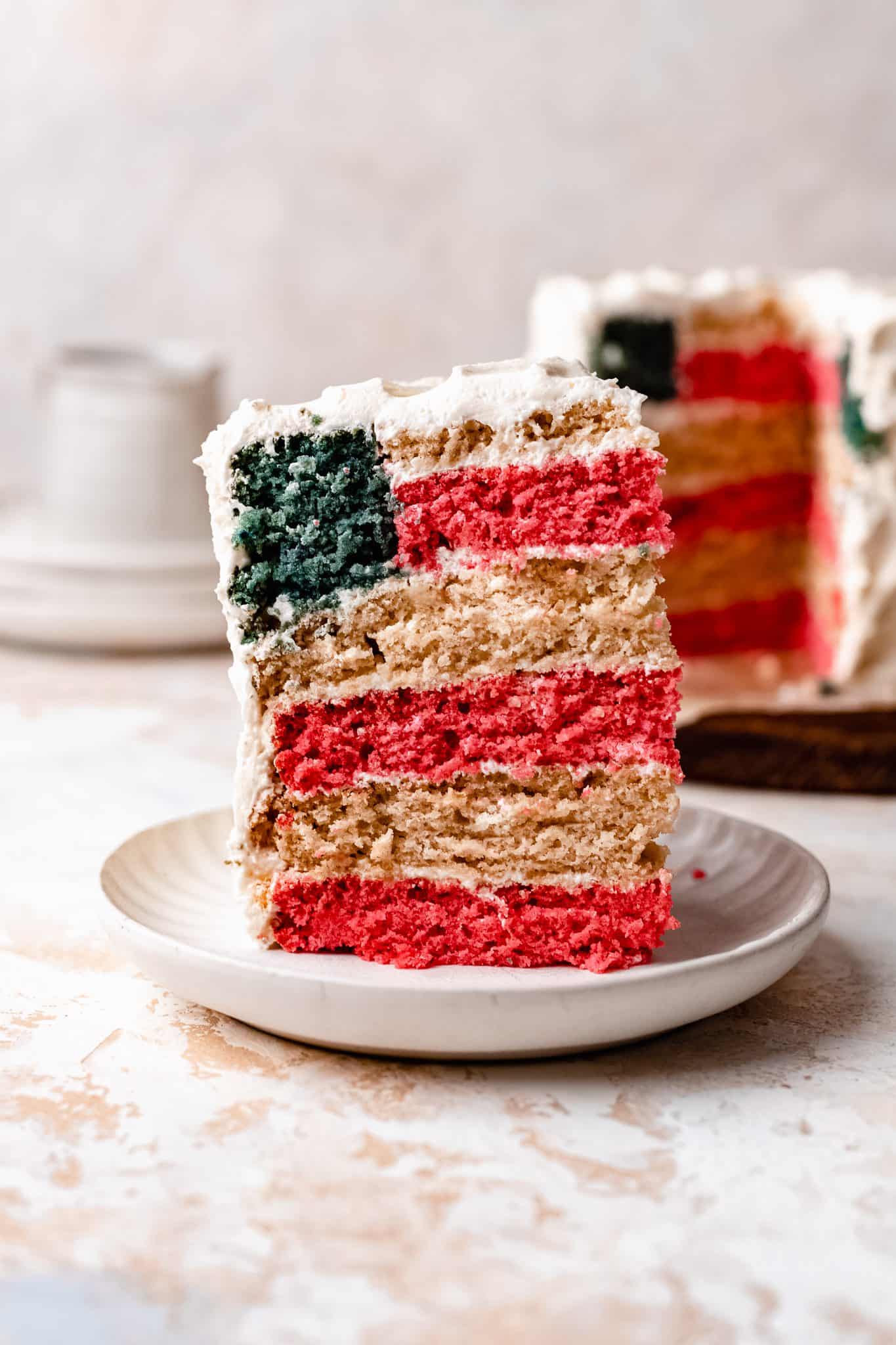 This fun and festive American flag cake is a 6 layer cake made entirely vegan and dairy free! Based on Erin McDowell's American flag layer cake design, this festive vegan Fourth of July cake recipe is layered with lemon, strawberry, and almond cake for the ultimate red, white, and blue cake!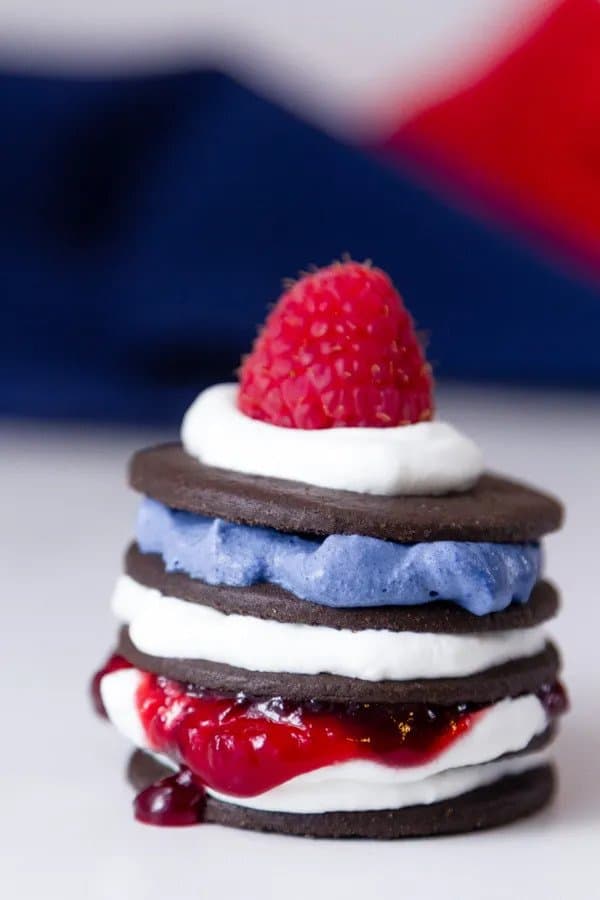 These impressive-looking no-bake individual Patriotic Icebox Cakes are so simple to make and so delicious, and perfect for an American summer holiday. And there are no artificial colors to make the red white & blue of the American flag.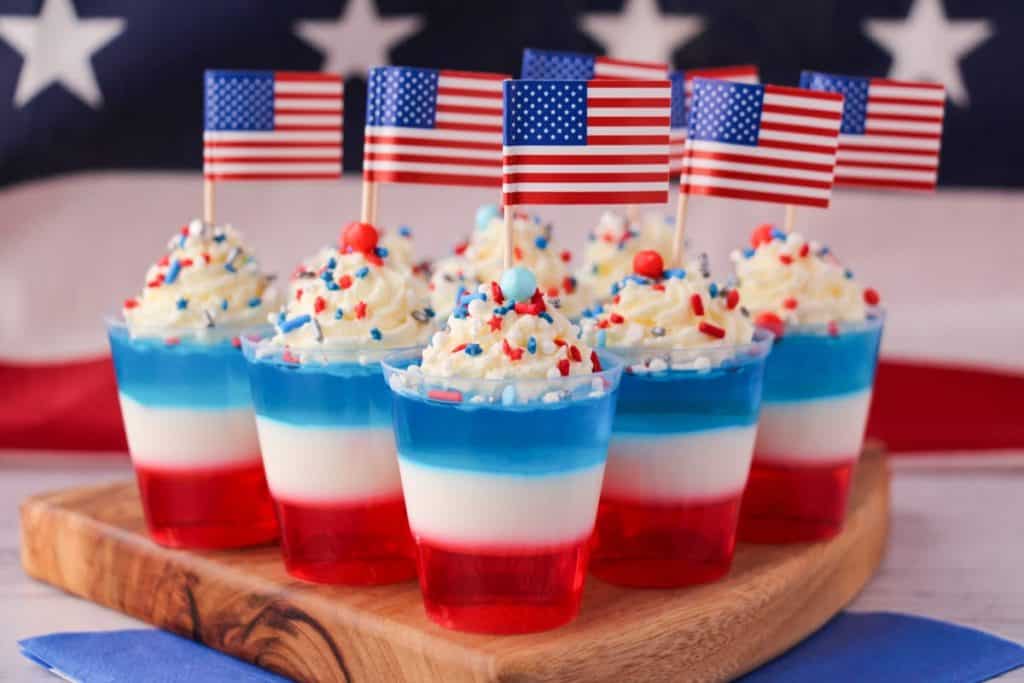 These red white and blue jello shots are an easy and impressive treat for a patriotic party or BBQ. Make them boozy for adults or alcohol-free for kids.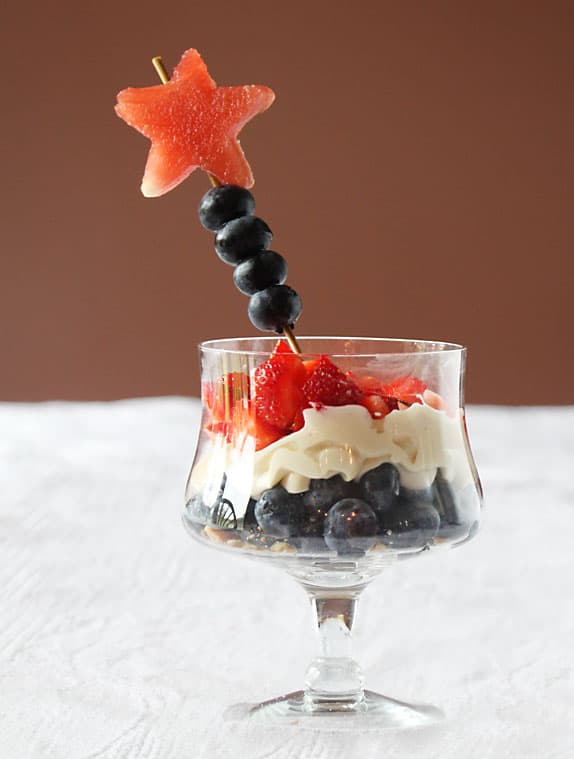 Want a July 4th dessert that is healthier and still fun? Layer strawberries, blueberries & a cheese whip for a Blueberry Strawberry Parfait USA!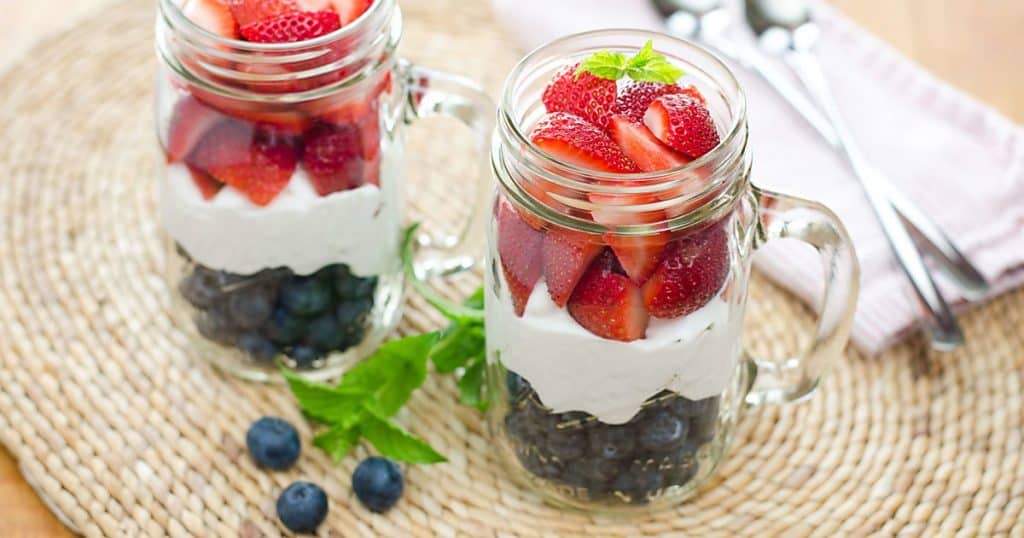 This delicious and easy Red, White and Blue berries and cream is perfect for a holiday BBQ. It's the perfect gluten and dairy-free vegan option for all your guests.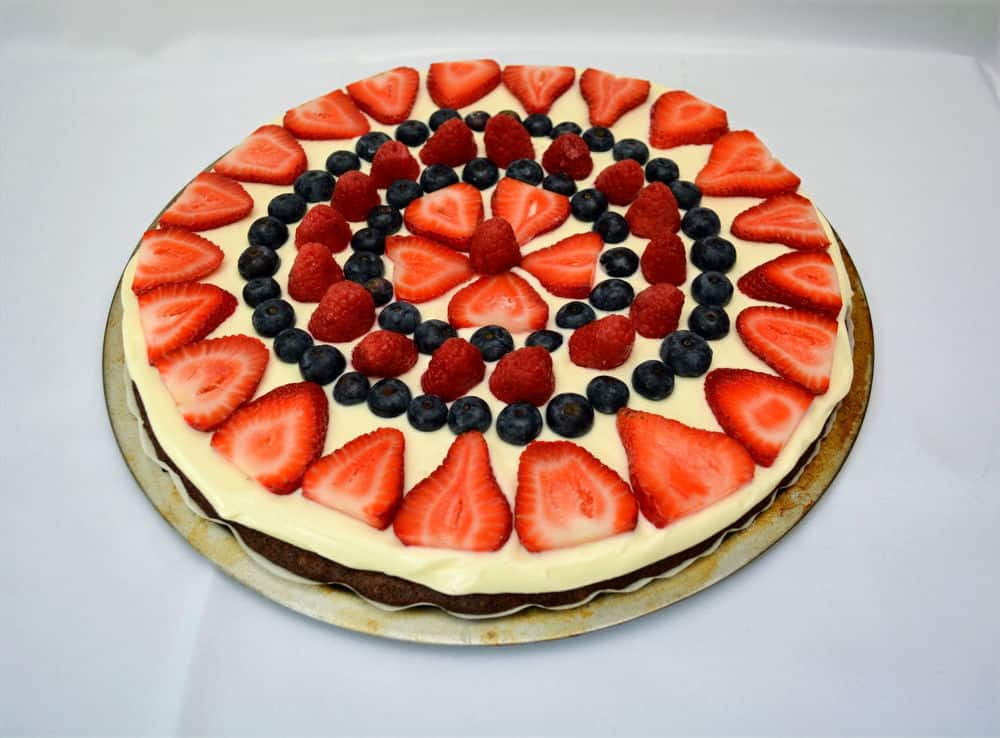 Fruit and chocolate combine in a beautifully vibrant pizza that's perfect for any summer picnic or BBQ. A fudgy, chocolatey brownie base topped with sweet, fluffy cream cheese, whipped cream, and a colorful combination of fresh, juicy berries.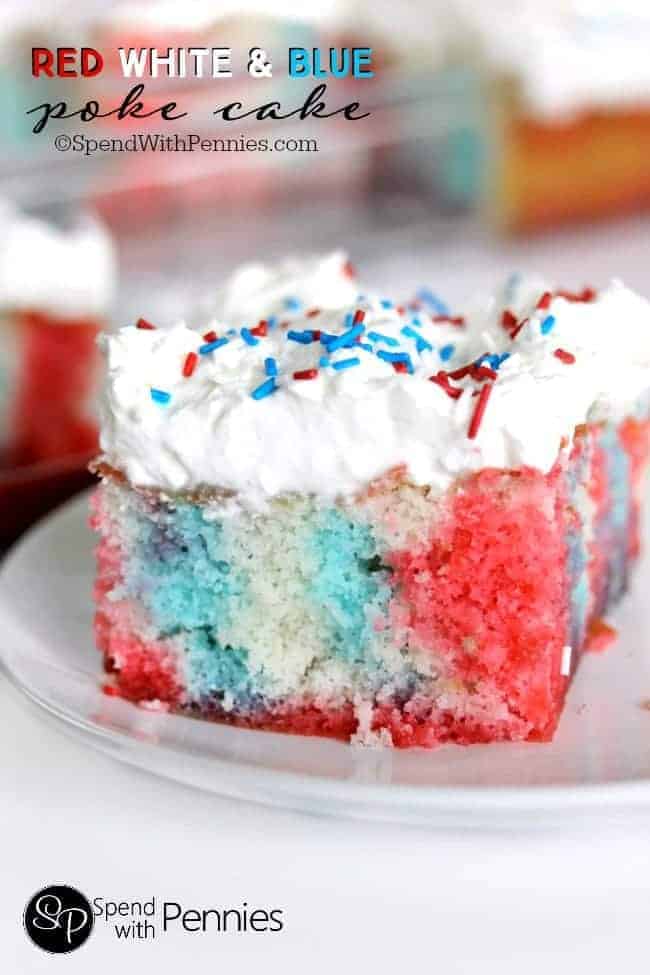 This red white and blue poke cake is so easy to make and so delicious! The Jell-O keeps the cake extra moist!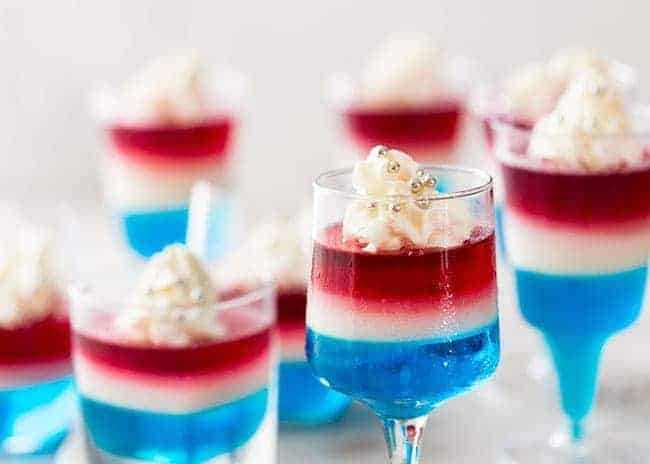 These 4th of July Layered Jello desserts are sure to be the hit of the party!! A total crowd pleaser, make these kiddie friendly, then make another batch for the grown-ups by turning these into VODKA JELLO desserts!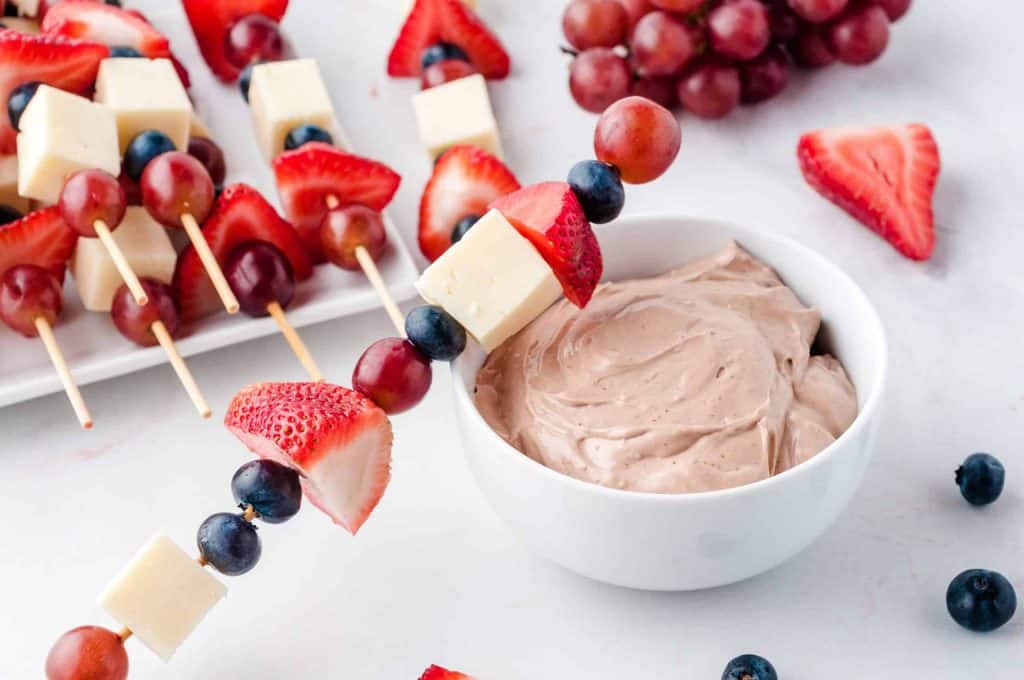 Made with fresh fruit and cheese, then served with an easy fruit dip, these Kabobs make a colorful and tasty party treat. This is an easy appetizer to make and serve – perfect for parties!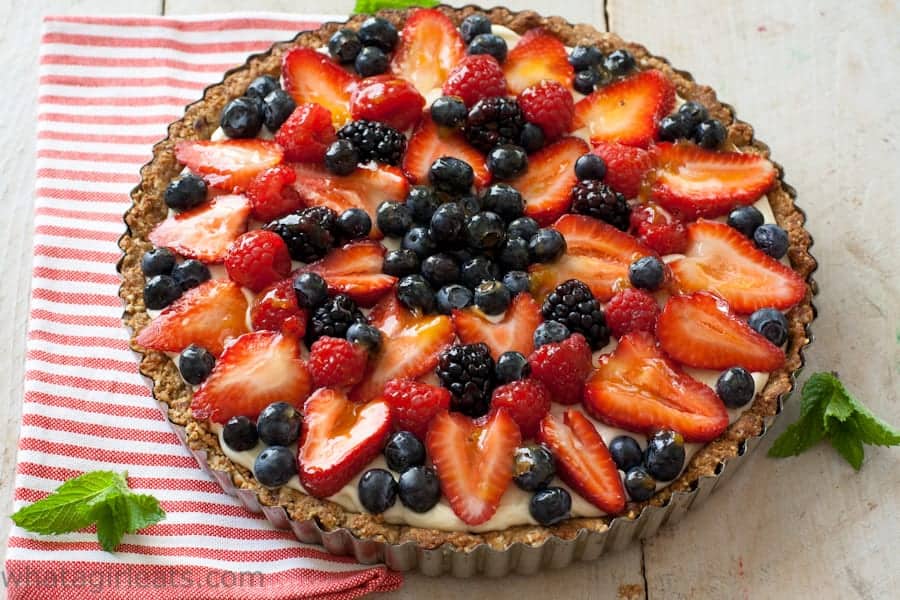 Red, white, and blueberry tart is grain free and filled with fresh berries and lemon cream cheese filling.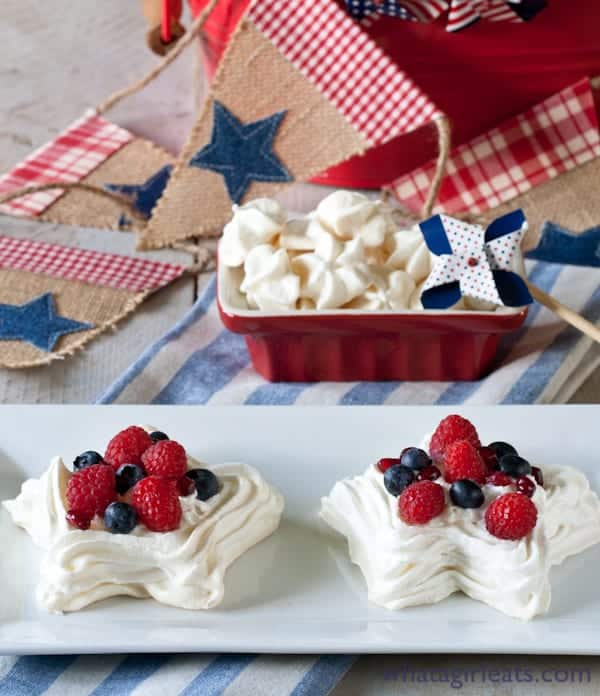 Star-spangled meringues with fresh berries and whipped cream are a perfectly patriotic way to celebrate the summer holidays.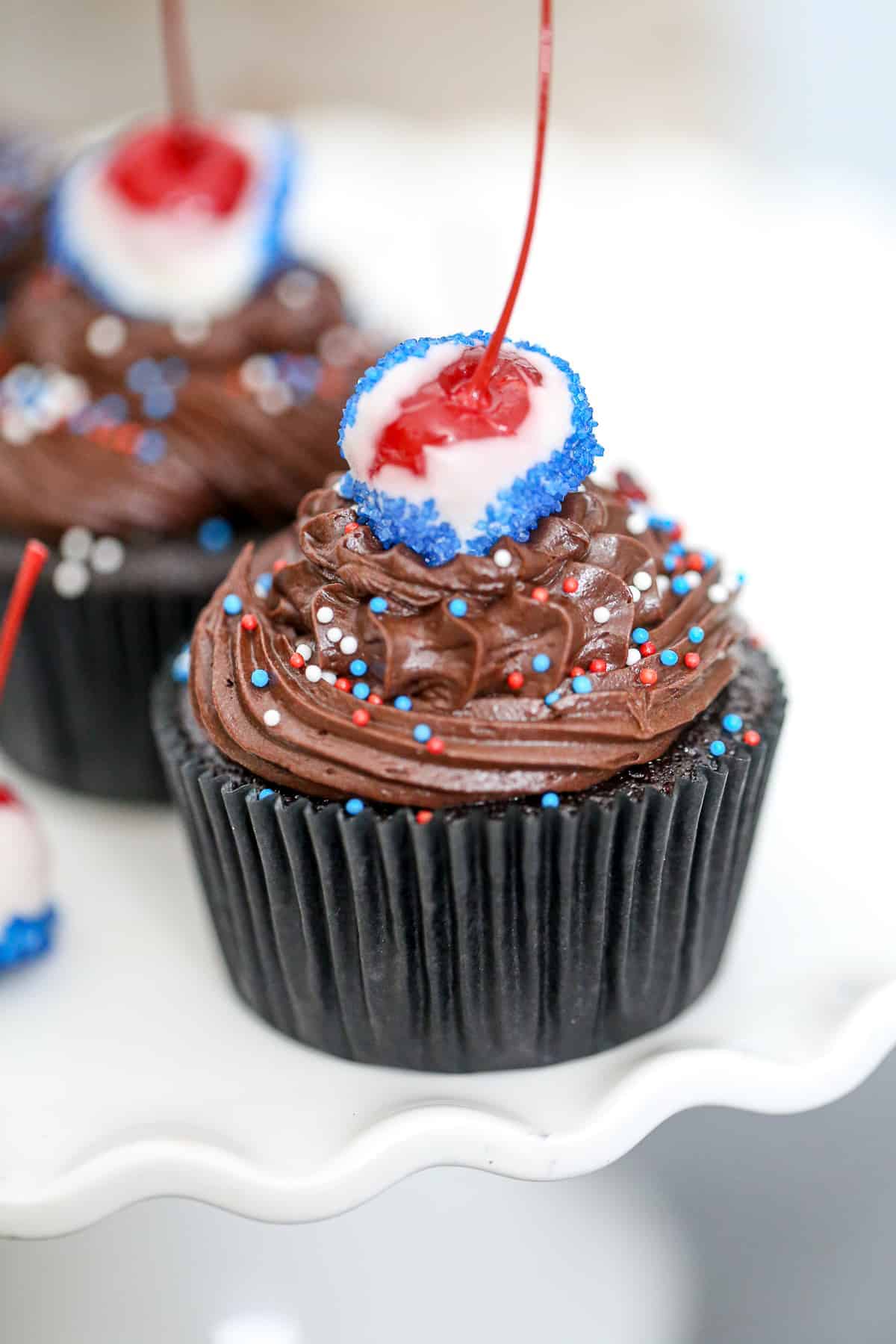 These 4th of July-inspired Cherry Bomb cupcakes are super festive and absolutely delicious. These patriotic chocolate cupcakes are frosted with delicious and super easy-to-make chocolate icing and topped with red, white, and blue sprinkles!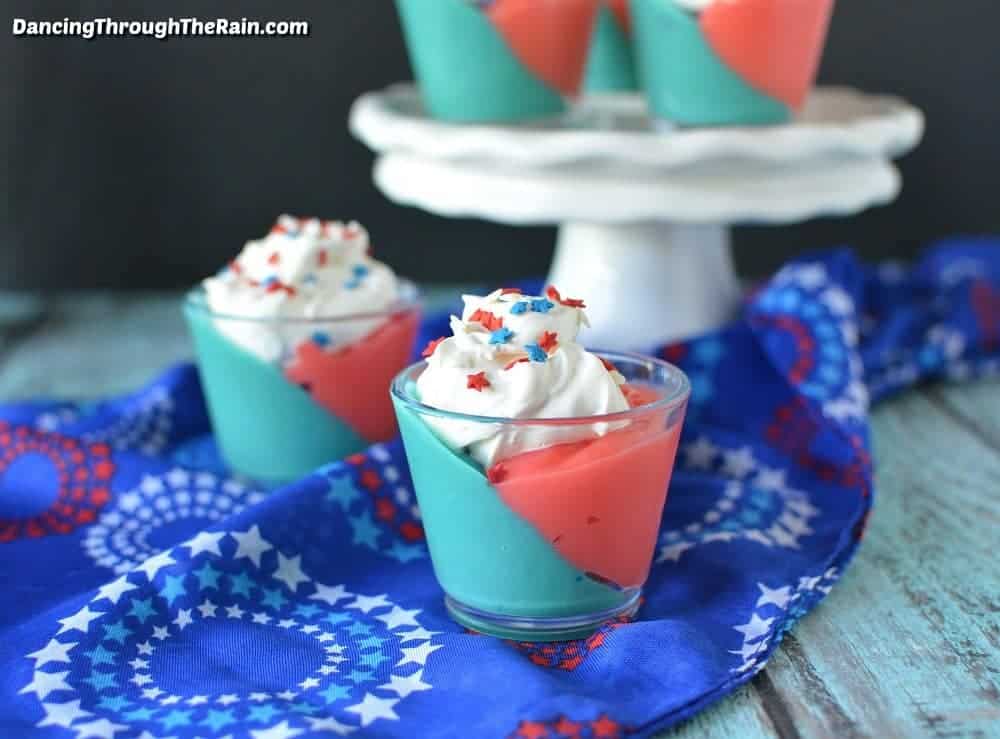 These vegetarian pudding cups are super easy to make and totally perfect for any July 4th celebration. They're made with a few simple ingredients and topped with red, white, and blue sprinkles in honor of the holiday!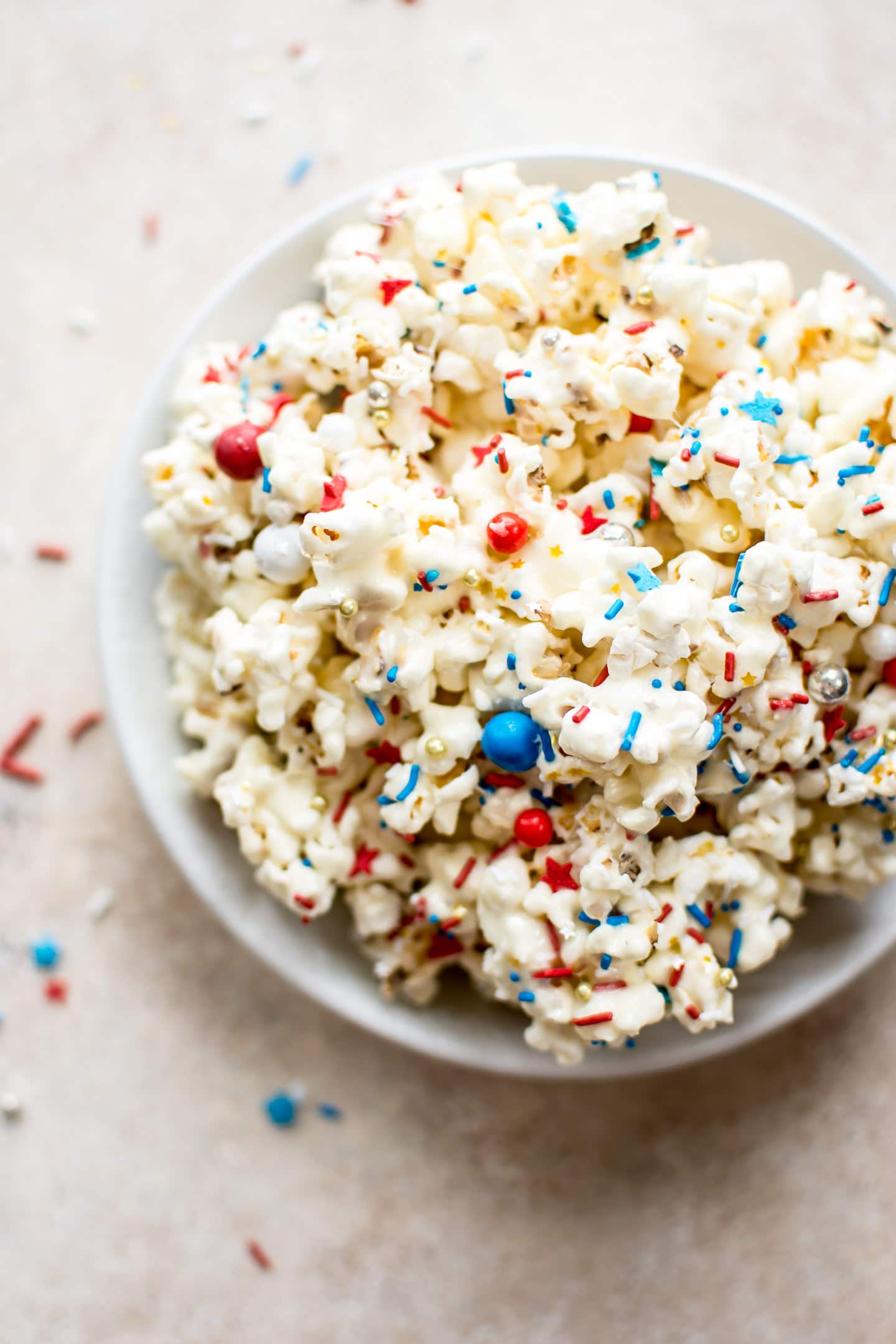 Looking for a fun and easy-to-make 4th of July treat? Try this sweet patriotic marshmallow popcorn! It's coated in sticky melted marshmallows and topped with fun red, white, and blue sprinkles. Perfect for any 4th of July get-together!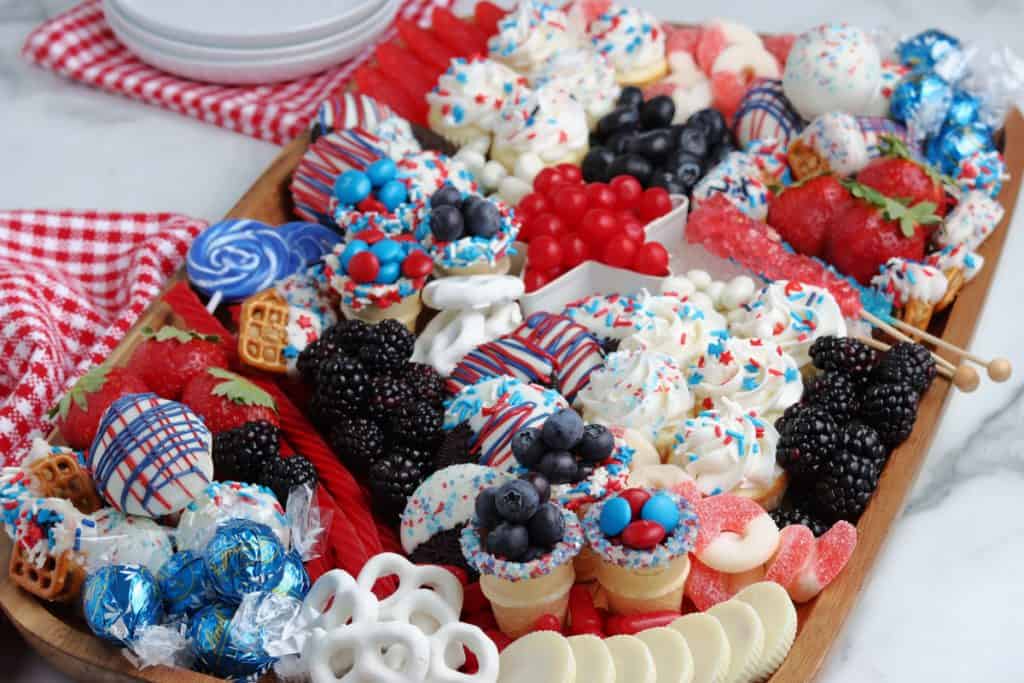 This fun 4th of July dessert board is sure to get your guests talking. It's similar to a charcuterie board, except it's filled with a big variety of red, white, and blue sweet treats! It looks impressive, but it is very easy to make!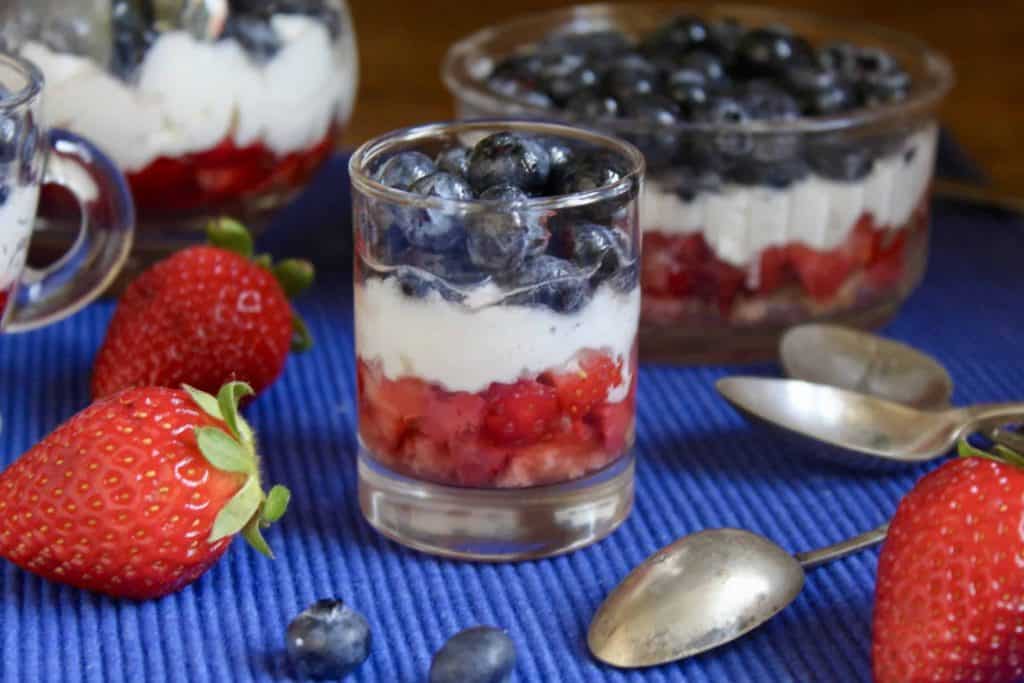 Patriotic mini trifles are the perfect no-cook, no-bake treats for your 4th of July celebration!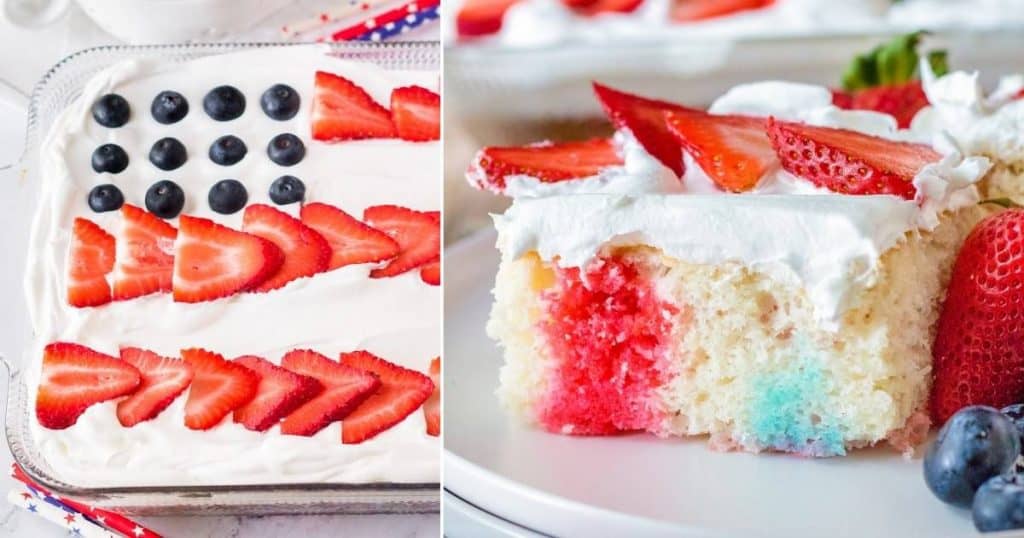 If you are looking for festive and patriotic desserts, this red, white, and blue jello poke cake recipe is for you. The delicious and easy cake recipe is made with red and blue jello and topped with an American flag made of fresh strawberries and blueberries.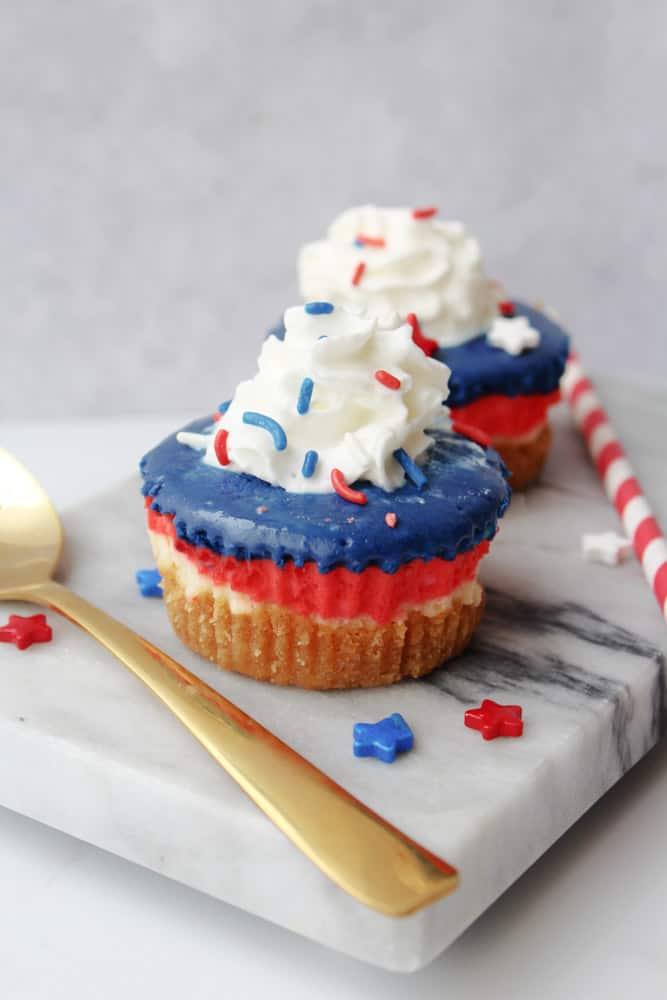 These patriotic red white, and blue mini cheesecakes are the perfect dessert to enjoy during any 4th of July celebration!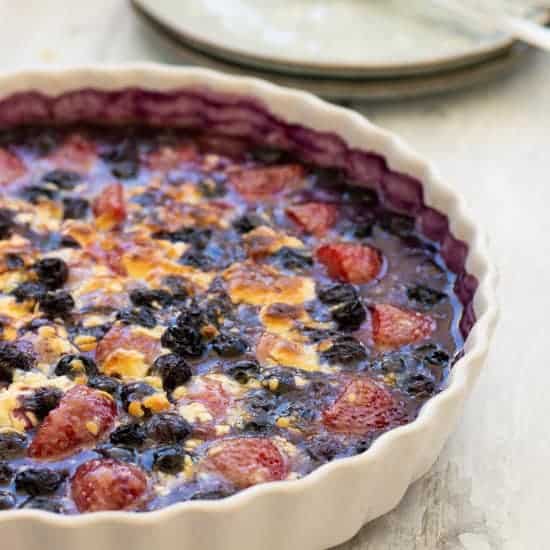 This easy-to-make berry bake is filled with bananas, strawberries, and blueberries and topped with white chocolate for a delicious red, white, and blue dessert. Perfect to prep ahead of time and serve warm over vanilla ice cream!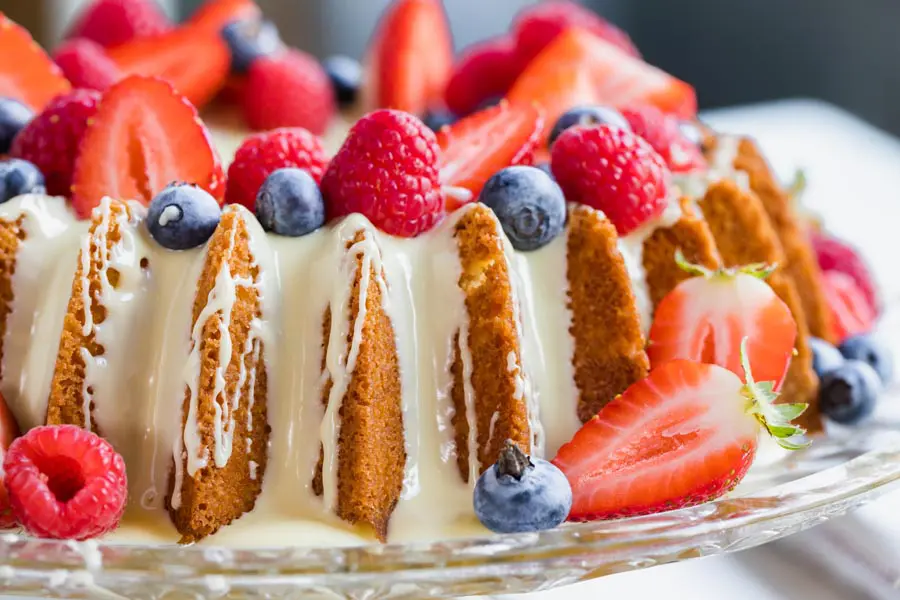 Berries are coming into season, so now's the time to use these red and blue berries to make this buttery keto bundt cake covered in sugar-free white chocolate and berries. It's a patriotic masterpiece you can't pass up.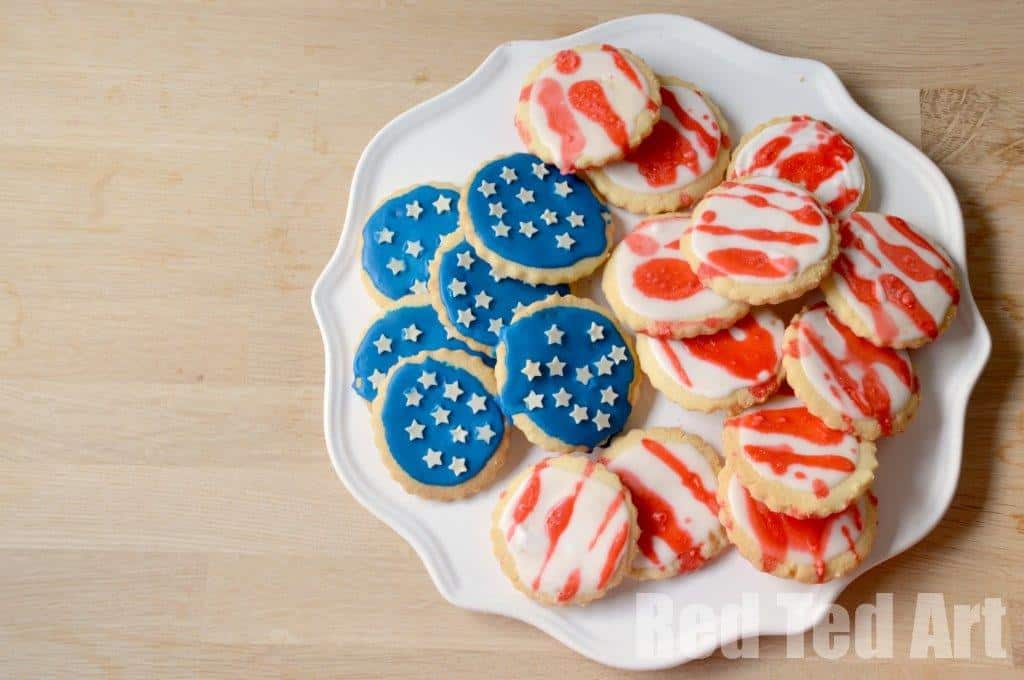 "Make these super duper cute and easy Flag cookies! You can use your own favorite cookie to decorate or use store-bought plain cookies. Decorating is fun and easy!"