28 Recipe Ideas To Serve With Mashed Potatoes
This post and its photos may contain affiliate links. As an Amazon associate, I earn from qualifying purchases.
Wondering what to serve with mashed potatoes? We have 28 delicious foods that go with them perfectly! From steak and chicken to shrimp and haddock, these ideas will have you drooling for a big feast.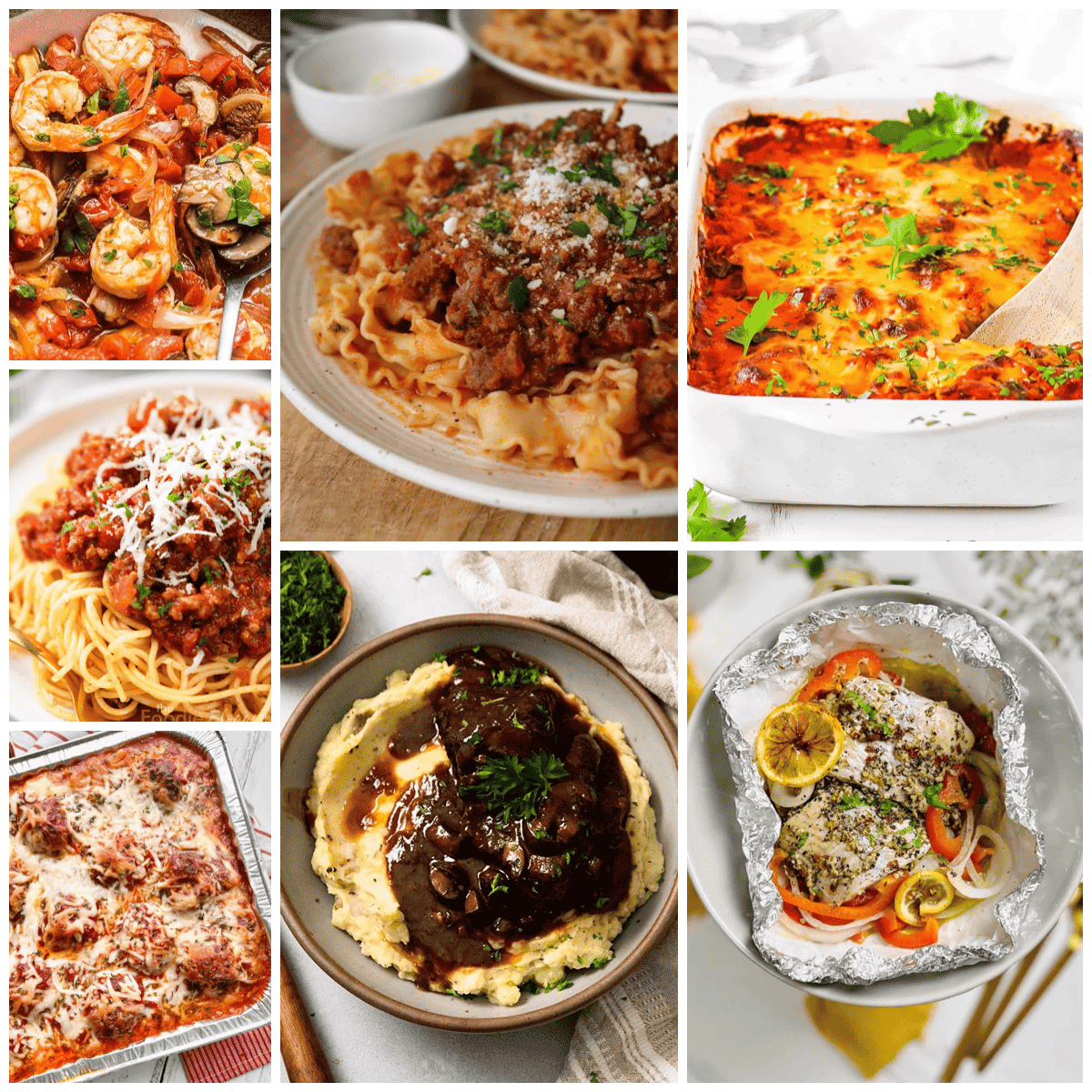 Mashed potatoes are a classic side dish that pairs well with various main courses. Whether you prefer them creamy or chunky, there's no denying the comforting and satisfying taste of mashed potatoes. But sometimes, we all need a little inspiration when it comes to serving this beloved side dish.
Main Course Meals To Serve With Mashed Potatoes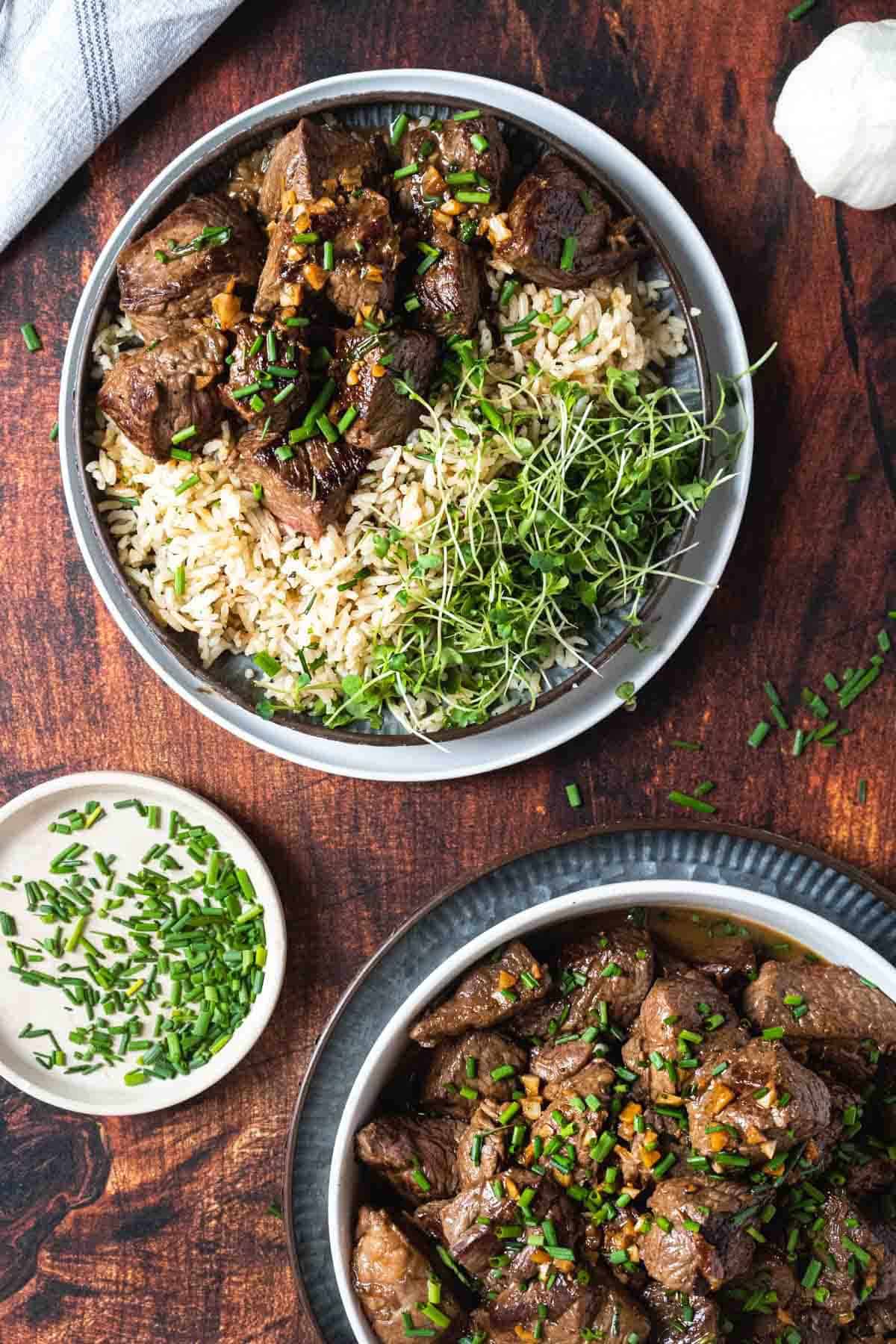 Garlic Butter Steak Bites

Steak is one of those foods that go with potatoes so well! This recipe features simple, restaurant-quality flavor! The small slices of steak are cooked to a crispy perfection first.

Then they are coated in a delicious garlic butter sauce. You won't believe they're ready to serve in less than 20 minutes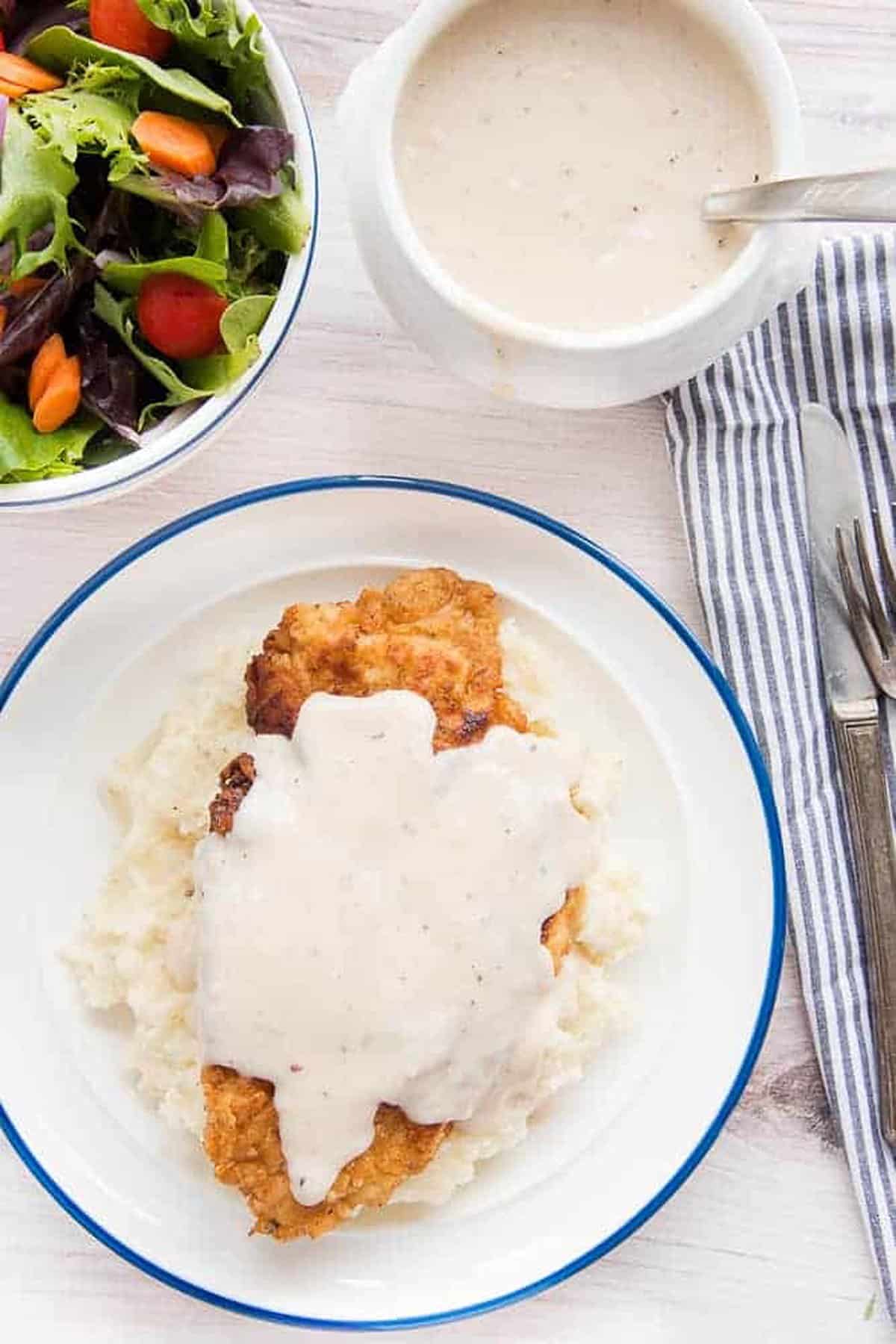 Chicken Fried Chicken

Wondering what to serve with mashed potatoes? Chicken Fried Chicken with Pan Gravy is a delicious dish where chicken is marinated in a tangy buttermilk brine, then coated and fried to crispy perfection.

The result is juicy and tender meat smothered in a rich and creamy pan gravy poured over it.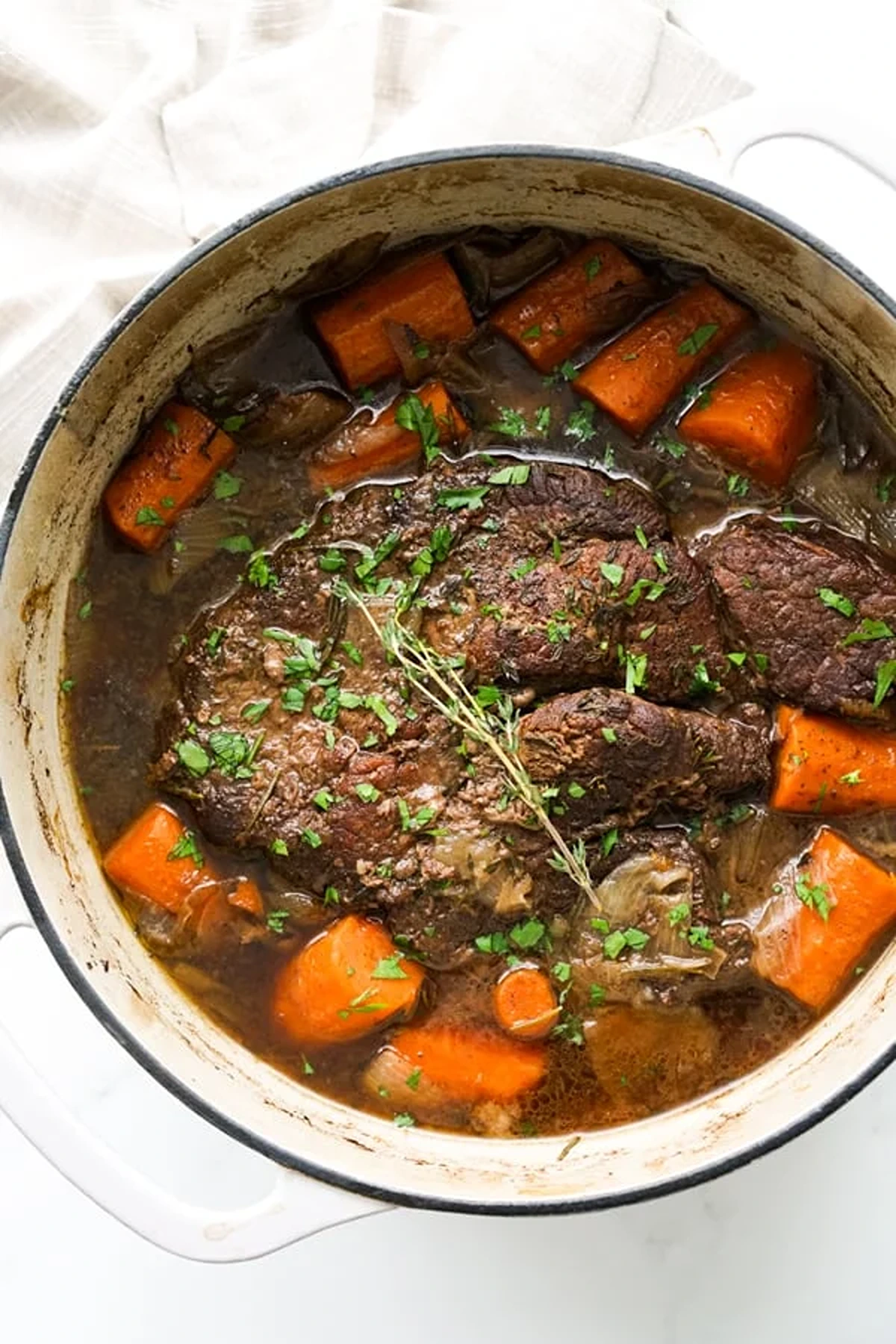 Stove Top Pot Roast

This Stovetop Pot Roast is a comforting, classic dish that's perfect for fall and winter. It's made by simmering beef until incredibly tender, resulting in a delicious gravy.

The best part is the flavor-infused soft veggies in the pot. It's the kind of meal that warms your heart, and all you'll want to do is cozy up with a big bowl.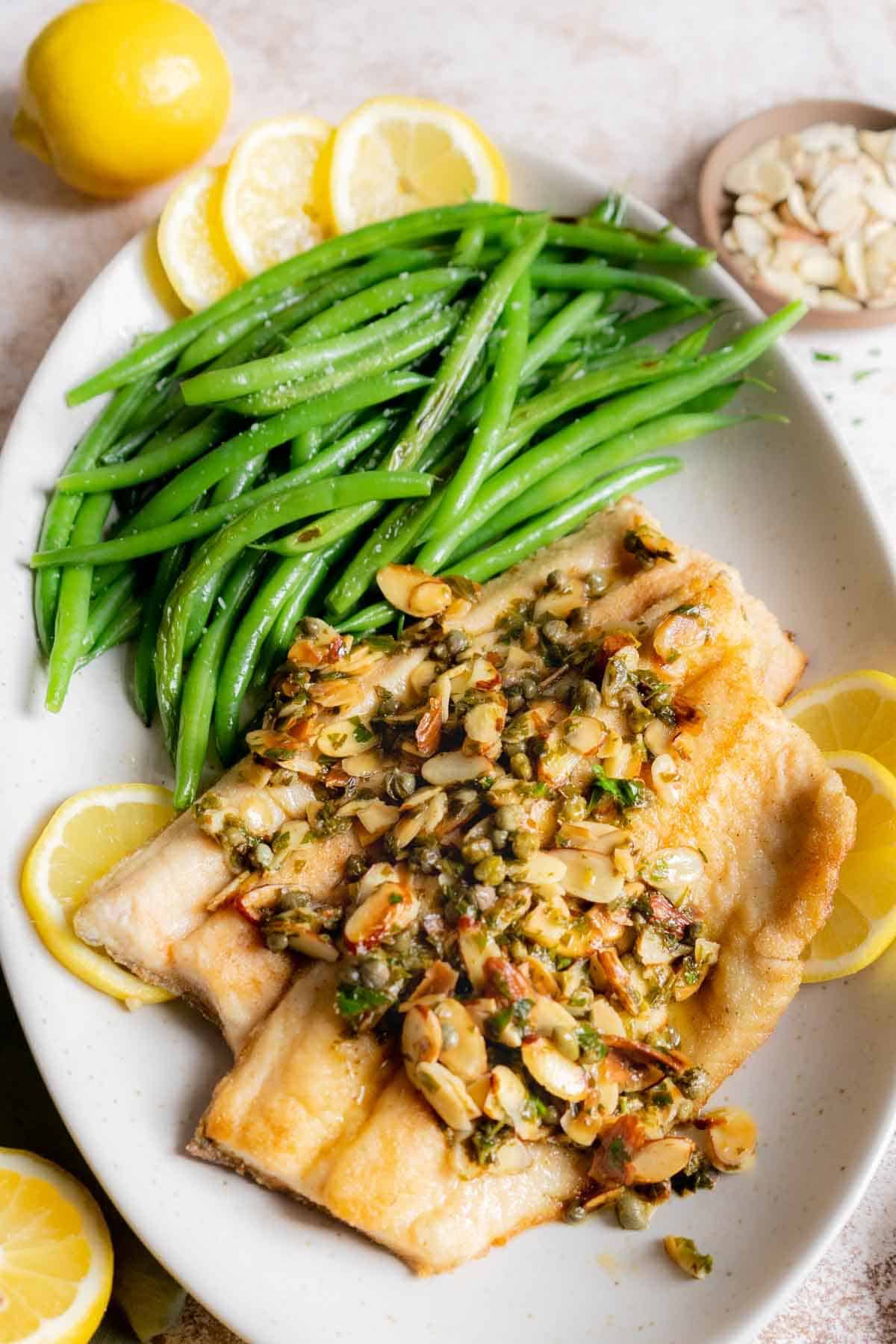 Trout Almondine

Looking for seafood ideas to serve with mashed potatoes? Try this Trout Almondine coated in seasoned flour, baked, and drizzled with buttery lemon sauce! Lastly, they're topped off with toasted almonds and capers for a burst of flavor.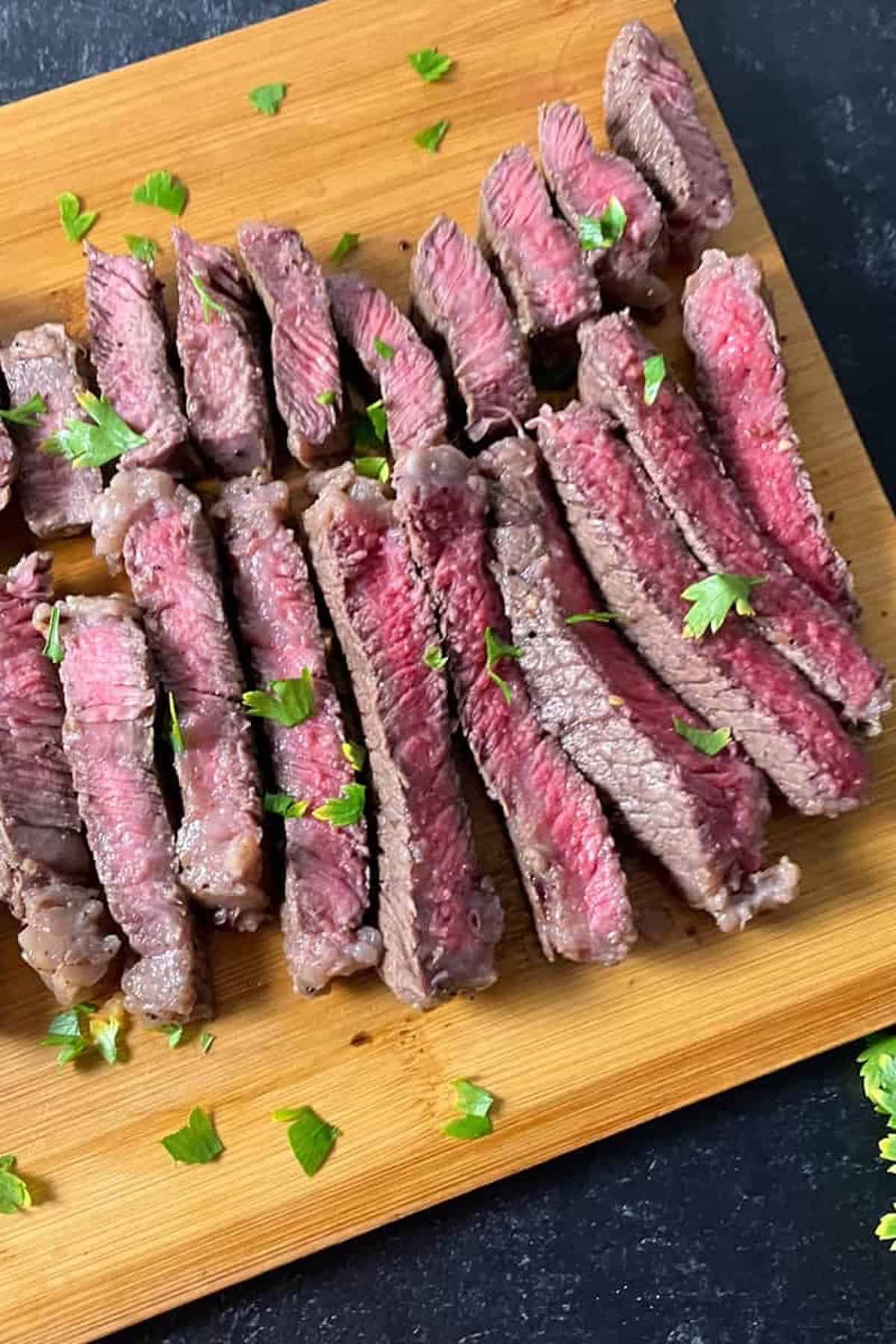 Flat Iron Steak Sous Vide

Flat iron steak is an excellent choice for sous vide cooking. The even, precise temperature control in sous vide ensures the steak is consistently cooked to your desired doneness. It's an excellent food to pair with mashed potatoes.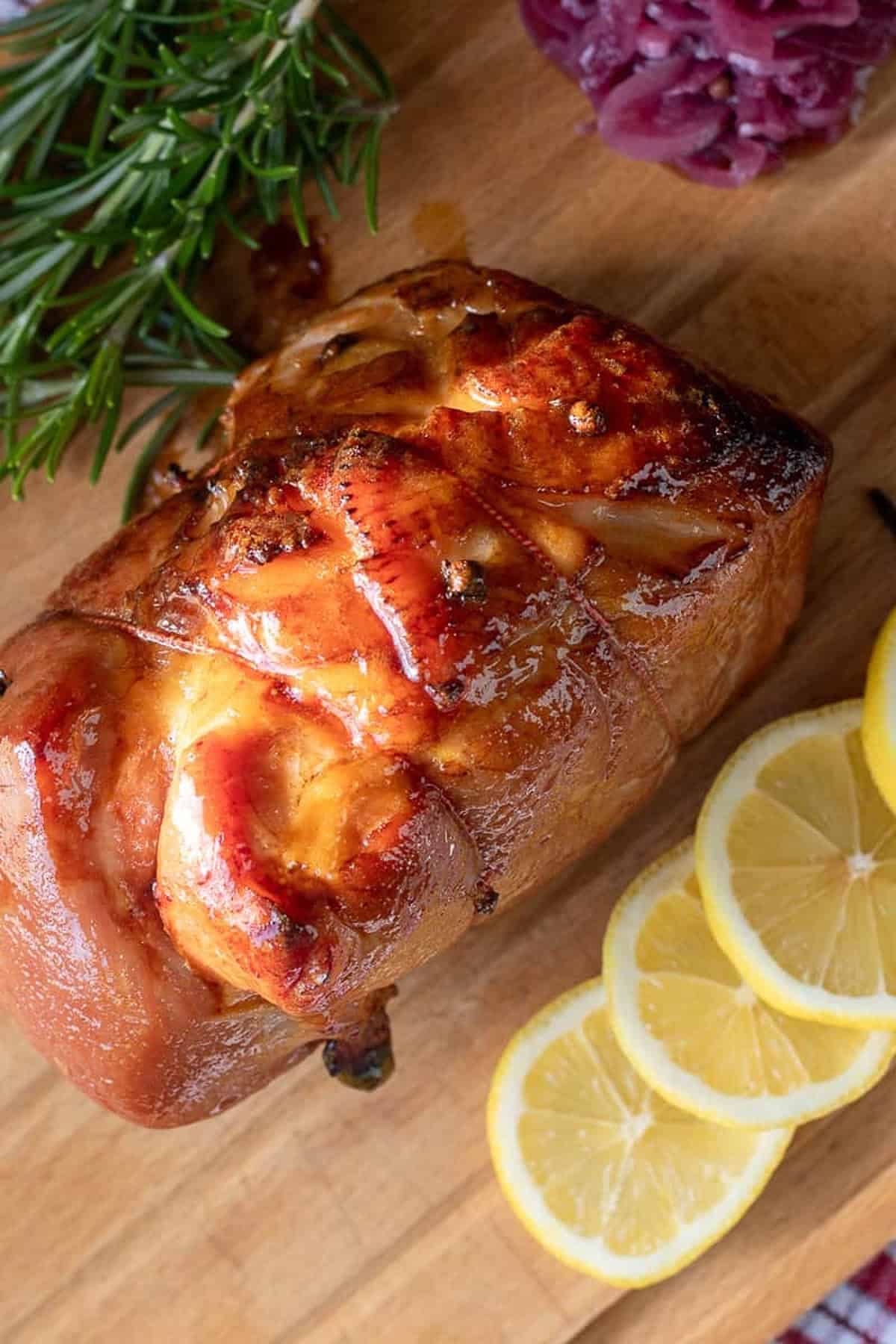 Honey Glazed Baked Ham

Honey Glazed Baked Ham is a timeless recipe for any event. Whether you're celebrating a holiday or having a regular family dinner, this dish is a crowd-pleaser. The combination of sweet honey and savory ham creates a perfect blend of flavors!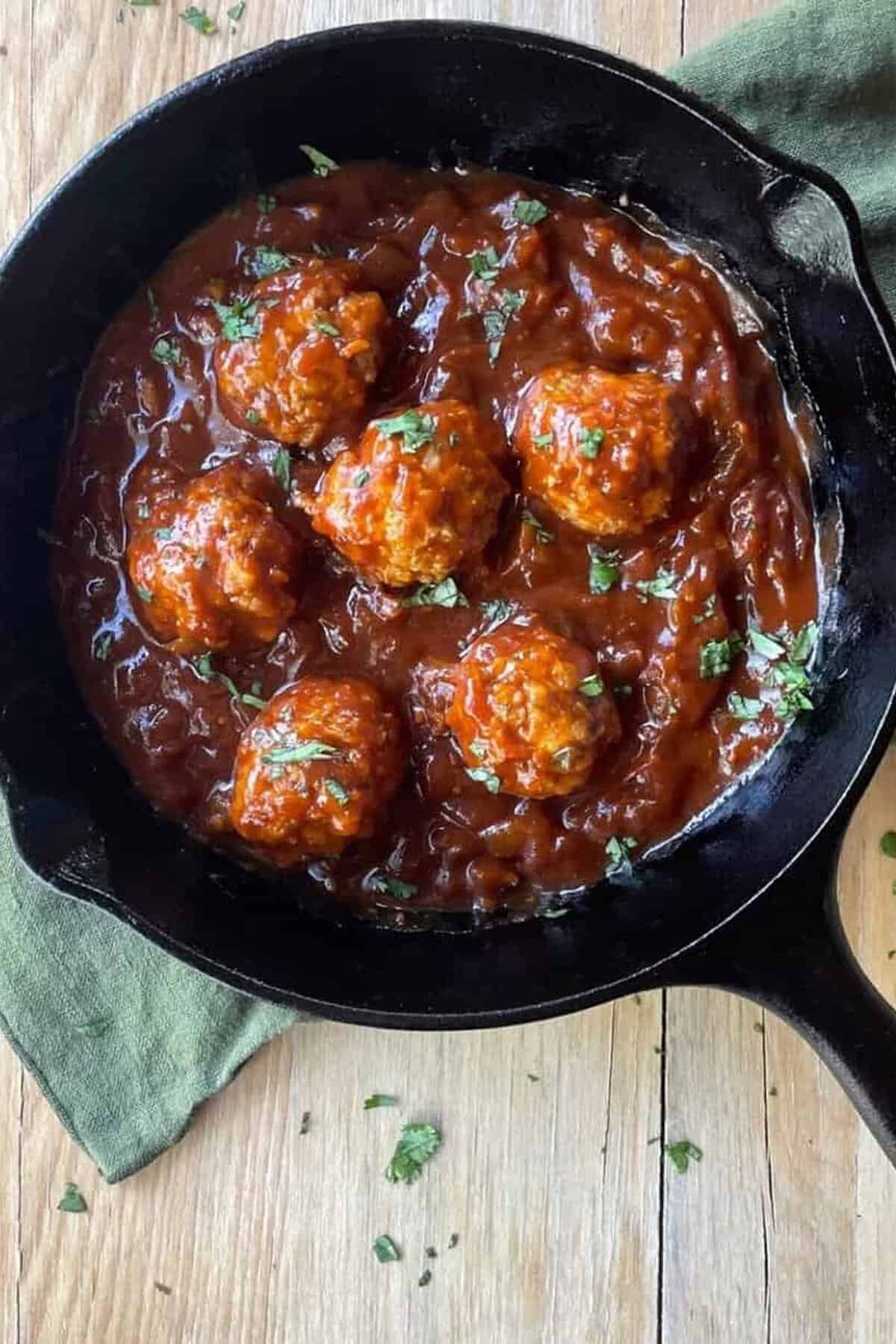 BBQ Chicken Meatballs

BBQ chicken meatballs are tender and bursting with flavor. They're braised in a tangy barbecue sauce, which can even be prepared ahead of time! The entire meal comes together in just 30 minutes.
Quick & Easy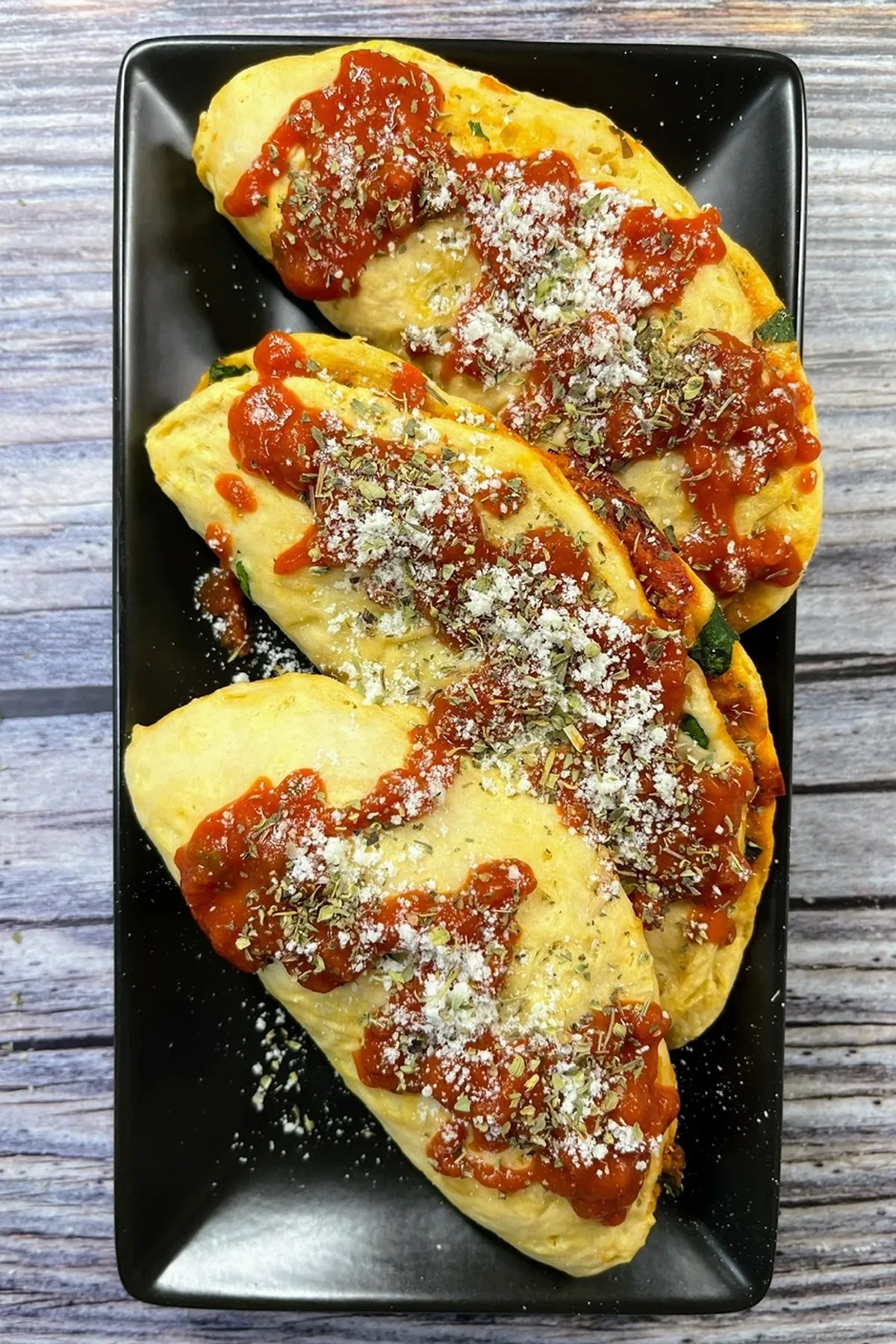 Chicken Spinach Calzones

These Chicken Spinach Calzones are stuffed with chicken, fresh spinach, and Parmesan cheese. The dough is folded over the filling and baked until golden brown.

The best part is that they're made with canned biscuits. Serve these with mashed potatoes for your next big dinner.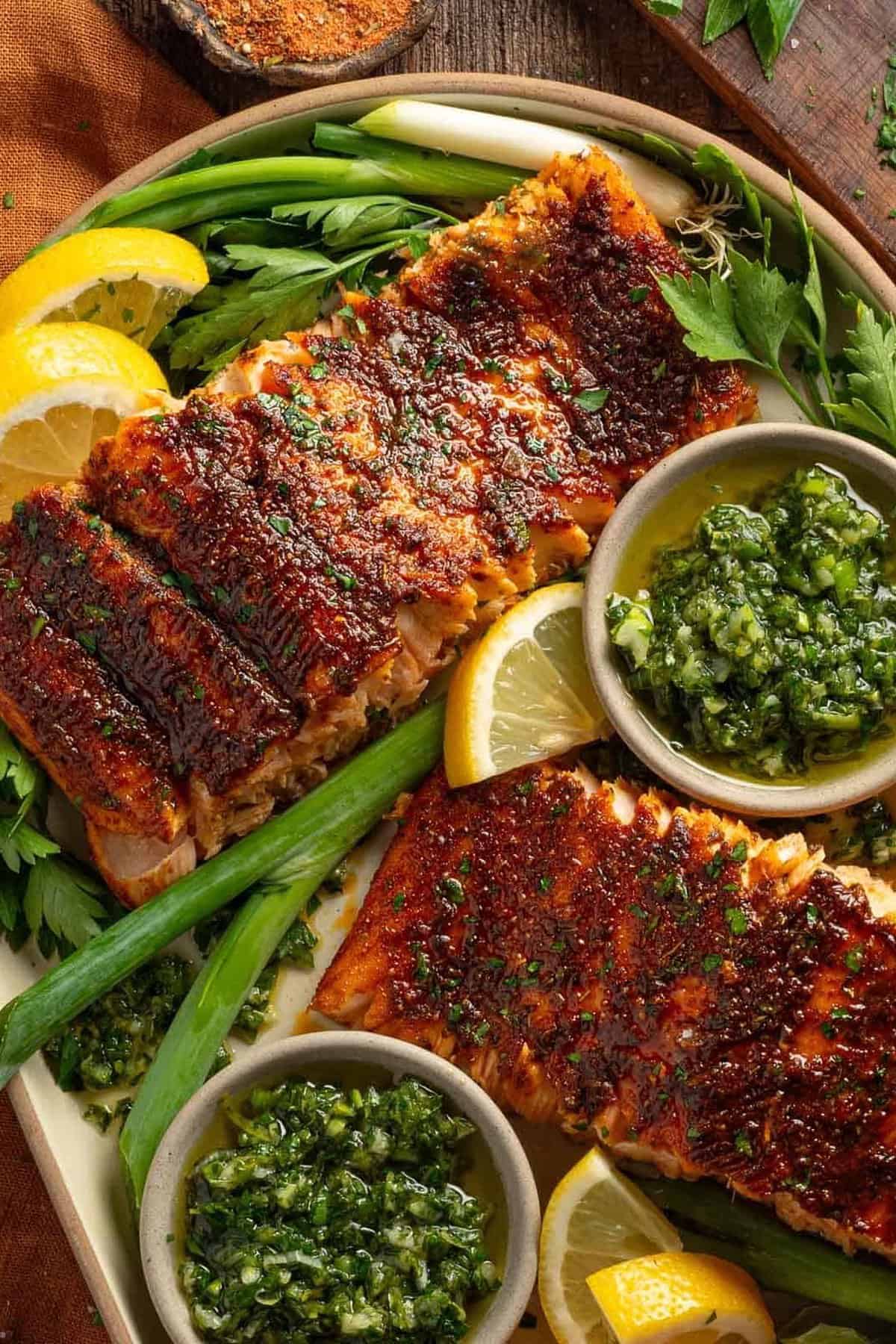 Blackened Baked Salmon

Blackened Baked Salmon are so delicious they're seasoned really well and then oven-baked. It's a tender, flaky fish that's slightly spicy with a smoky crust!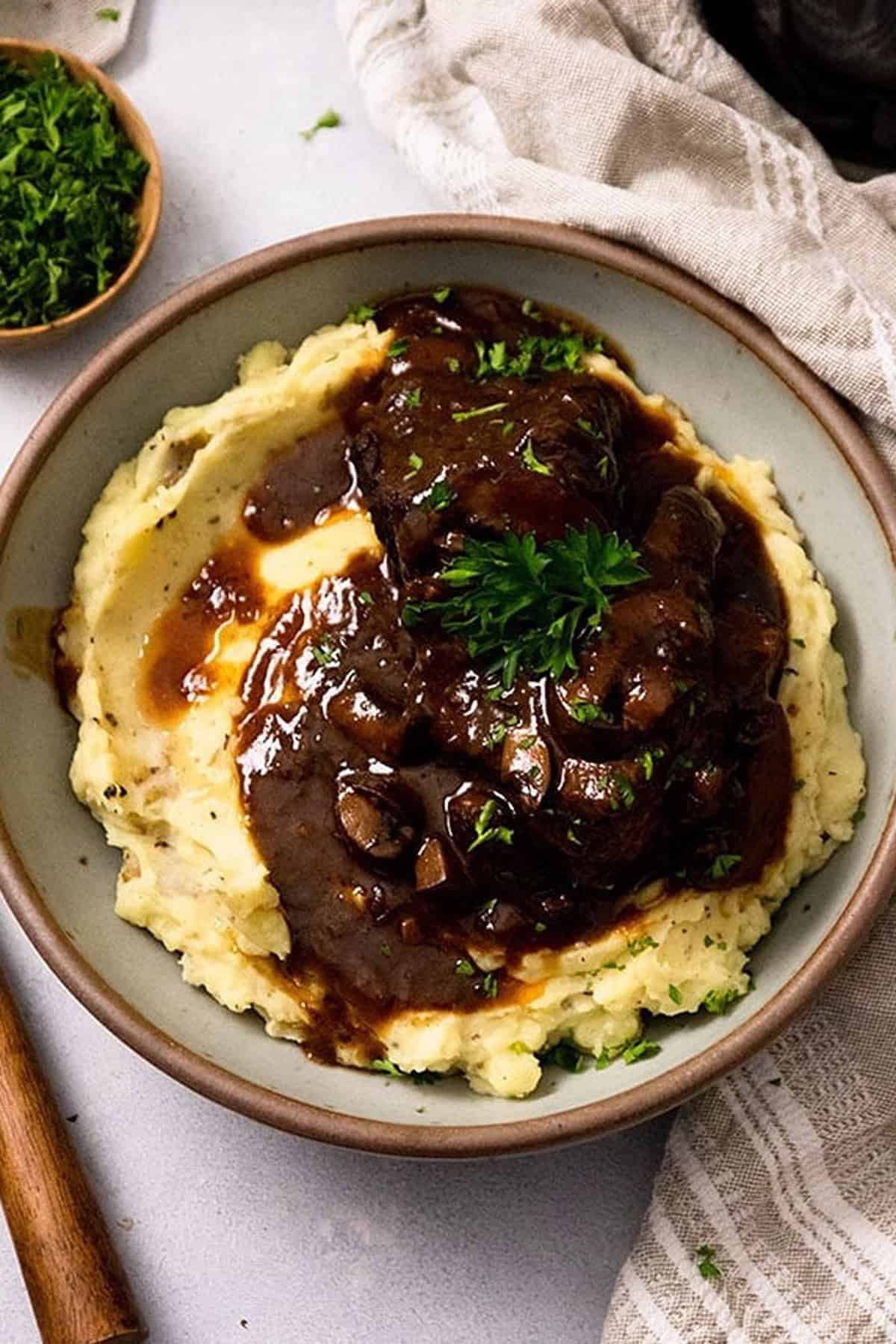 Instant Pot Short Ribs

Instant Pot Short Ribs is a savory meal that everyone will love next to their potatoes. The short ribs are seared for flavor and then cooked with a rich broth, vegetables, and seasonings.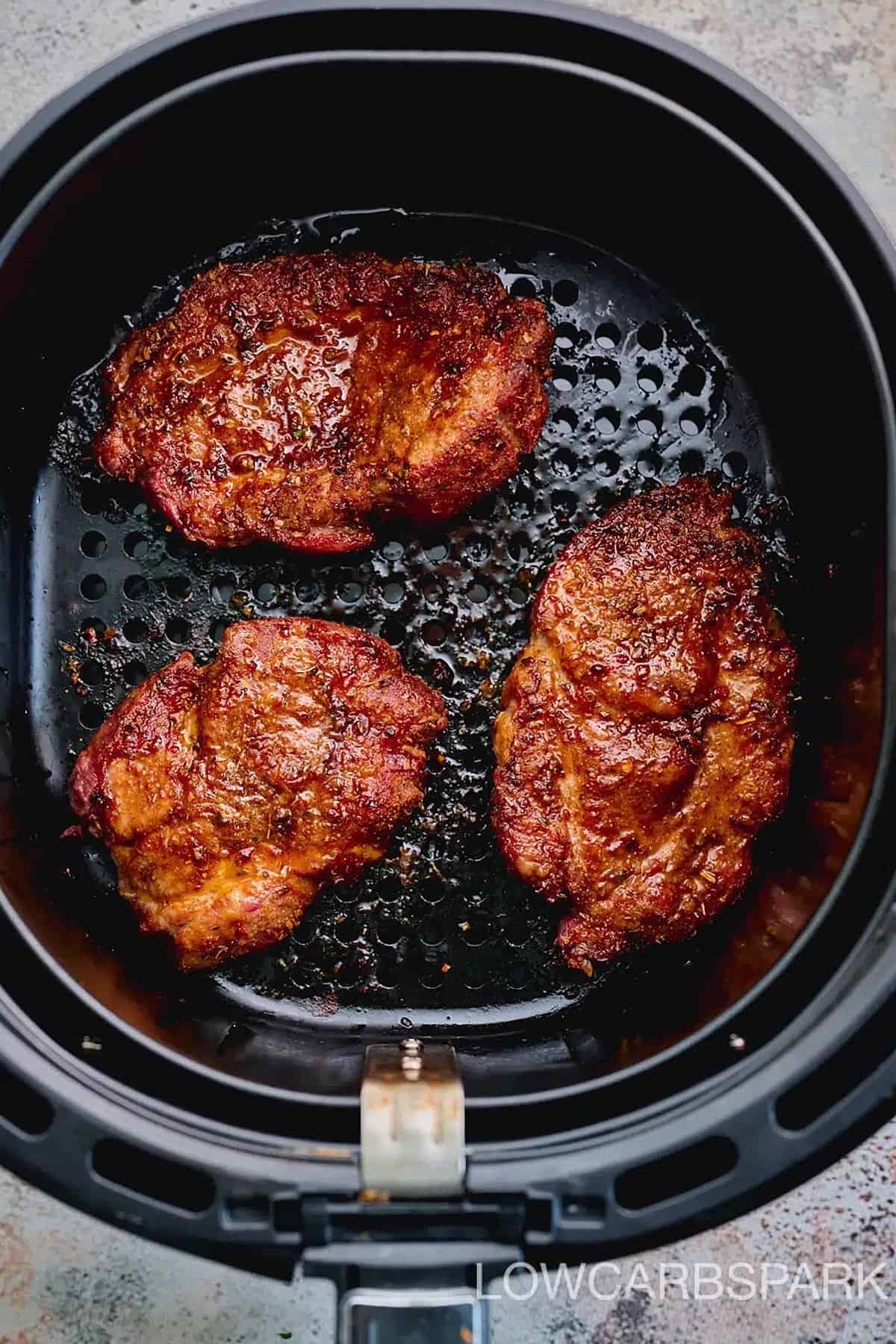 Air Fryer Pork Steak

This air fryer pork steak recipe is a breeze to make, resulting in juicy, tender meat. With just 5 minutes of prep and 5 simple ingredients, it's a quick and delicious meal that everyone will want to eat over and over!
Casseroles & Oven Bakes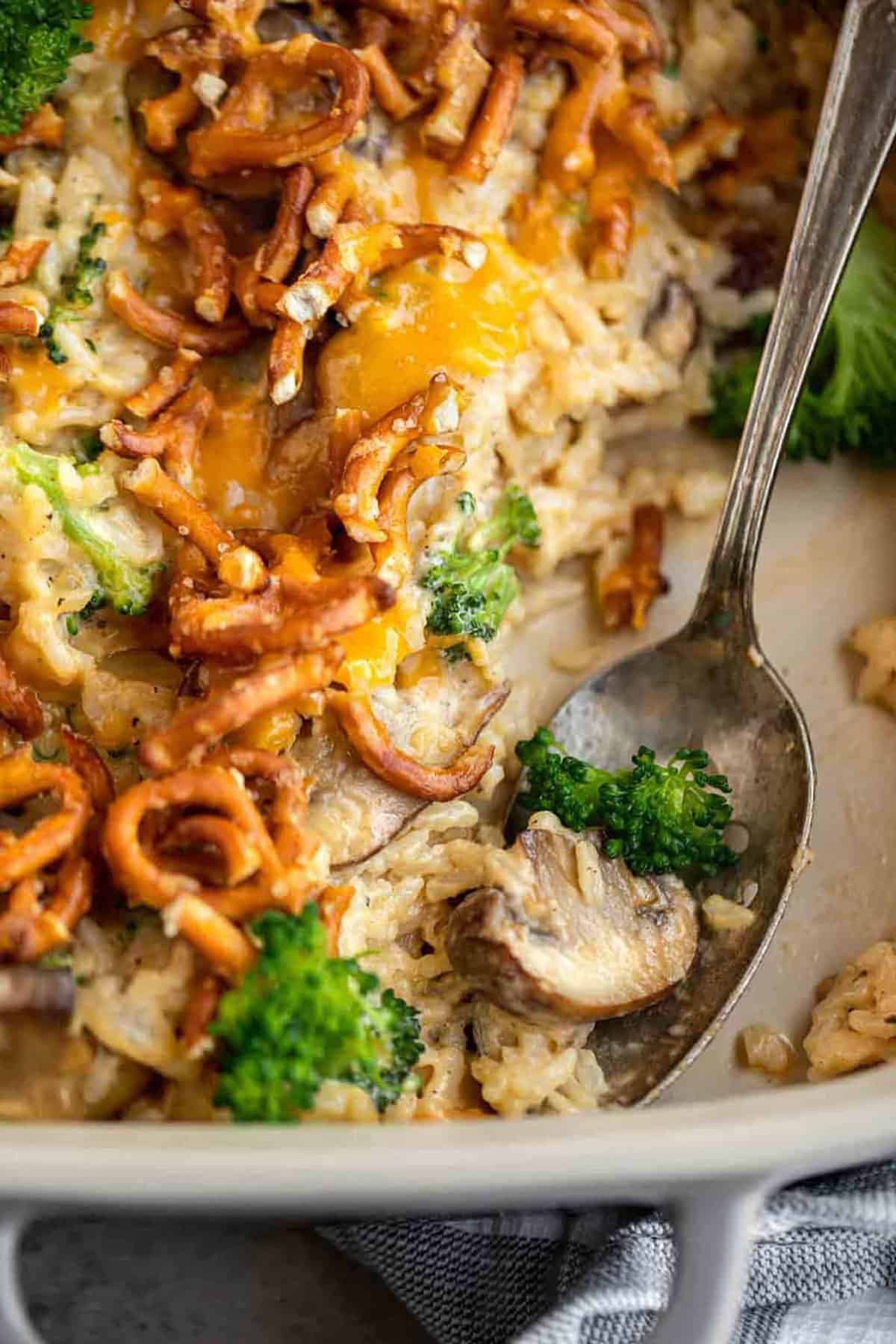 Southern Broccoli Cheese Casserole

The Southern Broccoli Cheese Casserole is a classic comfort food dish. It features tender broccoli florets smothered in a creamy cheese sauce. This casserole is baked until it's hot and bubbling, with a crispy, golden top. It's the perfect dish for potatoes.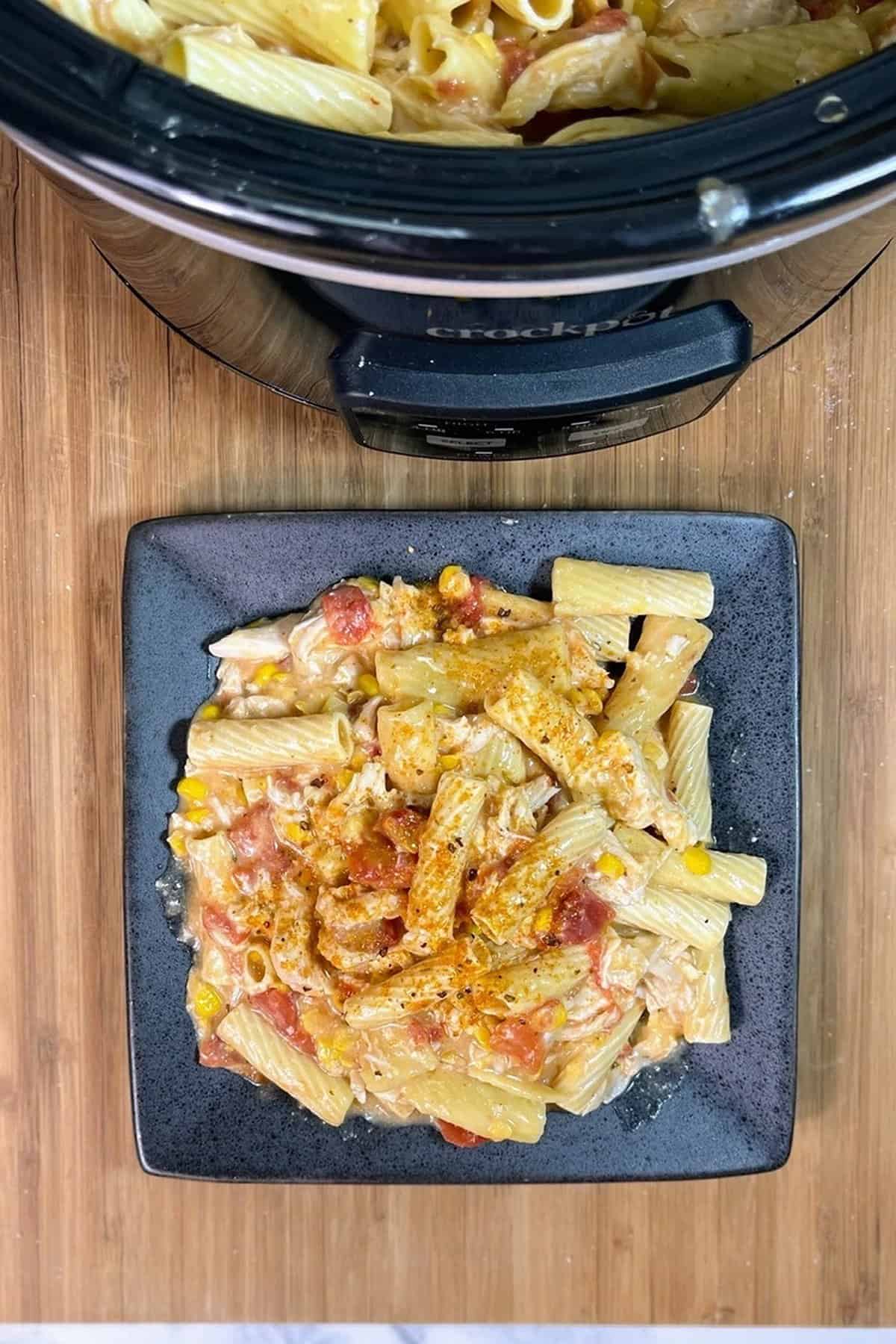 Slow Cooker Chicken Pasta Casserole

Slow Cooker Chicken & Pasta Casserole is a cozy wholesome meal that the whole family will love. With tender noodles, cream of chicken, tomatoes, corn, and seasoning – what's not to love?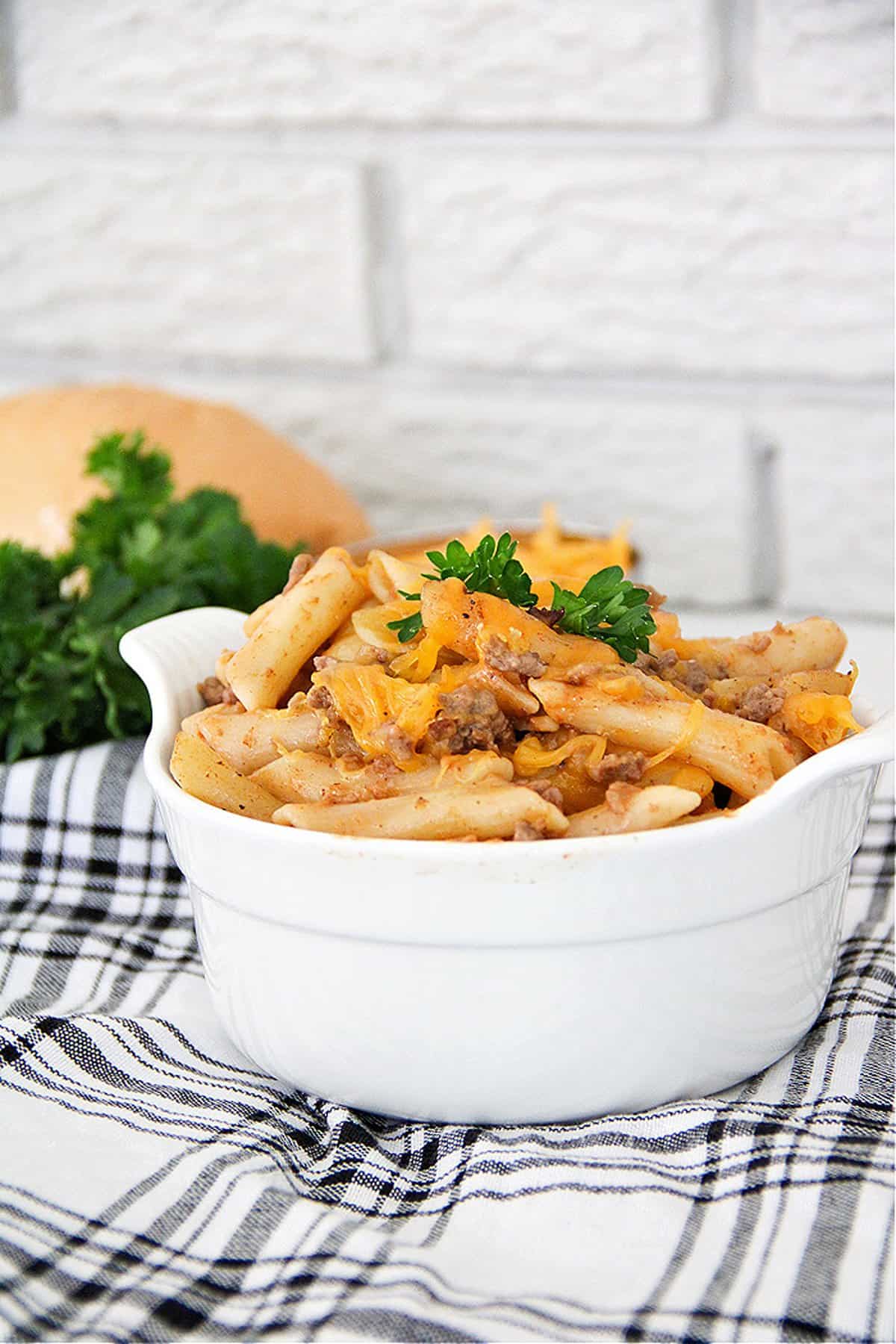 Hamburger Casserole

This hamburger casserole is a scrumptious family dish that compliments mashed potatoes so well it's packed with cheese, BBQ sauce, mushrooms, beef, and pasta! It's ready in a flash and always pleases a crowd of hungry eaters.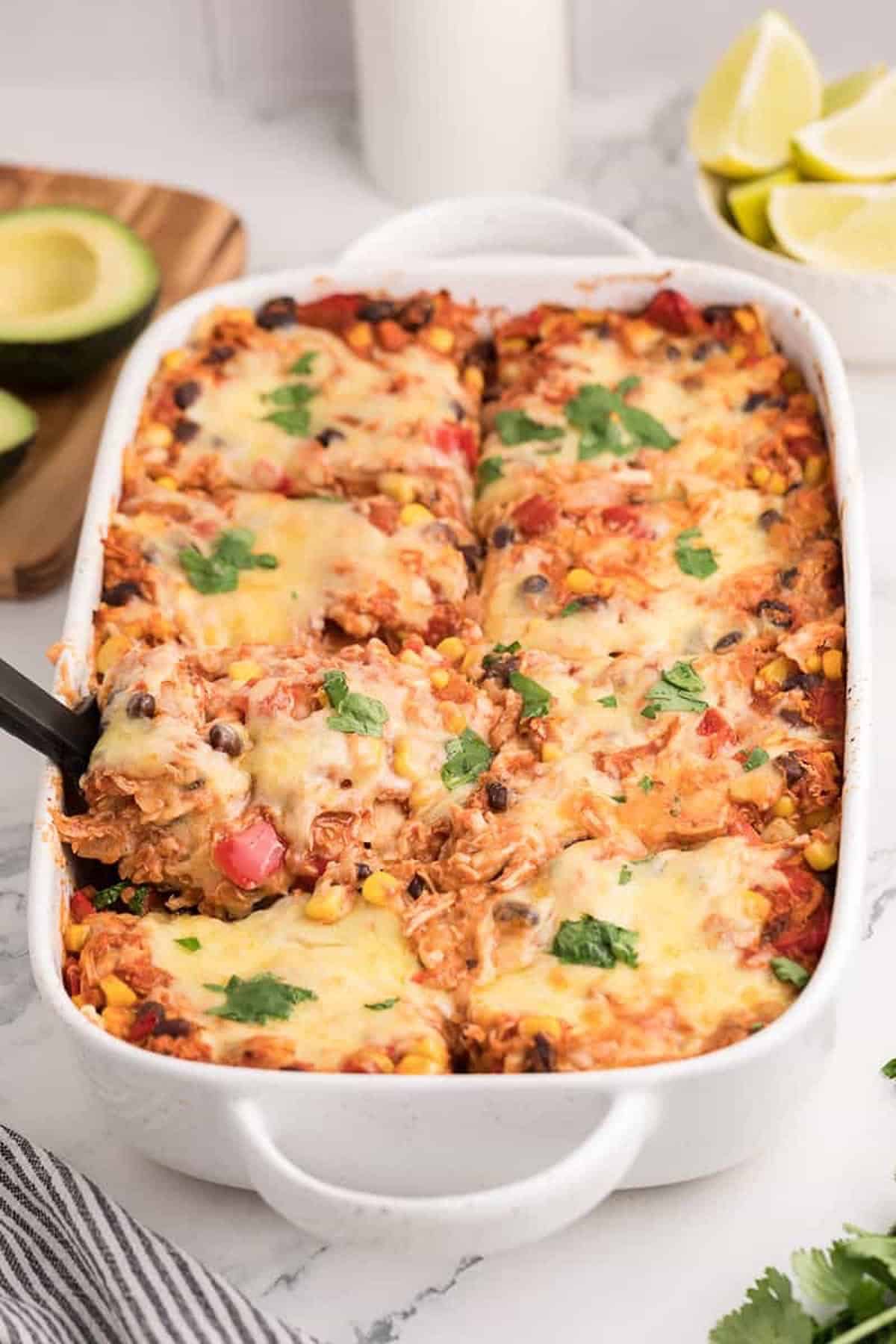 Chicken Enchiladas Casserole

Wondering what to serve with mashed potatoes? This simple Chicken Enchilada Casserole has all your favorite comfort food flavors. If you love shredded chicken, black beans, corn, and bell pepper in an enchilada sauce, this is the dish for you.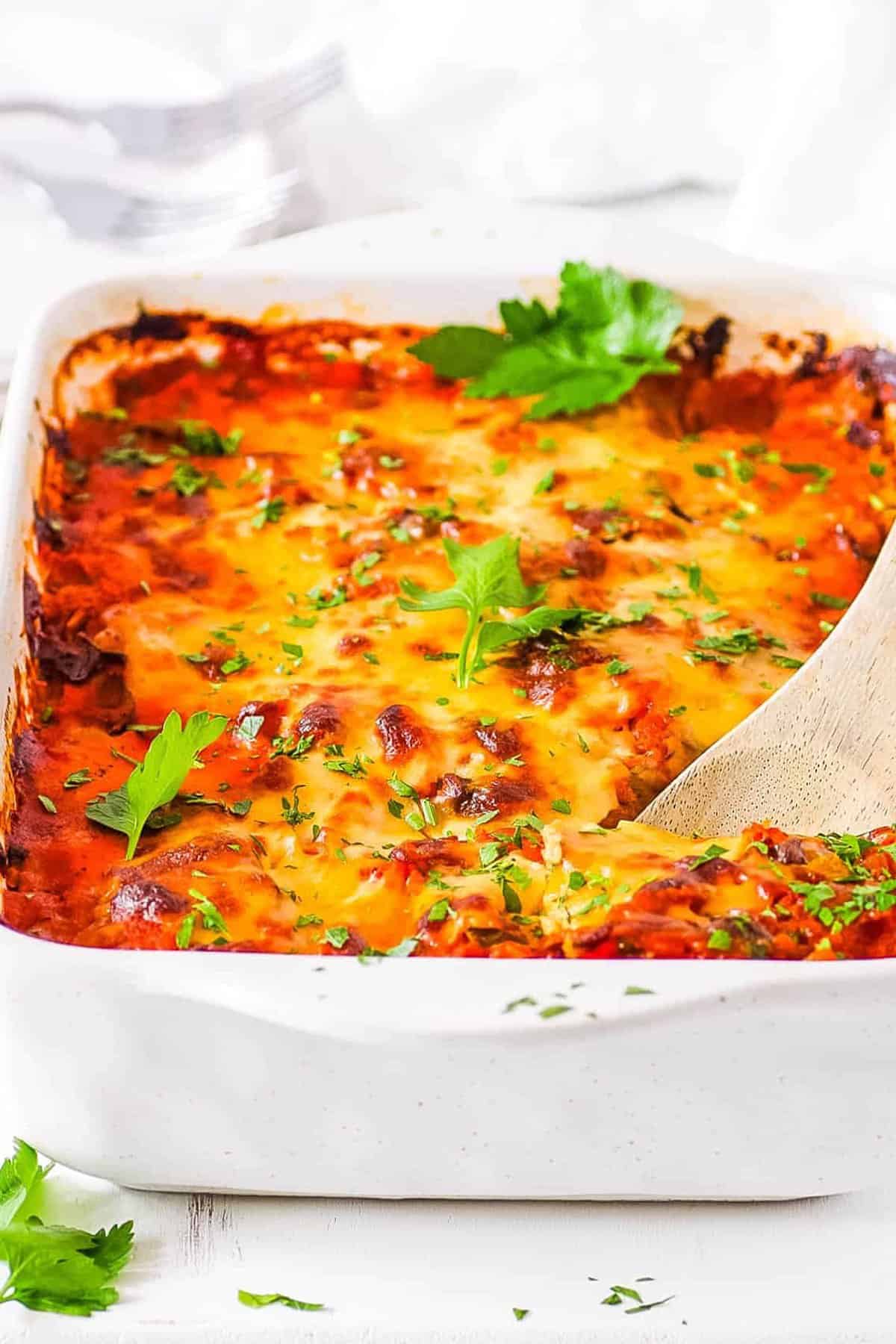 Spaghetti Squash Casserole

Spaghetti Squash is a healthy yet comforting ingredient for a casserole. This simple spaghetti squash casserole is a wholesome meal that the whole family will adore. You will have them begging for more vegetables once they taste this dish. It's gluten-free and vegetarian too.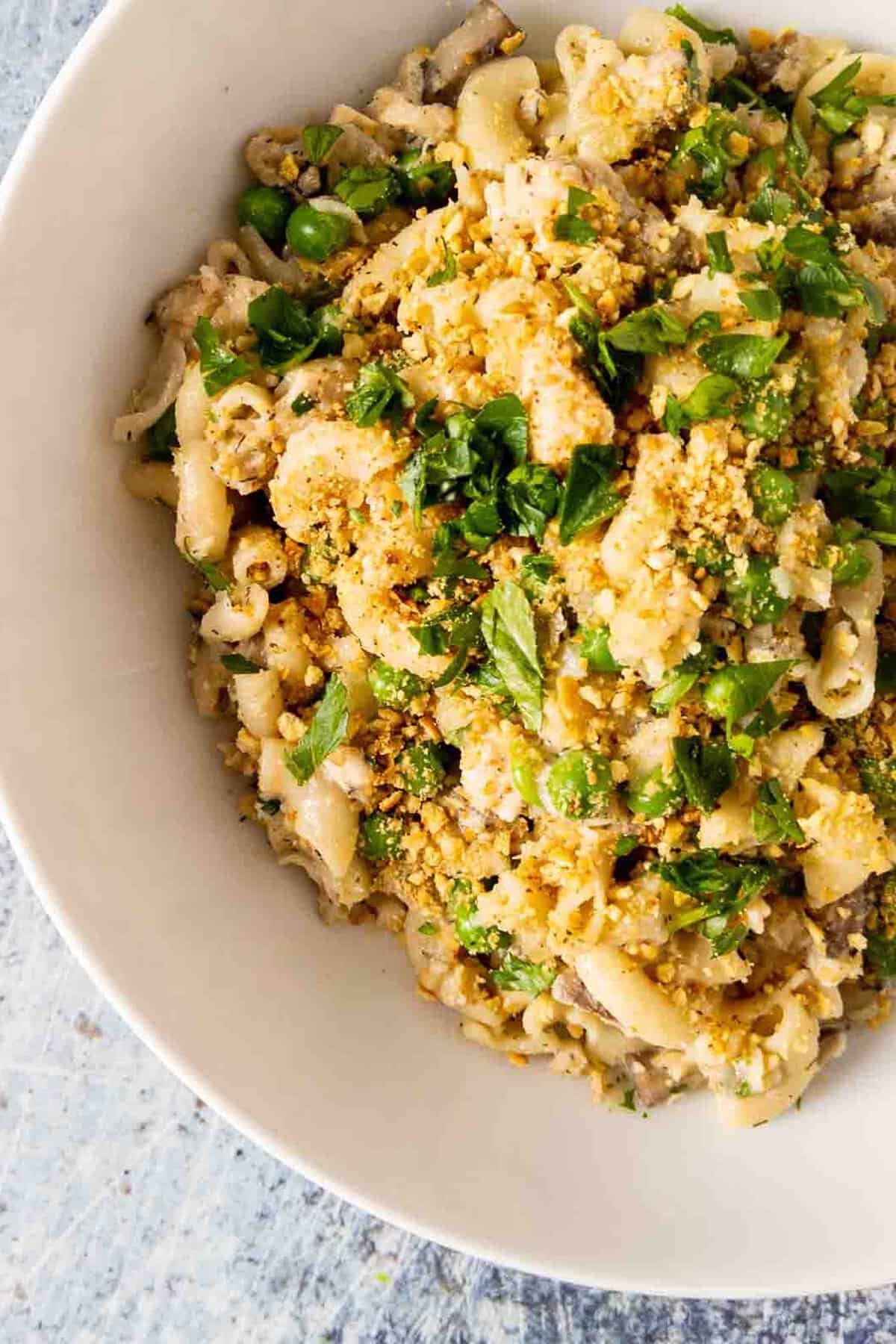 Tuna Noodle Casserole

Looking for more ideas on what to serve with mashed potatoes? Try this stovetop, one-pot tuna noodle casserole recipe that is ready in 30 minutes. If you like naturally dairy-free dishes, you're in luck!
Pastas & Noodles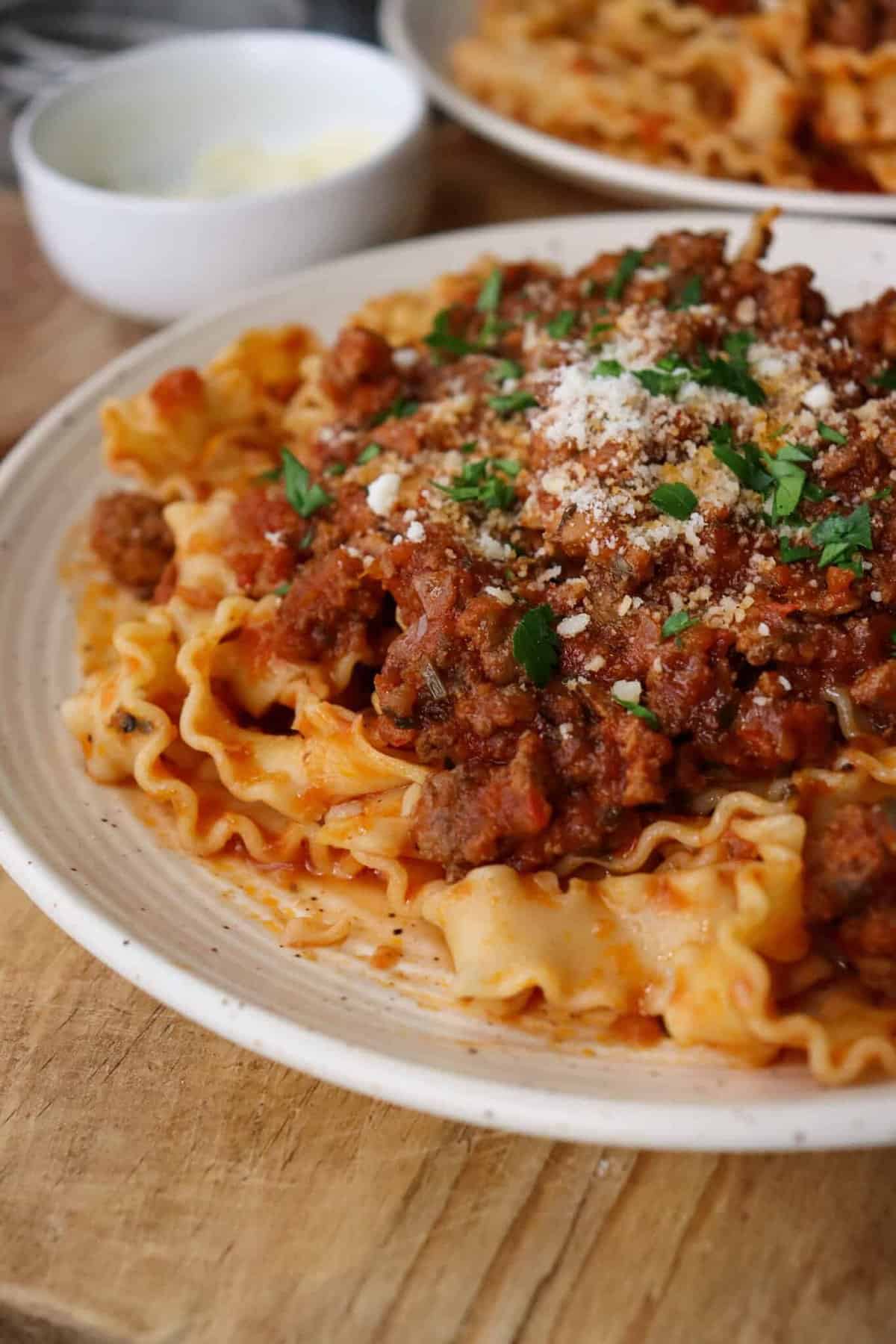 Meaty Marinara Pasta

This meaty marinara pasta is calling for mashed potatoes. Once you see how simple it is to make and how tasty it is, you will want to make it over and over again.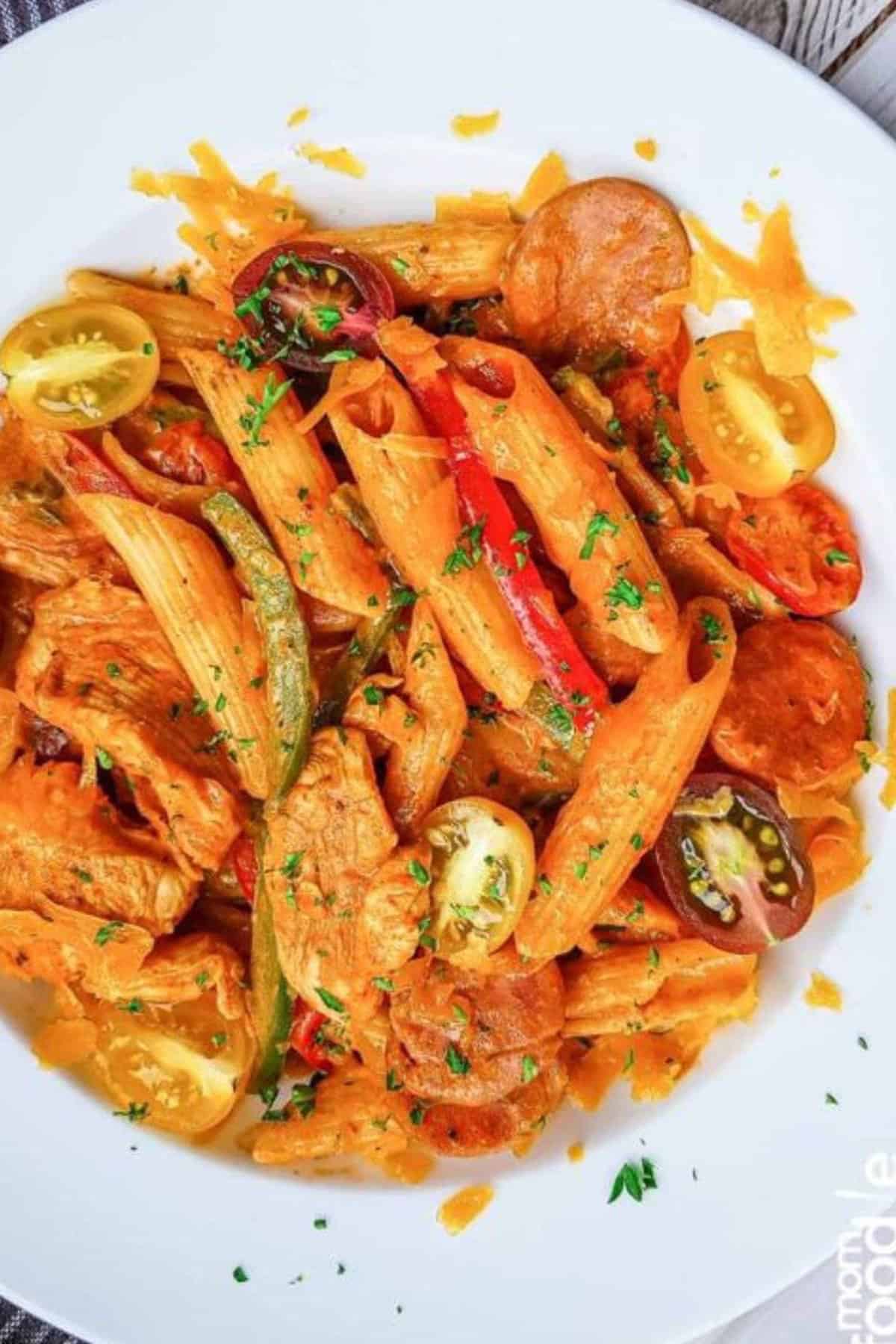 Spicy Cajun Chicken Pasta With Sausage

This spicy Cajun Chicken Pasta with Sausage and Peppers in creamy sauce is a wholesome dish that you will want to make over and over. It's truly a comfort food recipe for the whole family.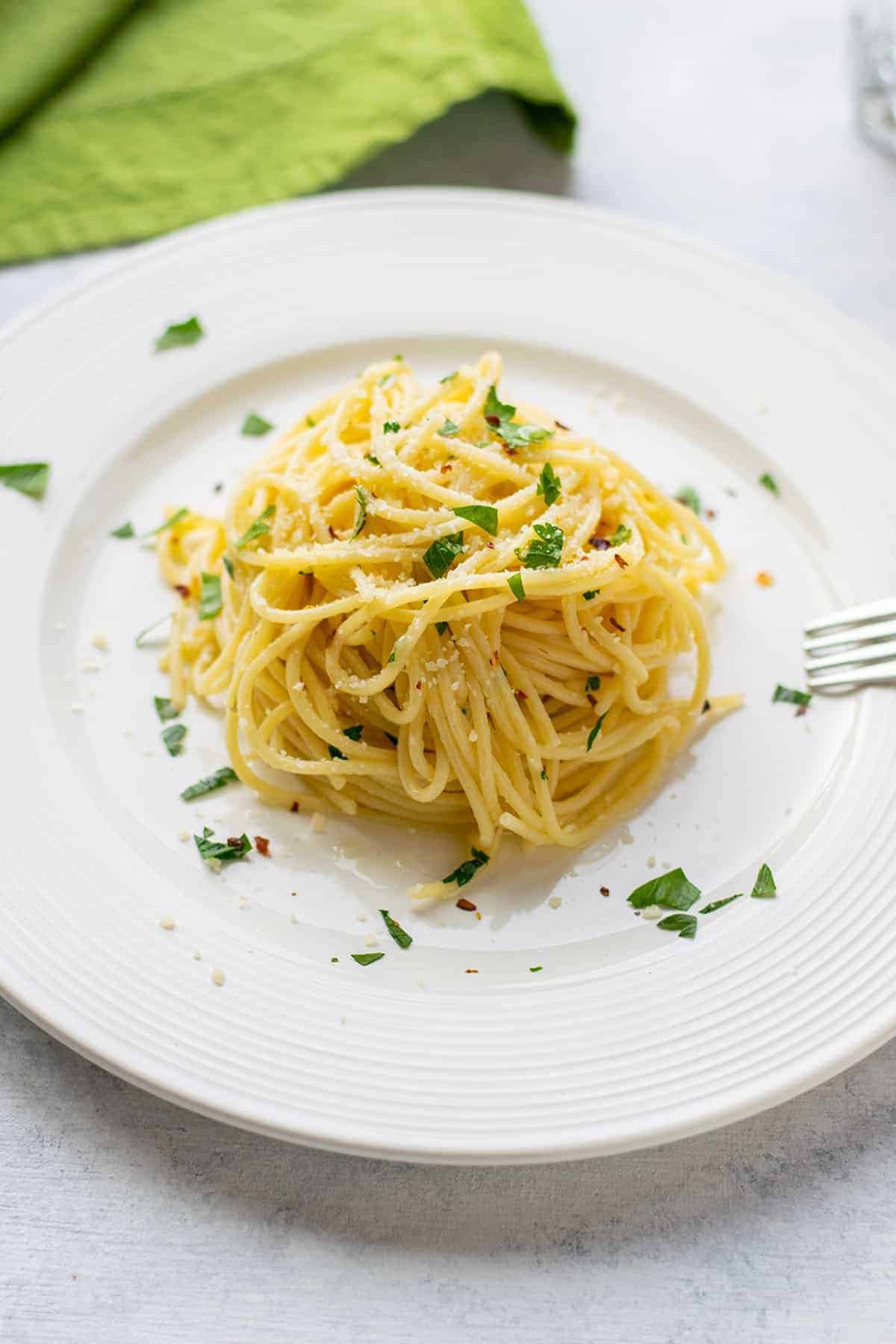 Pasta With Garlic And Oil

Craving a delicious and quick dinner recipe? Whip up some classic Aglio e Olio pasta in just 20 minutes! Straight from Naples, this easy recipe is a flavor explosion.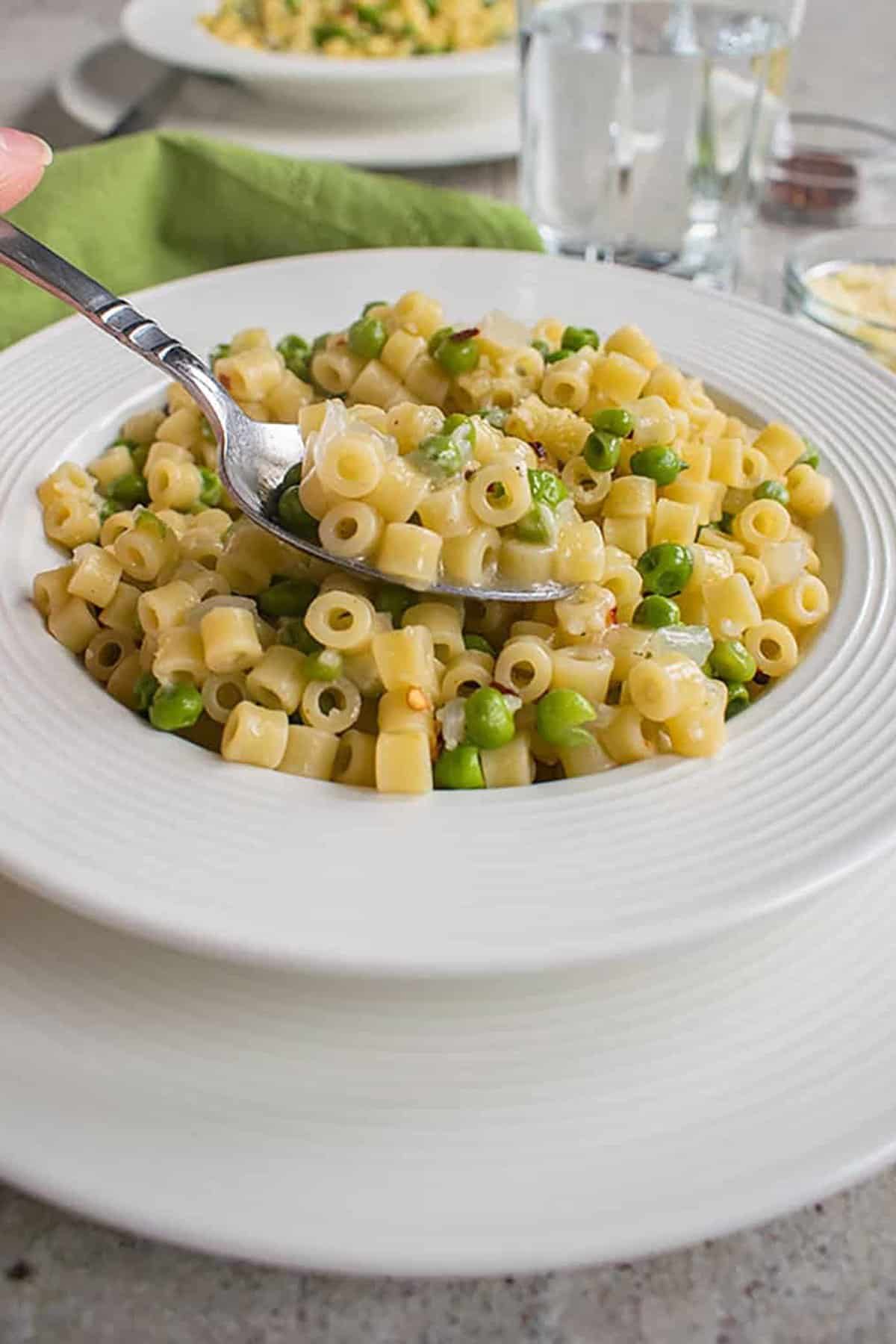 Pasta E Piselli Peas

Whip up a taste of Naples in under 30 minutes with this delightful Pasta with Peas (Piselli) recipe! It's a one-pot wonder that's as easy as it is delicious. And if you're a bacon lover, why not sprinkle some in for an extra flavor kick?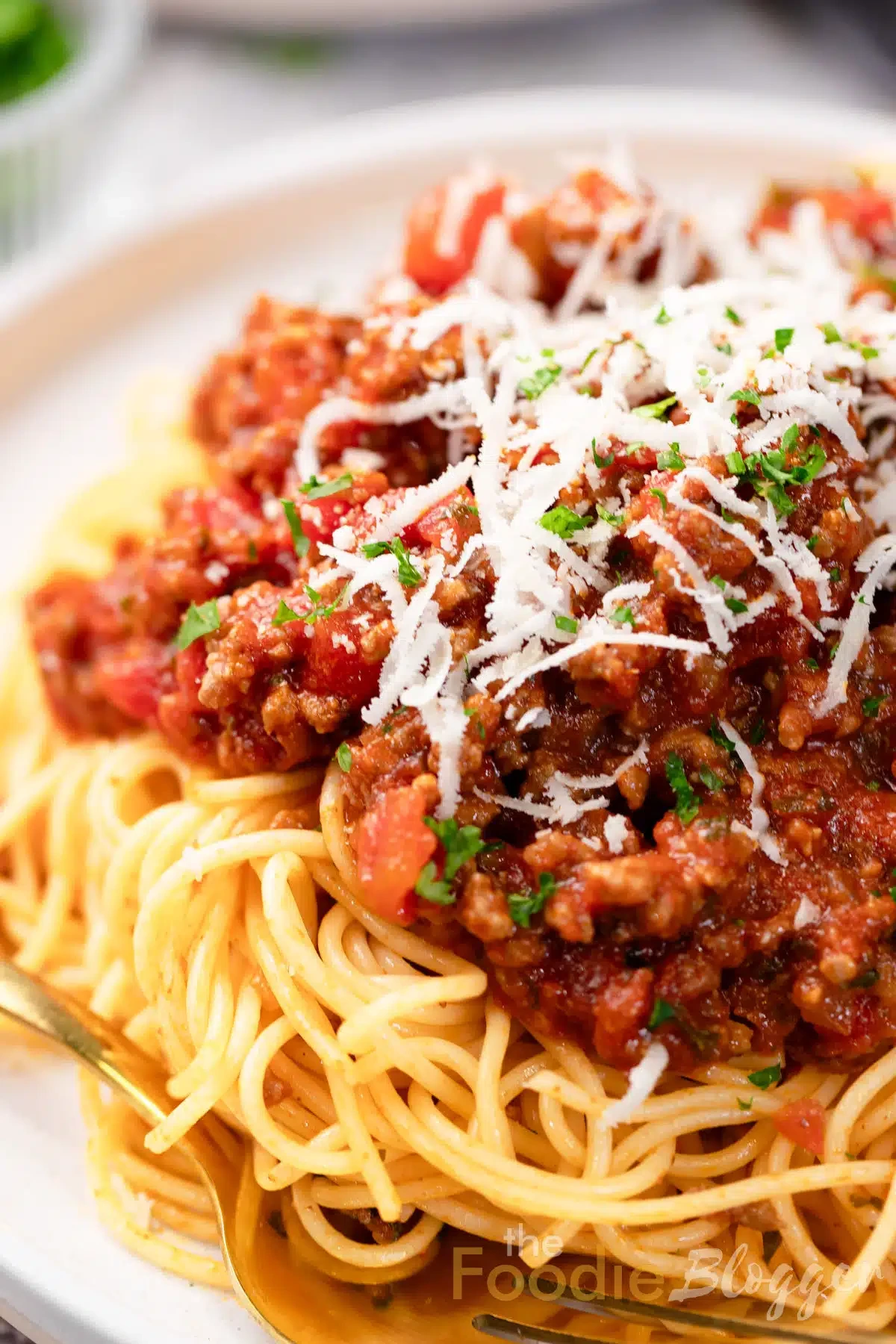 Quick Spaghetti Bolognese

Looking for pasta ideas to serve with mashed potatoes? Craving Italian comfort food in a flash? Discover the secret to a rich and hearty Quick Spaghetti Bolognese!

Simmered to perfection in under 30 minutes, it's the ideal recipe for those busy weeknights.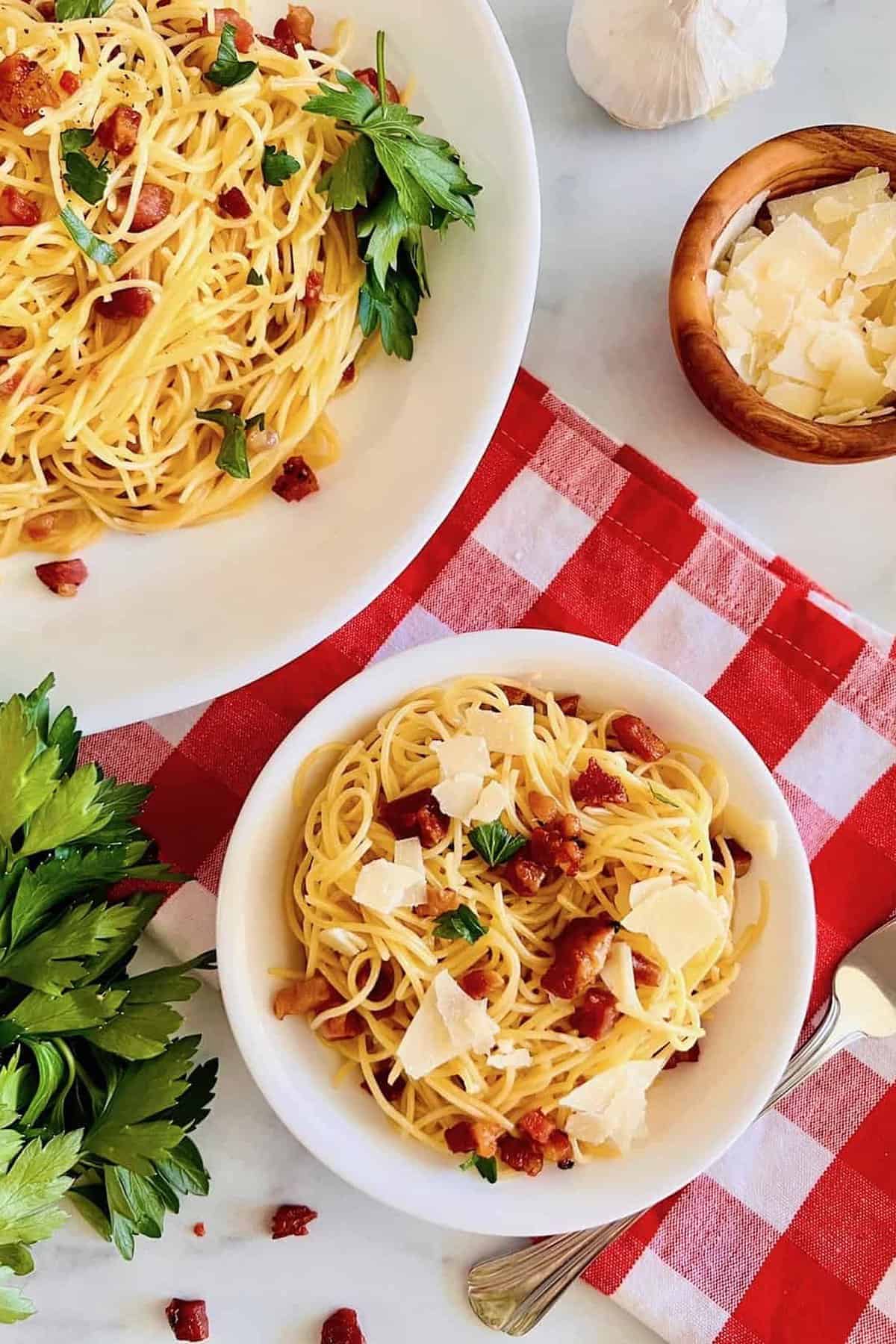 Pancetta Pasta

Craving something simple yet incredibly satisfying? Look no further than this Pancetta Pasta recipe!

Quick-cooking angel hair pasta, crispy pancetta, a hint of garlic, and a drizzle of olive oil—pure Italian comfort on a plate. I can't stop raving about this one!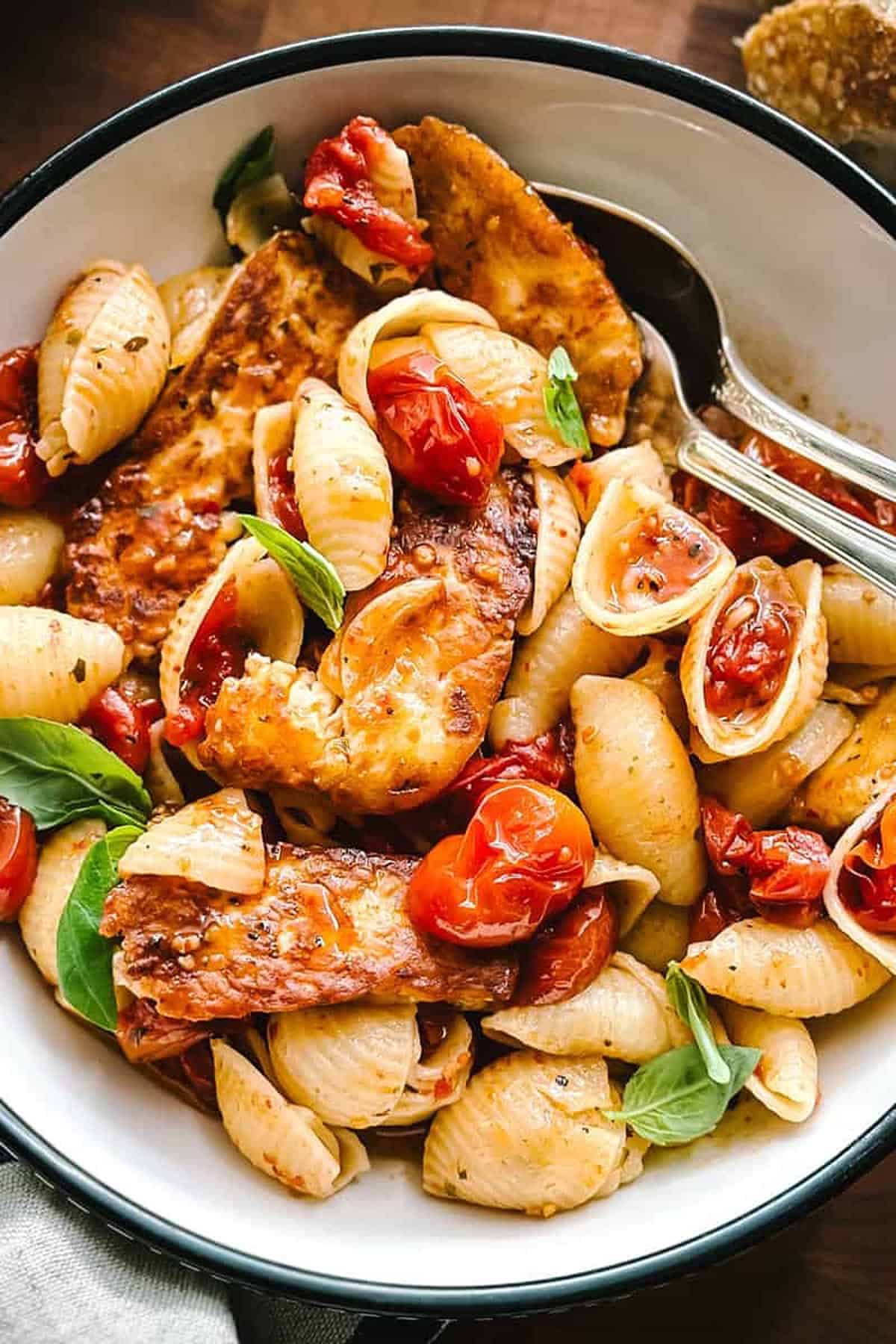 Quick Burst Tomato Pasta With Halloumi

This quick burst tomato pasta with halloumi will have you in love with the flavors of red pepper flakes, garlic, ripe cherry tomatoes, and basil. The fried halloumi brings it all together for a truly winning dish to serve with mashed potatoes!
Our Favorite Recipes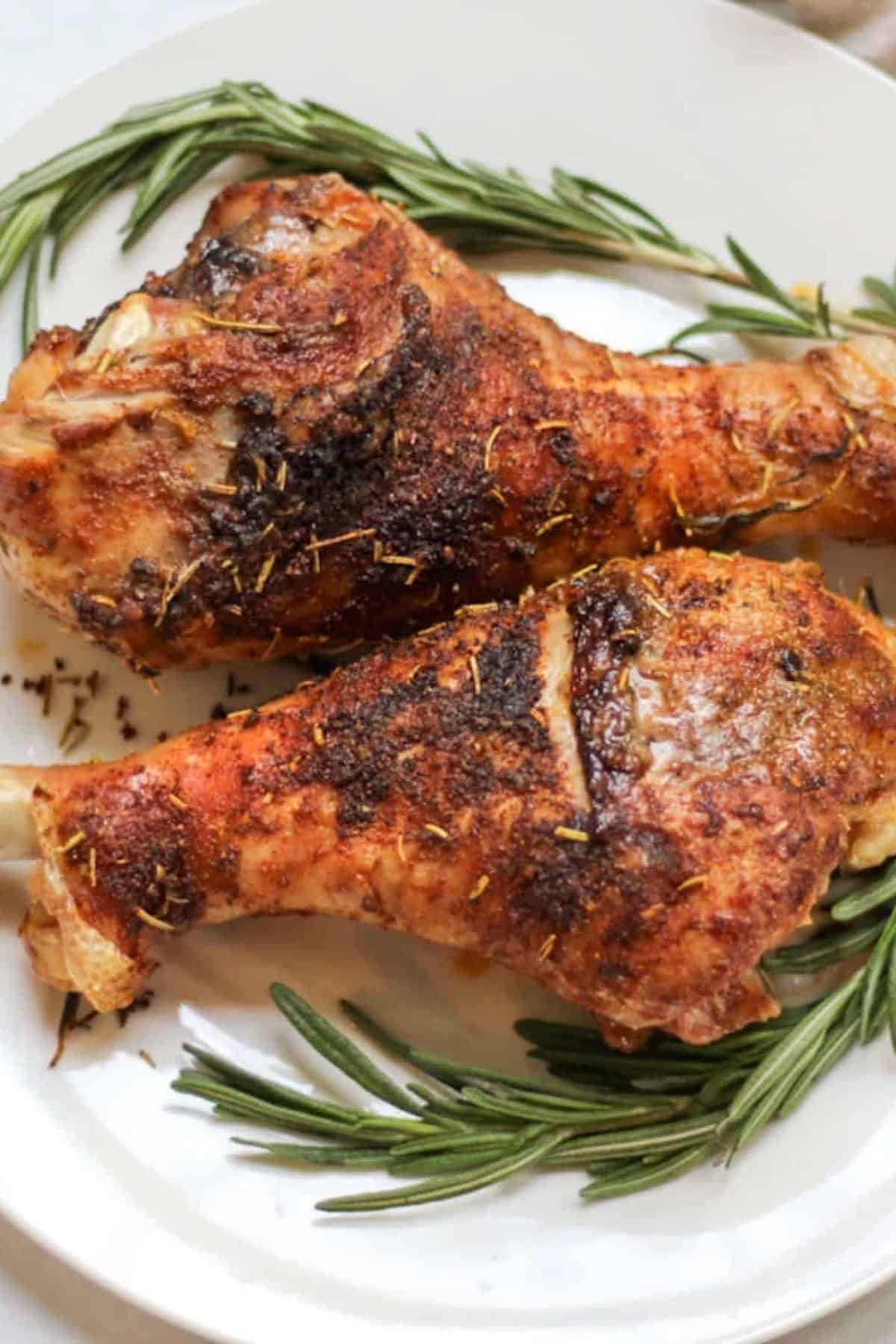 Roasted Turkey Legs

Want to know how to make the best roasted turkey legs? The best part of this recipe is that it's simple, with no covering or flipping needed. All you need to do is season, oil, and bake!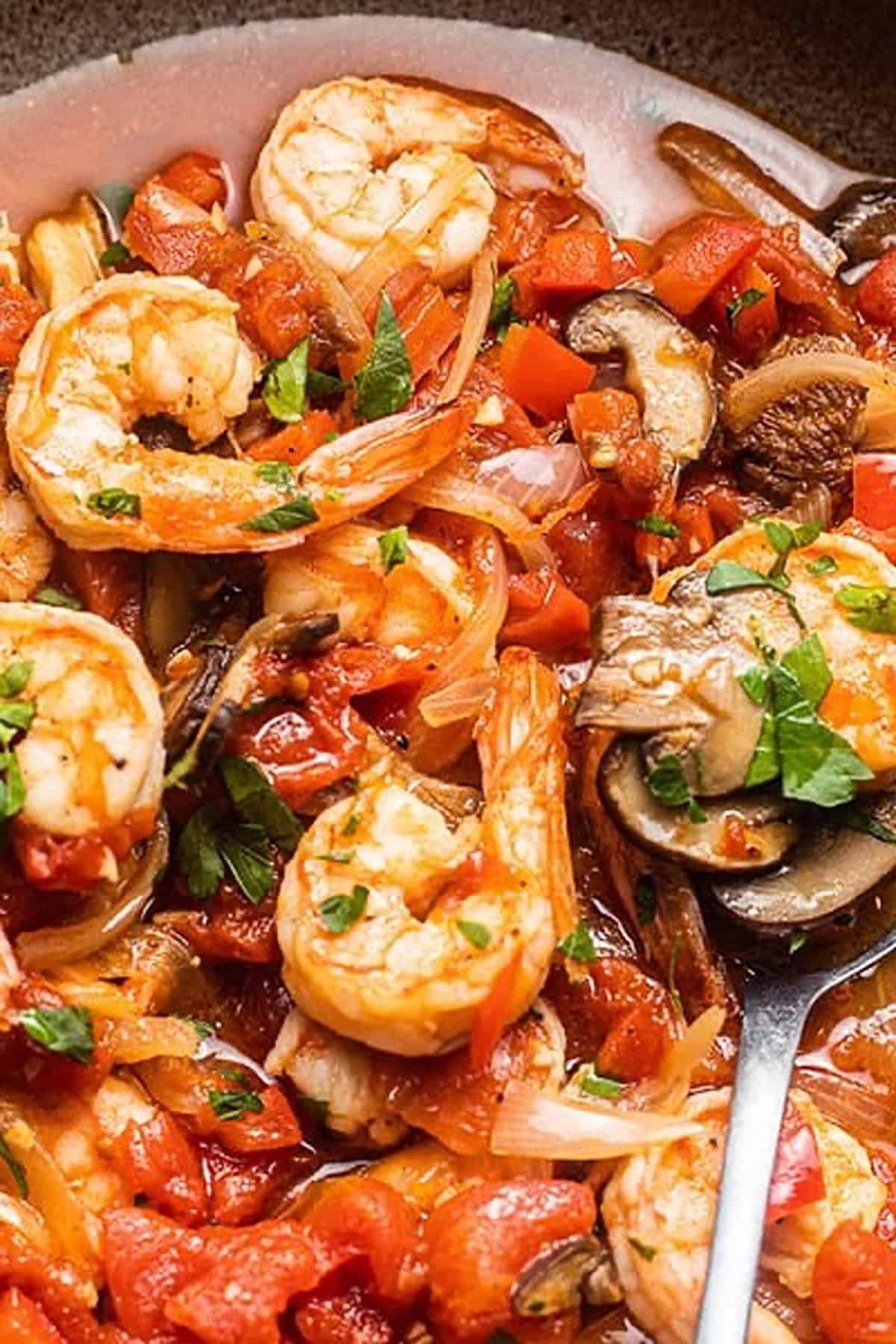 Shrimp Cacciatore

Dinnertime just got a whole lot tastier with this pescatarian-friendly Shrimp Cacciatore for two! It's a hearty and rustic dish that's bursting with flavor. Who needs a restaurant when you can whip this dish up at home?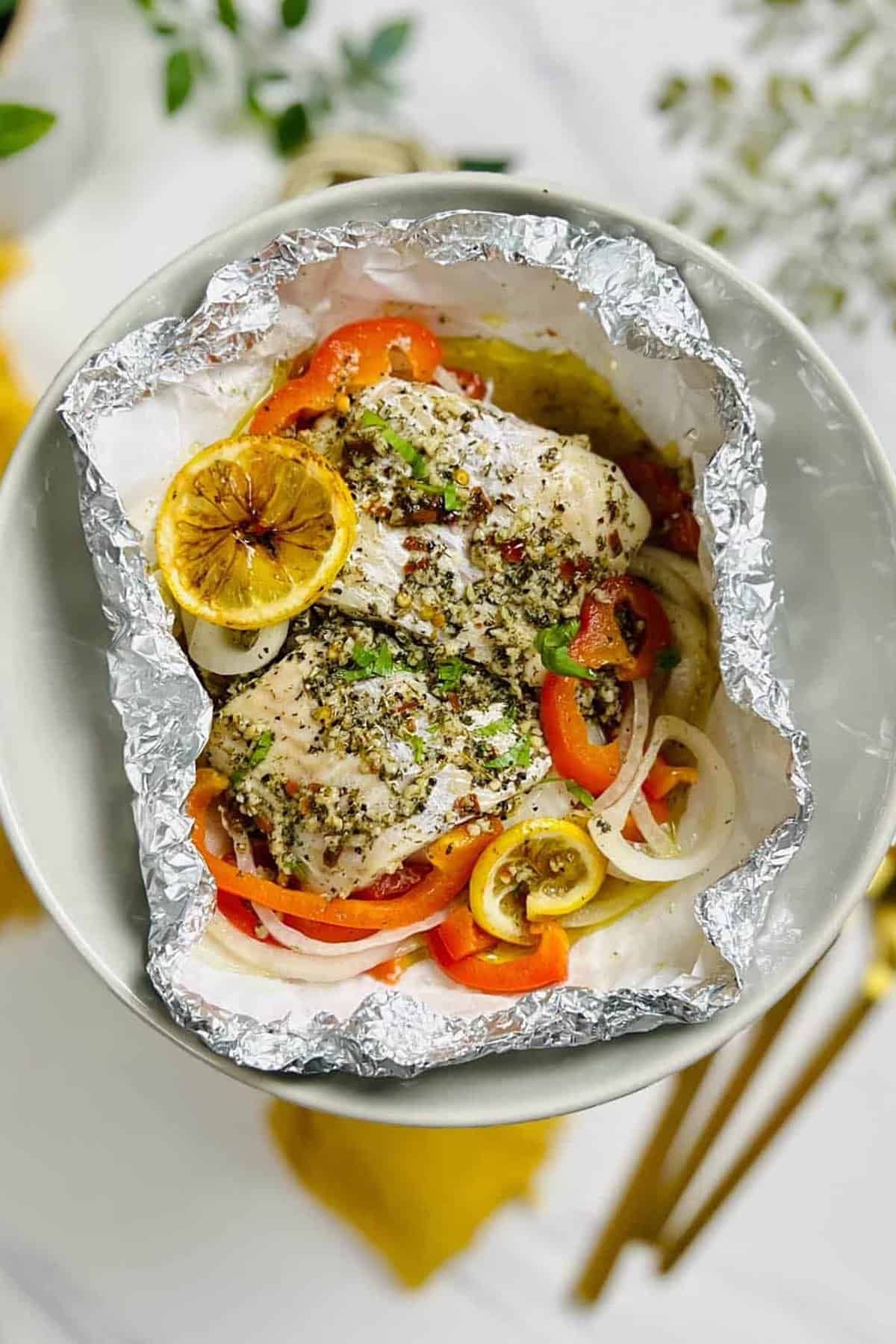 Baked Haddock In Foil

Foil-baked haddock is so easy and delicious when served with mashed potatoes. Foil packs are wonderful because they make for a quick, no-fuss, easy clean-up meal for the whole family.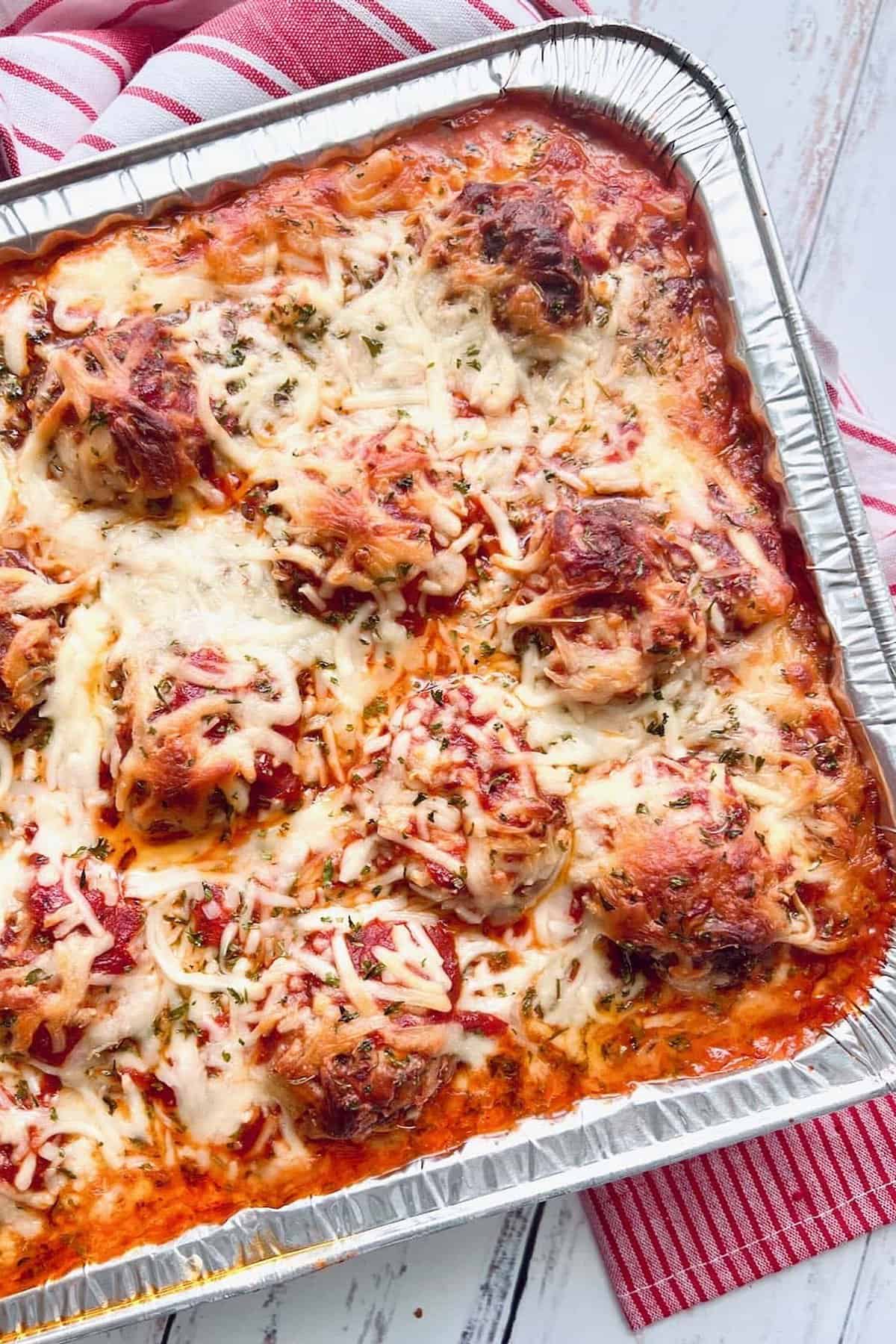 Baked Ziti With Meatballs

Baked Ziti with Meatballs tastes fabulous with mashed potatoes! Serve these two classics together with marinara sauce, three cheeses, and the best homemade meatball recipe ever. You can even dunk your meatballs right in the mashed potatoes!
Mashed Potato FAQ's
Whew! That's a few ideas! I hope you found one that you want to make! From hearty roasts to savory sides, there's a perfect match for everyone. Your mashed potatoes will never be lonely with these amazing mains!
More Recipe Collections