Some links in this post are affiliate links. If you buy from one of our links, we may earn a commission.
These Reindeer Pretzels are a sweet and salty snack perfect for the holidays. Quick to make with your kids and delicious right out of the oven or as soon as they cool down!
These DIY treats also make great presents if you want something homemade but don't know what else might fit into someone's stocking this year.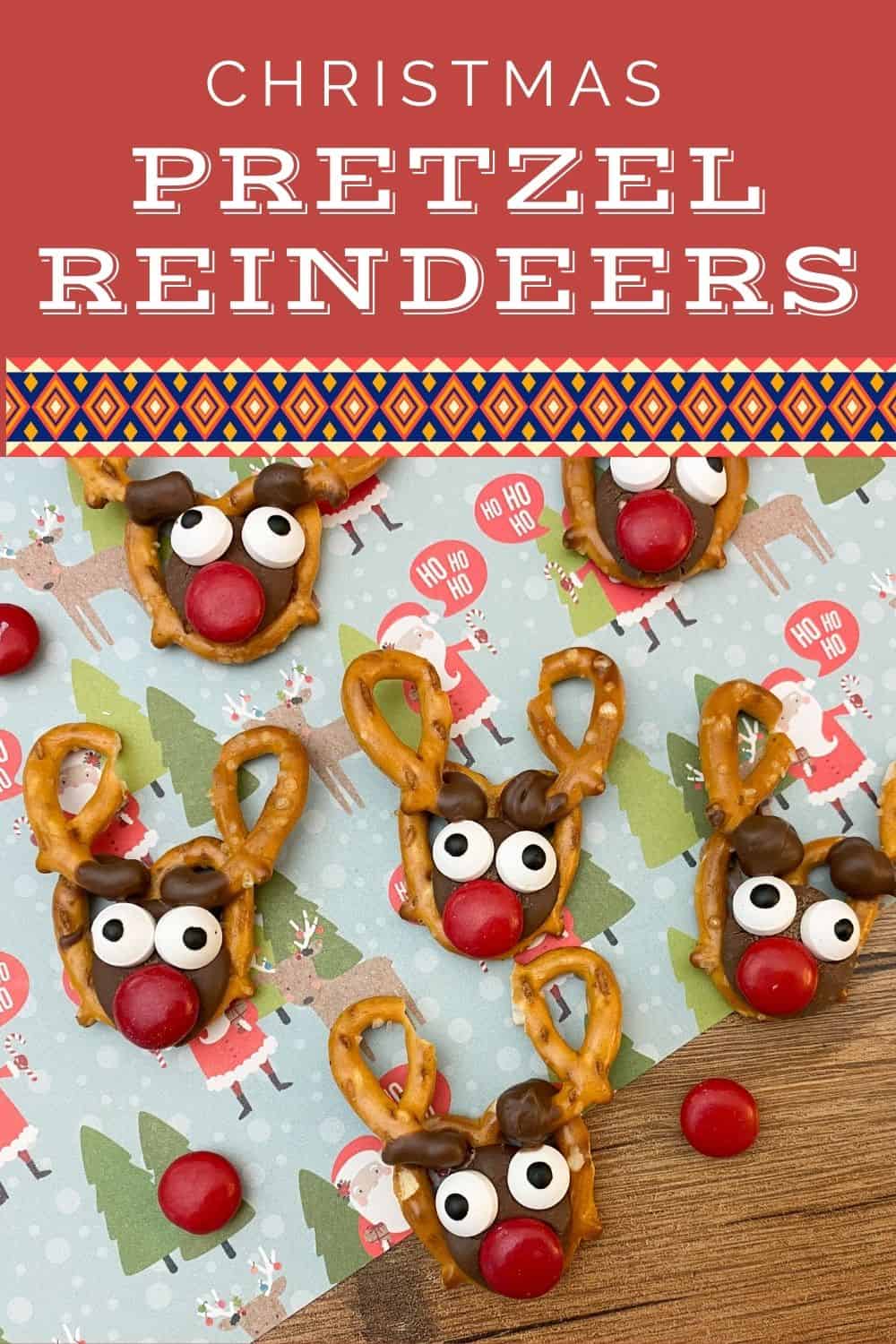 Quick & Easy Holiday Treat
Reindeer are the perfect holiday treat for kids and grandkids! They will love running around in your kitchen, making these tasty treats with you.
They are not only super cute but super yummy AND did I mention easy to make? Just follow the easy step-by-step instructions to make these fun Pretzel Reindeers!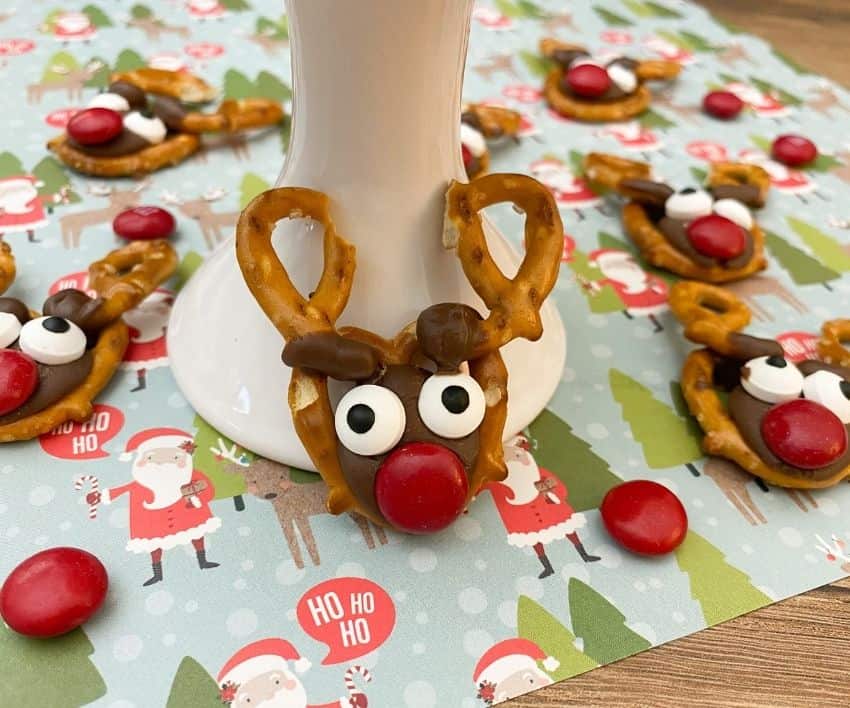 Christmas is a special time of year and we sure love our sweet treats to help us celebrate, right? Kids and adults alike will fall in love with these super cute reindeer making them perfect for family get-togethers and parties!
And speaking of yummy Christmas treats…
20 Easy Christmas Treats – From cookies, brownies, candy, and cupcakes, there are plenty of delicious Christmas treats to choose from to satisfy your sweet tooth.
Now, are you ready to find out the secret to making these super cute pretzel reindeers? Let's go!
Christmas Reindeer Pretzels
Ingredients needed: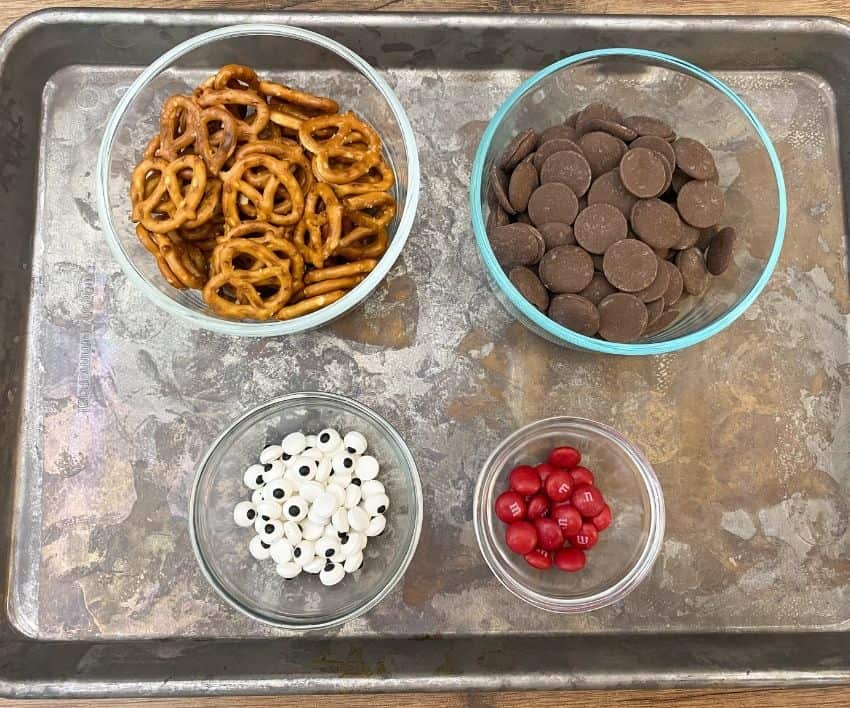 50 mini pretzels (divided)
25 chocolate candy melts + ¼ cup extra
25 small round red M&M chocolate candies
50 small candy eyes
How to make these cute Pretzel Reindeers:
Preheat the oven to 350 degrees.
Separate half of your pretzels and spread them out on a baking sheet lined with parchment paper or a silicone liner.
Place one chocolate candy melt on top of each pretzel.
Gently break the remaining pretzels in half down the middle to form the antlers. (a few may break, so it's best to have extra pretzels)
Place the baking sheet in the oven and bake for 2-3 minutes until the candy melts are soft.
Remove the baking pan and add the M&M candy nose and eyes to each reindeer.
Place the ¼ cup of candy melts in a small microwave-safe dish. Heat in 30-second increments in the microwave until melted. Stir until smooth.
Dip the bottom of each antler into the melted chocolate and add to the reindeer.
Allow the reindeer to cool completely to allow the chocolate to set before eating.
Enjoy!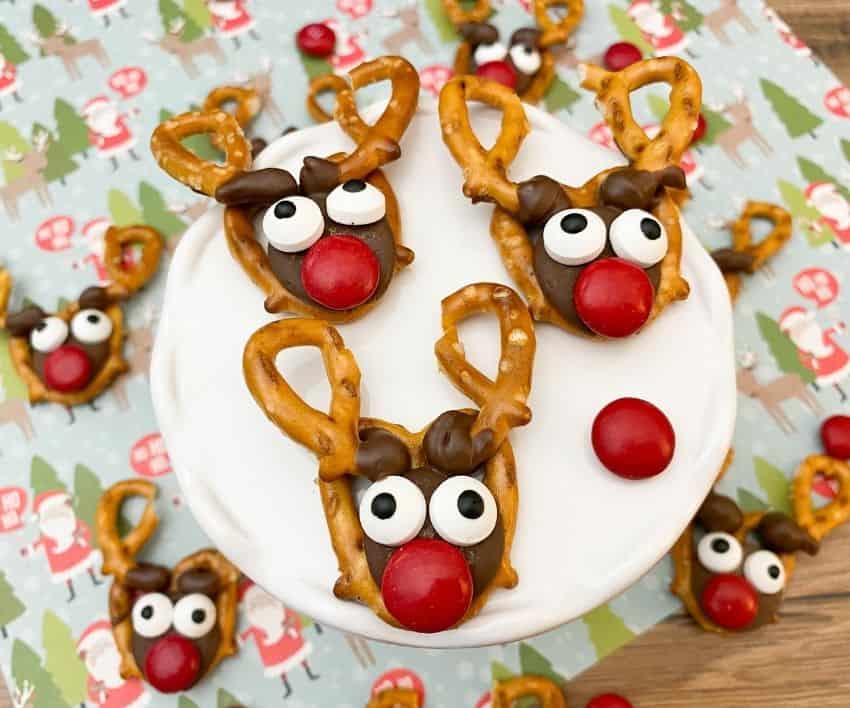 Print this Christmas Pretzel Reindeer Recipe!
Pin it for later!