20+ Easy Christmas Treats To Make This Holiday
Quick and easy Christmas treats that anyone can make! From candy cane cookies and reindeer chow to Santa cupcakes and snowman kebabs, all of these treats are sure to please!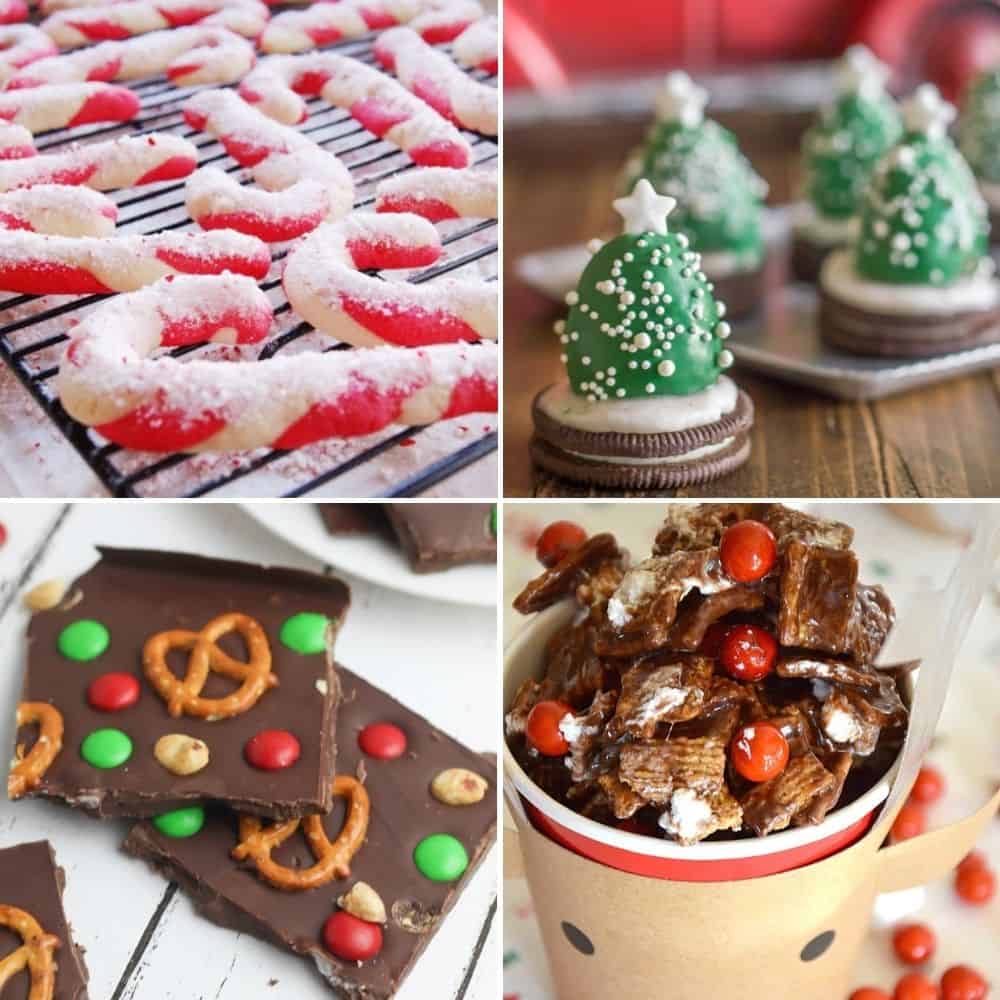 The holiday season is a time for family, friends, and giving. But, with all of this holiday cheer comes a lot of stress.

I know it can be difficult to find a balance between work, family, and friends during this time, so I have some easy recipes for you that will help you create beautiful treats for your loved ones without putting too much pressure on yourself.

There are so many delicious Christmas treats to choose from to satisfy your sweet tooth. Now go and spread some holiday cheer with these edible snowmen, reindeer, and Santas!
Best Christmas Ideas
Christmas parties are especially fun to create food for. So today, I have put together a whole list of easy Christmas treat ideas for you.
All of these recipes are perfect for the holiday season. With both sweet and savory choices, there is something for everyone.
Whether you are hosting a party or a Christmas movie night, your family and friends will love these treats.
Too busy to make these right away? Pin this post to your favorite board on Pinterest for when you're ready!
Recommended Tools
Easy Christmas Treats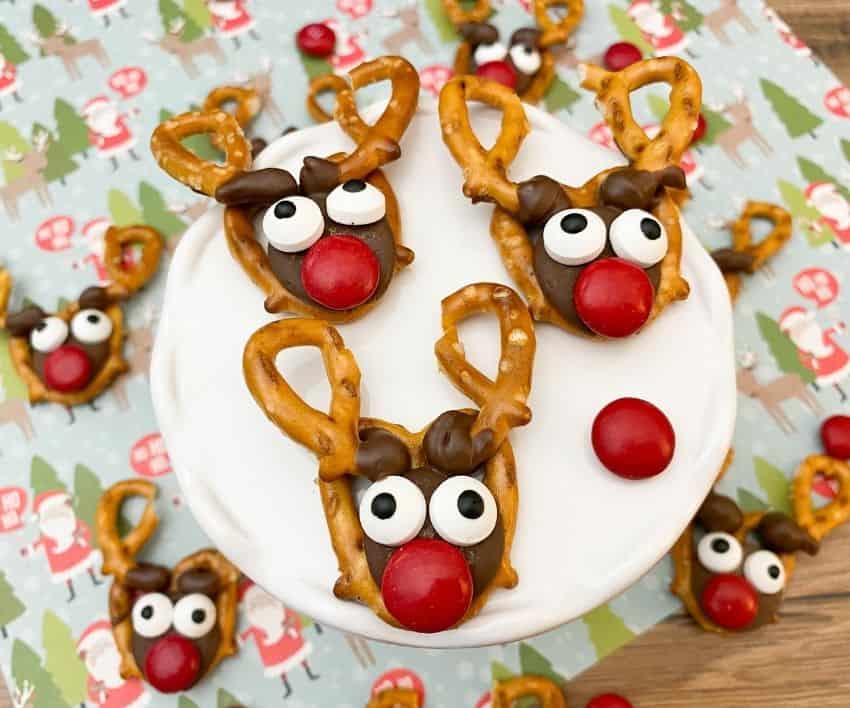 Reindeer Pretzels – One of our favorite Christmas treats is these super adorable reindeer pretzels. They are the perfect sweet and salty snacks for the holidays.

Quick to make with your kids and delicious right out of the oven or as soon as they cool down!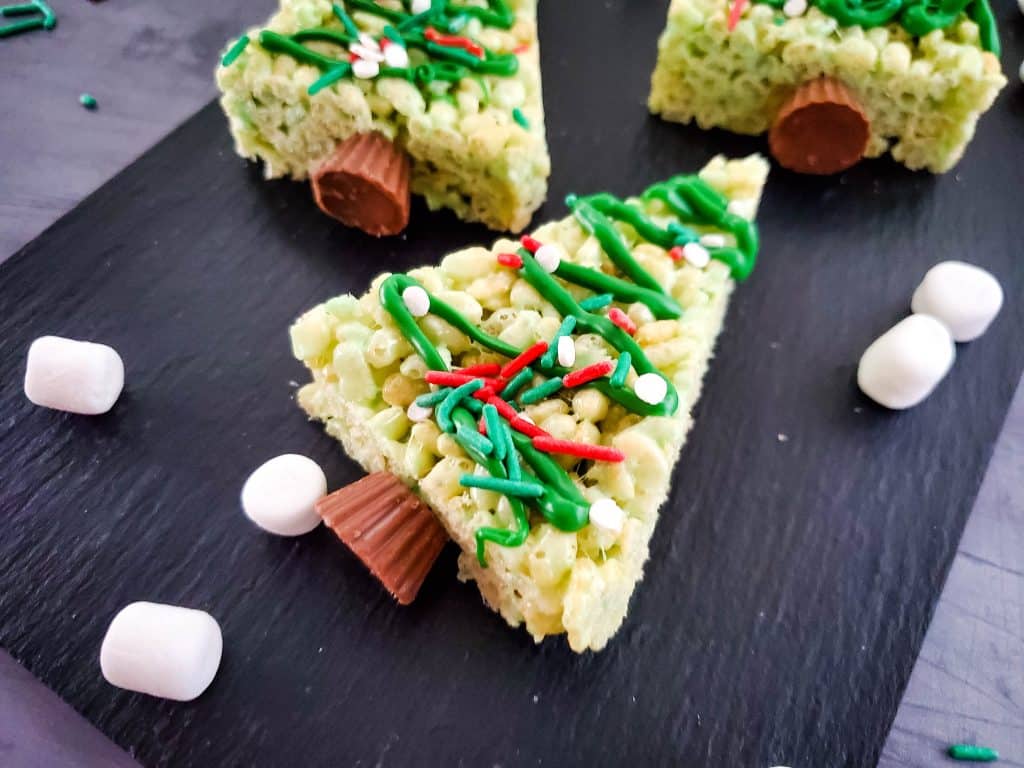 Christmas Tree Krispies Treats – Get festive this holiday season by making adorable Christmas Tree Krispies treats. They're simple to make and a fun activity for the kids to help with.

Pair them with some fun Christmas Tree crafts, and you've got yourself plenty of holiday fun.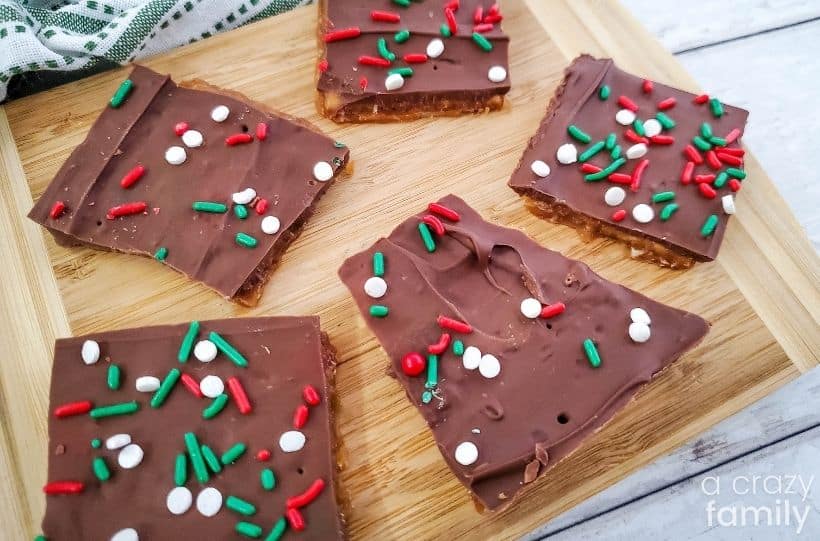 Christmas Cracker Bark – If you're looking for easy, this fun cracker bark is amazing and couldn't be easier to make. This sweet and salty treat is perfect for gifting, too, so be sure to make enough to share!
Gifting Homemade Treats
Fill cookie tins with a variety of treats.
Fill mason jars, and add a pretty ribbon and a gift tag.
Put a package together for those who could use a little love.
Say thank you to your kids' teachers for all their hard work with some sweet treats.
Tips for Top Christmas Treats
Use a piping bag filled with frosting to decorate cookies or cupcakes. It gives you more control and allows for precise designs.
For a festive touch, add food coloring to your treats. Red and green are perfect for Christmas!
Have fun with different shapes for cookies. Use cookie cutters, or even get creative and try free-handing some holiday-inspired designs.
Go ahead, indulge, and get into the Christmas spirit with these delicious recipes this Christmas time.
For even more fun Christmas recipes, check out this list of Christmas party foods and these unique Christmas cake recipes. Enjoy and have a Merry Christmas! 🎄🎅🏼
More Christmas Treat Recipes