Best Christmas Food and Snacks In The UK
This post and its photos may contain affiliate links. As an Amazon associate, I earn from qualifying purchases.
Christmas food is enjoyed by people all around the UK. Different families often have different traditions surrounding Christmas, but no matter where you celebrate and who with, all festivities usually involve food.
Not just any food, but often luxury items not bought any other time of the year!
There is something warming about Christmas food. Everyone looks forward to the delicious and ever so slightly large Christmas dinner. Plus, of course, the desserts, snacks, and beverages to enjoy throughout the holidays.
Here are some of the best and most favorite Christmas food and snacks enjoyed by many around the UK:
Traditional Christmas Dinner
For many families, a traditional Christmas dinner is what everyone looks forward to the most.
Delicious food shared with family and friends. Party crackers with dad jokes are pulled and classic paper hats are worn as everyone tucks into the main meal of the day.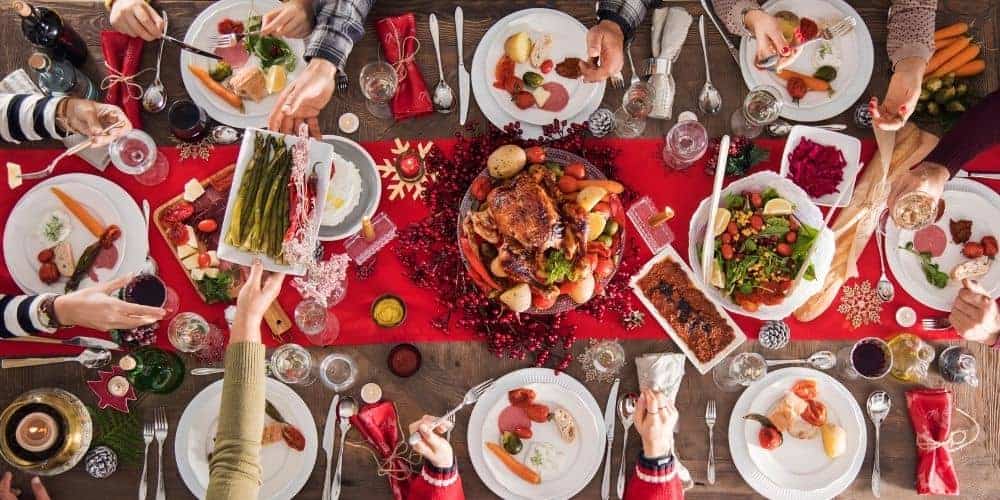 A traditional British Christmas dinner usually encompasses one of two types of meat depending upon how many people are sharing the meal, along with a variety of side dishes.
Turkey tends to be the centerpiece at Christmas and is often accompanied by a ham. Both are often bought prepared with hams already glazed, and turkeys can be purchased ready to place in the oven.
However, if you would like to add your flavorings, you can easily add your own stuffing to cook inside of your turkey. Plus, prepare bacon-wrapped topping so that the turkey remains moist and succulent.
Alongside traditional meats, families often prepare and cook their side dishes comprising of a range of sauces and vegetables. You could almost compare a Christmas dinner in the UK with a luxurious version of a Sunday roast.
Sides might include:
Roast and/or mashed potatoes
Pigs in blankets (small sausages wrapped in bacon)
Brussel sprouts
Honey roasted carrots and parsnips
Peas with pancetta
Mixed vegetables, e.g. cauliflower or broccoli
Cranberry sauce
Stuffing
Gravy
Yorkshire puddings.
Individual families have their personal preferences, with some even including side dishes such as cauliflower cheese. However, these sides are traditional when it comes to a British Christmas dinner.
Christmas Desserts and Sweet Treats
Second to a traditional British Christmas dinner comes the delicious desserts and sweet treats associated with the holiday season.
These Christmas foods will have your mouth watering and filling your stomach with a warm-fuzzy sensation after enjoying these tasty treats that are usually only available (unless homemade) during the holiday season.
Mince Pies
Does anything say "Christmas is here" more than seeing mince pies in the supermarket?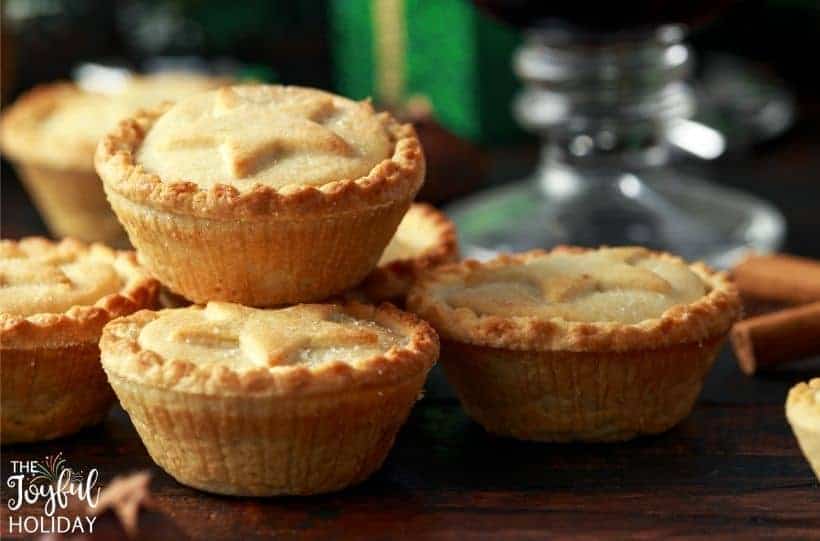 Mince pies are a popular sweet treat, and for good reason. Made with a sweet shortcrust pastry that melts in your mouth and is filled with tasty mincemeat.
The mincemeat is a sweet mix of dried fruits, spices, sugar, and brandy. The soft filling compliments the crunchy pastry and is delicious when eaten warmed or cold from the packet.
Though readily available from all supermarkets, mince pies are relatively easy to make at home. Take a look at this simple recipe to make your mince pies.
Peppermint Creams
Peppermint creams are extremely sweet and creamy but offer a refreshing, minty taste after your Christmas dinner.
These minty sweets are extremely easy to make and require only 3 core ingredients. Using icing sugar, egg whites, and peppermint essence, you can create a tray full of peppermint creams within minutes. Take a look at this popular recipe from BBC good food.
Gingerbread
If you have a young family at home, it is highly likely you know about eating gingerbread at Christmas.
Baking and decorating your gingerbread shapes is a popular Christmas tradition with families. Not to mention taking it one step further and creating your very own, show-stopping gingerbread house!
Sugar Cookies
Sugar cookies are a firm favorite this time of year due to retaining their shape during baking.
This makes sugar cookies a go-to choice for home-bakers as you can easily create several Christmas-themed cookies from trees to reindeer, snowflakes to snowmen. They taste delicious and can be decorated in vibrant colors to stand out and create a spectacular display.
Plus, if you have young kids who believe in Santa, this is a great option for children to bake, decorate and leave out for Santa to eat on Christmas eve.
Here's an easy-to-follow recipe to make your sugar cookies.
Panettone
Though popular all over the world, Panettone is traditionally associated with Italy at Christmastime.
Made in a tall, dome shape, panettone is a sweet bread filled with raisins, citrus peel, almonds, and brandy. It has a soft, doughy texture when eaten and is very rich and sweet.
As it is a double-rising bread, it lasts an incredibly long time. If left out fresh, it will last for up to 5 days. Whereas if you miraculously have any leftovers, you can wrap and freeze it to use within two months.
Christmas Pudding
It wouldn't be the best Christmas food list without mentioning Christmas pudding!
Christmas pudding is a classic Christmas dessert served and enjoyed after Christmas dinner. This small, round, and heavy pudding are full of dried fruits, candied peel, and a concoction of alcohol, often using brandy or cognac.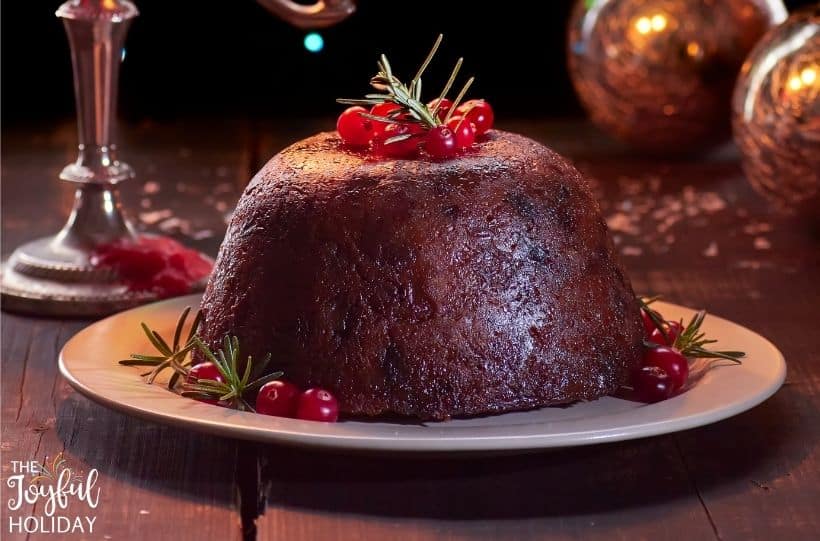 If you are opting to make this pudding from scratch, it is best to cook this in advance. As Christmas pudding is steamed, you need 8 hours of cooking time, plus 1 hour of steaming on Christmas day before serving.
It is 110% worth making your own and offers a grand finale to your Christmas dinner. Christmas pudding is often covered in brandy before being set alight to serve at the dinner table.
But don't worry; the light only sets fire to the brandy and leaves your Christmas pudding still as tasty as ever.
Stollen
A traditional German Christmas treat that is a mix between a sweet cake and bread. Stollen is stuffed full of candied fruits and nuts and is covered in icing sugar once baked.
Stollen has been around for over 700 years, and there are multiple variations of this classic Christmas treat from Germany.
If you'd like to make your very own stollen at home, here is a recipe that takes around 5 minutes to make before placing it in the oven to bake.
Christmas Cake
Last but not least, Christmas cake!
As Christmas cake needs preparing in advance of Christmas, it's the perfect food to start the feeling of Christmas. A homemade Christmas cake needs baking up to 2 months before Christmas to allow it time to be 'fed.'
This involves coating your cake in alcohol, often using brandy, Sherry, whisky, or rum, every two weeks. The final week before Christmas, your cake needs time to dry before being coated in marzipan and royal icing.
Christmas cake is a real centerpiece at Christmas and, even if not cut into until boxing day due to a large Christmas dinner along with options of mince pies and Christmas pudding.
The good news is that your Christmas cake can last up to 5 weeks once it has been iced and can therefore be enjoyed even after Christmas day.
Traditional Christmas Snacks
The Christmas holidays last longer than just Christmas day with a tasty and filling Christmas dinner. With that, people enjoy eating traditional Christmas snacks that help to satisfy hunger cravings whilst eating something a bit more special than your average daily snacks.
Chestnuts
The smell of roasted chestnuts fills the air with the smell of Christmas. If you've ever been to a Christmas market, there's always a stand selling roasted chestnuts. As soon as you smell them, your tummy rumbles, and your mind turns to the festive holidays.
Chestnuts are popular in the UK due to their abundance. You don't have to visit your local Christmas market to enjoy this savory Christmas snack.
At home, remove the chestnut skins by boiling or roasting them. When they are cooked, you can peel the shell (ensure to do this whilst they are still warm) and remove the thin skin underneath.
Once peeled, they are ready to eat and can be enjoyed on their own or used to create delicious festive dishes such as chestnut stuffing, chestnut risotto, and chestnut roulade.
Charcuterie Board
Charcuterie boards are ideal for any celebration and make a perfect sharing snack for visiting family and friends.
Traditionally, a board is filled with cheeses, vegetables, nuts, fruit, olives, cured meats, crackers, and dips. The concept is that each board is shared with others, and people can pick and choose what they wish to eat from the board.
For your charcuterie board, you can select what you want to add depending upon your guest's preferences, time of day, and how large a snack you want to serve.
After Eights
After eights have been around since 1962 and are released for sale in supermarkets in the run-up to Christmas.
They are sold in a rectangular box, with each square after eight wrapped individually in a paper packet. After eights are delicious chocolates with a soft creamy, mint-flavored center.
Due to their rich, minty taste, they make a perfect after-dinner snack. You can purchase a box of after eights from most supermarkets.
Mixed Nuts
Mixed nuts are not only healthy but offer a filling, savory snack between rich Christmas meals.
Most pre-packed mixed nuts from stores contain cashews, peanuts, hazelnuts, and almonds. You might also find pecans and brazil nuts in large packs.
However, a standard bag of mixed nuts doesn't feel special enough for Christmas. To turn this ordinary snack into a spectacular Christmas snack, you can use either a pre-packaged bag of mixed nuts or make your own mix at home and cook them using this recipe.
The great thing about this recipe is that you can choose exactly what nuts you want to use to ensure you enjoy every mouthful. With key ingredients such as maple syrup, vanilla, salt, and cayenne pepper, your standard unroasted nuts will be given the wow factor with a deliciously sweet yet salty flavor combination.
Traditional Christmas Drinks
Now that we've covered a traditional Christmas dinner, deliciously tempting desserts, and hunger-satisfying snacks, let's take a look at some of the best traditional Christmas drinks.
Eggnog
Eggnog, also known as posset, is a traditional holiday drink made with eggs, milk, cream, spices, and alcohol.
Most commonly, holiday-associated spices and flavors are used, such as nutmeg and vanilla. Depending upon your taste preferences, you can add rum, whisky, or brandy to finish your drink.
Eggnog is rich and creamy with a sweet flavor. It's a thicker drink than a glass of milk due to the addition of eggs. Here is a really simple recipe to follow so you can enjoy a glass of eggnog in under 15 minutes.
Eggnog really is a delicious holiday drink. But baking with it turns this holiday ingredient into something beyond delicious, making these eggnog recipes perfect for the holidays.
Baileys
Baileys is such a popular Christmas holiday drink that over 29 liters of Baileys were sold every minute last year in November and December.
Baileys is an Irish cream liquor made with whiskey, cream, and cocoa. It is often served in small liquor glasses and can be drunk by itself.
Alternatively, for a rich and luxurious drink, you can use Baileys to make an alcoholic hot chocolate or one of several baileys-themed cocktails.
Mulled Wine
Mulled wine is the alcoholic drink that is served everywhere for Christmas. Unlike traditional wine, mulled wine is heated with spices giving you that warm glow inside, often associated with the feeling of Christmas.
This festive drink is made with red or white wine and has festive ingredients added, such as oranges, cinnamon sticks, cloves, and maple syrup. Mulled wine is so easy to make at home, just requiring the ingredients to be simmered and checked throughout the cooking process.
Once cooked, you'll have a delicious homemade mulled wine to serve to your family and friends at Christmas.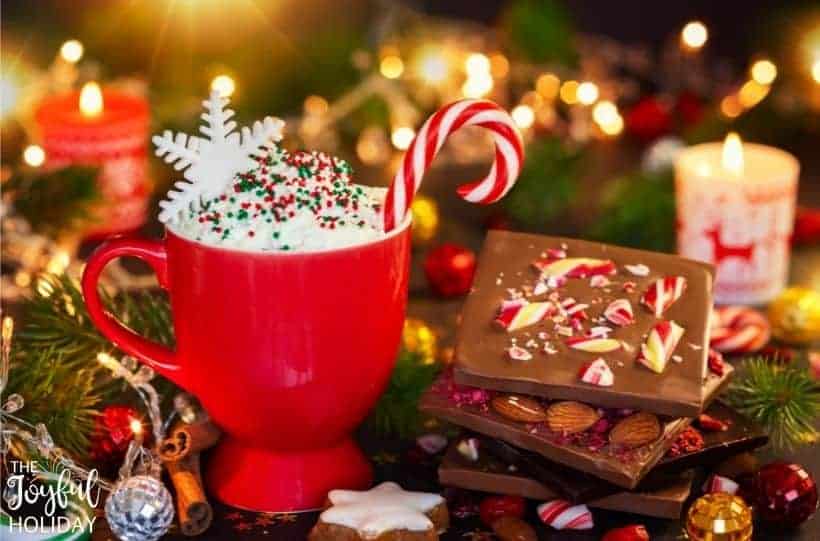 These delicious Christmas foods and snacks are enjoyed by millions of UK families every year.
As they are only eaten during the festive season, you don't become tired of their flavors or want to try something different.
As soon as you begin to see mince pies, pigs in blankets, and Christmas turkeys in the supermarkets, you know Christmas is on its way. You can begin planning exactly what Christmas foods and snacks you are going to enjoy with your family over the holiday season.