Ideas for Easter-Themed Crafts and Activities for Kids
This post and its photos may contain affiliate links. As an Amazon associate, I earn from qualifying purchases.
Easter is a wonderful time of year as the air warms and the world comes alive again. This is a wonderful time to have fun with your kids doing crafts and activities to celebrate spring and your chosen faith.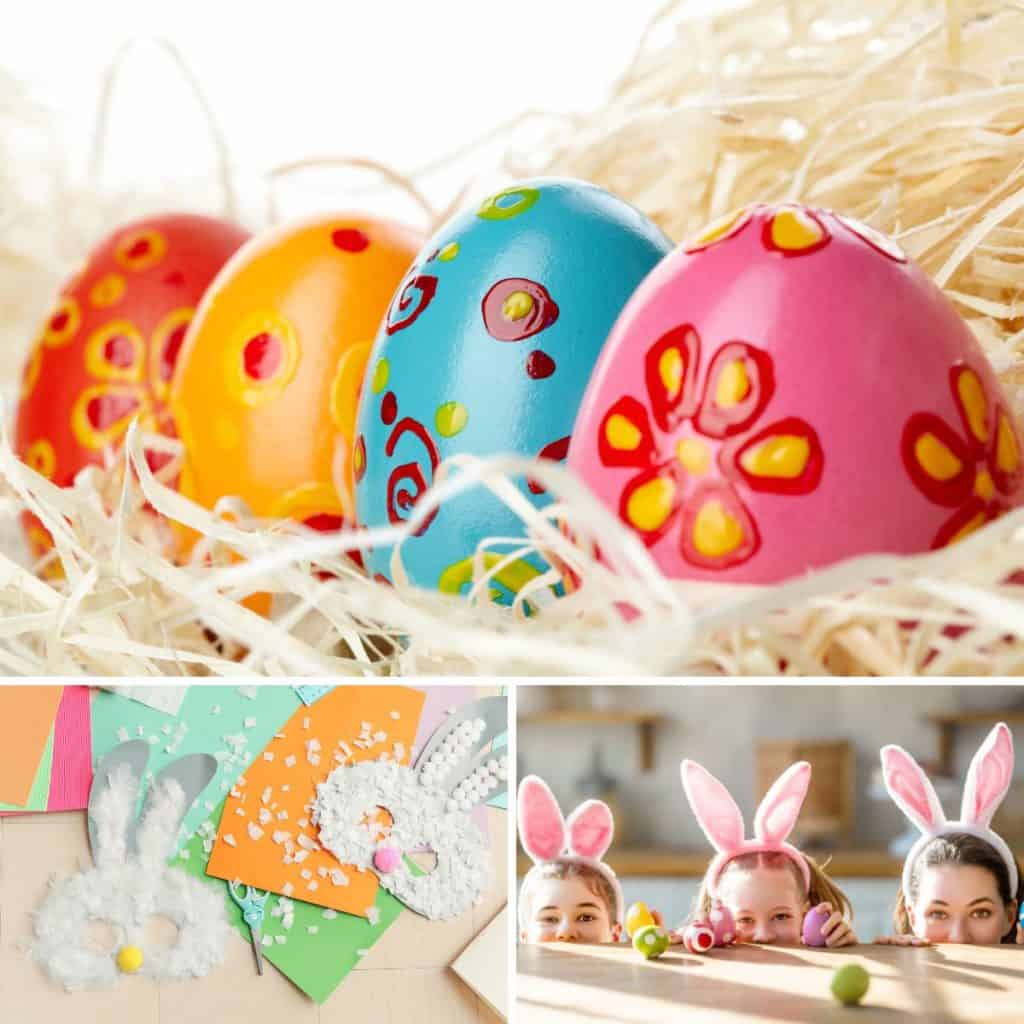 Fun Easter Crafts and Activities for Kids
These fun activities and crafts will help keep your kids busy and having fun while making amazing memories this Easter.
Looking for fun Easter printables too? Here are a few your kids may love this Easter:

Easter I Spy – This Easter activity is easy and fun, as a rainy day activity, something to do during a kids' playdate, or just to keep them busy while you're preparing Easter dinner.

Easter Words Activity – This activity will keep them busy for hours. You try to make as many words as you can, using only the letters found in the words Easter Basket. Print it out and do it together.

Easter Gnomes Coloring Pages – Get in the Easter spirit with these adorable coloring pages. This set of Easter gnome-themed pages is perfect for all ages.
And if you're looking for some delicious Easter treats, try this easy Easter Fudge with Robin Eggs cute or these cute Easter Bunny Cinnamon Twist Pastries.
Easter Egg Decorating
Easter egg decorating is an easter staple, and many families take advantage of this activity. Because of easter egg decorating, the cost of eggs tends to go down this time of year, making for a great opportunity to stock up on eggs for this activity.
You can use a wide range of natural dye options to make this a chemical-free activity for your kids that makes a great snack or addition to your lunch box.
Bunny Masks
Easter is associated with soft fluffy bunnies. Your kids can make a fun bunny mask to dress up and pretend to be the easter bunny this spring.
Making bunny masks can be done very easily by cutting out a paper plate and adding ears, eyes, and a nose using printer paper and some tape. You can also add whiskers or other fun details and use some ribbon to tie them on.
Easter Baskets
Having your child make an easter basket is way more fun than grabbing one from the store. For a kid's activity like a kid's easter party, you can have them make small easter baskets using a cup and some pipe cleaners to decorate.
For a larger easter basket, try a weaving project using folded newspaper for a fun activity that allows them to work on fine motor skills while making something useful.
After making your baskets, you can decorate them with paint, markers, stickers, and even construction paper cutouts to make them fun and exciting. It is amazing the creativity kids come up with.
Easter Wreaths
Kids can make Easter wreaths using paper plates, tissue paper, and ribbon. Cut out the center of the paper plate.
Decorate the edges with pastel-colored tissue paper, paper cut-out eggs, or fun easter stickers and fake flowers to make a fun and easy wreath for easter. Add a ribbon to hang the wreath from their bedroom door, in a window, or in another fun spot to show them off.
Easter Bunny Headbands
Making your own easter bunny ear headbands is extremely easy. Cut a long strip of construction paper and form it into a loop that fits your child's head. If your child's head is too big, you can add another sheet and tape it together to make it fit.
Have your child cut out easter bunny ears to tape or glue to the front of the headband. Then draw a face for your bunny on the band. If you would like, you can add a cotton ball or pompom to the back of the headband for a tail.
Easter Egg Hunt
Easter egg hunts are an Easter tradition. Large group egg hunts are less available than they once were, but you and your friends and family can get together and start these up again for your kids. Add a few more of these fun activities to make the whole day an amazing and memorable event.
Easter Scavenger Hunt
Are you hosting an Easter gathering? For a twist on the traditional egg hunt, organize an Easter scavenger hunt. Create a list of Easter-themed items for your kids to find, such as a bunny figurine, a chocolate egg, or a stuffed chick.
Hide the items around your home, yard, or other location where you are hosting your Easter Activity day, and give each child a copy of the list. If you are working with young kids, you can use one with printed photos of the items. The first one to find all the items wins a special prize.
Bunny Hop Sack Race
Bring out the playful spirit of Easter with a bunny hop sack race. Grab some pillowcases or large sacks and have your kids jump inside, holding the open end up around their waist.
Then, line them up in the yard and have them hop like bunnies to the finish line. You may want to be prepared for a few bumps and bruises, but this is well worth it for all of the fun.
Egg Carton Chicks
Chicks are a favorite symbol of Easter and spring. One great option is to make egg carton chicken.
Make these by cutting out a section of the egg carton and adding eyes, a beak, and feathers. You can paint them cute pastel colors, buy little bird nests for them, or even add a popsicle stick to make them into puppets. This is a great upcycling project that uses materials you already have on hand.
Handprint Chicks
Like with hand-print turkeys, you can make hand-print chicks with your kids. This is a great way to make a fun keepsake for you to look back at how small your child once was.
Kids can make handprint chicks by painting their hand yellow and pressing it onto a piece of paper. They can add eyes, a beak, and feet to create a cute chick. Remember to add your child's name and the year to your handprint chicks.
Easter Cookie Decorating
Satisfy your little ones' sweet tooth by baking and decorating Easter-themed cookies. Prepare a batch of sugar cookies in shapes like eggs, bunnies, and chicks, and let your kids go wild with colorful icing and sprinkles.
Not only is this activity deliciously fun, but it's also a great way to hone their artistic skills.
Plant an Easter Garden
Depending on where you live, it may be warm enough to start a garden for Easter. This is a great opportunity to talk to your children about the meaning of Easter and how it represents renewal and fresh starts in life.
If you can not plant a garden just yet, you can still start seeds indoors with your child for Easter.
As you can see, there are some great Easter Crafts and Activity ideas out there. Keep your little ones entertained this Easter and have them enjoy some of these fun crafts and activities.