The Easiest Way To Ice Easter Sugar Cookies
This post and its photos may contain affiliate links. As an Amazon associate, I earn from qualifying purchases.
So if you know me, then you know I love to bake and especially more so around holidays! Christmastime is definitely my favorite for cookie making and decorating, but I thought why not bring it into the Easter season too?!
I think iced sugar cookies don't really need a specific time or season, they are perfect and delicious year-round!
Today, I am going to share with you all a little secret of mine on how I ice sugar cookies in the easiest way possible. I used to think decorating cookies were a ton of work, but I've been icing my cookies this way for a very long time and I have not went back ever since.
You just need to start out with your favorite cookie recipe. I always use this recipe for the Perfect Vanilla Almond Cutout Cookies. They are so tasty and not overly sweet so having the icing on them is a perfect combination. I also love the trick of putting the cookies in the freezer before you bake them, that way they retain their shape a little better! I found some cute Easter cookie cutters from Hobby Lobby this year and I just had to put them to good use so that's what I used for the cookie shapes.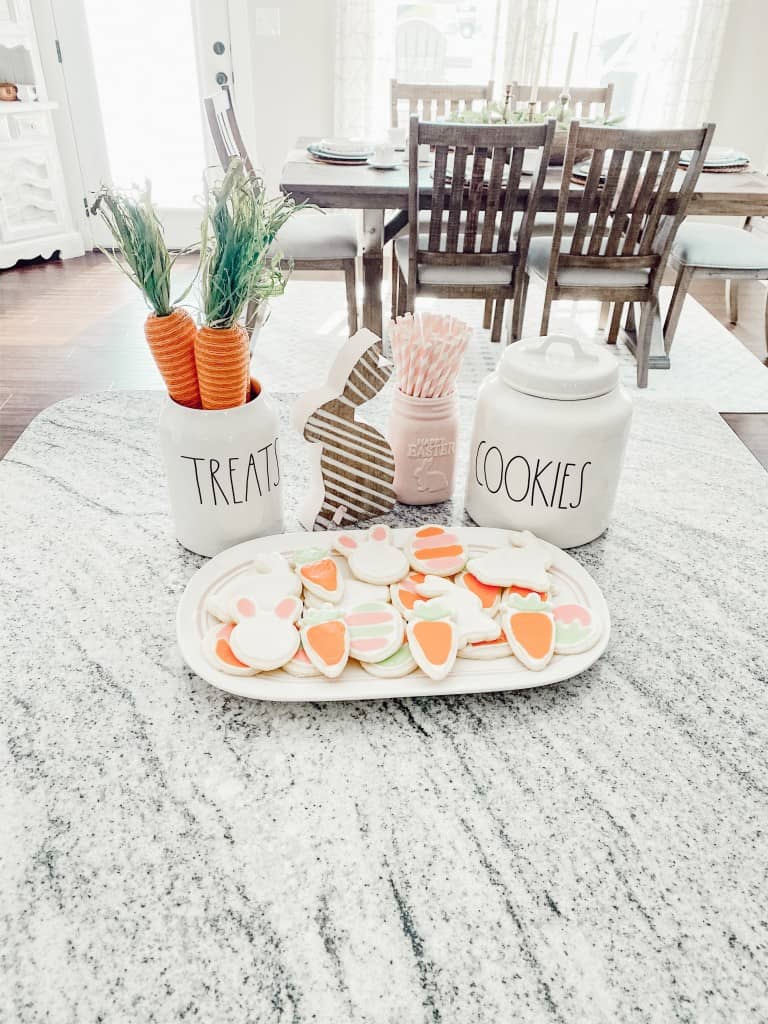 Supplies Needed:
After your cookies are baked and cooled, you are now ready to ice your Easter sugar cookies in the easiest way possible! Here is everything you need to get started:
Powdered Sugar
Milk
Vanilla Extract (optional)
Almond Extract (optional)
Food coloring
Mixing bowls
Funnels
Parchment Paper
The Basics
What you are going to do in order to make the easiest icing ever for your Easter sugar cookies are to first of all start with 1 cup of powdered sugar in each of your mixing bowls. Then you will simply add 2-3 tablespoons of milk and whisk it together. You need to have a thicker icing as your border icing and a thinner icing as your flood icing (more on that below).
I also like to add in about 1/2 teaspoon of vanilla or almond extract to make it taste even better. Then, you can also add in some food coloring and mix it all together. After I have mixed the icing, I use a funnel and pour it into my squeeze bottles, that way I am ready to begin icing my cookies!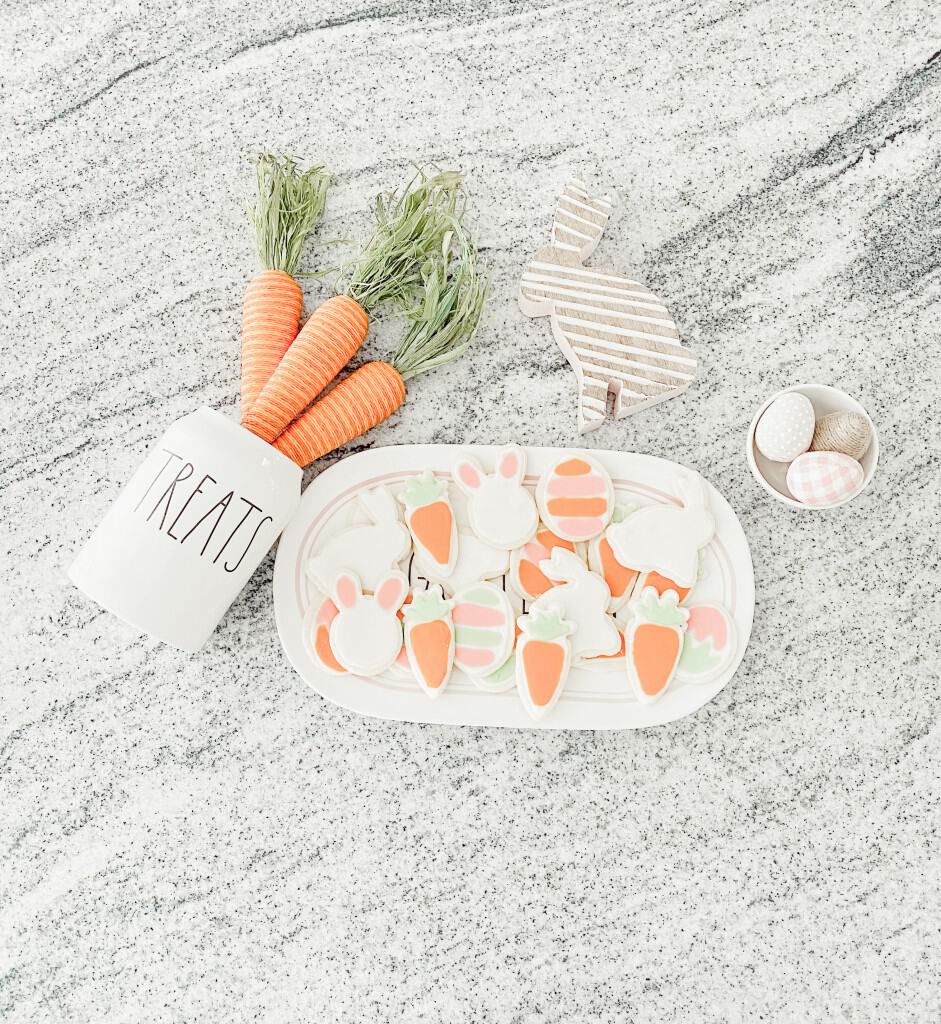 Make Your Border Icing
The first step in icing your Easter sugar cookies is to make your border icing. The border icing needs to be a little thicker than the flood icing. You also need to outline all your cookies in the border icing first and then let them dry completely before adding in the flood icing. I like to keep my border icing all white, but if you want to add a color to it, then go for it!
To make the border icing, I just add a cup of powdered sugar and 1-2 tablespoons of milk and then whisk it together. I slowly add the milk in because I don't want to add to much because I don't want it to be too runny. I also like to add in almond extract for my border icing, especially if I am keeping it all white. I noticed if I add in vanilla extract in my white icing, it turns it a darker color.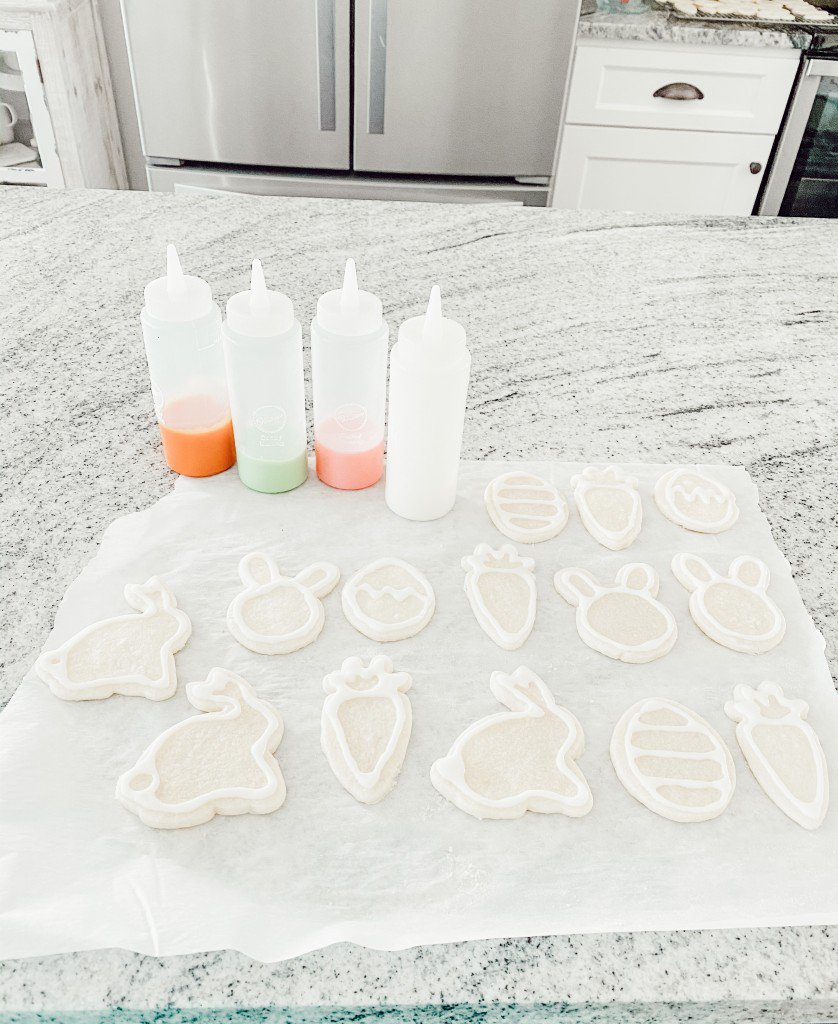 Make Your Flood Icing
This icing can be a little more runny than your border icing. In fact, you want it to be that way it fills in the border icing more quickly and easily. So I usually do around 3 tablespoons of milk into one cup of powdered sugar for the flood icing. But again, add in the milk slowly because you don't want to overdo it.
I usually make all my flood icing in different colors and I like to add in vanilla extract since it is already colored you won't notice it. After I mix up each color of my flood icing, I pour it into my squeeze bottles using some more funnels.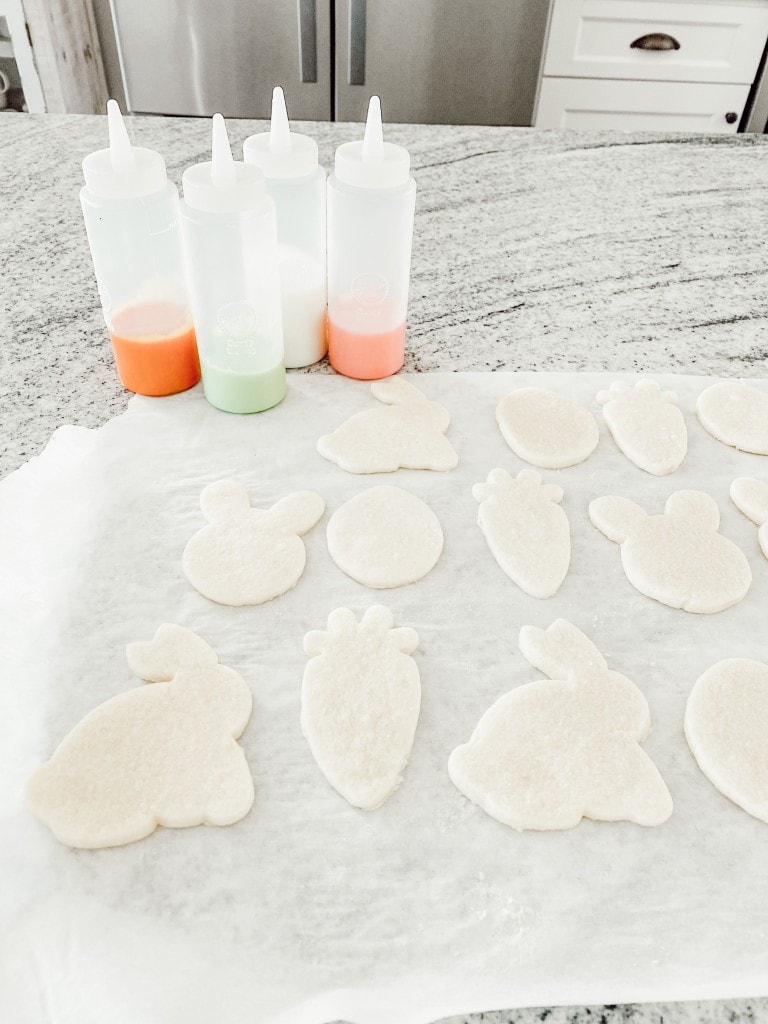 So after your border icing is completely dry, it's time to add in your flood icing. I usually squeeze enough out to where it almost fills the entire cookie space but not quite because I don't want it to overflow. Then I take a toothpick and glide the icing all the way around into the border icing so the whole cookie ends up being covered with icing.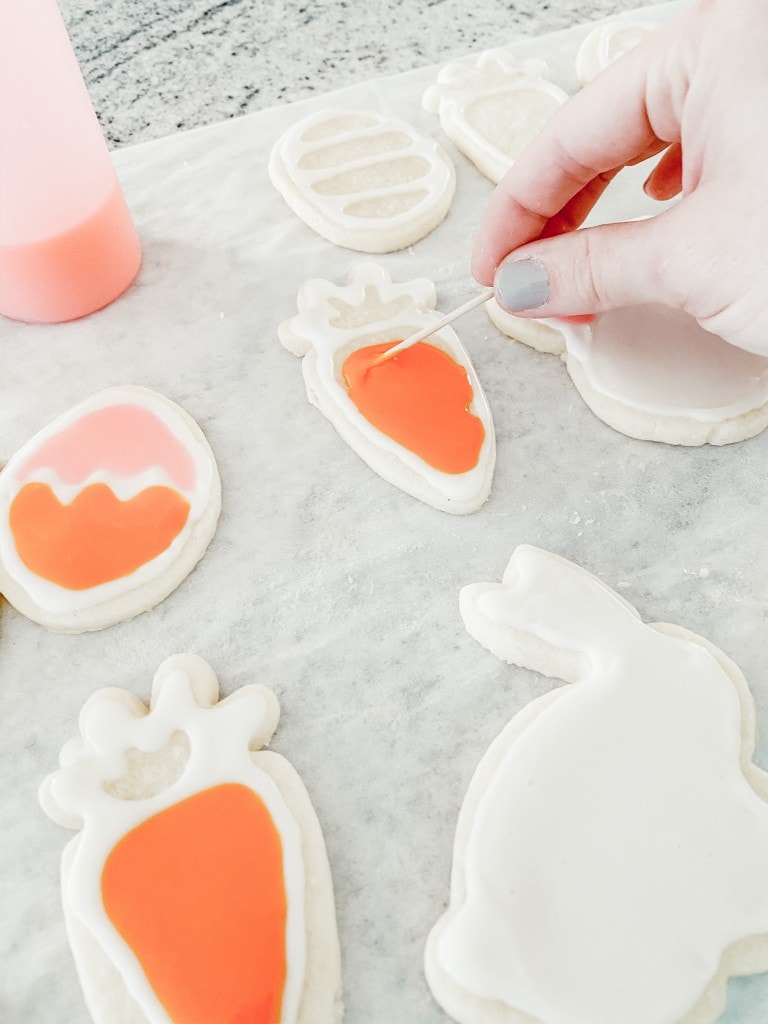 I find that using these squeeze bottles really make icing sugar cookies so much easier! It definitely gives you more control when icing and the cookies come out looking fantastic! Almost just like you bought them from a bakery!
I also shared a list of My Top Five Favorite Easter Desserts over on my blog and these, of course, made the cut as well!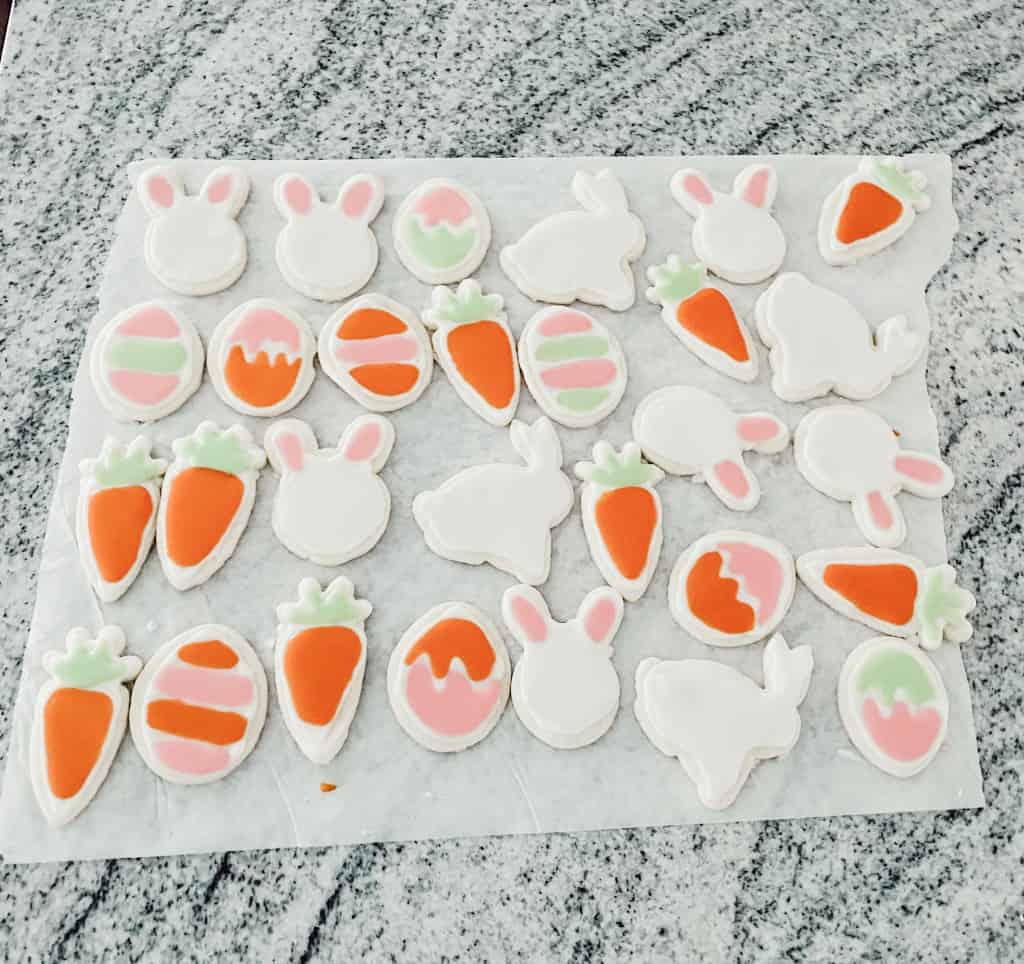 Well there you have it! That's all there is to my easiest way of icing Easter sugar cookies!
What do you think? Is this something you would try for yourself? It would be so fun to make these with your kids too and have them decorate the cookies any way they wanted to! Let me know if y'all try this out and how it went for you too!