Valentine's Day Rice Krispie Treats
This post and its photos may contain affiliate links. As an Amazon associate, I earn from qualifying purchases.
These Valentine's Rice Krispie treats are soft, chewy, and loaded with M&M's! Kids will love making these Rice Krispie Treats. They are easy to make, and everyone will love them. Plus, they are just the right size for a sweet treat.

Whether you are looking for a last-minute dessert or something to bring to school or Valentine's day parties, these treats will be perfect!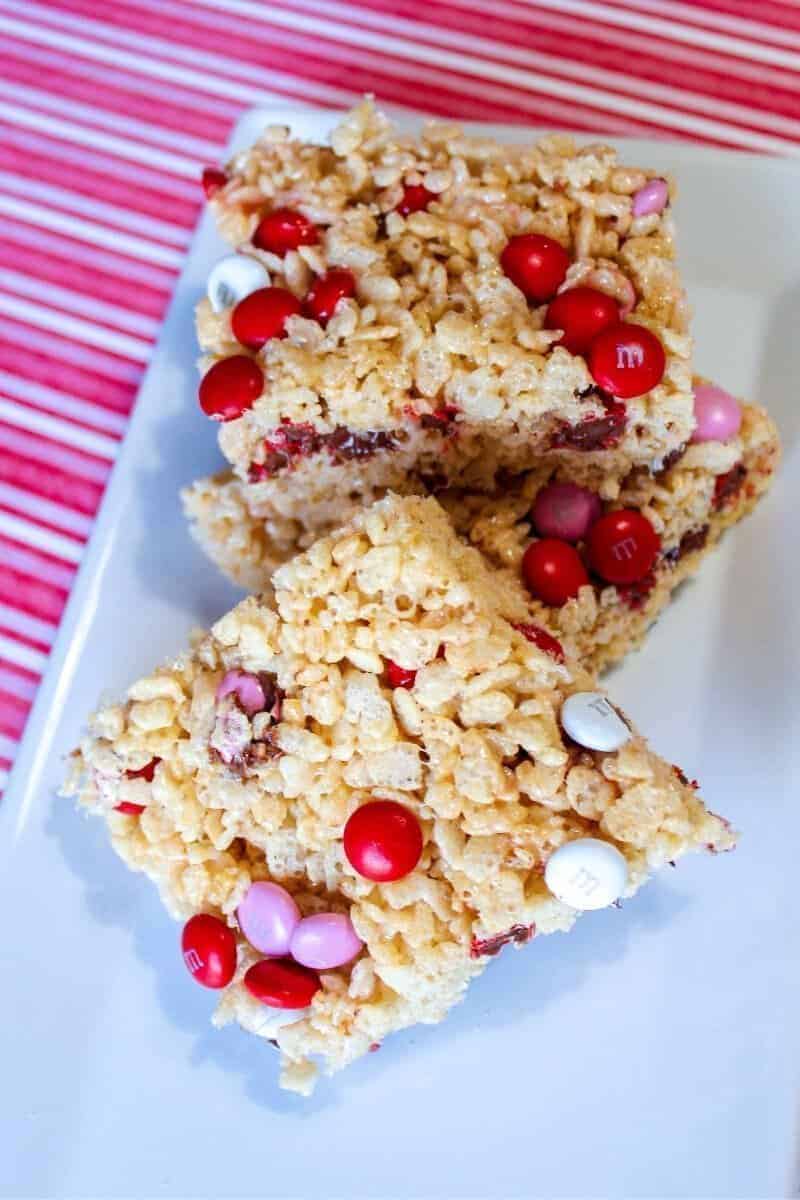 Easy Valentine's Rice Krispie Treat
Valentine's day is such a lovely time of the year. The one day when you have a reason to be all gushy and romantic with your partner or even make a fuss of the children. Valentine's day can be celebrated in different ways, but many people love the idea of cooking up a nice meal at home.

So what better way to finish off a delicious meal than with a yummy sweet treat? I have just the option for you that is so easy to make and tastes amazing. Real nostalgia from your childhood in every bite.
These Valentine's Rice Krispie treats are a taste sensation. They are super easy to make, and everyone will love them. You don't need a huge amount of ingredients, just a little time and some decorations to make them look a little special. The perfect recipe to let your kids get involved with.

Better still, they don't need to be just for Valentine's day. You can make these at any time of the year and use different decorations specific to a theme. So what are you waiting for? Here is everything you need to know to make Valentine's Rice Krispie treats.
If you're looking to spread the love this Valentine's Day, try our heart-shaped Mini Chocolate Covered Strawberry Cream Cheese Danishes! Or, these super easy 3-ingredient Valentine's Day Pretzels. They are sweet and salty perfection and will disappear as fast as you can make them!
These Rice Krispie Treats are…
adorable snacks that taste as good as they look
easy to make
no-bake
a delicious treat that is sure to impress your Valentine
Ingredients: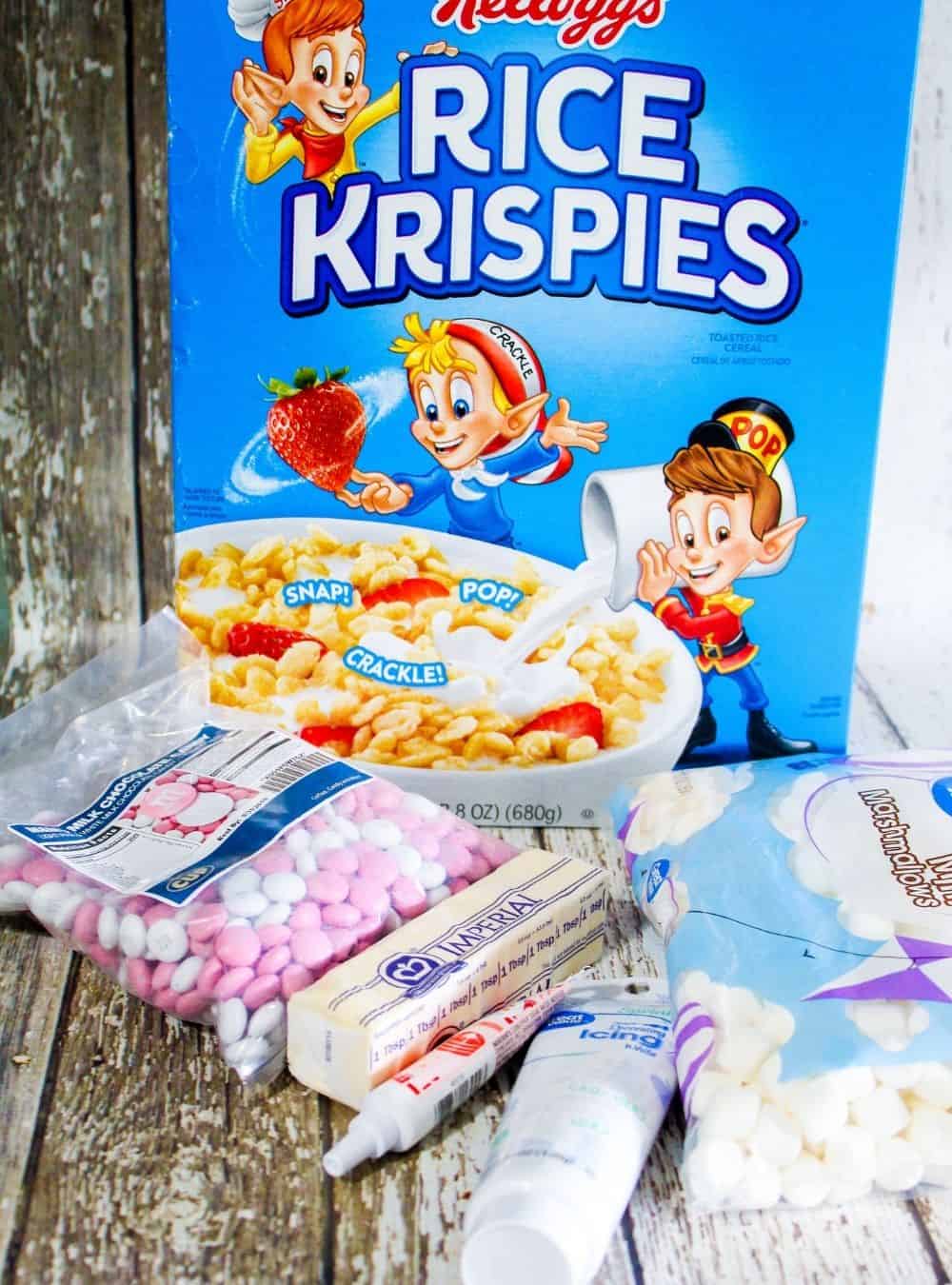 Rice Krispies
Mini marshmallows
Butter
Red, pink, and white M&Ms
How to make the Valentine's Rice Krispie Treats
Step 1. Get a saucepan and put it on medium heat. Melt the butter and marshmallows together. Stir as you melt the ingredients together to ensure they are well combined.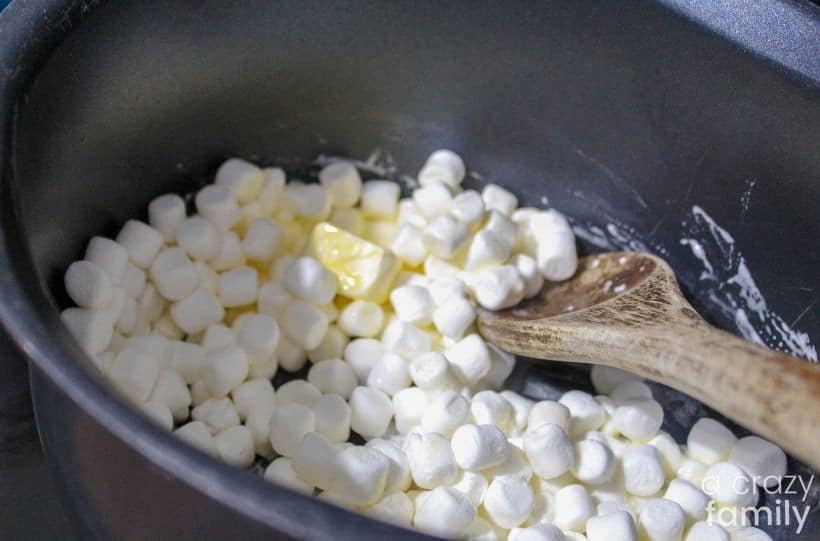 Step 2. In a big bowl, add the Rice Krispies, the melted butter mixture, and the M&Ms. Give everything a good mix to ensure the rice Krispies are coated.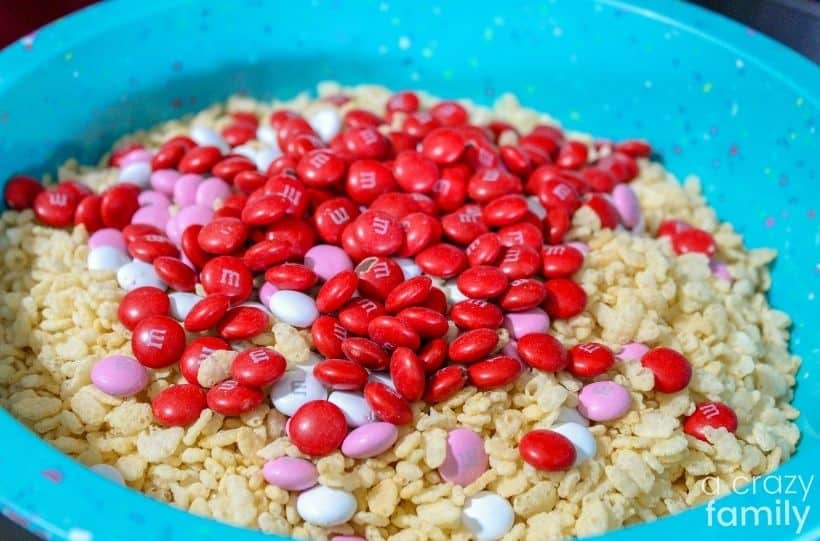 Step 3. After everything is mixed together, place the mixture into your pan.
Step 4. Patiently wait until they've set or dive right in and eat them while they're still warm. YUM! You can cut them into bars or bite-sized chunks. Even use fun cookie cutters to make Valentine-inspired shapes.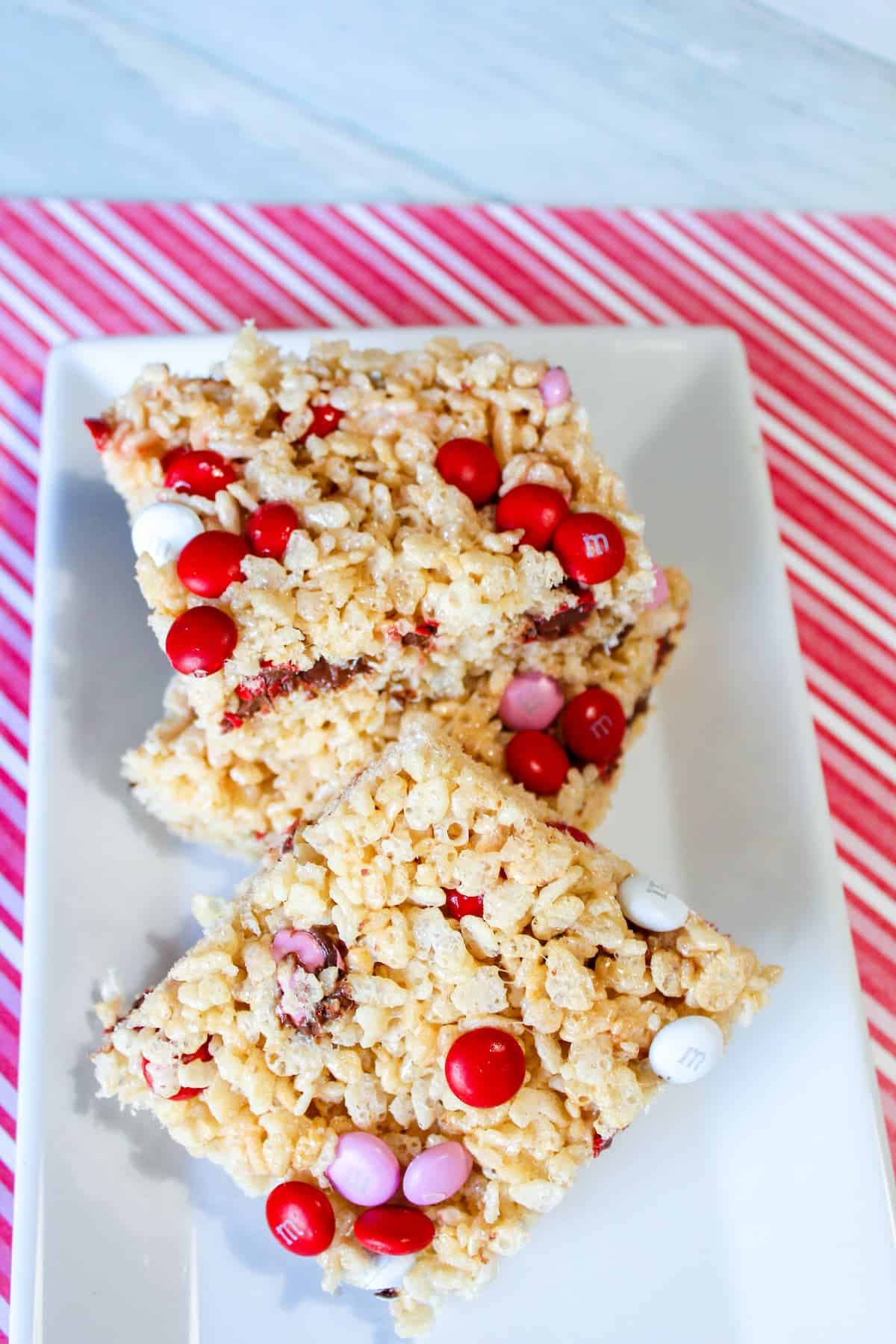 Tips & Tricks
Make sure the butter has melted into the marshmallows before adding the mixture to the rice Krispies.
Give the rice Krispies time to set. You could add the mixture to the fridge.
You can cut these up however you like. Small bite-sized pieces or larger bars. You could even use a cookie cutter shape to make some different ones.
Variations
Add other things you or your valentine love, such as nuts, dried fruit, or other candy.
You could even add a little red food coloring to the marshmallows and stir until you get the desired pink color.
You could make these vegan. Kellogg's Rice Krispies are not vegan, but more supermarket own brands are. Then just use vegan butter and vegan marshmallows to create a vegan sweet treat. Yum!
Add some chocolate chips to the rice Krispie mixture. You could add a mixture of white and dark, or just your favorite small chocolates.
Why not add some sweets to it? This would be a lovely way to make them a little sweeter. I am thinking of red Haribo hearts.
If you want to add some texture, then you could include some crushed cookies into the mixture. This would make it more of a rocky road-type dessert but still super tasty.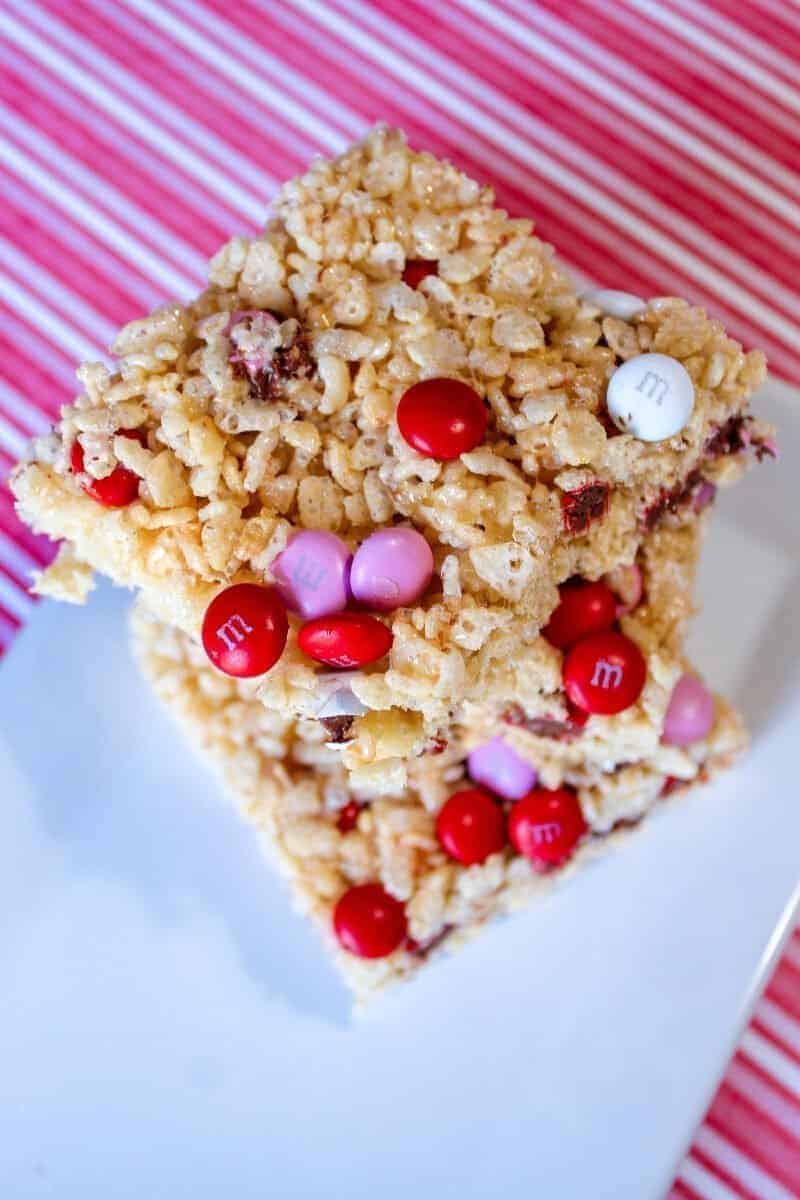 How should I serve the Valentine's Rice Krispie Treats?
You can enjoy them warm or leave them to set so they are more of a bar and chewy in texture. This is something that you can enjoy however you want.
What can I use instead of marshmallows?
If you can't get any marshmallows or want to use something else, then you could use almond butter and maple syrup. This will help combine the rice Krispies and get that desired texture you want. They will taste sweet and delicious.
How do I store the Valentine's Rice Krispie Treats?
If you plan to let them set, then you will want to store them in the fridge. Pop them in an airtight container once they are set and leave them in the fridge and enjoy them as and when you need them.

You can also store them at room temperature, which will make them a little more chewy and gooey. They will last, at their best, for a week.
Can I freeze the Valentine's Rice Krispie Treats?
Yes, you can freeze them! Make sure they have cooled and been cut into the shapes that you desire. Freeze them flat and individually on a baking sheet.

Once they are frozen, you can transfer them to a freezer bag or airtight container for easy storage. Just pull out as many as you need and let them defrost a little before enjoying them. They will last for 3 months. Delicious.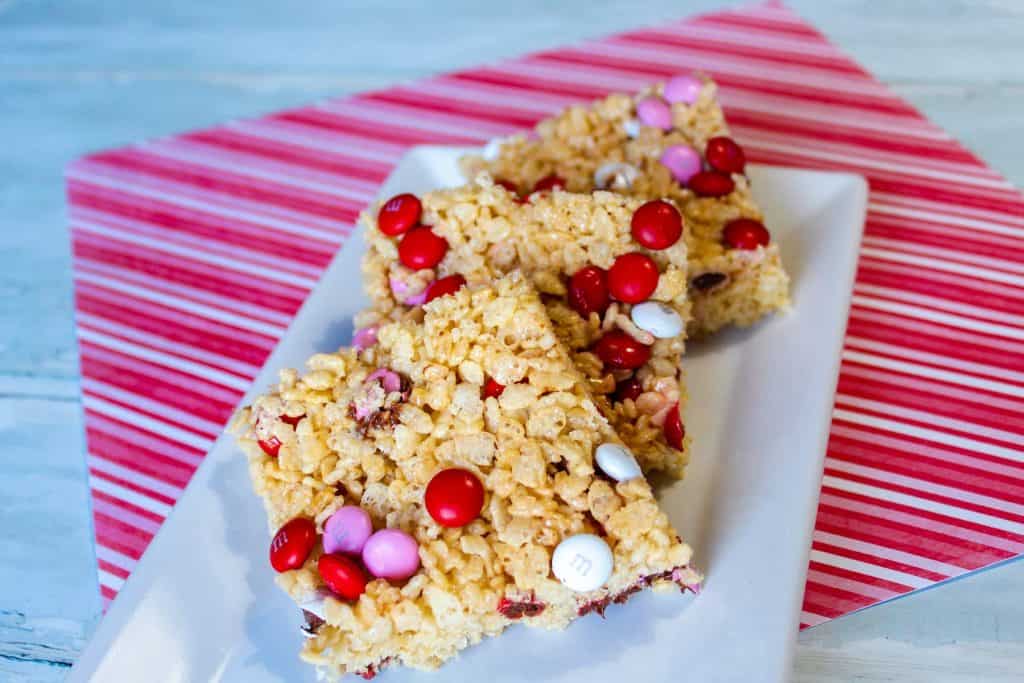 These Valentine's Day Rice Krispie Treats are sure to please everyone! They are easy to make and even easier to eat. So, get ready to show your loved ones how much you care with these delicious treats!
More Valentines Day Fun You'll Love
I hope you enjoy your Valentine's Day Rice Krispie Treats. If so, please leave a star ★★★★★ rating and a comment below! Follow along on Pinterest, Facebook, or Twitter for more delicious recipes!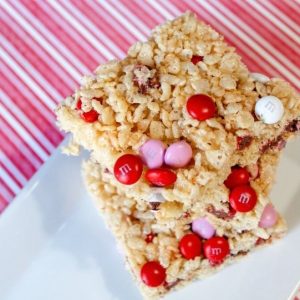 Valentine's Day Rice Krispie Treats
Ingredients
6

cups

Rice Krispies

4

cups

mini marshmallows

3

tablespoons

butter

1

cup

red pink & white M&Ms
Instructions
Line a 9×13 pan with wax paper.

Melt butter and marshmallows until smooth.

Add Rice Krispies to a big bowl and then mix melted butter mixture and M&Ms.

Stir to combine.

Transfer to the lined pan and spread out evenly.

Using another sheet of wax paper press down to make them flat.

Let set and cool before serving.
Nutrition
Calories:
235
kcal
|
Carbohydrates:
45
g
|
Protein:
3
g
|
Fat:
5
g
|
Cholesterol:
4
mg
|
Sodium:
123
mg
|
Fiber:
1
g
|
Sugar:
26
g
Nutrition information is automatically calculated, is intended to serve as an estimate only, and is provided for informational purposes. The accuracy of nutritional information is not guaranteed.
Did you make this recipe? Click stars to rate now! Or leave a comment below.