Easy DIY Farmhouse Popsicle Stick Coasters
By: Vickie | Updated: 25th March 2022
Turn popsicle sticks into beautiful DIY farmhouse style coasters with this simple craft.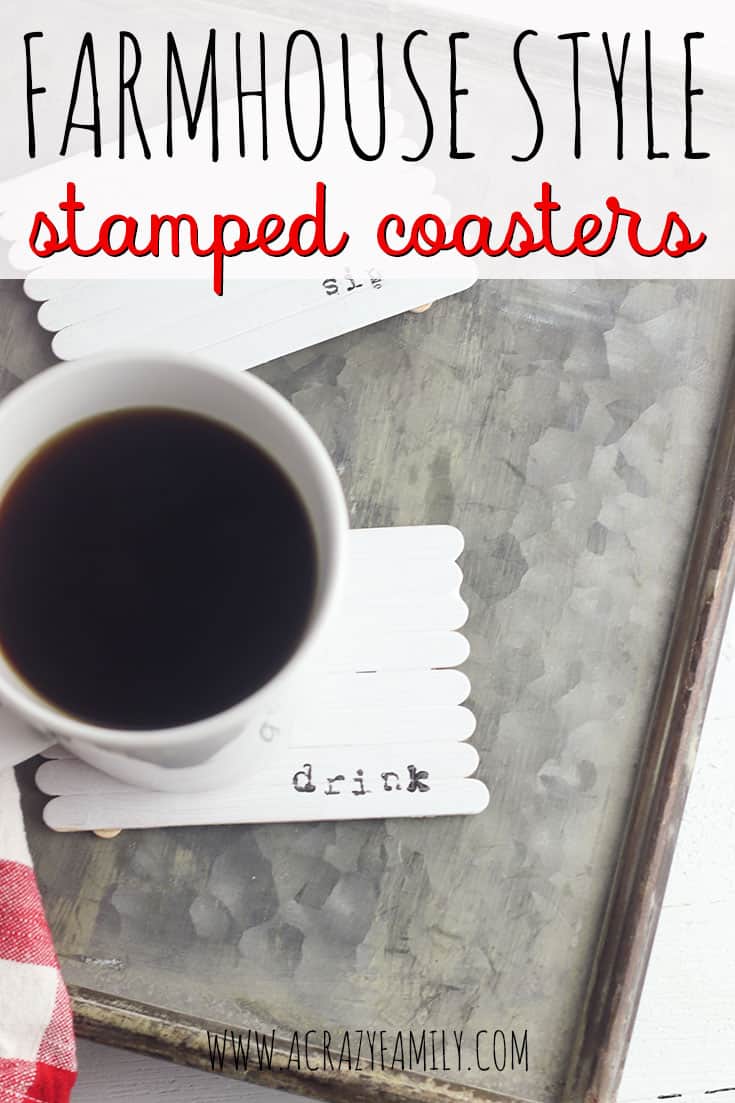 Crafting is a great way to pass the time – whether you're a kid or an adult! That's why I love easy crafts that can be put together by someone of any age or abilities.
This beautiful craft is one of those simple projects that it is easy enough for a child to put together, but pretty enough to use in your home once the craft is finished.
Other Posts I Think You'll Love:
Easy DIY Farmhouse Style Popsicle Stick Coasters
These farmhouse style popsicle stick coasters take about 10 minutes to make and will look amazing with the rest of your rustic décor.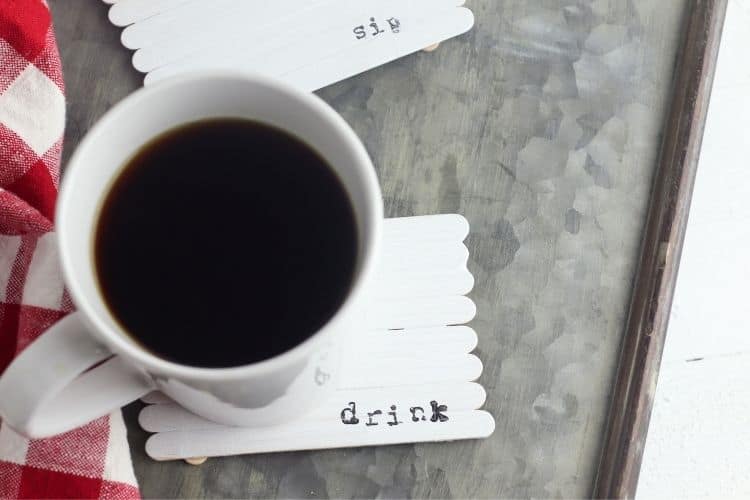 Supplies for Popsicle Stick Coasters
One thing I love about this easy craft is that you only need a handful of common craft supplies to put them together. To make your own popsicle stick coasters, you'll need:
Plain wood popsicle sticks
Hot glue gun
White and black paint
Letter stamps
Paint brush
Chalk paint wax or polyurethane
To give these popsicle stick coasters a farmhouse look, I used chalk paint to paint the coasters and stamp the letters on the top.
Since chalk paint is flat and more porous than glossy craft paint, it's a good idea to use sealant on your coasters to prevent water damage.
Chalk paint wax is a great way to maintain the flat coat while also protecting your coasters. Or you can add a glossy finish to your coasters with a coat of polyurethane.
How to Make Popsicle Stick Coasters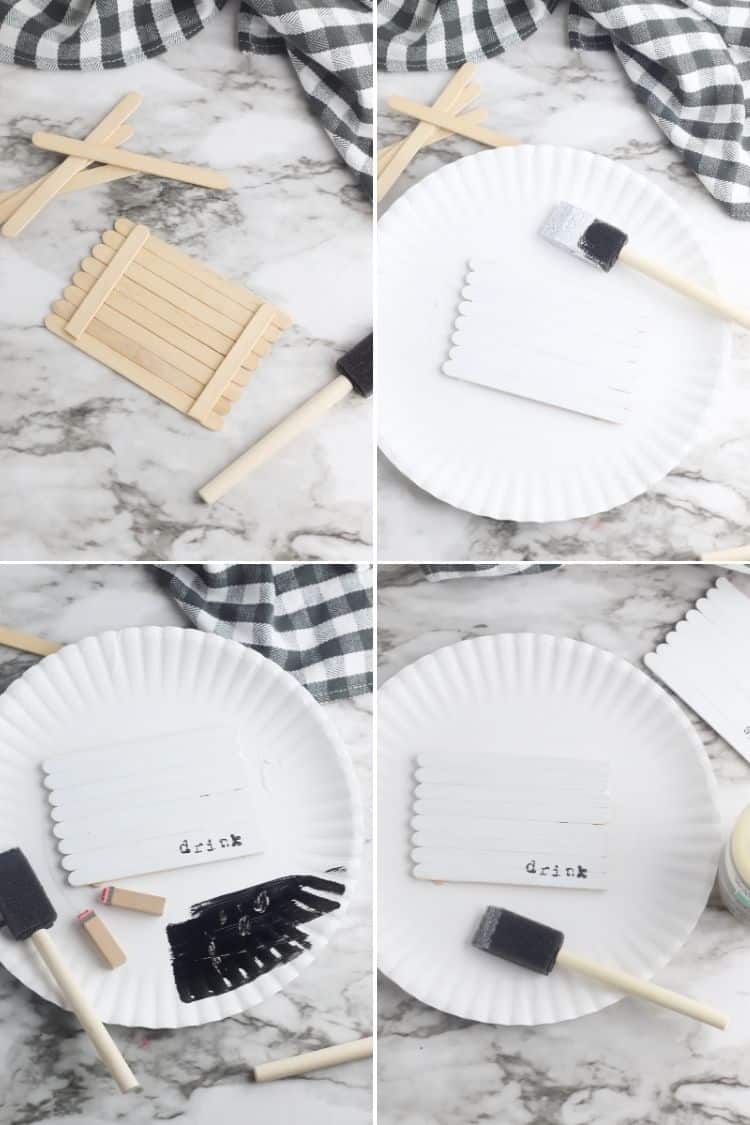 Making your own coasters out of popsicle sticks is so easy! For each coaster, you'll need a total of 10 popsicle sticks.
Start by laying out eight popsicle sticks in a row. Then cut the ends off the remaining two sticks, cutting them the length of the row of eight sticks.
Glue the two trimmed sticks to the back of your row of eight sticks to hold all the popsicle sticks in place.
When the glue has dried, paint each of the coasters with white paint. Two coats of paint should be enough to cover your popsicle stick coasters.
After the white paint has dried completely, it's time to start stamping! While you could use a traditional stamp pad to stamp your letters on your coasters, I decided to use paint to ensure the letters last as the coasters are used.
To use paint to stamp letters, place a small amount of paint on a paper plate or thick piece of paper. Use the paint brush to smooth the paint out into a thin layer on the surface.
Carefully dip your letter stamps into the paint, then stamp them on the coaster. Be careful not to push too hard on the stamp to prevent it from blurring.
Allow the black paint to dry completely, then finish your popsicle stick coasters by painting a layer of chalk paint wax or polyurethane over the top of the coasters to protect them from water damage.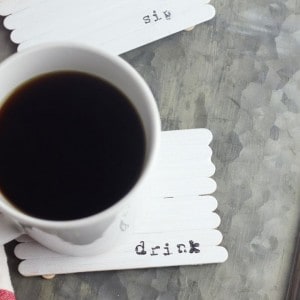 Popsicle Stick Coasters
makes how many
1
Popsicle Stick Coaster
Supplies
10

plain wood popsicle sticks per coaster

Hot glue gun

White chalk paint

Black chalk paint

Letter stamps

Paint brush

Chalk paint wax
Instructions
Make the coaster by laying eight popsicle sticks in a line on a flat surface.

Cut the ends of the remaining two sticks, making sure they're the correct length to fit along the top and bottom of the row of eight sticks. Make sure the popsicle sticks are evenly aligned, then place a line of hot glue along the top of the sticks.

Press one of the trimmed sticks in place and hold until the glue has set. Repeat the process along the bottom of the popsicle sticks.

Flip the coaster over and paint the top using white chalk paint.

When the paint has dried, spread a thin layer of black chalk paint over a flat surface. Carefully dip your letter stamps into the paint, then press them onto the coasters to spell words.

Allow the coasters to dry completely, then spread a layer of wax over the top to protect the paint and wood from water damage. Treat the coasters with another layer of wax every month to keep them from being damaged.

Click stars to rate now! Or leave a comment below.
This is such an easy craft. And in the end, you will have some beautiful and useful coasters that you can use in your home.
It is my hope that you enjoy making these as much as we did.
Oh and don't forget to pin it for later…