This fun Pancake Day Word Search printable puzzle is fun for kids and families! Great for kids of all ages! Perfect for families and classrooms!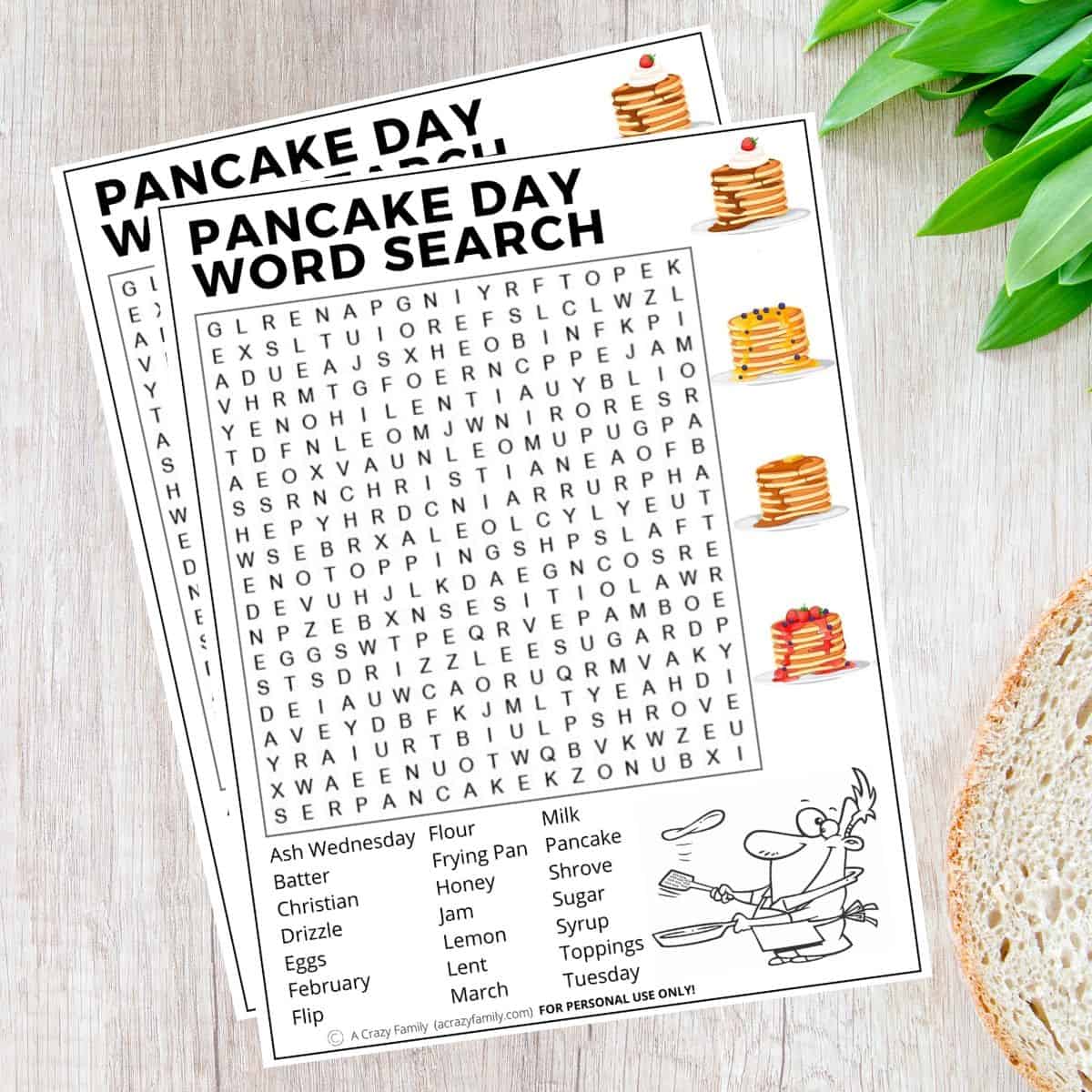 We sure do love our word searches around here, and since I was reminded this morning that it's pancake day next week, I thought I'd put together this Pancake Day word search printable!
There are twenty-one words and phrases in this printable word search that's perfect for elementary-school-aged children and older – even the grown-ups will love this one!
Word searches and similar puzzles have also been proven to help increase memory retention and concentration in people of all ages.
It is a fun activity that also helps kids build their vocabulary and improve their spelling skills. Word Searches also help kids practice staying focused, and they're a good way to develop visual scanning and fine motor skills.
Word searches are perfect for rainy days and last-minute situations where you need to engage a child in quiet independent play. Click here to check out our entire collection of word searches for kids.
And the best part? All of our word searches worksheets and activities are free, easy to download, and do not require that you sign up or become a member for access.
Are you in a rush? Click here to save this Pancake Day Wordsearch Activity to your favorite printables board on Pinterest. This way, you can easily come back to this free worksheet anytime you want!
Pancake Day Word Search Printable
Words go forward, up, down, and even backward. There are no diagonal words on this one!
Simply download or print the word search from the link below for your class parties, Scout troop meetings, after-school clubs, family game night, and more!
Print & Download Instructions
To start, click on the link to download. A new window with a printable pdf will appear and you can proceed to print your free Pancake Day Word Search.
We highly suggest you save the document somewhere on your hard drive where it is easy to find so you can print it again and again.
Do you prefer not to download this word search as a pdf? No problem! You can save the image below to your hard drive and print each image file separately after opening it in an image editor.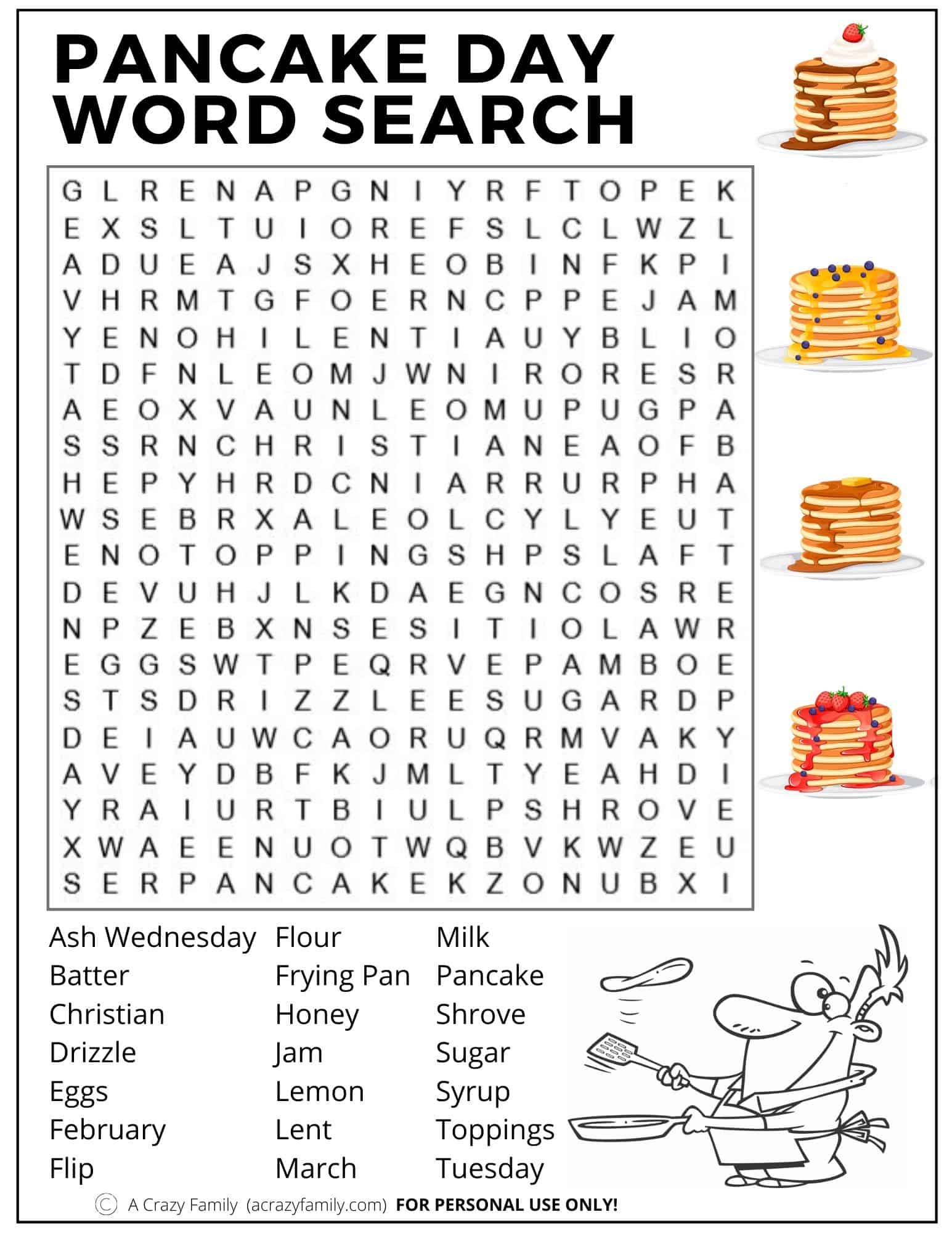 Click here to download & print the Pancake Day Word Search Printable
Did you enjoy this free printable Wordsearch for kids? We would appreciate it if you helped spread the word. Click here to share this post on Pinterest so you can come back to it again.
Please note that these printables are free for personal use only. They cannot be sold or modified in any way.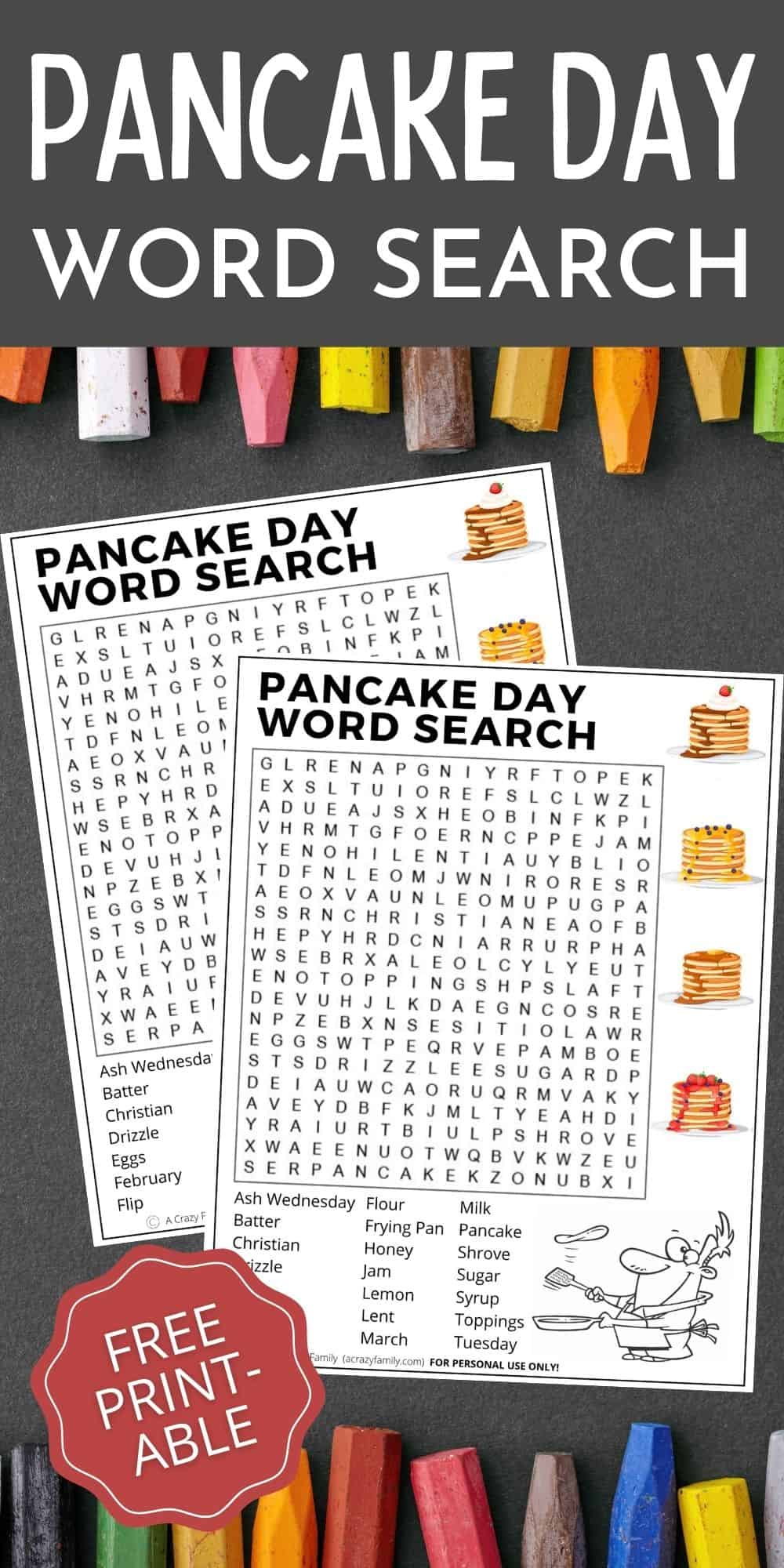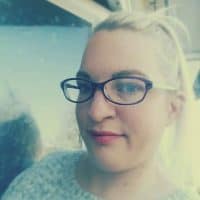 Vickie Louise is the Founder and Editor-in-Chief of A Crazy Family. She is a stay at home mom of a little boy with a big personality. After having her son, she realized how important it is for moms to take care of themselves, physically and mentally. Vickie believes in the power of using social media and her online presence for good and is thrilled to provide you with a space to celebrate all that is awesome (and a little crazy) in the world.