8 Easter Basket Ideas For Babies
By: Vickie | Updated: 7th August 2023
With Easter fast approaching, parents everywhere have started to assemble baskets for their children. However, putting together the perfect Easter basket for babies can be difficult at times.
Infants do not have many wants other than basic needs, and they grow out of clothes and toys rapidly.
As a parent, you can choose to get them gifts for the short term or the long term. Following is a list of gifts that are perfect for either route and are sure to light up your baby's face on Easter morning.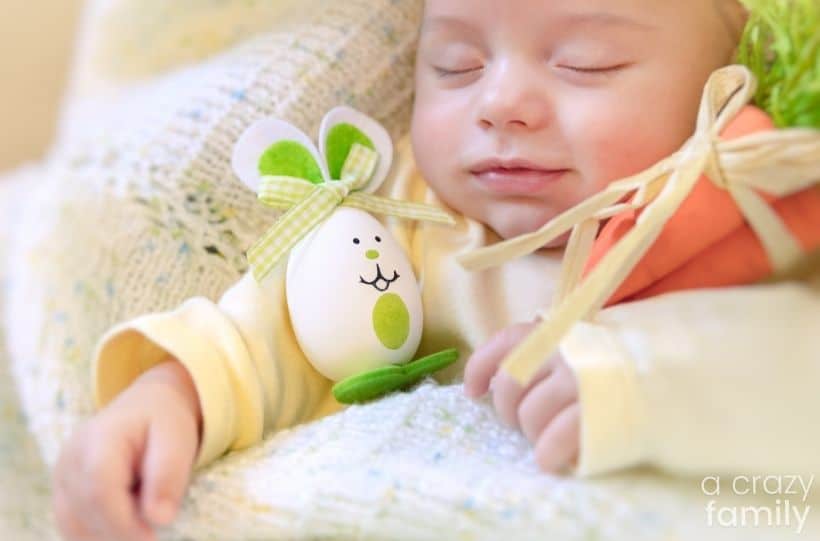 Custom Baskets
Getting your infant a custom Easter basket now is a great idea as it is something that they can use year after year. There are plenty of ways to get custom Easter baskets. Some like to cover plastic baskets with stickers and decals.
You can get fabric baskets with custom embroidery, and you can even order custom wicker baskets to your liking. These baskets are a great way to make your infant's Easter experience unique and it is something they can use for a long time.
Easter Pajamas
Yes, babies grow out of pajamas rather rapidly, and they will probably only get to wear these a few times during the Easter season. However, seeing how adorable they are in snuggly Easter pajamas is well worth it.
Think of these as more of a gift for you as the parent. Still, your infant isn't going to care if their pajamas are Easter-themed in summer as long as they are soft, so why not get you and your child something? Consider this cute onesie from Simplee kids, which is available in a range of sizes and colors.
Shumee Toys Wooden Egg Rattler
These wooden rattlers from Shumee Toys help your child develop their auditory and motor skills and offer fun sensory experiences. They are suitable for infants over three months old and are safe for children as they are made with quality organic materials.
They are perfect for an Easter basket gift or to hide for your infant to hide on an egg hunt. If you are looking for a fun toy that can help your child develop, these wooden rattlers are perfect!
Edible Baby Treats
Now, this is absolutely a gift your baby can get excited for. Infants love snacking on treats, and with chocolate and marshmallows being such a large part of the Easter season, it's nice to let your child feel included.
There are all kinds of baby-safe treats you can get for your child, such as Gerber or HappyLife snacks that are made for babies to enjoy. If your child is able to eat harder foods, I recommend these Gerber puffs.
Easter Picture Books
There are several baby-friendly picture books that have stories about rabbits, ducks, or Easter in specific. These books are great as they can help you bond with your baby and provide them with developmental aid.
Reading to your child is a fantastic way to spend quality time and nurture them in the process. Plus, Easter-themed picture books are a fantastic way to get into the spirit of the season with your child and teach them about what Easter means from a young age.
Infantino Carrot Teether
This fun little teether from Infantino and others like it are a great and affordable gift to tuck into your infant's easter basket. It is bright and fun and helps to encourage teething and includes built-in handles.
It is small enough that your infant can hold it on their own, and it features textures made to aid developmental growth while still helping to soothe your child's gums. It is made of BPA-free silicone meaning that it is soft yet durable and can hold up to extensive teething.
Teething can be beneficial for your infant in several ways, as it can help them use their senses to explore texture, taste, and temperature. Further, it can aid in eating and speaking as it will help build vital muscles in your child's mouth.
If you are looking for a simple, safe, and affordable gift that will help your child, then look no further than this teether toy.
Crochet Baby Blanket
Baby blankets are some of the most beloved items that your child will own and carry throughout their developmental years. This means that they are also a phenomenal gift for your child this Easter season.
You can get crocheted baby blankets in all kinds of colors, which means you can get them in fun Easter colors as well. Your infant will love snuggling up with their brand new blanket, and you will love just how peaceful they sleep with it.
Plus, quality crocheted blankets can withstand a lot of abuse and play, making them great for kids who love to have their blanket with them at all times.
Tomy Toomies Hide And Squeak Easter Game
This educational toy is a great addition to your infant's Easter basket, as it contains six vibrant Easter egg toys that infants can play with. The eggs can be cracked open to reveal bright and colorful chicks on the inside before being put back together.
The chicks chirp when their heads are pressed down and are lots of fun for babies. This toy helps to promote color recognition, auditory development, and sorting abilities. Children will love taking the eggs out and sorting them back into the container.
Assembling your infant's Easter basket can be a tricky task at first. Infants rarely have special interests, and they often outgrow their toys and clothes soon after getting them. However, just because they won't be able to use something forever does not mean it is not still worth getting them in the long term.
Easter is a special occasion, and a great way to celebrate and bond with your baby. With the entries on this list, you are well on your way to making the perfect Easter basket that your baby is sure to love this holiday season.