5 Best Easter Basket Ideas For Toddlers
By: Vickie | Updated: 7th August 2023
Easter is one of the most fun times of the year for toddlers. Easter means egg hunts, toys, plenty of chocolate, and of course visits from the Easter Bunny. As a parent, putting together the perfect Easter basket for your toddler can be difficult at times.
There are so many new toys coming out, and chances are your toddlers' interests change almost constantly. However, that does not mean that you can't assemble a stellar Easter basket for your child this Easter.
Following are some of the best gifts for your toddler that will make perfect additions to their Easter basket.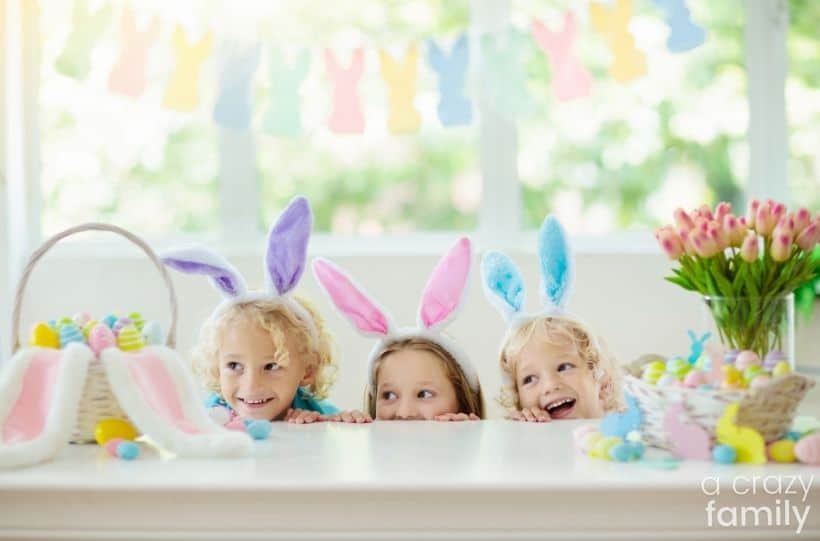 Lego Duplo
Kids love LEGO, but the small bricks and tiny pieces can be hazardous to small children. That is why Lego made Duplo, which are larger and more durable building blocks. Your toddler will love building and playing with these fun Duplo sets.
There are plenty of great sets to choose from, and all of them come with everything your toddler needs to have a blast exploring their creativity. For instance, this LEGO Duplo set features a numbers train that will help your child learn numbers and ordinal counting.
It comes with fun figures and accessories so your child can start playing with it as soon as they are done building it. If you are looking for some fun and safe toys that stimulate creativity, LEGO Duplo would make a great addition to your child's Easter basket.
Little Tikes Two-In-One Pirate Ship Ride-On And Playset
This fun pirate ship vehicle lets your child set course for a wonderful adventure in the seas of your own home. This ship is comfortable and supports children up to fifty pounds as they peddle around the playroom looking for treasure.
This ride-on also doubles as a playset and includes pirate action figures and a cannon accessory. The toys can be stored in the seat of the ship so your child can take the pirate adventuring with them wherever they go.
The ride-on aspect of this toy can help to develop balance, coordination, and motor skills as they scoot around. By simply turning the mast of the pirate ship you can turn the front wheels left or right and go wherever you please.
This toy is perfect for toddlers, kids who love rideable vehicles, or kids who love grand adventure-themed fun, and it makes for an excellent surprise on Easter morning.
Skoolzy Toddler Peg Board Toy
This pegboard toy from Skoolzy helps your toddler build fine motor skills, hand-eye coordination, and develop necessary visual perception and coordination skills and patterns. This toy comes with thirty pegs in nine different colors so that your child can practice and have fun stacking and matching on the board.
The toys are oversized and easy for toddler fingers to grasp and manipulate in order to build towers and play games. The pegboard is durable and can withstand lots of play, and best of all your toddlers will be having too much fun to realize that they are learning as well.
All of the included toys can be easily sanitized and are light and can be packed away for storage. Plus as the parent, you can make up plenty of fun ways to play with the toy, and use it to teach your child colors, matching, numbers, and more.
This is a good educational toy that is open-ended enough to have lots of educational potential, making it a great Easter basket inclusion.
CYSUB Easter Egg Sensory Learning Toy
This Easter-themed toy from CYSUB includes a dozen eggs in grocery store packaging, tying into the theme of eggs and Easter. Each egg can be split open revealing a color and two halves of a shape.
They are made so that little hands can grasp them and crack them open to reveal what's inside before putting them back together again. This toy can help your child develop and improve intelligence, color and shape recognition, finger dexterity, and fine motor skills.
Your child will learn about shapes and colors as well as matching the two together, and it can be a great way to introduce them to picking eggs at the store and making them at home.
The eggs are large enough so that you do not have to worry about any choking hazards, and they are made from sturdy BPA-free plastic. Plus the egg case makes for easy cleanup and storage, as well as transportation.
These egg toys are a great Easter-themed gift in no small part because of their educational value, and because your child will love cracking them open and putting them back together again.
Little Tikes Fish'n Splash Water Table
This is a fun and sturdy water table that includes fishing and counting games. Your child will catch, collect, and count their fish before releasing them at the end with a big splash.
There are a few different game modes that your toddler can play, and they will have a blast with each one. Your child can fill up the fish bowl until it tips over, creating a big wave on the table.
The table features a launcher so that your child can practice launching the included critter toys onto the center lily pad on the table.
This set includes a fishing pole, water cup, five floating critters, and a fishing net. There is lots your child can do with this table, and it is guaranteed to be a fun time all around!
Finding the perfect gift for your toddler's Easter basket can seem tricky. Toddlers move from interest to interest rather rapidly, making it hard to get them the perfect gift. Therefore, it is important to get them durable gifts that offer fun and educational experiences so they get the most out of their toys.
The toys on this list promote development both physically and intellectually, not that your child will notice that they are learning because of all the fun that they will be having. If you are looking for some top-tier gifts for your child's Easter basket, look no further.