By: Vickie | Updated: 23rd November 2022
Creating a fairy garden is a great way to celebrate spring and have a little creative fun. But did you know that building a fairy garden can also be an educational activity?
This spring, help your little one have some fun and engage in sensory play at the same time by creating an indoor fairy garden.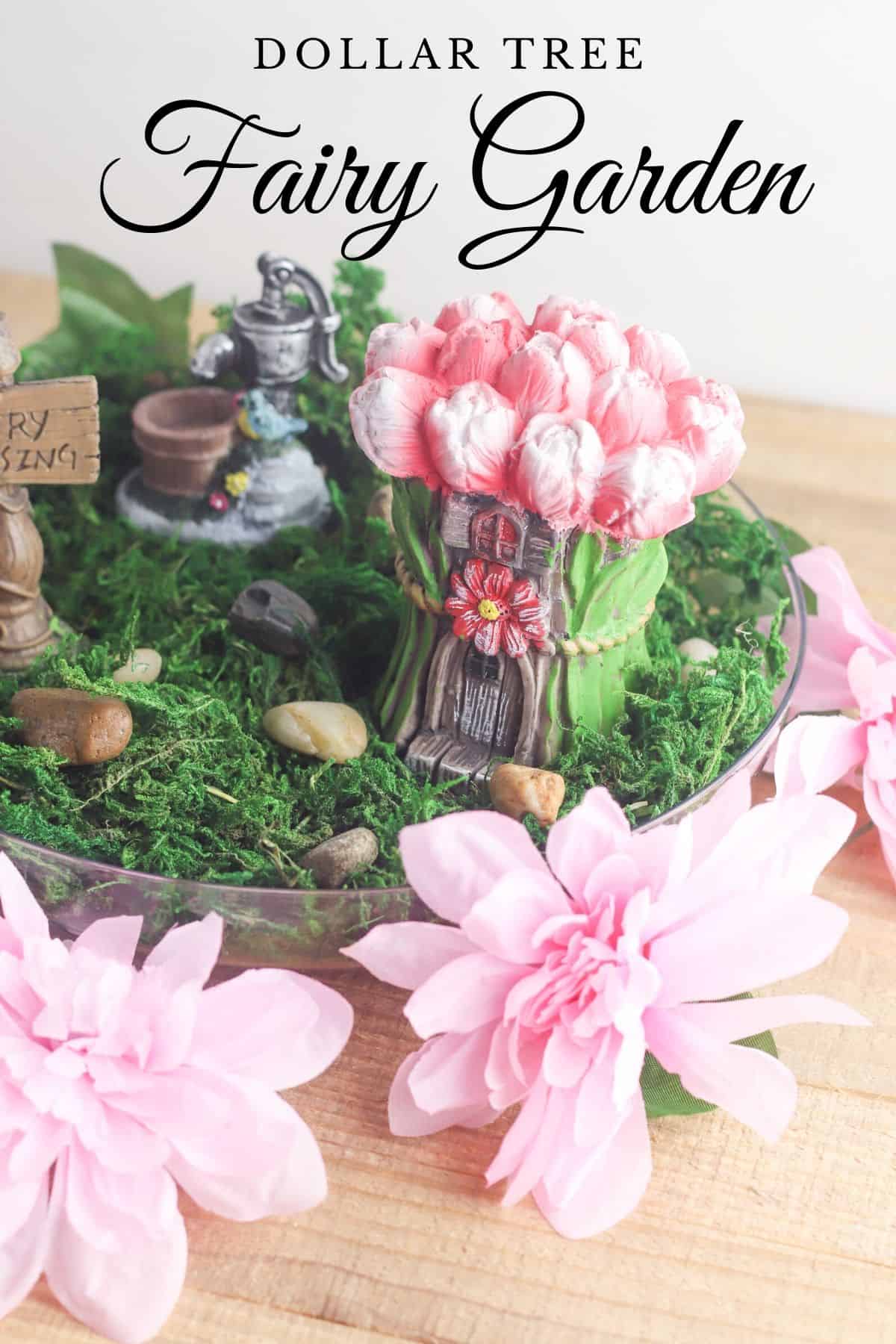 Indoor Fairy Garden Supplies
Creating your own indoor fairy garden is so simple! And the best part about this fun garden activity is that you can find everything you need at the dollar store.
Start by finding a container for your fairy garden. You can use a large garden bowl, like the one I used, or just build your fairy garden in a box, on a baking sheet, in a large planter, or in a bowl.
After finding the container for your garden, you'll need a few filler items to create the garden setting. Since this garden will be built indoors, you can grab a few faux garden elements from the craft section of your favorite dollar store. The base of my fairy garden was made up of green moss, rocks, and faux flowers.
In addition to the basic garden elements, you'll also need some adorable fairy garden pieces, like fairy houses, signs, benches, and other tiny decorative elements.
And don't forget to grab some fairy and gnome figurines for your little one to play with inside their fairy garden!
Building an Indoor Fairy Garden
Now that you have your fairy garden supplies gathered up, it's time to build your cute indoor fairy garden.
Start by creating the base for your garden with the decorative green moss. After opening the package of moss, you can fluff up the moss by pulling it apart and placing the pieces inside the bowl. Be sure to pack the moss into the bowl to create a sturdy base for all your fairy garden pieces.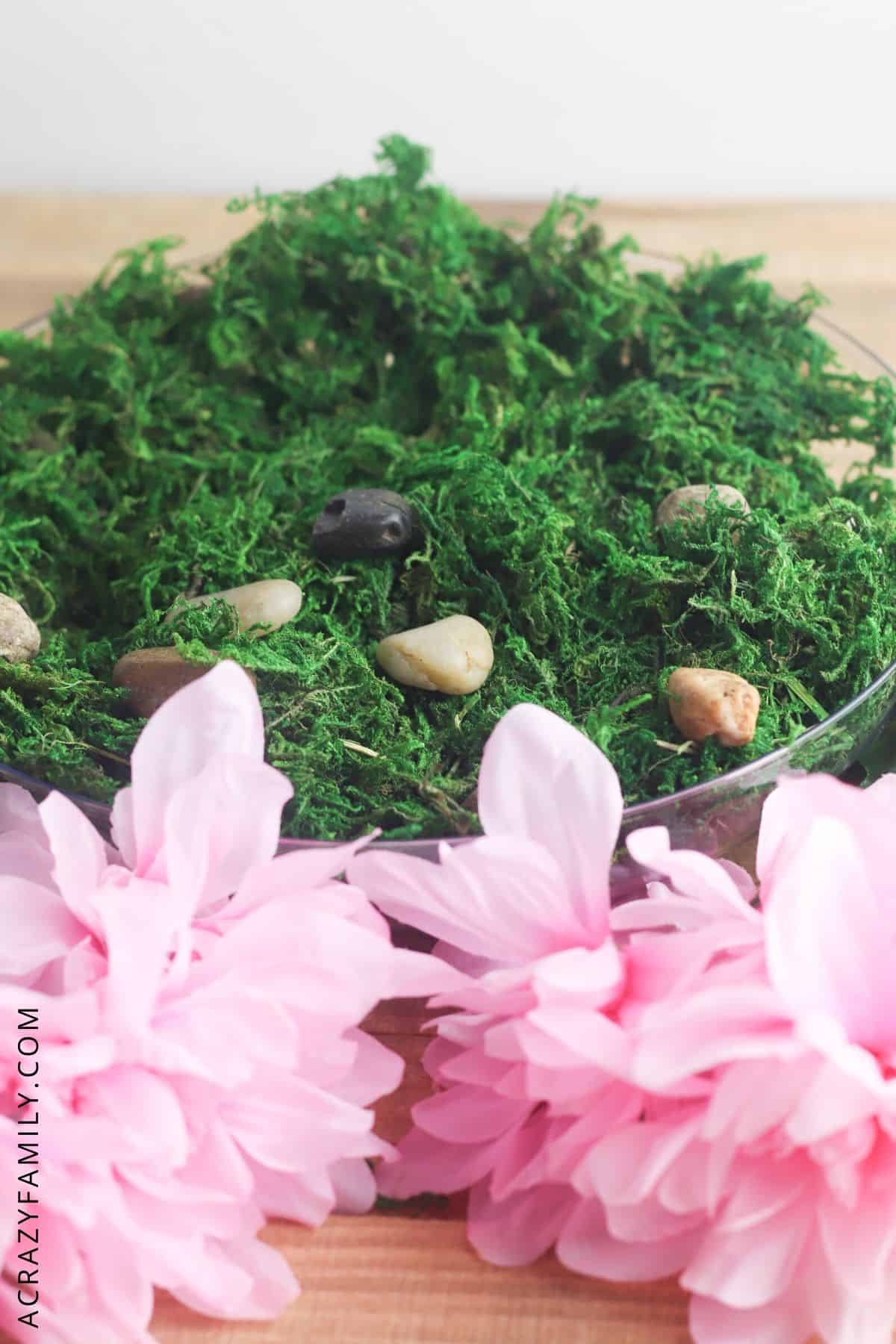 After filling the bowl with moss, scatter a few rocks across the moss for your child to play with as they create their fairy garden.
Finally, prepare the faux flowers by cutting the flower stems from the larger flower arrangement.
In the fairy garden, the flowers will act as trees and bushes, so cutting the stems to the correct length is essential. Start by cutting the stems off the arrangement. Then, place the stems in the moss and trim them until they're the perfect length for your fairy garden.
Next, create the fairy garden by placing the houses and decorative elements in the garden.
If your child is old enough to design their own garden, let them have a little bit of fun placing the elements throughout the garden bowl. But if you plan on letting your toddler or preschooler play in the garden, it may be a good idea to set up the garden before they start enjoying it.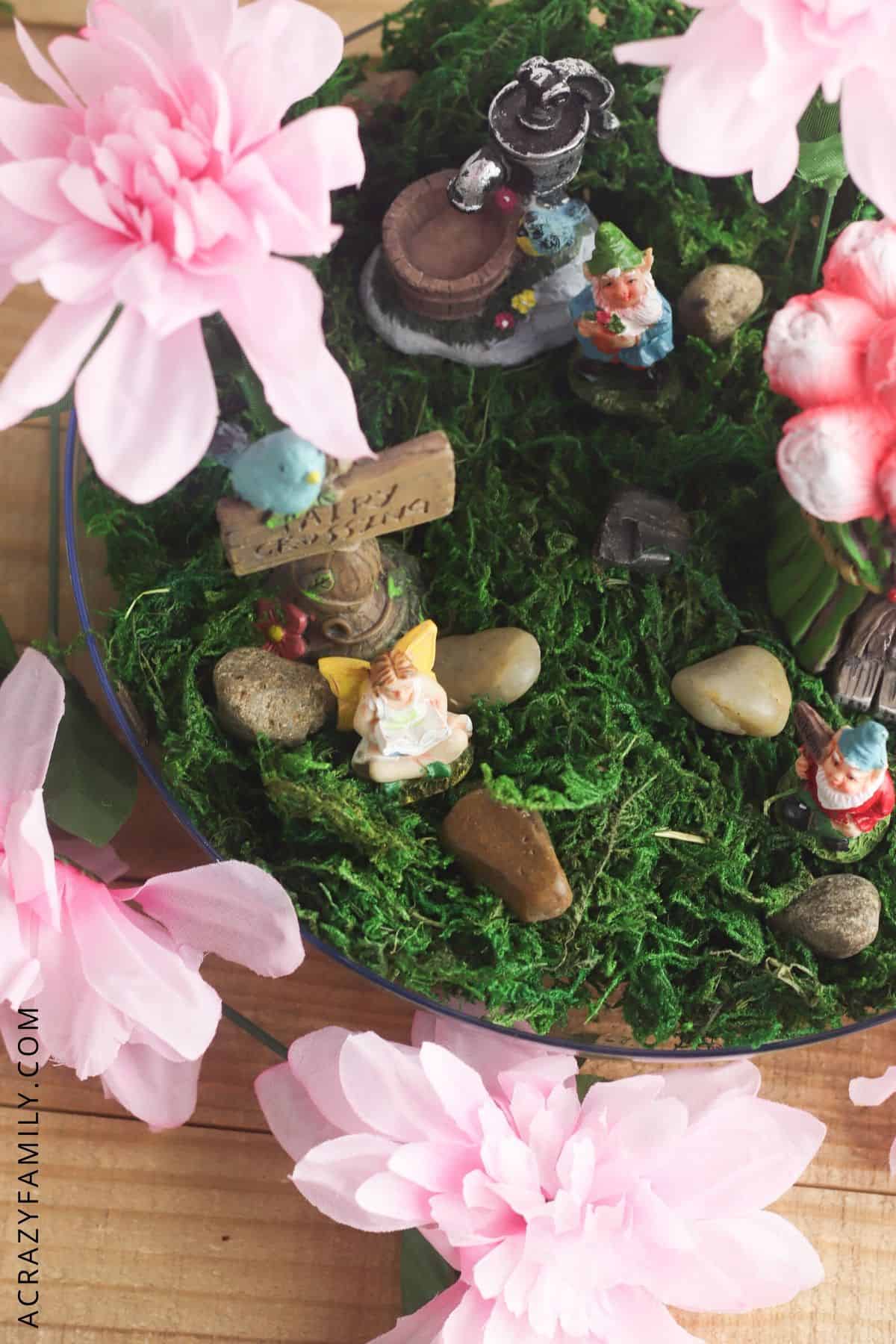 Fairy Garden Sensory Play
Transforming your indoor fairy garden into a place for sensory play is simple! You could just let your little one use their imagination and play with the garden elements and figurines. Or you could encourage sensory play by asking them to:
Explore the different textures in the fair garden, from the soft green moss to the smooth rocks. Ask them about the way each item feels in their hands and encourage them to find different textures throughout the garden.
Place the figurines in different spots throughout the fairy garden to create scenes with the elements. Encourage your child to use their imagination and create stories to go along with the fairy and gnome figures. Then have them act out scenes inside their fairy garden.
Rearrange the fairy garden to group items by size or color. Sorting the elements is a great way to improve their fine motor skills and enhance their beginning math concepts.
Head outside to find other items they could include in their fairy garden. Let your child use their imagination to come up with new additions to their fairy garden or check out the list below to get some inspiration before you head to your back yard.
In addition to encouraging educational play, you could also use the garden for sensory exploration. Instead of setting up a fairy garden for your child to enjoy, add the elements to a large sensory bin and let them explore each item on their own. You could even add additional fairy garden elements, like:
Spanish moss
Water
Pebbles
Rocks in different sizes and colors
Leaves
Real flowers
Shells
Pinecones and acorns
Twigs and sticks
Seeds
Dirt
Sand
After deciding the types of items you plan to add to your sensory bin, place everything inside the bin and let your little one play using their senses and their imagination!
Fairy Garden Supplies:
Large garden bowl
Green moss
Rocks
Fairy houses
Fairy bench
Fairy signs
Fairies
Gnomes
Faux flowers
Instructions:
Fill the garden bowl with moss and add rocks throughout.
Add fairy houses, benches, and signs.
Place fairies and gnomes in the garden.
Decorate with faux flowers.
Note: All supplies were purchased at Dollar Tree.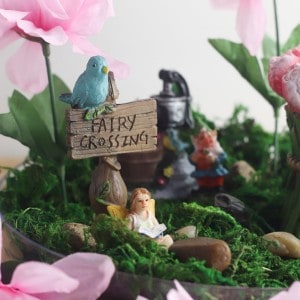 Supplies
Large garden bowl

Green moss

Rocks

Fairy houses

Fairy bench

Fairy signs

Fairies

Gnomes

Faux flowers
Instructions
Fill the garden bowl with moss and add rocks throughout.

Add fairy houses, benches, and signs.

Place fairies and gnomes in the garden.

Decorate with faux flowers.
Notes
All supplies were purchased at Dollar Tree.
Click stars to rate now! Or leave a comment below.