How To Repurpose Old Candle Jars
By: Mornings on Macedonia | Updated: 25th March 2023
If you're anything like me, then you know I am always looking for a quick and easy DIY project. I also want to be able to repurpose something when I can as well. That's why when I saw these beautiful amber candle jars, I knew I needed to repurpose them after I had finished burning them.
Again, these pretty candles are from Modern Forestry and I shared more about them in my last post here as well. I just love not only the scent of the candles, but also the jars to them as well.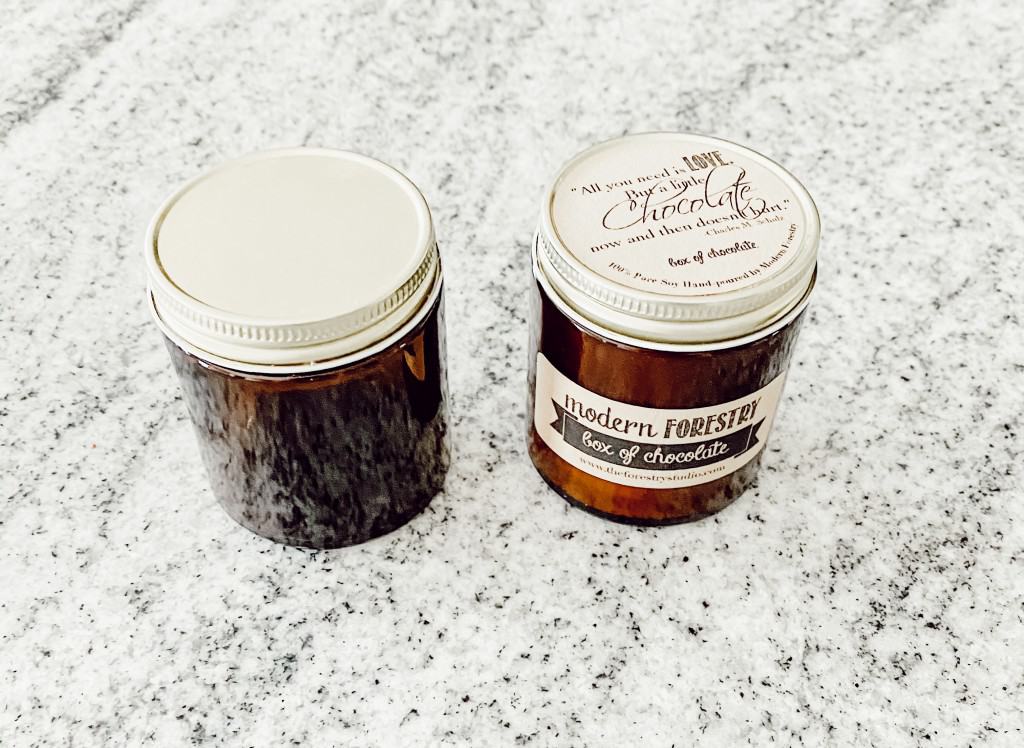 Getting Wax out of the Candle Jar
You may be wondering, well how do I get out the leftover wax in the jar after I've burned through the candle?? I am here to tell you it is a super easy process! All you have to do once you burn it down, is place it in the freezer (after it's completely cooled of course) and let it sit there overnight.
Then, the next day, take a butter knife and simply pop out the remaining wax! Usually, placing it in the freezer makes it crack a little so you can easily stick your butter knife in there to start popping the wax out! And also, when it's frozen it will usually come out in chucks. Although, I recommend doing this over your trashcan so the little pieces don't fly everywhere. If you don't, you may have to sweep everything up!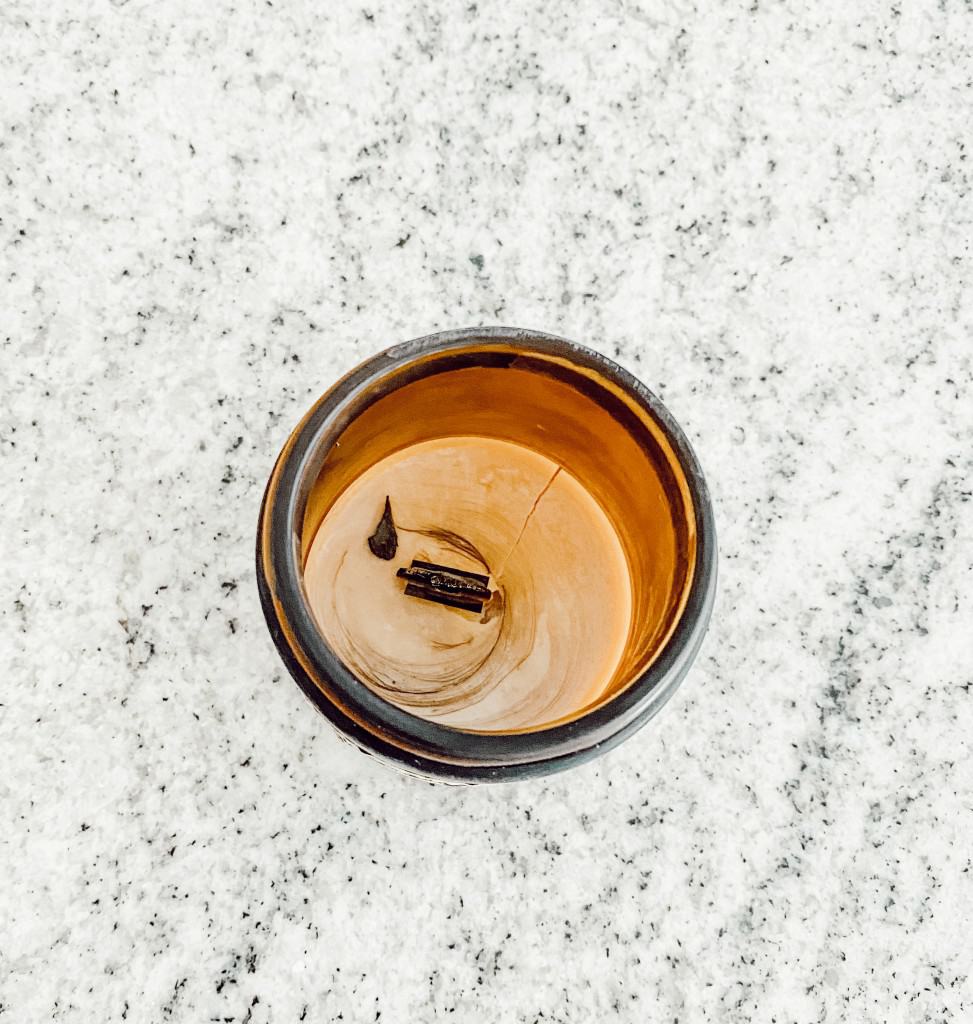 After I got all the wax and the wick (I was able to pop that out easily with the butter knife too), I peeled off the labels to the jar. Now, I was left with some sticky residue from the labels so then I needed to get that off.
Cleaning the Candle Jar
To get off the sticky residue, I washed the jar in hot soapy water. This got most of the residue off, but I still had some left on my lid. I was able to use a magic eraser to get the rest of it off. I had to scrub a little harder, but it finally came off!
After giving them a good wash and scrub, they were nice and clean! Then, I dried them off really well with a towel. And now, the candle jars are completely done and ready to be displayed!
Repurposing Old Candle Jars
So now that the jars are pretty and clean with no sticky residue, I was ready to decorate with them! Which I always think is the most fun part about any DIY project. If you're wondering what exactly can I do with an old candle jar and how can I display them?? I have some ideas for you!
Display them on a tiered tray

Or display them on some open shelving

Use them for storage

Place q-tips, cotton balls, or bobby pins in them for the bathroom
If the jars are larger, use them as a pencil/pen holder in your office

Use them to store your knick-nacks and little treasures

Such as vintage buttons from your grandmother
Or any other small sentimental pieces to you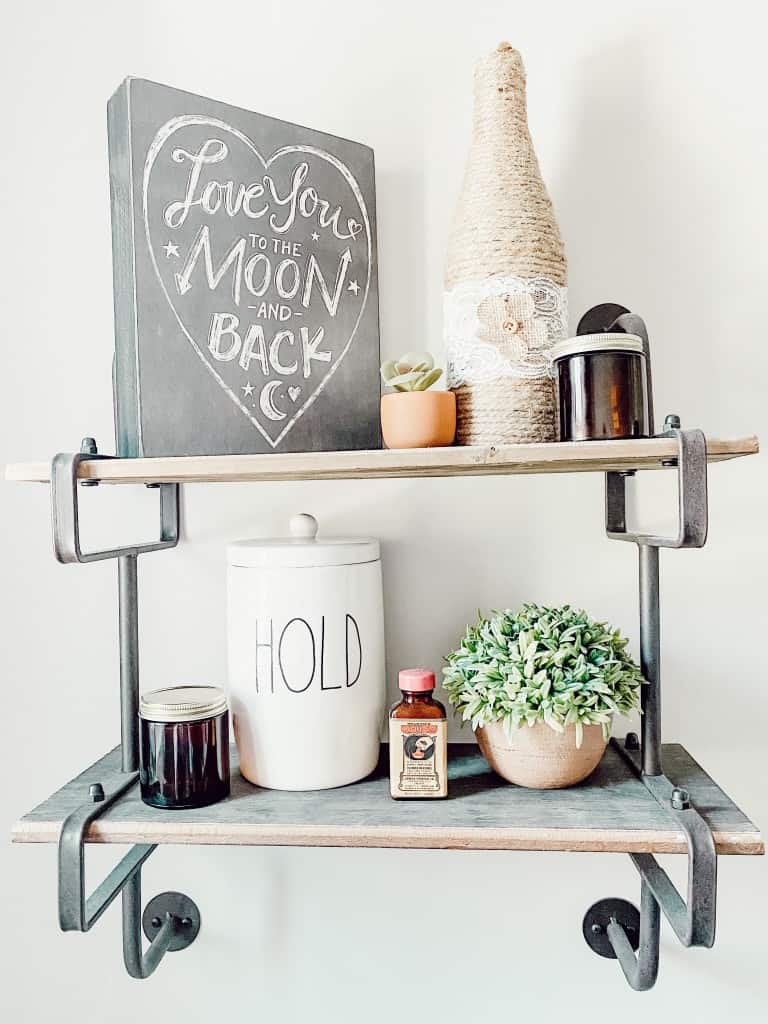 Above, you can see I chose to place them on my bathroom open shelves. I love the amber color to them because I already have an amber bottle on there. So I thought it all tied in nicely together.
And yes, that's an old vintage bottle of denture powder sitting there too! I am a dental hygienist, and I thought it would be fun to display some old dental goodies on my bathroom shelf. That's what got me inspired to put them on the bathroom shelves to begin with.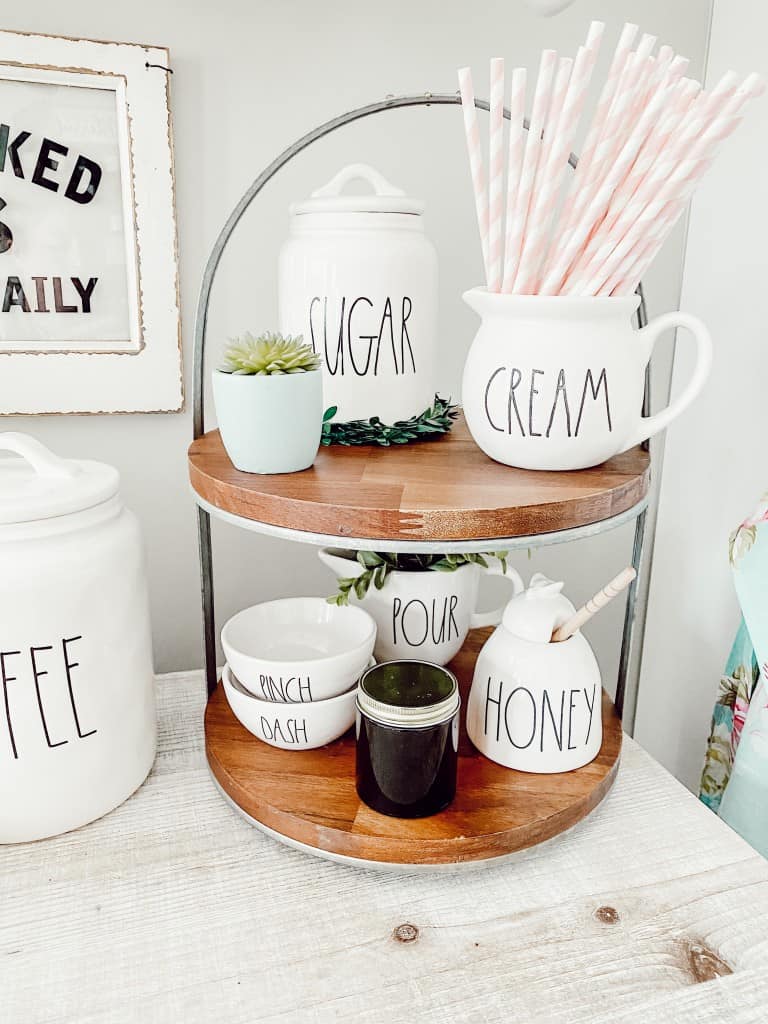 I also decided to play around with them while decorating to see where I could put them. I like the way they looked on my tiered tray too so I took a picture of it to show yall. Ultimately, I will leave them on my bathroom shelves but I wanted to give you options as to what you can do with the jars once you are done cleaning them!
I hope this inspires you to repurpose some of your old candle jars too in the future. It is such a super simple DIY and it can be used for so many fun things!