10 Kid-Friendly Cookbooks Your Family Needs
By: Vickie | Updated: 2nd December 2021
Cooking with your kids is a great way to come together in the kitchen. But it can be difficult to find good recipes that are simple for your kids to help with and still tasty enough for the entire family to enjoy.
So while there are millions of kid-friendly recipes across the internet, sometimes it's easier to have a group of recipes laid out for you all in one place.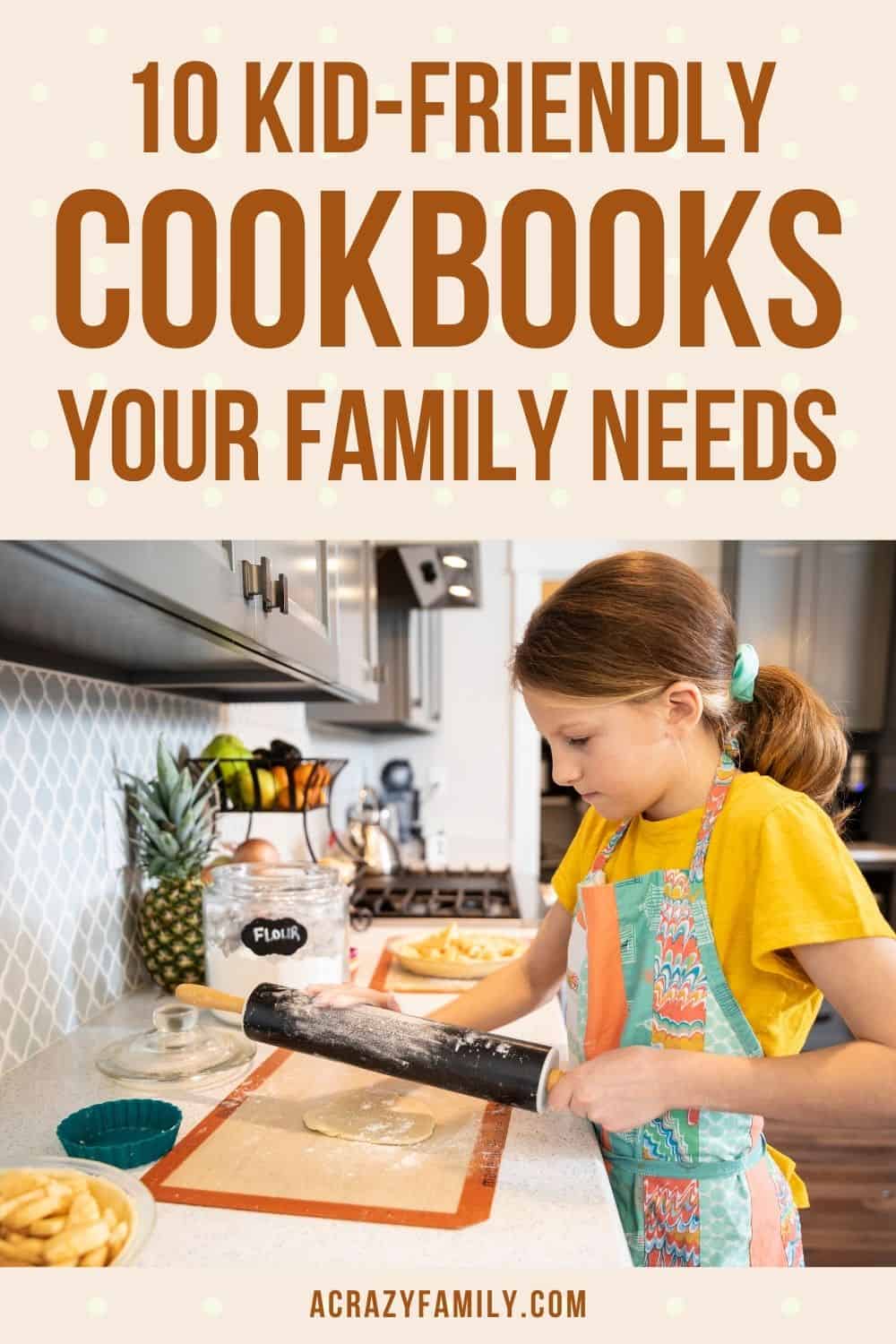 Also, you can get some of these on your Kindle and have access to them instantly. (You can get a free 30 days trial of Kindle Unlimited!)
10 Kid-Friendly Cookbooks To Get The Kids Cooking
These 10 kid-friendly cookbooks will make cooking with your kids fun and easy.
1. Disney the Simple Family Cookbook
If your kids are Disney fans, they'll love Disney the Simple Family Cookbook.
Whether you make spaghetti with Lady and the Tramp or Hawaiian pizza with Lilo and Stitch, your kids will have a blast making these Disney-inspired recipes.
And each recipe is designed for kids to make – with a small ingredients list and simple instructions for each dish.
2. The Silver Spoon for Children: Favorite Italian Recipes
For Italian lovers, The Silver Spoon for Children is a great choice. This amazing cookbook takes traditional Italian meals, like Tuscan minestrone soup and rigatoni with meatballs, and adapts them, especially for kid cooks.
Featuring 40 classic recipes broken into sections – lunches, snacks, pasta, main courses, pizza, and dessert – this cookbook is full of helpful information for young cooks.
And the best part of this book is that it's adapted from one of Italy's best-selling adult cookbooks.
3. MasterChef Junior Cookbook: Bold Recipes and Essential Techniques to Inspire Young Cooks
Inspired by one of TV's best kid's cooking shows, the MasterChef Junior Cookbook has a wealth of information for young chefs.
In addition to more than 100 recipes tailored for kids, and inspired by dishes seen on the show, this amazing cooking tool also includes tips, techniques, and advice for kids looking to improve their cooking skills.
4. American Girl Baking: Recipes for Cookies, Cupcakes & More
American Girl fans will love this book, which is part of a series of American Girl-inspired cookbooks for every type of food.
The American Girl Baking cookbook focuses on baking and includes more than 40 sweet treats simple enough for kid bakers to make.
Each recipe is easy to follow and is made using simple ingredients, making it perfect for novice bakers and seasoned young pros alike.
5. The Cookbook for Kids (Williams Sonoma): Great Recipes for Kids Who Love to Cook
If you're searching for an all-encompassing cookbook for your kids, The Cookbook for Kids is a great choice.
Featuring delicious dinner recipes like fish tacos and nachos, as well as sweet desserts like crepes and cookies, there are more than 60 great kid-friendly recipes for your family to try.
And the colorful illustrations and fun facts make each recipe easy to follow for kids of any age.
6. The Ultimate Kids' Cookbook: Fun One-Pot Recipes Your Whole Family Will Love
If the idea of your kids getting in the kitchen and making a big mess is keeping you from letting your kids cook, then The Ultimate Kids' Cookbook is a great choice.
Each dish is a one-pot meal, which means your kids won't have to dirty a bunch of dishes to make dinner.
And the recipes in this easy-to-follow cookbook – like Magic Crunchy Coated Fish and School Night Chicken Fajitas – are kid-friendly to make and eat.
7. The Instant Pot Cookbook for Kids: 53 Safe, Fun, and Confidence Building Recipes for Your Young Chef
If you love your Instant Pot, you need this great cookbook for kids. Teaching your kids to cook in the Instant Pot is a great introduction to cooking, and this simple cookbook provides a great basis to learn.
The Instant Pot Cookbook for Kids includes a variety of different recipes broken into segments, including breakfast, snacks, sides, lunches, dinners, seafood, and desserts.
8. Kid Chef Junior: My First Kids Cookbook
With 25 fun recipes and age-appropriate cooking tips, Kid Chef Junior is a great option for beginner cooks.
Each simple recipe also features a detailed photo of the dish so your kids will have no trouble deciding what to cook.
And the recipes advance from easy to hard throughout the book, making it a great resource for learning as your kids cook.
9. The Help Yourself Cookbook for Kids: 60 Easy Plant-Based Recipes Kids Can Make to Stay Healthy and Save the Earth
Healthy cookbook options for kids are often hard to find, which is why I love this plant-based cookbook.
The Help Yourself Cookbook for Kids includes a variety of plant-based snacks and meal recipes that are simple enough for kids to make and appealing enough to keep them eating their veggies when they're done cooking.
10. Pizza!: An Interactive Recipe Book
If you hope to get your kids in the kitchen when they're young, Pizza! An Interactive Recipe Book is a great cookbook option.
While this simple book only includes one recipe, the detailed instructions and corresponding illustrations make cooking a pizza super fun.
Your little one will love making their own pizza with these simple step-by-step instructions that start with stirring the yeast and sugar into water and end with eating their delicious creation.
Pin it for later!