Mango Strawberry Sugar Scrub
By: Vickie | Updated: 25th March 2023
Making your own sugar scrub is super easy and a totally cheap project to make. Sugar scrubs make perfect gifts, and they're great to have on hand for yourself at home. You have got to try this delicious-smelling mango strawberry sugar scrub, as it's perfect for summer!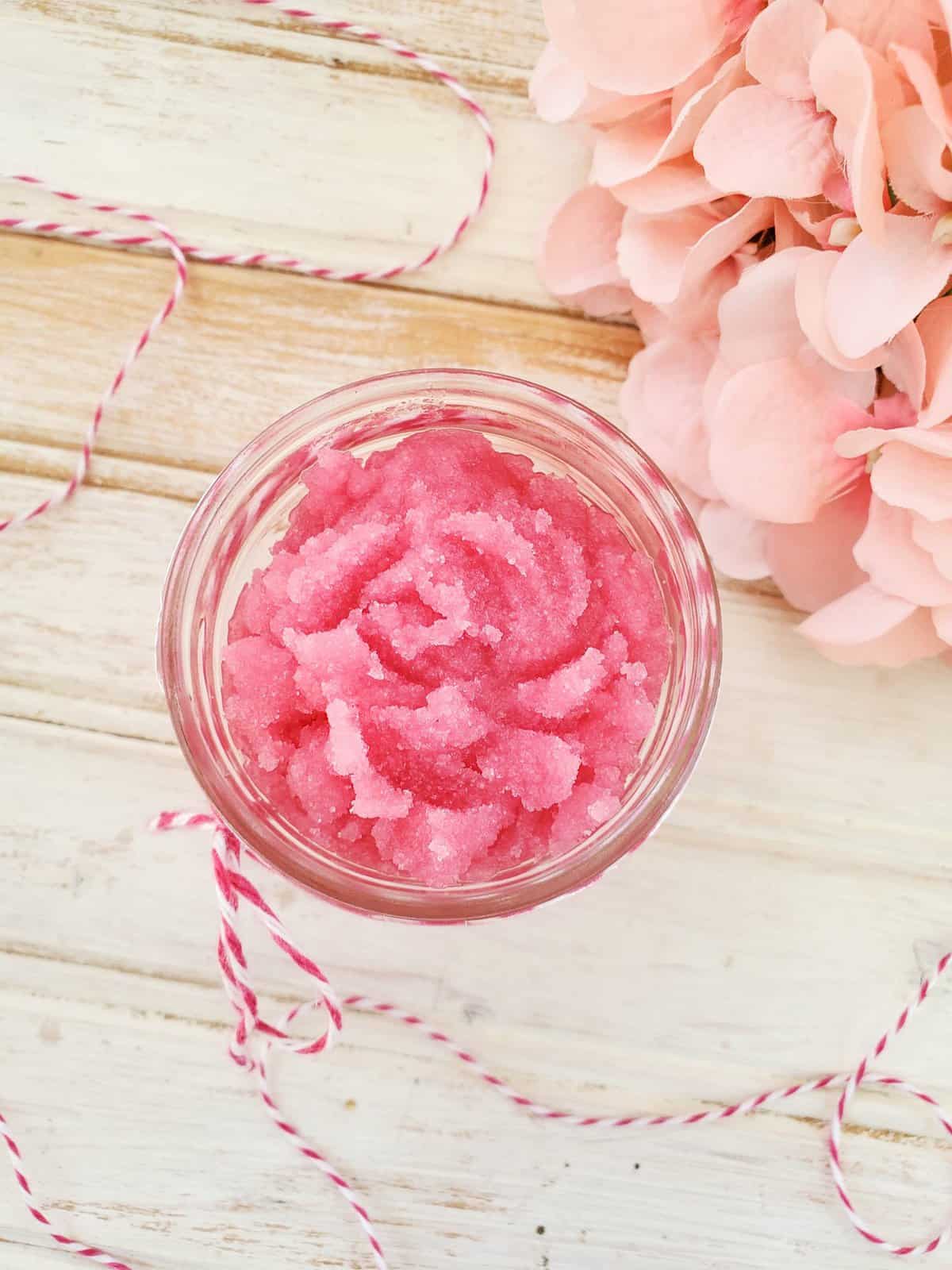 Making your own beauty products is such a fun activity that you can do. A wonderful way to make something that is useful and smells amazing and saves you money on things you might ordinarily buy.
They are fun to do, something kids can get involved in, but can also be a great activity to do as an adult. Perhaps even a potential hobby in the making.
Mango Strawberry Sugar Scrub
This mango strawberry sugar scrub is a wonderful thing to make. A sweet-smelling scrub that just reminds you of summer, it is not only lovely to have in your home but also these scrubs make excellent DIY gifts for birthdays and Christmas.

Making your own bath and body products can save you money as well, and using a sumptuous scrub in the bath and show can feel very luxurious. So if you fancy making your own mango strawberry sugar scrub, then here is everything you need to know to make it.
Like making sugar scrubs? Don't miss our 30 Easy To Make DIY Sugar Scrubs or these Lemon Lavender Sugar Scrub Cubes!
Supplies needed: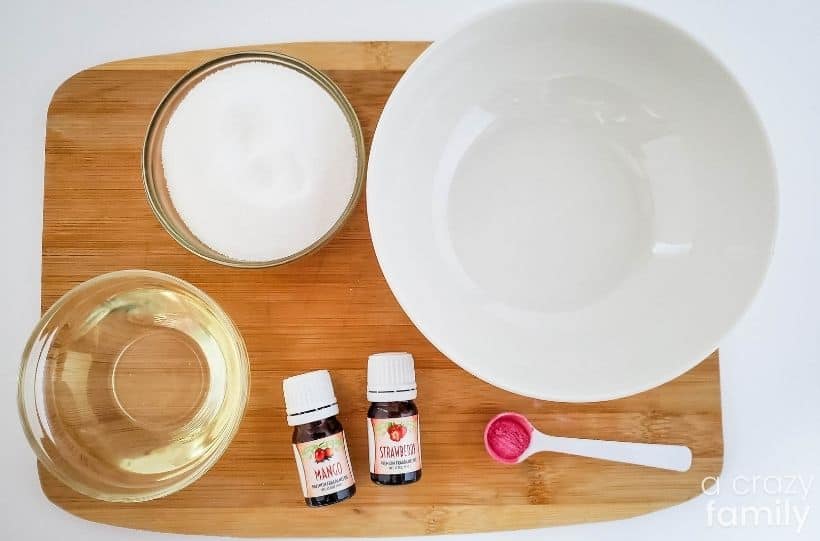 How To Make Mango Strawberry Sugar Scrub
1. Get yourself a large mixing bowl that you don't mind using for this activity. Then add the sugar and the almond oil into it. Give them both a big stir to ensure they are combined together.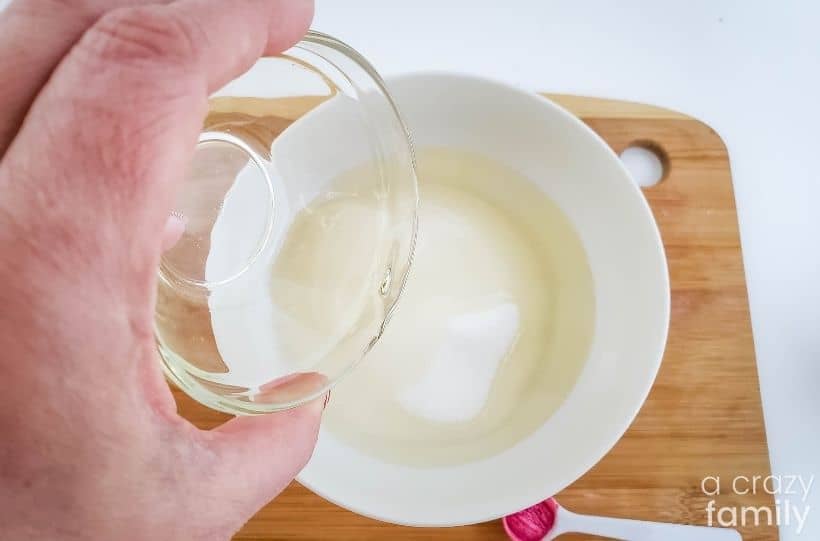 2. Next up, you will want to add the color. Add the mica powder to the sugar and oil. Give it all another good stir.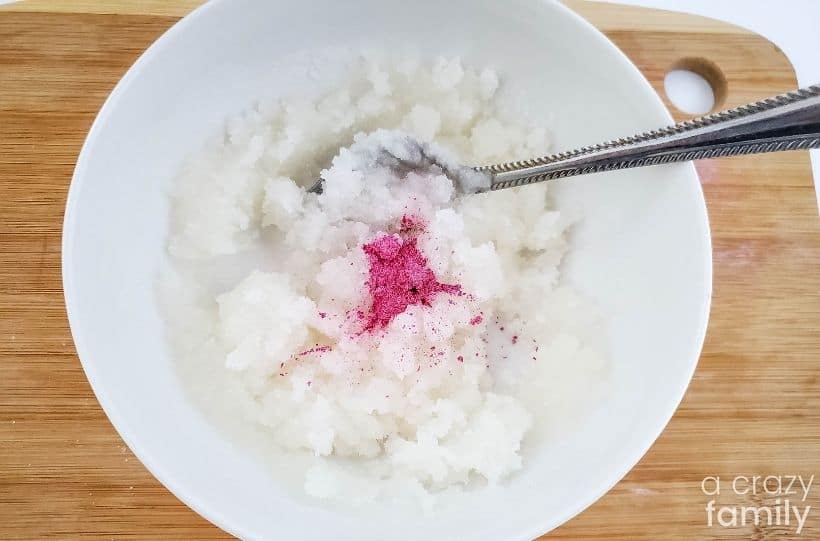 3. Then you will want to add the essential oils to the mixture and stir to ensure the scent is combined with the sugar and oil.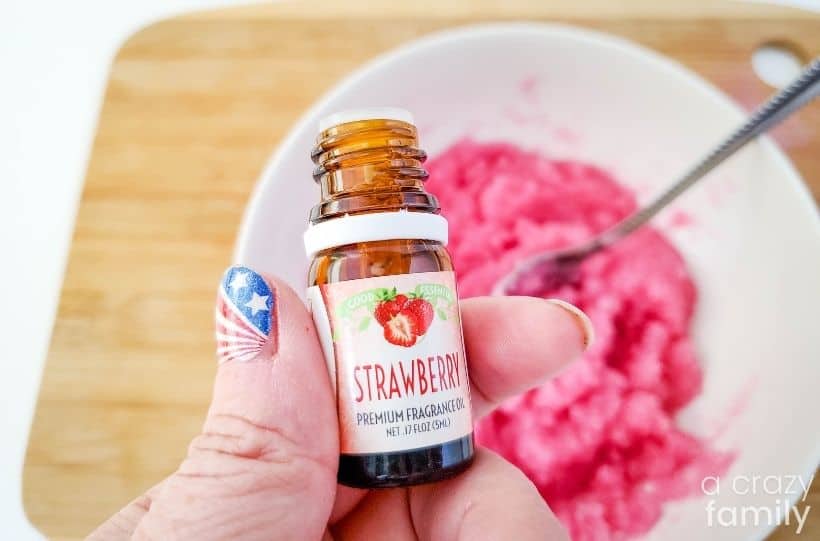 4. Add your finished sugar scrub to an airtight container. A mason jar or glass storage jar would work well. Plus, they can be reused when you run out.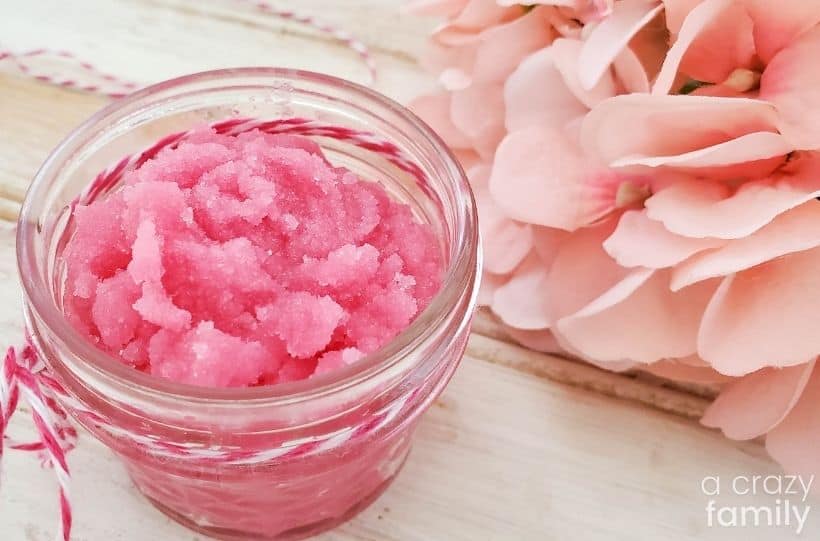 Variations
If you want to switch things up a little, then how about trying different scents? There are so many wonderful essential oils that you can add to these sugar scrubs. Lavender would be perfect for a bedtime routine and pamper shower. Citrus or mint will be invigorating, which is ideal for the morning.
You could change the color of the sugar scrubs by using a different color of mica powder. Match up to the scent, so lemon essential oil could work great with yellow mica powder, for example.
Why not try using coconut oil instead of almond oil? Coconut oil is great for your skin and also adds a scent that will work so well with mango and strawberry, as well as any other essential oils you might want to try.
These are perfect gifts. Add the sugar scrubs to decorative glass jars and decorate them with a label explaining what it is and a lovely ribbon to finish it off. Perfect!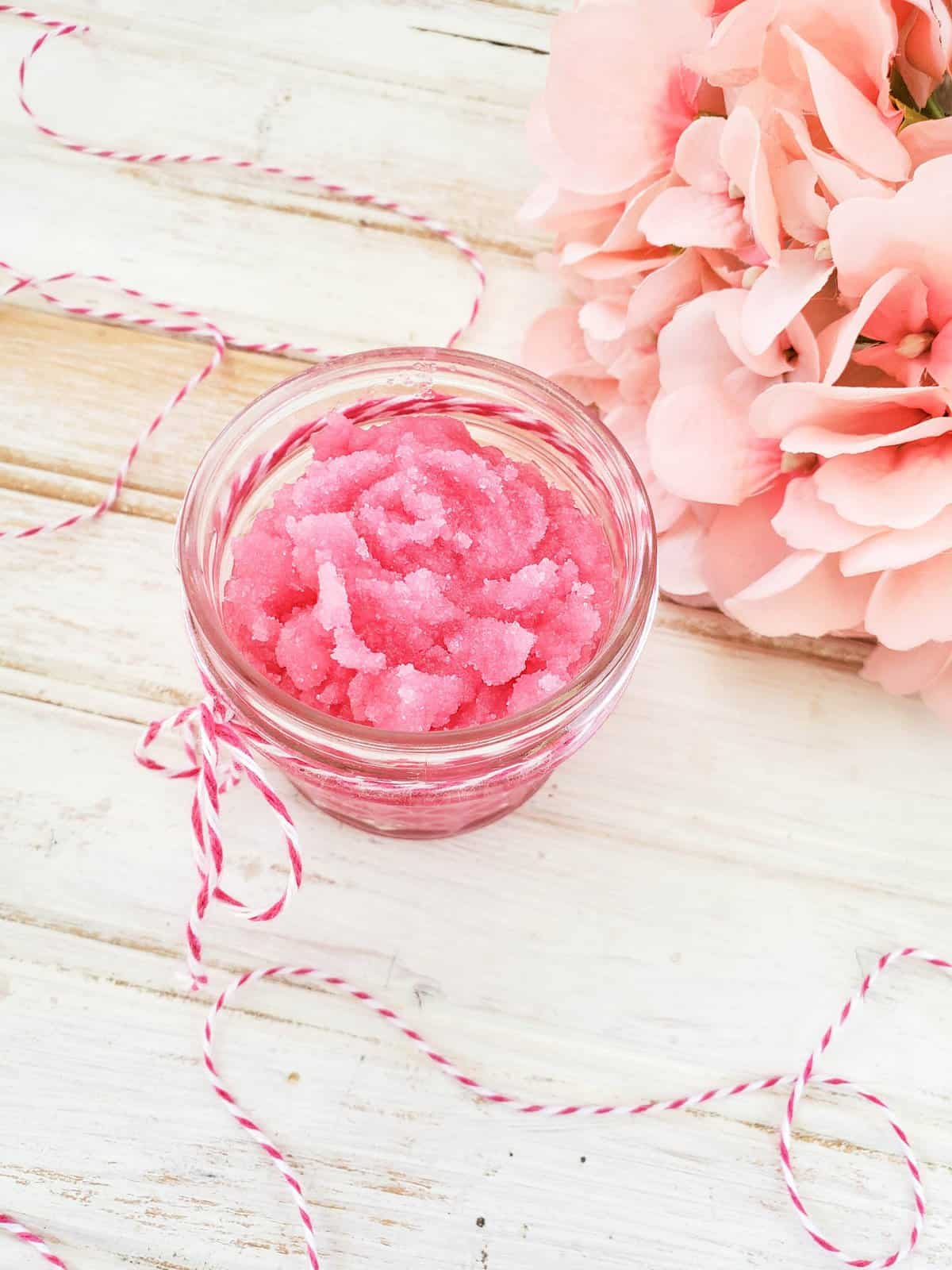 Tips & Tricks
If children are helping, make sure they are supervised when adding things like mica powder and essential oils. You don't want to add too much or get the mica powder on clothes or tablecloths.
Make sure you stir the mixture thoroughly between each step to ensure that everything combines.
Frequently Asked Questions
What age range is this craft suitable for?
This is something that your children can get involved in. They can help stir all of the supplies together and bring the sugar scrub to life. Older children may want to make their own versions of themselves.
What if I don't have all of the supplies?
You can substitute some of the supplies for other things that you have in your home, and we have suggested some above. This is a lovely easy process to follow.
How long will a homemade scrub last?
The great thing about these sugar scrubs is their longevity of them. Like most sugar scrubs, this should last up to 12 months when stored in a cool, dark place.
Why should you use a homemade sugar scrub?
When it comes to beauty products, they can be pricey. So making your own can be a huge value for money. It also may not be something that you would ordinarily buy, so making your own can feel very luxurious.

They also make great gifts, and you can also change up the scents and the colors, which is a great way to share these with friends and family for birthdays and Christmas.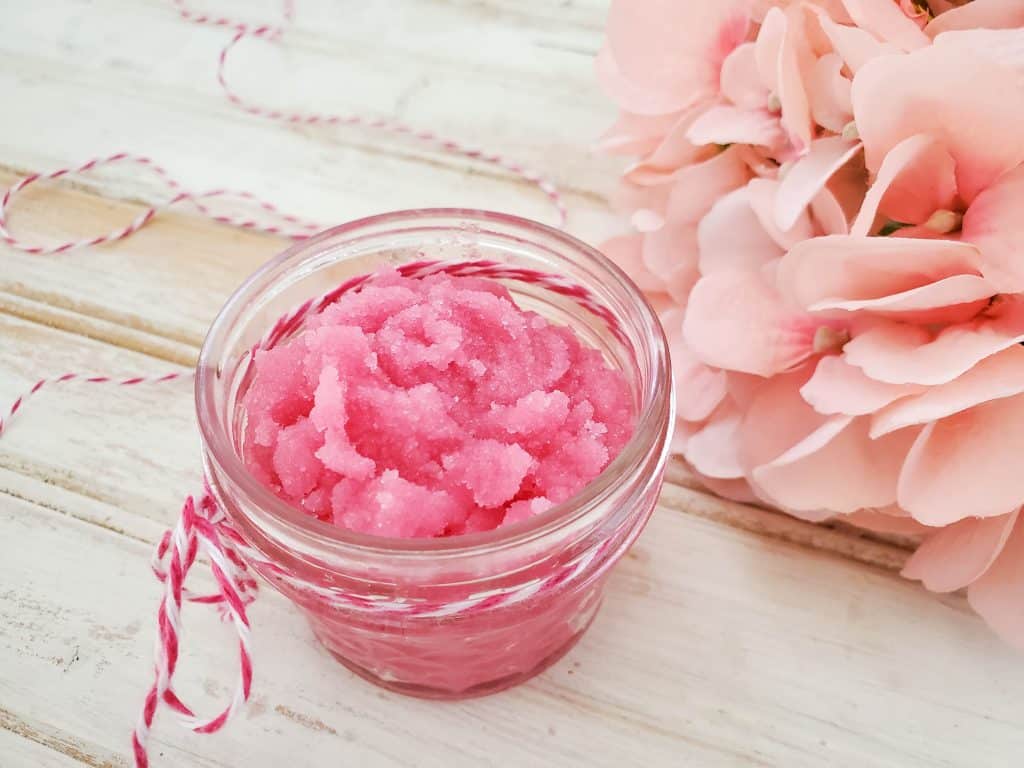 Hopefully, this will have encouraged you to give the Mango Strawberry Sugar Scrub a try. And if you like it, please leave a star ★★★★★ rating and a comment below! And follow along on Pinterest, Facebook, or Twitter for more.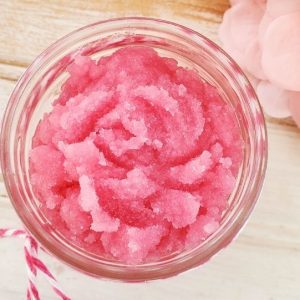 Mango Strawberry Sugar Scrub
Supplies
½

cup

sugar

¼

cup

sweet almond oil

¼

tsp

Peach mica powder

15

drops

strawberry fragrance oil

15

drops

mango fragrance oil
Instructions
Add sugar and almond oil to a bowl, and stir.

Add mica powder, and stir.

Add fragrance oils, and stir.

Store in an airtight container.
Click stars to rate now! Or leave a comment below.
So the next time you have a few minutes to spare – grab the ingredients and follow the instructions. You'll have yourself a lovely little bath treat in no time!
Pin it for later