Whole House Deep Cleaning Checklist & Calendar
By: Vickie | Updated: 15th July 2022
Get all the tips you need to get your home in tip-top shape in only 30 days!
A clean house makes for a comfortable home. But, with so many things that need attention, it can be challenging to keep up, especially if you have children! Things can get overwhelming, cluttered, and neglected in no time.
I created a Whole House Deep Cleaning Schedule that has transformed my home into a clean and efficient space.
This 30 Days to a Cleaner Home resource has everything you need to get your house in order without devoting all of your time to the effort.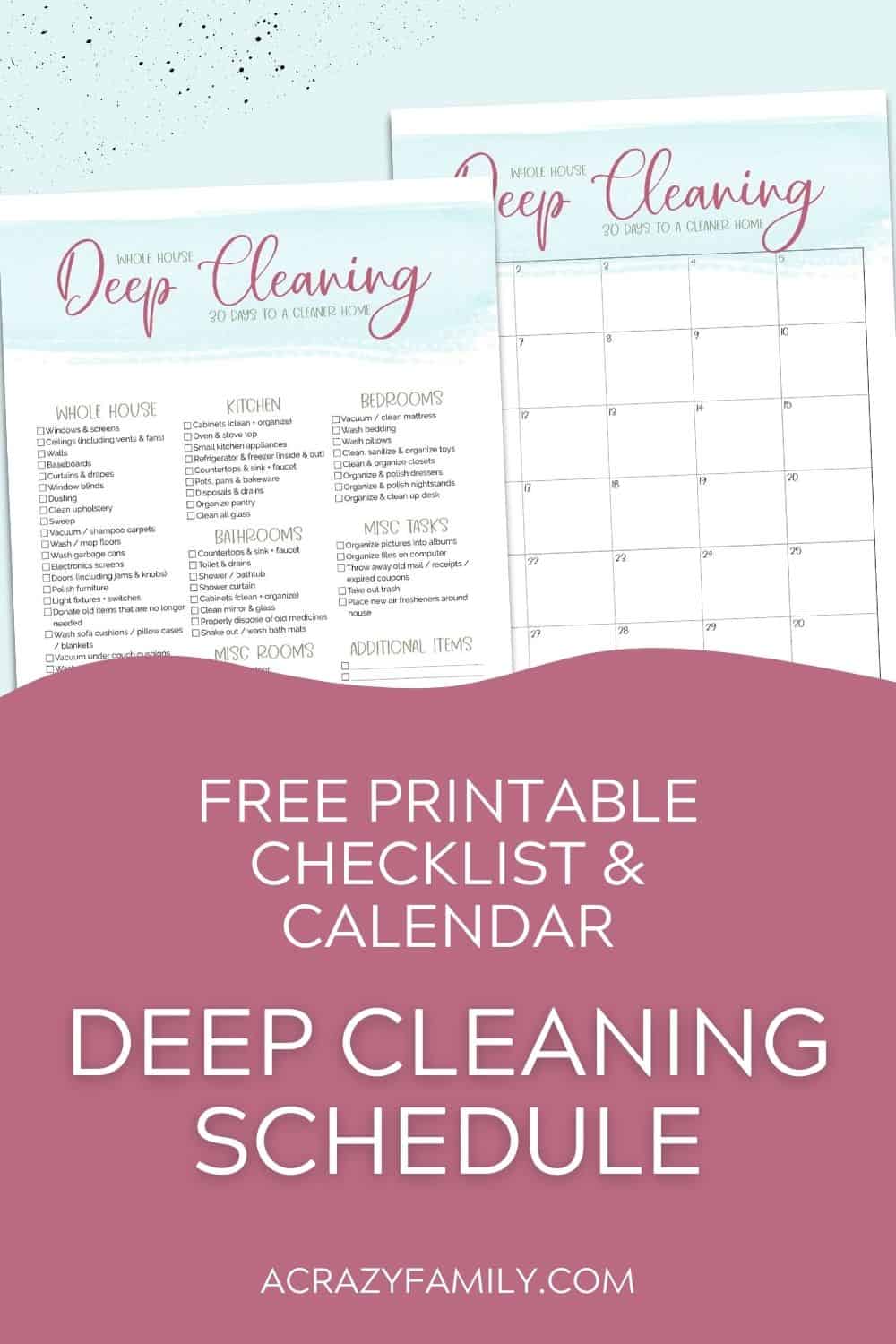 This resource includes a 30-day calendar printable as well as a house cleaning checklist to help you stay on track without overlooking any details.
Follow the checklist from room to room, and over the course of one month, you can transform your house from any condition to ready for guests at a moment's notice.
Best of all, this realistic cleaning schedule won't require too much of your time, and results will be noticeable on a daily basis!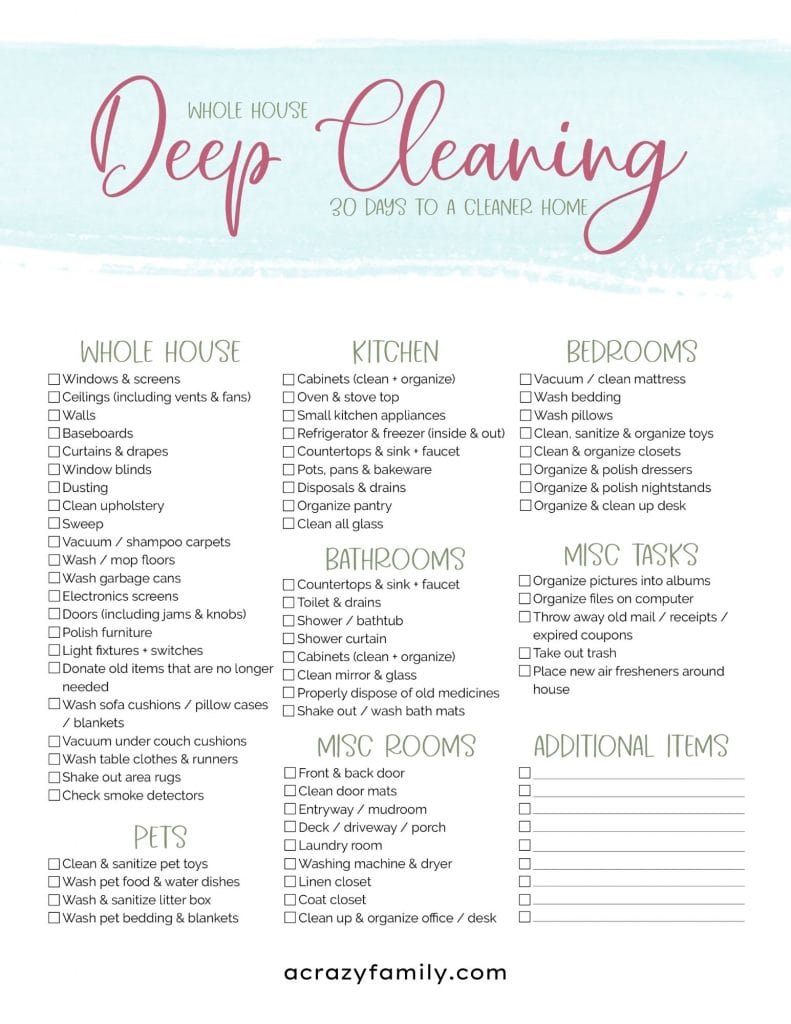 Download & print the checklist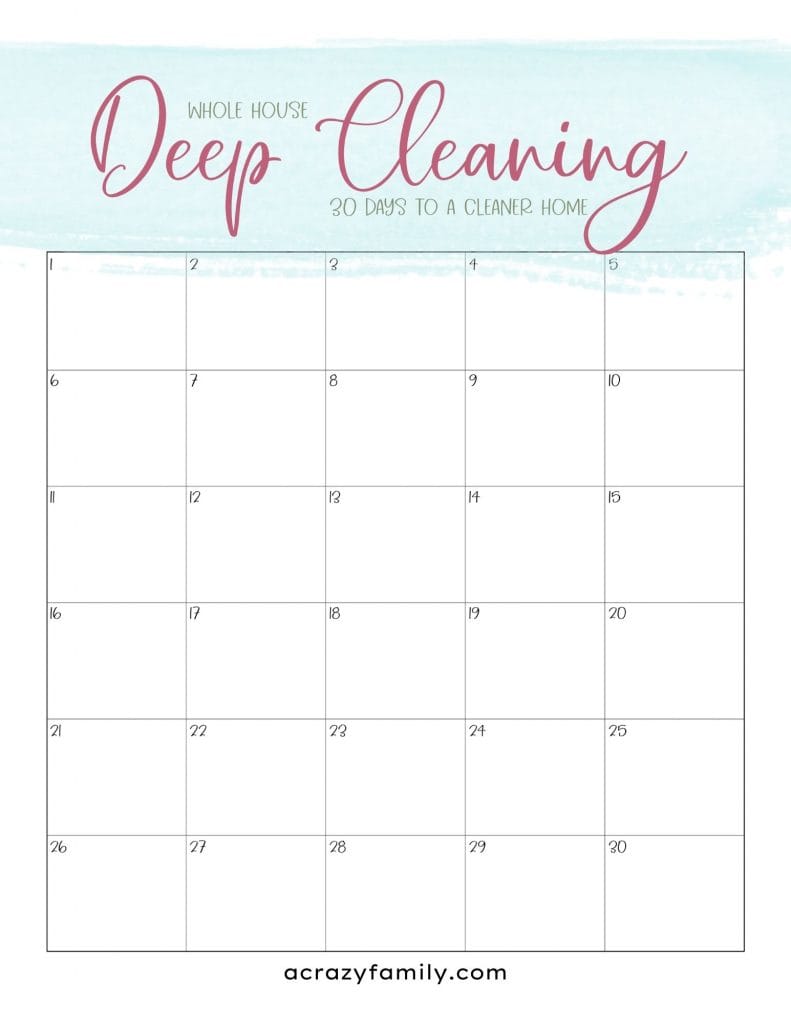 What Do I Need to Deep Clean My Home?
Disposable rags, scrubbing pads or towels that you don't mind throwing away
Two buckets: one for the dirty water and the other for fresh clean water
Dish soap and disinfectant spray
Glass cleaner
Rubber gloves
Spray bottle with 1:1 vinegar and water
A scrub brush (or an old toothbrush)
Throughout the Whole House
Clean windows and screens
Clean ceilings including vents and fans
Wipe walls
Wipe baseboards
Wash curtains and drapes
Clean window blinds
Dust
Clean upholstery
Sweep floors
Vacuum and shampoo carpets
Wash and mop floors
Wash garbage cans
Clean electronic screens
Clean doors and sanitize door handles/knobs
Polish furniture
Clean light fixtures and sanitize light switches
Donate old items that are no longer needed
Wash sofa cushions, blankets, and pillow cases
Vacuum under couch cushions
Launder and press table linens
Shake out area rugs
Check smoke detectors and replace batteries
Kitchen
Remove items from cabinets, clean inside, and organize
Clean oven and stovetop
Clean small kitchen appliances including microwave
Clean dishwasher
Clean refrigerator and freezer
Clear countertops and clean the sink and faucet
Clean and organize pots, pans, and bakeware
Deodorize and degrease the kitchen disposals and drains
Organize pantry
Clean all glass
Bedrooms
Vacuum and clean mattress
Wash bedding including sheets, duvets, and bed skirts
Wash pillows
Clean, sanitize and organize toys
Clean and organize closets
Organize and polish dressers
Organize and polish nightstands
Organize and clean up desk
Bathrooms
Clean countertops, sink, and faucet
Clean toilet and drains
Clean bathtub and shower
Clean shower curtain
Clean and organize cabinets
Clean mirror and glass
Properly dispose of old medications
Shake out or wash bath mats
Pets
Clean and sanitize pet toys
Wash pet food and water dishes
Wash and sanitize litter box
Wash pet bedding and blankets
Misc Rooms
Clean front and back door
Clean door mats
Clean up and organize entryway / mudroom
Clean up and organize deck / driveway / porch
Clean up and organize laundry room
Clean washing machine and dryer
Clean up and organize linen closet
Clean up and organize coat closet
Clean up and organize office and desk
Misc Tasks
Organize pictures into albums
Organize files on computer
Throw away old mail, receipts or coupons
Take out trash
Place new air fresheners around the house