How to Keep Your Clothes Looking Like New
By: Vickie | Updated: 9th July 2022
Shopping for new clothes can be so much fun. But once you find an outfit you love, you're going to want to take care of it so it lasts forever!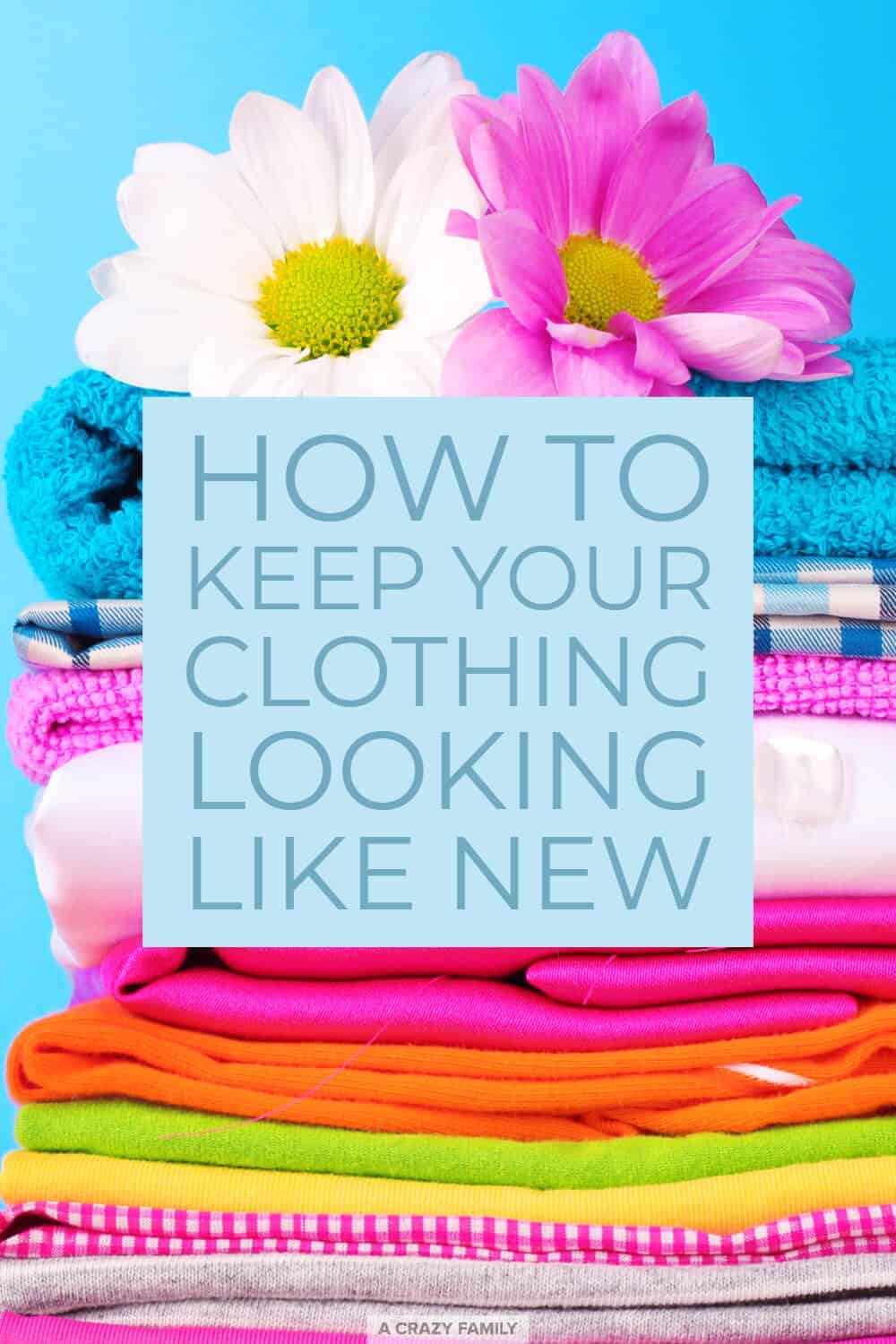 To ensure your new clothes keep looking new long after you buy them, there are a variety of simple steps you can take.
Here's how to keep your clothing looking like new.
Cut Back on Laundry
Washing your clothing is an easy way to slowly destroy each piece in your wardrobe. While washing dirty or smelly clothing is the only way to make the item wearable again, skipping laundry day for pieces that have been worn but aren't visibly dirty is a good idea.
In addition to helping your clothing last longer, taking a new approach to laundry will also help you cut down your weekly to-do list.
Related: Simple Ways to Make Laundry Easier
Turn Everything Inside Out
The outside of every one of your garments is the most important. The best way to protect the colors and designs on your favorite clothing is to turn each piece inside out before placing it in the washer.
While this simple trick is important for every piece of clothing, clothes with embellishments, beading, embroidery, or appliques are especially susceptible to damage. Be sure to always turn those clothing items inside out before placing them in the washer.
Handwash Your Denim
Handwashing your denim will help your jeans last longer and look like new no matter how many times you wear them. Start by turning your jeans inside out, then handwash each pair in cold water.
This method will help protect the indigo dyes inside the jeans and help them keep their shape after every wash. After washing, allow your jeans to air dry by laying each pair on a flat surface to dry.
Tackle Stains Right Away
If you spill something on your favorite shirt, be sure to take care of the stain immediately. The longer you let a stain sit on the fabric, the harder it will be to remove on laundry day.
Take the time to inspect each item of clothing for stains before you toss it in the hamper to ensure your clothes continue to look like new from year to year.
No Wire Hangers
While wire hangers may be a space-saver, they're really bad for your clothing. Those thin hangers put tons of stress on the shoulders of your blouses and shirts. And they can easily rip through thin, delicate fabrics, like silk and satin.
Instead of attempting to save a little money by purchasing wire hangers, splurge on the higher-end hangers with a velvet coating. These awesome hangers
will keep your clothing looking like new and make your closet look much more organized, too.
Check the Label
Each item of clothing you own comes with care instructions. Before you wash a new item, be sure to check the label to find out how the item is supposed to be cared for. A clothing's care label will typically describe:
Washing instructions using a depiction of a tub with water in it. Dots in the center represent the temperature of the water (one for cold, two for warm, and three for hot) and lines underneath indicate the cycle (one for permanent press and two for gentle).
Bleaching instructions using a triangle. An outline of a triangle indicates any type of bleach can be used. A triangle with diagonal lines in the center indicates only non-chlorine bleach is safe. And a solid triangle with an X through it means do not bleach.
Drying instructions using a square with a circle in it. A solid circle inside the square indicates that no heat should be used when drying. A circle with one dot indicates low heat; a circle with two dots indicates medium heat, and a circle with three dot means high heat. Drying instructions will also use lines under the square to demonstrate special drying cycles (one line for permanent press and two lines for gentle cycle).
Ironing instructions using a drawing of an iron. Dots inside the iron indicate heat (one for low, two for medium, and three for high). An iron with an X underneath it means do not iron with steam, while an X through the entire iron means do not iron at all.
Dry cleaning instructions using an open circle. A plain circle indicates the clothing should be taken to a dry cleaner. And a circle with an X through it means do not dry clean.
Related: 11 Free Printables to make doing the washing easier and more fun
Avoid Light
When storing your clothing, it's best to keep your garments in a dark place away from direct sunlight and other light sources. Light can fade colors on your clothing, making them look old and worn much more quickly.
In addition to closing your closet door each time you remove an item of clothing, it's also a good idea to make sure your closet light is turned off before you shut the door.
Let Them Air Out
After wearing dry-clean-only clothing, like suits and coats, or shoes, be sure to let the fabric air out for at least 30 minutes before hanging them in the closet.
In addition to preventing odors from clinging to the fabric, this method will also help your clothes regain their shape before being put back into the closet.
What tips do you use to keep your clothing looking like new?