Disney Stocking Stuffers Gift Guide
By: Vickie | Updated: 10th October 2022
Stocking stuffers can be oddly difficult. Even with the main shopping all done, they are easy to neglect until it's too late, and there is nothing good available.
Get the jump on things with this Disney Stocking Stuffers Gift Guide, with a range of ideas for kids of all ages.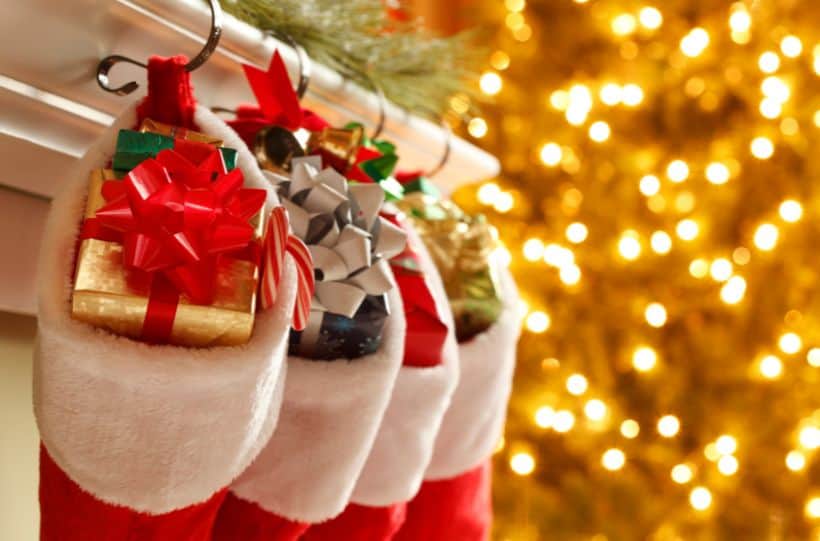 Small Gifts for Small Ones
Little littles present a unique challenge. You want something fun, but there isn't a lot they can safely play with or eat. These Disney Finding Nemo Baby Bath Squirt Toys from The First Years are perfect for making bathtime more fun.
After bathtime comes bedtime. That means it's time for the Disney Junior Music Lullabies Lovey Blankies, Kermit from Just Play. This is nice and snuggly and will comfort your child at bedtime or naptime. Just make sure you follow all safety recommendations depending on age.
While kids this age are a little bit young for reading, plush books like this one still can give an introduction to literacy. You can read to them while they snuggle the book featuring Disney's Stitch. The KIDS PREFERRED Disney Baby Lilo & Stitch Soft Book: Stitch ON-The-GO is sure to be a hit.
Another one by Just Play, we're getting classic with the Disney Wooden Toys Dumbo Clutch Toy. Just like the wheeled wooden animal cars that kids used to play with back in the day, this Dumbo will take a position of honor on the toy shelf.
Things to Wear
It's not just your tree that should look fancy. Decorate your child with 4 Pcs Minnie Mouse Ears Mickey Ears Velvet Scrunchies. And these aren't seasonal, so your little one (or you) can sport the Minnie ears all year round.
Most kids hate getting socks this time of year. Turn that around with the Disney Official Licensed Crew Socks. Including Mickey, Minnie, Donald, and Daisy, your kids can sport some Disney style anytime.
Whether we're talking kids or adults, conventions are becoming more and more a part of life. Show off that attendee badge in style with these Disney Lanyards with ID Holders. Comes with two, one Mickey and one Minnie.
Games
Slightly older kids would love to see Something Wild! Disney The Little Mermaid – Ariel Card Game from Funko in their stocking. Including an Ariel Funko Pop!, they can play cards with their friends or siblings during the rest of their Christmas break.
For kids who don't dream of living under the sea, there are loads of other styles, too. For example, this one will please any Mickey fan.
If you want something more aimed toward the whole family, the UNO Pixar 25th Anniversary Card Game is ideal. You get to play Uno, so even kids who aren't the biggest Disney fans or think they're too cool still have an excuse to play.
Sweet Treats
Character lollipops are a no-brainer. This set has six different characters, each with a different flavor. True, these Inspired Mickey Mouse Candy Lollipops aren't actually licensed, but no kid is going to check for an official seal before digging in.
If you just can't stomach buying unlicensed, you could always go with the official pops from the park, Disney Parks Goofy's Candy Company Mini Unicorn Pops. These swirl pops should be a familiar sight to anyone who has been a few times.
If you want a fun character lollipop that you can reuse, these Disney Mickey Mouse and Minnie Mouse Pop Ups Lollipop Case Holders are perfect. They each come with three lollipops, as well as stickers. And you can always buy more lollipops when you run out, and keep using the holder.
Now, we can't ignore the Marvel fans. Marvel is part of Disney, after all. These Marvel Lollipop Rings with Spidey, Black Panther, and Iron Man fit the bill nicely.
Stuffed toys
A great option for families with multiple kids is the Disney Sweet Reveal Plush 4-Pack. There are 4 blind packs, so it's a surprise for each one. And then they can swap if somebody's unhappy.
But not everybody likes it when they don't know exactly what they are getting. The Walt Disney World 50th Anniversary Celebration Jungle Cruise Plush set is perfect for this. It's a special set with Mickey, Minnie, Donald, and Goofy. Each one is decked out in a Jungle Cruise theme.
Or there is the middle ground. Disney Classics Cutie Beans 2.5-Inch Surprise Plush and Clip-On Carrier Pack. Technically blind packs, but you can see enough that you can guess who is inside if you know your stuff. The pack also serves as a case, and the set includes five of them.
If you have some Frozen fans, you'll want to go with the Disney Frozen 2 Stylized Plush Collector Set. This set includes 6 plush characters from the movies.
And then we have the Disney Princess Mini Teacup Capsule Plush option if your littles love princesses. It includes 3 teacup-shaped blind packs, and each one contains a plush Disney princess or a princess pet.
Odds and Ends
Then there are a few more things that don't fit into a specific category but were too good not to mention.
We have 24 Mouse Straws. Reusable, they come in three styles and include two cleaning brushes.
Also, there is this four-pack of 1 oz Mickey Mouse Bubble Tubes.
On the lip balm front, we have Lip Smacker Disney Minnie Mouse Emoji Lip Balm. This one is Minnie Mouse, but other characters are available as well.
And for those who are too "grown up" to use the lip balm, there is the Lip Smacker Frozen 2 color collection.
Popping the plastic bubbles in bubble wrap was the best. It took too long for someone to invent a reusable bubble popper. Luckily, they made that idea into these Mickey Push Bubble Pop-on-it Key Chains.
Last, but not least, is the Disney Princess Series Sticker Book. With over 200 stickers, it will keep your little sticker fan active for quite a while.
Happy Shopping
Now there is no excuse for forgetting stocking stuffers. There are ideas for a wide range of kids and ages. Maybe even some things for the parents' stockings, too.
Be sure to check out these other great gift ideas for kids: