20 Crafty Christmas Gifts for Creative Kids
By: Vickie | Updated: 6th December 2021
Do you have a crafty kid on your holiday shopping list? The Christmas season is the perfect time to help fuel your child's creativity by giving them a craft-inspired gift.
From craft supply kits to kid-friendly crafting tools, there are so many options for crafty kids. These 20 crafty Christmas gifts are sure to be a hit with any creative kid on your list.
Crafty Christmas Gifts for Creative Kids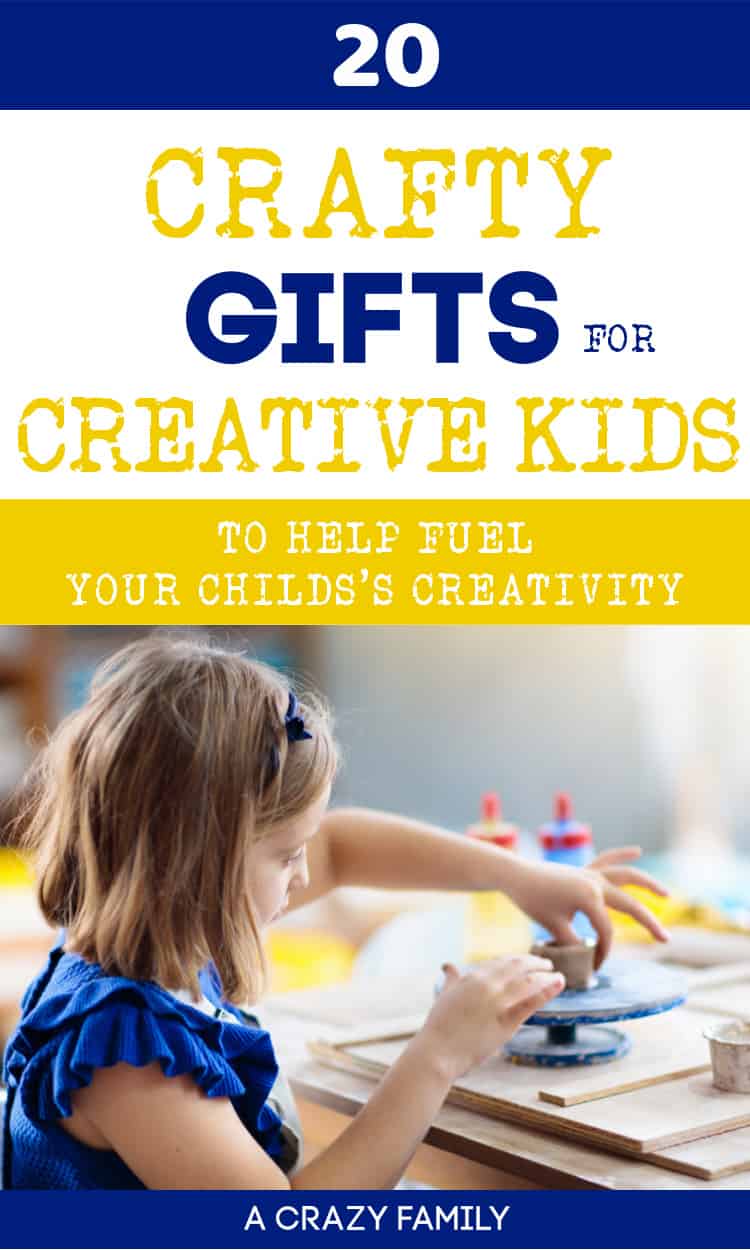 Arts and Crafts Library
Help your favorite creative kid build up their craft supply collection this Christmas with this all-inclusive arts and crafts library.
This big kit comes with everything they'll need to create tons of fun art projects.
Craft Idea Book
Give the gift of creativity this holiday season with this big book of crafts for kids from Martha Stewart.
With more than 175 different projects to choose from, this book is sure to keep any creative kid busy for a while.
Sewing Machine
Help your favorite crafty kid learn how to sew with this simple kid-friendly sewing machine.
This easy-to-use sewing machine is the perfect way to introduce sewing to a young child.
And with the included fabric, pre-cut projects, patterns, stuffing, ribbon, and a pom pom maker, your child will have everything they'll need to create tons of amazing crafts with this sewing machine.
Rock Painting Kit
Rock painting is a fun activity for kids. On top of spending time creating unique works of art, they get to share their designs with the community.
After painting the rocks, they can place them around the neighborhood for other kids to find!
And with this all-in-one rock painting kit, they'll have everything they need to make a variety of rock designs.
Jewelry Making Kit
Jewelry making is a great creative activity for toddlers because it helps them practice their fine motor skills.
And when they're finished creating their own jewelry with this jewelry kit, your favorite crafty toddler will love wearing their designs.
Craft Bucket
With more than 400 pieces inside, your favorite crafty kid can create more than 200 projects with this huge craft bucket.
From construction paper to feathers, this big craft kit has a variety of supplies that a kid of any age would love to have on hand during a crafting session.
Clay Kit
Modeling clay is a great activity for creative kids.
In addition to creating their own imaginative designs with the clay, this fun kit also includes googly eyes, key chain rings, and clay tools, so your favorite creative kid will have everything they need to create a work of art.
Weaving Loom
From pot holders to pencil cases, the possibilities for creativity are endless with a weaving loom.
This fun gift gives your crafty kid a chance to create practical works of art they can use forever.
Coloring Kit
Coloring is a popular past time for most creative kids, which is why they would love getting this huge coloring kit.
In addition to three packages of crayons, this big kit comes with markers, colored pencils, chalk, construction paper, and coloring pages.
Pottery Wheel
Give your favorite crafty kid the chance to sculpt, design, and paint their own pottery with this kid-friendly pottery wheel.
This all-inclusive kit comes with clay, a paintbrush, sculpting tools, paint, and a pottery wheel – everything they'll need to creating something special.
Craft Supply Kit
Crafty kids can never have enough arts and crafts supplies.
And with this big kit, they're sure to have everything they need for their next project – from googly eyes to pipe cleaners – all in one handy place.
Pop Stick Art Kit
Younger creative kids may need a little guidance with their craft projects.
With this pop stick art kit, younger kids can create seven different projects, including animals and flowers.
Emoji Bracelet Kit
Do you have a crafty tween on your list? This emoji bracelet kit is perfect!
It's a fun craft activity they can wear when they're finished making it. What could be better than that?
Woodland Animal Sewing Kit
With five different pre-cut animal sewing projects, this cute woodland animal sewing kit will keep the crafty kid on your Christmas list busy for a while.
And when they're finished putting these adorable animals together, they can enjoy playing with them, too!
Creativity Can
This fun craft kit is perfect for open-ended crafting.
With more than 100 different craft components, including air-dry clay, feathers, and popsicle sticks, any creative kid on your list would enjoy getting crafty with a creativity can.
Learn How to Draw Book
Give your crafty kid the chance to learn how to draw with this fun book.
From mermaids to unicorns, this cute book teaches kids how to draw a variety of magical creatures from scratch.
Travel Desk
With this cool gift idea, your creative kid doesn't have to stop their artistic endeavors when they're on the go.
Simply put this travel desk in the car, and they'll be able to draw and color as they ride.
Art Supply Kit
If you know a crafty kid who likes to add a little bling to their projects, this kit is for them.
In addition to traditional kids crafting supplies, like feathers and pipe cleaner, this big kit also includes 300 rhinestones, 100 colorful buttons, and 1,000 colorful sequins – everything they need to add a little flash to all their craft projects.
Large Weaving Loom
With this big weaving loom, your child can create amazing woven textiles and practice their fine motor skills and hand-eye coordination at the same time.
And the kid-friendly design of the loom, combined with the oversized needle, makes it simple for your little one to create a variety of beautiful projects with ease.
Crochet Kit
Crocheting is another great craft that allows your child to hone in on their fine motor skills.
And with this crochet kit, your creative kid will have everything they need to create a variety of crochet projects, including coasters, handbags, belts, or placemats.
I hope you found something from this list that the creative kid that you are shopping for will love.
★ OTHER GREAT GIFT GUIDES:
Don't forget to pin for later…