10 Awesome Science Kits That Make Hands-on Learning Fun
This post and its photos may contain affiliate links. As an Amazon associate, I earn from qualifying purchases.
From exploding volcanoes to crystal growing and robots, these science kits are full of fun activities that'll keep kids entertained and interested in learning.
Sometimes science and engineering can be a little boring for kids and they'd rather pull out the Lego and Play-Doh. An easy way to make these subjects a little more fun is to perform experiments or build projects together.
But finding all the supplies and equipment you need to put together a science experiment at home is hard!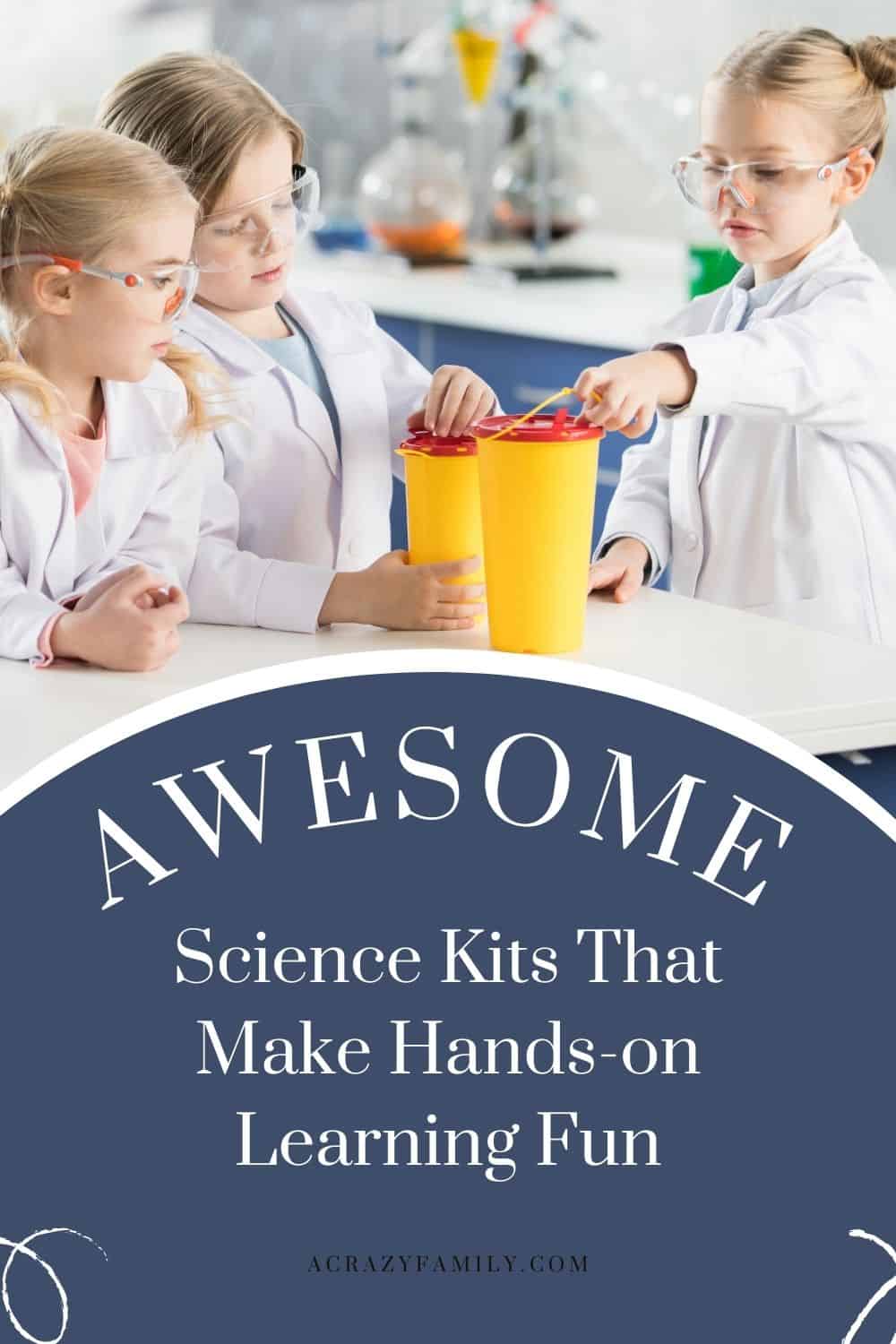 So, instead of searching your house for supplies, why not make things easier on yourself and purchase a science kit?
Then have your kids learn about stuff like chemistry, electrical currents, crystals and geodes, and even climate change – all while having fun.
Best Science Kits for Kid Scientists, and Mini Engineers
These 10 awesome science kits for kids are sure to make learning a little more fun.
Learn & Climb Science Kit for Kids
With more than 65 different experiments inside, the Learn & Climb Science Kit for Kids is a great option for any science-loving kid.
The kit comes with 56 different pieces, including all the tools and chemicals they'll need to complete a variety of fun science experiments.
And it includes a DVD featuring real scientists doing the experiments included inside the kit.
But the best part about this comprehensive science experiment kit is that it's designed for kids of any age. The experiments are simple enough for a kindergartener to do with assistance but engaging enough to keep older kids entertained as they learn.
National Geographic Earth Science Kit
Help your kids learn more about Earth science with this cool kit from National Geographic.
With equipment and supplies for 15 different experiments, the National Geographic Earth Science Kit is sure to keep any rock lover engaged.
In addition to an erupting volcano, your kids can also make water tornadoes, grow a crystal, dig for rocks and geodes, and so much more.
Magic Science
If you have a kid who's interested in magic, why not make magic educational with a Magic Science kit?
This fun kit "for wizards only" teaches your kid how to do nine different science-inspired magic tricks.
It comes with test tubes, kid-safe chemicals for the experiments, as well as a magic wand and magic caps.
Soap and Bath Bomb Science Lab
Not all science experiments need to involve mixing chemicals or digging up dinosaurs. Make learning about chemical reactions a little more fun by allowing your kids to make something useful while they're learning.
This Soap and Bath Bombs Science Lab teaches your kids about the chemical reaction that happens while making bath products.
Using this science kit, your kids can make their own soaps, bath bombs, salt scrubs, and bath salts while also learning about science.
DIY Electric Robot Kit
From a bubble-blowing robot to a graffiti drawing robot, this DIY Electric Robot Kit has some really fun projects inside.
Your kids will have so much fun making and playing with their robot creations, they may just forget their learning as they play!
This robot kit includes supplies and instructions to make four different robots. In addition to the bubble and graffiti robots, your kids can also make a robot car and a funny robot bicycle with this cool kit.
National Geographic Mega Fossil Kit
Do you have a dinosaur lover at home? This National Geographic Fossil Kit is the perfect science kit for them!
With this cool activity kit, your little ones can dig up their own dinosaur bones, fossils, and shark teeth. The kit includes a variety of real paleontology tools, like a chisel, brush, and magnifying glass.
And with the included learning guide, your kids can learn about and identify each specimen they dig up.
Color Chemistry
Kids who enjoy making crafts and art projects are sure to love this Crayola science kit.
In the Color Chemistry Set, your kids will get supplies and instructions for 16 unique steam and stem experiments, along with instructions for 30 more projects your kids can do with supplies from around the house.
Experiments available include an erupting volcano, glow worms, sticky slime, watercolor ice, and bouncing colored bubbles.
Snap Circuits
Young engineers will love making their own electronic circuit projects. This Snap Circuits kit includes more than 30 electronic parts that can be reused to create more than 100 different electronic circuit projects.
The projects in this kit include a flashing light, siren, photosensor, and tons of other fun science experiments.
Crystal Growing Kit
With this cool science kit, your kids can grow their own light-up crystals thanks to the included crystal-making supplies and an LED light-up base.
Your kids will love watching their own crystals develop as they follow the instructions in the included learning guide in this Light Up Crystal Growing Kit.
And when the crystals are finished growing, they can place them on the display base and use them to decorate their bedroom!
Lab Science Kit
Finding a safe science kit for younger kids can be difficult since most science kits include chemicals and small parts.
But with this cute lab science kit, your toddler or preschooler can begin entertaining an interest in science in a fun and safe way.
This fun kit comes with a kid-sized lab coat, plastic beakers and bottles, and activity cards to teach your little one how to use all the included science equipment.
Did we miss any of your favorite science kits?