This post may contain Affiliate Links. Please read our Disclosure Policy.
One way to keep children engaged and learning without a screen is with fun, educational printables like this Princess and Pets Trace-Color-Learn Pack.
This learning pack has ten work pages that focus on building fine motor skills, number recognition, counting skills, easy reading, and writing practice.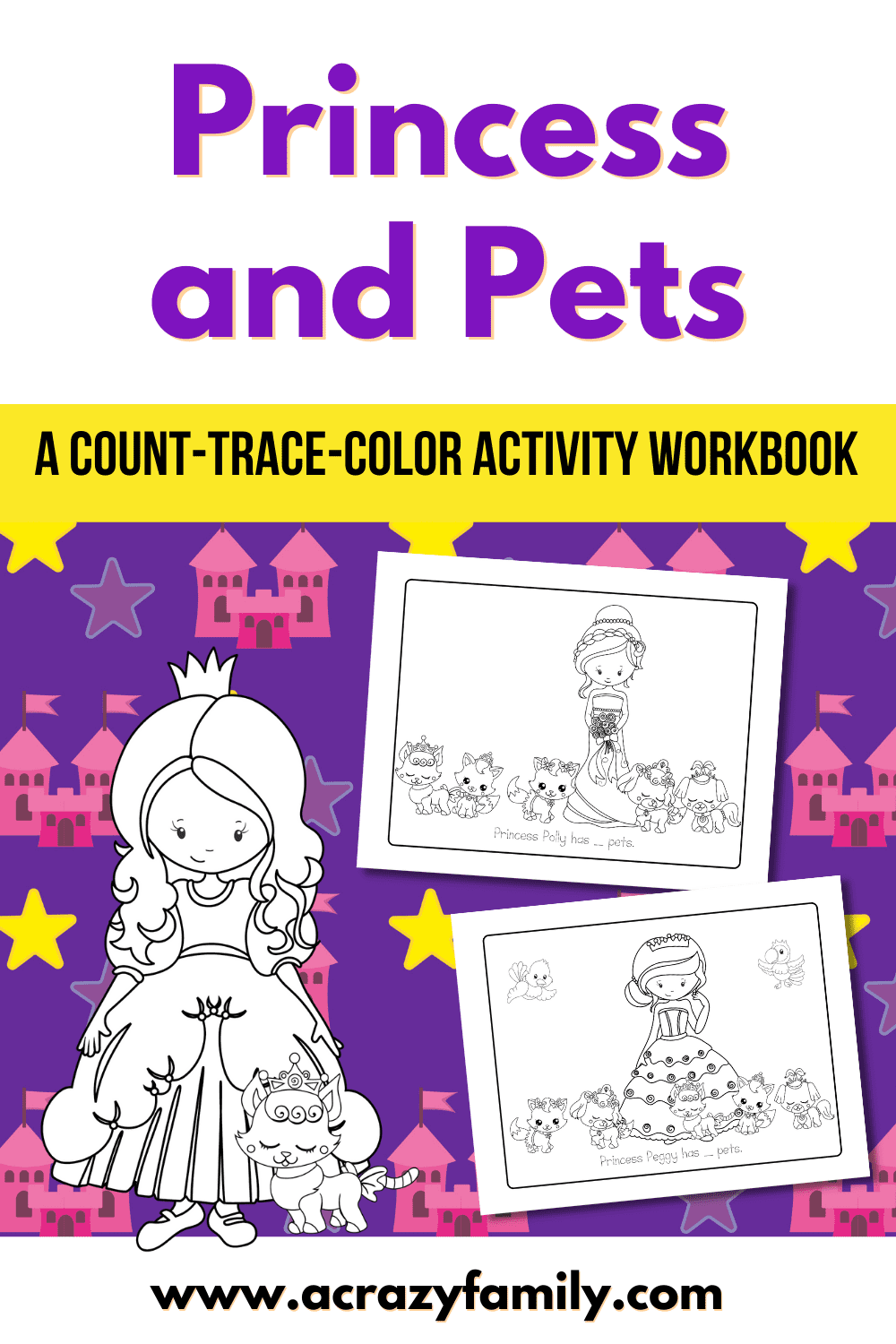 Develop Fine Motor Skills
While many app creators have created digital coloring programs, nothing can ever replace the wealth of a child picking up a coloring pencil and coloring on a piece of paper.
Coloring activities help develop hand strength, encourages a child to be creative while choosing colors for the picture, and helps to develop focus and concentration while working on their coloring activity.
The Princess and Pets Pack has adorable illustrations on each page.
You could also incorporate learning colors with this pack by encouraging younger children to color each page or number with a specific color.
For example, use the color red on the page where you count five pets.
Each page also includes a tracing activity that helps improve writing skills and dexterity.
Encourage Number Recognition
Besides the coloring activity, children are encouraged to count the pets on each page and write the number in the blank space provided in each sentence.
An easy way to help younger children work through this activity is to guide them to color each pet as they count. This helps avoid counting a pet twice or missing a pet while counting fast.
Other Ways to Use the Princess and Pets Trace-Color-Learn Pack
While recommended to print out each sheet on white multi-purpose paper, you can also print out each sheet on white card stock.
Once printed, laminate each sheet and allow your child to practice writing and coloring skills with a dry erase marker.
These are great sheets to carry along in your bag with a small pack of crayons, especially when you know you need to wait a while on an errand or even for a meal.
Young children may even find pride in seeing you hang up their completed sheets in their rooms.
Don't miss out on printing this great learning pack.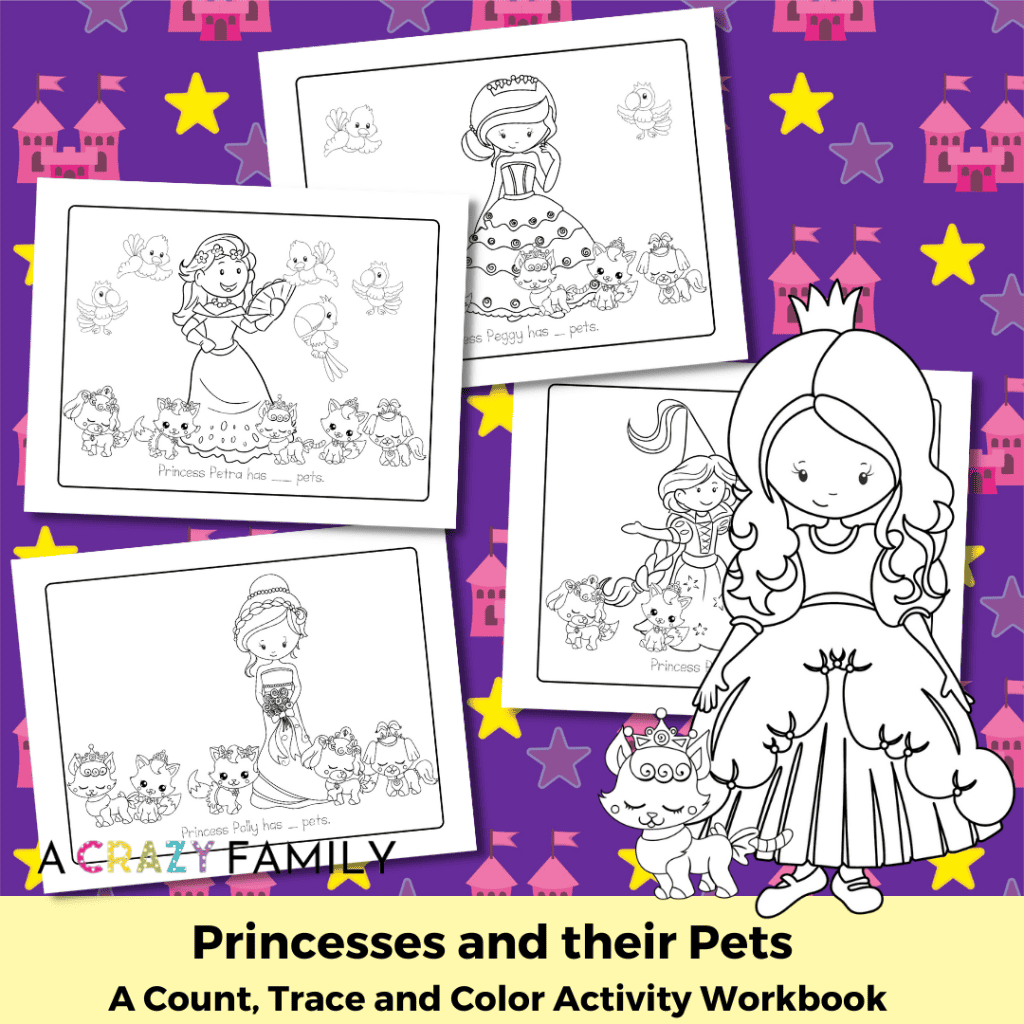 Click to print the Princess and Pets Trace-Color-Learn Pack!
Want more fun Activity Pages for Kids?
Your young dinosaur lover will think this Color-Trace-Learn Workbook introducing them to the months of the year is nothing short of "RAWR"-some!
And these ten Mermaid Affirmation Coloring Pages with a mermaid illustration to color and an affirmation on each page.
Check out some of the pages below!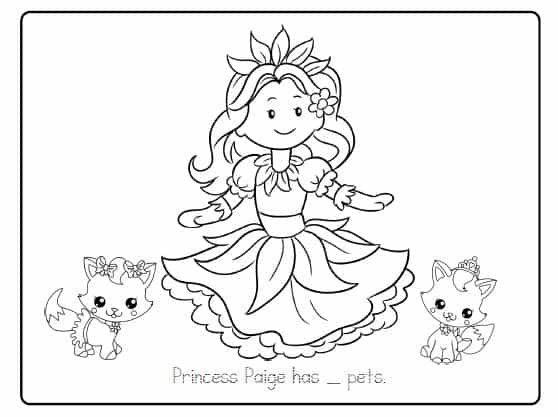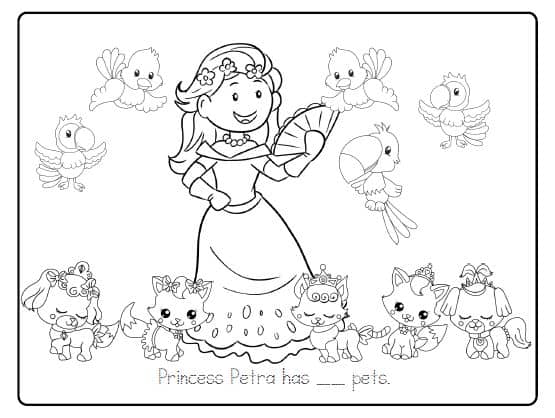 Vickie aka The Crazy Family Mom

Vickie is the creator of A Crazy Family. She is a stay-at-home mom of a little boy with a big personality. She loves to share real food recipes, parenting tips & encouragement, fun kids activities, and so much more! Plus she is thrilled to provide you with a space to celebrate all that is awesome (and a little crazy) in the world.