This post may contain affiliate links. Please read my disclosure policy.
If you love easy dinner ideas and you're following the keto diet, then you definitely won't want to miss out on these delicious Low Carb & Keto Casseroles!
When it comes to getting dinner on the table at the end of the day, casseroles are a life-saver. They are so simple, yummy, and easy to make.
These easy keto casserole recipes are going to save the day when you are super busy. Plus what's better than a quick and easy casserole that is warm, creamy and oozing in cheese? Casseroles are the way to go for ease and convenience.
Keeping everything as easy as possible will really help you on your keto journey because you'll be more likely to stick to your diet.
Just whip up one of these tasty keto casserole dishes for dinner, pop in the oven and you have a delicious homemade meal!
And, before I forget! Most are freezable too! Freezable casseroles are great for meal prep too! Take one day and meal prep a week's worth of meals. This makes life so much easier.
Another awesome thing about casseroles is that most of them are packed full of veggies which is great for the body as well!
So, here are the best, most yummy keto casseroles, you won't want to miss out on these delicious recipes!
The Best Low Carb Keto Casserole Recipes
This low-carb Cheesy Broccoli Cauliflower Casserole with Bacon (Flavour & Savour) is guaranteed to be enjoyed by all the family! It's super creamy, cheesy and full of deliciousness!
Dinner doesn't get any easier than this Cheesy Smoked Sausage & Cabbage Casserole (Peace, Love & Low Carb). You will love this so much that you will be enjoying it regularly.
Cheesy and packed with flavor, this low carb Chicken Casserole (Easy Keto Dishes) is one of our most favorite recipes in our house. Husband and kid approved!
This Creamy Buffalo Chicken Cauliflower Casserole (Delicious Little Bites) is cheesy, spicy, and crazy delicious! Plus as it's only made with 5 ingredients, you can whip this up in no time!
---
Don't forget to follow my Keto Recipes Board on Pinterest for the more of the BEST ketogenic recipes!!
---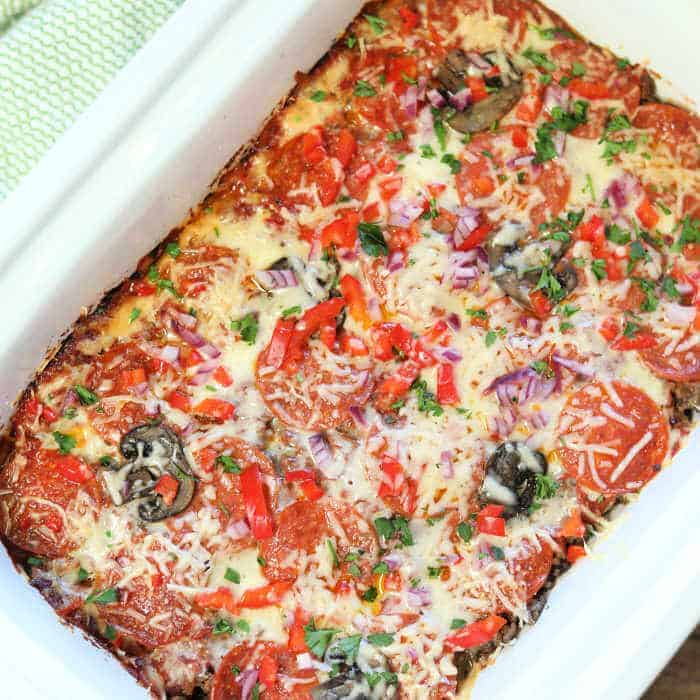 This Crock Pot Low Carb Pizza Casserole (Eating on a Dime) is a fantastic alternative to the original carb heavy variety. Comfort food at its best.
This Easy Cheesy Loaded Cauliflower Casserole (Wholesome Yum) takes just 10 minutes to prepare. A perfect alternative to a loaded baked potato.
---
Related: 10 Delicious Keto Stir Fry Recipes
---
Your family will totally adore this Easy Tamale Pie Casserole (Wholesome Yum) with homemade enchilada sauce. This one only takes 30 minutes so you know you can serve up something nutritious in no time at all.
This delicious low carb Eggplant Parmesan Casserole (Low Carb Yum) is full of authentic Italian flavor and chock full of cheese. Yum
This Keto Cabbage Beef Casserole (Stylish Cravings) is so hearty and flavorful, everyone will be sure to love it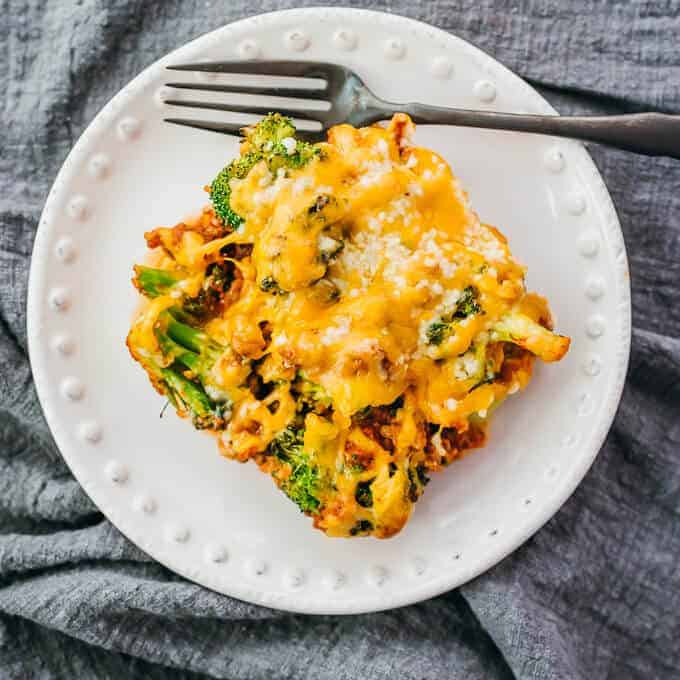 If you like both cheeseburger and lasagna then you will totally fall in love with this comforting keto casserole (Savory Tooth). Another super comforting dinner that easy to make.
All the delicious flavor of hearty Italian meal but without the carbs. This keto casserole (Simply Stacie) is deliciously meaty and super cheesy.
This low carb version of Mexican Bubble Pizza (Keen for Keto) is sure to be an instant hit with the whole family!
---
Quick Tip: Keto casseroles don't make just tasty dinners, they are also great for lunches!
Take leftovers for lunch the next day or prep an entire casserole for multiple lunches!
These meal prep containers are my fav!
---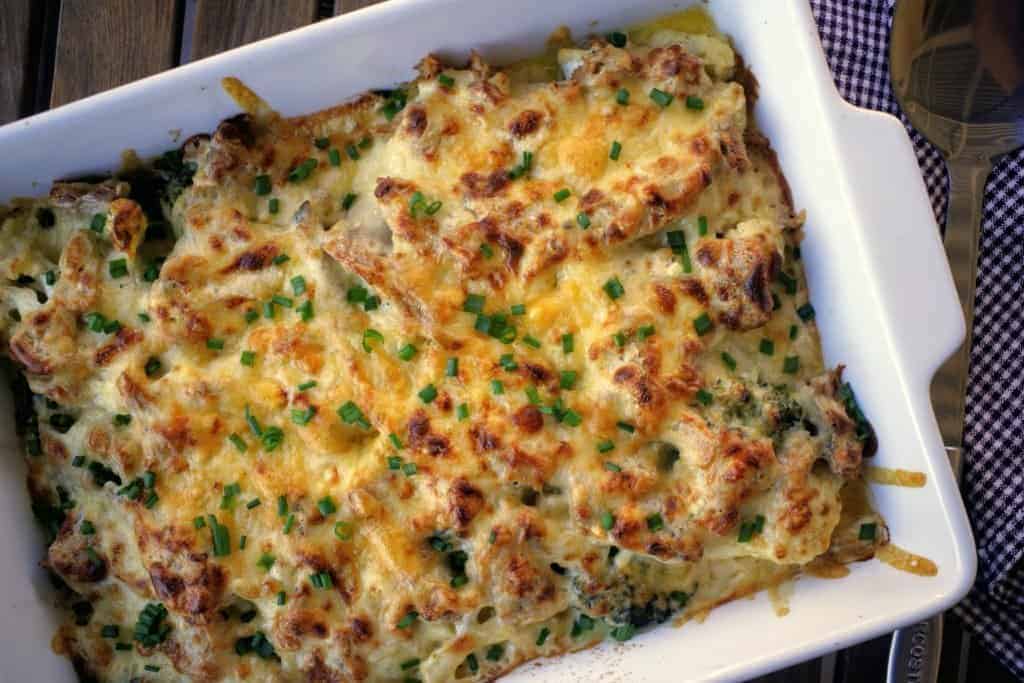 This Keto Tuna Mornay (Have Butter Will Travel) is an excellent kid-friendly option. Perfect for if you follow the keto diet as a family.
All the comfort of a Loaded Baked "Potato" Bowl (Easy Keto Dishes), but with a lot fewer carbs! This one is full of flavor and we love it at our house.
This Low Carb Big Mac Casserole (Peace, Love & Low Carb) has all the feels of a Big Mac BUT without all the carbs! Its also husband and kid approved.
If you need a Keto recipe that your whole family will be sure to enjoy, then try this Low Carb Cheeseburger Casserole (Eating on a Dime). It has all the things you love about a cheeseburger but in a delicious casserole!
---
Related: 21 Totally Awesome Keto Soups
---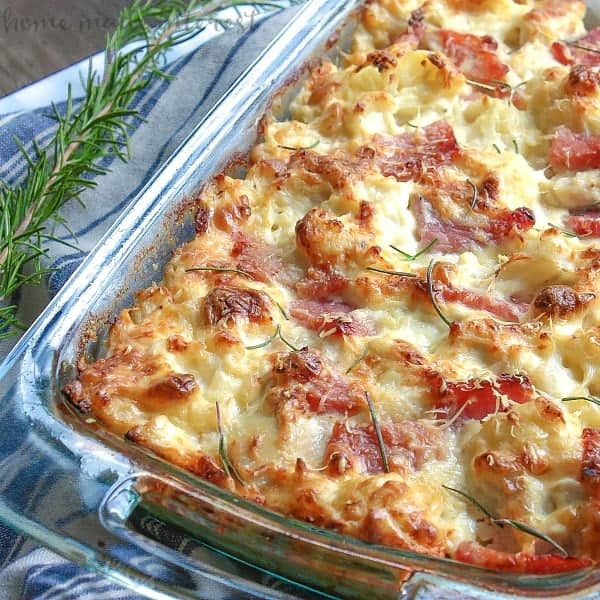 This Low Carb Chicken Cordon Bleu (Home Made Interest) is a super easy low carb dinner recipe made with cauliflower, ham, chicken, covered in a creamy dijon sauce. Totally scrumptious!
This healthy remake of an American classic (Noshtastic)will satisfy your tastebuds without affecting your waistline.
Chicken, cauliflower, and spicy, yet creamy cheese sauce come together to make this totally delicious Low Carb Jalapeno Popper Chicken Casserole (Delicious Little Bites).
This salsa Verde Low Carb Chicken Casserole (Taste and See) is one of those easy chicken casserole recipes that will very quickly become a family favorite.
These Zucchini Enchiladas (Kicking Carbs) are a delicious alternative that your family will beg you to make again and again. YES, they are that delicious!
I can't believe all there are all these wonderful low carb casserole options. Who knew that there were so many keto dinners out there to try?
Now, which one will you be trying first? Let me know which one you loved and why in the comments below.