14 Best Puzzle Gifts for Dads
This post and its photos may contain affiliate links. As an Amazon associate, I earn from qualifying purchases.
Does your dad find any excuse to complete a puzzle? Whether it's word games, jigsaws, crosswords, or even three-dimensional brain teasers. Your dad is the go-to man for solving a real mind-boggling puzzle. So why not order a puzzle gift for your dad for the next gift-giving event?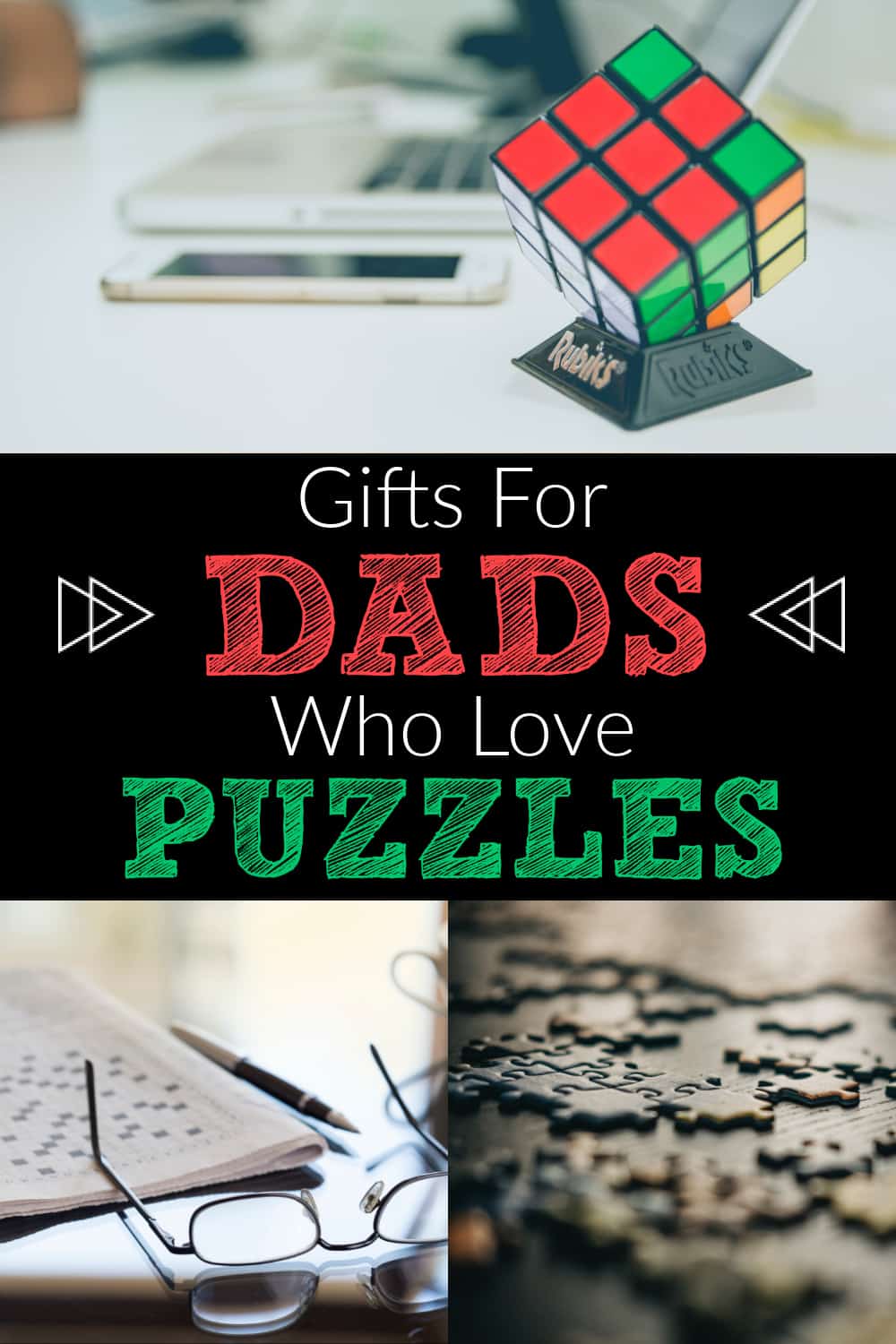 When it comes to gift-giving, from birthdays to Father's day, or even Christmas, Dad's can be truly had to buy for. A mug saying 'Best Dad EVER' is great, but there are only so many mugs one Dad needs.
If you are looking for a brilliant gift for your Dad, that will challenge him, engage his attention, and can be used again, puzzles are the answer!
Puzzle gifts for dads are excellent and a gift your dad is guaranteed to love.
After all, you know dads love a challenge!
Mind-Blowing Puzzle Gifts For Dads
So where can you find a truly awesome puzzle gift for your dad?
The average jigsaw puzzle just won't do for a special present. But don't worry, we've done the time-consuming research for you and generated a list of amazing puzzles you can choose from for your dad.
You may even have to get some of these for yourself!
8 Best Puzzle Gifts For Dads
A Wooden Powder Keg of a Puzzle
If you're looking for challenging and unique puzzle gifts for dads, this 3D Interlocking Wooden Puzzle – the Powder Keg – is a great choice. The lovely and well-crafted puzzle comes in its own gift box and even has a 100% lifetime guarantee.
This is one puzzle gift that will not only challenge dad, but it will also charm him, too. This is for puzzle-loving dads who appreciate quality in every way!
A Super Cool Metal Puzzle
This Cake Hanayama Cast Metal Brain Teaser Puzzle is completely wonderful. Rated a Level 4 difficulty, it's sure to present a decent challenge to your puzzle-loving dad.
This little puzzle is small enough to fit in dad's pocket, making it a gift that dad can enjoy even when he's at work. This gift might just be the ultimate "fidget spinner" for dads who love puzzles.
20 Wire Brain Teaser Puzzles
For dads who love brain teaser puzzles, this cool box of puzzles might be the perfect gift. This awesome box has 20 little wire puzzles in it, each one with its own unique solution.
If you're looking for puzzle gifts for dad that might keep him busy for a few hours, this wonderful box is a real treasure!
A Very Tricky Labyrinth Cube
For a truly unique puzzle, check out this awesome Labyrinth Cube. This is one of those puzzle gifts for dads who seriously love a challenge.
Rated a level 10 in difficulty (with 12 being the hardest), this cute has multiple layers of a labyrinth maze inside that the solver has to move the ball through. The tricky part, though, is that you can't see inside.
If your dad loves a real puzzle challenge, this cube is an excellent gift!
Make Dad Puzzle Out His Wine Gift
If your dad is as much a fan of wine as he is of puzzles, this super cool brain teaser puzzle will really make him smile. You just fit the puzzle around a nice bottle of wine and give it to dad for the ultimate fun and challenging gift.
Dad will love using his mind to figure his puzzle out, and he'll love the prize he gets as a reward when he does!
An Awesome Da Vinci Code Cryptex
Is your dad a fan of the Da Vinci Code movie or book? Many puzzle fans are because there are so many wonderful puzzles in that story. One of the most famous is the cryptex, and this version of that famous cryptex makes a great gift for the puzzle-loving dad in your life.
Dad has to figure out what the password is in order to open this puzzle. Leave it on the default password "ILOVEU" or pick something else that is just perfect for your dad. This might just become his new favorite toy!
A Truly Unique Logic Puzzles Book
If your dad is a fan of logic problems, this may be one of the best puzzle gifts for dads on the list. Not only is this a book full of logic problems, but they are all related. Reading a bit like a novel, this book follows a group of friends who love murder-mystery games.
Each puzzle dad solves will immerse him more deeply into the story, giving him the pleasure of sleuthing out the clues until he finally solves the case!
For Sudoku-Addicted Dads
Sudoku puzzles are all the rage and if dad's a fan, he'll love this book. Considered the ultimate Sudoku Challenge, this massive book has 1000 Sudoku puzzles in four different difficulty levels.
Even if your dad is still a beginner, he will love the chance to challenge himself and perfect his skills as he moves through the different levels. Sudoku is great fun for detail-oriented dads who love numbers!
3 Best Gifts For Jigsaw Puzzle Loving Dads
One Scary Pencil Puzzle
For dads who love jigsaw puzzles, sometimes it can be hard to find challenging enough puzzles. But this Pencil puzzle is certain to be challenging enough for the most hard-core puzzle master. It might even be too hard!
This is one of those perfect puzzle gifts for dads who either like the nearly impossible – or have a very good sense of humor. Just don't be surprised if dad dares you to help him with the puzzle!
A Beautiful Antique World Map Jigsaw Puzzle
If your puzzle-loving dad is also a fan of maps, travel, or antiques, he might just love this beautiful 1000-piece Antique World Map Puzzle. This puzzle is seriously classy, with an elegance that will make building it truly pleasurable.
There's so much gorgeous detail to this puzzle, from the maps themselves to the country flags and symbols, and so much more. This puzzle might even get your dad dreaming about that big trip he always wanted to take.
Fun Beer Cap Puzzle
A good mix of difficult and fun – this beer cap puzzle will appeal to the puzzle lover who loves his beer.
3 Gifts For Crossword Puzzle Lovers
Crosswords are one of the oldest kinds of puzzles around. Challenging and fun – people who love them will like our gift suggestions.
The World's Largest Crossword Puzzle
This is a great gift idea for a crossword puzzle lover – and what an achievement to complete the world's largest crossword puzzle!
This isn't the only puzzle that claims to be the largest… check out more of them here.
For Crossword-Addicted Dads
How could we not suggest this MEGA collection of puzzles? This crossword book has 300 puzzles to enjoy!
Funny Crossword Mug
We think this crossword mug is both funny and perfect for the avid crossword puzzle player. This mug makes a statement and a perfect gift. Plus, there are lots of other cool mugs to choose from – click here to see many more.
If your dad loves puzzles, I hope you saw something on this list of gifts for people who love puzzles that is perfect for him.
Did you find something your dad would love?!
This list of 14 different puzzle gifts for dads offered a wide range of challenging and testing puzzles. They would make an excellent gift for your dad if he loves a challenge and to keep busy. You might even want to try and have a go too!
If you found an ideal puzzle gift for your dad from this list, be sure to share your recommendation in the comments below.
Related Posts
10 Cool Toy Gifts for Dads Who Are Big Kids – Perfect Gifts To Celebrate Your Dad's Inner Child
Christmas Gift Ideas For The Whole Family
Unique Handmade Father's Day DIY Gift Ideas