10 Cool Toy Gifts for Dads Who Are Big Kids – Perfect Gifts To Celebrate Your Dad's Inner Child
This post and its photos may contain affiliate links. As an Amazon associate, I earn from qualifying purchases.
Finding the right toy gifts for dads who are big kids can be tricky. But whether your dad is into bad jokes, loves to build things, or dreams of riding a hoverboard, this list offers up some great ideas for you!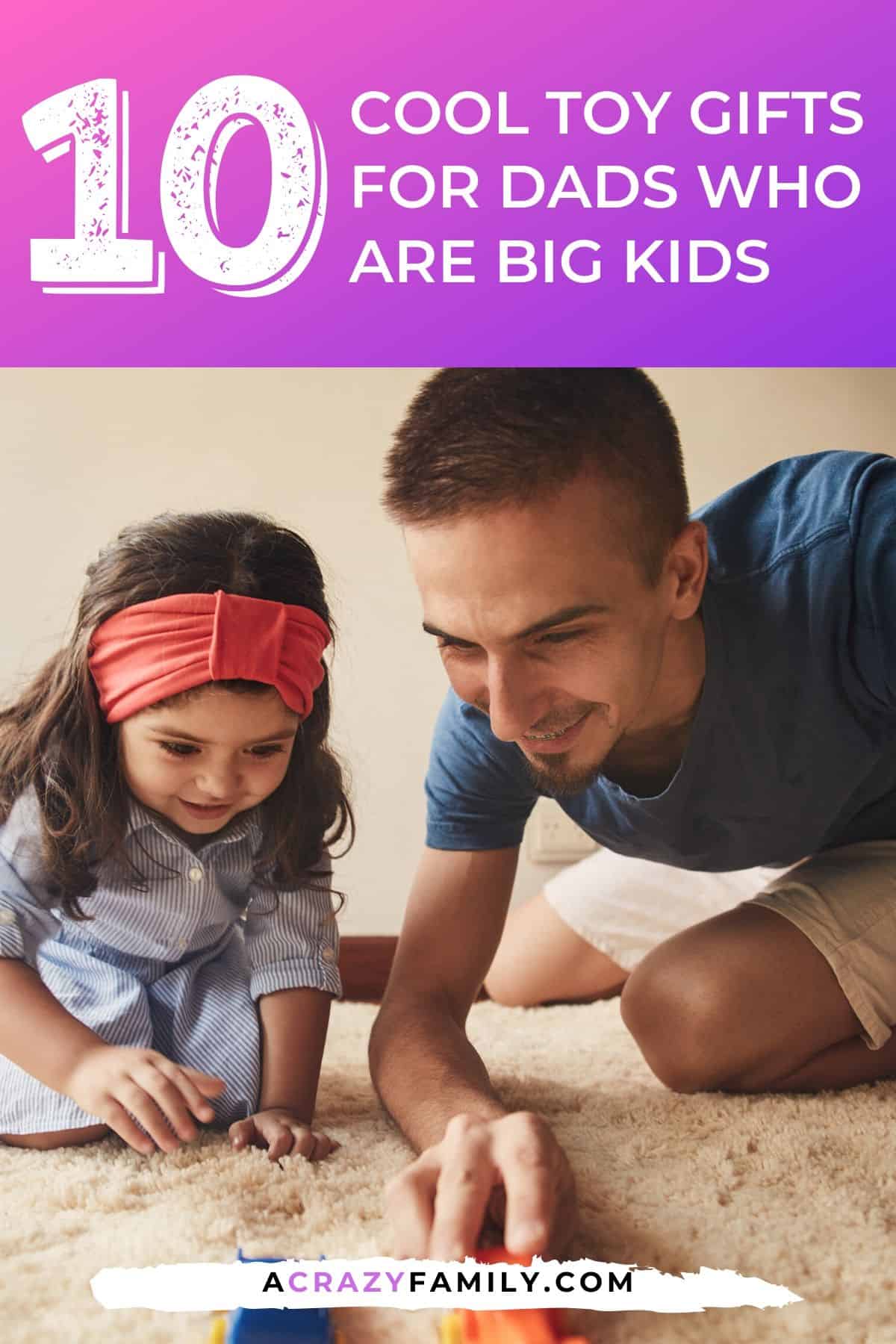 Dads are special. They are our first superheroes and the first men we depend on to make us feel safe and loved. Dads teach boys how to grow up into good men. They teach daughters what kind of man they'd like their own husbands to be someday. Dads are important.
And if your dad is a big kid, getting the right gift to celebrate that is important too.
This selection of toy gifts for dads who are big kids will help you find the perfect gift to celebrate your dad's inner child.
You just might find that you want a few of these yourself!
10 Cool Toy Gifts for Dads Who Are Big Kids
1. Every Big Kid Needs a Drone
If your dad has been dreaming about having his very own drone, why not fulfill his dreams with this Holy Stone Mini RC Helicopter Drone.
Not only is this thing really fun and said to be perfect for flyers of all skill levels, but it's also super cool, too. Reasonably priced and with almost a five-star rating, this might be the perfect gift for dads who are big kids.
2. Hoverboard – Next Best Thing to a Jet Pack
Every dad (and most moms, too!) has been dreaming of having their own hoverboard since the first time they saw the movie "Back to the Future." And although we still don't have a hoverboard that actually floats off the ground like they promised (or that jetpack either!!), we do now have this cool Hoverboard balancing electric scooter that at least feels like the real thing.
If your dad is athletically inclined, why not get him one? Of all the possible toy gifts for dads, this is definitely one of the coolest!
3. A Totally Rude-Funny Game
If your dad is one of those big kids with a bawdy sense of humor, he may really need this game – Joking Hazard.
Perfect for dads who love games, this game is absolutely not safe for work. But it is hilarious fun for dads who love to play games and the friends they hang out with.
Just make sure that dad's health can handle long and sustained bouts of laughter because he'll be doing a lot of it with this game!
4. Every Dad Needs a Rocket
Is your dad a rocket man? Does he love NASA or puzzles or both? This awesome LEGO Nasa Apollo Saturn V Building Kit has nearly 2000 pieces. And once dad puts them all together, he'll have his very own meter-high replica of the famous Apollo Saturn rocket.
This rocket even comes apart at the first and second rocket stages and features both the lunar lander and the lunar orbiter. When it comes to super cool toy gifts for dads, this is near the top of the list!
5. For Dads Who Dream They are Iron Man
Is dad your biggest hero or simply the biggest Iron Man fan you've ever known. Either way, doesn't he need an official Iron Man replica helmet? Yes, this is one of those toy gifts for dads who have everything, but it's so cool, your dad is sure to love it.
There's a detachable faceplate, light-up eyes, and electronic sound effects to make it all seem incredibly real. Unfortunately, this amazing helmet won't help your dad fly around. But it might help him dream that he can!
6. His Very Own BB-8
If your dad loves Star Wars, this little BB-8 robot is just what he needs. When it comes to fun toy gifts for dads, this adorable little droid has a tough polycarbonate shell and works with BlueTooth technology to do just what dad tells it to do. Not only that, it expresses a range of emotions, just to completely charm everyone in the family.
In fact, don't be surprised if you end up wanting one of these cute little BB-8s, too!
7. Classy and Playful LEGO Ship In a Bottle
For big kid dads with offices, this wonderful 962-piece LEGO Ship in a Bottle kit is an amazing gift.
Dad can have the fun of building this beautiful ship and when it is finished, it will look absolutely fantastic on a shelf or fireplace mantle. This lovely LEGO kit is proof that toys can be both fun, and decorative!
8. A LEGO Kit to Build and Drive Remotely
This LEGO Technic Kit for a remote control tracked racer might only be 370 pieces, but those pieces fit together to create something awesome! Fully motorized and operated by remote control, this LEGO vehicle drives around in every direction and can even drive over large obstacles without breaking a sweat.
This is one of those perfect toy gifts for dads because it will definitely bring the kid out in your dad, even if he tries to pretend like he's "All Adult – All the Time." Get this for your dad – and watch his inner child come out to play!
9. A 3D Printer to Make Everything
3D printers are still such a "futuristic" seeming thing. But they have come down in price enough that it can now be one of the coolest toy gifts for dads who have dreamed of owning one. The great thing about a 3D printer is that there is just about no limit to what else you can make with one.
As you watch your dad make anything from tools to cups to little figurines, beaming a big smile of pride as he watches his creations print, you'll know you chose a winner of a gift!
10. A Silly Dad Joke Book
Does your dad love a good dad joke? If you asked him, "Did you get a haircut?" is he the kind of dad who would respond, "No, I got them all cut."? If so, your dad needs this silly dad joke book.
There are 101 wonderful and terrible gems here to arm your dad with enough jokes for days and weeks to come.
Just make sure you can handle bad dad jokes since you're going to hear them all!
If your dad is a big kid, congratulations! These great toy gifts for dads will give you some excellent ideas for charming the big kid dad in your life. After all, you know he deserves the best!
Enjoyed this post? Don't forget to pin it to your favorite Pinterest board by clicking on the image below!